After a seven-year search, Lauren Moore finally found the perfect house while scrolling through MLS listings. But it wasn't the modern neutral home of her dreams—yet! Having gone through a "horrible 90s renovation," it needed a ton of work. The architectural bones are what really sold Moore: the entry stairway, the flow for entertaining with the deck off of the kitchen, the floor to ceiling sliders throughout the home, the beautiful views, and of course, the natural light. 
Located in Los Angeles' hip neighborhood of Montecito Heights, the home sat at the entrance of Ernest Deb's Park with hiking trails and even a little pond making it the perfect location for Moore's eight-year-old son, Silas and their two cats, Zorro and Fury. "I used to take Silas up to look at the turtles when he was small, and run the trails in the morning," Moore recalls. "The street the home is on is a mid-century architectural development built all in the same year, so it has a lovely cohesive feeling about it." The house also sits on stilts facing out to the canyons with huge eucalyptus and pepper trees that are as tall as the house. "It feels like we're living in a magical treehouse," she adds. 
As the co-founder of multi-disciplinary design and development firm, Design Assembly, Moore turns spaces into an experience that inspires and cultivates a deeper connection to home.
"We approach our work with a refined canvas and a touch of whimsy and warmth," she notes.
That sentiment is immediately obvious when you see inside her Los Angeles home.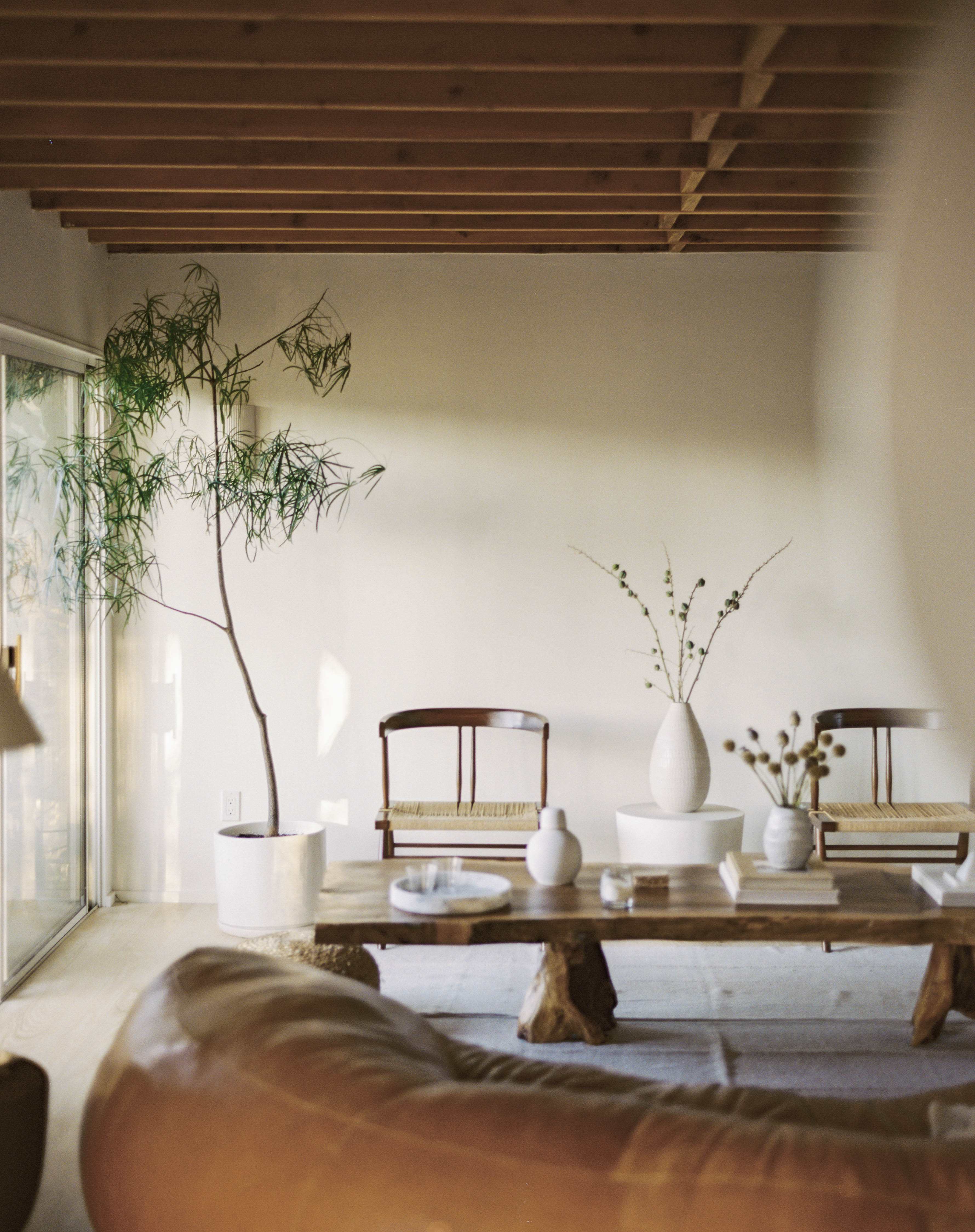 When it comes to renovations, Moore didn't hold back. "We completely redid the kitchen and bathrooms, bleached the floors, and had a custom milled staircase put in," she details. "We exposed the ceilings in the main living space, replaced all the lighting fixtures, built a shelving unit under the staircase, had a custom Dutch door installed in the entry, painted everything inside and out, and put in the landscaping."
No small feat but despite the major changes, at its core, it still feels quintessential Los Angeles. "When I re-designed it last year, I wanted it to feel more cozy and unique and less like a box, as certain mid-century homes can," assures Moore.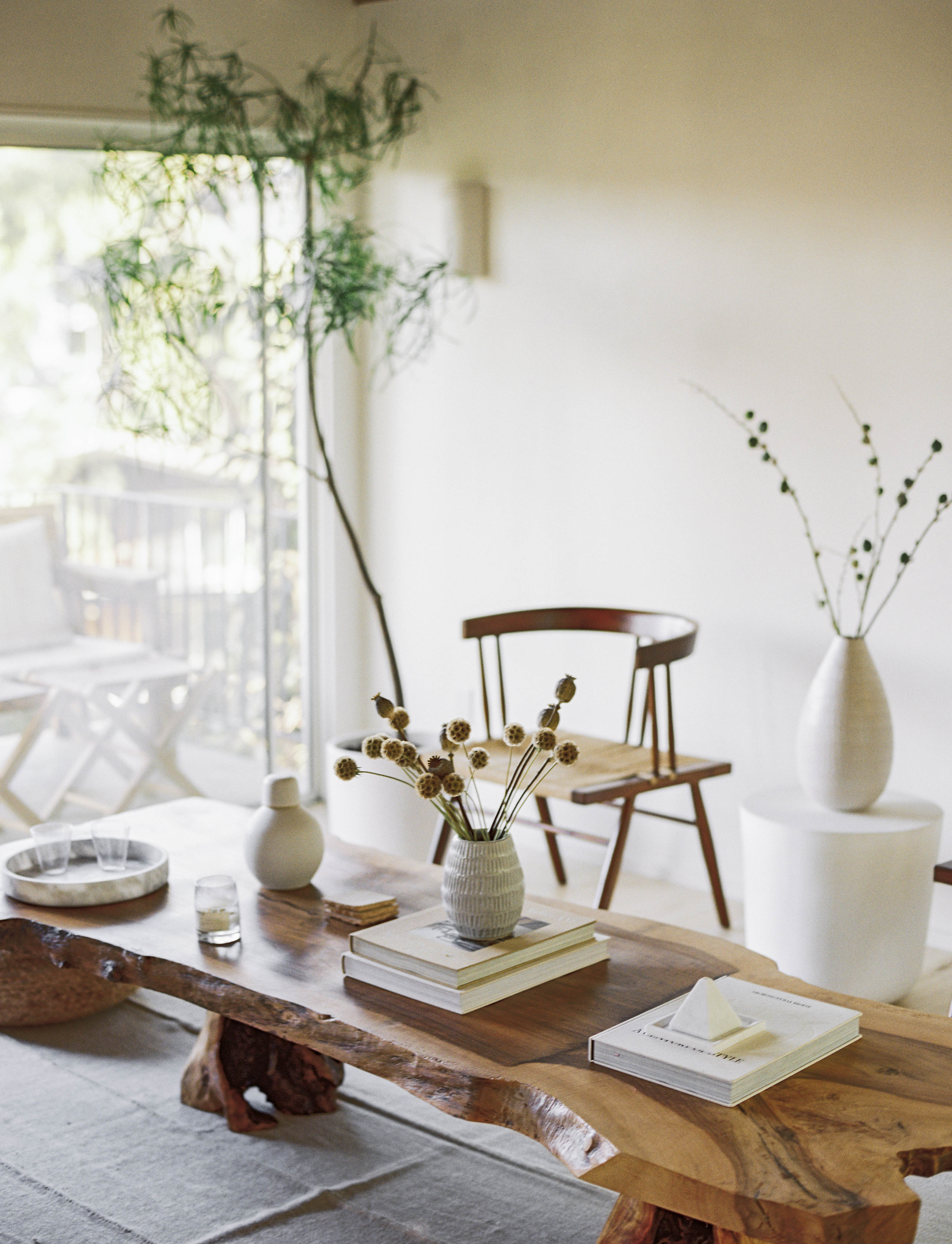 While it definitely has that Cali-cool vibe, the aesthetic leans on Moore's love for European countryside homes with its aged fixtures, pot rack, and open cabinets in the kitchen. "I grew up in California and spent a lot of time outdoors as a kid," she reminisces. "I feel as though that informs all of my work along with a deeply rooted appreciation of nature." This connection is evident in the wood, natural materials, earth-toned palette throughout, and unique indoor trees in lieu of art that Moore says "allow for the natural light to play on the walls without distraction." She adds: "I don't particularly like shiny surfaces and things, or flashy colors."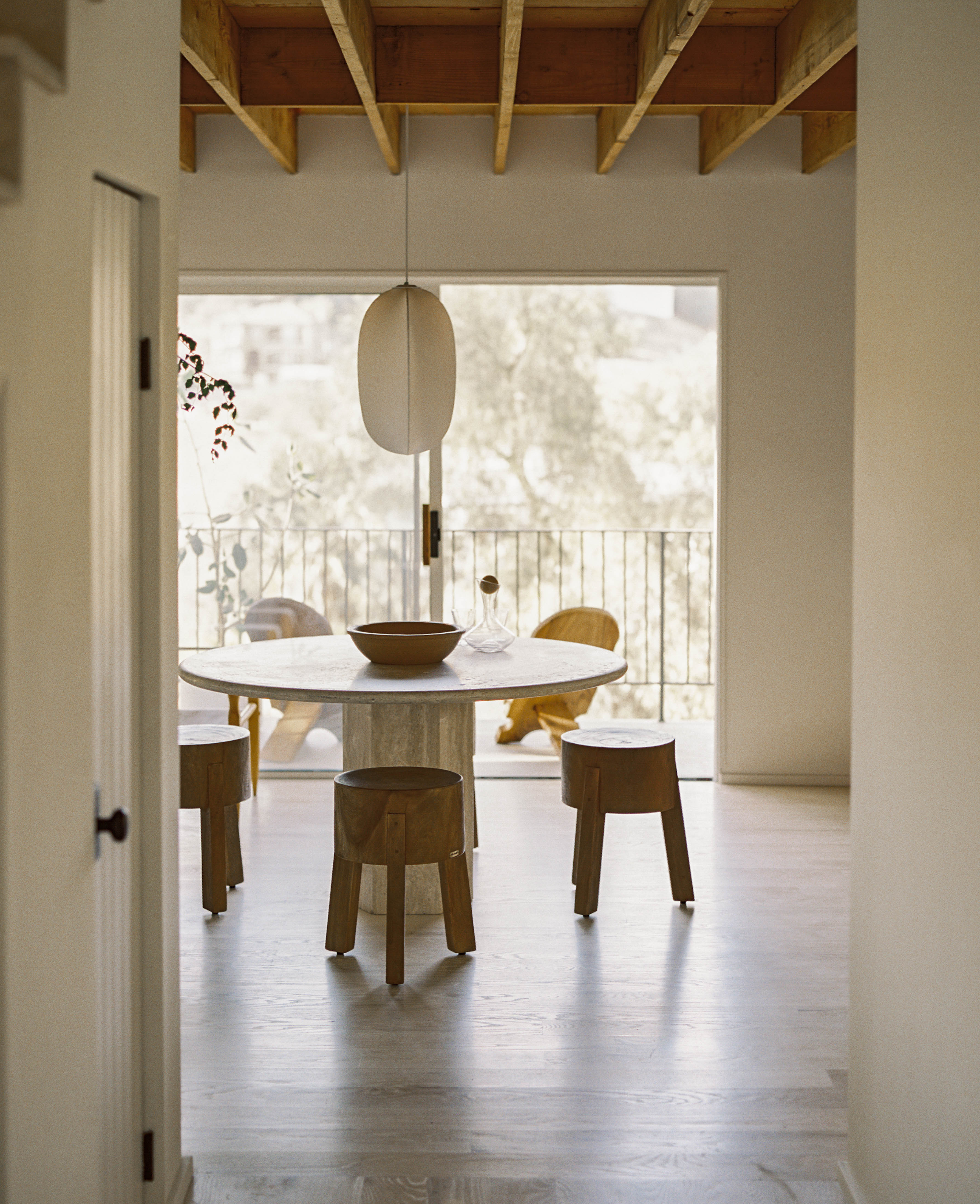 For Moore, design is all about storytelling. "That's the most fun part of designing for me—capturing the essence of a certain lifestyle and inspiration," she explains. This means she prefers to spend a ton of time in a space first to really figure out the design choices and what feels right for a house or project.
"I think this house organically came to be what it wanted to be. We lean toward minimal design but have a deep love of beautiful objects and that is reflected throughout my home."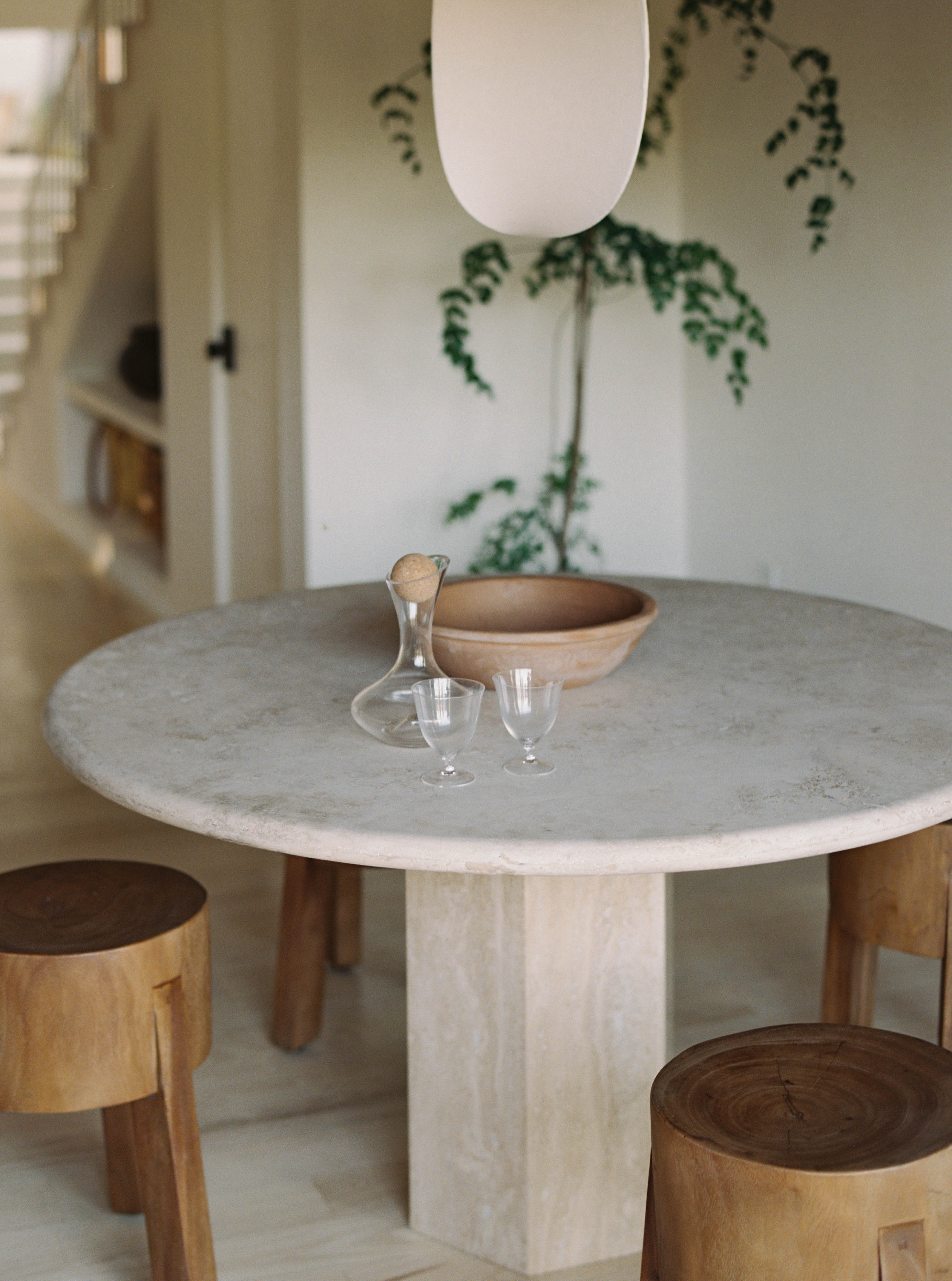 When decorating, Moore wanted the furniture and accessories to play into the architectural choices she made. This meant low, comfy furniture that doesn't compete with the exposed ceilings and compliments the bleached floors. "We wanted a few big design moves that could stand on their own—pieces that didn't need a lot of dressing up," she outlines. The insane croissant sofa was one, the coffee table was the other.  "I wanted it to feel very peaceful and elegant," she adds.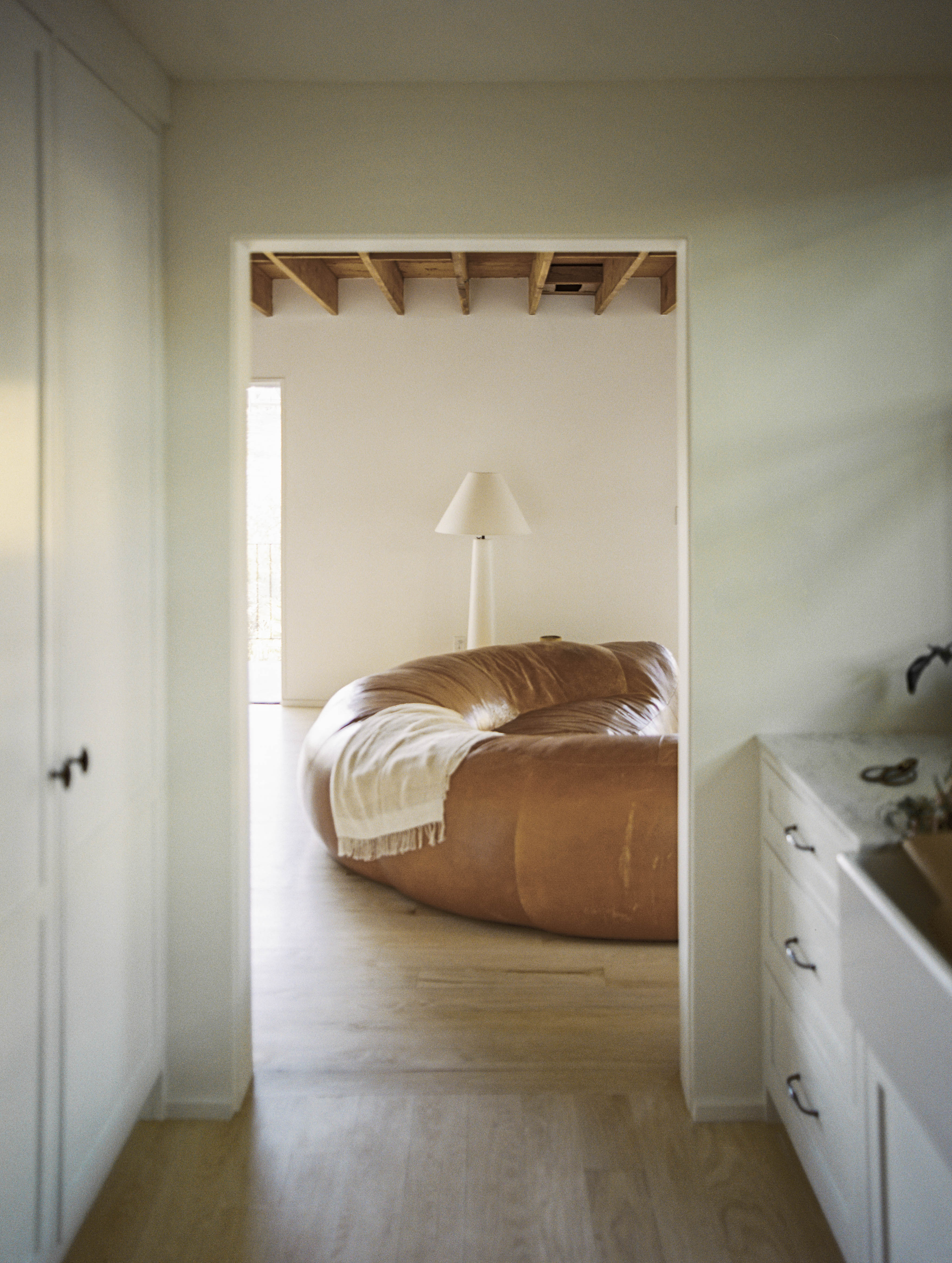 Moore tells me the inspiration behind the kitchen design came after a late night of browsing antique cookware online—one of her favorite hobbies. "I found this set of 17th century English copper pots that were hand forged and so unique," she says. "I find it so inspiring and comforting in my kitchen to display beautiful cookware and tools because it connects me to the room, and makes it more enjoyable to spend time there and use them." Since it didn't make sense to do a ceiling mounted pot rack, Moore decided to go with a dainty wall mounted version. "I also designed the open cabinets next to the stove as it adds a layer of texture and color," she remarks. "It's also another way to display more of my cookware collection—I'm not an art collector, this is my art."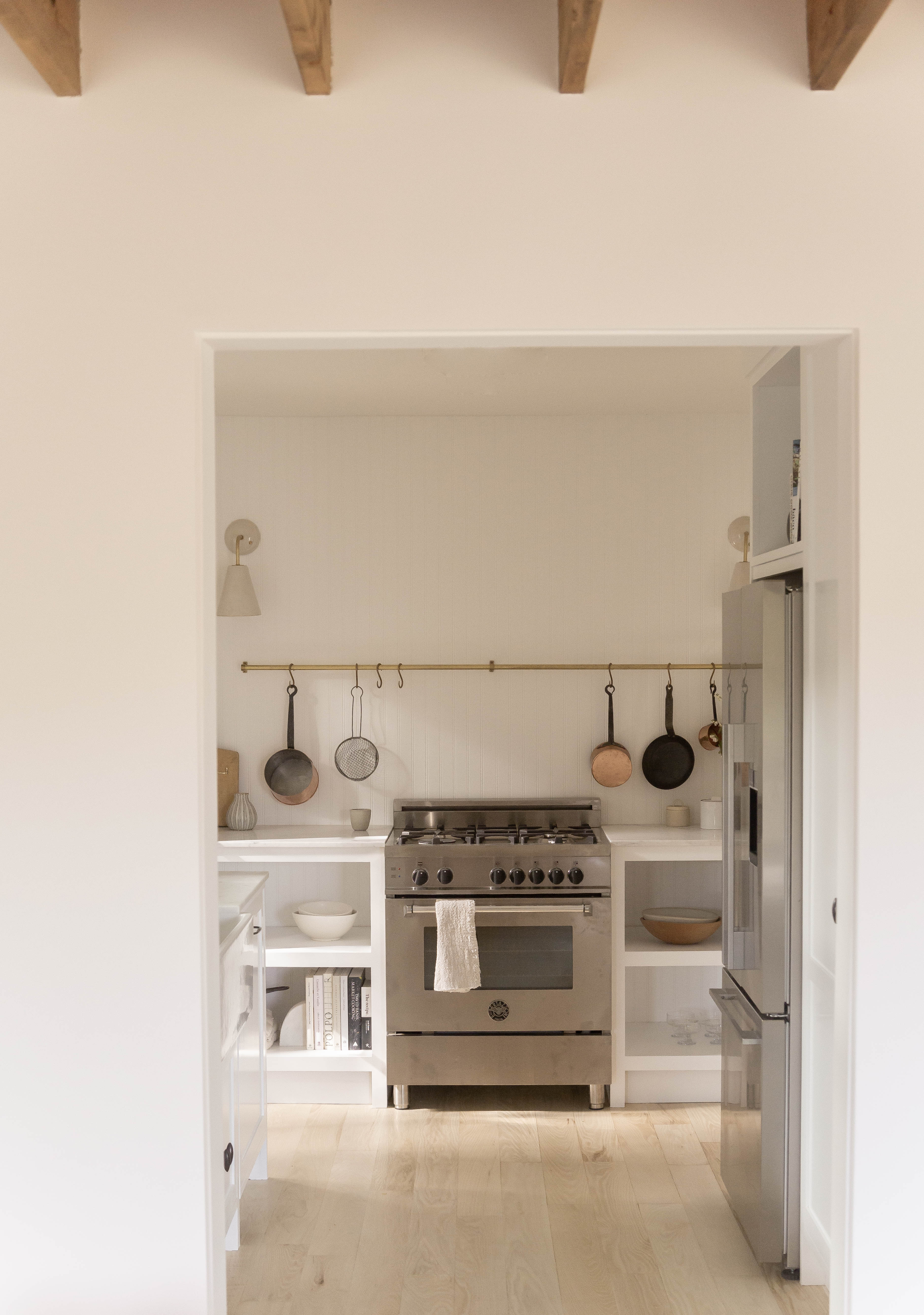 It's clear Moore really poured her heart and energy into the details of this house. Most evenings after working on other projects were spent scouring the internet for the right pieces since her usual sources—flea markets, antique stores, and design boutiques—were shut down (Moore designed the majority of this home during quarantine). When it comes to her favorite pieces, Moore loves the vintage travertine dining table, custom bench, terracotta pot positioned on the open shelves under the stairs, and the massive pot outside her front door—"I drove an hour to pick that up. It's basically as big as my son."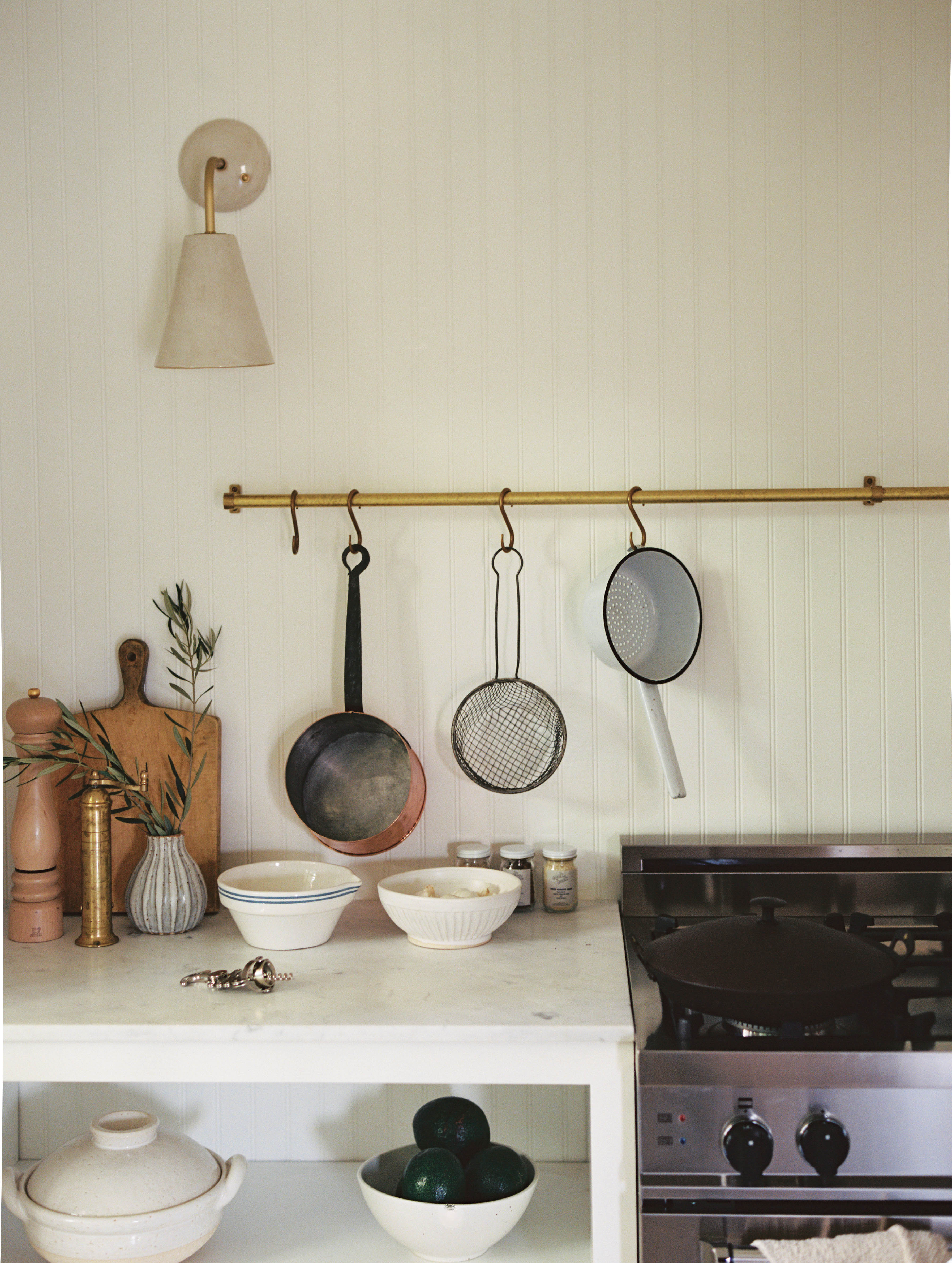 In a bid to keep the space so pared-back and minimal, Moore is constantly editing. But that also comes with the territory of being an interior designer who also owns a boutique staging business. "I have a huge warehouse full of furniture and accessories, so my own home is a rotating canvas of whatever I have, or whatever I love most," she points out.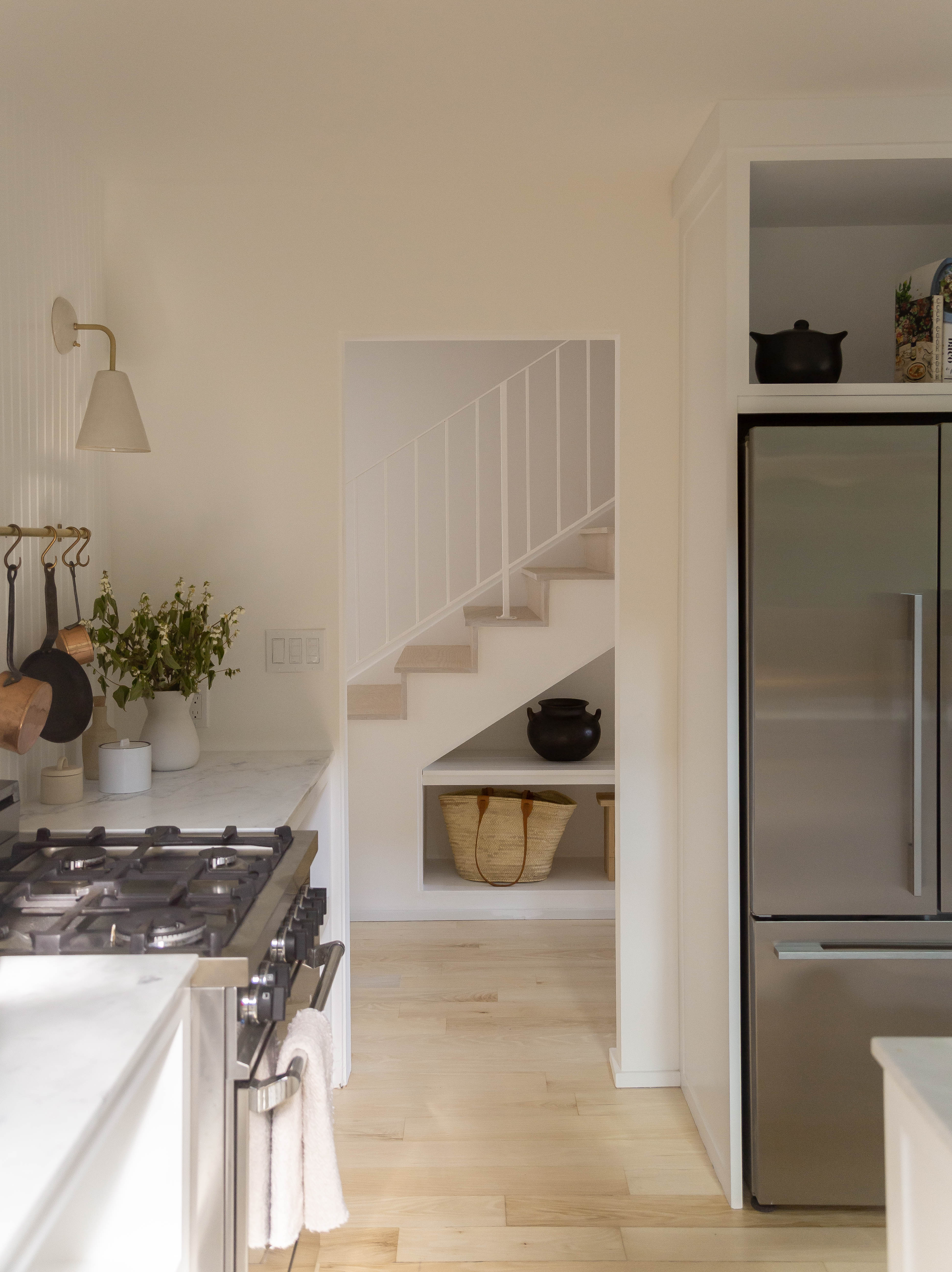 With such a pared back style that's devoid of color, Moore relies on texture to achieve that cozy and warm feeling. "A chunky woven rug will go a long way, as well as a tree in a beautiful pot, some textiles for layering, or flowy minimal window treatments that still allow for natural light to come through," she advises. "Incorporate a balanced mix of textures and color that your eyes will want to travel over and enjoy without getting stuck on one thing. And never put a TV in the living room!" Most of the color in Moore's projects comes in the form of green plants and trees, or flowers in a lovely vase, and carefully selected art, design, travel, and photography books.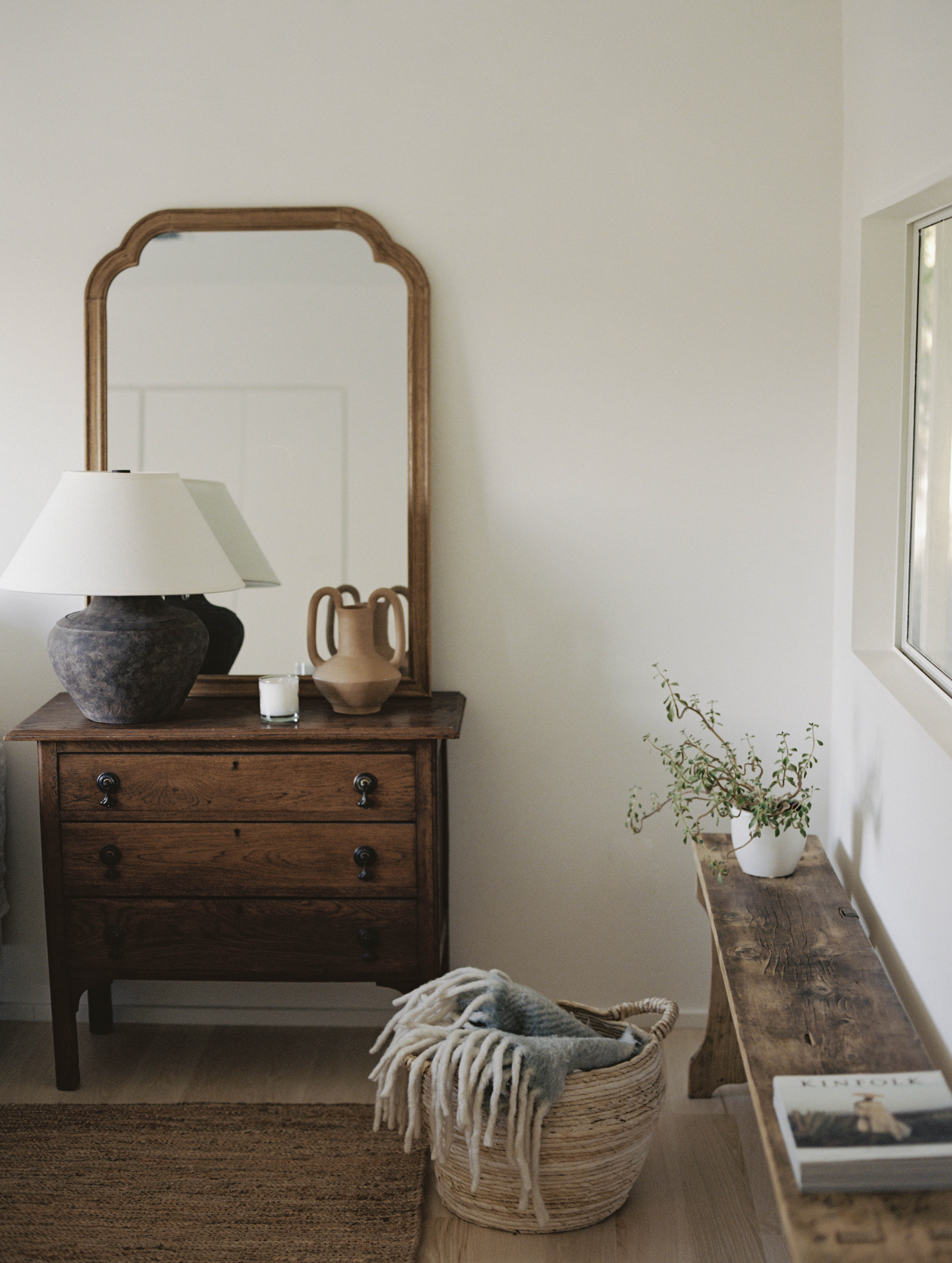 When it comes to guiding design principles, Moore is all about trusting your gut.
"Go with your intuition. Design is a creative process that is organic and unique to the way I see and experience the world. It took me a long time to trust that my instincts were correct over those who were maybe louder at vocalizing them." 
Her mantra? "Let the thing be the thing. Don't over style, over decorate, or try to make a space something it's not. Find what is most naturally beautiful about the space and allow that to lead the way."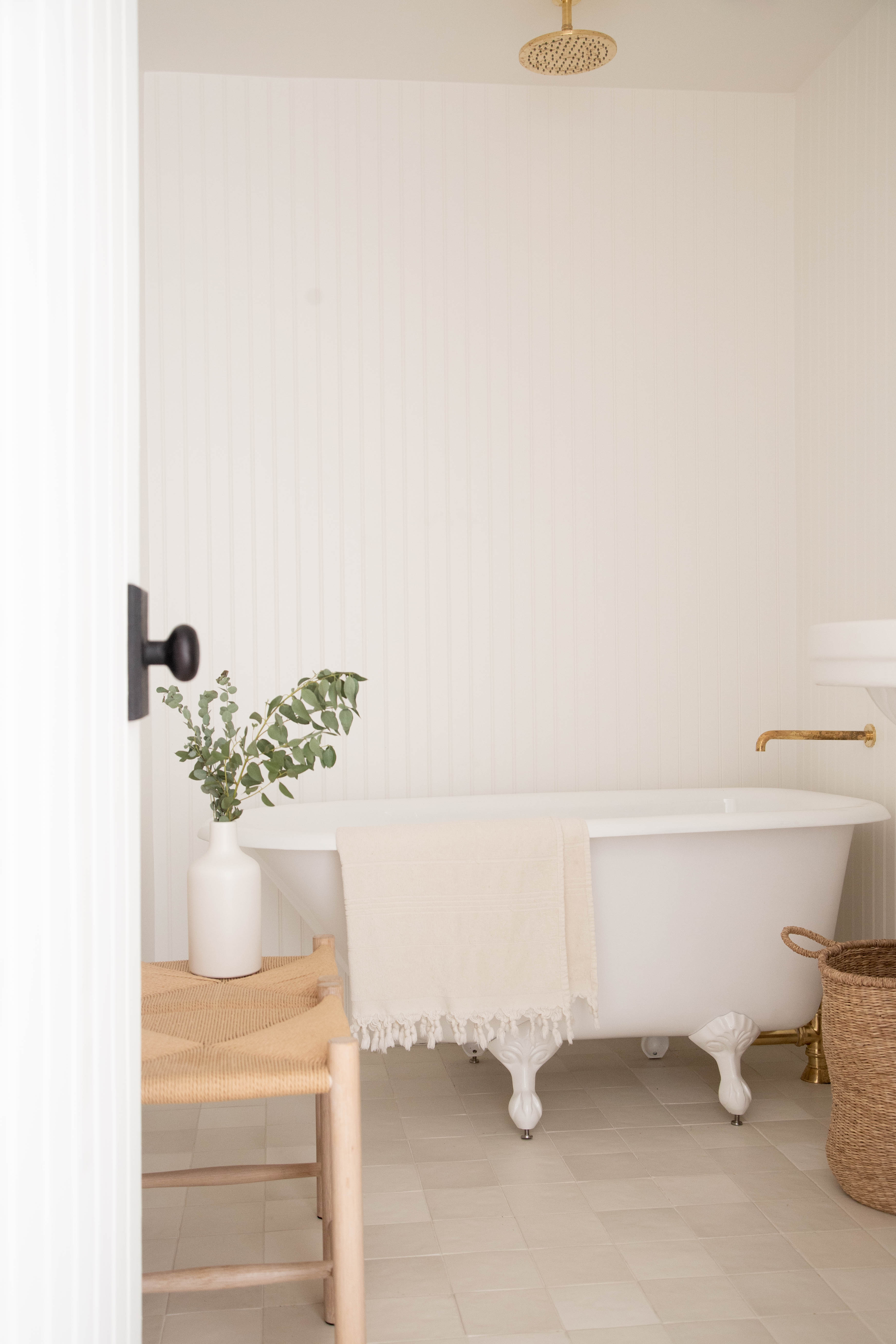 If you're about to embark on your own renovation or redesign, Moore wants you to believe in yourself and don't let other people's opinions influence you that much. "Spend time in the space often as you go, allow for flexibility and last minute ideas to be incorporated," she counsels. "Being too rigid in your design plan will always be a disservice to how it comes out in the end."
Oh, and one more thing,
"Do what feels right to you, not to impress other people."
We couldn't agree more!