Without question, the coffee table is one of the best places to express creativity and make a design statement in the living room. It's a little like lipstick at the end of your makeup routine: a quick final step, but one that makes all the difference. However, finding coffee table décor ideas that are a little outside-the-box can be stressful for many of us (self included.) But since I've been wanting to freshen up my own, I reached out to a few of my favorite interior designers and asked if they'd spill their best foolproof coffee table decor ideas.
Ro Miller Rynd of RM Rynd Interiors puts it best: "The coffee table is often the centerpiece of the space, so we should treat it with respect."
One common thread throughout these expert coffee table décor ideas is to fill it with things that feel personal to you. Whether that be a functional design that can (stylishly) house remotes and other small items, a stack of colorful books, or fresh flowers—the goal is to make it your own. According to Penelope Bianchi of McCormick Interiors, decorating your house should be like writing your autobiography; nothing should be fake or contrived. Amen!
Featured image of Diana Ryu's living room by Teal Thomsen.
Read on for 12 coffee table décor ideas from the following interior designers to create a coffee table that speaks to your style:
12 Coffee Table Décor Ideas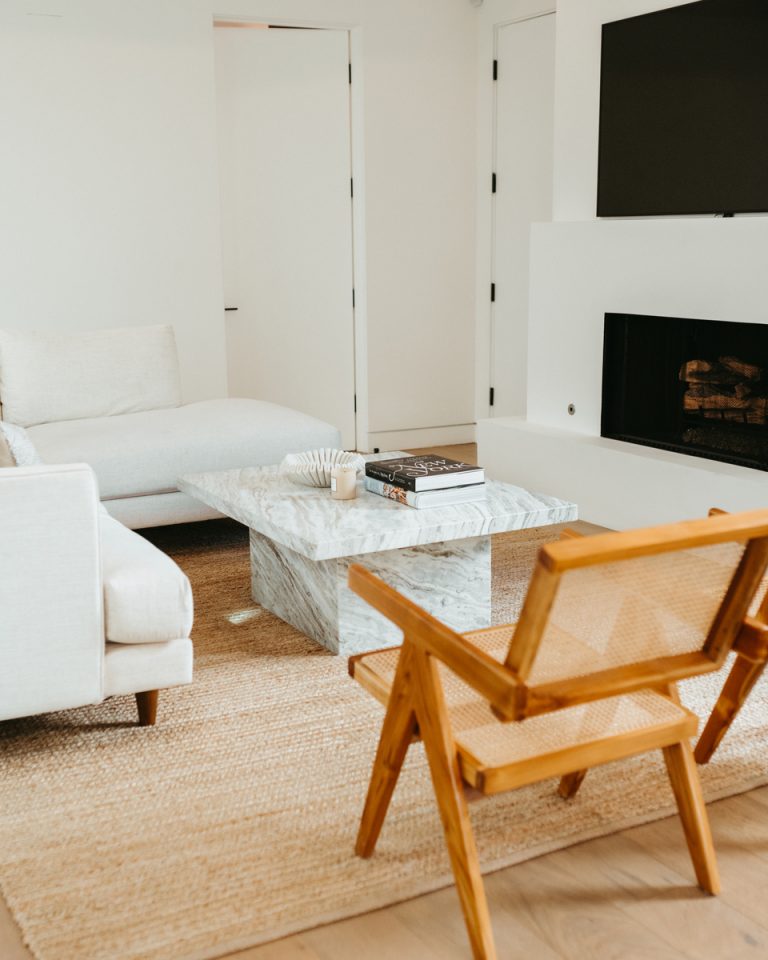 1. A strong foundation is key.
When styling a coffee table, Sarah Peddicord starts with the foundation. A ceramic, leather or textured tray will both ground the coffee table and give the foundation for layering opportunities on the table. Next, she suggests playing around with adding different ceramic vases that can hold flowers, giving the coffee table height. This can also be achieved by adding unique sculptural elements, matchstick holders, and other treasured elements, all of which give the table a lived-in look.
2. Appeal to all of the senses.
Shazalynn Cavin Winfrey believes that the best coffee tables appeal to all of our senses. They are tactile and include items we can touch; they include things that smell wonderful like candles or scented wax sculptures; they have a small vessel for your favorite candies, and they are also visually interesting. Pro tip: Look for pieces that double as conversation starters.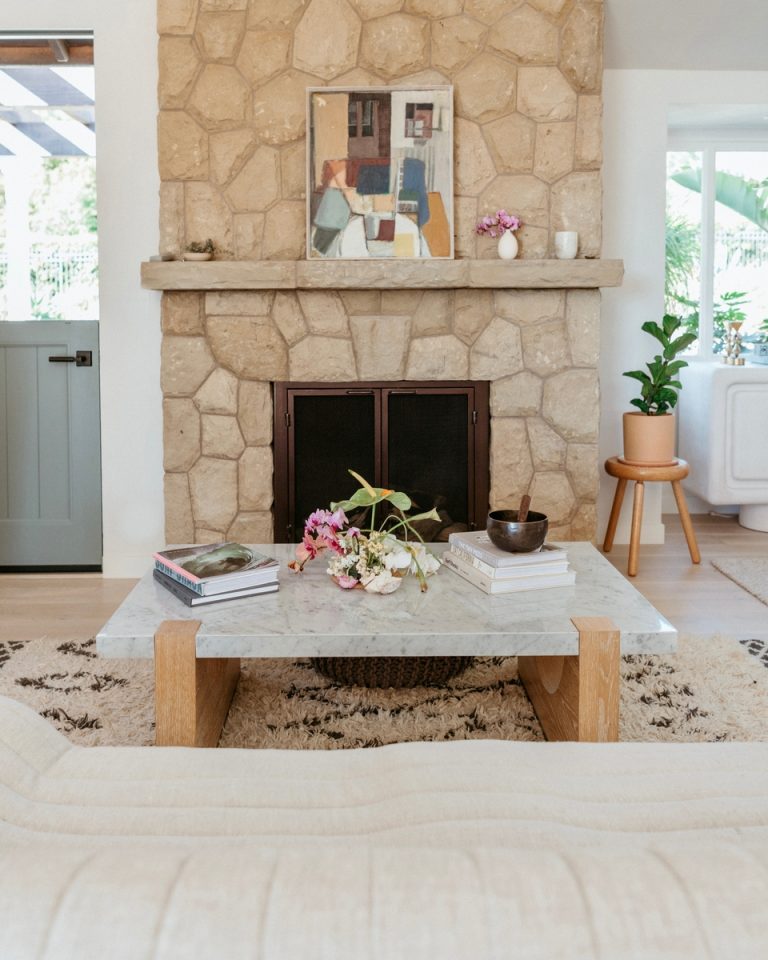 3. Think in odd numbers.
This is a common rule of design but Peddicord encourages anyone who's arranging coffee table décor to consider it in the preliminary stages. Depending on the size of the table, she recommends having three or five different elements. It's also important to note that every part of the table should be the same. Remember juxtaposition creates tension that engages the eye and is much more visually appealing than a table that's one-note.
4. Showcase your books and arrange bindings in different directions. 
While Cindy Witmer Olrik agrees with the odd numbers rule, she makes an exception with square coffee tables. She loves using beautiful books and wants to showcase them on every corner. Arranging the bindings in different directions, usually facing the seat closest to that side, topped with "the prettiest little objet d'art that I can get my hands on" makes a perfect setting. Check out some of our favorite coffee table books here.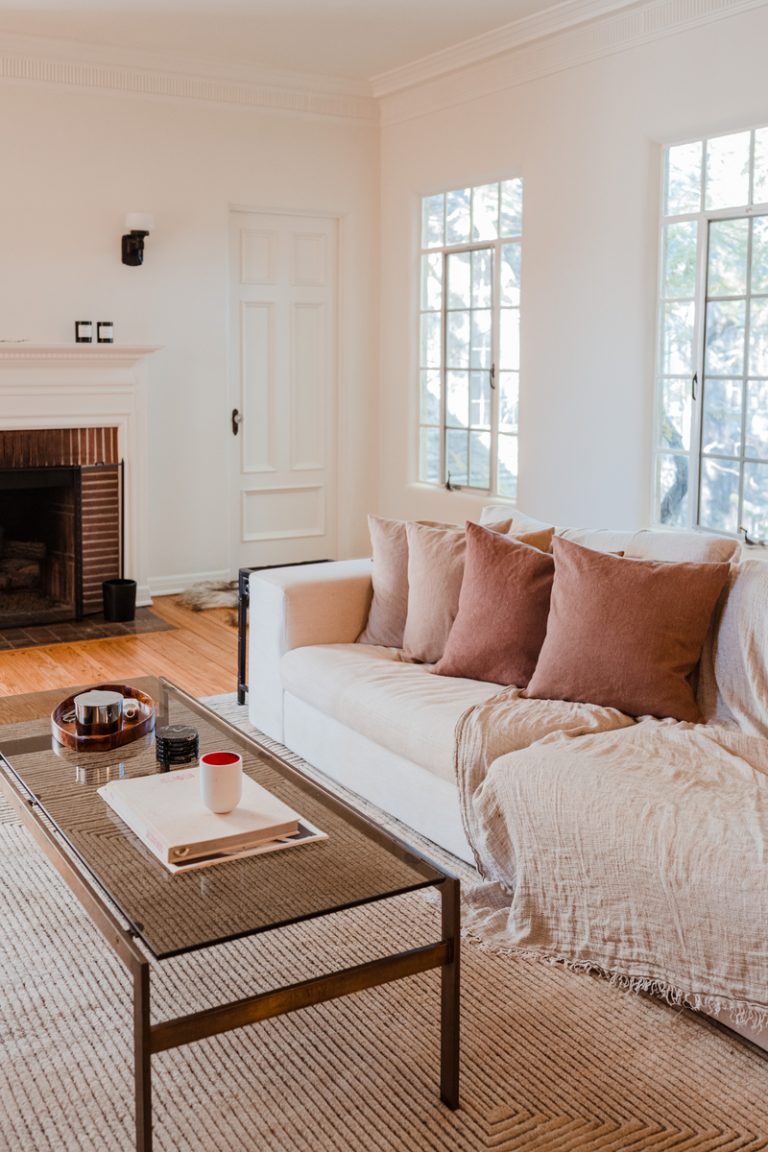 5. Divide the table into balanced quadrants.
Once you've divided your table into quadrants, Ro Miller Rynd suggests placing items in each of them to achieve visual balance. They do not need to match each other, but you'll want to use things that take up similar space. For example, if you use a stack of books in one quadrant, you will want to use a plant or bowl of similar size in the quadrant diagonal from it.
6. Your table is your autobiography.
This is Penelope Bianchi's decorating philosophy. Her entryway table is full of antiques she's collected throughout her travels—they're both beautiful and great conversation starters. Similarly, Winfrey suggests using trays and glass boxes to hold collections that evoke an emotional response for the owner. She once designed a coffee table for a family with enclosed specimen trays to house items they collected on nature walks nearby. Never be afraid to use non-traditional, personal elements. 
7. Curate your décor items to the space.
Another one of Rynd's tried and true coffee table décor ideas is to use items that relate to the space. For example, use design or art books in a common area, but use sports or travel books in a men's library. She also suggests layering books from largest to smallest on the top. Select favorite accessories such as bowls, candlesticks, plants, or succulents for the other quadrants, and finish off with small accessories placed on top of books.
8. Use the Rule of Threes.
Abbe Fenimore likes to style coffee tables using the rule of threes. This entails arranging items in odd numbers for a visually interesting aesthetic. This is perfect for adding interest to a large square coffee table, plus it leaves a little space to kick your feet up. Don't feel like you need to fill up every inch of the coffee table, either.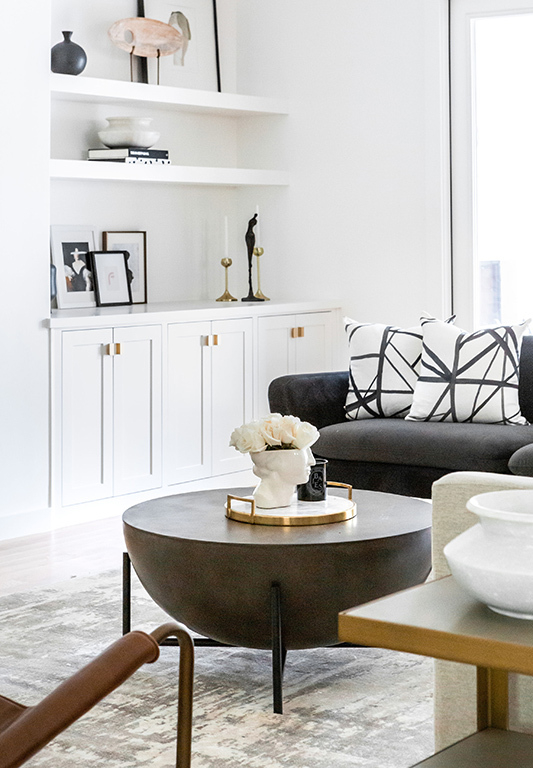 9. Fresh flowers are your friend.
This is the number one thing I heard from designers when it comes to coffee tables. According to Abbe Fenimore, an age-old styling trick (and still a favorite of hers) is to add fresh flowers. "They will instantly add life and soften up the area," she notes. Fresh flowers also appeal to all five senses (a tip we mentioned earlier!) and can be changed with the seasons. Peddicord suggests decorative branches to create a foraged look for fall. 
10. Employ the triangle method.
Holly Lydick styles her coffee tables in the shape of a triangle. This is different from the rule of threes, as it applies to height. Start with a taller accessory, such as a box or a plant, and tier down to a lower height accessory, such as a small tray, and then a final, third-tier even lower. This helps to maintain balance and consistently draws the eye downward.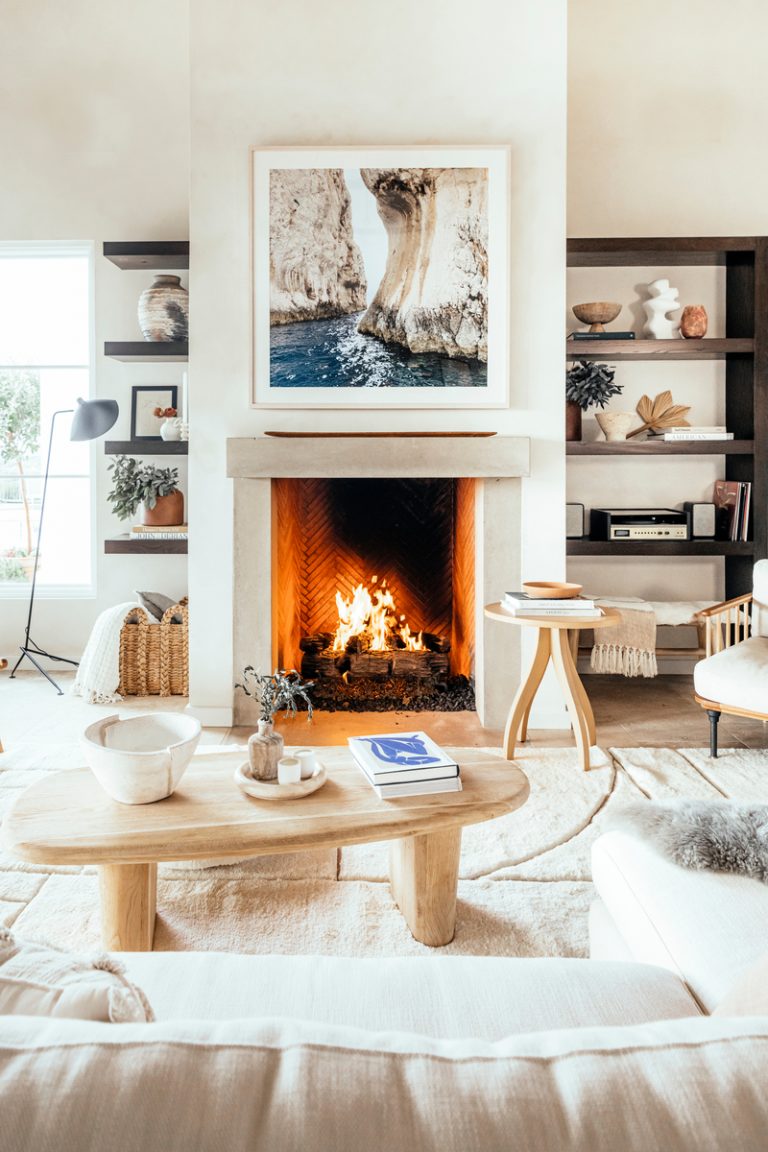 11. Try two.
If you're looking for an option with maximum functionality but also want to showcase your style, try out a two-tiered coffee table. Lydick recommends using one with a glass top. Here you can curate a collection of antique tortoise boxes on a tray or stack your favorite books detailing their beautiful bindings on the open end, while still leaving open space up top.
12. Don't be afraid to change it up.
Rynd reminds us that we're not married to one look. Feel free to add new items as you like from your travels or as the season's change. When you're entertaining, subtract items as you need for extra space. Your coffee table can be always evolving which makes it a favorite and reasonable spot to modify. Lydick similarly advises making sure that any groupings still allow room for entertaining—create space for coffee, wine, appetizers, etc.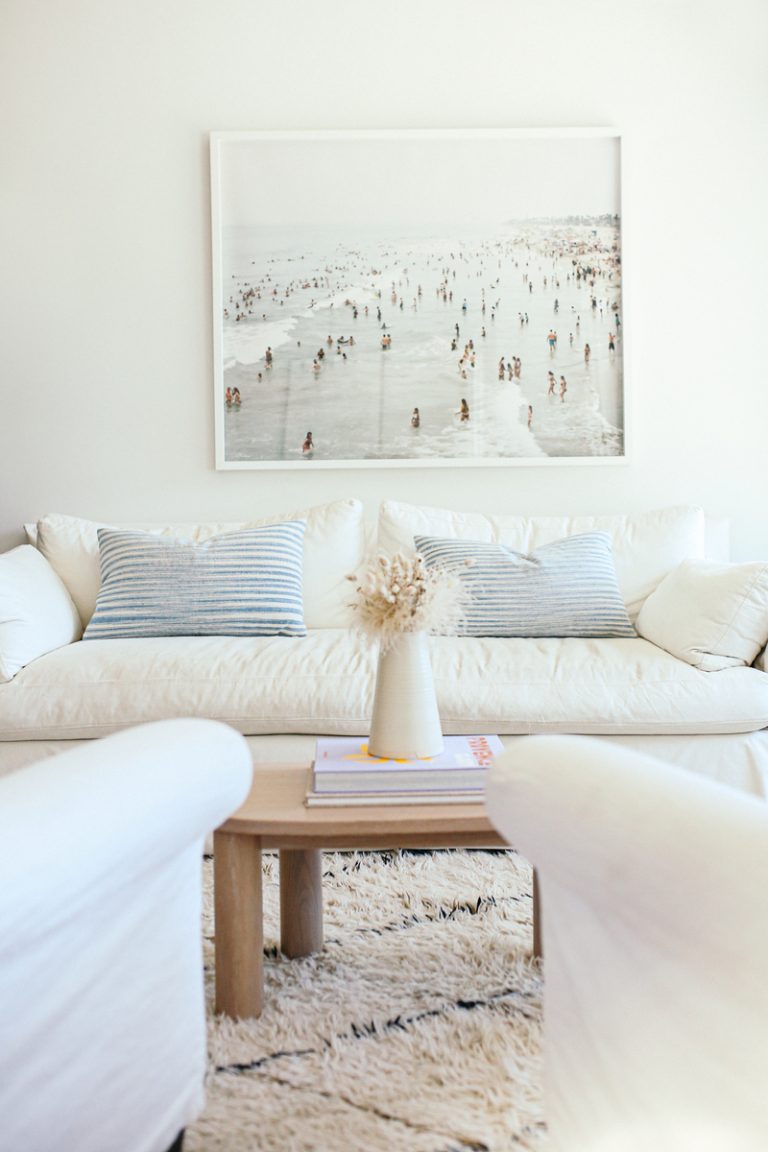 Get the Look at Home With Our Favorite Coffee Table Décor Under $100
This wicker tray brings both texture and functionality. It will hold a stack of pretty books along with decorative objects and necessary items like your TV remote. Plus, the gray stripes add a little more interest than just a simple wicker tray.
If you're thinking about dividing your coffee table into quadrants, then this would look great balanced on the other side with a rounded vase full of fresh flowers. I think I've found the ideal home for my coasters and a scented candle.
The salted honey scent will heighten that fall feeling and make any guest feel immediately at home.
We're taking a note from Peddicord's book and adding pretty branches to our coffee table for that just foraged from nature look. They'd also look great in an interesting vase or just laid across the table on their own.
The shape and texture of this candleholder are so unique—just another excuse to light as many candles as possible for that moody vibe. Once the candles are in, this piece would also add height to your table, helping to achieve the triangle method our experts laid out above.
Imagine those faux grass stems coming out of this abstract vase. Of course, fresh flowers are always ideal and would look amazing in this vase as well, but we don't always have the time to replace them. This item adds more textural interest, gives the table height and depth, and just looks gorgeous.
If you have any personal collections you want to display (as Winfrey loves) this is a great option for your coffee table. Its large size makes it perfect for a wide variety of objects and would even look chic holding your remotes.
The seagrass adds great texture while also hiding the flower water which can often become discolored. This vase is also serving major Cali vibes and I love bringing those feels into my home. A rounded vase like this is perfect for balancing out a rounded tray or sculpture.
You wouldn't even have to put anything in this tray for it to be interesting. The color, shape, and texture are so unique that it makes a statement on its own. Using this tray as a topper for a stack of books, as pictured, would be so gorgeous on any coffee table.
This tray not only adds interest but it can be easily swapped out to give your table a different feel as the seasons change. Of course, this bowl's chrome-like surface makes it so unique that it could stand alone as well, so the options are endless.
I love a good sculptural moment on a coffee table, and this is one of my favorites. Perfect for a stack of books, in a tray, or on its own, you can definitely use your own creativity to find a spot for this one. The dark colors would make it perfect for a home office, library, or a moodier room, as well.
Again, small sculptures like this are perfect for coffee tables—this one is super unique. The light wood is such a gorgeous color and brings some warmth to the table.
A tray trio that's simultaneously functional and beautiful. Great for layering, this would be a nice set to employ in the Triangle Method. Fill with beads or leave empty, these trays are just as gorgeous on their own.
This oversized candle will definitely make a statement on your coffee table. It has 10 wicks and smells of amber and lavender. I'm fully convinced that once I get my hands on this candle I won't ever stop burning it.
Not only is this book a piece of art for your coffee table, Cathy Kincaid's style is sure to inspire your style. Full of interiors from Dallas to France, yachts to cottages, the designs combine classic and contemporary pieces with advice on how to edit one's own home.
This book is a great way to add color to your coffee table– the green hues of the cover are even more vibrant in person. It has a tropical vibe that brings a touch of vacation to your living room. India Hicks also offers advice on everything from tablescapes to recipes to conversation starters that are sure to inspire your next gathering.
Charlotte Moss agrees that fresh flowers are your friend when it comes to décor. The flowers on the cover truly pop with their bright colors. The book is gorgeous on a table, but also has swoon-worthy flower arrangements and inspired table settings that you'll want to recreate ASAP. As a bonus, it gives a guide to notable gardens to visit around the world.
This post was originally published on September 13, 2021, and has since been updated.