A great skincare product can feel almost magical. From the brightening power that's packed in a bottle of vitamin C to the hydrating wonders of a good moisturizer, the best beauty stashes are stocked with formulas to cure every complexion concern. But of all our countertop concoctions, the most powerful may be at-home peels. In one slightly tingly swoop, they can address blemishes, uneven skin tone, wrinkles, and seemingly everything in between.
Of course, with great power comes a warning to peel responsibly. At-home formulations feature many of the same acids and enzymes professionals use at a lower concentration, but it's important not to overwork the skin with excessive exfoliation. You won't end up looking like Samantha Jones beyond the veil, but it's always good to be kind to your skin barrier.
With moderation in mind and a promising 2022 on the horizon, we rounded up some of our favorite tried-and-true peels you can do from the comfort of home. Discover a life-changing (truly) cult favorite, a "facial-in-a-bottle," and the OG of at-home chemical peels to reveal that coveted New Year glow.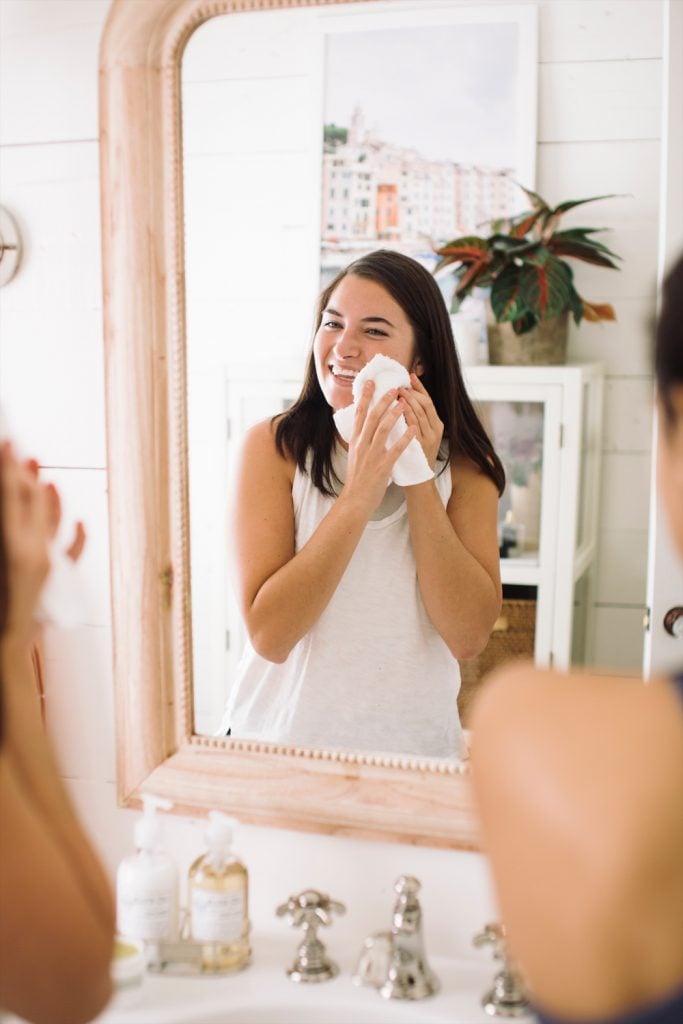 WHY I LOVE IT: iS Clinicals' most requested professional treatment is now available for at-home use. Designed to rapidly and safely resurface and rejuvenate the skin with no downtime, just a hydrated, radiant complexion. This kit comes with all the things you need to give yourself two professional-grade treatments at home. — Sacha Strebe, Deputy Editor
WHY I LOVE IT: Seeing Renée Rouleau for a facial has long been on my skincare bucket list. While she is renowned for her facials, it's her skincare line that gets all the attention (and the A-list fans!). I personally love this line but her standout products are the peels, in particular, this triple berry smoothing peel. It's incredibly gentle so you don't need to worry about any actual "peeling" from this one. Consider it as an effective exfoliation using hardworking enzymes that dramatically smooth visible skin damage, lift brown sun spots, and clear clogged pores.
Unfortunately, this one is on backlog due to ingredients that have proven difficult to get due to the pandemic supply chain delays, but I also highly recommend Rouleau's Dual Enzyme Softening Peel which uses papaya and pineapple enzymes to lift dryness, discoloration, and dullness to reveal bright, smooth and more even-toned skin. She has so many great ones, actually, and I honestly love them all. — Sacha Strebe, Deputy Editor
Why I LOVE IT: Not to get dramatic, but this mask *changed* me. Literally: This peel gets deep down in my pores and gives my skin a noticeably brighter and smoother appearance. I can honestly say I haven't used a product that gives me results like these. My happy, glowy skin is 100% thanks to Drunk Elephant (as well as my avocado addiction). — Isabelle Eyman, Contributing Editor
WHY I LOVE IT: When I want to fish for compliments, I use this Nature Bissé peel. Without fail, people will comment on how luminous my skin looks. The key is the luxurious Spanish brand's formulation, which features five AHAs (glycolic, malic, tartaric, citric, and lactic) plus salicylic acid and peptides. After cleansing, I slather on a few pumps of serum and let it sit until all the tingling subsides, then I'll wash it off and prepare for the words of affirmation I crave. Someone once described it to me as a top-tier facial in a bottle—I totally agree. — Caitlin Clark, Contributing Editor
WHY I LOVE IT: Stacked Skincare is the OG of at-home peels. Founder, Kerry Benjamin was selling chemical peels for at-home use long before it was popular. As a renowned esthetician, Benjamin wanted to democratize skincare and bring professional treatments safely into the hands of skincare enthusiasts. This peel is gentle but effective and can be used multiple times a week without any downtime. Just fresh, healthy skin every time. It's the best. — Sacha Strebe, Deputy Editor
WHY I LOVE IT: Performing a peel at home can be a little intimidating, but Glo Skin's professional-looking kits (complete with gauze pads and cotton swabs) make you feel like you're in good hands. (It helps that they often come recommended by dermatologists.) This beautifully packaged option is perfect for sensitive skin—the brand does offer a Level One peel if you're looking to start even gentler—and allows the serums and moisturizers in your routine to work that much harder. — Caitlin Clark, Contributing Editor
WHY I LOVE IT: If you want the power of a professional peel at home without the downtime, this is your new go-to. Combining all three of the popular acids—salicylic, glycolic, and lactic acids—this peel effectively exfoliates, smooths, and retexturizes skin for a more radiant complexion. Every time I use it my skin just looks refreshed and vibrant. I guarantee you'll love it too. — Sacha Strebe, Deputy Editor