I don't know about you, but here at Camille Styles, we're still in house dress mode. It's as though our muscle memory is locked into the comfort zone because every day we find ourselves automatically reaching for sweatpants or athleisure when getting dressed. Now that some states in the US are starting to open up again, we suddenly felt the need to refresh our wardrobes and start thinking about what to wear to a BBQ or outdoor gathering this summer.
Since comfort is still king, our prerequisites for outfits upon re-entry are easy and effortless. That means breathable fabric, simple multi-tasking designs, slouchy shapes, and classic silhouettes.
So, read on to discover the 21 pieces we're wearing to a BBQ or outdoor gathering soon—we broke it up into clothing and footwear, too.
Clothing
Recommended by Suruchi Avasthi, Food Editor
"I know it's summer and everyone is technically into bright colors and fun for the season, but nothing makes me happier than a great basic black dress that I can put on for any and all occasions. This dress might be the comfiest thing I own, and I'm prepared to live in it all summer long. I love Cuyana's classic and simple silhouettes and styles, and this dress has been perfect for both casually running out the door and for fun outdoor gatherings. It's super lightweight and airy and the silhouette is just so simple and classic, pairs so well with a simple slide sandal for outdoor gatherings, and it makes me feel so put together without any effort at all!"
Mi Golondrina Suerte Nieve Dress
Recommended by Camille Styles, Editor-in-Chief
"Let's be honest, I'm still in house dress mode, and I don't know that I ever want to come out of it. However, comfort can be chic, as proven by this easy-breezy cotton midi dress from Mi Golondrina. The hand embroidery elevates it to truly special status (each dress is hand-embroidered in San Antonino Castillo Velasco, Oaxaca), and the color palette is perfect for the summery days ahead. I'm pairing it with flat sandals, a red lip, and a top knot." 
Recommended by Anne Campbell, Contributing Editor
"Regardless of the season, I always make sure to have at least one romper hanging in my closet as a throw-on-and-go wardrobe staple. This summer, my go-to is this Farm Rio number. As a maximalist through-and-through, I am digging this bold print and colorful palette, and since it's already over 90 degrees out, its breathable linen is definitely a fabric I can get behind."
Matin White Inverted Pleat Dress
Recommended by Sacha Strebe, Deputy Editor
"I have developed a full-blown love affair for the Australian brand, Matin. Their clothing is effortless, relaxed, and perfect for our re-entry from sweats at home to casual hangs and BBQs with friends. I already have this dress in black but I decided to get the white too because I love its lightweight cotton fabric which is perfect for the warmer months ahead. There's plenty of room in this dress with its inverted pleats that create a beautiful full skirt and billowing sleeves. It's semi-sheer so it looks great with a bikini underneath, bodysuit, or slip dress. Dress it up with heels or dress it down with strappy flats—this piece lets you choose your own adventure!"
Kate Spade Mini Gingham Smocked Bodice Dress
Recommended by Kelly Krause, Wellness Editor
"In my opinion, gingham screams summer BBQ. Love the style and color of this dress, especially when Texas summer temps creep into the 100's. Kate Spade always does a great summer capsule and I'm already rocking this one."
Recommended by Sacha Strebe, Deputy Editor
"I have been wearing this dress non-stop since I bought it. The brand is ethically made in Los Angeles by former blogger turned designer, Karla Deras and is renowned for its simple, elegant, and effortless pieces. I get compliments every time I wear this dress and you will too."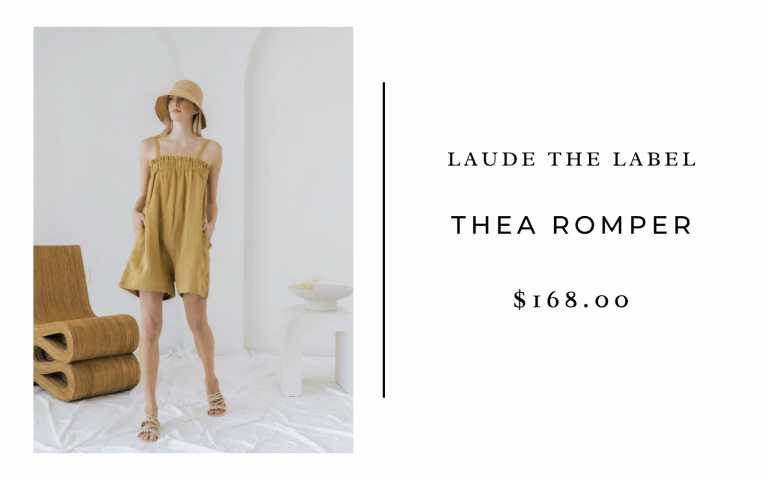 Recommended by Caitlin Clark, Contributing Editor
"Every piece I've purchased from Fort Worth-based, Laude the Label is in near-constant rotation, so I can attest firsthand how well made their organic linen collection is. I live in Dallas, so finding fun, featherlight pieces is key to surviving a Texas summer. This romper has just enough structure to make me feel like I've dressed up without (literally) weighing me down."
Recommended by Sacha Strebe, Deputy Editor
"I have been a big fan of cool-girl Lauren Alexander for years now. She built the ultimate everyday essentials clothing line, LNA, and became a fashion icon in the process. Her effortless approach to style is enviable and her brand helps all of us to nail that low-key yet elevated vibe too. I am in love with her new collection including this Endless Top made from a soft ribbed rayon, it will look easy yet high-end with a pair of vintage Levi's."
Recommended by Sacha Strebe, Deputy Editor
"Summer isn't complete without a few simple rib-knit dresses to throw on over a bikini when you're in a pinch. This simple tank-style dress will compliment your sunkissed skin and looks great dressed up with some kitten slides or down with flats."
Frank & Eileen Rory Woven Long Dress
Recommended by Camille Styles, Editor-in-Chief
"I have been practically living in this dress since it arrived a month ago and it's easy to see why. The 100% linen fabric is so lightweight and breathable and the easy shirt style makes me look like I'm put together, even when I'm not. It's also a piece that can be dressed up or down depending on the occasion and it's also the chicest beach cover-up!"
Recommended by Sacha Strebe, Deputy Editor
"Whoever said you couldn't wear black in summer never met me! This airy cotton dress is so easy breezy, it's practically made for summer. And that price just seals the deal."
Levi's Ribcage Ultra High-Rise Straight Jeans
Recommended by Sacha Strebe, Deputy Editor
"I am such a denim and tee kinda girl in the summer months. It's just so easy, and when it's hot (and humid) out, the thought of wearing anything complicated or uncomfortable just sends my head into a spin. I'm all about high-rise everything (it's just so dang comfortable) so these will get a lot of wear with sandals and that LNA top I recommended earlier!"
Recommended by Sacha Strebe, Deputy Editor
"I am all about sunscreen, a wide-brimmed hat, and shades all year round but especially in the summer. I love this wide-brimmed fedora to keep me looking cool while it's hot out (and protecting me from sun damage—very important!"
Target A New Day Women's Puff Sleeve Dress
Recommended by Sacha Strebe, Deputy Editor
"When in doubt, I always turn to our favorite store: Target. They just have so many simple summery options that are stylish yet affordable. This puff sleeve dress has a high impact for under $30. You can't go wrong!"
ABrand A Slouch Straight Leg Jean in Georgia
Recommended by Sacha Strebe, Deputy Editor
"Since I've been living in sweats or athleisure for the last 18 months, getting into anything rigid has been tough for me. So, I'm looking for pieces that mimic that comfort, and these slouch jeans are just the thing. I'm all about a stretchy, loose fit that looks elevated but cozy."
Paris Georgia Linen Knit Dress
Recommended by Sacha Strebe, Deputy Editor
"Okay, so this one is a little on the higher end of the price range but I am so in love with this linen dress for summer. It's a stunning piece that will look so good at an outdoor gathering with friends. Style it with a simple slicked low bun, strappy slides, and simple gold hoops. "
Footwear
Mango Platform Sandals With Knot
Recommended by Lourdes Avila Uribe, Contributing Editor
"This sandal fits all my requirements. It has a slight platform to give me an extra inch of height, they have a good enough cushion that makes it comfy to walk around in for hours, and they are just as chic as the much pricier versions I had been eyeing at Anine Bing and Frankie Shop. I love that they elevate casual shorts and a tee-shirt look and dress down a satin dress or skirt. It's all I ever want in a shoe!"
Recommended by Brandy Joy Smith, Motherhood Contributor
"I just got these sandals and I'm absolutely in love. I have narrow feet so sandals can be a hard purchase for me. They are sleek but also casual, because of the slim profile they look great with a dress or jeans and a t-shirt."
Ziaden Block Heel Slide Sandal
Recommended by Michelle Nash, Senior Producer 
"After taking these slides for a spin I can attest they are the comfiest sandals I've ever owned. I even went back and bought a second pair in another color because I was so in love. I'm normally a sneakers all-day-everyday gal, but I wore these for a full shoot day and completely forgot they were on my feet. It's safe to say I'm (maybe) a sandals convert after snagging this pair. Plus, I love that these have a tiny block heel and since I'm 5'2, I'll take any chance I can get for some extra inches."
Recommended by Edie Horstman, Wellness Contributor
"I'm particularly happy that platform sandals are trending this summer. I'm 5'0" on a good day, so I'll take any additional height I can get. I'll be wearing these lofty sandals for every future warm-weather party. They're chic, super comfortable, and pair beautifully with a short dress or boyfriend jeans (I got them in beige). I wore them to a backyard birthday party and got so many compliments!"
Recommended by Sacha Strebe, Deputy Editor
"Nothing says summer quite like a thin strappy slide. These simple black sandals are like a hug for your big toe. They're perfect with jeans, dresses, shorts… well, anything really!"