We spend about half our lives in bed. And the other half? Most of us spend a good portion of it around the kitchen island. Think about it: At a dinner party, where do you plant yourself? The same goes for when you swing by a friend's place. In fact, so many of my childhood memories include eating giant bowls of ice cream while I swung my legs from an island stool. The point is, this part of the home is basecamp, which means that kitchen island décor ideas are about more than aesthetics, they're about decorating a literal pillar for gathering.
Because so much happens at the kitchen island—from cooking, eating, and drinking wine to playing cards, doing homework, and connecting with your partner—the emphasis is to allow for ample negative space while adding just the right amount of tools and beautiful objects. Much like a coffee table, the kitchen island is a place to express creativity.
Feature image by Molly Culver.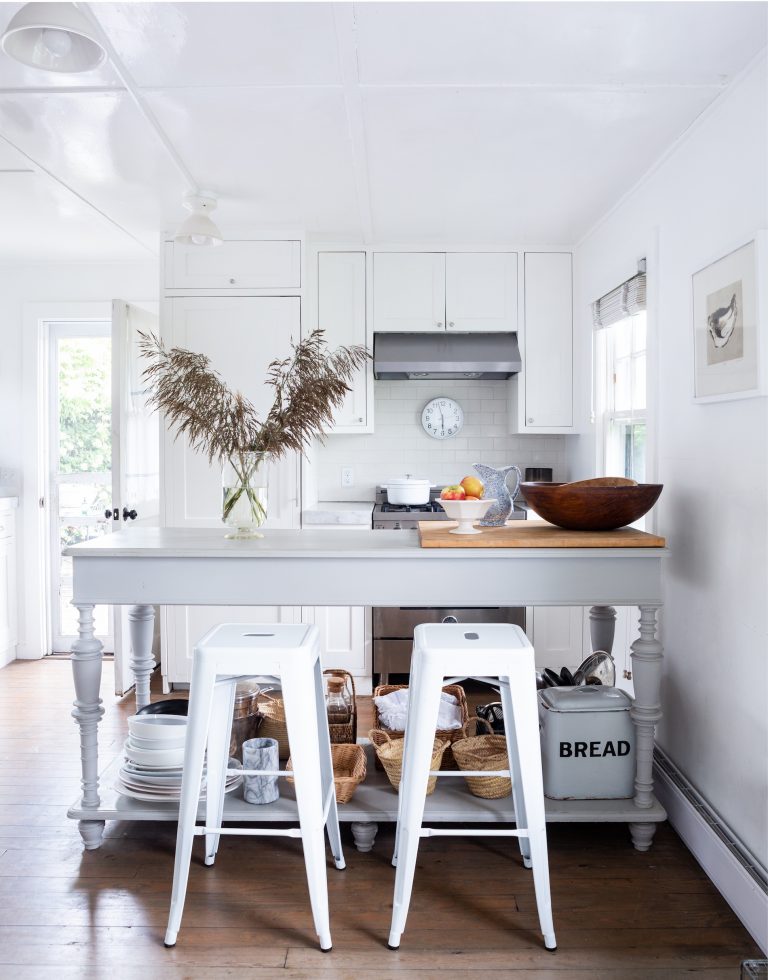 It should be noted though, kitchen island décor ideas vary according to lifestyle. If you're a home chef, the emphasis needs to be on giving yourself ample space to chop and prepare (if other countertop real estate doesn't allow for this). If you're more of a host, the island is ideal for giving people a place to hang out. (Think of it like a bar.) Or maybe you need this multi-hyphenate to offer all the above plus function as your home office. Whatever it may be, these kitchen island décor ideas cover the spectrum.
11 Kitchen Island Décor Ideas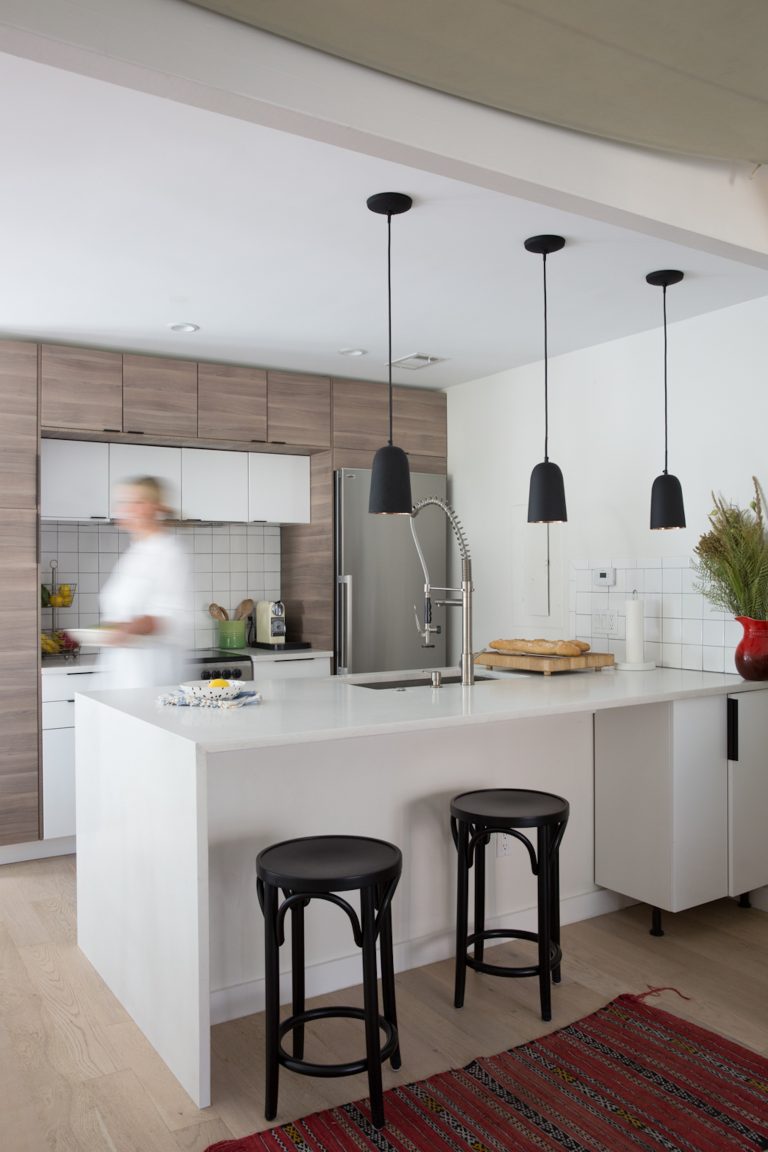 #1: Showcase Vessels
If there is one place to showcase a gorgeous wood bowl or vessel, it's the kitchen island. Gather fruits and vegetables that can be kept at room temperature, display them in your favorite bowl, and place them at the center or to the side of the island. Putting fruits of all one color, such as green apples, adds a punch of color.
#2: Highlight Flowers
Fresh flowers always uplift, so it's best to put them on a main focal point. Group seasonal flowers or dried stems in a sculptural vase and place them at the center of the kitchen island. This will offer color, dimension, and height. Keep flowers trimmed to extend their lifespan.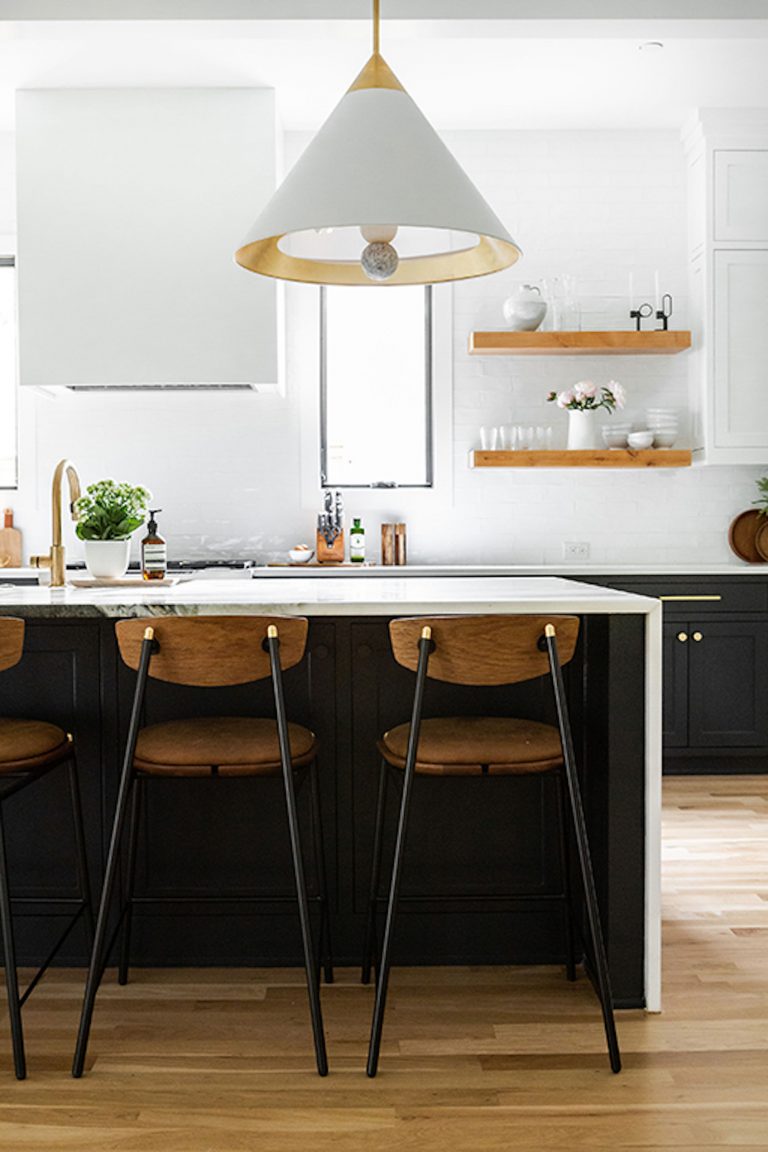 #3: Make It Comfy
Because the kitchen island is a mainstay, you and your loved ones will likely be sitting there often. Opt for ergonomic stools and consider cushions. The comfier the seating, the more people will stay put for conversation.
#4: Layer Boards
Cutting and gathering boards deserve to be on display. Keep boards at the ready for cutting, prepping, and impromptu cheese board meals by neatly layering them on the kitchen island, off to the side.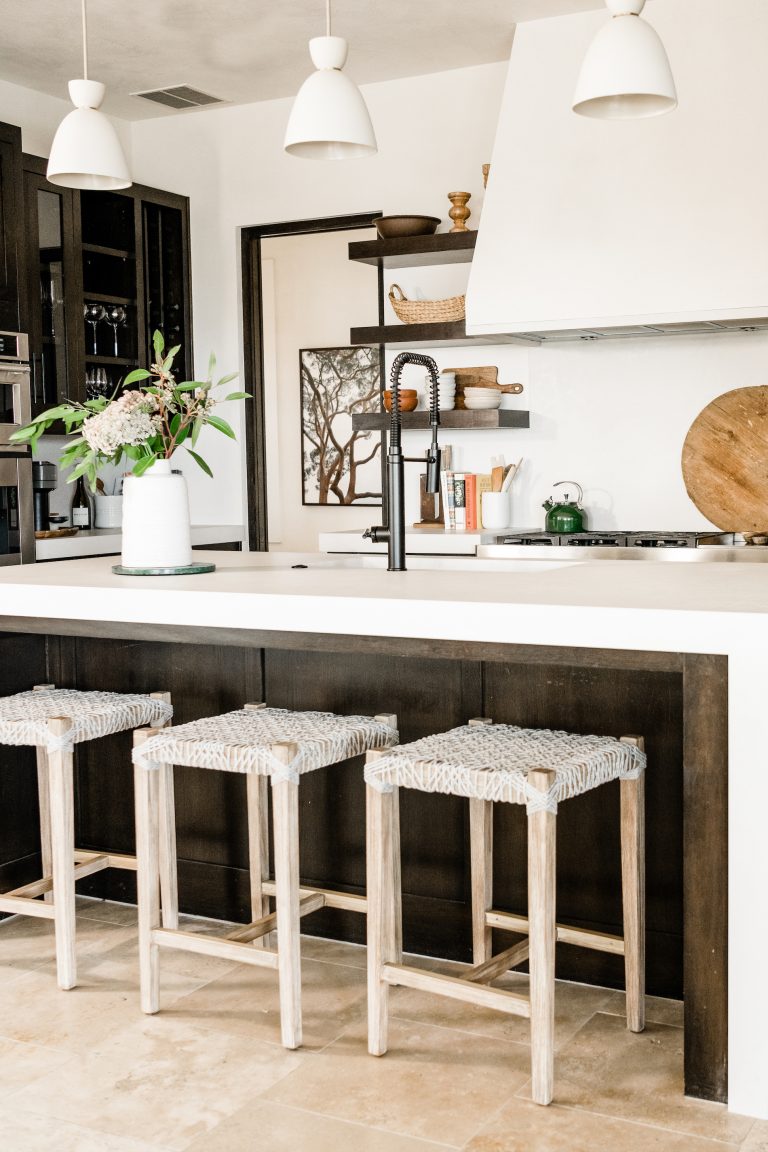 #5: Lean into Simplicity
If utilitarian is the name of your kitchen island game, aim to keep the counter real estate uncluttered and free in between uses. This can mean corralling fruits and such in a bowl or keeping the space totally free, which works well for a makeshift home office setup.
#6: Let There Be Light
Good lighting offers energy, beauty, and warmth. Pendant lamps above the kitchen island cast buttery rays perfect for this trifecta.
#7: Weave in Texture
What do woven placemats, linen table runners, and pebbled ceramics have in common? Texture! Group these items, or any kitchen or dining décor item, in the same neutral hues to up the ante on the look and feel of the kitchen island.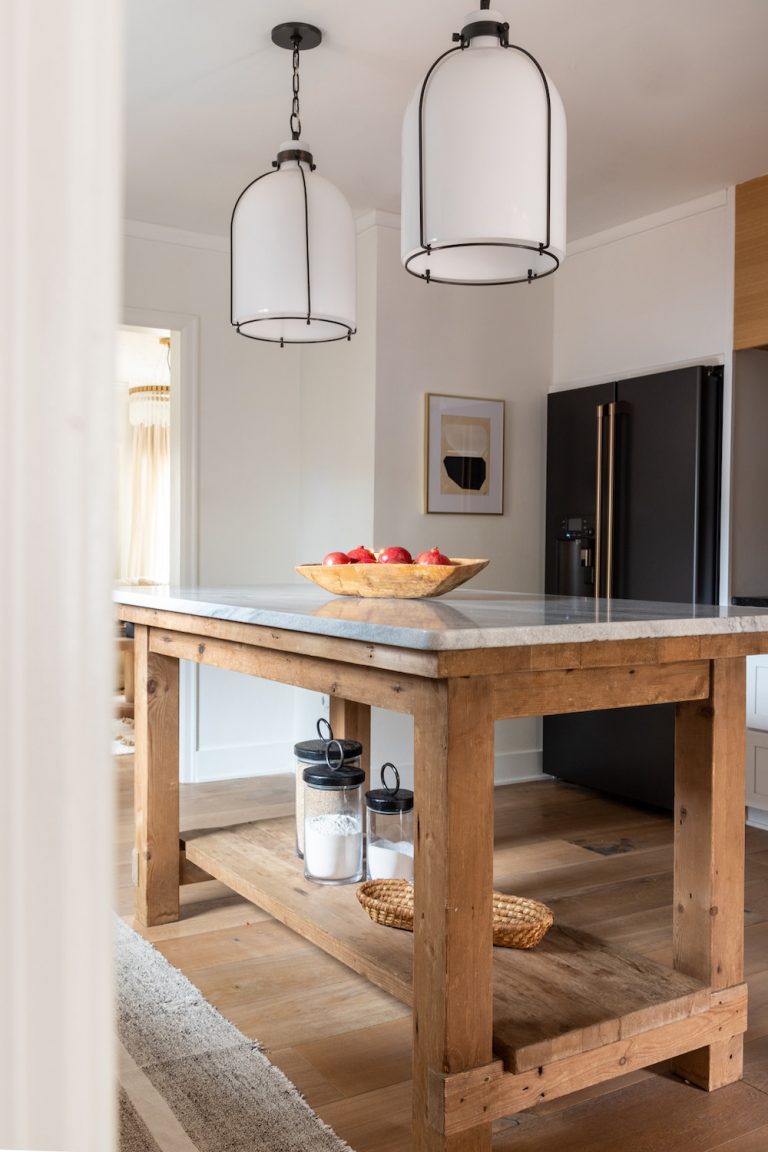 #8: Use What's Below
Many islands offer an open shelf or two below. This is an ideal place to add jute baskets for placemat storage, corral empty vases, and even store extra pantry goods. If items are visually pleasing, give them a home here.
#9: Ground with a Tray
The kitchen island offers a perfect place to group favorite items, from bowls to vases. But if those items vary in aesthetics, the look can be disjointed and messy. The fix? A simple tray. Placing the grouped items (ideally three) on the tray creates instant cohesiveness.
#10: Show Off Cookbooks
It's no secret that we love cookbooks and reach for them daily. Since a cooking library is a pillar of its own, consider aligning or stacking them on the kitchen island to make for easy access and coffee-table-inspired reading for guests. Just be sure to keep the stack short and limit it to fewer than six books.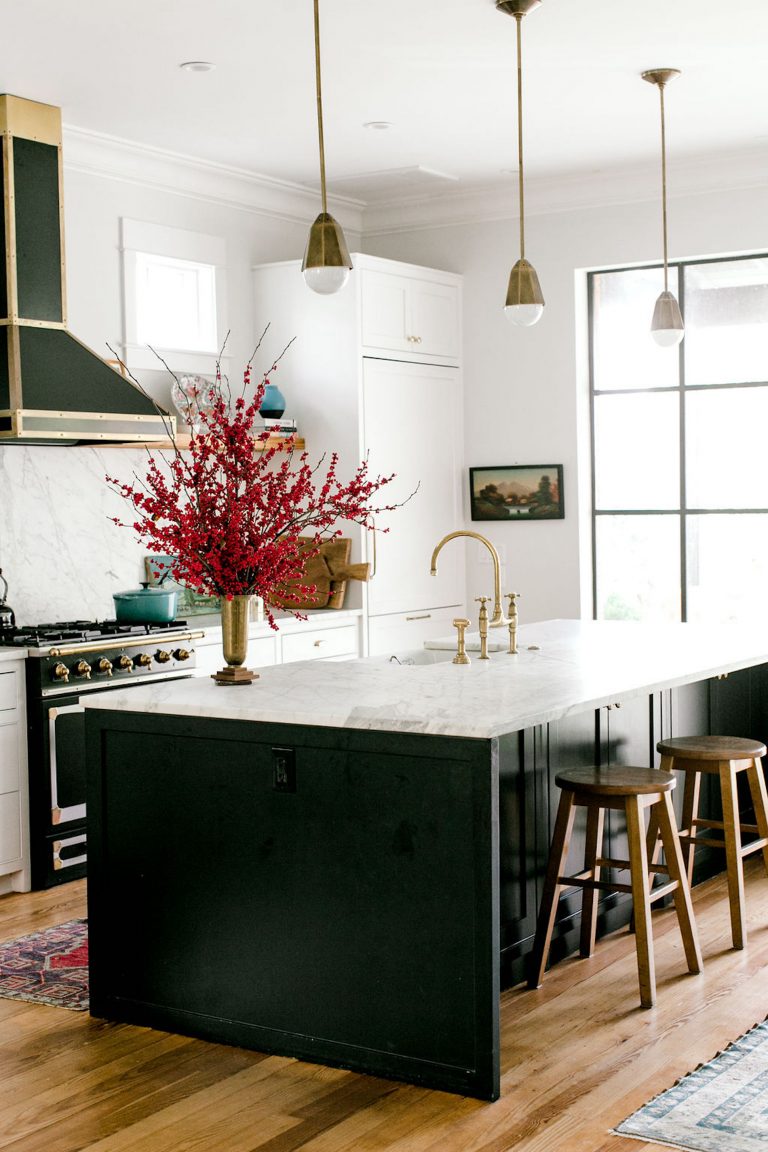 #11: Add Something Quirky
An old friend always kept a deck of playing cards in a bowl on her kitchen island. It was unorthodox, unexpected, and always entertaining. Every time I sat there, I ended up in a card game with myself or others. So don't shy from placing something of interest, be it a deck, a unique sculptural piece, or a photo. A conversation starter in the kitchen makes for gatherings that last.