What is it about the back-to-school season and the need to re-organize the kitchen? Few things feel as good as getting the most-used (and loved!) room in our house into shape. As further proof that this is the season of the kitchen facelift, kitchen design ideas are also trending on Pinterest. It would appear that everyone is on the same wavelength these days!
Of course, the onset of fall is the perfect time to update your home, whether you're just looking to add a bit of fresh paint or need to overhaul it from top to bottom, chances are you've been bitten by the decorating bug too. If you're looking to refresh your space but need a little inspiration, then you've come to the right place.
We took a look through our archives to share some of the dreamiest kitchens we've featured from some of the most stylish women we admire—it's inspiration central! Every single one of these rooms is as functional as it is gorgeous and is sure to give you a few ideas to update the heart of your home.
Keep scrolling for some of the best kitchen design ideas!
Photo by Molly Culver.
Paint the kitchen duck egg blue
Make a statement that doesn't overwhelm with this beautiful soft shade of blue. Kim West always wanted a duck egg blue kitchen and this dreamy space takes center stage as the focal point that anchors her entire home. It's laidback, thoughtful, and delightful.
Photo by Michelle Nash.
Add open shelving
Instead of getting rid of all her cabinetry, Camille just tore out three cabinets in the corner and extended the open shelving to let in more natural light—and to display her favorite objects. The end result is much lighter and brighter.
Clear off your counters
Chef René Redzepi knows that what he does have in his kitchen is almost as important as what he doesn't have. Start by clearing off what's migrated to your counters. Then embody Redzepi's exacting nature when deciding what gets to go back.
Photo by Molly Culver.
Splash some green paint on your cabinets
By now we know that green paint is having a moment, so why not join Caroline Pinkston and paint your kitchen cabinets in the bright hue for a burst of freshness? Light floors and countertops balance the richness of the green and ensure the color doesn't overtake this small space.
Photo by Kristen Kilpatrick.
Color coordinate your fridge
Take a page out of Gail Simmons' book and get a custom refrigerator door that blends seamlessly into the rest of your shelving and kitchen. This is especially helpful when you have a lot of stainless steel appliances that can quickly veer into an industrial kitchen aesthetic.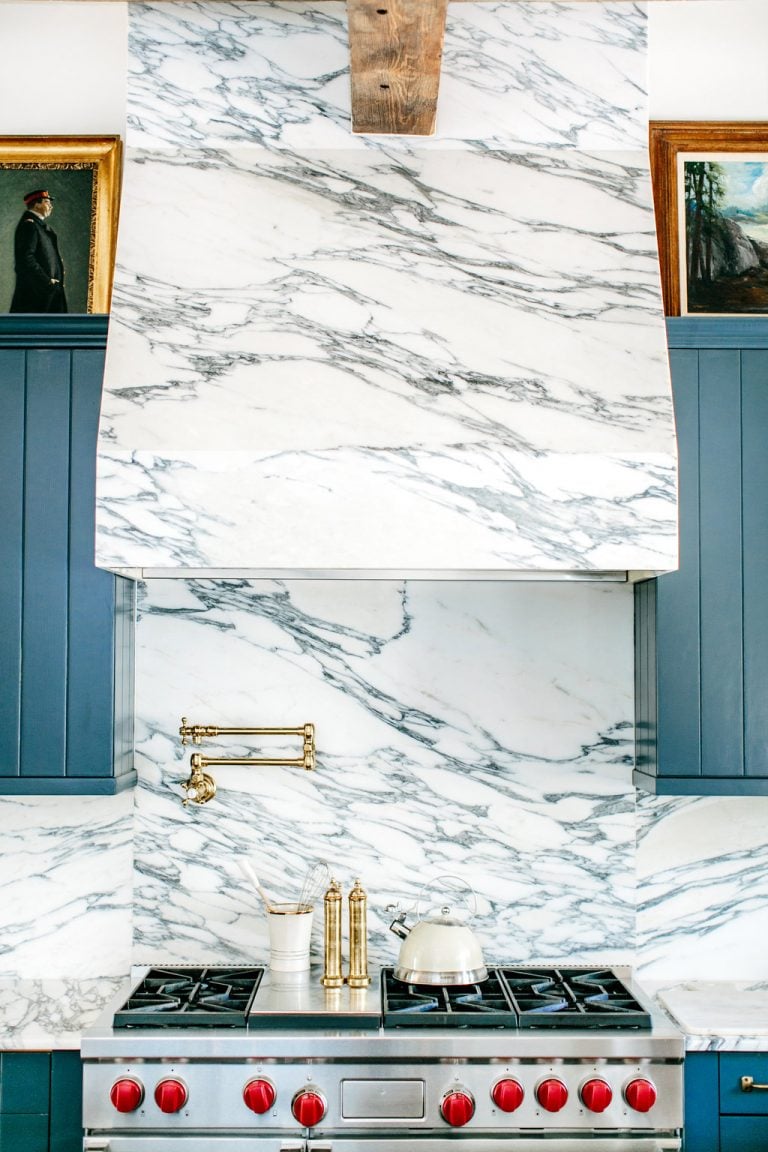 Photo by Kristen Kilpatrick.
Bring marble into the room
Brooklyn Decker's kitchen features one of this year's biggest trends. Marble countertops, backsplash, and even a marble hood surround make this kitchen feel large, airy, and incredibly luxurious. The creamy, veiny, smooth texture is the perfect complement to the fresh blue paint.
Photo by Michelle Nash.
Display your ceramics and wood cutting boards
Mismatched cutlery, chipped dishes, and other clutter can all be stashed away, but let your gorgeous pieces shine like Jen Pinkston. Whether they are fancy design accessories or simple everyday items, if they're aesthetically pleasing, find ways to incorporate them into the overall décor.
Get moody with dark floors
Juxtapose bright, airy cabinets with dark floors like Anna Groves. It keeps things ever so slightly mysterious without making the room feel small or somber. It's an easy way to add a bit of gothic elegance, minus the Hot Topic vibes.
Photo by Kristen Kilpatrick.
Add a built-in breakfast nook
Heather Taylor knows that few things are as cozy as a breakfast nook that features a built-in bench. It is an elevated diner look that feels refined thanks to the fresh paint, simple lines, and understated cushion fabric.
Photo by Jennifer Rose Smith.
Invest in a dramatic stone kitchen island
Aussie tastemaker, Emma Lane knows how to make a statement. The stone kitchen island really is the focal point of her kitchen but she purposefully kept everything else simple with natural earth tones.
Photo by Nikole Ramsay.
Go gold
Have you ever seen anything more stunning than this gold, stone, and pink kitchen? It's safe to say Alex McCabe's kitchen is an absolute dream. The shimmering gold brings a reflective light to the space that gives it an ethereal, otherworldly charm.
Photo by Anson Smart.
Display copper cookware
When they're this gorgeous, you simply cannot hide your pots and pans. Make like Marjorie Taylor and Kendall Smith Franchini of The Cook's Atelier and hang them around your stove area or stack them on open shelves for a timeless French vibe. And look at all those knives! Install a magnetic strip to keep them at arm's reach.
Photo by Matt Holstein.
Keep things creamy
Color isn't your thing? No problem. Keep your kitchen cool, breezy, and light like Kate Holstein with white, cream, and oatmeal hues. This organic style has a neutral color pallet to invoke a sense of serenity and an overall relaxed vibe.
Photo by Wynn Myers.
Mix and match floor tiles
Mismatched floor tiling is completely unexpected but works seamlessly in Tarica Navarro's stunning kitchen. It adds whimsy that doesn't feel childish to a black and white space.
Photo by Ashleigh Amoroso.
Add a vintage rug
Need to cozy up concrete floors or steel appliances? Add warmth like Maya Nairn with a vintage Persian or Moroccan rug. It's vintage so you don't need to be precious. The more patina the better.
Photo by Winnie Au.
Get dark countertops
Moody, dark décor is having a moment, and you can use the kitchen island or your countertops as a way to bring that sensibility into the kitchen. Pair it with colorful shelving like Eden Grinshpan has in her kitchen for a sophisticated, chic look.
Photo by Hannah Haston.
Update lighting and sink fixtures with brass counterparts
It's a simple, timeless, and elegant way to carry a cohesive aesthetic through the room. And did we mention it looks beautiful? Lauren Smith Ford has a great eye and we're following suit.
Photo by Nicki Sebastian.
Add eclectic accessories to open shelving
Don't be afraid to put your more whimsical collections on display like Serena Mitnik Miller has in her stunning Malibu kitchen. Perfection is boring, and different textures, colors, and shapes add interest and bring joy to the space just.