With hosting season in full swing, we're constantly looking to find that perfect table setting that weaves beauty into the everyday. We've covered outdoor table settings and dinner party table settings, and we've shared foundational tips for setting every type of table, no matter the occasion. But today, it's time to focus on an understated element of your table that can leave a huge impact: the humble napkin. A napkin can be a statement-maker on your table. We have you covered with several variations that will make your table shine.
In this Article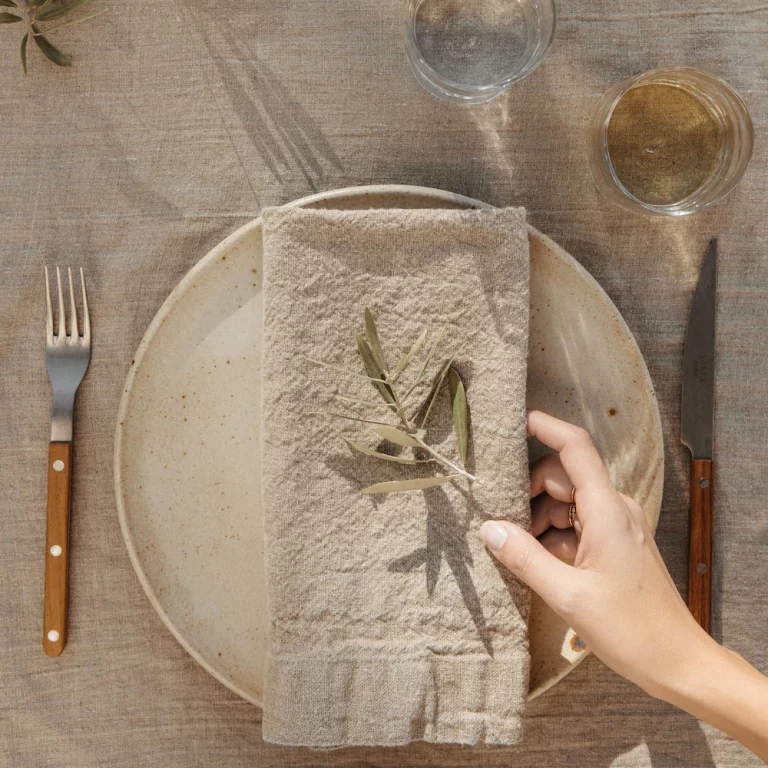 A Host's Guide to Setting a Table With Napkins
It's easy to find yourself in default mode when setting the table. We all know what looks best on our tables, how we like things arranged, or our favorite design elements. That said, we can all agree that it's never a bad idea to spark creativity with fresh ideas for our tables and, more broadly, our lives!
With that in mind, we've rounded up several tips for how to set a table with napkins that you can effortlessly implement into your own table design. By merging traditional table settings with natural beauty and unexpected twists, you can go forth with confidence in your own design abilities.
Types of Napkins and When to Use
We've seen napkins in all shapes and sizes. From little cocktail napkins to our favorite linens, you have a broad range to choose from when deciding how to set a table with napkins. And while different types should be used for different occasions (more on that later), you can't go wrong by getting creative with your table settings. Utilizing your personal design tastes and preferences is of the utmost importance when you're soaking up these tips.
The key to crafting a beautiful table with napkins is all about marrying traditional design frameworks with your own unique style. Do we dig it? I think yes.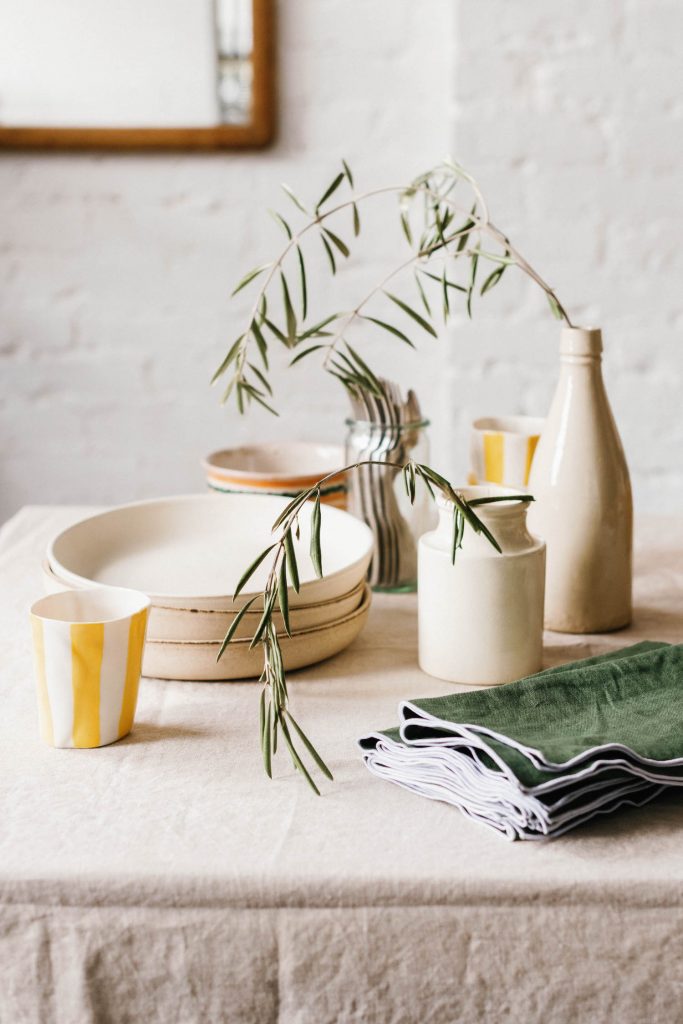 Another thing to consider when weighing paper versus cloth napkins is the environmental impact. Paper napkins are a paper product, and making them requires lots of water and cutting down trees. During this process, greenhouse gases are released into the environment as well. On the other hand, even though they have to be washed every so often, cloth napkins are a much more sustainable source for your table. They don't utilize wood pulp and they release a significantly lower amount of greenhouse gases.
However, the occasional use of paper napkins is A-OK—especially if they're made from recycled materials.
When to Use Paper Napkins
In general, paper napkins should be reserved for more casual and/or outdoor gatherings. A few examples:
Barbecues
Pool parties
Buffet-style meals
Casual outdoor dinners
Picnics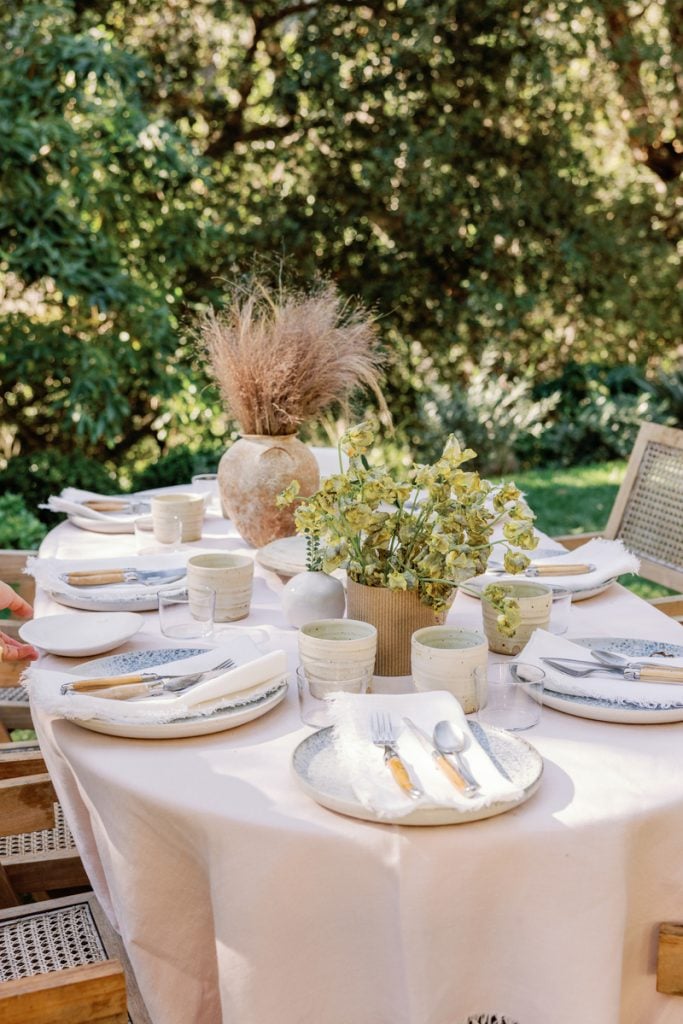 When to Use Cloth Napkins
Linen napkins can dress up your table a bit more than paper napkins, so it's good to use these with more formal table settings and/or occasions. Some examples might include:
Indoor or outdoor dinner parties
Special occasion dinners (birthdays, anniversaries, celebrations)
Holiday meals
Date night
Everyday meals when you want an elevated feel
Our Favorite Linen Napkin
When it comes to setting the table with napkins, we almost always reach for linen. The fabric's easy-breezy quality is perfect for summer while also adding a natural, organic element to the table any time of the year. This oversized linen napkin is endlessly versatile (its size allows for a seamless swap-in as your go-to dishtowel). And if it couldn't be more perfect, it also makes for a beautiful and thoughtful hostess gift. We guarantee: you'll be invited back.
Napkin Placement
You have a lot of creative freedom when it comes to napkin placement. In fact, there are so many spots for the napkin to shine. However, placement can depend on a few things. You might want to consider how many place settings you're arranging, what kind of centerpieces you have, and how many place settings you're adding to the table. This can impact how much wiggle room you have with your napkin, which will influence its placement.
Below, we've listed a few ways to style a napkin on your table so you have something on hand for every occasion.
On the Plate
Placing the napkin on the plate is one of the more traditional variations of napkin placement. It's classy, understated, and serves as a visual reminder for your guests to place it in their laps upon sitting. If you're choosing the "napkin on the plate" route, you'll probably want to refrain from placing the cutlery on top of the napkin, though it's not entirely off the table. While other styles open up more room for silverware stacking, it can become a tad crowded here when the napkin is on the plate itself.
Under the Plate
Having your napkin as the foundation for your plates is a gorgeous way to add depth to the table. Think of the napkin as a more-stylish charger setting the base for plates. It's a simple touch that elevates the table with hardly any effort. It hangs over the edge of the table and helps fill some of the empty space between the chair and table, which looks stunning from near and far.
To the Side of the Plate
Arranging your napkin to the side of the plate opens a lot of doors. Allow me to explain. You can do a lot of different things when the napkin is on the side of the plate. You can fold it up for a more uniform look, shake it out, and drape it naturally for a more textured look, or place your silverware on top of it for vertical depth.
Whatever you choose, placing the napkin to the side of the plate is a simple way to fill out your table beautifully. As for what side to put it on, follow the traditional silverware placement should you choose to layer in those elements.
Knotted Above the Plate
For a fun twist on the table, knot your napkins and place them at the top of the plate. It's a simple way to add an eye-popping element to the mix and give your guests something to rave about. With this arrangement, I love to add a place card or fresh herb bundle on top of the plate. Or, you can let the plate's natural beauty speak for itself. Either way, you can't go wrong with a classic knotted napkin.
Napkin Placement Etiquette
What to Do With a Napkin When You Sit Down
It's a basic rule of dinner party etiquette to remove your napkin from the table and fold it into your lap upon sitting down. Take the time to gently unfold it and place it in your lap. It's a simple signal that makes it clear that everyone is settled and ready to begin the meal.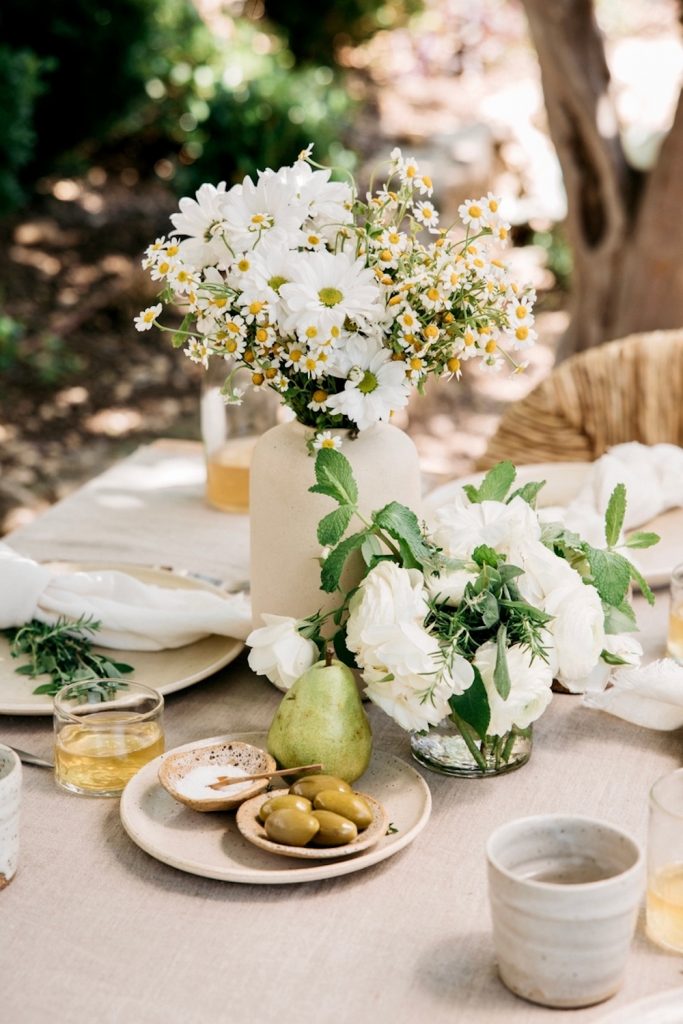 What to Do With a Napkin When You Get Up
This is a tricky one! We're often told different ways to leave a napkin at the table should you need to step away. Some people leave it in the chair, some drape it over the chair's back, and others crumple it up and toss it to the side.
Contrary to what we might be accustomed to, none of these are correct. If you need to excuse yourself from the table, loosely fold your napkin before standing and place it to the left or right of your plate. In the traditional sense of etiquette, this is a polite way of leaving your napkin at the table without drawing too much attention to yourself or disrupting the flow of the meal.
What to Do With a Napkin When You Are Finished Eating
When you're finished eating, you'll want to do almost the same thing with the napkin that you would if you get up for a moment. Only this time, place the loosely-folded napkin to the left of the plate to signal that you're finished with your meal. It's the same idea as aligning your silverware together on the plate to show that you've finished eating. It's simple, understated, and proper in the traditional sense.
The Takeaway
All in all, learning how to set a table with napkins is a simple step you can take to bring your table-setting skills to the next level. While there are many ways to utilize napkins' often untapped potential, it truly boils down to your preferences and the other elements at play.
You may find that one of these options works better for your go-to arrangement, or that you're able to use different settings in different situations, or for different tables. And that's the beauty of it all! With these napkin settings, go forth with confidence in your table setting abilities and infuse beauty into the everyday.