Up next, inside Sandy Ho's gathering in Los Angeles.
I can still remember my first time. I was attending an intimate gathering in Los Angeles when Sandy Truong An Tran Ho—chef, food stylist, and creative genius behind Sandita's—served up her famous rainbow dumplings to audible "ooh's" and "ahh's." It's safe to say, my eyes ate them before my tastebuds could. The joy was palpable. Grins spanned ear to ear and gleeful laughter rang out as our tastebuds started singing—no one could stop talking about them. Yes, this was food that was designed to be a sensorial experience: visually, audibly, and orally. They are quite literally jubilation in physical form.
Creating food experiences that draw on nostalgia to spark joy is exactly what Ho set out to do when she initially launched Sandita's as a neighborhood backyard dinner series. But when covid pressed pause on her gatherings, she turned a negative into a positive and pivoted her focus. It was during this time when the rainbow dumplings were born. Ho wanted to create something fun that would bring the community together during a time when we weren't physically allowed to share a table. This joyful mentality is a through line in all that she does.
Now that the world has opened up, Ho has returned to cooking in person again, she's reopened their catering and events program, returned to curating bespoke menus for events, pop-ups, and brand activations, while also continuing to share loved food with her community wherever she can. So, of course, we were thrilled to step inside one of her recent intimate gatherings to learn more about her joyful approach to cooking along with her favorite kitchen tools, why she doesn't use cookbooks, and key things you'll always find in her fridge/pantry. Prepare to be inspired.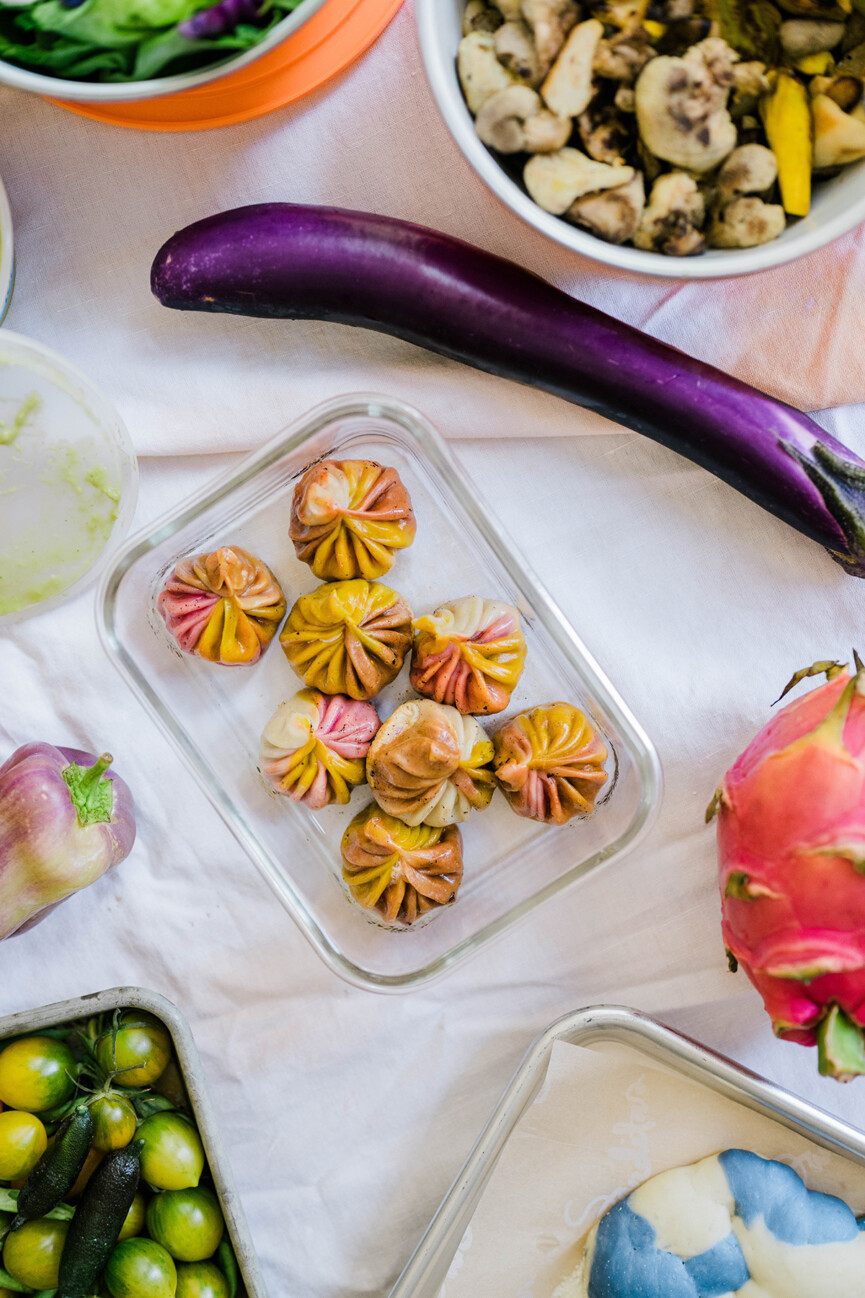 How did you learn your culinary artistry?
My family and my heritage play a huge role in my culinary work and I learn from them every day. My mum loved to cook, my dad loved to eat, and would always plant the seed for new dishes and cuisines to try. Watching this romance and remembering it truly fuels my fire for learning. Next to that, I've always been creative, especially as a child, with a huge imagination and I loved nature, being outside, and being in the water—I pull from this energy all the time. Cooking wise I've learnt from people all over the world, most of whom aren't chefs.
You are renowned for your rainbow dumplings. Tell us about the evolution of these beautiful dumplings and what was your inspiration?
Cooking in the time of covid, making small morsels of joy for my community is a time of huge unknown. This period has really allowed me the time to work on projects that had existed in my mind but that I had no time for in my fast-paced life pre-pandemic. It made me slow down and create more space to experiment and be in my world of making art with food.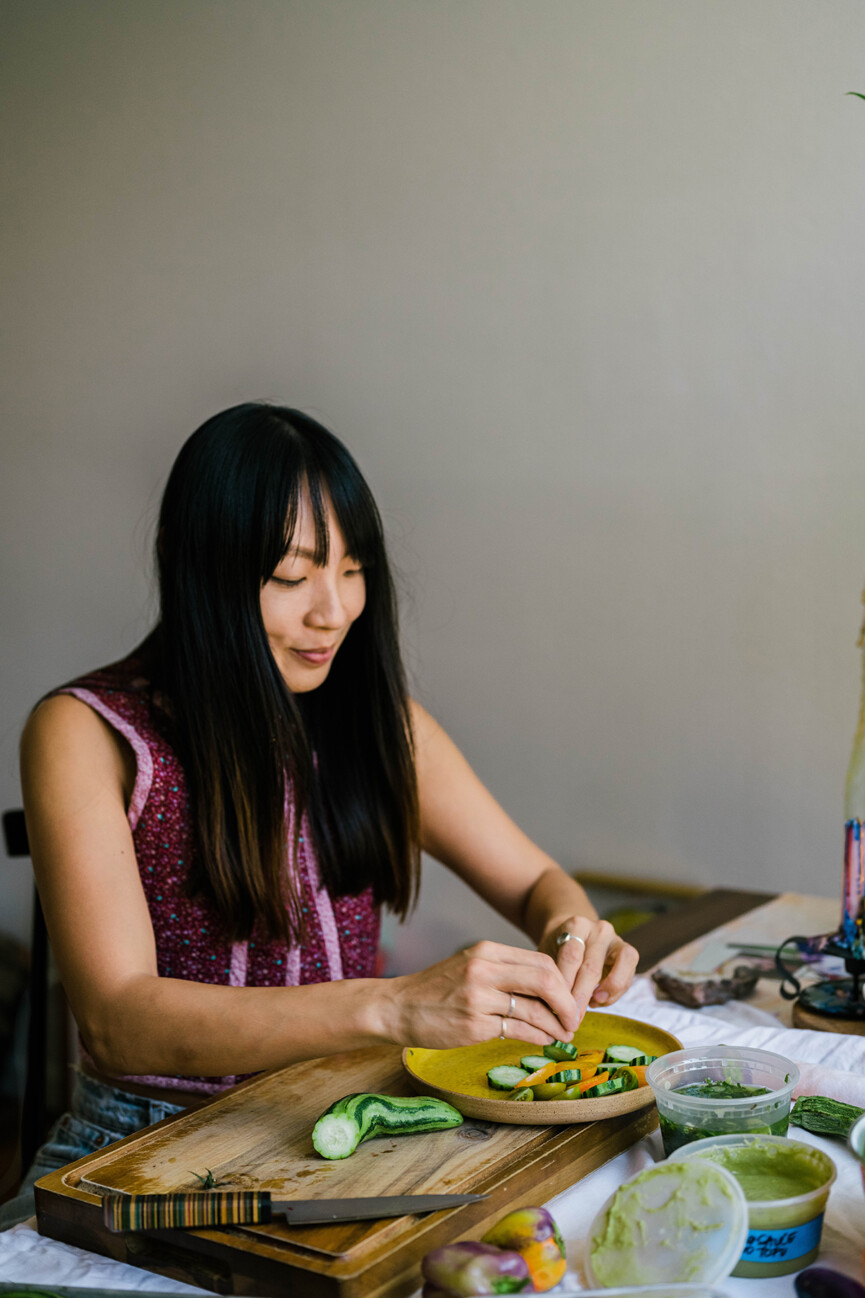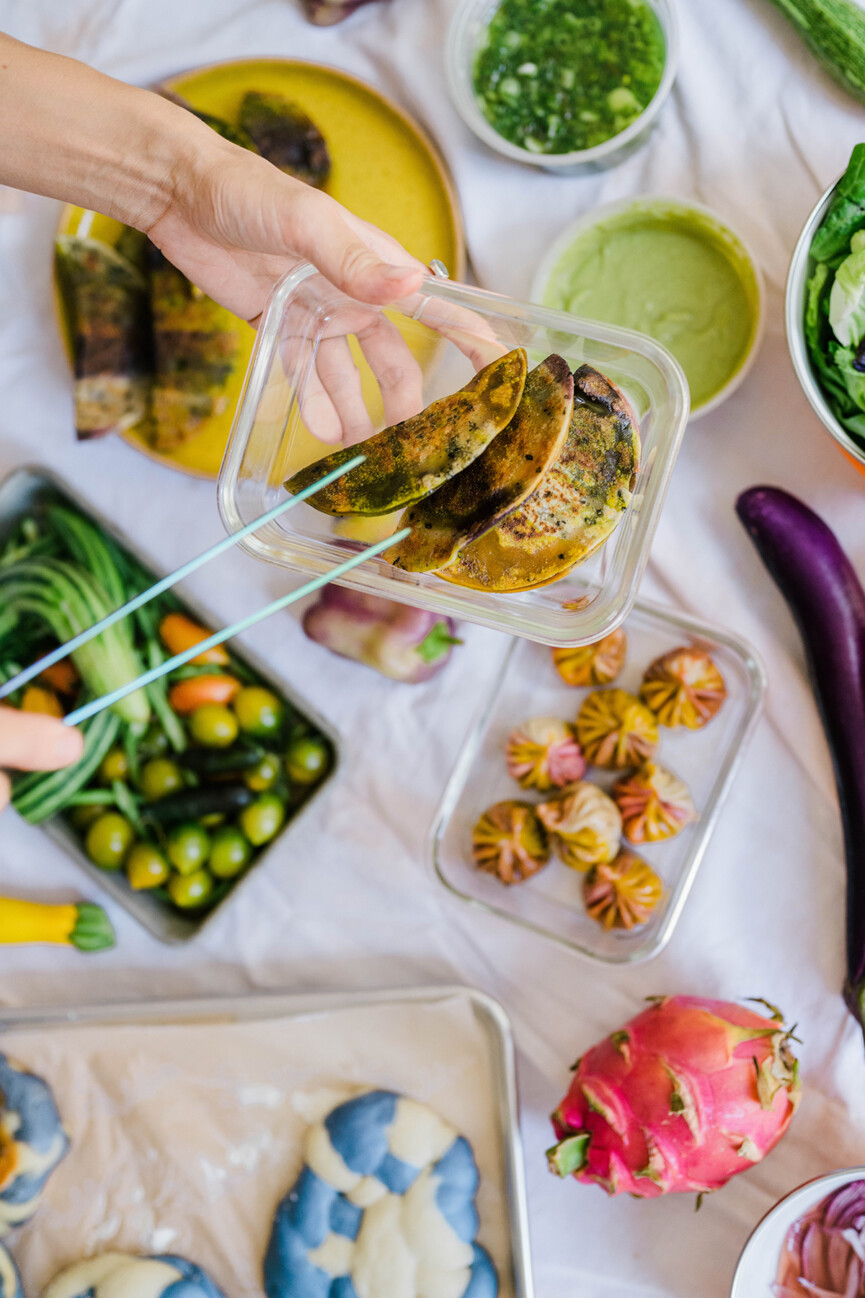 Describe a typical day for you. What do you drink when you wake? And what's for breakfast?
I don't typically have my first meal until 12 or 1 pm and that could be anything from rice and eggs to congee and pickles. I drink water in the mornings and don't drink enough of it throughout the day but I'm trying to be better at it.
The cooking tool you always give beginners and why?
A knife and a spoon—there's no "beginner" tool, you either want to cook and taste or you don't. That takes curiosity and allowing yourself to be brave with new things. If you want to cook, pick up a knife and learn, grab a spoon and taste it all.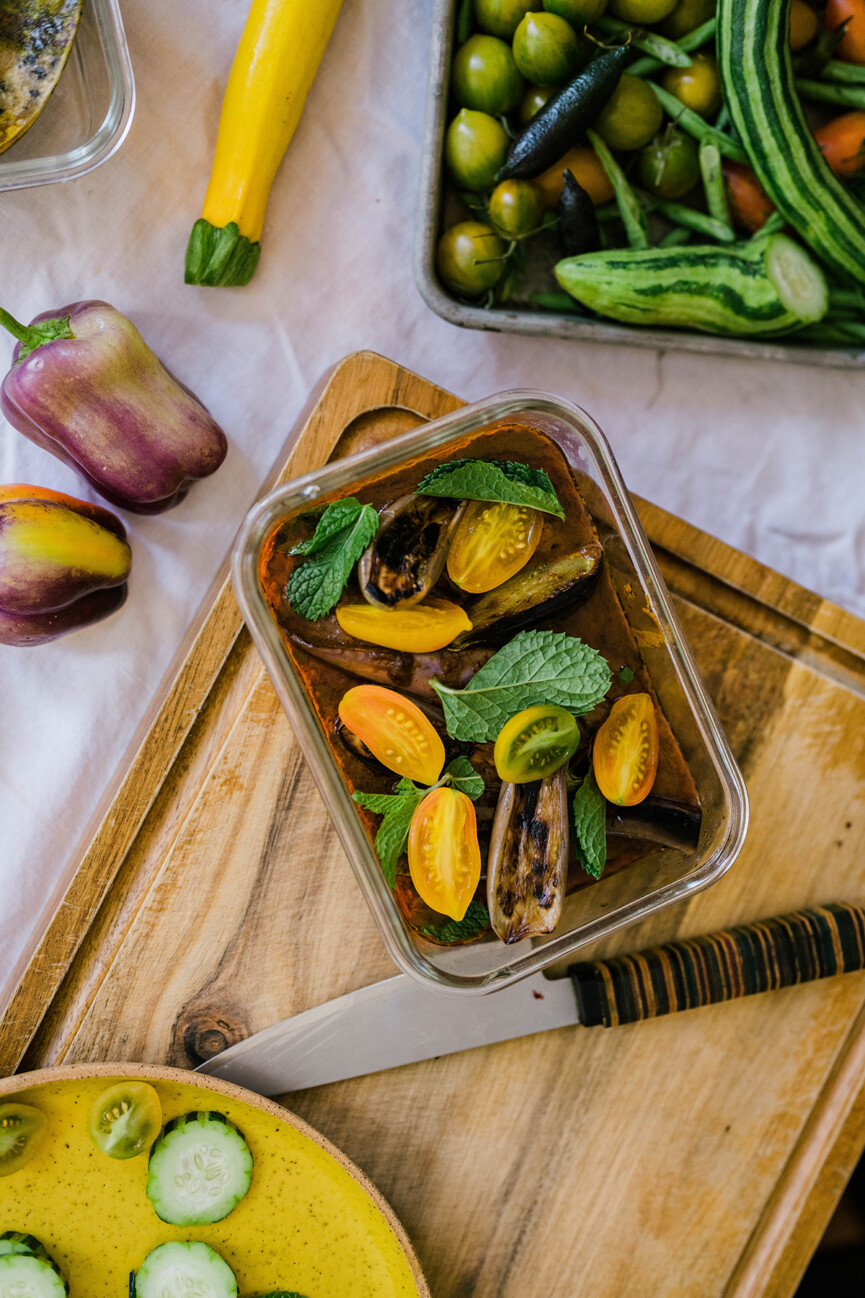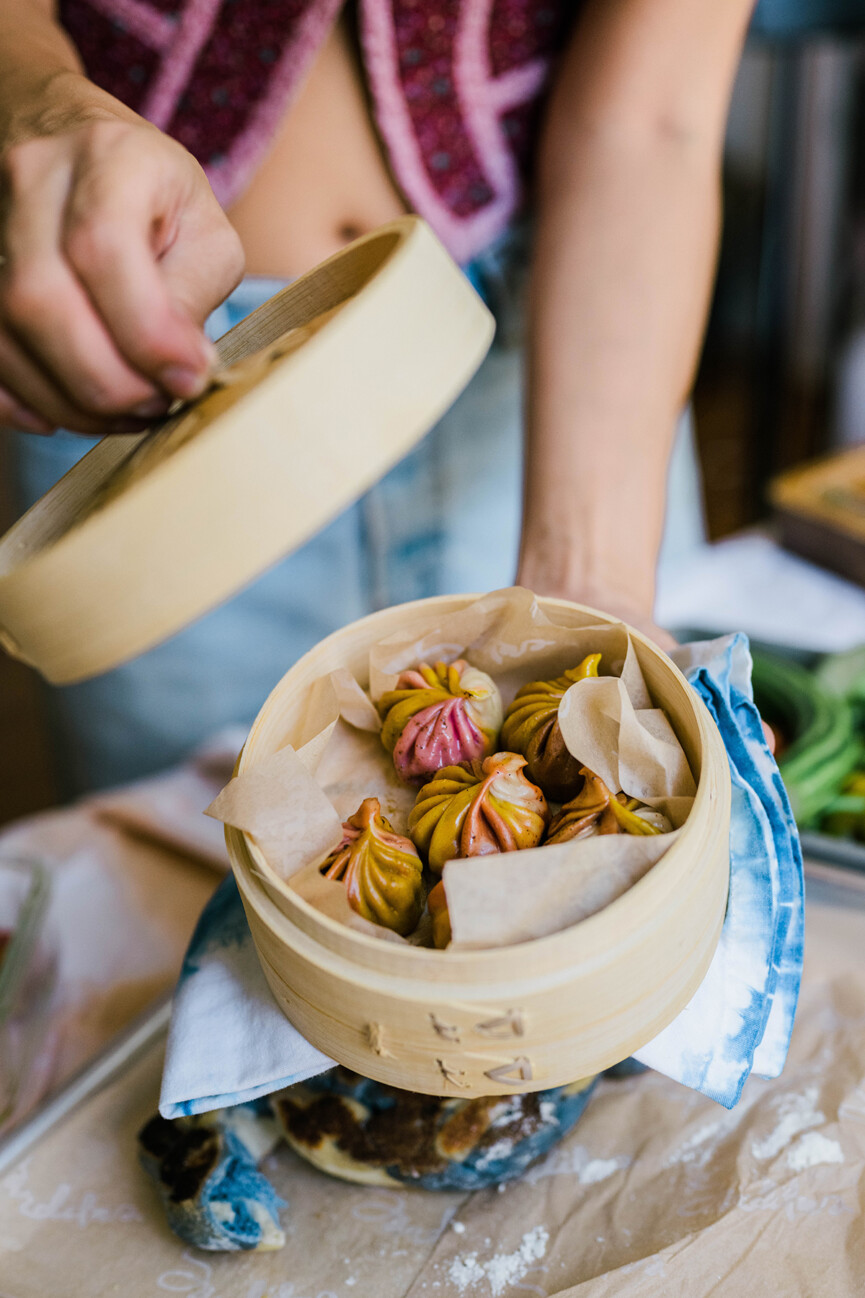 What are your favorite cookbooks and why?
I don't use cookbooks. I have plenty that I love to reference for imagery and feel, but rather than looking up a recipe, I'm more intrigued by the story, where the chef or person is writing from, who they are, where they've been, and how they translate it into a dish. That's more fascinating to me than any recipe ever written.
Tell us a few things we'll always find in your refrigerator?
Fish sauce, chili, cilantro, Thai basil, and pickles.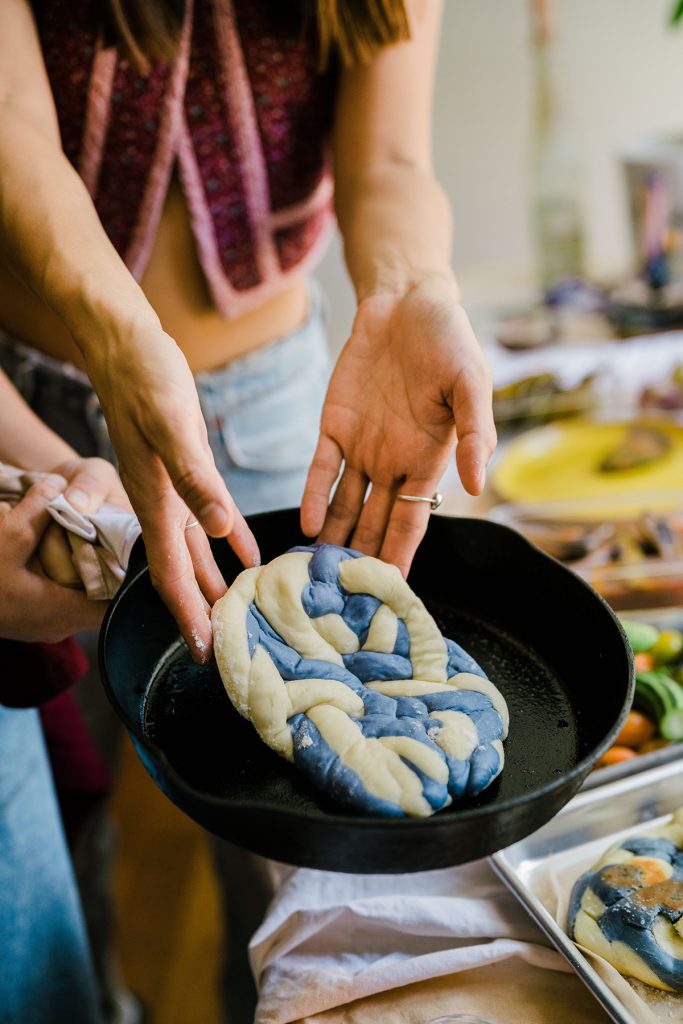 And what about your pantry? What do you always have on hand?
Fish sauce, natural food color powders, and rice.
What kitchen tools are your absolute must-haves?
Microplane, chef's knife/cleaver, long tongs.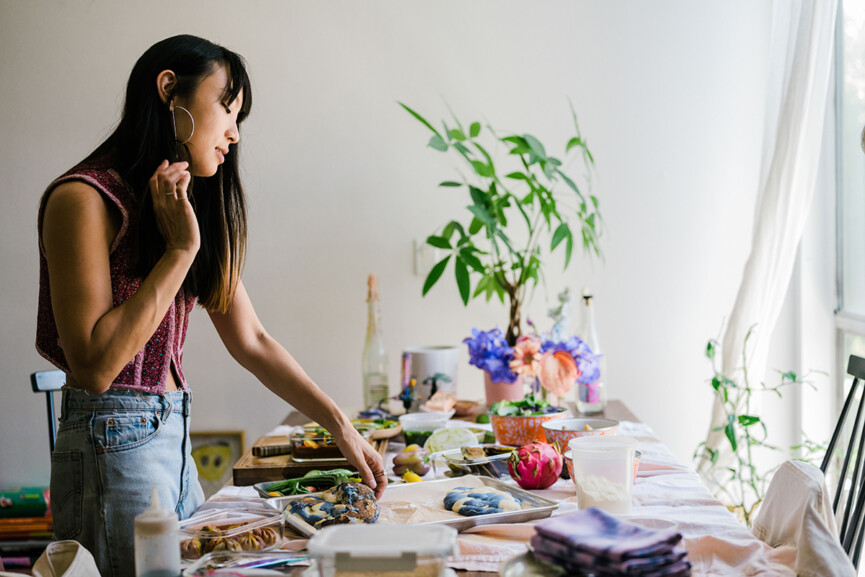 What scares you about cooking?
Nothing. That's why I cant stop! It's truly a language I speak fluently while constantly learning the nuances.
Your signature dish for parties?
Whole fish, mom's curry, and always a big crunchy juicy, glossy salad.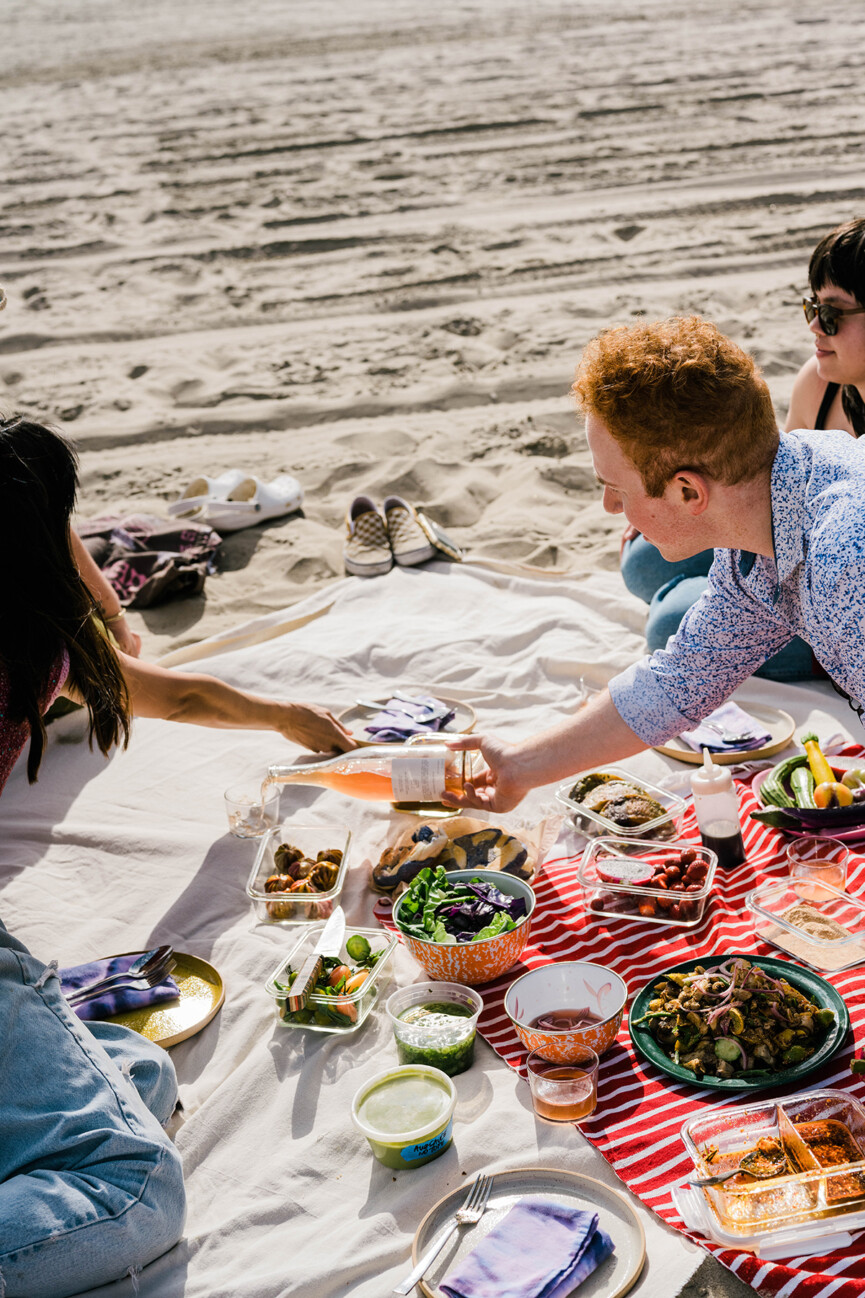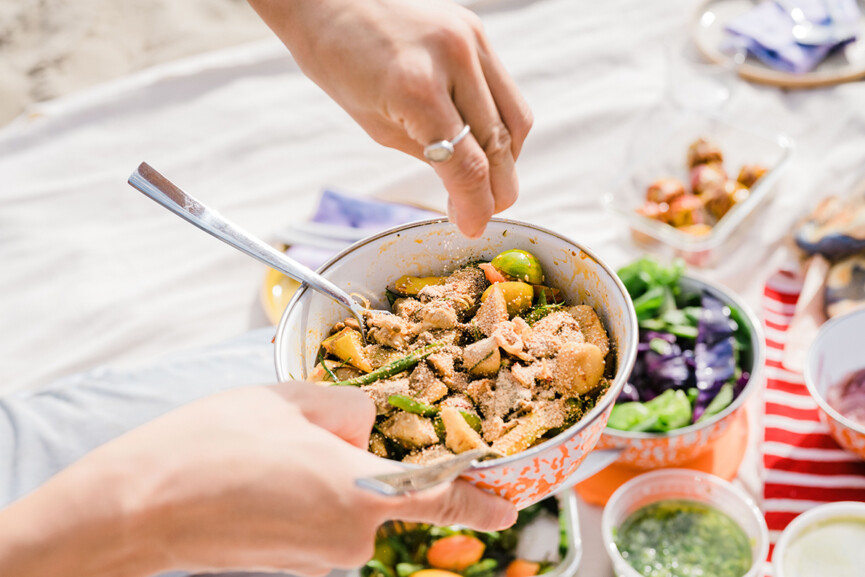 The one meal you always make at home and why?
Congee. Its comforting and will always remind me of feeling looked after.
Dinner party pet peeve?
Too many florals on the table obstructing guests across the table and taking up table real estate for food. I love florals but there is a true art to curating them to play with the food rather than fighting with it.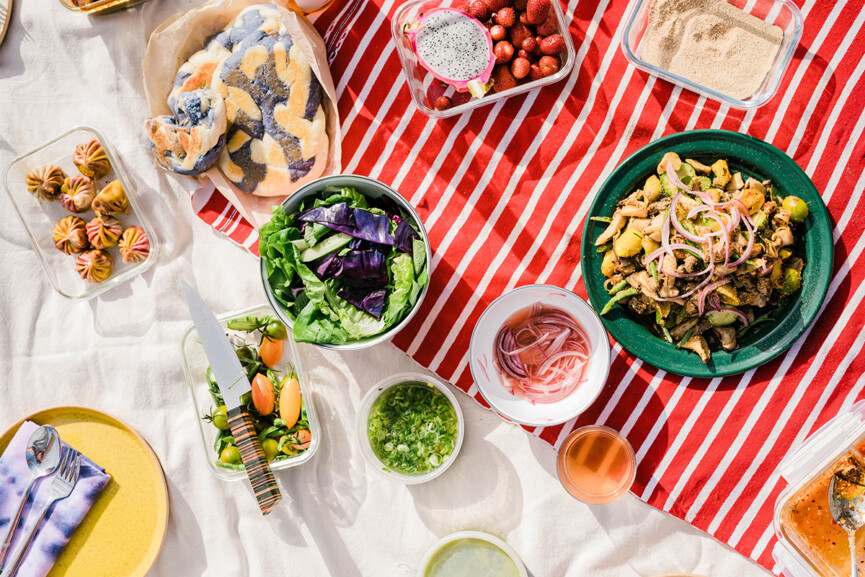 The perfect dinner party playlist includes:
Love songs.
Dream dinner guests?
My parents and two brothers. I haven't been home in a few years now and I am dreaming of sharing a dinner with my family the first chance I get.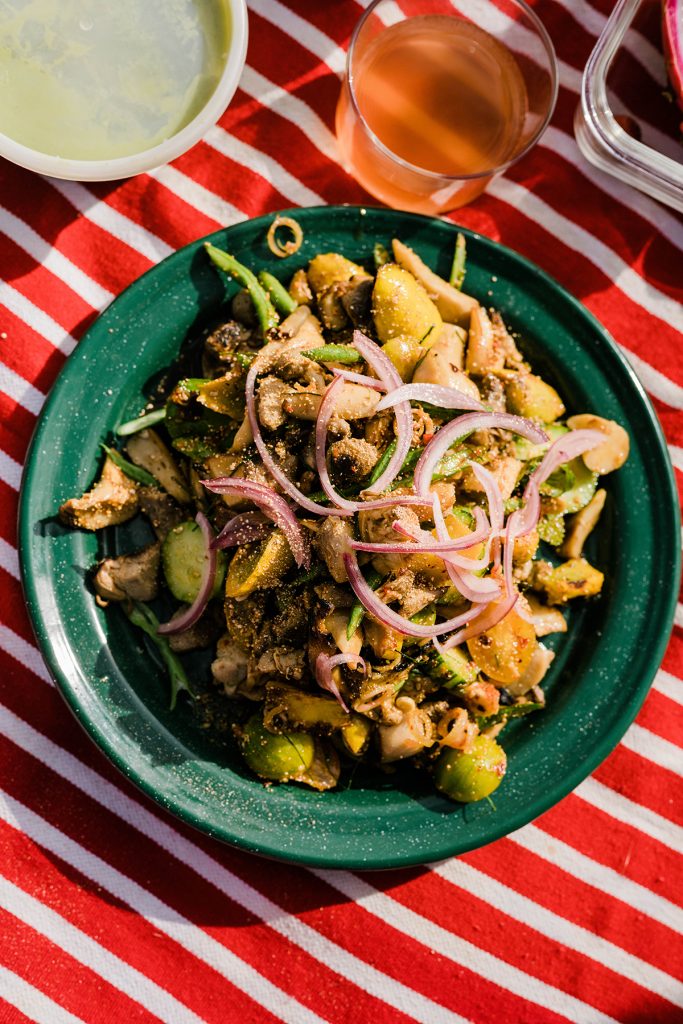 Fill in the blank:
A perfect meal should… be shared.
It's not a dinner party without… spilled sauces on the table, wine stains on the tablecloth, a showstopper dish like whole fried fish, and a lot of laughing.
Every cook should be… curious.