Chocolate is cool, but have you ever experienced the peeling back of a perforated window to reveal a mini mascara? 'Tis the season to treat yourself—and beauty advent calendars are having a moment. The trend is an event unto itself in the UK, where luxury brands like YSL and Dior release limited stock of highly-sought-after "advent calendars." And here in the USA, we're catching on.
Featured image by Belathée Photography.
Why all the fuss over advent calendars?
With Instagram-worthy design and much-loved products, the beauty advent calendar's rise in popularity is two-fold. First, besides the fact that opening a present every day is just incredibly fun, advent calendars are a practical way to try a new product before committing. With an assortment of beauty favorites in adorable mini form—plus the occasional full-size treat—to open daily, the countdown to holiday is among the best of rituals.
Second, you won't find a more affordable way to amass an assortment of beauty products. With favorites like Sephora, Olive & June, and more offering a literal sample platter of products sold below retail value, you're getting the best deal on the products you've always wanted to try.
Image by Michelle Nash
When do 2022 beauty advent calendars go on sale?
The short answer? NOW. Friends, we are rounding out the month of September and already, there are beauty advent calendar launch notifications in my inbox. However, many will become available around mid-October. Because beauty brands produce these limited-edition products in smaller stocks and at such great prices, you can expect them to sell out quickly.
Image by Teal Thomsen
The Best 2022 Beauty Advent Calendars
Pick your poison. The best calendar for you (or for a gift) truly comes down to whether you're drawn to skincare, fragrance, makeup, nail care—or a little mix of everything. Ahead, we've collected the best ones that we know about so far… plus a few educated guesses based on last year's offerings.
Every product is curated with care by our editors. If you buy something through our links, we may earn a small commission at no cost to you.
Best Advent Calendar For A Beautiful Mind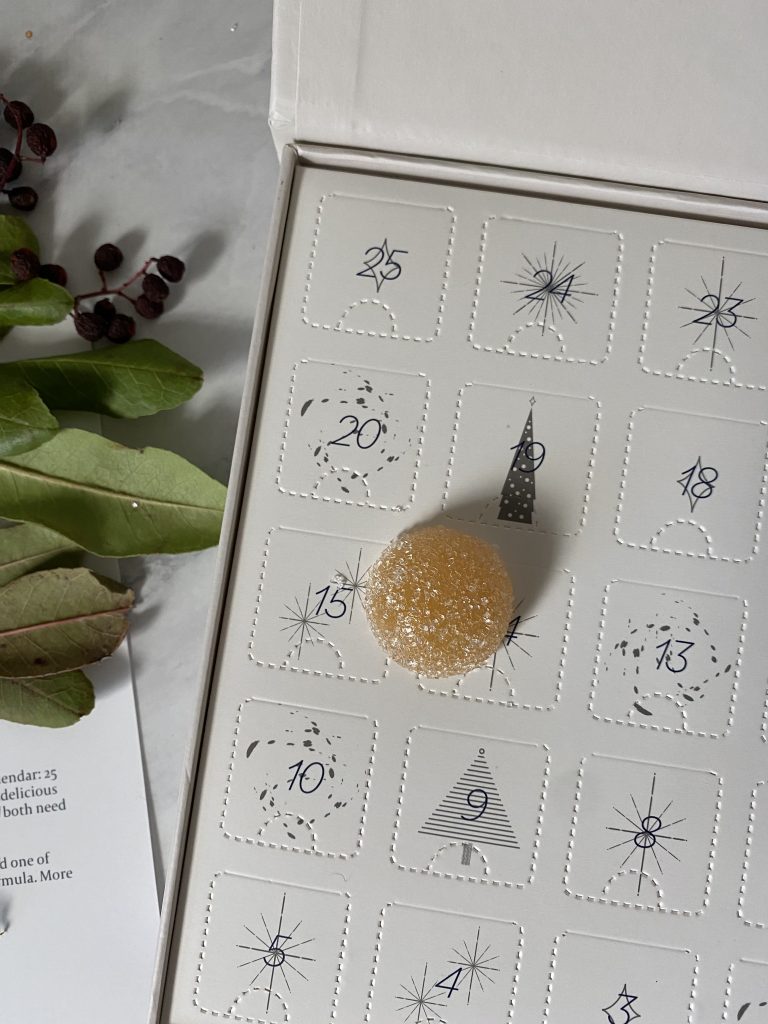 When the Molly J. Advent Calendar arrived on my doorstep, my first thought was it is SO cute. And feel free to judge a book by its cover, but it's also what's on the inside that counts. The benefits of CBD are nearly endless and around the holidays? You could call them priceless. The selection of 25 individual handmade CBD gumdrops come in twelve of the yummiest flavors like signature berry and my personal favorite, hibiscus acai. Take the edge off with the signature Molly J. Chill Formula, available in both standard and high-dose options.
Price: $99-$120 (valued at $125) | Availability: Accepting pre-orders now for shipping during the last week of November.
What's inside: 25 handmade CBD gumdrops
Best Advent Calendar For Your Mane Girl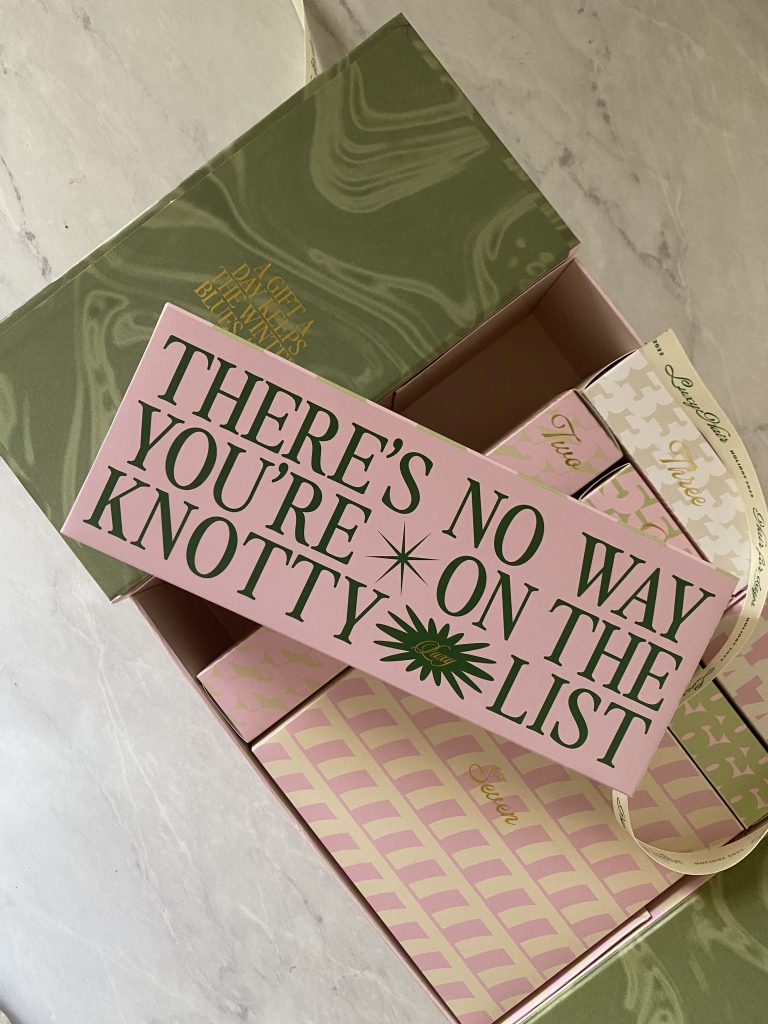 Luxy is a new-to-me brand but let me tell you, their beauty advent calendar for hair is STUNNING. It was such a joy to pull out each individual box and find the gifts inside to be even more exciting than the packaging. Luxy makes seriously beautiful hair extensions but this advent calendar is for any style of hair. My absolute favorite is the wet brush and the black satin headband and the claw and the scrunchies…okay, yes. I love it all.
Price: $98 (valued at $127) | Availability: Now
What's inside: Detangling Wet Hairbrush, Luxy Length Repairing Hair Mask, Luxy Luminous Shine Hair Oil, Après-Ski Claw Clip, Gravity Defying Hair Ties in Mixed Metal, Dusk to Dawn Scrunchie Set, After Dark Ruched Satin Headband
Best Advent Calendar For At-Home Manis
The annual Olive & June advent calendar is here and it's a good one. If you've yet to venture into the lovely world of at-home manis, allow me to gently suggest, you're missing out. Olive & June not only provides the tools to do it yourself, but they also provide the knowledge. I have learned heaps about nails—and my own ability to do them—from their helpful tutorials and the free mani masterclass. The O&J advent calendar sells out every year for good reason, but here's my favorite: full-size polishes will almost always expire before you have a chance to use them all. The seven mini polish inclusions here allow you to play with best-selling colors minus the waste.
Price: $65 (valued at $125) | Availability: Pre-orders are available now (until they sell out) and calendars will ship by the last week of November.
What's inside: 25 gifts including: 7 Mini Polishes (Obvi, Besties, OJSM, HD, CV, GH, Obsessed), Mini Super Glossy Top Coat, Mini Red Poppy, 2 Mini Nail Files, Mini Overnight Hand Treatment, 6 Mini Nail Art Stickers, Mini Remover Pot, Mini Dry Drops, Mini Cuticle Serum, Mini Buffer, Mini Clean Up Brush, Mini Nail Strengthener, Tree Squoval Short Press-On Nails
Helpful Review: "This is such a great quality advent calendar. It's perfect for someone just getting into O&J or someone who has been using their products for a long time. I love the mini sizes of various products so that you can try some things or they are excellent for traveling."
Best Hannukkah Calendar For Nail Lovers
For those who celebrate Hannukkah, Olive & June's "8 Nights of Mani Magic" is just as wonderful. The Mini Remover Pot is enough to change your life (makes removal so easy), plus the Dry Drops allow you to paint and go for those quick touch-ups. And eight nights doesn't mean skimping on the goods—this set still includes 18 giftable surprises.
Price: $55 (valued at $100) | Availability: Pre-orders are available now (until they sell out) and calendars will ship by the last week of November.
What's inside: 18 gifts including: 6 Mini Polishes (OMG, Exclamation Point, BP, HD, Obsessed, XOXO), Mini Super Glossy Top Coat, Mini Overnight Hand Treatment, Mini Cuticle Serum, Mini Blue Poppy, Mini Dry Drops, Mini Nail File, Mini Buffer, Mini Remover Pot, 3 Mini Sticker Packs, Obvi Oval Medium Press-On Nails
Helpful Review: "I bought two, one for me and one for my daughter and it was the best! I am buying this every year it is available! We have never had the opportunity to participate in advent calendars since we are Jewish, so this was a really special addition to our Hanukkah celebrations!"
Best For Teens (Or Teens At Heart)
Benefit packaged up its best-sellers in one colorful keepsake box. I have fond memories of rolling They're Real! Mascara across my lashes before running off to class and, let's be honest, it's still a killer product.
Price: $65 (valued at $142) | Availability: Now
What's inside: 12 gifts including: Roller Liner, Mini They're Real! Mascara, Mini They're Real! Magnet Mascara, Mini Roller Lash Mascara, Mini BADgal BANG! Mascara, Mini 24-Hr Brow Setter, Gimme Brow+ Volumizing Gel, Precisely My Brow Pencil, The POREfessional: Pore Primer, The POREfessional: Hydrate Primer, Hoola Matte Bronzer, Dandelion Baby-Pink Brightening Blush
Best For Sephora Aficionados
If you're a Sephora fan (or know someone who is) this one is an easy yes. It's the most affordable option on the list but it's straight-up packed with goodies. And it covers all the beauty categories with an assortment of makeup, skincare, haircare, and nailcare surprises.
Price: $45 (valued at $105) | Availability: Now
What's inside: 24 gifts including: Mini Big By Definition Defining & Volumizing Mascara, Mini Eyeliner Pencil To Go, 2 x Colorful Eyeshadows, Cream Lip Stain Liquid Lipstick, Mini Lip Liner To Go, Mini All Day Hyaluronic Acid Hydrator Moisturizer, Mini Clean Skin Gel Cleanser with Prebiotics, Mini Brightening Eye Cream with Caffeine and Hyaluronic Acid, 2 x Shower Cream Capsules, Hemp Clean Cleansing & Gentle Exfoliating Wipes, Clean Charcoal Nose Strip, Cherry Lip Mask, Watermelon Clean Face Mask, Caffeine Clean Eye Mask, 2 x Color Hit Mini Nail Polishes, Top Coat, Nail file, Makeup sponge, Hair tie, Mini gua sha tool, Pocket mirror, Wishing You adhesive tape
Best Bet For a Luxury Experience
Dr. Barbara Sturm yet again delivers the chicest design—a white jewelry box filled to the brim with luxury products, both mini and full-size. You're 24 days away from your most radiant self—yes, even through the madness that is the holidays. Indulge in science-backed cleansers, serums, balms, and more, several of which feature the anti-aging regenerative superhero, purslane.
Price: $560 (for reference, serums alone are in the $100 range—here you're getting multiple, plus several more products) | Availability: Now
What's inside: Cleanser, Lip Balm, Darker Skin Tones Hyaluronic Serum, Face Cream, Face Mask, Super Anti-Aging Hand Cream, The Better B Niacinamide Serum, Super Anti-Aging Eye Cream, Anti-Aging Body Cream, Super Anti-Aging Neck & Decolleté Cream, Super Anti-Aging Face Cream, Clarifying Mask, The Good C Vitamin C Serum, Repair Hair Mask, Balancing Toner, Anti-Pollution Drops, Calming Serum, Anti-Aging Primer, Enzyme Cleanser, Clarifying Face Cream, Night Serum, Hyaluronic Serum, Glow Drops
Best Assortment of Trending Products
Okay, guys—ASOS pulled out all the stops with this $99 advent calendar. They're UK-based, so it's makes sense that they came to play but still, I was not ready. You've got fan-favorite brands like The Ordinary, Mario Badescu, Opalex, and Charlotte Tilbury packaged together a collection that pairs fun with utility.
Price: $99 (a 76% savings) | Availability: Now
What's inside: 29 gifts including: Too Faced Deluxe Lip Injection, Covergirl Clump Crusher Mascara in Very Black, Popmask Sleep Over Self-Warming Sleep Mask, NEOM Bed Time Hero Candle, Benefit Benetint Rose Tinted Lip & Cheek Stain, Earth Harbor Marina Biome Brightening Ampoule, Le Mini Macaron Mini Nail Stickers, Invisibobble Sprunchie Red Wine, Charlotte Tilbury Facial Deluxe Oil, Prima Lash Strip Lash, Psychic Sisters Mini Face Roller, Philip Kingsley Perfecting Primer Heat Protection Spray, REN Ready Steady Glow AHA Tonic, Lanolips Coconutter 101 Ointment, Elemis Procollagen Marine Cream, MasqueBar Brightening Sheet Mask with Vitamin C, ELF Putty Primer Trio, Mario Badescu Facial Spray with Aloe, Adaptogens & Coconut Water, Dr Paw Paw 7 in 1 It Does It All Hair Treatment, Murad Essential C-Cleanser,BYBI Booster Serum, The Ordinary Sulphate Cleanser for Hair and Body, Olaplex No.8, PYT Sorry Not Sorry Lipstick, Revolution Re-Loaded Pallette Velvet Rose, Revolution Mini Infinite Fixing Spray, Revolution Extra Hold Brow Glue, Revolution Mini Baking Powder Translucent, Revolution Superdewy Liquid Highlighter Pink Lights
Best Value For Skincare Lovers
Elemis revealed a truly stunning advent calendar that could be described as a spa in a box. A full-size treat is tucked in with an array of mini wellness products (including the best-selling Dynamic Resurfacing Facial Wash). But my favorite feature? Each singular box can also act as a VERY CUTE ornament. All I want for Christmas… is a tree, dotted with resurfacing facial pads. (But really.)
Price: $225 (valued at $732) | Availability: Now
What's inside: 25 gifts including: Full Size Pro-Collagen Marine Cream, Elemis Pro Collagen Cleansing Balm, Pro-Collagen Energising Marine Cleanser, Pro-Collagen Tri-Acid Peel, Pro-Collagen Night Cream, Pro-Collagen Eye Revive Mask, Pro-Collagen Marine Moisture Essence, Pro-Collagen Renewal Serum, Pro-Collagen Morning Matrix, Superfood Facial Oil, Superfood Fruit Vinegar Liquid Glow, Superfood Midnight Facial, Superfood Day Cream, Superfood Glow Priming Moisturiser, Superfood Glow Cleansing Butter, Superfood Facial Wash, Superfood Night Cream, Papaya Enzyme Peel, Rehydrating Ginseng Toner, Dynamic Resurfacing Facial Wash, Dynamic Resurfacing Gel Mask, Dynamic Resurfacing Facial Pads, Frangipani Monoi Body Cream, Frangipani Monoi Shower Cream, Clarifying Clay Wash, Cotton Cleansing Cloth
Helpful Review: "My first time purchasing an Elemis advent calendar and when it arrived I couldn't help but have a sneak peek. All the boxes are beautiful and I did glance in a couple but then refrained from opening anymore and instead waiting (impatiently) for December 1st to indulge. I cannot wait. This will definitely be my yearly Christmas gift to myself!"
Best Beauty Advent Calendar With (Mostly) Full-Size Products
Kylie wrapped up her top 12 best-selling beauty products just for you. And girlfriend did not hold back—nearly everything in the KYLIE COSMETICS advent calendar is full-size. Products from both her skin and makeup line make an appearance here, and she's included what might just be the perfect holiday red lip.
Price: $180 | Availability: Now
What's inside: 12 gifts including: Full-size Lip Liner in 808 Kylie, Full-size Matte Liquid Lipstick in 808 Kylie, Full-size Matte Liquid Lipstick in 402 Mary Jo, Full-size Matte Liquid Lipstick in 301 Angel, Full-size High Gloss in 317 Klear, Full-size Kyliner Gel Eyeliner Pencil in 010 Shimmery Brown, Full-size Brush Tip Liquid Eyeliner Pen in 001 Black, Travel-size Coconut Body Lotion, Full-size Lip Oil, Full-size Sugar Lip Scrub, Travel-size Clarifying Facial Oil, Kyle Skin Headband
Best Grooming Advent Calendar For Men
MR PORTER never fails to curate well and the 12 Days of Grooming Advent Calendar might just be their best collection yet. An illustrated box houses luxury wellness products including eye creams, masks, cleansers, a candle, and even bubble bath. Guys gotta self-care, too.
Price: $150 | Availability: Now
What's inside: 12 gifts including: 111SKIN Cryo ATP Sports Booster, Augustinus Bader The Rich Cream, Claus Porto Cerina Brise Marine Candle, Dr. Barbara Sturm Anti-Pollution Drops, Dr Dennis Gross Stress SOS Eye Cream, Grown Alchemist Anti-Bacterial Hand Cream, 2 x Horace Italian Soap Bars, Jaxon Lane hydrogel Bro Masks®, Malin + Goetz Bergamot Deodorant, Susanne Kaufmann Mallow Blossom Bubble Bath, Tata Harper Regenerating Cleanser, The Grey's Overnight Sleeping Mask
Best Assortment and Value For Fans of Luxury Brands
Saks Fifth Avenue is straight-up name-dropping and I'm here for it. You've got DIOR mingling with Tom Ford and Gucci. There's an appearance by (our fave) Sunday Riley and Dr. Barbara Sturm. Plus, it's hard to resist the calendar's design, depicting the iconic Fifth Avenue storefront at Christmastime.
Price: $220 | Availability: Now
What's inside: 25 gifts including: ReVive Intensite Anti Aging Face Serum, Dr. Barbara Sturm Lip Balm, 111Skin Y Theorem Serum NAC Y2 Deluxe, Sisley Hair Rituel by Sisley-Paris Restructuring Nourishing Balm, Aromatherapy Associates Deep Relax Sleep Mist, Omorovicza Thermal Cleansing Balm, DIOR Diorshow Overcurl Mini Mascara, Sulwhasoo First Care Activating Serum, MFK Baccarat Rouge 540, Charlotte Tilbury Deluxe Pillow Talk Lipstick, Cellcomset Precious Mask, Augustinus Bader Rich Cream, Clé de Peau Beauté Protective Fortifying Cream SPF 22, Marvis Whitening Mint Toothpaste, Guerlain Abeille Royale Youth Watery Oil, Furtuna Perla Brillante Daily Renewal Cream, Cowshed Relax Bath & Shower Gel, Sunday Riley Good Genes Lactic Acid Treatment, Tom Ford Deluxe Lip Sample — Casablanca, Olaplex No. 3 Hair Perfector, Diptyque Rose Eau de Toilette, Gucci Beauty Gucci Flora Gorgeous Gardena Mini, Molton Brown Orange and Bergamot Bath & Shower Gel, Nest Moroccan Amber Mini Votive Candle, Parfums de Marly Delina Candle
Best To Put The Spolight On Your Smile
In an unexpected turn of events, an oral care advent calendar might just be this editor's personal pick. A brighter smile by New Year's thanks to an assortment of tools and wellness products all wrapped up in one? Say less. Whitening strips are balanced by a gua sha tool, a Sonic toothbrush offset by a scrub, mask, and exfoliating tool to prime and pump your lips. Bring on the selfies (and the mistletoe, too).
Price: $190 | Availability: Now
What's inside: 14 gifts including: Lip Scrub, Lip Mask, Exfoliating Lip Scrub Tool, Dental Floss for Whitening Teeth, 24 x Teeth Whitening Strips (1 upper/1 lower), Teeth Whitening Pen, Mini Toothpaste for Whitening Teeth, Mini Toothpaste for Total Care, Comforting Gum Oil, Sonic Toothbrush, Konjac Sponge, Gua Sha Tool, Silk Scrunchie, White Jade Beauty Roller
Best Beauty Advent Calendar To Gift To Just About Anyone
The Body Shop is a safe bet for gifting—but don't confuse it with boring. The British brand is a master of beauty advent calendars, offering the best of the UK craze to us here in the States. The design is inspired—a jewelry box-type structure with a festive pop-up scene upon opening. There are two drawers, each filled with surprises to gift or keep, including a few full-size beauty products. And best of all, each purchase supports the brand's global partners—women all over the world who help make the lovely products inside. (P.S. The Body Shop released two calendars this year; this one is just as special and packed with full-size favorites.)
Price: $90 (valued at $174) | Availability: Now
What's inside: 25 gifts including: Shea Hand Cream, Strawberry Lip Butter, British Rose Shower Gel, Vitamin E Sheet Mask, Camomile Cleansing Butter, Camomile Muslin Cloth, Coconut Hand Cream, Shea Shampoo, Pink Grapefruit Shower Gel, Ramie Bath Lily, Coconut Bath Bubble, Himalayan Charcoal Face Mask, Shea Shower Cream, Strawberry Soap, Aloe Sheet Mask, Microfibre Headband, British Rose Face Mask, Pink Grapefruit Bath Bubble, Shea Body Butter, British Rose Hand Cream, Mango Shower Gel, British Rose Body Scrub, Vitamin E Face Wash, Vitamin C Sheet Mask, Avocado Body Butter
Review: "I bought a smaller advent calendar from TBS last year and I loved it so much that I promised myself the larger one this year […] there is a wide variety of interesting smaller-sized products so that I can try some new things without the commitment of a large size. I also love the drawers and that I can repurpose the box to store my Christmas bows, ribbon, name tags, etc. in it. I can't wait for Dec.1st!"
Also Worth Mentioning:
An Advent Calendar For Candle Lovers
I'm low-key obsessed with Apotheke's hand-poured candles. The Brooklyn-based brand released the most delicious advent calendar for the scent-obsessed. I'm already imagining scent-hacking (I'm making it a thing) my life by pairing each month of the year with a corresponding candle.
Price: $98 at Nordstrom | Availability: Now
What's inside: 12 2-oz. tin candles (Scents include Charcoal, Sea Salt Grapefuirt, Santal Rose, White Vetiver, Hinoki Lavender, Earl Grey Bitters, Blackberry Honey, Charred Fig, Firewood, Birchwood, Cardamom Chestnut, and Black Cypress)
An Advent Calendar With 24 Mini Puzzles
Not sure about you, but puzzles are a mainstay at my house during the holiday season. I am truly OBSESSED with this idea of doing a puzzle day for two reasons. One, instant gratification every night. And two, a 100-piece puzzle does not require a semi-permanent card table topped with an in-progress puzzle. Meanwhile, I'm praying my kids will keep their lovely but sticky hands away.
Price: $200 | Availability: Now
What's inside: 24 holiday-themed 100-piece puzzles
On our watchlist:
Finally, watch this space. Last year some of our favorites released truly stunning beauty advent calendars, but as of this publication, we've yet to hear a peep. Our eyes are on Soko Glam, Revolve, Anthropologie, and, of course, Target. (Your move, Bullseye.)