What is your daily face cleansing ritual? After speaking with a few of my friends, it seems that their cleanser isn't a product or a step they really pay too much attention to in their skincare routine. This surprised me because if you don't cleanse away all the dirt and impurities from your face, then your expensive serums and moisturizers don't really get a chance to do their job. You see, a good cleanser preps the skin to create a clean canvas that's primed for the next step in your skincare routine. After that, it can fully absorb the lotions and potions you apply next. And I'm not talking about stripping the skin either. The best face wash for women over 40 also hydrates and nourishes the skin too.
As someone who is officially about to enter her 40s next month, I wanted to share some of the cleansers in my routine that have served me well into this new era. But first, I want to talk about my cleansing process because that will help you understand the products I've chosen below. I am a double cleanse devotee and the occasional triple cleanse developed by Candace Marino aka The LA Facialist for when I wear makeup. The first step involves a cleansing oil or balm (not a makeup wipe that strips/dries and really just moves makeup around) followed by a double cleanse (either foaming or exfoliating) to deep clean the skin.
I also want to note that while I do include 17 cleansers in this story, you certainly don't need that many. Two cleansers are plenty—an oil or balm followed by a foaming or exfoliating face wash. Or you could just choose one that you really love and follow a double cleanse ritual each day—it's up to you and what suits your skin. While I am not an esthetician, I have personally used all of the cleansers below and swear by each of them in my routine for different reasons—but these derm-recommended affordable drugstore cleansers are also great!
Feel free to ask any questions in the comments below or share the best face wash for women over 40 that you love too!
CLEANSING BALM
Ayond Metamorph Cleansing Balm
I've been testing this new brand for a couple of months now and I'm absolutely in love with their cleansing balm (their face oil is also lovely). This balm-to-milk salve can also be left on as a calming mask it's so nourishing and hydrating. I love to use it in the morning when my skin feels dry to reinject moisture into my skin thanks to the mimosa and candelilla flower waxes. The babassu and copaiba oils help to draw out impurities while hydrating and rebalancing the skin—they will not clog pores the way coconut oil can. While it is on the pricier side, a little really does goes a long way here.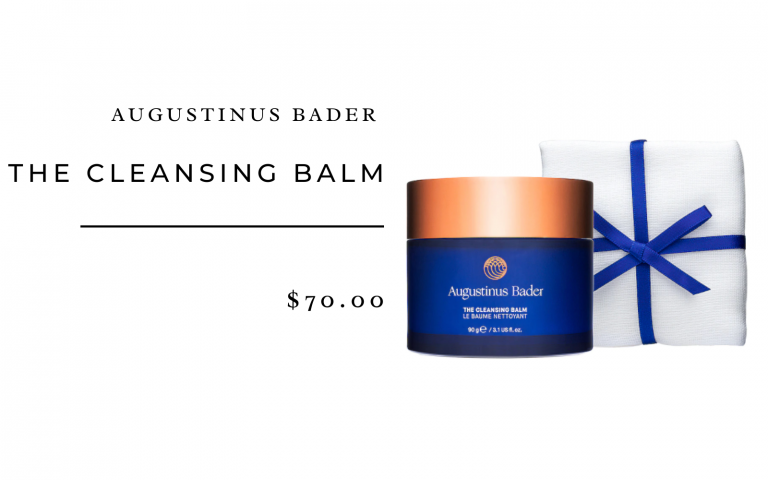 Augustinus Bader The Cleansing Balm
What I love about a cleansing balm is how gently it removes dirt, oil, and makeup without disrupting the skin barrier. It has an avocado-olive fruit oil complex, olive-derived Squalane to limit water loss and restore hydration, and of course, the brand's patented ingredient, TFC8 (Trigger Factor Complex). Ingredients aside, this is just a beautiful cleansing balm. The texture is so dreamy and soft, it just melts so easily into the skin without any fragrance that could cause irritation. I like to take my time with it and really massage the balm into my face, neck, and decolletage area so I can feel the full effects. It doubles as a self-care ritual.
Solvasa Tranquil Cleansing Butter
This cleansing butter is half the price of the other two but equally as nice. Its super-rich and buttery formula melt into the skin, dissolving and loosening makeup and impurities with ease. After using this cream you're left with dewy, bouncy, freshly hydrated skin. Now, who doesn't want that?
Naturium Fermented Camellia Creamy Cleansing Oil
I know this is sold as a cleansing oil but it actually feels more like a rich balm upon application. I love how smooth the texture is and it is incredible at breaking down sunscreen and makeup. I am also a big fan of the squeeze tube since most balmy oil cleansers need you to dip your fingers into the pot and while mine are always clean before cleansing, I still worry that some dirt may transfer. This eliminates that chance. My skin feels really soft and hydrated after this cleanser but I do still want a second cleanse after using this.
CLEANSING OIL
If you're reading this thinking you can't use cleansing balms or oils because you have oily skin, think again. Athena Hewett, a longtime esthetician and the founder of organic skincare brand Monastery, says that swapping your traditional cleanser for a cleansing oil not only helps keep breakouts to a minimum but it will actually curb your skin's oil production. In fact, after you've used an oil cleanser, you might find that your skin type was never truly oily and could be overproducing oil to counteract the acids or chemical exfoliators you're using—you can read more here. I have been a big fan of oil cleansers for years and I love Monastery's approach. This Sage cleansing oil has sage, hinoki cypress, and greek coriander to help balance overactive sebum production without stripping the skin of its natural protective oils. All of these ingredients also have antibacterial properties so they are gentle healing the skin while keeping the pH intact, too. Oh, and it smells divine. I also love to use this one for gua sha facial massage.
Kora Organics Milky Mushroom Gentle Cleansing Oil
A new addition to Miranda Kerr's Kora Organics lineup is the Milky Mushroom cleansing oil and I really love it. It's a really lightweight oil compared to other cleansing oils I've tried thanks to its dual-phase cleansing milk formulation. This also means you have to give it a really good shake before using it to ensure all the ingredients are mixed together. But it has incredible ingredients like silver ear mushroom (a natural alternative to hyaluronic acid that claims to have better moisture retention); Babassu oil which is rich in fatty acids and antioxidants to help nourish, soften, and smooth skin; and sunflower seed oil which contains cleansing properties to help remove excess oil and dirt.
Emma Lewisham Illuminating Oil Cleanser
This cleansing oil comes all the way from New Zealand using ingredients that harness four enzyme-rich flowers, including Bulgarian lavender, neroli absolute, and damask rose, in addition to vitamin E, from organic chia, organic rosehip, and organic macadamia. This oil is a beautiful way to cleanse and wake up the skin while nourishing and calming it too. What I love about this brand is how passionate Emma is about leading the movement towards circular beauty. All of her products are refillable (you can read more about their program on their website) and their "farm to face" initiative provides customers with a direct line to the farms they source their ingredients from.
Mara Chia + Moringa Algae Enzyme Cleansing Oil
There really isn't a product from this line I don't like but their cleansing oil is one of my favorites (oh, and their vitamin C serum slash oil is divine too). What I love about this product is the addition of four fruit enzymes: papaya, pineapple, grapefruit, and pumpkin, which work together to exfoliate and soften skin. It has a slight physical exfoliating effect too which dissolves as you massage it into your skin. You can even leave this one on as a mask for a further five minutes post-cleansing too which is a nice self-care ritual when you have the extra time. It's also packed with marine botanicals, squalane, and other vitamins and fatty acids to ensure your skin feels soft and hydrated afterward too. Highly recommend this one!
Cosmedix Purity Solution Cleansing Oil
If you follow me then you'll know I've been a fan of the Cosmedix skincare line for over 10 years. I swear by their products because they work aka they actually do what they say they're going to do! This cleansing oil is always in my beauty cabinet. It has olive, moringa, kukui, and argan oils mixed with turmeric and orange extracts to balance sebum, and amber and pearl powders to give you that glow. I love mixing it with the line's Purity Detox Scrub to form a paste-like texture and apply it in circular motions for a deeper exfoliating cleanse.
GENTLE FACEWASH
This is my tried and true everyday cleanser and it will forever remain part of my daily skincare regimen. This resurfacing gel-like cleanser is so incredibly gentle and suited to all skin types thanks to white willow bark that exfoliates and antioxidants derived from chamomile. It removes makeup with ease and just feels lovely on the skin as you cleanse without drying it out or stripping the skin. If you're looking for the best face wash for women over 40, this one is a must-have!
Alo is new to the skincare game but after testing a few of their products I'm really impressed. This product is marketed as an enzyme facial cleanser because of the pineapple enzymes but it is really a super gentle cleanser. The hero ingredient is the vitamin C-rich Amla (a potent antioxidant super berry) combined with aloe for a super nourishing treatment. It's suited to all skin types.
Consonant Natural Foaming Face Wash
This Canadian beauty brand is known for its clean ingredients and no-fuss approach to skincare. This foaming wash is strong on dirt but gentle on skin thanks to natural botanicals like Coco Betaine (gentle coconut-derived surfactant that cleanses without stripping skin); Niacinamide (Vitamin B3 that helps with skin clarity, texture, and tone); and Gotu Kolu (soothes skin and reduces redness). This is also a pH-balanced formula which means you don't need a toner but I still love to use one—this is my all-time favorite.
Cosmedix Crystal Cleanse Hydrating Liquid Crystal Cleansing Cream
This is the latest product release from Cosmedix that harnesses their liquid crystal technology (also found in their bestselling Opti Crystal eye serum) and prickly pear extract. It's a cream cleanser so it is extremely gentle and hydrating making it great for sensitive or post-treatment skin.
iS Clinical Warming Honey Cleanser
It's easy to dismiss this cleanser when you read "warming honey" but don't. Honey is packed with amino acids, vitamins, and antioxidants to help heal and improve blemish-prone skin. It also feels and smells amazing. It also doubles as a really powerful healing mask when your skin needs some extra love thanks to the papaya enzymes that help dissolve dead skin, along with nourishing glycerin, and Japanese green tea extract.
EXFOLIATING FACEWASH
Cosmedix Clarify Salicylic Acid Foaming Cleanser
This is definitely one of my favorite cleansers on this list (aside from the iS Clinical cleansing complex). Don't let the words foaming and salicylic acid turn you off either. This is not the stripping, drying foaming cleansers of your past. I know it's hard to believe but this cleanser is really soft and hydrating. My skin never feels "squeaky clean," itchy dry, or tight after use because it's alcohol and sulfate-free. It also has soothing aloe and probiotics to encourage healthy bacteria on the skin. I love it!
The Things We Do Gly Glow Scrub AHA/BHA Cleanser
If you're looking to take things up a notch then this is the cleanser for you. I like to use this two to three times a week to get that really deep clean. This cleanser really packs a powerful punch with its combination of glycolic and salicylic acid along with jojoba beads, seaweed extract, lavender, and calendula. But it never makes your skin feel dry or tight after use either. I really love this Los-Angeles based skincare line which is also a clinic founded by the incredible Vanessa Lee, RN who is a must-see if you're in the city of Angels.
AmorePacific Treatment Enzyme Exfoliating Powder Cleanser
It might be called a treatment enzyme peel but really this is a super gentle powder that when mixed with water becomes a gently exfoliating cream that dissolves as you cleanse your face. It's a good option for someone with sensitive skin who wants to exfoliate but is worried about stripping their skin. It's great for travel too because it's a waterless powder.
Lesse is another Los-Angeles-based owned and operated brand by Neada Deters. Her less is more sustainable approach to skincare has earned her a spot on the shelf of many beauty enthusiasts and it's easy to see why. This physical cleanser uses apricot to gently exfoliate and improve circulation while detoxifying charcoal reduces impurities and the formation of blemishes. I like to use it a couple of times a week or as a mask when I'm taking a bath and want to extend my self-care practice.
So now that I've shared the best face wash for women over 40, share the cleansers you love below.
Loved this post? Pin this graphic to come back to it later.