Whether you're embarking on a low-key nature stroll or a full-on mountain excursion, dressing for a hike can be surprisingly daunting. Do I need layers? Will this outfit hold up against the elements? And, of course, will I feel cute at brunch afterward? While many of us want to be channeling carefree nature vibes this summer, nothing cramps your style more than being stuck in the wrong gear on a hike. With weather, terrain, and safety at play, there are a lot of factors that go into selecting the best hiking gear for women. From leggings to boots to packable jackets, we've rounded up some pieces below that you can sport outdoors without sacrificing style.
While spending my summers hiking in Montana for over 20 years, I've landed on a few great outfit recipes that have carried me through both leisurely walks in the trees and several miles of switchbacks. After pulling on my fair share of hiking boots, I can attest that you can still find cute hiking clothes that are comfortable and durable, too. Scroll on for some of my favorite current options, and some tips for finding the best hiking clothes for your summer adventures.
Tops
Comfy, boxy tees definitely get the most love in my closet these days, and this tie-dye number from Tory Sport is both sporty and fun. It's lightweight, versatile, and cute enough for both the trail and hitting the town with friends afterward.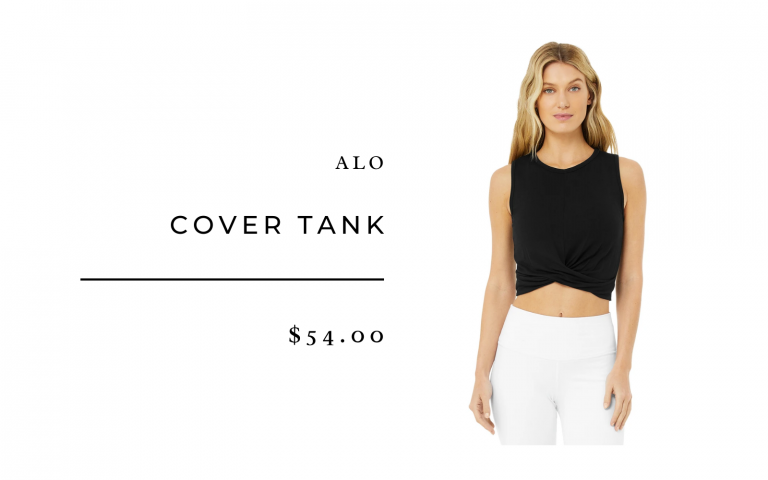 Most of the time, a cropped tank with a sports bra underneath is my first choice top for hiking. Tanks like this one from Alo are low-key and easy to wear comfortably under other garments if you'll be shedding layers throughout your hike. I love the super-soft jersey material and flattering shape of this tank.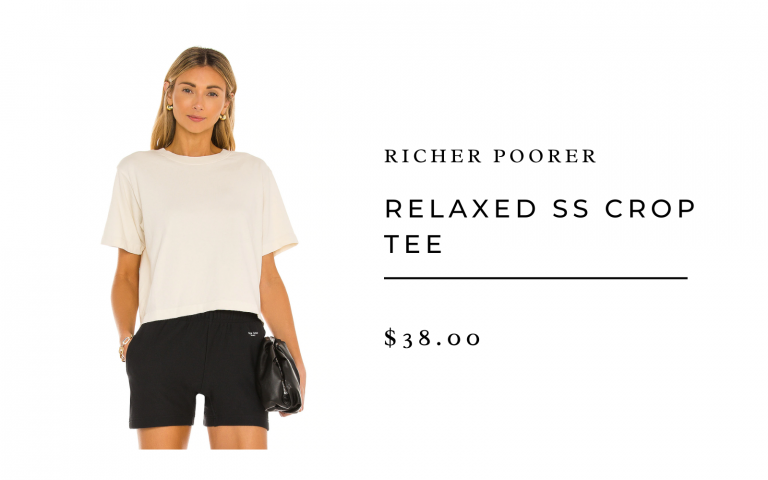 Richer Poorer Relaxed SS Crop Tee
If you've been on the hunt for the perfect basic cropped tee, look no further. I just got this one in from Revolve and I will definitely be ordering it in more colors. The material is a little on the heavier side and not sweat-proof, so I would recommend this tee for cooler weather and more leisurely pursuits.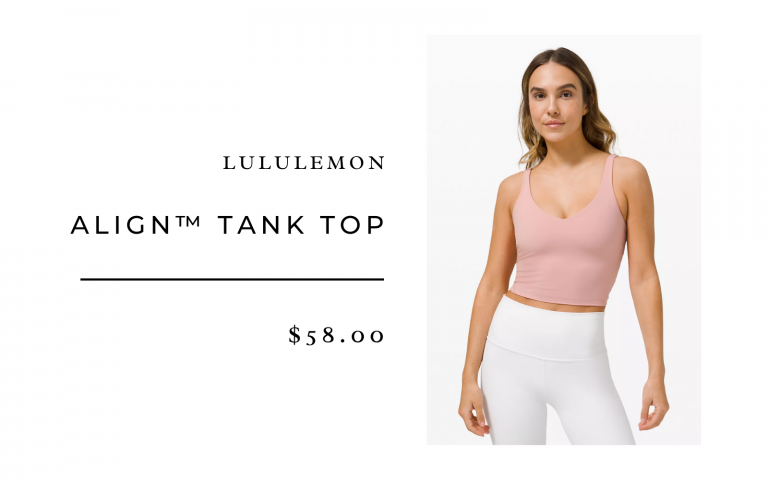 I love everything from lululemon's Align collection, and this tank top is where it's at. The fabric truly feels like butter, and this is one of those articles of clothing you can wear for hours and forget about. Plus, it comes in almost every color under the sun.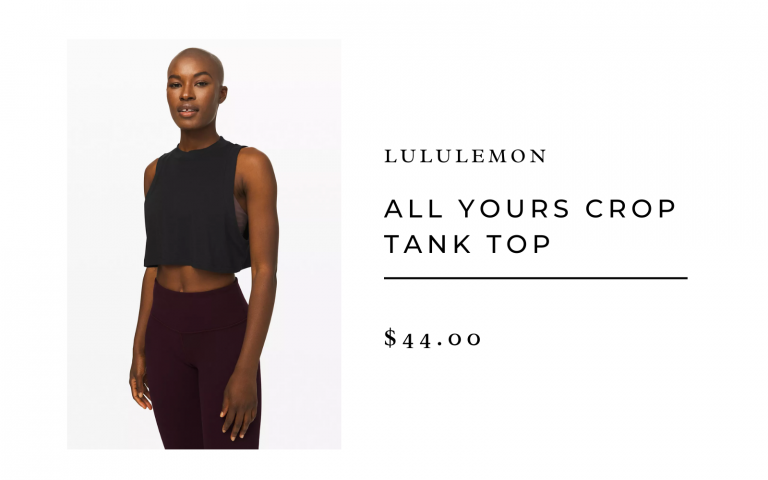 lululemon All Yours Crop Tank Top
If you like a bit more coverage in the chest area, this relaxed tank is great for layering (especially with the Align tank above). Plus, the scooped arm holes make this tank breathable and a great option for warmer weather.
I tend to stray away from bulkier, heavy-duty hiking attire, and this cute crop by Year of Ours is perfect for various outdoor activities. This all-in-one shirt and sports bra combo does double duty and looks great on and off the trail.
Bottoms
Outdoor Voices Rectrek 3″ Short
Water-resistant and lined with pockets galore, these shorts were designed with the elements in mind. They come in bold, earthy colors that'll turn you into a nature woman in no time.
Free People Movement The Way Home Shorts
When it comes to breezier bottoms, these shorts from Free People Movement are my new fave. They come in a variety of fun colors and have a flattering, relaxed fit suited for both running outside or chilling.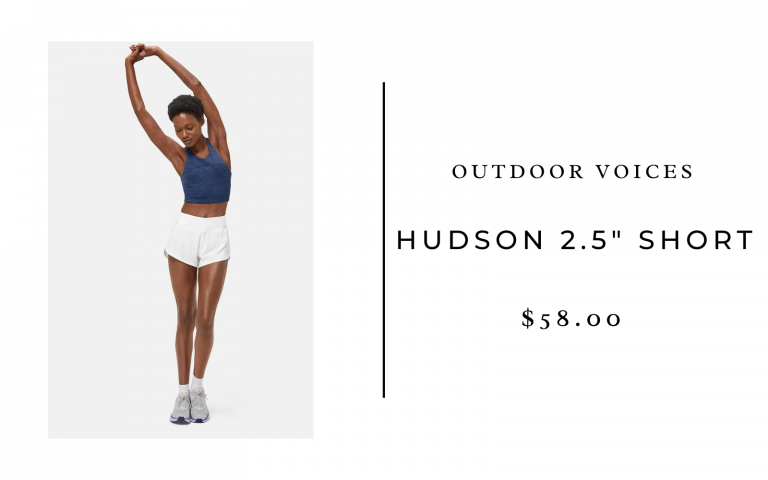 I own these shorts in multiple colors and couldn't love them more. The quick-dry material is game-changing after breaking a sweat, especially if you'll be stuck in the same clothes for long hours. These shorts have saved me from multiple uncomfortable car rides home after spontaneously deciding to take a post-hike dip in my clothes.
Free People Movement Hot Shot Bike Short
If you plan to carry gear on your hike, I'd recommend bike shorts or leggings over the breezier options above, which can tend to ride up while wearing a backpack. I love this pair from Free People movement and the neutral, earthy beige color goes with almost everything.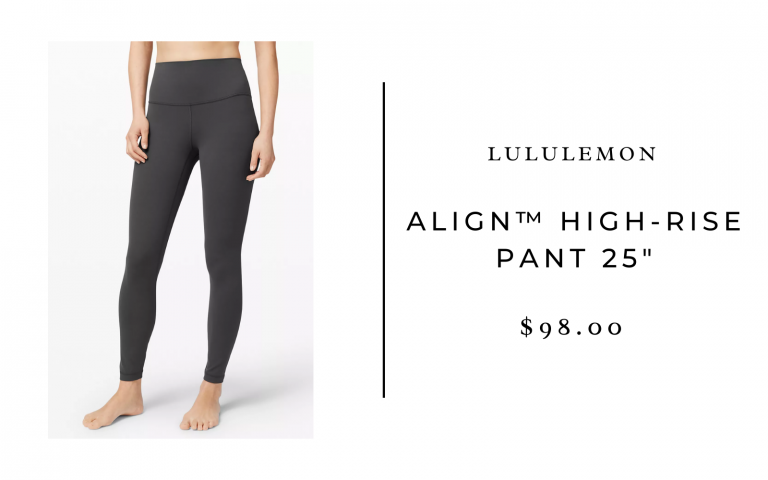 lululemon Align High-Rise Pant
When you're moving your legs for hours and wearing multiple layers (and a backpack), it can be tough to find leggings that will stay put. This pair feels like a second skin—they're soft, flattering, and you'll forget you even have them on.
Nike AGG Dri-Fit New Sands Pants
I have the shorts from Nike's ACG line and I lived in them during our recent camping trip. They are super lightweight but the pockets have zips so you can stash your phone, keys, bug spray for easy access and no fear of losing them on the trail. They are also made of 75% recycled polyester fibers! — Sacha
Sets
Outdoor Voices The Exercise Dress
This one is a cult favorite for a reason, and the only dress I'd ever recommend hiking in. This lightweight, breathable dress with built-in pockets is one of the more functional pieces in my wardrobe, and a great no-fuss option if you want to throw something on quick.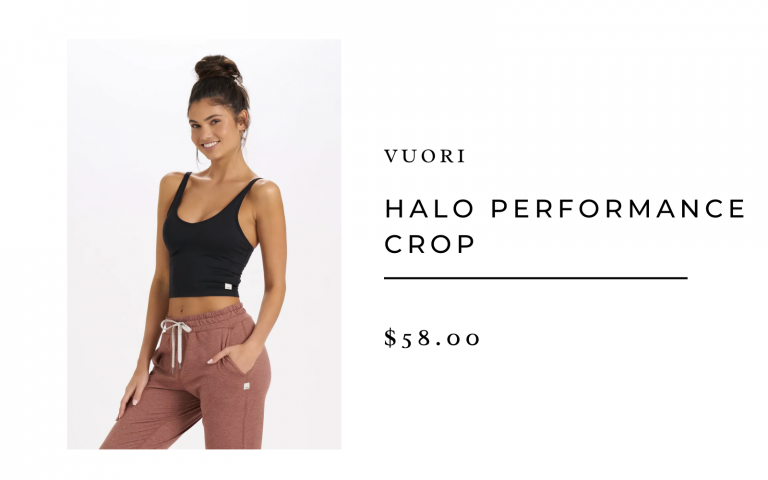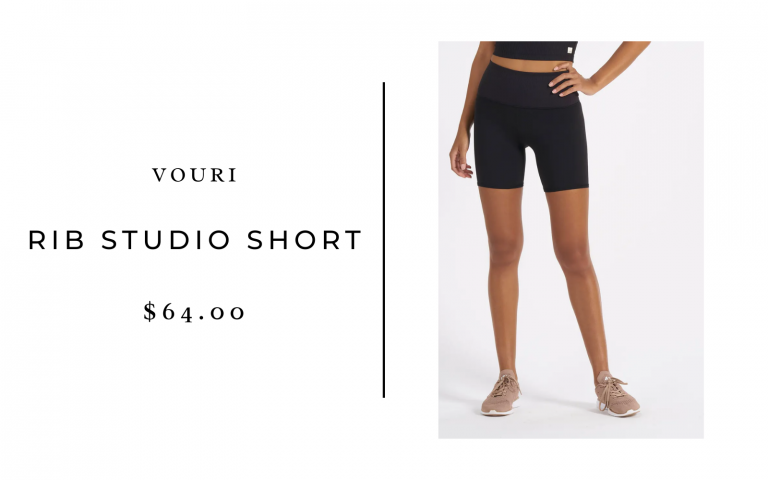 Vuori Halo Performance Crop & Vuori Rib Studio Short
I wore this chic set hiking in Lake Tahoe and when we finally arrived at the lake, I realized I didn't pack a swimsuit so I just took my boots off and jumped into the fresh water in this crop top and bike shorts. It was hot enough that they dried fairly quickly post-swim, and the wet suit kept me cool on the hike back up. I love how stylish this set is yet incredibly versatile too (and comfortable!). — Sacha
Outerwear
Tory Burch Color-Block Down Vest
I'm a big fan of the whole Tory Sport collection, and this bold, retro-inspired vest might be just the thing you need to complete your outdoorsy look with style. Plus, it's water repellant and wind-resistant, and made with high-quality down material to keep you warm and cozy in cooler weather.
Free People Movement Pippa Packable Puffer Jacket
I tend to run cold, so I'm usually one to be wearing a jacket at the start of a hike. While I love being warm, I always end up shedding it within the first 15 minutes, so finding something packable is key. This Free People Puffer is cute, versatile, and even folds into its own pocket. It doesn't get more functional than that!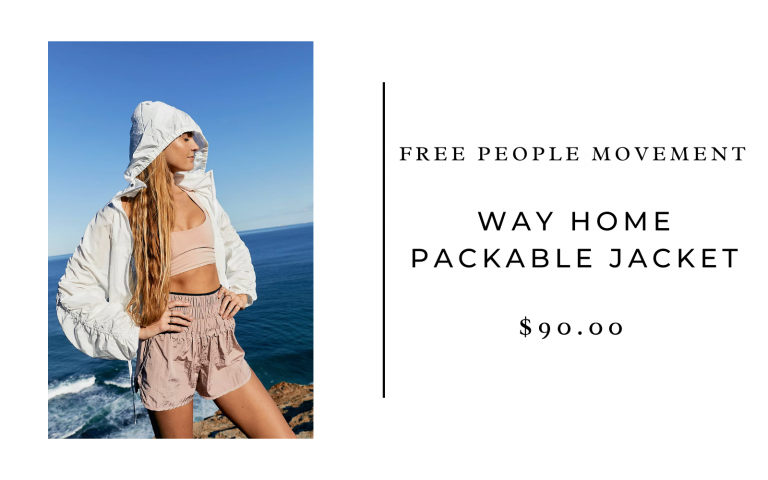 Free People Movement Way Home Packable Jacket 
Here's another packable option that's on the lighter side. Breezy and lightweight, this is the only layer you'll need for hiking in warmer weather.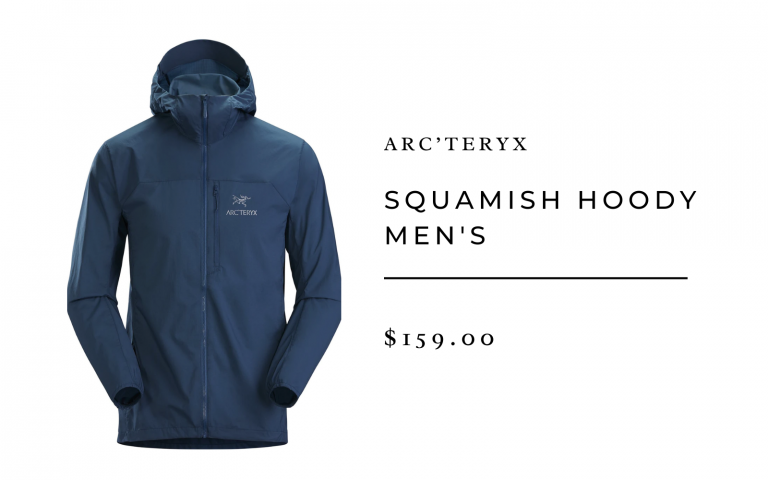 Arc'teryx Squamish Hoody Men's
I bought this after I saw my husband's and immediately knew I needed one too. It is incredibly lightweight but really durable making it the perfect shell jacket for wind, light rain, and sun—I wore it hiking in 90-100 degree heat to protect my arms, shoulders, and chest from the glaring UV rays and I didn't get burnt once. I also love that it has a hood which I flipped up over my hat to protect the back of my neck. It also rolls up into a tiny ball so you can even fit it in your pocket or anywhere in a backpack and it weighs practically zero. The perfect hiking and travel jacket.  — Sacha
These hiking boots were at the top of Camille's birthday wish list this year, and might be the best-looking hiking boots we've ever seen. They're a bit of a splurge, but these boots are sturdy, high quality, weatherproof, and meant to last.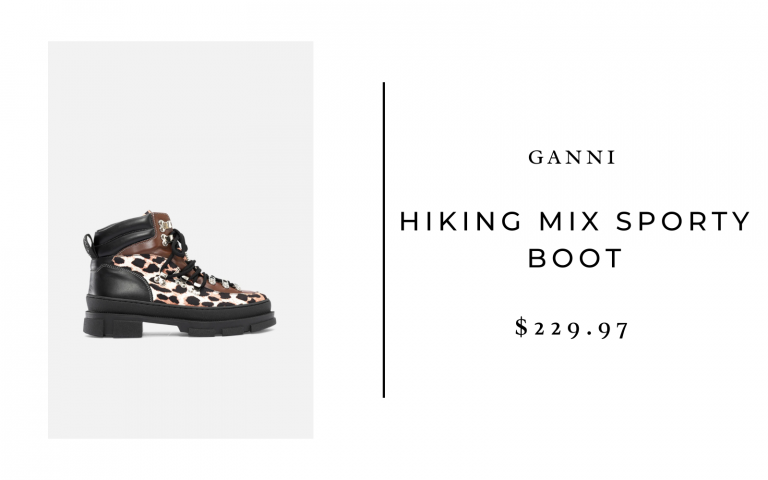 Ganni Hiking Mix Sporty Boot
I have these in black but they appear to be sold out everywhere. They are the perfect mix of utility and style fused into one very fashionable boot. They are also incredibly comfortable. I wore them every day during our recent camping trip—perfect for hikes but also for keeping your feet protected from the elements. Highly recommend. — Sacha
Teva Flatform Universal Karina Sandal
These Tevas are way cuter than the sandals I sported during my summer camp days, and the straps are even made from recycled plastic! These are the perfect pair for a leisurely walk or to bring along on a hike when you're ready to explore the water.
Accessories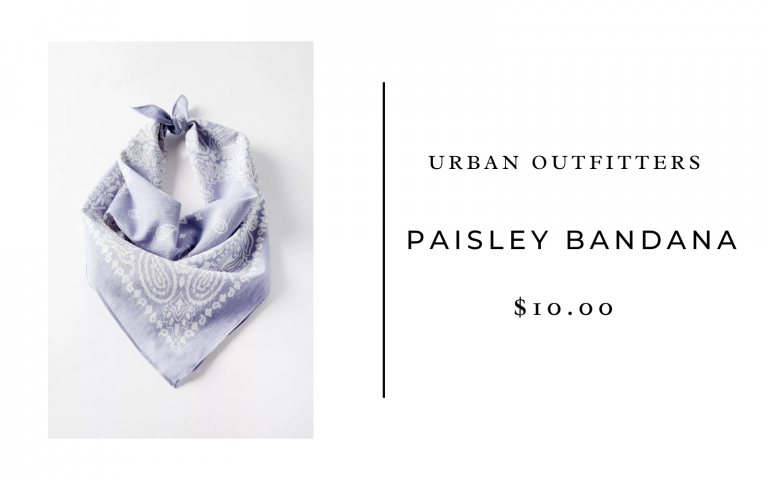 Urban Outfitters Paisley Bandana
Great for blocking the sun on your chest, repelling bugs, and dabbing sweat, a good bandana is a must-have accessory to complete any hiking ensemble.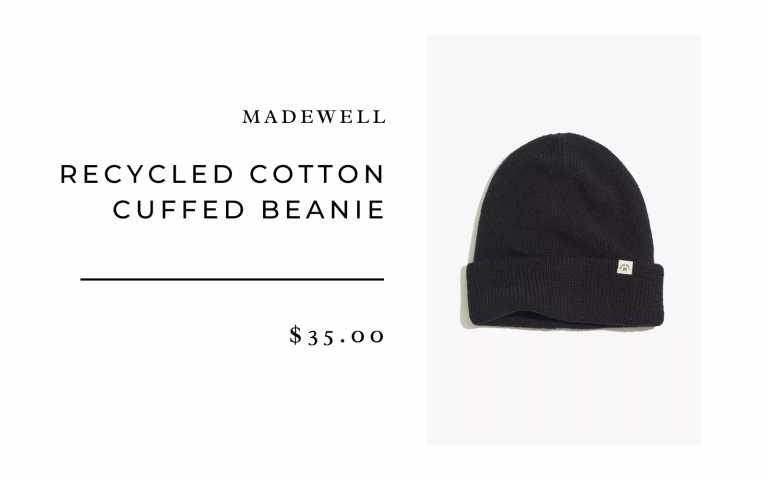 Madewell Recycled Cotton Cuffed Beanie
I've never met a beanie I didn't like, and this classic black one from Madewell is a great staple that's both stylish and practical.
Tory Burch Ripstop Nylon Color-Block Backpack
Stylish and functional, I love this backpack for hiking or running errands. The white material and color-blocked straps make it the perfect summer backpack.