Apparently, we all shower a lot. In fact, the average American spends 8.2 minutes in the shower, according to this survey. This means that a) we all need to get better at conserving water, and b) we might spend close to six months of our lifetimes showering. So why not make this daily ritual a little more fun? If we're taking so much precious time to get clean every day, we might as well enjoy it. Enter, the best shower products.
Showering can feel like another rushed part of our day, or it can be a sacred retreat where we get to relax, practice mindfulness, and take a moment to pamper ourselves.
Our editors love indulging in a good at-home spa moment, and we're always swapping our latest ride-or-die products with one another. We finally pulled together a list of the best shower products we are constantly restocking. From splurge-worthy picks to drugstore buys, we've got something for every shower regimen to leave you feeling clean and fresh *hair flip*.

Kelly Krause | Contributing Editor 
Why I Recommend It: I've been using this combo for two to three years and it leaves my hair feeling the softest and smelling the best. Some days I don't even need a spritz of fragrance, this is enough to get me by. Can't tell you how many times I've been stopped in a grocery store asking what fragrance I was wearing and it was just my shampoo and conditioner.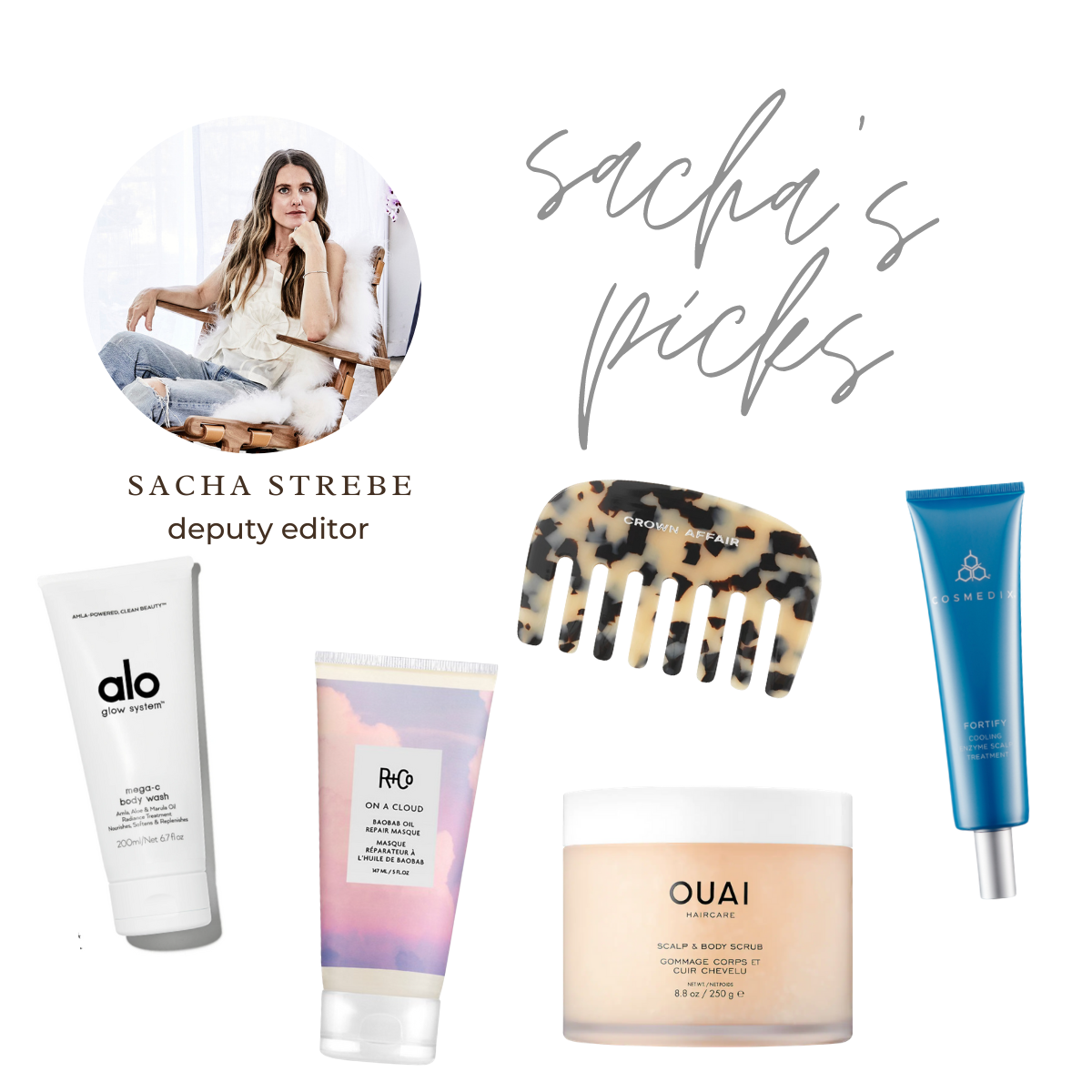 Sacha Strebe | Deputy Editor
Why I Recommend It: I really loathe washing my hair because it's really long (and there's a lot of it). So you can only imagine, after a week of slicking it back with oil, hair wax, or gel there is a lot of product build-up that needs to be cleaned out of my hair and off my scalp. That's when I reach for a clarifying scalp scrub. For those who know me, you're aware of my long-held love for the skincare line, Cosmedix. Well, this year, they released their first scalp treatment (well, our scalp is skin too!) and it's safe to say I'm obsessed. It deeply cleanses the scalp thanks to the pumpkin ferment extract which gently exfoliates dry skin while its blend of biopolymer ingredients, including Hyaluronic Acid, helps to condition and soothe the scalp and hair. Unlike other scalp treatments I've tried, this does not dry out the scalp or your hair. Instead, your hair feels incredibly smooth and clean without being squeaky. Even my husband is a fan!  
Why I Recommend It: There are so many body washes out there now it can be hard to decipher which one to choose. But there are a few standouts and this new mega-c body wash from Alo is up there on my list of favorites. I already love the brand's clothing (and their fitness app is great too!) so I admit I was surprised when they came out with a skincare range. What's different about this wash is the ingredients: amla superberries (one of the world's most concentrated antioxidants), aloe vera, marula oil, and avocado oil. It's hypoallergenic, vegan, cruelty-free, and made clean in California. This gives you that fresh, straight-out-of-the-shower feeling without the dryness or irritation—and it smells delicious. 
Why I Recommend It: Okay, so I know I'm listing another scrub but I really am obsessed with scalp scrubs, however this one I chose because it doubles as a body scrub—kinda genius! Not unlike Jen Atkins to invent a product that does double duty. This one fuses sugar with coconut oil and a probiotic blend to support your scalp and skin's microbiome. It also smells amazing like all of the Ouai products and it's a generous tub too for the price.  
Why I Recommend It: I am a sucker for a hair masque (and face masks too!) so this protein-rich, creamy one from R+CO had me at hello. Since I only wash my hair once a week, I actually use a hair masque instead of a conditioner and really take the time to nourish my locks, combing it through, and then leaving it in while I do the rest of my skin and body routine (salt scrub, double cleanse, etc). I love the addition of baobab oil in this product which helps to strengthen while softening. I also just really love the smell and texture because honestly, anything that makes my at-home shower feel like a luxurious spa is a win for me. 
Why I Recommend It: I always keep a comb in the shower and use it every time I wash my hair. The key here is to choose a wide-tooth comb because it reduces the risk of breakage and is so much easier to work through tangles. I recently added the Crown Affair comb to my arsenal. Not only does it look beautiful, but it's also designed to promote strong healthy hair thanks to the rounded tips that give you a light scalp massage while clearing away dead skin and increasing circulation. Nourish your roots and promote growth. It's a win-win!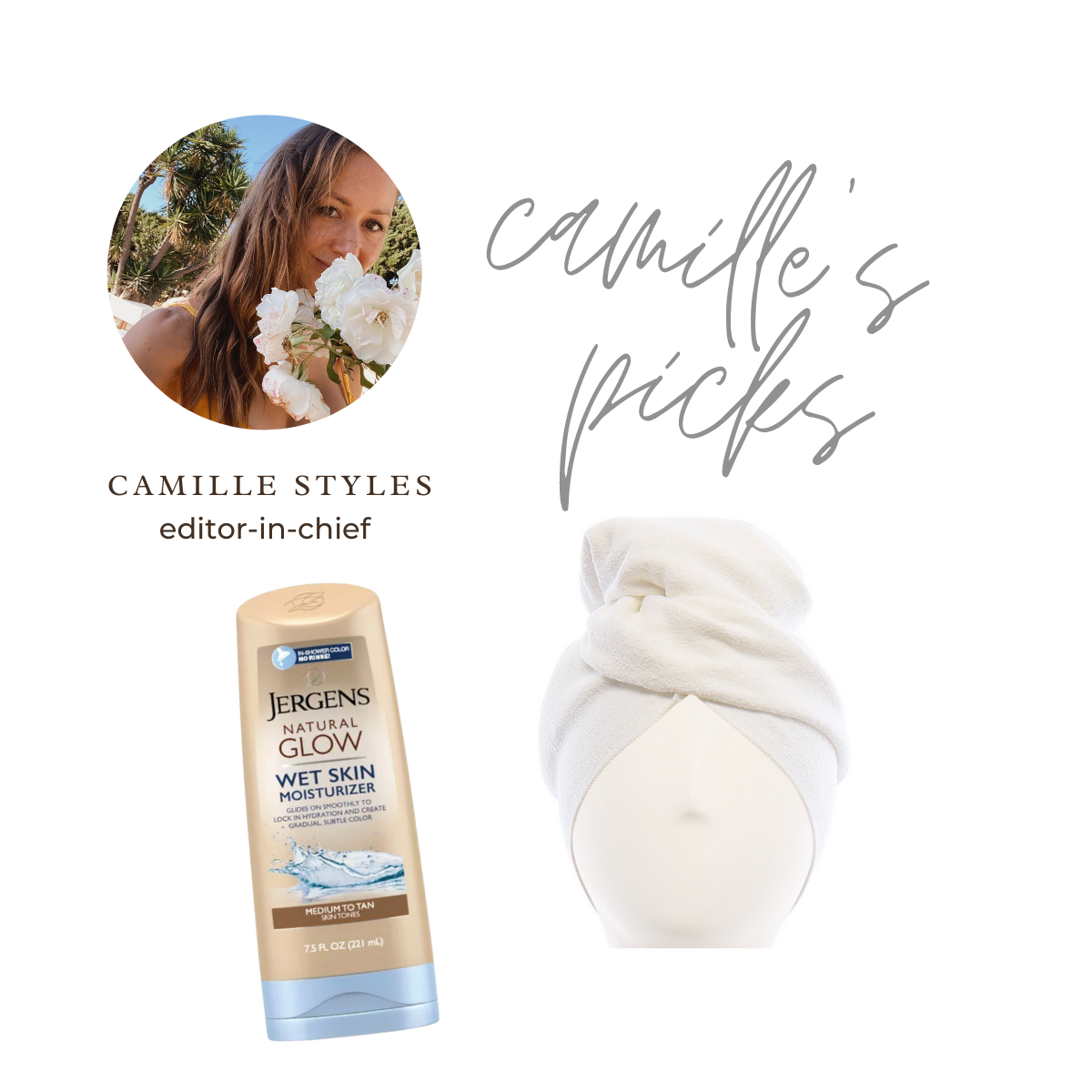 Camille Styles | Editor-in-Chief
Why I Recommend It: Since I absolutely despise blow-drying my hair, I always get a jumpstart on the process by wrapping my wet hair up in this microfiber turban while I'm still in the shower. As soon as I turn off the water, I grab it from the hook outside my shower door and twist it up, then slather my body with in-shower lotion (see below. It's specifically engineered to wick 50% of the water from your hair without causing any breakage or damage and dare I say, it actually looks chic? I have it in white.
Why I Recommend It: As you may have noticed, I prefer a subtle year-round tan and this Target steal is the ultimate way to get it, without any streaks. You really don't even have to be precious with your application because it builds so subtly over time; I tend to squeeze a big dollop into my hands while I'm in the shower, and while my skin is still wet, slather it neck to toes. The result is a naturally golden, not-at-all orangey glow, with zero "wait time" while you let it dry. Just towel off and get on with your (tan) life.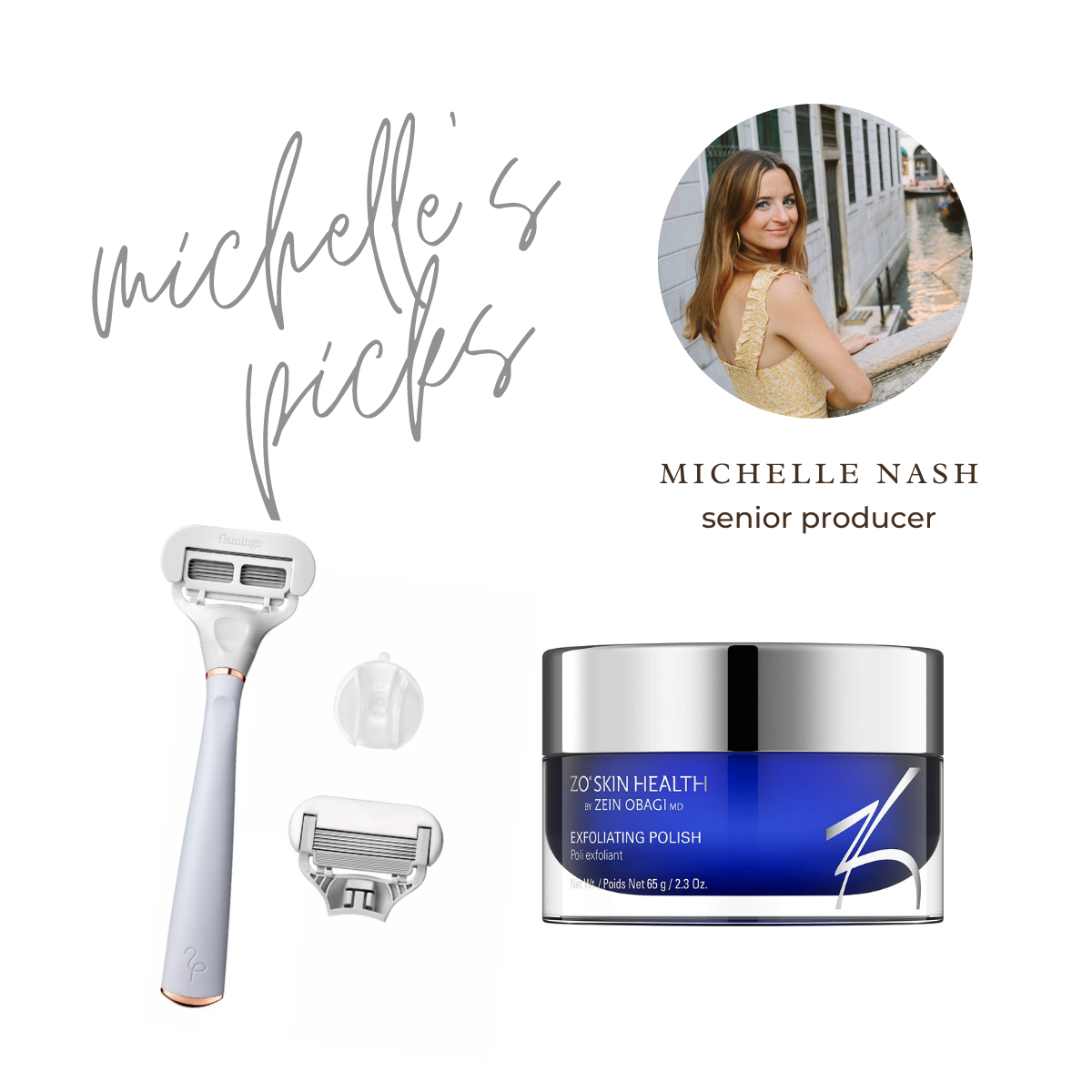 Michelle Nash | Senior Producer 
Why I Recommend It: This stuff is magic in a jar. I have truly never had softer, brighter skin than when I use this exfoliating polish. I tend to get flaky, dry skin around my nose and mouth, and this product was recommended to me by my esthetician, who just said "trust me" when she handed it over. I use it once or twice a week on my face and neck for some extra exfoliation and always look forward to stepping out of the shower with what feels like brand new skin!
Why I Recommend It: Believe the hype—a good razor is worth every penny! Since I usually prefer to spend most of my beauty budget on skincare, stocking up on the best shower products was never a priority for me. But when Camille recommended this Flamingo razor, I realized spending a little extra on something I use every day can be truly game-changing. Shaving was always the part of showering I would dread, and now I actually look forward to it. This razor is smooth, fuss-free, and sturdy, plus it earns bonus points for just looking cute!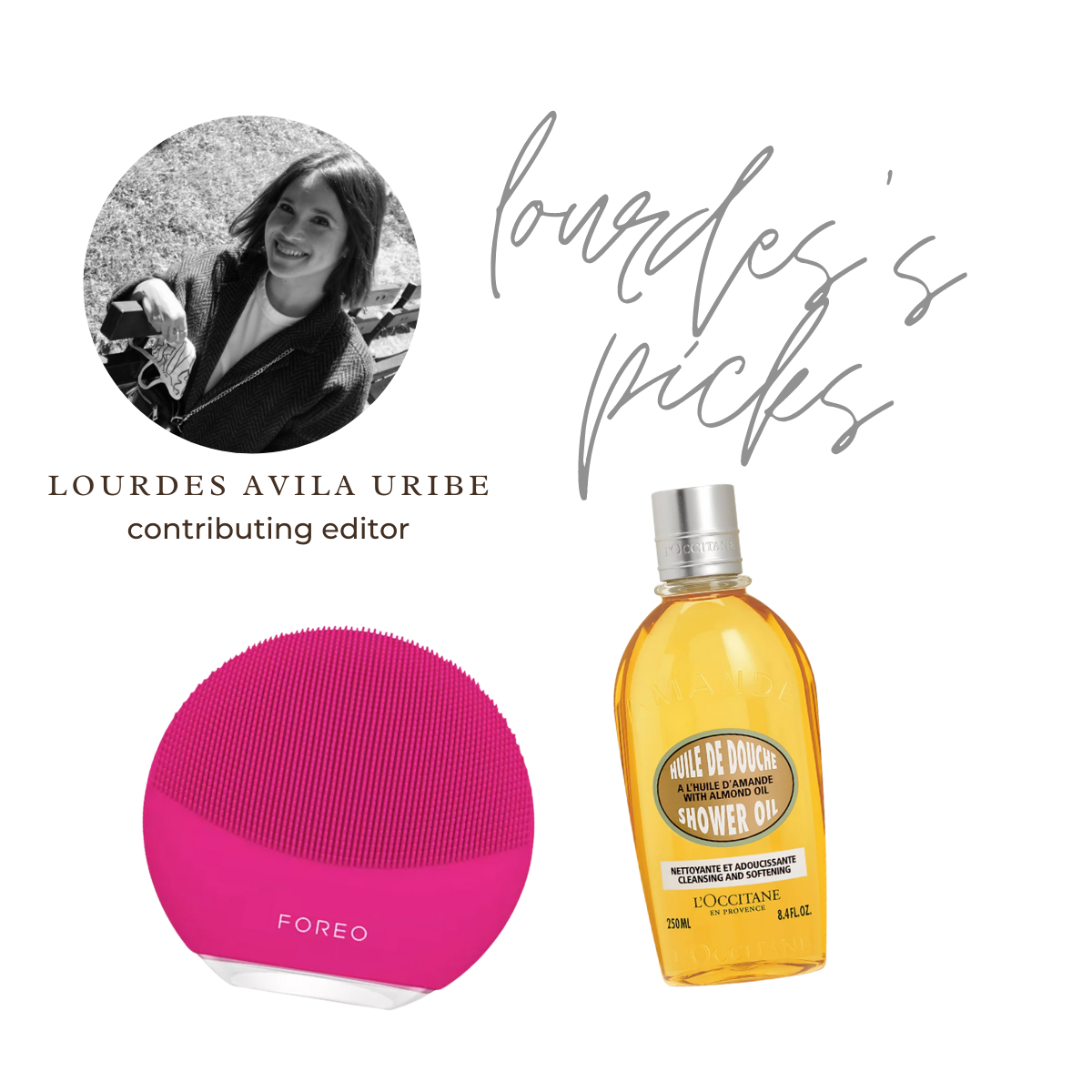 Lourdes Avila Uribe | Contributing Editor
Why I Recommend It: If my shower water isn't practically scalding then I don't want it. As delicious as this nightly near-torture practice is, it can easily lead to dry skin if moisture isn't almost immediately replenished. This body oil manages to be rich and nourishing while also feeling light and absorbent. And it just doesn't get any better than that classic milky almond scent.
Why I Recommend It: This cleansing tool leaves skin ultra-soft and glowy without stripping it of its natural moisture barrier. The silicone bristles give my face a lovely little massage while lifting impurities out of pores, leaving me looking and feeling like I just got a fancy facial. The silicone is much more hygienic than a brush or cloth, so I much prefer it to any of the other popular facial cleansing devices.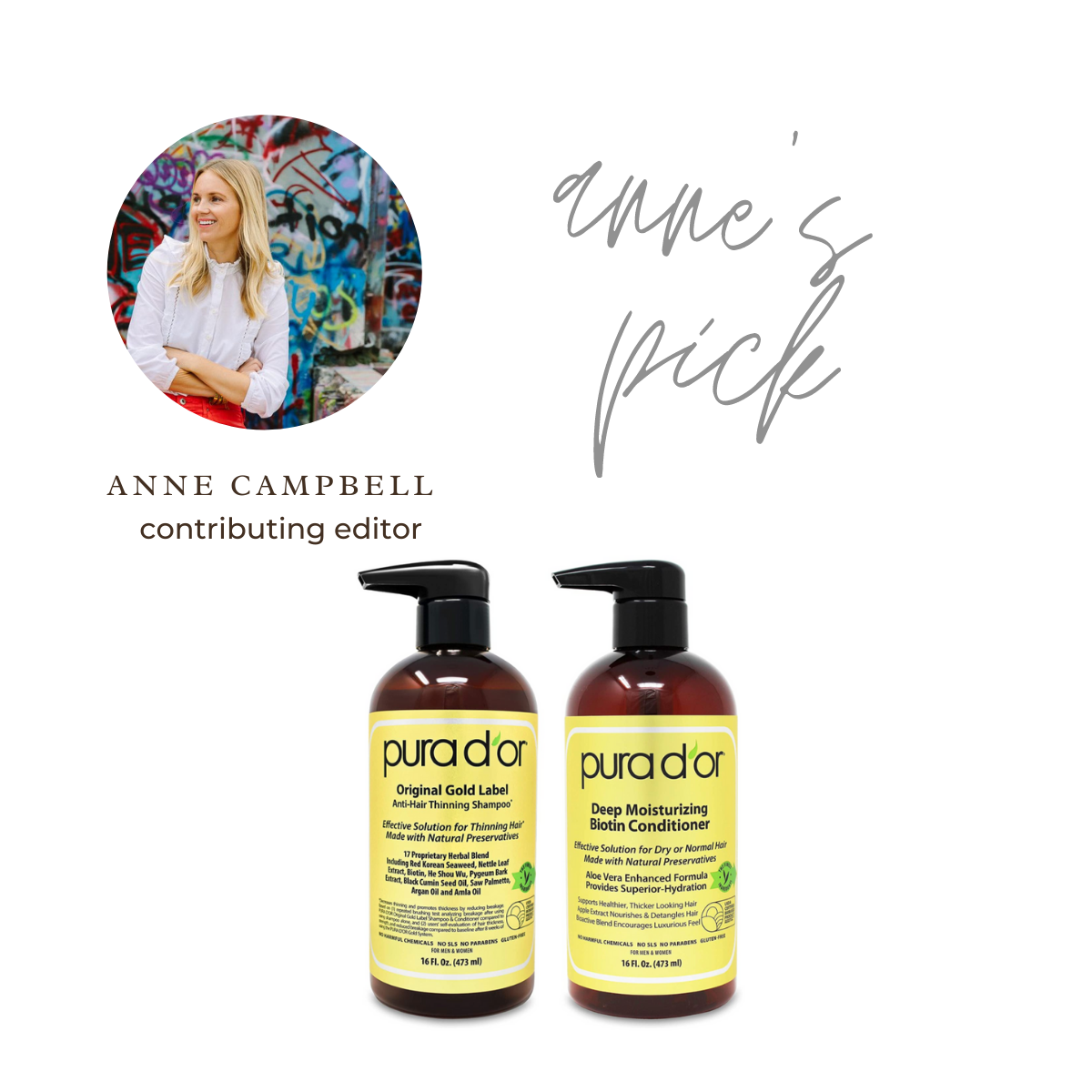 Anne Campbell | Contributing Editor
Why I Recommend It: I can't recommend this wildly popular shampoo and conditioning set enough. Somehow the shampoo/conditioner combo, complete with biotin and argan oil, thickens and strengthens hair strands while simultaneously adding volume and softness. According to their studies, after just eight weeks, users can expect to see less breakage and damage to the hair and overall thicker and healthier hair. Yes, please!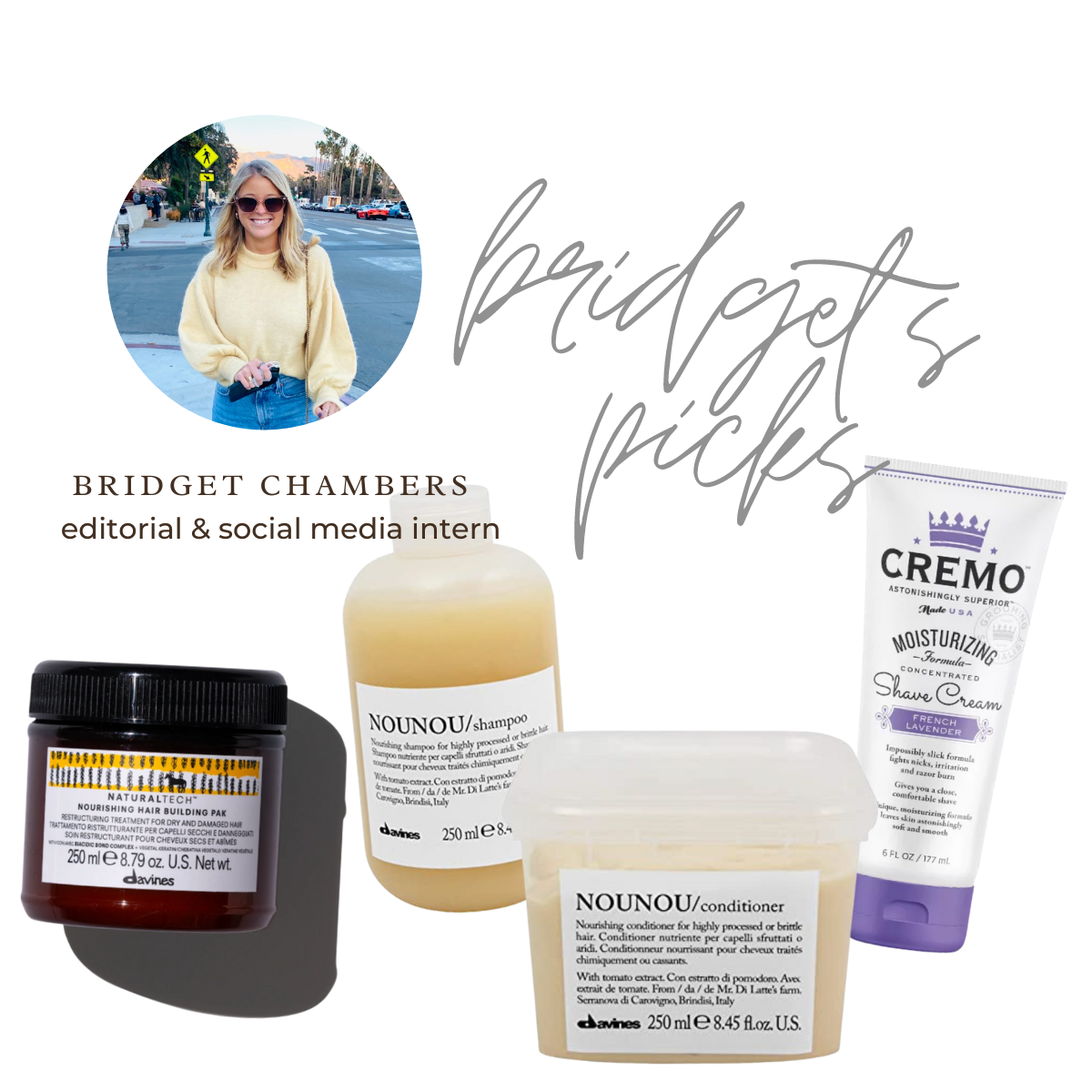 Bridget Chambers | Editorial & Social Media Intern
Why I Recommend It: After getting my hair done at the end of summer 2019, my hairdresser was worried about my hair being exposed to so much sun in addition to highlights. He recommended using Davines's NOUNOU shampoo and conditioner to keep it nice and healthy, and now I wonder if I will ever use a different shampoo/conditioner combo ever again. I quickly became obsessed with the way my hair looked, smelled, and felt—and my friends noticed it too. This particular shampoo/conditioner, NOUNOU, is for processed hair to strengthen my hair—the blonde highlights I put in my hair can be very damaging if I'm not careful. Davines also has a wide range of shampoos and conditioners for all types of hair so you can find which one works best for you. My mom uses their LOVE line for frizzy hair and "loves" it!
Why I Recommend It: I love this protein hair mask recommended to me by the same hairdresser. I use it once every two weeks after shampooing instead of conditioner and leave it on for 10-15 minutes. In the meantime, I exfoliate, wash my body, and shave. I am also very, very picky about the way that my hair feels. I don't put any products in my hair after I wash it (except for It's a 10) and this mask passed my test, leaving my hair extra shiny and super silky to the touch. This product has that fancy salon scent, so every time I use it I feel like I just stepped out of a professional wash. Be careful not to overuse, however, because too much protein can actually be damaging to your hair. 
Why I Recommend It: As embarrassing as it is to admit, I have never been skilled at shaving. I used to come out of the shower with little knicks all over my legs and spots of hair that I had completely missed. This shaving cream from Target has been a game-changer for me—if I don't have it, I don't shave. It is so smooth and doesn't foam, so I can see exactly where I am shaving. Plus, it smells so good and makes my skin feel really soft. I have pretty sensitive skin and have had no problems with this product, even on my underarms, where I used to be prone to rashes. The best part? It is only $5.99 and since you only need an almond-sized amount, it'll last you forever. I swear by this shaving cream.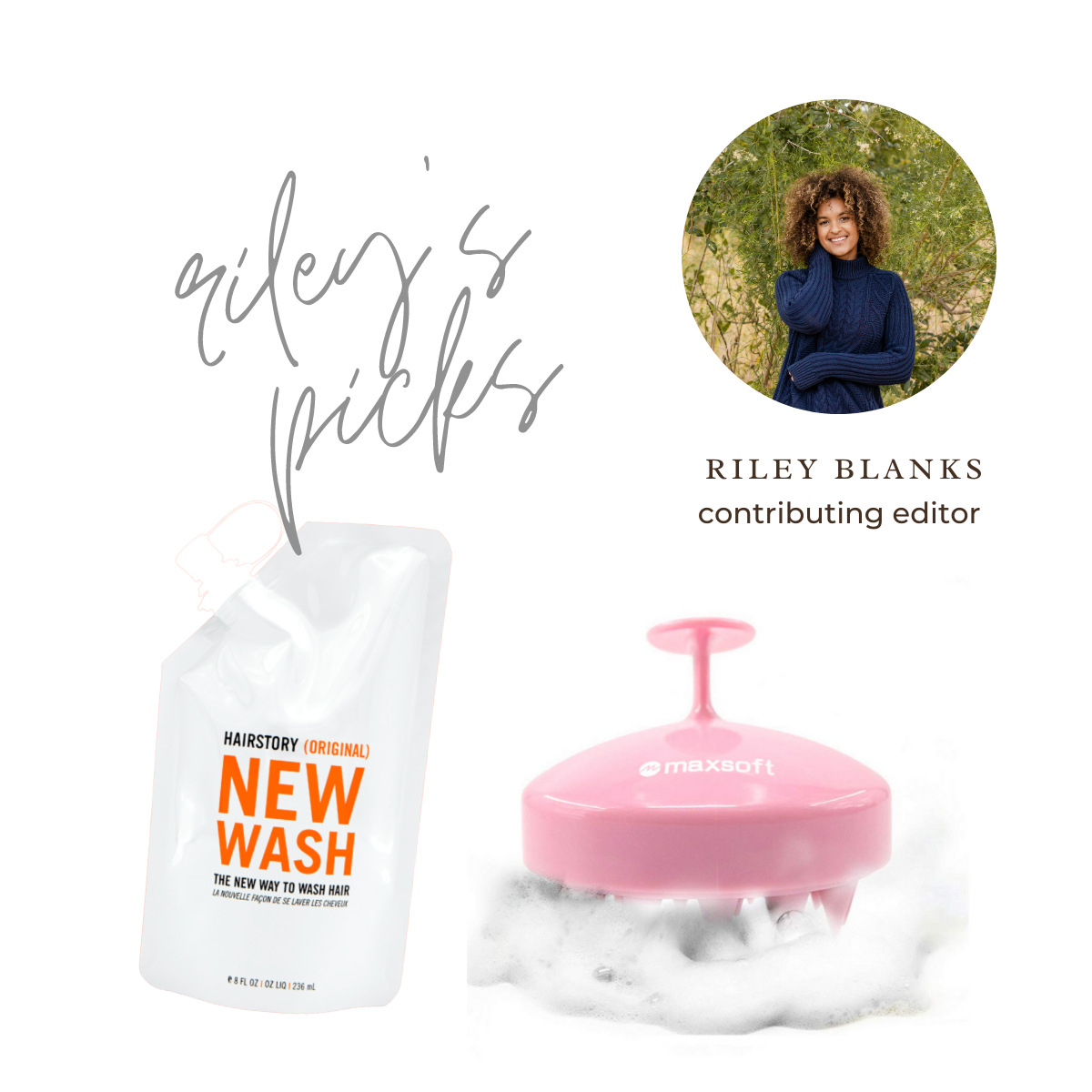 Riley Reed | Contributing Editor and Photographer
Why I Recommend It: I have such a hard time finding hair products that I actually love. Detangling is one of my biggest obstacles and most shampoos set me up for failure. What I love about Hair Story's New Wash is that it's a shampoo and conditioner in one. Free of detergents, it hydrates hair, keeps it healthy, and prevents my scalp from overproducing oil to compensate for a shampoo that would otherwise strip it away. It's for every hair type, smells amazing, and lasts forever. Say no more.
Why I Recommend It: Who needs a salon when you can massage your own scalp? This hair scalp massager works wonders for a relaxing, feel-good experience while your shampoo cleanses your scalp. The Hair Story New Wash doesn't sud (which has symbolized cleansing in the past) so I love that I feel like I'm really working on the product with these bristles. They're the perfect texture for deep cleaning, exfoliating, and stress reduction. They also give your nails a break!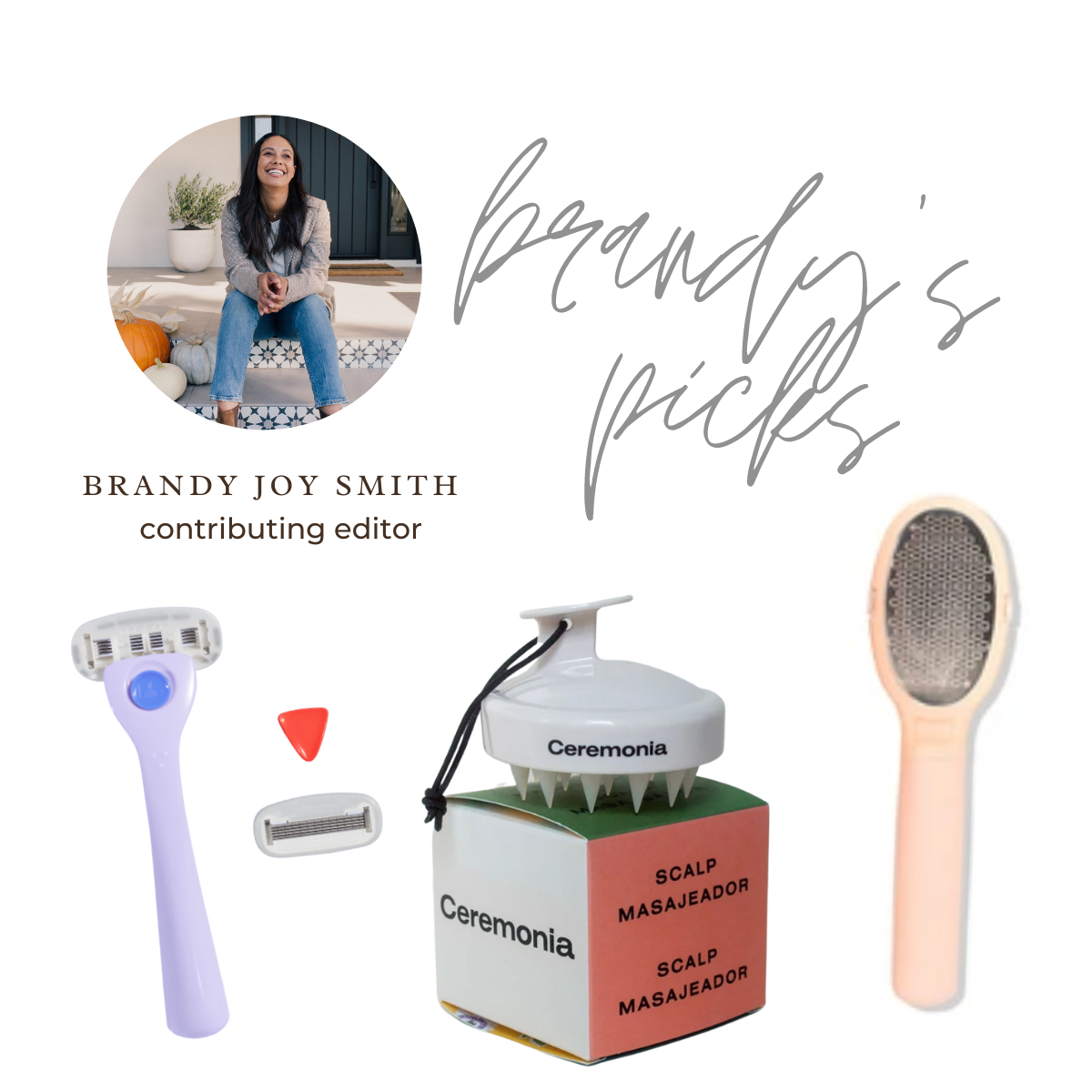 Brandy Joy Smith | Motherhood & Wellness Editor
Why I Recommend It: I've really started to enjoy doing my own mani/pedis over the pandemic. I love this foot file because it really smooths your foot without being dangerous or scary to use. I've found it's the closest thing you can get to the scraping you get at the salon. 
Why I Recommend It: When I realized that taking care of my scalp would not only improve hair growth but also make my blow drys last longer, I immediately started paying attention to my scalp health. This tool exfoliates the scalp, promotes shine, and contributes to overall healthier hair. 
Brandy Joy Smith | Motherhood & Wellness Editor
Why I Recommend It: Though embarrassing to admit I was always one of those people who would hop in the shower and think about shaving, then look at my razor, and realize it needed to be replaced. But the Billie razor is a subscription system, so I'm never in a jam. Plus, I also have a nickel allergy and this razor is nickel-free!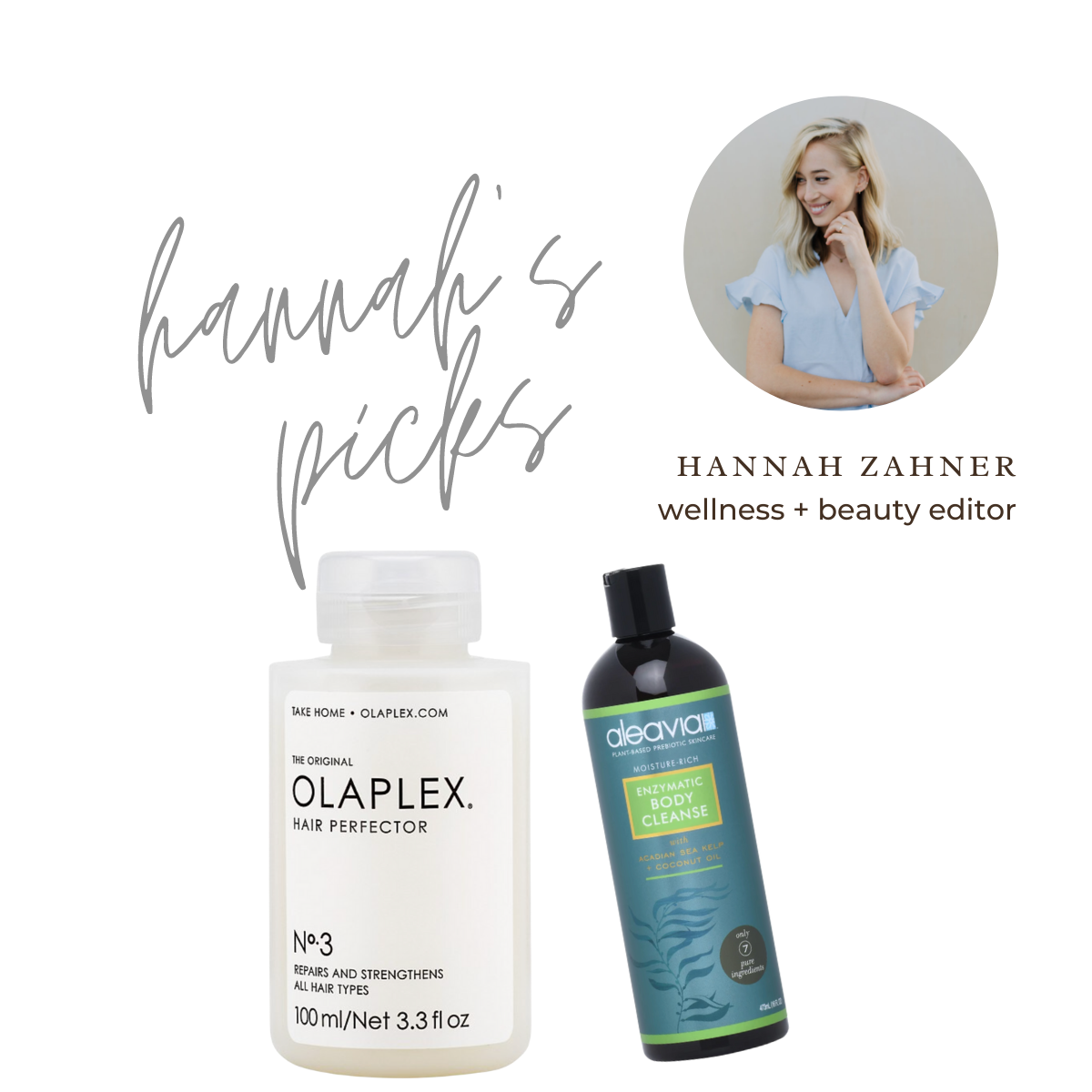 Hannah Zahner | Beauty and Wellness Editor 
Why I Recommend It: I'm a clean beauty girl through and through, but sometimes you need to pull out the big guns. I don't use this treatment too often, but as I've been growing out my blond hair, my ends have needed some extra support. Used as a treatment before shampooing and conditioning, it works on a molecular level to repair damaged and broken bonds in the hair. My hairstylist recommends working a bit through dry hair and sleeping with the treatment on. I only do this every couple of months, but when I do, I wake up with the softest, silkiest hair ever. 
Why I Recommend It: I started using Aleavia Body Cleanse a couple of years ago and am not sure I'll ever use another body wash. A prebiotic plant-based cleanser made of 100% organic ingredients, I love that it gently cleanses your skin's surface, while also feeding your skin's good bacteria and preserving your skin's natural protectants. While it's not the sexiest bottle or branding, I've never seen a wash that supports the body's microbiome quite like this. I love the fragrance-free version, and their orchid one too.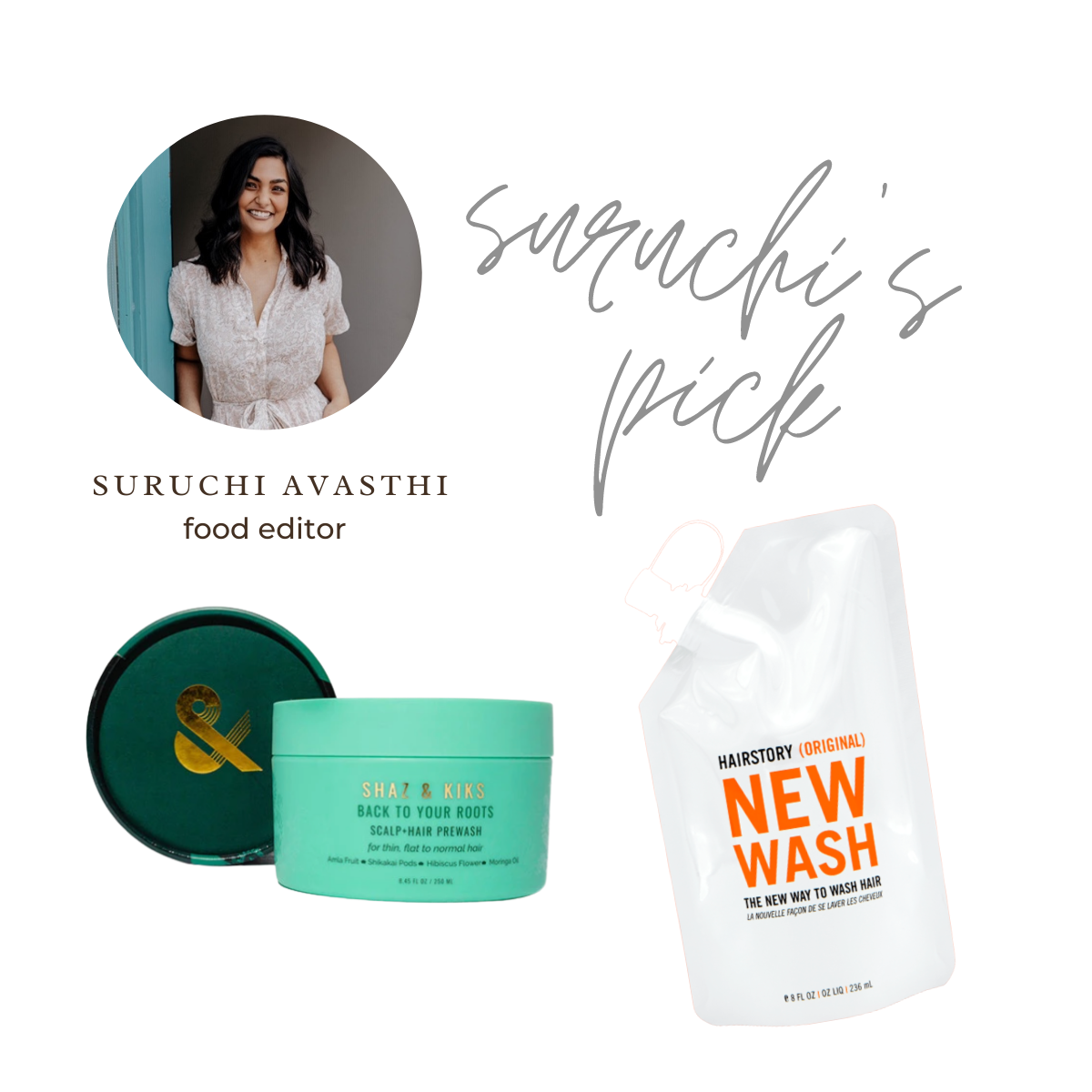 Suruchi Avasthi | Food Editor 
Why I Recommend It: I'm going to second Riley's recommendation on the Hair Story New Wash! I just started using this a few weeks ago, and while I'll admit that the transition time is definitely real, now that I'm on the other side, I am all in! My hair is fuller, shinier, and softer, lasts longer between washes, and it's even helped bring my shedding under control. I also love that New Wash is a more sustainable option that is biodegradable, and the refill system reduces plastic consumption which is amazing.
Why I Recommend It: Okay, so technically this is a "pre-shower" product, but it makes a huge difference. This is a plant-based hair mask that is formulated with 20 nutrient-rich Indian herbs, oils, and flowers that nourishes your hair root to tip, inside out. You actually apply the mask to dry hair and then wash it out in the shower. This hair mask has become such a favorite part of my weekly routine and makes my hair feel so strong, soft, and healthy, while also moisturizing my scalp—wins all around.
What's your favorite shower product? Sound out below!