I know I'm late to the game, but for some reason, vitamin C only recently came on my radar. Sure, I'd heard about exfoliating, retinol, hyaluronic acid, etc.—and was incorporating them into my routine—but it's only been in the past year or so that I've been fully turned on to the myriad vitamin C benefits. Turns out, I was missing out on a lot. And so now, with my interest fully piqued, I went to the experts to find and test out the best vitamin C serums. Spoiler: My skin couldn't be happier.
Featured image by Riley Reed.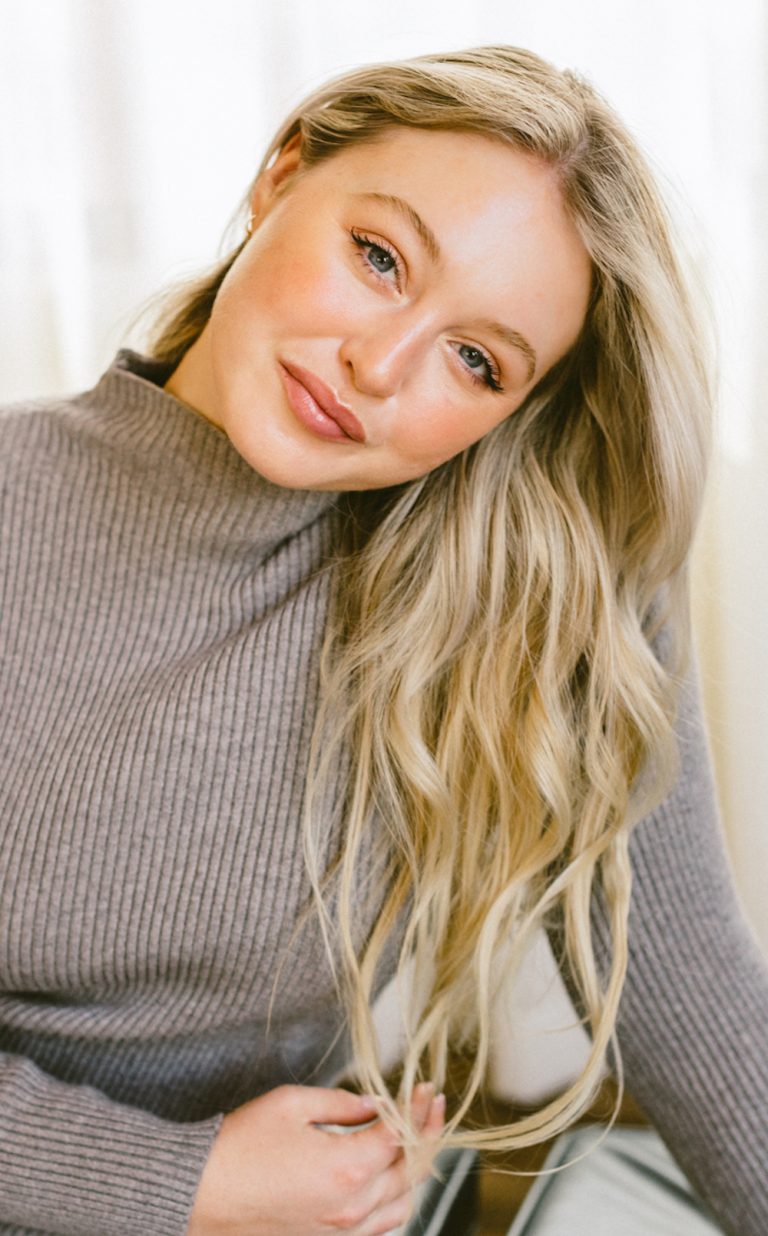 The Expert
Did you know that vitamin C can be used every day? I hadn't realized that it was gentle enough for daily use. However, if you also like to use retinol, feel free to alternate it by applying it every other day or conversely, use vitamin C in the morning and retinol at night. Luckily, most skin types tolerate this popular active ingredient well, but if you have extremely sensitive skin, you may want to skip it. And as always, be sure to talk with your dermatologist about vitamin c benefits for skin if you're concerned.
We tapped Dr. Heather D. Rogers, dermatologist, dermatologic surgeon, and founder and CEO, Doctor Rogers RESTORE, to share some information about this wonder ingredient. Not only does she recommend daily vitamin C application to her patients, but she also uses a vitamin C serum every morning on clean, bare skin. It is the first topical she applies to the face, neck, and upper chest.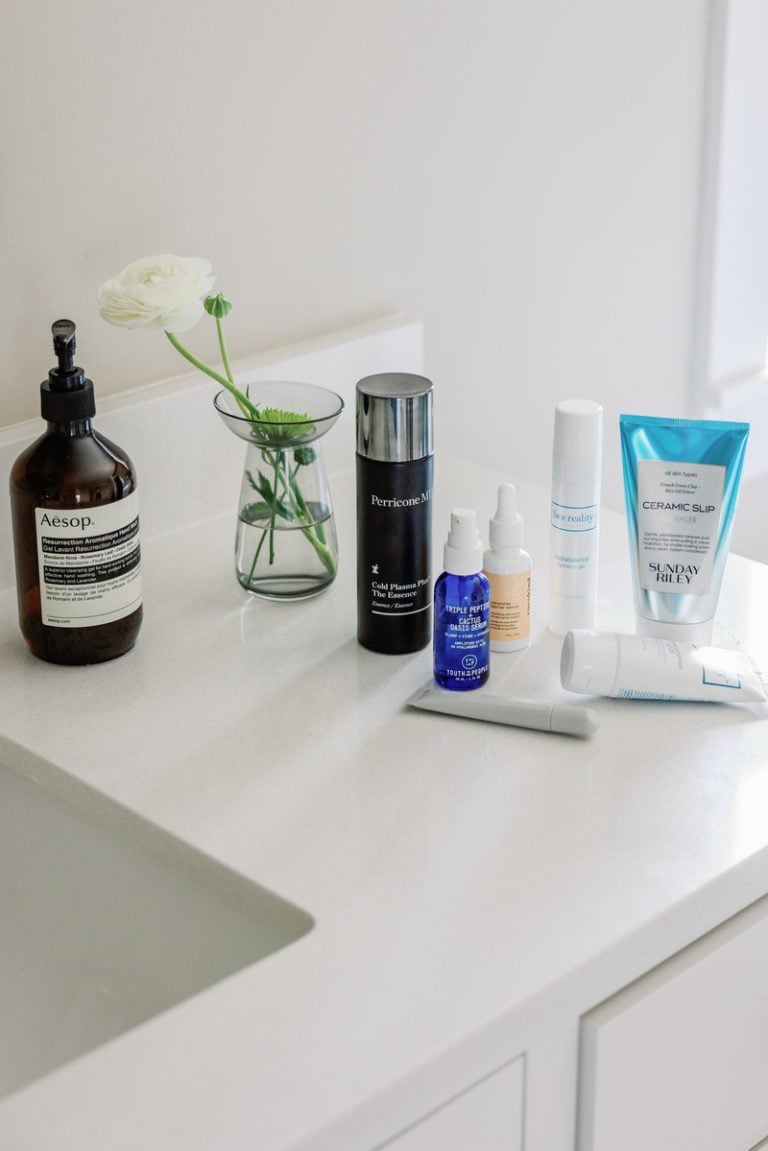 What is vitamin C?
Vitamin C is an antioxidant molecule that plays a vital role in our skin's health by protecting it against free radicals caused by pollution and the sun's radiation. It's also an important ingredient for the production of collagen. When free radicals penetrate the skin, Dr. Rogers says they break down our collagen, contributing to sagging skin and wrinkles. Free radicals also stimulate the formation of brown spots and skin cancer.
An antioxidant is a molecule that can collect these free radicals and neutralize them before they damage our cells. This protection is different from the protection sunscreen provides and can and should be used together daily to slow the signs of aging and prevent the formation of skin cancers.
There are several kinds of vitamin C. The most common forms used in skincare products are:
L-ascorbic acid
ascorbyl palmitate
magnesium ascorbyl phosphate
ethyl ascorbic acid
tetrahexyldecyl ascorbate.
Another great thing about vitamin C is that it's the most well-studied antioxidant in topical skincare products. Dr. Rogers tells me multiple studies show that antioxidant serums with vitamin C that are stabilized with vitamin E protect your skin against photo-aging. Since the skin is very good at keeping things out, these antioxidants need to be in a well-formulated, easily absorbed vehicle to ensure these essential and expensive vitamins get deep enough into the skin to protect it. Formulation is key!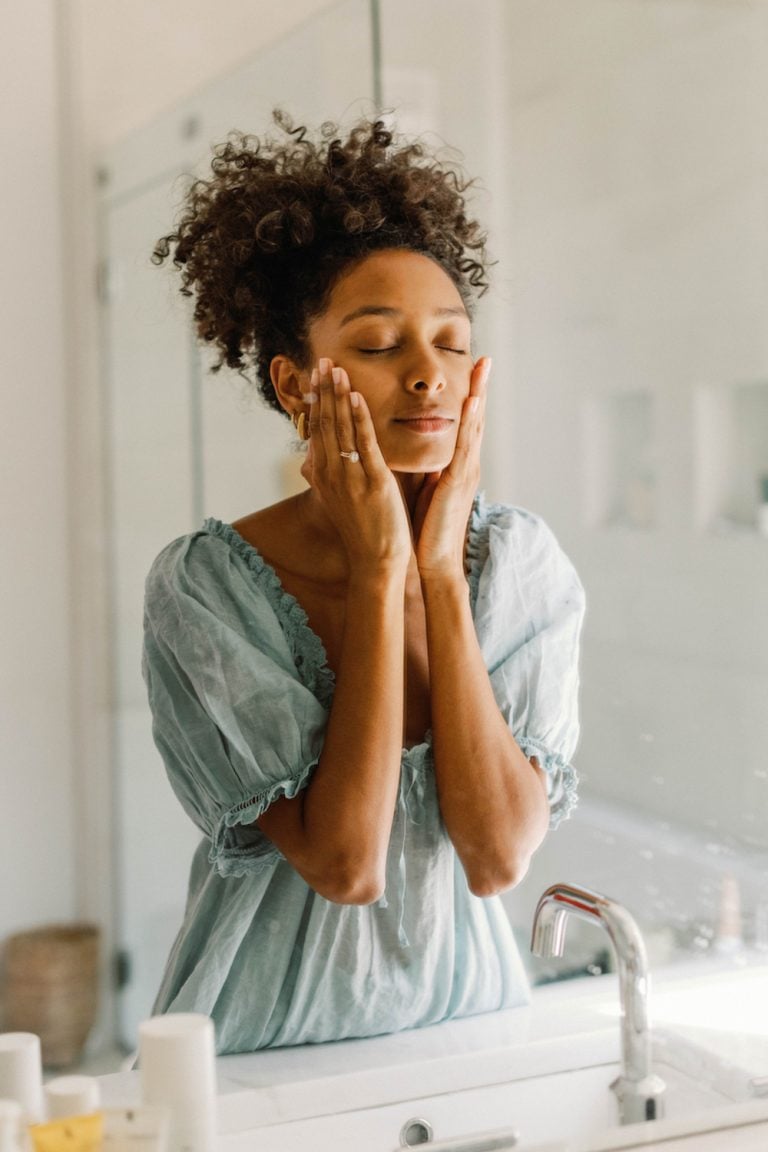 Who can use vitamin C?
Vitamin C is very safe for most people, but since it is an acid (ascorbic acid), it can irritate sensitive skin types. If you have very sensitive skin, you need to pick a lower percentage of vitamin C because your skin is too good at absorbing ingredients, which makes it more sensitive.
Most studies show benefits to the skin when using serums with 10% vitamin C. Higher percentages do not mean better results but can increase one's risk of irritation.
How long does it take to see results?
Dr. Rogers points to several factors when it comes to seeing results. Generally, you may see improvement at two weeks, however most clinical studies measure results when using a product with vitamin C after 12 weeks. But that all depends on how damaged your skin is, how consistently you use the serum, how well formulated it is, and how young you are—since that dictates how quickly your skin turns over.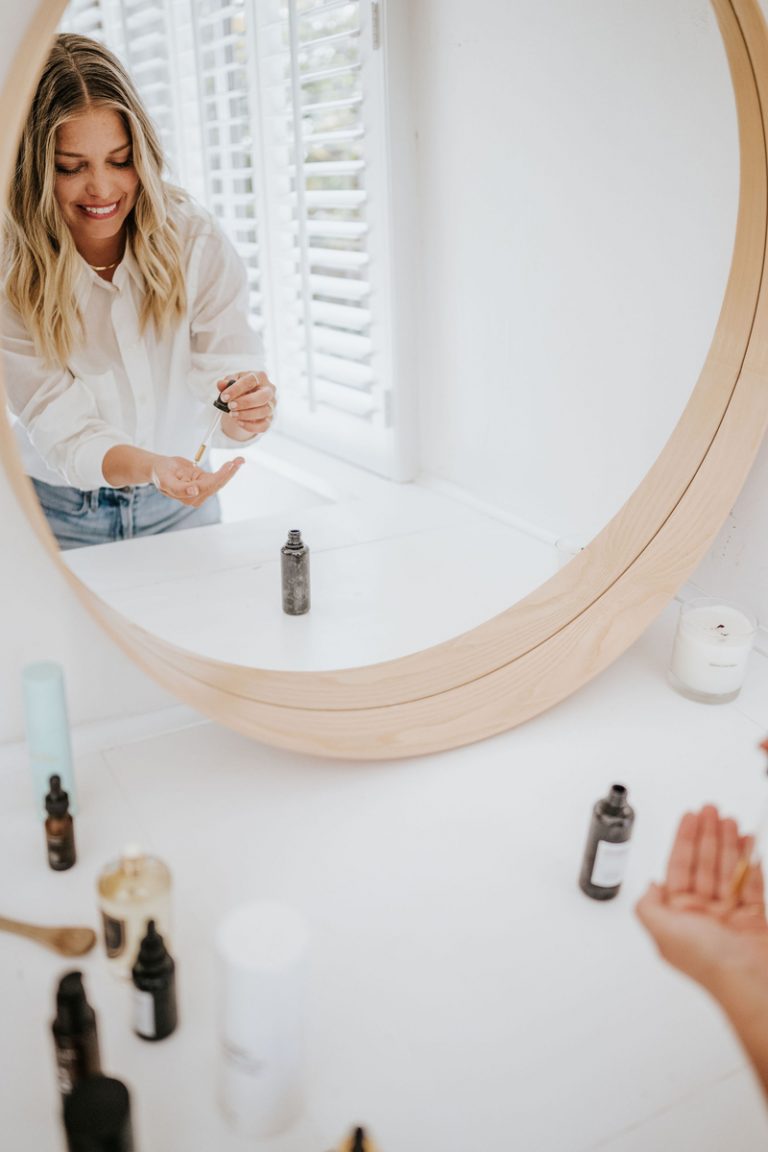 Vitamin C Application Tips
Use it in the right order. If your vitamin C treatment is a serum, use it after cleansing or toning and before moisturizing. If it's in your moisturizer, use it as your last step.
Use vitamin C in the morning. You can totally use it at night, but you'll get the most benefit from applying in the morning. It heals sun damage and protects against UV radiation, so you'll have an extra layer of protection with a morning application.
Pick the right concentration. If you have sensitive skin, look for something around 5%. If you have more extensive issues you can handle higher concentrations.
More is not better. It's just more expensive in the long run. A small amount goes a long way, but be sure to use it regularly for best results.
If the product changes color, toss it! Oxidized vitamin C tends to lose its power. It can vary in color from colorless, to straw-colored to pale orange. If it's turned brown it might be time to say goodbye.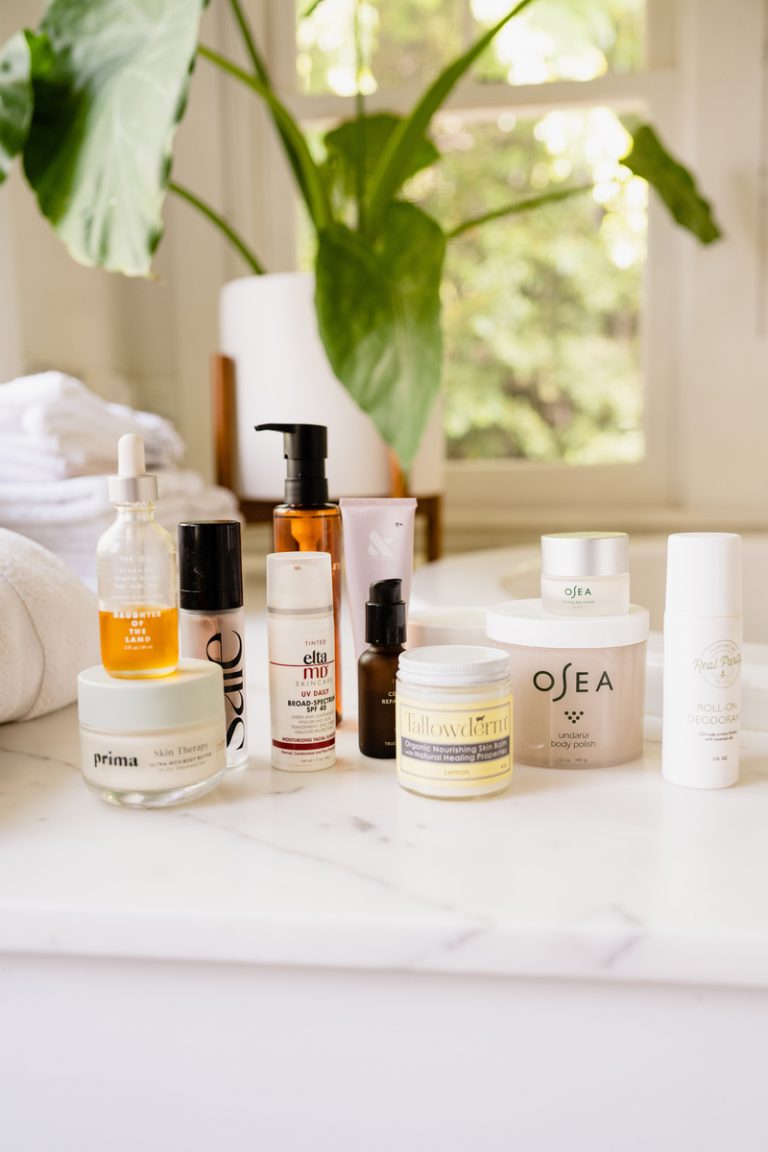 The Best Vitamin C Serums
Our vitamin C-packed picks include an eye serum, non-toxic options, face oil, and more! However you like your skincare delivered, there's a little something for everyone.
Every product is curated with care by our editors and we'll always give an honest opinion, whether gifted or purchased ourselves. If you buy something through our links, we may earn a small commission at no cost to you.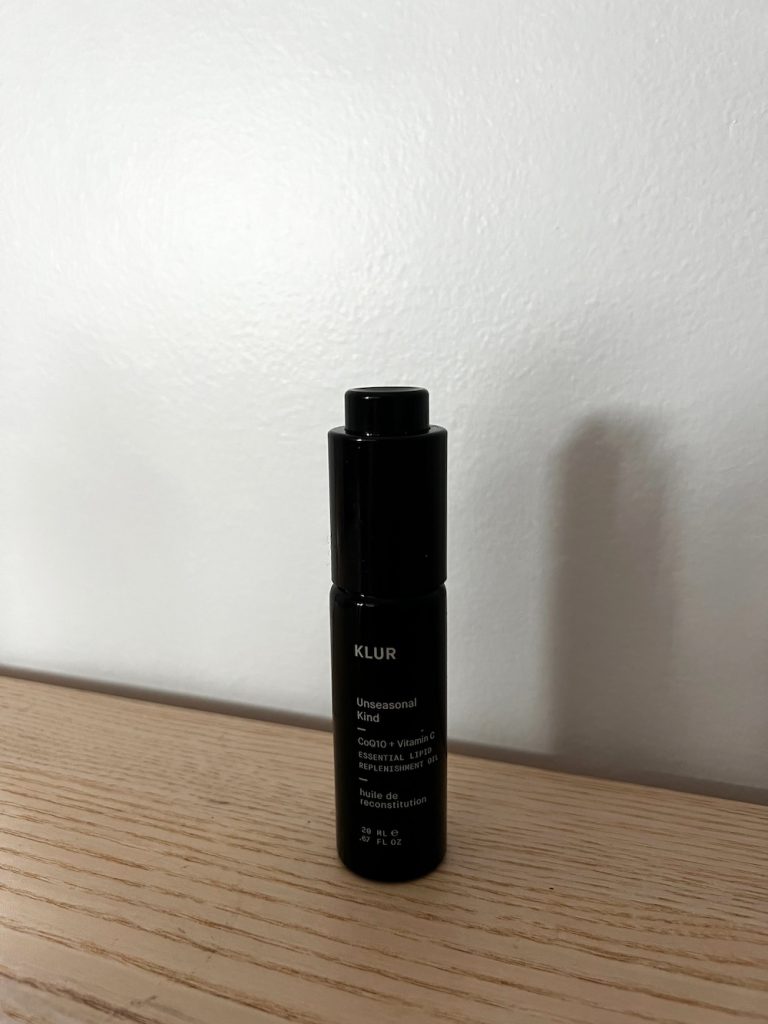 We love a vitamin C serum that works hard on the skin all throughout the year. This replenishing oil from the cult-favorite brand KLUR makes the most of its supercharged, antioxidant blend to support all skin types, no matter the season. Squalene, Coq10, and vitamins C and E harmonize to mimic and support the skin's natural protection mechanisms. This is a solid choice for preserving younger skin and protecting mature skin as we age, nourishing the complexion with a lipid-rich formulation.
Ingredients: Jojoba Oil, Raspberry Seed Oil, Rosehip Seed Oil
Size: .67 fl oz
Use: 2-3 times per week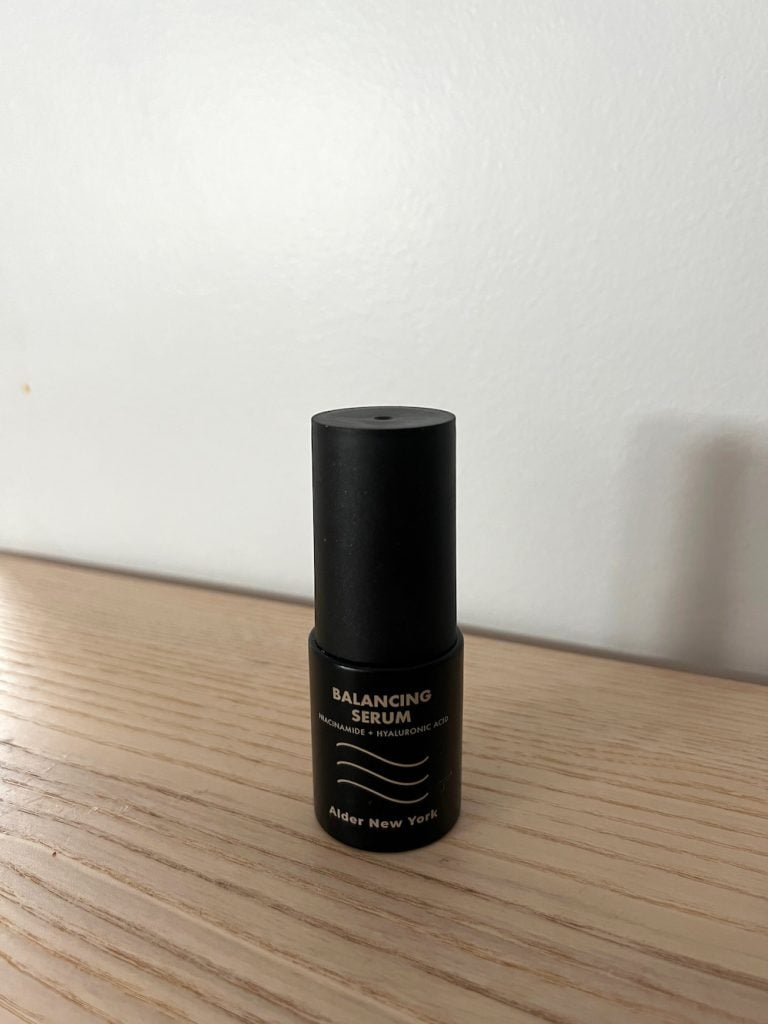 We're big fans of the queer and woman-owned independent skincare line, Alder New York. Their products are budget-friendly and formulated for all genders. From their cleanser to creams—we love the affordability and efficacy of their entire product line. This balancing serum is the perfect in-between step following your cleanser and before applying a moisturizer. As someone whose skin leans on the oilier side, I've noticed since using the serum that my skin's oil production is kept in check. The result is a hydrated, glowy complexion that requires little makeup—perfect for summer. Hot tip: If you are using a tinted moisturizer this season, use the serum as a primer.
Ingredients: Hyaluronic acid, Willow bark, and Niacinamide
Size: 1 fl oz
Use: Daily, morning and/or night after cleansing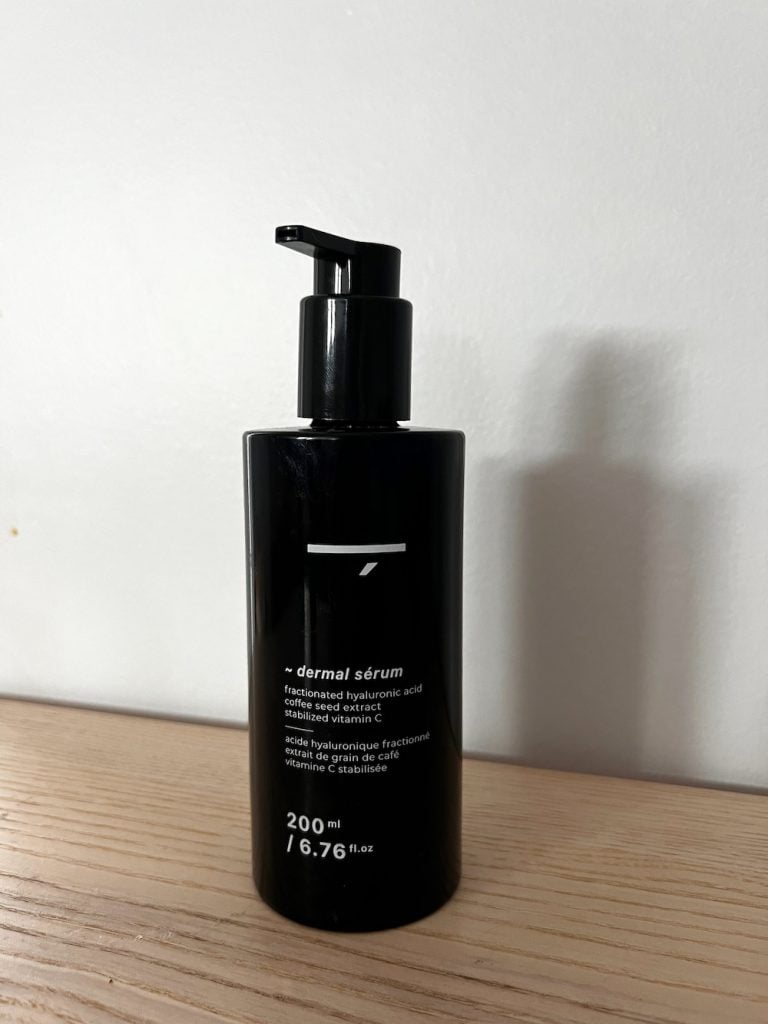 The skincare industry has been begging for a multi-use vitamin C serum—and Protéger delivers. "Featherweight" is an apt descriptor, because while other serums feel heavy and coat your complexion, Protéger's Sérum goes on soft and smooth, offering an effective vitamin C-boosted formulation that shows up on the skin with just a light sheen. Glowy, gorgeous skin all over? Yes, please.
Protéger's Dermal Sérum comes in two sizes. I personally have the larger bottle, and while the price is steep ($115 for 200 ml), I find that it's justified by the fact that I can use this serum on both my body and face. Plus, a small pump goes a long way—it's been months since I started using the serum and I'm still not even halfway through.
Ingredients: Vitamin C, Hyaluronic Acid, Organic Coffee Seed Extract, Organic Aloe Leaf Juice
Size: 15/200 ml
Use: Apply a thin layer on face/body post-shower before any products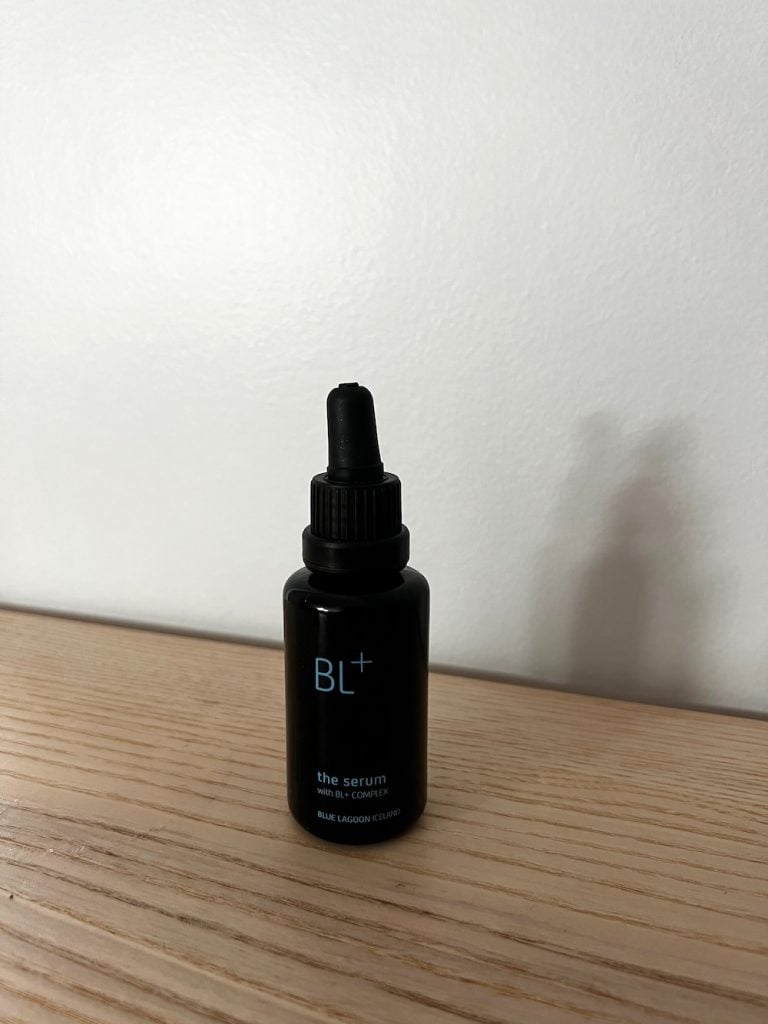 I've been using the entire suite of Blue Lagoon skincare products ever since I came back from my spring European vacay. Now that I'm back stateside, I can confirm: my skin is just as happy as it was when I was sleeping in late, drinking red wine on the reg, and living my most romanticized life. (That is to say, glowing and gorgeous.) Blue Lagoon's serum utilizes the brightening power of vitamin C to boost skin health from the inside out. Now in my late twenties, I'm prioritizing products that aim to simultaneously support skin health while keeping it protected from premature aging. Because it's a healthy glow I'm after, Blue Lagoon's unique product formulations are always a go-to in my routine.
Ingredients: Blue Lagoon Seawater, Blue Lagoon Mineral Salts, Blue Lagoon Lava
Size: 15 ml
This serum has won beauty awards and the favor of editors and dermatologists alike for good reason. You'll love it for its ability to fight fine lines and wrinkles while dramatically lightening sun damage and dark spots. The formula contains complementing antioxidants like vitamin E and ferulic, which help increase the efficacy of vitamin C. It's on the pricier side, but a couple of small drops go a long way.
Ingredients: L-ascorbic Acid, Alpha Tocopherol, Ferulic Acid
Size: 30 ml
Use: In the morning after cleansing and toning, apply 4-5 drops to a dry face, neck, and chest before other anti-aging skincare products.
I have a friend who swears by this face oil for fading acne scars, leaving you with giving brighter, firmer, and more glowy skin. Users have reported seeing a drastic difference and a just-got-a-facial-level glow in just one week!
Ingredients: Pomegranate Seed Oil, THD Ascorbate (Vitamin C), Golden Turmeric
Size: .5/1.18 fl oz
Use: Massage as needed into face and neck, morning and/or evening.
Our drugstore gem of the group, this serum gets rid of dullness gently and effectively reduces discoloration. It has a waterless formula and an airtight UV-blocking tube to prevent oxidation of the formula and keep it in its most effective state. It is a great drugstore option that has incredible vitamin C benefits for the skin.
Ingredients: Vitamin C, Hyaluronic Acid, Retinol
Size: 1 fl oz
Use: Every morning and evening, apply dime-size onto finger tips and apply to face and neck, gently smooth into skin.
Green beauty products can sometimes be less than effective or you have to use them for a long time to see any results. This formula is different. It's one of the best ones I've tried and my current personal favorite. I've noticed a dramatic difference in sun damage and scars fading. The serum's formula works to increases collagen production and improves elasticity, leaving you with clear, smooth, and radiant skin.
Ingredients: Aloe Leaf Juice, Ethyl (Vitamin C) Ascorbic Acid, Niacinamide
Size: 30 ml
Use: Massage 1-2 pumps onto face and neck.
This power-packed nontoxic formula contains five different forms of vitamin C, a handful of antioxidants, coenzyme Q10, and a peptide blend, making it amazing for under-eye brightening and firming. Besides actually working well, the air-tight packaging and natural formula are major pluses.
Ingredients: Power 5C Vitamin Complex, 8-Peptide Blend, Cucumber
Size: .5 fl oz
Use: Gently pat a pump of C-Tango around the eye area using your ring finger.
Clinically proven and also made with clean, natural ingredients? Yes, please. This oil leaves skin soft, smooth, and glowing. Its weightless hydrating formula is made with squalane oil, vitamin C, chios crystal oil, and rose oil. It feels as good as it makes your skin look.
Ingredients: Advanced Vitamin C (THD Ascorbate), Sugarcane-Derived Squalane, Chios Crystal Oil
Size: 15/30 ml
Use: Gently massage a few drops onto cleansed face and neck, morning and night.
This clean and gentle formula has two kinds of vitamin C stabilized by antioxidant-rich Japanese beauty berry to give you a translucent, youthful glow. Mild fruit AHAs resurface dull, uneven skin as Japanese angelica root reduces the look of dark spots and scarring.
Ingredients: Japanese Angelica Root, Mild Fruit AHAs, Japanese Beauty Berry
Size: 30 ml
Use: In the evening, dispense one to two pumps and gently massage onto skin.
With effective and affordable product options, The Ordinary is an entire category unto its own, right? This serum is a highly effective suspension with a whopping 23% of pure vitamin C. It stays completely stable thanks to the absence of water, is vegan and cruelty-free.
Ingredients: Ascorbic Acid, Squalane, Hyaluronic Acid
Size: 1 fl oz
Use: Apply a small amount to face in the AM or the PM.
This potent lightweight cream works quickly to reduce the look of fine lines while also improving skin texture. Whether you're a longtime Kiehl fan or not, you'll want to take a look at this option.
Ingredients: Vitamin C, Ascorbyl Glucoside, Hyaluronic Acid
Size: 50/75/100 ml
Use: After cleansing, apply two pumps over entire face, avoiding the eye area.
This potent daily serum is made with a vitamin C superfruit complex that protects against free radicals, evens skin tone, plumps, and reduces the appearance of fine lines and wrinkles. It's a gentle, calming, and nourishing blend that supports overall skin health.
Ingredients: Aloe Vera Leaf Juice, Lemon Peel Extract, Noni Fruit Extract
Size: 30 ml
Use: Apply one to two pumps daily to clean, dry skin before you moisturize.
This hardworking vitamin C serum dramatically brightens dark spots.
Ingredients: Vitamin C, Hyaluronic Acid, Kojic Acid
Size: 30 ml
Use: Apply two pumps of serum to clean, damp skin and massage gently. Use once daily, either morning or evening.
Dr. Rogers recommends this scientifically advanced and award-winning serum. Not only does it provide antioxidant protection, but it improves the look of uneven skin tone and redness too.
Ingredients: Vitamins E & C and Coenzyme Q10, Licorice Extract, Trifluoroacetyl Tripeptide-2
Size: 30 ml
Use: In the morning and evening apply a thin layer to a clean, dry face, neck and décolleté. Can be applied all over the face.
This lotion contains the most stable and lipid-soluble form of vitamin C, as well as squalene to moisturize and condition the skin.
Ingredients: Vitamins E and C and Coenzyme Q10, Licorice Extract, Trifluoroacetyl Tripeptide-2
Size: 1 fl oz
Use: Apply to clean skin. Dispense one or more pumps into the palm of your hand and apply evenly onto clean skin. Use once daily in the morning or twice daily for added benefits.
Neutralize free radicals with this Dr. Rogers-recommended absorbent, powerful serum.
Ingredients: Pre-Tocopheryl, Ascorbyl Glucoside, Hyaluronic Acid
Size: 1 fl oz
Use: After cleansing, apply in the morning and/or evening to the entire face, neck, and décolleté
This post was originally published on May 20, 2020, and has since been updated.