Nothing is more iconic than Cindy Crawford's hair in the 90s. Am I right? We all grew up seeing her big, bouncy, voluminous locks down the runway, on MTV's House of Style, and in that Pepsi commercial—and then subsequently blowdried and velcro-rollered our own to replicate it at home, too. Of course, Crawford's genetics play a huge role here, but we want to know how to get some of that body, too! And after chatting with her hairdresser of 30 years, Richard Marin, the verdict is in: thicker fuller hair is possible for all of us.
In fact, at the virtual launch event for Crawford's Meaningful Beauty Age-Proof Haircare System, she spoke candidly about how much her hair changed in her 40s, but especially after having kids. And Marin did too. "I noticed a slow change over the years in Cindy's hair where it just felt dehydrated and was lacking natural shine," he recalls. "That was not her normal hair condition."
Now, in her 50s, it's safe to say Crawford's hair is bigger and bouncier then ever—talk about hair goals! So, we took five with Marin to get the low down on his secret to achieving thicker fuller hair.
Pay attention to diet.
While genetics determines hair texture and curl, Marin tells me diet plays a major role in our hair health. "I can always tell if someone is going through a life change such as giving birth to a baby, stress, or is on medications," he explains. "The hair becomes limp, it will not style the same way it used to, and will have a matte finish." If this happens, Marin will typically recommend they add more good fat proteins to their diet including avocado, and omega fish oils because "it makes a significant difference." Marin tells me he's personally had good results with Nutrafol hair supplements, the Meaningful Beauty Beauty Sleep Supplement, and 30 mcg of biotin.
Consider age-proof hair products.
In addition to diet, Marin noticed a huge difference in the thickness, fullness, and shine of Crawford's hair when she started using the Meaningful Beauty Age-Proof Haircare System. But this was way before the line had even launched. "The shine and how her hair reacted to styling was really noticeable," he recalls. "I remember one day on set shooting a commercial and her hair came out really well, the bounce in her hair was back and it was reflecting shine like it had several years before. I didn't have to use any products to add shine for the camera. So, I asked her, is there something you're doing to your hair because I'm doing my classic Cindy blowout, but it's pretty extra! She told me she was testing this new age-proof hair system on herself and I was immediately encouraging her to bottle it and let me have it to give to my clients. I've never used a product where 100% of the users all love and notice a difference in the health and manageability of their own hair."
Marin says the benefit of the range is in its simplicity. There are just four products: Strengthening Shampoo, Smooth & Shiny Conditioner, Restorative Scalp Treatment and Styling & Protecting Spray. "You get immediate results by using the shampoo and conditioner, but what's really cool is the restorative scalp treatment," he notes. "It's a fantastic moisturizer for your scalp."
Don't forget your scalp.
We know how important scalp care is. In fact, studies have shown that a healthy balanced scalp is the key to hair health and can lead to less breakage, prevent hair loss, encourage new growth, not to mention stronger, shinier hair overall. And Marin agrees. "We all know moisturizing lotions are great for your face and body, but we don't address your scalp and that skin on your head needs loving too," he stresses. "We have so many products for the hair for any type of styling, but we often skip the scalp. A healthy scalp will grow shiny hair and if properly used you'll get thicker, stronger hair to return to what your hair used to be. I like to say 'you've got your old, young hair back!'"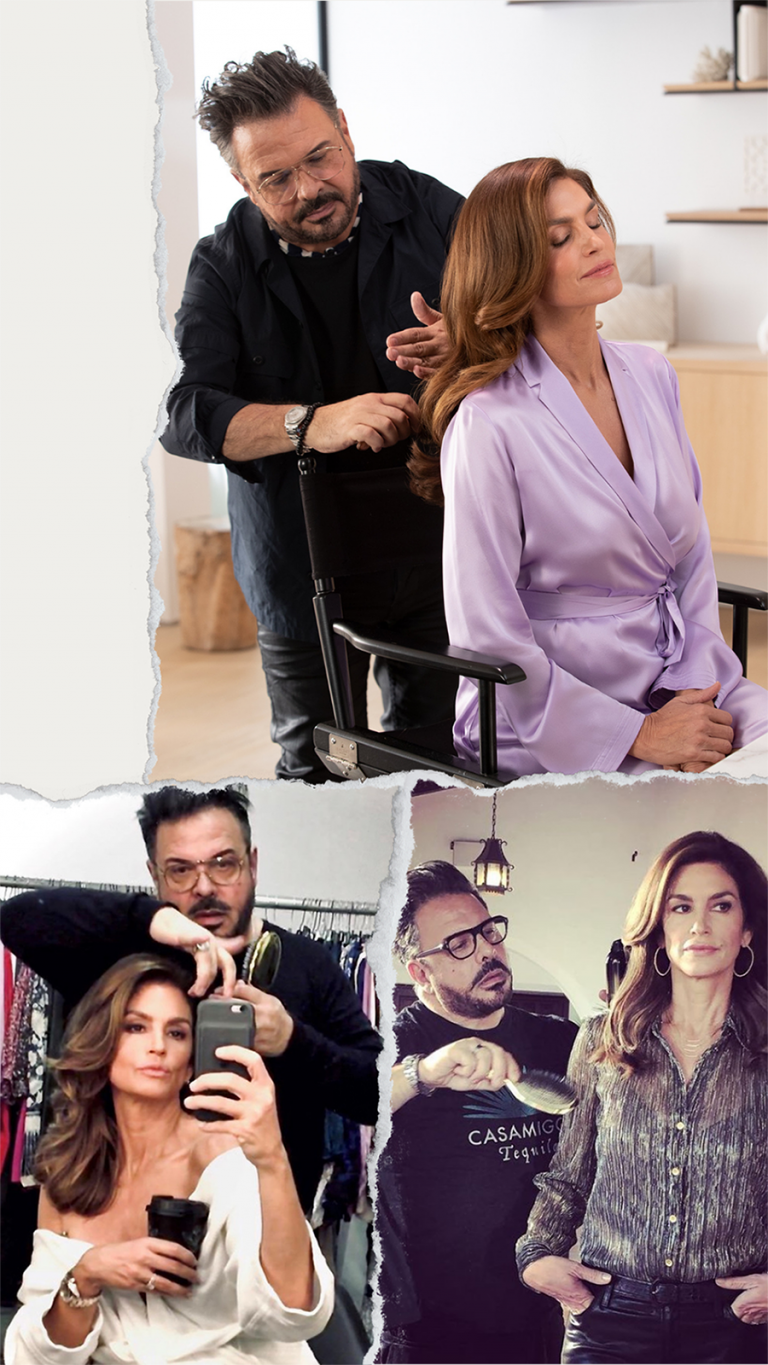 Wash your hair 1-2 times a week.
Marin has never been a fan of washing your hair every day simply because it drys the hair. He goes onto explain that traditional shampoos used daily over time will give you dull hair that won't shine because so much of the natural oils have been stripped away. Try to keep your hair washing to a minimum, about one to two times a week on average, depending on your hair type and texture.
Take care when brushing your hair, especially when wet.
Unlike dry hair, wet hair is more fragile when wet so it's important to take the proper precautions post-washing to help protect the health of your hair. This will ultimately lead to stronger, healthier, and more full-looking locks. "Consider your hair as your favorite t-shirt," advises Marin. "The one you carefully hand wash and air dry because you don't want it to shrink or stretch. Your hair is very mailable when wet and can be easily ripped or torn if not handled properly. I like to use a very wide tooth comb and I start from the ends of the hair and work my way up to the scalp ending with an overall smooth stroke to the entire head, from scalp to ends. This drastically minimizes tearing or stretching of the hair."
When it comes to dry brushing however, Marin says you can do it as much as you need to achieve your style. "I like a good brush out a few times a day," he says. "It distributes natural oils and the hair looks nicely finished. Also, I'm a traditional hairstylist. I love the Mason Pearson brush. It has the perfect combination of bore and bristles—the bore gives you sheen while the tenacity drag of the bristles give you a great brush out."
Pay attention to ingredients.
Just like your skincare (or anything you ingest or apply to your body) be sure to read the ingredient list carefully. Some thickening hair products can leave a heavy residue and make hair look dull so Marin says a good rule of thumb is to look at what the first two ingredients in a product are. "If alcohol is one of the first two ingredients it's going to dry out your hair and take a beating especially if you're using it daily," he points out.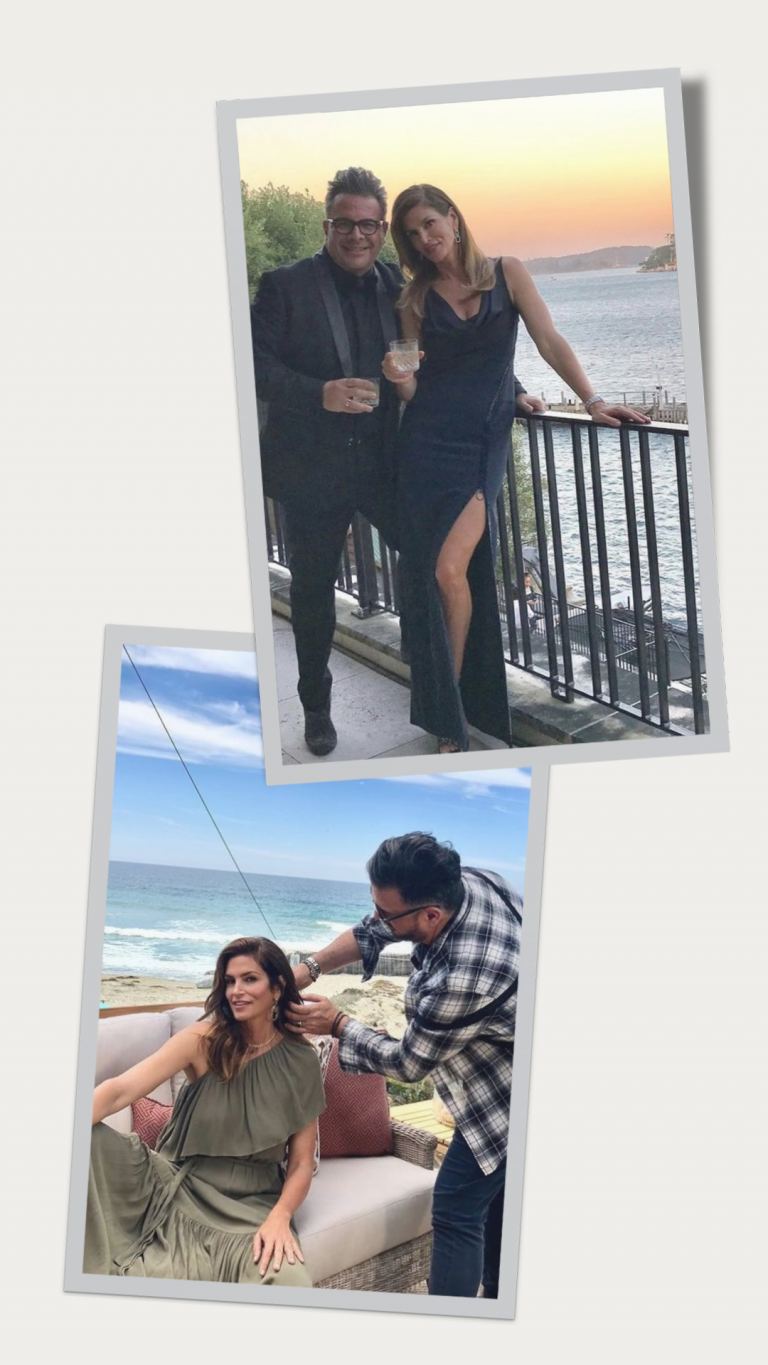 Marin's Top 5 Hair Tools to Achieve Thick, Voluminous Cindy Crawford Hair
Hair Dryer: I have several favorites including the Dyson dryer, which is great for at-home use because it's lightweight and easy to self manage. I also love the T3 fit compact dryer—it's little and packs a punch. The Harry Josh lightweight dryer is great because it has an ION off/on button. Sometimes you need no ions for maximum volume, then ions for maximum smoothness.
Iron: The Bio Ionic 3-in-1 styling iron curls, waves and straightens in one tool. Additionally, the T3 Twirl Trio has three iron barrel sizes and comes with a detachable 110 Volt base. You can also get a 220 volt base for when traveling overseas.
Brush: IBIZA Brushes. Any size, any shape. I especially love the concave line because it really gives you the bend in the hair when you are blow drying for an easy wavy look. Also, the Mason Pearson, no contest, a must have! However, I have to admit I'm lost without my discontinued Sonia Kashuk for Target gold metallic bristle brush. She's my friend so I have a stockpile in my hair vault!
Comb: Any comb that's made of carbon. They are lightweight, static free and glide through hair effortlessly.
And we couldn't let Marin go without sharing his favorite hair memories from the past 30 years of working with the 90s supermodel…
When we met at MTV's House of Style 30 years ago in the spring of 1991. (You never forget your first supermodel kiss!)

Shooting the first Meaningful Beauty commercial in Paris 2002 in Place Vendôme.

When we shot this commercial for Meaningful Beauty Age Proof Hair. I've never been in a commercial—I'm the BTS guy doing the hair—so to be in the spotlight with Cindy about hair was a full circle moment for me that took me back 30 years to when we first met.