When it comes to the physical signs of aging, there are a few things we can all see coming from a mile away—gray hair, wrinkles, and the inevitability of reading glasses all begin to loom on the horizon once you hit your mid-30s. But there are always a few changes that can feel like a blindside, especially when it comes to our hair. As we approach middle age we start to see changes beyond just grays in our hair, which is why we tapped some experts to give us the scoop on how to grow thicker hair in your 40s.
It turns out, hormonal, nutritional, and lifestyle reasons can all factor into why you see a shift in your hair. As a result, hair can begin to thin out, change in texture, and more. It can be really frustrating when you're dealing with a major body shift and trying to get a handle on how to feel more like yourself again. And while we can't exactly stop the sands of time, there are ways to keep hair thick, strong, and healthy, even as our bodies age and change.
We had a chat with Betsy Duggan, master hairstylist at Fox and Jane salon in New York City, and registered dietitian Carolyn Leonard, RD, CDN. They had major insight into some of the causes of hair changes, how to grow thicker hair in your 40s, and some of their favorite products and diet swaps to get started. Their answers just might surprise you!
But first, let's look at the possible causes of hair changes in your 40s:
Leonard mentioned that a number of factors, including hormonal changes, certain medications, and nutritional status can affect women's hair. Because our hormone levels change as we age, it is important to try and replenish the vitamins and minerals that are affected by these hormonal changes.
Thinning
She tells us that in the early stages of menopause, a decrease in estrogen and progesterone levels will change the texture and fullness of hair. Duggan also reminds us that thinning is a natural part of the aging process and that not much can be done about it. However, she recommends paying a visit to your dermatologist if you notice it falling out or shedding on your pillowcase in large clumps. Luckily, there are many supplements that visibly make a difference with new regrowth in people who use them regularly.
Gray hair
Aside from the aging process, Leonard says that "research has also shown that low levels of, or a deficiency of vitamin D can affect melanin production in hair follicles, which can, in turn, lead to premature graying." On a positive note, Duggan likes to say that gray hair "barely constitutes aging."
"I've seen women in their 40s with one gray hair and women in their 20s with a full head of grays."
Gray hair has no age limit these days. You can embrace it or you can dye it, and luckily, there are plenty of amazing products to keep hair healthy, shiny, and smooth regardless of whether you dye it or not. These days, she recommends blending the grays into your natural hair color as opposed to fully covering them up. (She thinks this looks more natural and modern.) Using semi- or -demi-permanent colors to dull or blend the grays leaves hair looking and feeling more vibrant than covering it with harsh matte shades—the result is shinier, blended hair. It also makes maintenance easier and is a great starting point for people who aren't ready to take the plunge into full gray coverage that requires being in the salon every few weeks. Just don't forget to use a color-safe shampoo!
Duggan was also sure to remind us of the other option: embracing the gray! "Gray hair doesn't equal old, and women are choosing this new way of thinking and wearing them as a badge of honor," she points out. Just be sure to add in a purple shampoo to keep those grays glistening instead of yellowing.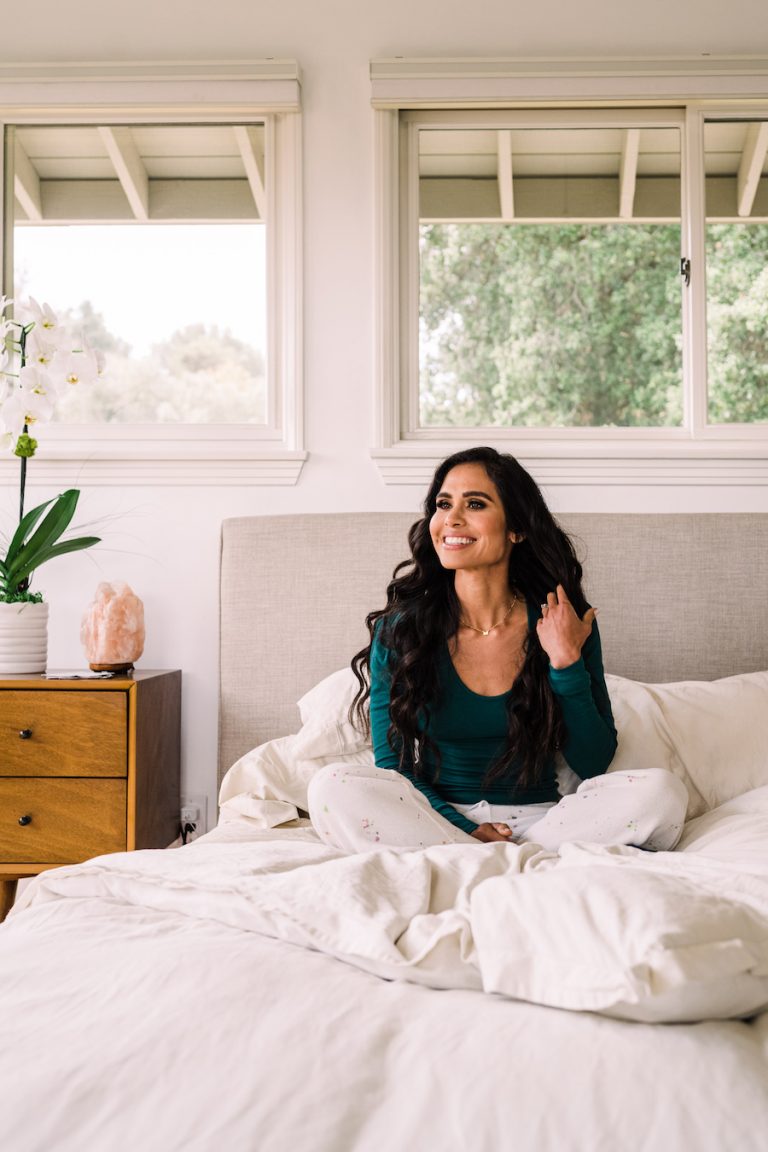 Dryness
Similar to our skin and nails, our hair also becomes drier as we enter our 40s. Duggan tells us that oil production slows down, and the aforementioned grays tend to become wirey causing the whole head to feel dry. She recommends using a mask once a week and says that one of her favorite hair hacks is forgoing conditioner altogether and using a nourishing hair masque instead.
Loss of Length
Leonard also points out that certain medications can negatively interact with nutrient absorption, which affects hair growth. An increase in vitamin A can cause hair loss, while a decrease in B vitamins can do the same. Leonard recommends reading the fine print and speaking at length to your doctors before starting a new medication to fully understand all drug-nutrient interactions. Other common medications that can affect hair loss include immunosuppressants, antibiotics, statins, and blood pressure medications.
When hair starts to thin, many women crop their hair short, either because they think it can't grow out nicely or that it isn't age-appropriate. Duggan loves short, youthful haircuts, but emphasizes that if you prefer long hair then you shouldn't force yourself into a short haircut simply because you're entering your 40s. "Keeping your hair healthy, moisturized, and frequently trimmed can help you keep your long hair if that's what you want!" she says.
Now, check out our expert tips on how to grow thicker hair in your 40s:

4 of 15
Air-dry your hair
Ditch the heat styling tools and let your hair do its own thing. Heat styling can cause breakage, damage your hair, and cause it to look thinner and coarser. Even if you just cut back on heat styling, it can make a big difference in your hair's overall health, texture, thickness, and appearance—here's how to air-dry your hair.
Use hair growth supplements
Hair gummies are all the rage these days, but not all are created equally. Be on the lookout for ones that include biotin, vitamin C, niacin, turmeric, and zinc.
Get frequent hair trims
Long, scraggly split ends make your hair look and feel thinner than it actually is, as well as physically making hair thinner as they start to split up the hair follicle. By keeping up with regular hair trims, your hair stays healthy and strong, and thick, even if you're growing it out.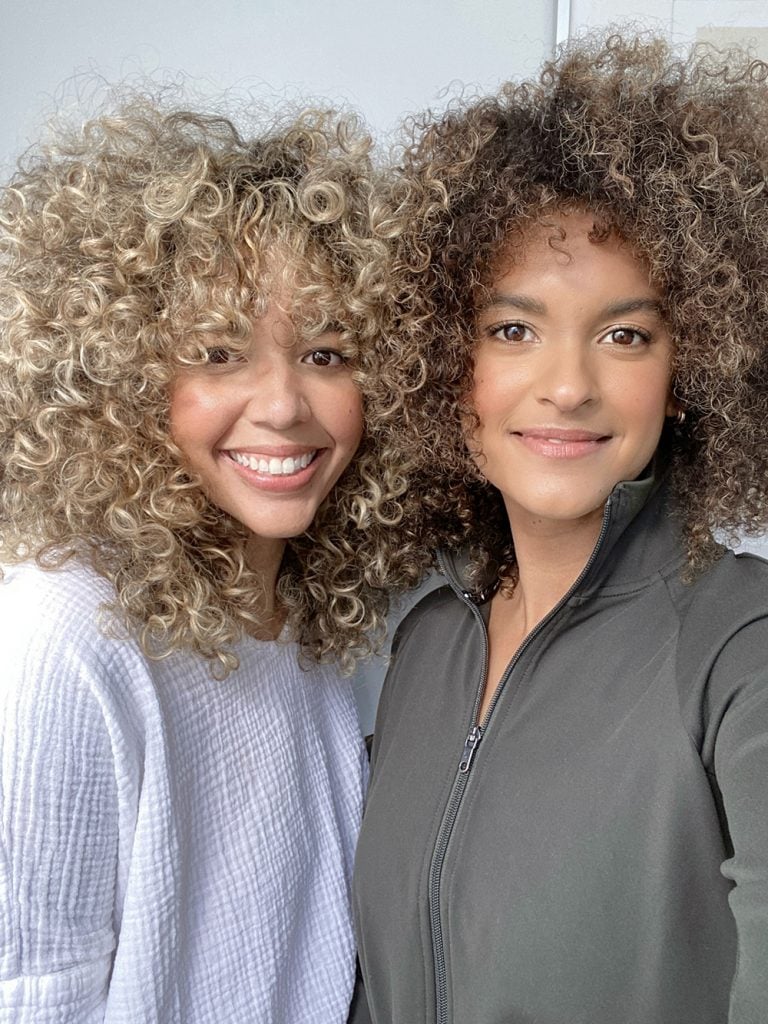 Photo by Riley Blanks.
Use hair masques
Hair masques are essentially heavy-duty conditioners that penetrate the hair follicle, leaving it moisturized and infused with hair-healthy ingredients. If you have grays it helps to keep it moisturized and it also prevents split ends, which can cause the appearance of thinning hair.
Consume a well-balanced diet
Leonard says that the easiest way to do this is to make sure you're eating the rainbow. Every color in vegetables and fruits offers different benefits: green is from chlorophyll which may help with digestion and have anti-aging properties while purple is from anthocyanins which have antioxidant properties.
Try scalp treatments
Treating the scalp directly as opposed to just the hair itself stimulates hair growth, helps to distribute natural, healthy oils, and keeps your scalp moisturized and healthy—here's how to take care of your scalp.
Some of our fave products for growing thicker hair in your 40s:

6 of 15

Nutrafol
Duggan loves Nutrafol—"It's a really effective supplement for hair that is thinning (albeit not at an alarming rate.) She's seen great results with new regrowth in people who use it regularly—just know it does take around three months to see results.
Duggan swears by this color-safe duo. It's nourishing, soft on delicate hair, and helps to boost shine, color, and fullness.
Viviscal has long been one of the most popular hair supplements for women with thinning hair and is recommended by both doctors and hairstylists.
Duggan recommends this repairing hair mask for weak, over-processed, and damaged hair for those looking to add a little extra oomph to their hair routine.
Keep it simple with biotin supplements, you'll be shocked to see how quickly they work. But be forewarned, biotin can cause extra hair growth, ahem, everywhere.
This hair care system is definitely an investment, but it works. It's a three-step system that includes shampoo, conditioner, and scalp treatment.
Leave-in conditioners are great for those looking to hydrate hair and keep it healthy and strong. They can also double as heat-protectant, which keep hair from thinning.
Stimulate your scalp and hair growth with this pre-shampoo conditioning treatment.
Add this cleanser to your weekly rotation for seriously healthy, thick hair. Sea salt and tea tree oil exfoliates and treats the scalp, which helps to restore natural oil balance.
Leonard's favorite hair-healthy foods to add to your diet:
B Vitamins: peanuts, carrots, eggs, berries—generally a variety of fruits and vegetables. Biotin (B7), has been shown to help with hair growth and can be found in milk products, salmon, beef, and bananas.
Vitamin C: citrus, broccoli, peppers, and spinach.
Vitamin E: avocado, mango, olives, and sunflower seeds.
Iron and Zinc: oysters, beef, lentils, and oats.
Omega-3 Fatty Acids: salmon, flaxseed, chia seed, and canola oil.
Is there a product you've used that's helped to achieve thicker, fuller hair? Share it with us below!