It's Latinx Heritage Month, which means a celebration of the vibrancy and diversity of Latinx cultures. As a beauty writer, it's been inspiring to see the industry begin to prioritize representation like never before.
From expanded shade ranges in popular products to more support for BIPOC founders, the beauty industry is becoming more inclusive every day. But at the same time, the internet does have a tendency to recycle trends until they're completely out of context. Which is why Latinx Heritage Month is an important time to remind ourselves just how much of mainstream culture comes from Latinx roots.
To start, it's crucial to remember that Latinx cultures are not monolithic. The Hispanic and Latinx communities encompass many different countries — all with their own distinct cultures. Appreciating the variety and vibrancy in each culture starts with recognizing their uniqueness.
Feautred image by Belathée Photography.
We can see echoes of many Latinx cultures everywhere. In beauty, we're increasingly seeing more trends that are inspired by Latinx heritage, and it's important to give credit where credit is due. Bright colors, bold lips, indigenous plant-inspired ingredients—Latinx cultures have given the beauty industry so much!
Most prevalent right now is the overwhelming influence of Latinx culture on the TikTok favorite Clean Girl Look. Though models like Hailey Bieber are credited for popularizing this aesthetic—which is characterized by slick buns, gold jewelry, and glowy skin—these components have been staples in Black and Latinx cultures for decades.
The cultural conversation around the #CleanLook has opened the floor to talk about just how many beauty trends are inspired by Latinx culture. So as you stroll through the beauty aisles in your favorite store or pin exciting beauty trends to your Pinterest boards, look out for some of these, which have roots in Latinx culture. You'll probably be seeing a lot more of them.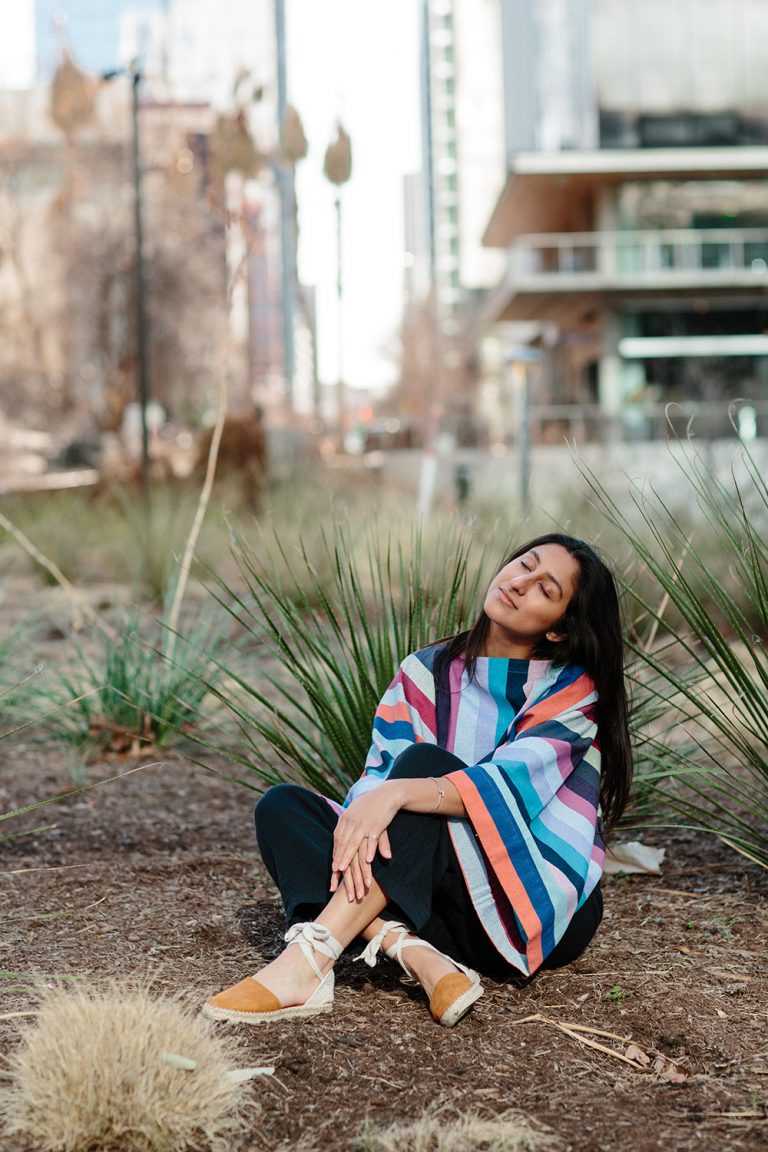 7 Beauty Trends That Have Origins in Latinx Cultures
Slicked-Back Hair
As part of the clean beauty trend, slicked-back hair has entered the mainstream. Gels, pomades, and baby hair brushes have become the haircare arsenal of TikTok and Pinterest beauty devotees. But before this look was glorified by Gen Z internet culture, it was born out of Black and Latinx beauty rituals.
Often, Black and Latinx women have thicker hair that needs to be more heavily oiled and moisturized. The slicked-back aesthetic serves a dual purpose—to pull oiled hair away from the skin, and to lay flat thick, textured hair.
Slicked-back hair remains a signature aesthetic for many Latinx women. Now that it's gone mainstream, there are more beauty products from Latinx brands that cater to the look while also prioritizing clean ingredients and hair health.

Dark Lip Liner—aka "Brownie Glazed Lips"
Hailey Bieber might be getting credit for the "brownie-glazed lips" trend taking over TikTok, but Black and brown girls have been lining their lips with dark liner for decades. Often, this was out of necessity.
It's hard to imagine a world before Rihanna's Fenty Beauty. But just a few years ago, the beauty industry was far less diverse. Now, there are shades for all skin tones, but back in the day, darker-skinned women had to make do with limited shades of brown. For Latinx women, icons like Selena popularized this look—turning it from a necessity to a beauty trend.
Now, like many retro beauty trends you probably remember coveting in school, dark liner is back. And you can shop Latinx brands to get an updated version of this classic look.

Amazon Clay Masks
No doubt you've heard of the Aztec Secret Clay Healing Mask. (And I bet your pores are still traumatized from the overly-astringent clay mask that is still a cult favorite among many.) While this mask might do more harm than good (pro tip: use it on your hair instead of your face!), Amazon clay masks are a staple in some Latinx cultures.
Traditionally, clay harvested from the banks of the Amazon River was used to make facial masks. Flash forward to now and Latinx communities are still incorporating traditional, locally-sourced ingredients like clay and volcanic ash to brighten the skin and purge the pores.
This natural beauty secret is best incorporated with gentler formulations than the Aztec Secret mask. Try these Latinx-founded brands for an alternative.
Yerba Maté
You might have jumped on the yerba maté beverage trend, but it's starting to show up in skincare, too. Yerba maté comes from a naturally caffeinated plant found deep in the South American Atlantic rainforest. It's energizing, anti-inflammatory, and antibacterial. It also stimulates collagen, fights acne, and protects from environmental damage. Safe to say it does it all—no wonder it's making its way into more skincare products.
Though you're probably familiar with the Youth to the People Yerba Maté selections, you can find this powerhouse ingredient in a range of Latinx-founded brands.
Prickly Pear/Cactus
Another superstar ingredient from Latinx cultures is prickly pear or cactus. It has as many names as it does uses. It's similar to aloe, with soothing and anti-inflammatory properties, and is suitable for acne-prone and sensitive skin. It's also an all-around solution for giving skin a radiant glow. Your favorite buzzy new products might contain prickly pear. The best choices can be found from Latinx brands.
Hair Oiling
You might have heard of oil training on TikTok during the pandemic, but many cultures have created rituals out of hair oiling. In different Latinx cultures, hair rituals are different depending on prevalent hair types. But whether your hair is curly or straight, natural oils are heavily featured in a full haircare routine to nourish, detox, and protect.

Avocado Hair Masks
If you're not hip to avocado hair masks, they'll change your life. They've inched into the mainstream each time Latina celebrities like Cardi B and Adriana Lima rave about them. But this superfood is just as nourishing for the hair as it is for your body. Full of healthy fats, many people create DIY home treatments with mashed avocado—slathering it onto their skin and their strands alike. But these cutting edge Latinx brands are making it easier for you to reap the benefits of this hair secret.