In search of sustained all-day energy, many of us have switched out our morning coffee for a morning matcha. Don't get me wrong—I still crave an icy cold brew in the summer, but I've learned to look forward to my AM matcha latte. More than a trend, matcha is a verifiable superfood. So it comes as no surprise that skincare brands are starting to leverage the many matcha benefits for skin.
Thanks to its high antioxidant content and ingredients like L-theanine, matcha's health benefits are worth the hype. (Boosted energy and focus minus the jitters and anxiety spike? Sign me up.)But as it turns out, these same antioxidants are as good for your skin as they are for your body and mind. To fully explore these matcha benefits for our skin, I consulted some experts.
Featured image from our interview with Jules Acree by Michelle Nash.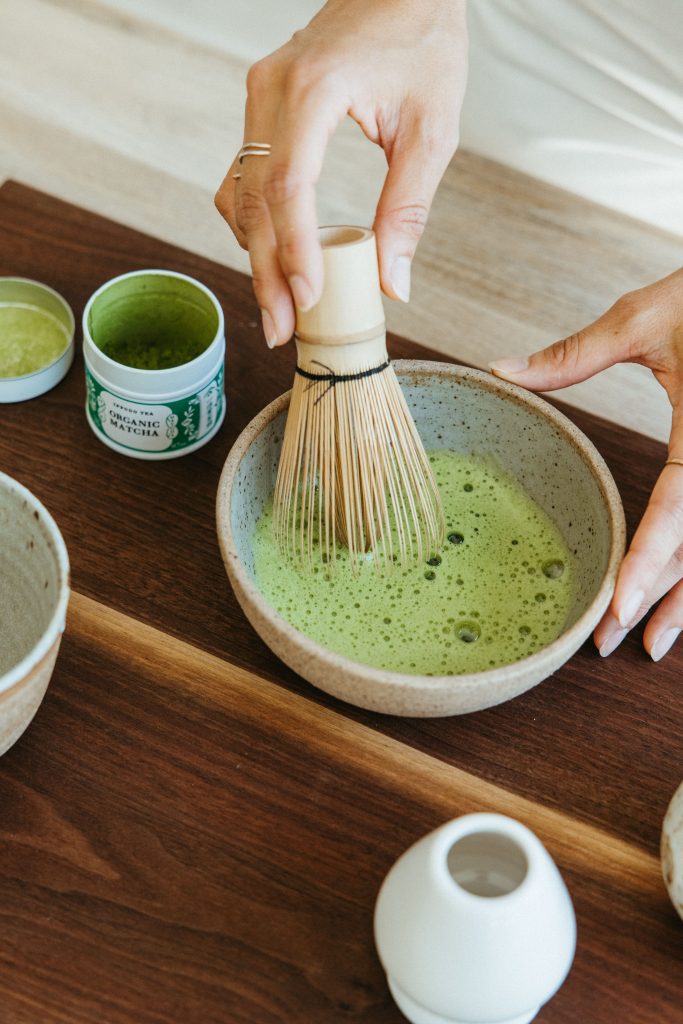 Matcha Benefits for Skin: Meet the Experts
First, I spoke to celebrated celebrity chef and wellness journalist, Candice Kumai, who recently launched her seventh book, Spirited: A Modern Guide to Ancient Spiritual Wellness & Wisdom. Dubbed "The Golden Girl of Wellness" by publications like ELLE and Forbes, Candice is a leading voice on Japanese food, wellness, culture, and matcha.
"Matcha is a Japanese green tea powder full of amino acids, vitamin C, and it has been drunk by my ancestors in Japan for thousands of years," said Kumai. "You are also ingesting the whole leaf, and you benefit more by consuming the whole green tea leave versus steeping."
As a matcha enthusiast, Kumai isn't surprised by matcha's role in skin care. "Matcha is full of antioxidants, L-theanine, and vitamin C—great for fighting free radicals," she says. "It's a product that can be used to help with skin's elasticity and may help to fight off free radical damage from the sun."
I also spoke with Colleen Rothschild, founder of Colleen Rothschild Beauty, who has used matcha and other green tea extracts in her formulas for years. Below, she shares her expert insights on the benefits of matcha for skin and why everyone can't stop buzzing about the nutrient-packed ingredient.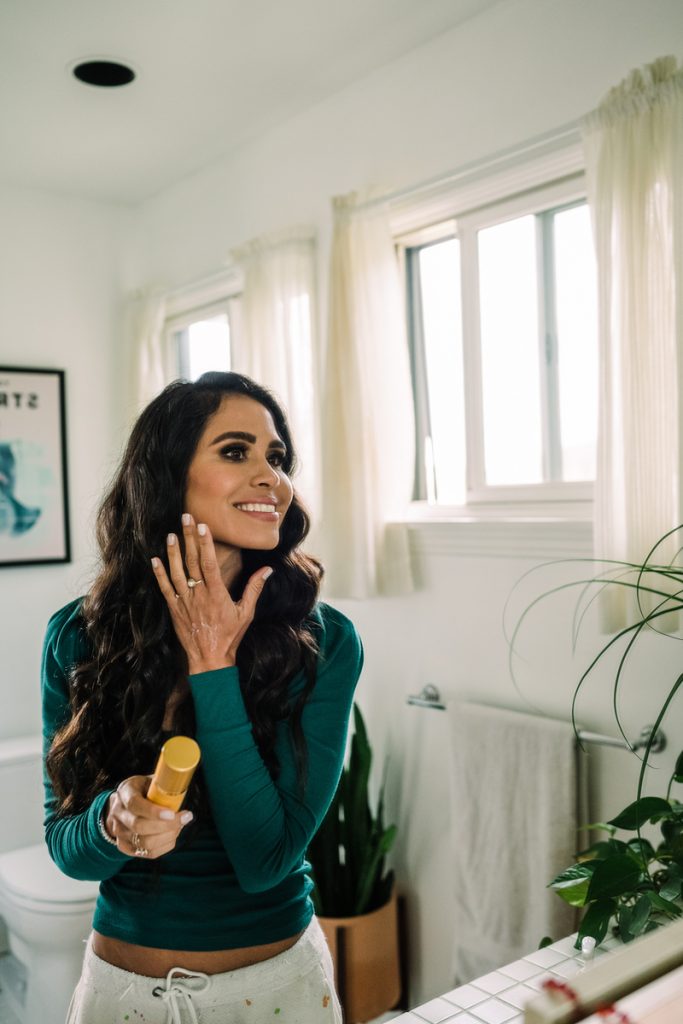 Why is matcha becoming more popular in skincare?
Matcha is a popular ingredient in skin care due to its high concentration of antioxidants, which have been found to have anti-inflammatory and anti-aging properties. Matcha is also rich in chlorophyll, which can help detoxify the skin and improve its overall appearance.
The Benefits of Matcha for Skin
Antioxidant protection. Matcha contains high levels of antioxidants that help protect the skin from free radical damage, which can contribute to premature aging.
Anti-inflammatory properties. The antioxidants in matcha have been found to have anti-inflammatory properties, which can help to reduce the appearance of redness and help calm the skin.
Detoxifying properties. The chlorophyll in matcha helps to deep cleanse impurities from the skin, promoting a clearer and more radiant complexion.
Anti-aging properties. The antioxidants in matcha help protect the skin from future damage and promote collagen production, which can help reduce the appearance of fine lines and wrinkles.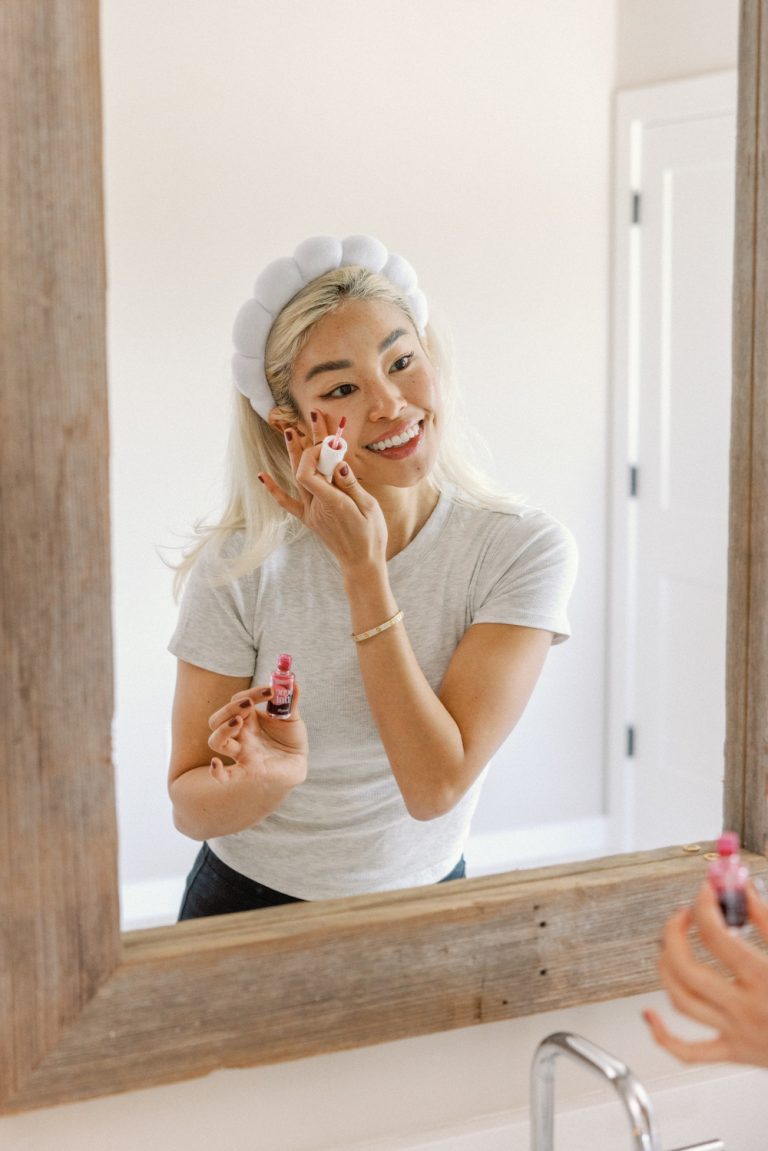 What concerns can matcha skincare products help address?
Dullness. The detoxifying properties of matcha can help brighten and revitalize dull skin.
Aging. Matcha's high antioxidant content can help protect the skin from premature aging.
Acne. Matcha's anti-inflammatory properties can help reduce inflammation and redness associated with acne.
Sensitivity. Matcha is gentle on the skin and can be a good choice for those with sensitive skin.
Who shouldn't use matcha in their skincare routine?
While matcha is generally safe for most skin types, those with allergies to green tea or caffeine should avoid using matcha skincare products. Of course, it's a good idea to patch-test if you are extremely sensitive to certain skincare products.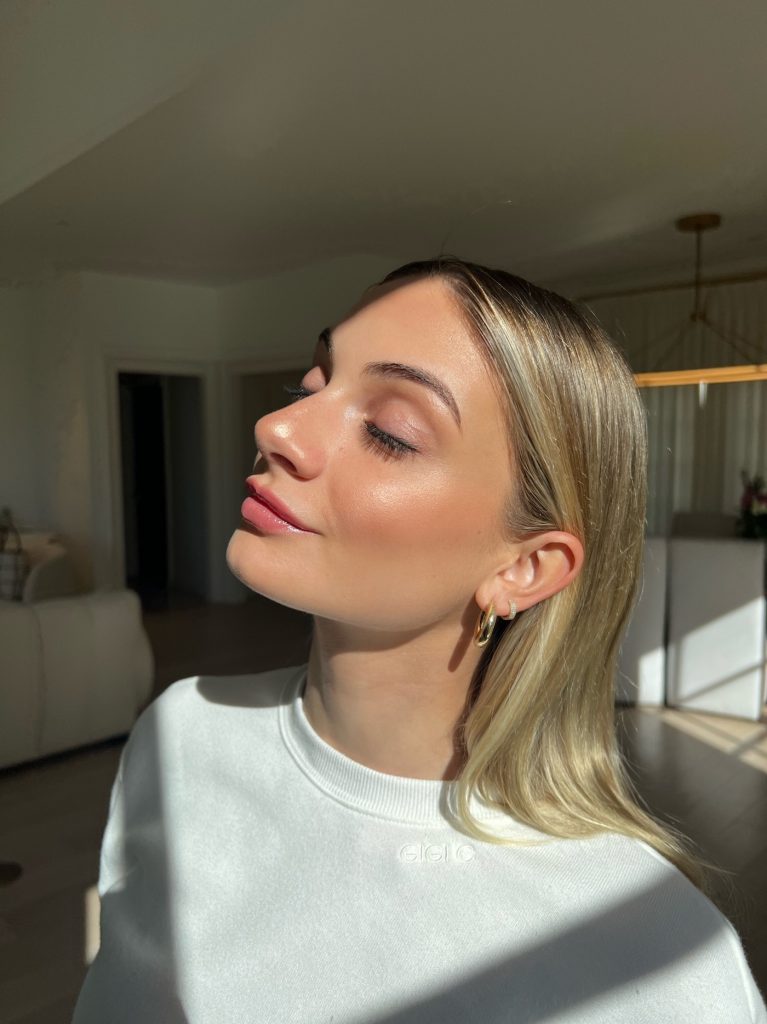 The Best Matcha Skincare Products
Unlike some ingredients, which only work in certain types of products, matcha's benefits for the skin are extremely versatile. From cleansers to face masks, this rich and revitalizing ingredient is popping up in products your entire skincare routine can benefit from. Below, discover the best matcha skincare products to get you started with this superfood skincare ingredient.
Every product is curated with care by our editors and we'll always give an honest opinion, whether gifted or purchased ourselves. If you buy something through our links, we may earn a small commission at no cost to you.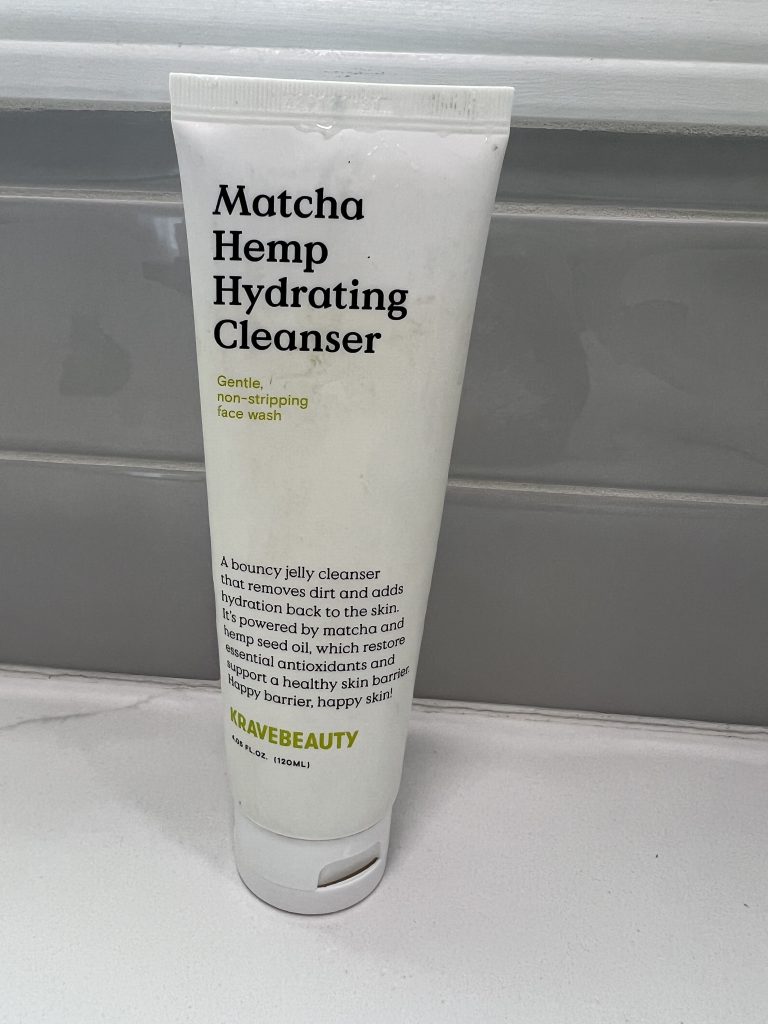 The wear and tear on this cleanser says it all—I use it every day and even have a mini version to travel with. This gooey, gel-textured cleanser never strips my skin. I use it on days when I exfoliate and even on days after I've over-exfoliated. It's also my go-to when my skin is dry in the winter, helping infuse my skin with some much-needed moisture. Hydrating, nourishing, and soothing? Can't think of a better way to start your cleansing routine.
Best for: Dry, oily, and sensitive skin
Key ingredients: Matcha, Hemp Seed Oil, Sodium PCA
One of my favorite new(ish) skincare trends? Powder cleansers. Just add water and you've got a foamy lather to gently unclog your pores. Plus, you can take it through TSA—it's not a liquid! This powder formula uses ceremonial-grade matcha, giving your skin the best of the best. Foaming cleansers also offer a deeper clean for oiler or acne-prone skin types.
Best for: Combination, oily, and acne-prone skin
Key ingredients: Premium Grade Matcha, Honey, Aloe
Detoxify and soothe with a combination of green teas including matcha and kombucha. This blend of superfood ingredients reduces oil and unclogs pores in one swipe, making it a convenient on-the-go toner for stressed or oily skin. According to Rothschild, use this toner "after cleansing, as the second step of your skincare routine. Gently sweep over the face and neck with a cotton pad, avoiding the eye area. Use morning and night."
Best for: All skin types
Key ingredients: Matcha, Kombucha, Algae, Fermented Plankton, Prebiotics
Colleen Rothschild Matcha Tea Treatment Toner
Buzzy beverage-inspired ingredients—matcha and kombucha—combine in this toner to treat and protect your skin. Kombucha absorbs excess oil and minimizes the look of pores, while matcha helps detox and protect from environmental stress. Its antiseptic benefits also prevent breakouts and soothe redness.
---
$32
This serum reminds me of the first time I put hyaluronic acid on my skin. I was in awe of just how instantly hydrating a product could be. This milky, matcha-based treatment goes on before your serums to drench your skin in a hydrating layer of anti-inflammatory antioxidants. Boost and refresh tired or stressed skin while you fortify your face with a free-radical fighting power.
Best for: Dry, dull, and dehydrated skin
Key ingredients: Matcha Milk, Jojoba Milk, Rice Milk, White Tea, Kale
Matcha is celebrated for its anti-aging properties. Full of revitalizing antioxidants, it fights free radicals and reduces oxidative stress. TLDR: It prevents and reverses signs of aging caused by environmental damage. KUMIKO uses matcha as its star ingredient, harnessing these powers for a line full of matcha-based products. This concentrated, anti-aging serum is formulated to give you smoother, softer skin.
Best for: Dry, Mature Skin
Key ingredients: Matcha Tea, Nori Seaweed, Marine Collagen, Hyaluronic Acid
Matcha's reparative properties make it ideal for both a daytime and a nighttime treatment. The caffeine in the sacred leaf makes it a powerful anti-aging and restorative tool when applied topically. This serum's hydrating properties seep into your skin overnight to help you wake up looking refreshed. Proof of matcha's endless versatility.
Best for: Acne-prone, dry, sensitive, and damaged skin
Key ingredients: Matcha, Aloe, Beeswax, Honey, Immortelle, 24 Karat Gold
K-Beauty brand Peach & Lily has been taking the internet by storm for more than a decade. It combines Korean skincare methods with high-quality ingredients (for example, matcha). This antioxidant-rich cream is a prime example of one of the core tenets of K-Beauty: treat your skin gently to get the best results. No matter your skin type, this refreshing and nourishing cream heals blemishes while flooding your skin with intense moisture to protect and repair. Use it day and night for softer, healthier skin.
Best for: Dry skin
Key ingredients: Matcha, Niacinamide, Juniper Berries, Lotus, Peptides
Combine the soothing and healing elements of matcha with chemical exfoliants for a gentle but effective resurfacing treatment. Swipe this transformative treatment across your skin to exfoliate and repair skin. Matcha teams up with hyaluronic acid, niacinamide, peptides, and vitamin E to replenish and restore for a balanced complexion.
Best for: All skin types
Key ingredients: Matcha, Mandelic Acid, Lactic Acid, Glycolic Acid, Citric Acid, Niacinamide, Hyaluronic Acid, Niacinamide, Peptides, Vitamin E
Farmhouse Fresh Thyme Swipe Organic Matcha + Thyme Balancing Peel Pads
A potent blend of mandelic, lactic, glycolic, and citric acids combine to gently but deeply exfoliate both the surface of your skin and deep within your pores. Then, soothing and protective ingredients like hyaluronic acid, niacinamide, peptides, and vitamin E reduce irritation and protect your skin from further signs of aging.
---
$58
Matcha latte lovers, this one's for you. This luxe face mask smells like a vanilla matcha and works like a professional facial to exfoliate and renew your complexion. Like making your morning matcha, doing a face mask is a self-care ritual that nourishes and grounds you. This face mask is formulated with natural ingredients that do double duty to calm both your mind and your complexion. Leave it on for five transformative minutes and breathe in the calming scent of vanilla.
Best for: All skin types
Key ingredients: Matcha, Pumpkin Extract, Papaya Extract, Aloe, Cocoa Butter, Vanilla Extract
ESW's innovative plant-based milk sheet masks are the first of their kind. This mask combines matcha with almond seed extracts for a deeply hydrating treatment. Give your skin a boost of radiance with nourishing and restorative ingredients. (Bonus: you can even do it while making your morning matcha.) Call it habit stacking!
Best for: Dry, dull skin
Key ingredients: Matcha, Almond Seed Extract, Shea Butter