Up next, AYOND's co-founder and creative director, Shani Van Breukelen's morning routine.
"Nothing has felt like an 'ah-ha' moment—I've had to work hard for what I have."
In a world that seems to praise unicorn startups and 30 under 30 lists, it's refreshing to meet a founder who is rejecting the status quo and doing things on her own terms. Creative director, Shani Van Breukelen, along with her partner and fellow co-founder, Porter Yates, is seriously breaking the mold with their game-changing skincare line, AYOND. Inspired by the beautiful yet resilient plants that thrive in Santa Fe's extreme desert conditions, the couple set about bottling their magical medicinal qualities and transformative scents into a skincare line—and it's safe to say, they nailed it.
In my line of work, I've tried hundreds of beauty brands and products so I had high expectations when I tried their Metamorph Cleansing Balm. Let me tell you, it was nothing short of an invigorating sensory overload. The unique balm-to-milk salve quenches your face's thirst like a desert monsoon while also dissolving any dirt and debris—it's basically a refreshing downpour in a bottle. But this innovation doesn't stop at ingredients and formula. Their conscious approach spans across their manufacturing and packaging too, prioritizing eco-friendly, recyclable, or reusable materials that minimize post-consumer waste. Brands like AYOND might be small, but they're having a big impact on the industry as they pave the way for the future.
We were so inspired by the brand's mantra and mission that we reached out to share more of their inspiring story. Van Breukelen graciously invited us into their stunning NYC apartment to give us the lowdown on her morning routine, tips for success, and life advice. Prepare to be inspired.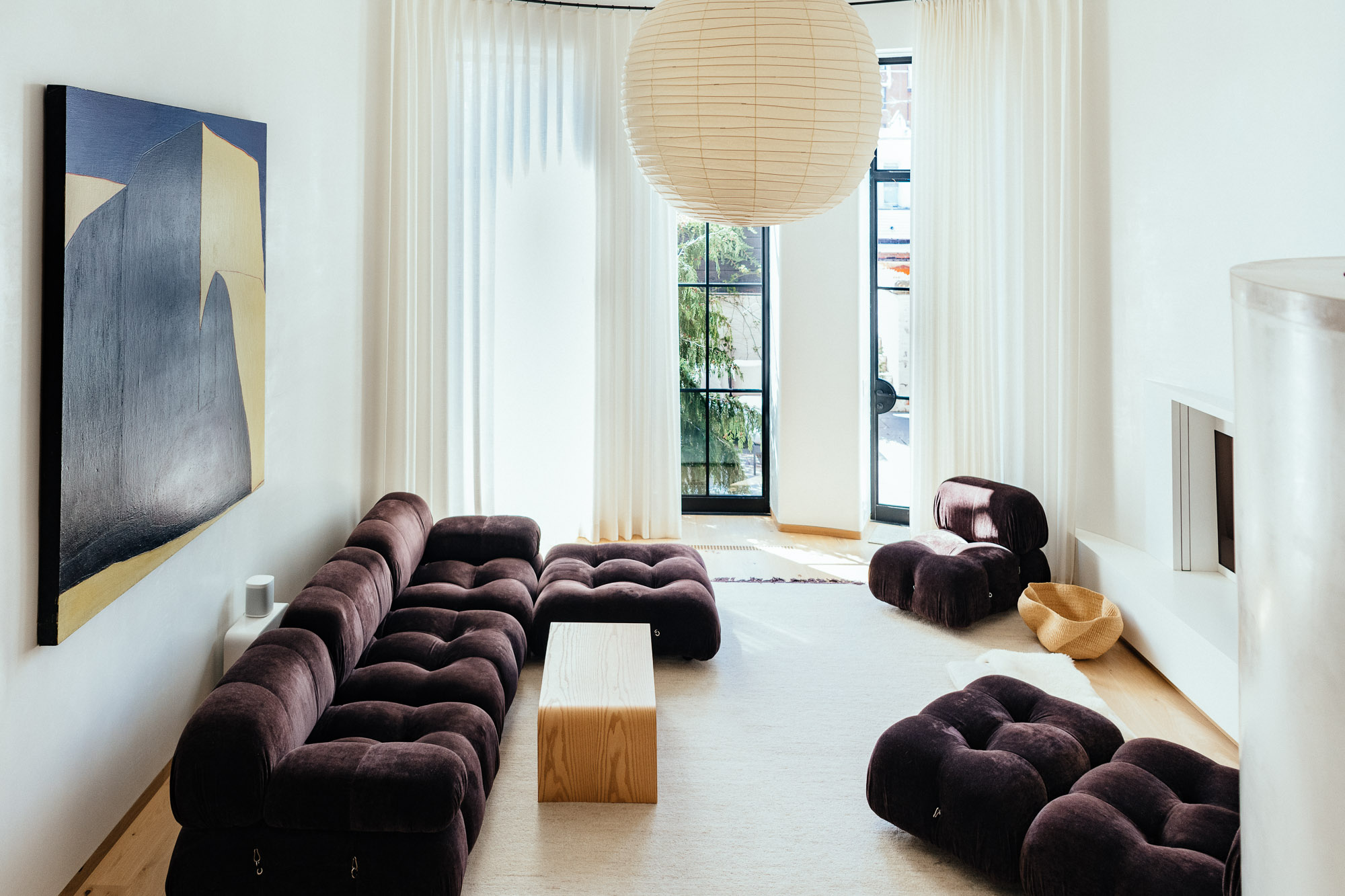 On a typical day…
A typical day for me looks like a lot of time on my computer working, taking calls, good coffee breaks with my boyfriend, Porter, and playtime with my dog, Linx.
On her wake-up call time…
Anywhere from 6:30-7 am. I try to get eight hours of sleep every night, but that doesn't always happen.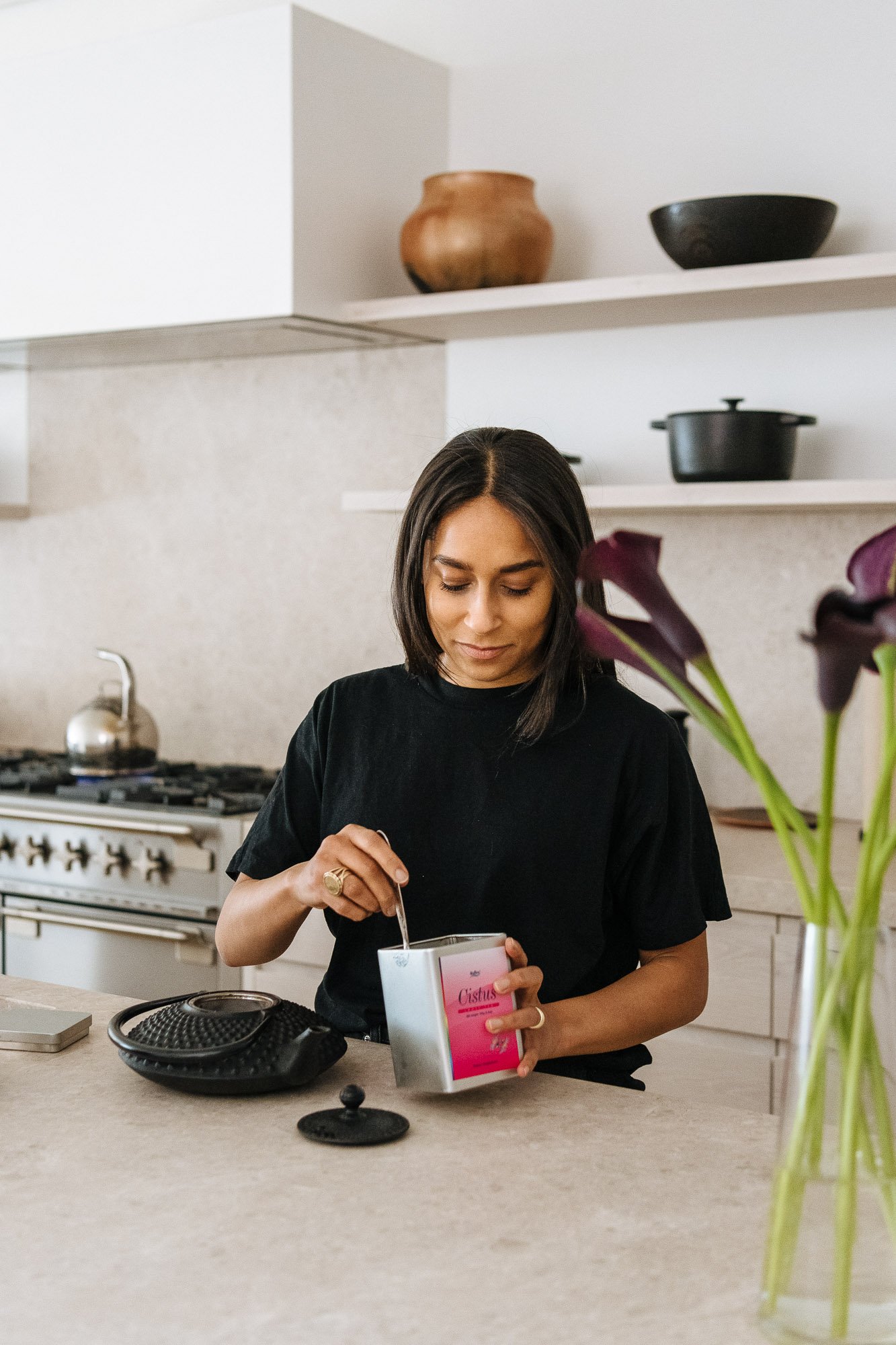 On the first thing she does when she wakes up…
I like getting up early because I have time to myself. Usually, my dog Linx likes to get up around 7:30 to 8 am so if she is willing to get up with me the first thing I do is let her out in the backyard. Then I will take her back upstairs and continue with my routine. This is varied as sometimes I may stretch and workout or spend extra time doing my skincare routine. I am not too structured in the morning as I like to listen to how I feel and do any one of these things before getting into work. 
On her workout routine…
During lockdown, workout sessions became more intense and essential. I am not really a yoga person but I love good cardio. The right music is the most important step for me as it gets me motivated. Once I have that selected I can continue my pre-workout routine by stretching with some yoga moves, vagus nerve work, and then I start to go into my squat routine, elliptical, and weights. If it's nice out, I like to run the Prospect Park perimeter.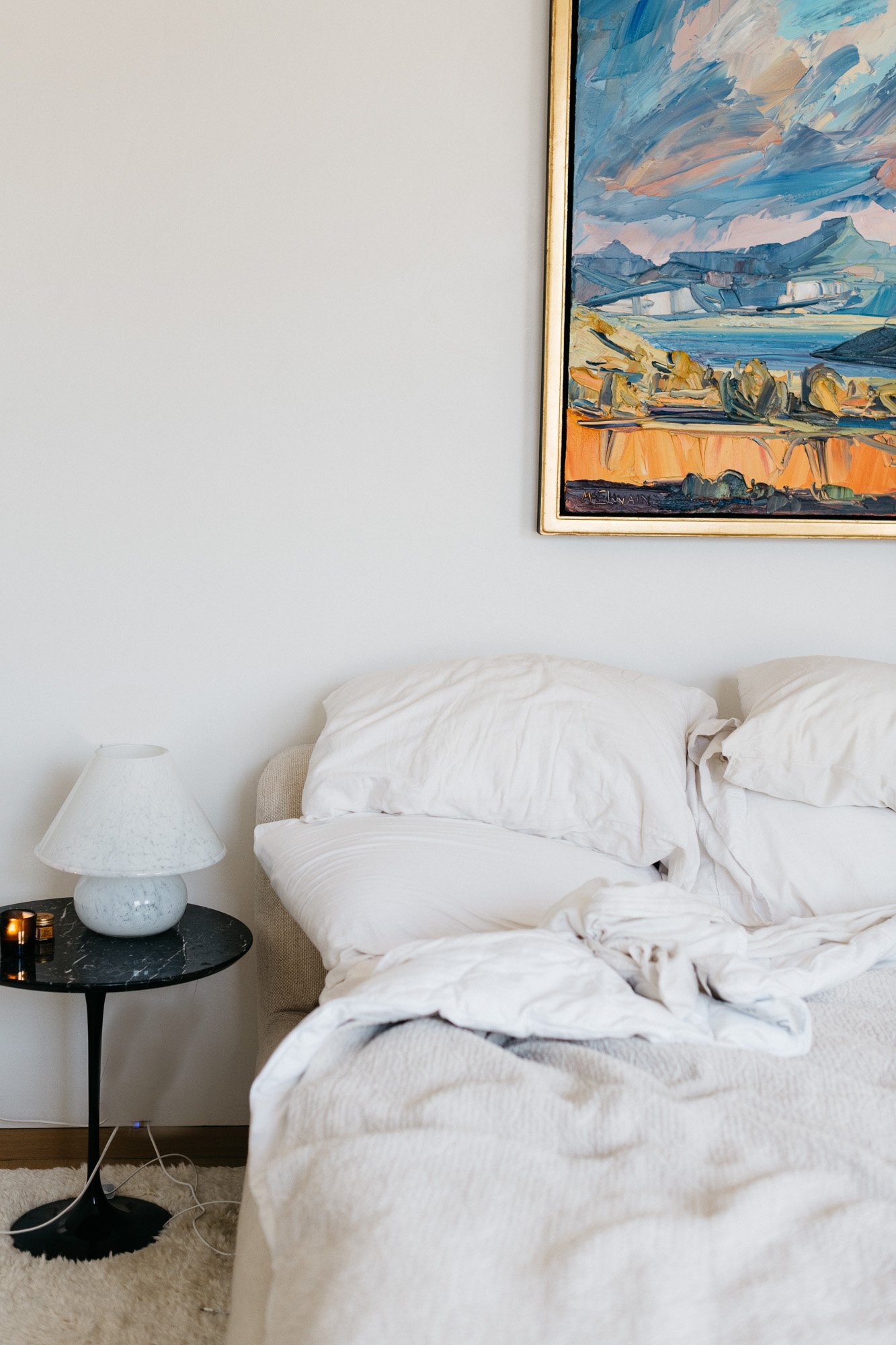 On how her morning routine changed in quarantine…
Both 2020 and 2021 have been such challenging years personally and professionally that I found exercise to be critical to keeping myself feeling positive or letting go of frustration due to the state of the world. I also dedicated more time to speak with family in the morning, especially my twin sister who lives in Stockholm. My skincare routine changed a bit too. Previously, I used Metamorph Cleansing Balm at night as a gua sha slip but, I realized that with the added stress and monotony of lockdown, I started to use it as a gua sha massage in the morning—it helped to gently wake me up and ease any stress I may be feeling.
On her morning beauty routine from start to finish…
I begin with a gentle hand massage using our Metamorph Cleansing Balm. Once this is evenly applied, I start to gently massage the contours of my face using a gua sha tool. The areas I spend the most energy on are between my eyebrows, cheekbones, and neck. Once the massage is complete I like to let the cleansing balm sit for a bit and then work it in with warm water, letting the balm transform into milk, then using a damp washcloth to remove.  
After this step, I will press cold water onto my face to fully wake me up.  I really enjoy how calming the cold water feels. Lately, I have been testing a toner that I made but before this, I would use Heritage Store Rosewater Toner. 
Once my skin is almost dry, I will use three to six drops of Rock Rose Face Serum. This serum has one of the most unique scents. When it's applied to my face I like to take deep breaths into the palms of my hands before applying. I use this generously on my face and neck.
After the serum has fully absorbed, I continue with about a dime's worth of Taos Blue Day Cream. This cream is extremely easy to layer with other products and the scent always reminds me of the desert. Sometimes when the weather is extremely dry, I will add a few drops of the Amber Elix Face Oil to this cream before applying (if it is a humid day, I will omit the day cream and follow up with Supergoop SPF and Amber Elix Face Oil). 
If I'm going outside I will add a small amount of mineral sunscreen (Supergoop) after the Taos Blue Day Cream. While I wait for the cream to fully absorb on my face, I will take a couple of drops of Amber Elix Face Oil and start by rubbing the oil onto my neck and décolleté. Using more drops if needed, I will gently press the face oil onto the highest points of my cheekbones, gently rub around the eyes, the middle of my brow, and spot treat any scarring I may have. This face oil is fantastic for any scarring old or new and it has a beautiful slightly spicy and uplifting scent which makes it perfect for the last step of my routine. Any leftover oil on my hands I will use on the end of my hair to make sure nothing is wasted.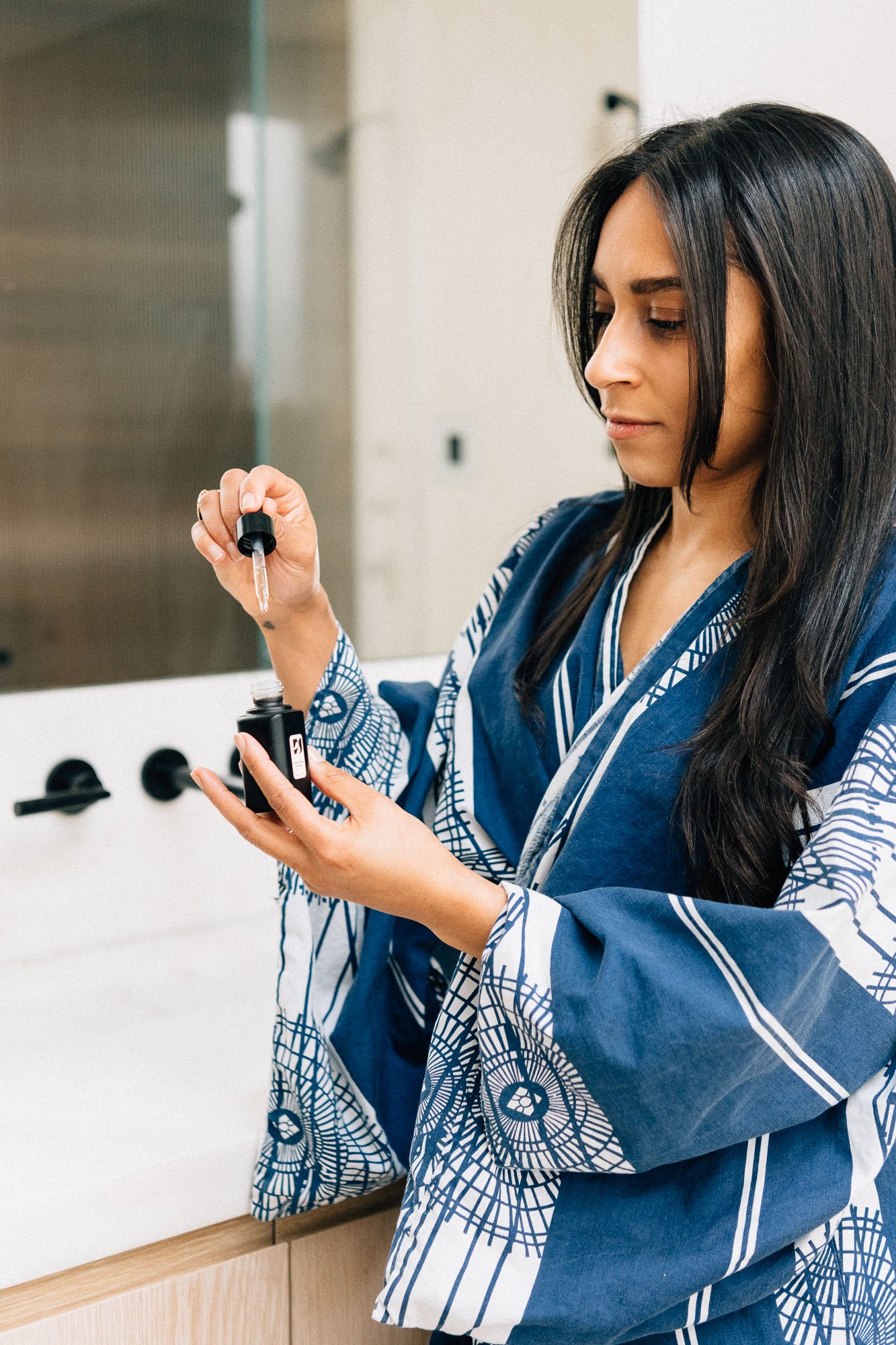 On her breakfast meal…
I practice intermittent fasting so I do not eat breakfast in the morning. I will have water with vitamin tablets, take L-Serine Powder or Whole Foods L-Theanine pill supplements, and I have a coffee or tea. 
On her morning media rituals…
The first thing I open is BBC News or NPR and check Ayond's Instagram. Then I usually pop on a podcast while I check emails.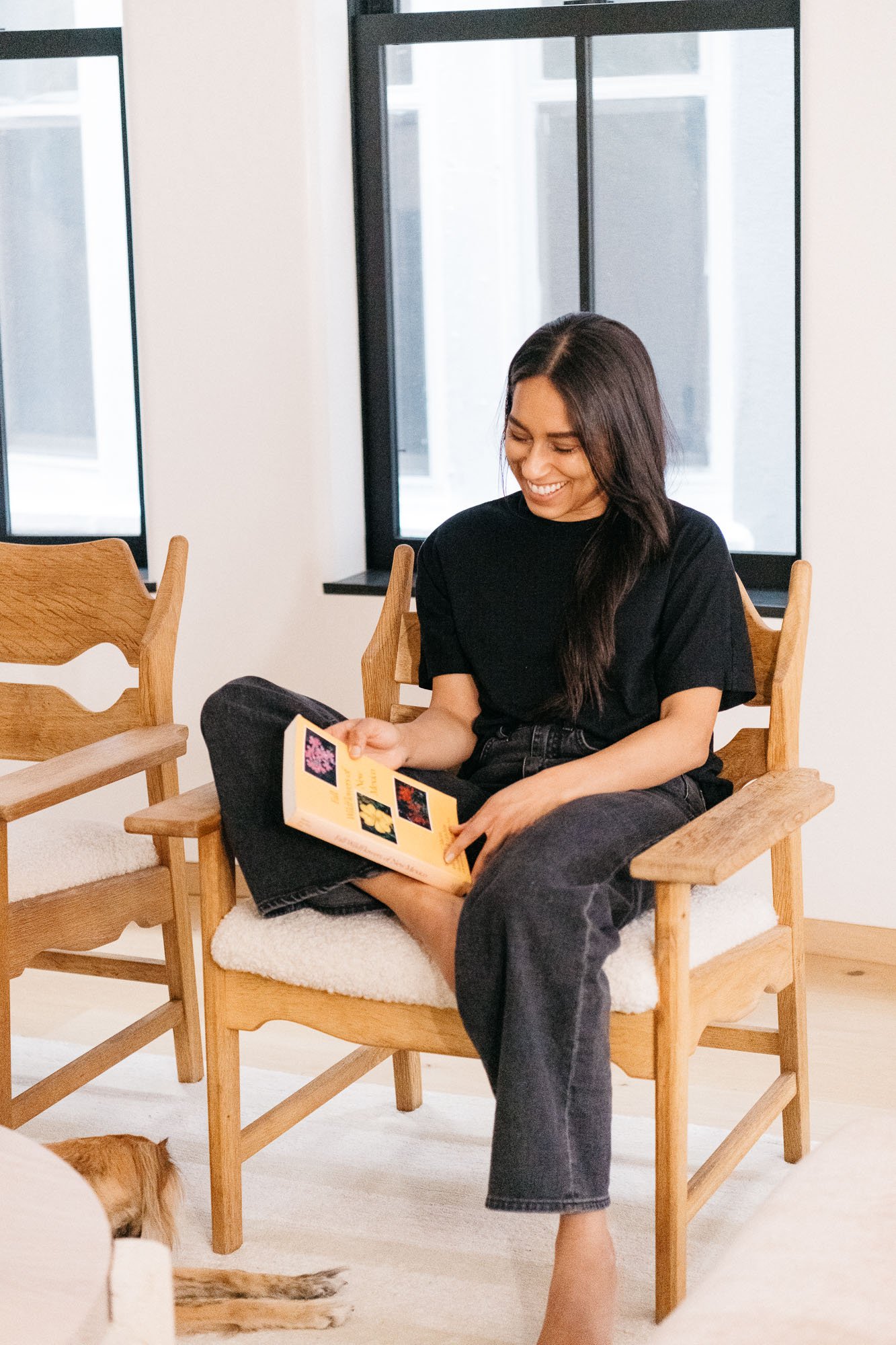 On her favorite books…
I enjoy different types of books for different reasons. At the moment, I am reading The Other Slavery: The Uncovered Story of Indian Enslavement in America by Andrés Reséndez and an aesthetician's book on skincare. 
On what she always has on her nightstand…
Slip Eye Mask or Simply Organic Sleep Mask, ear plugs, water, and my phone. Before I sleep I like to play sudoku on my phone.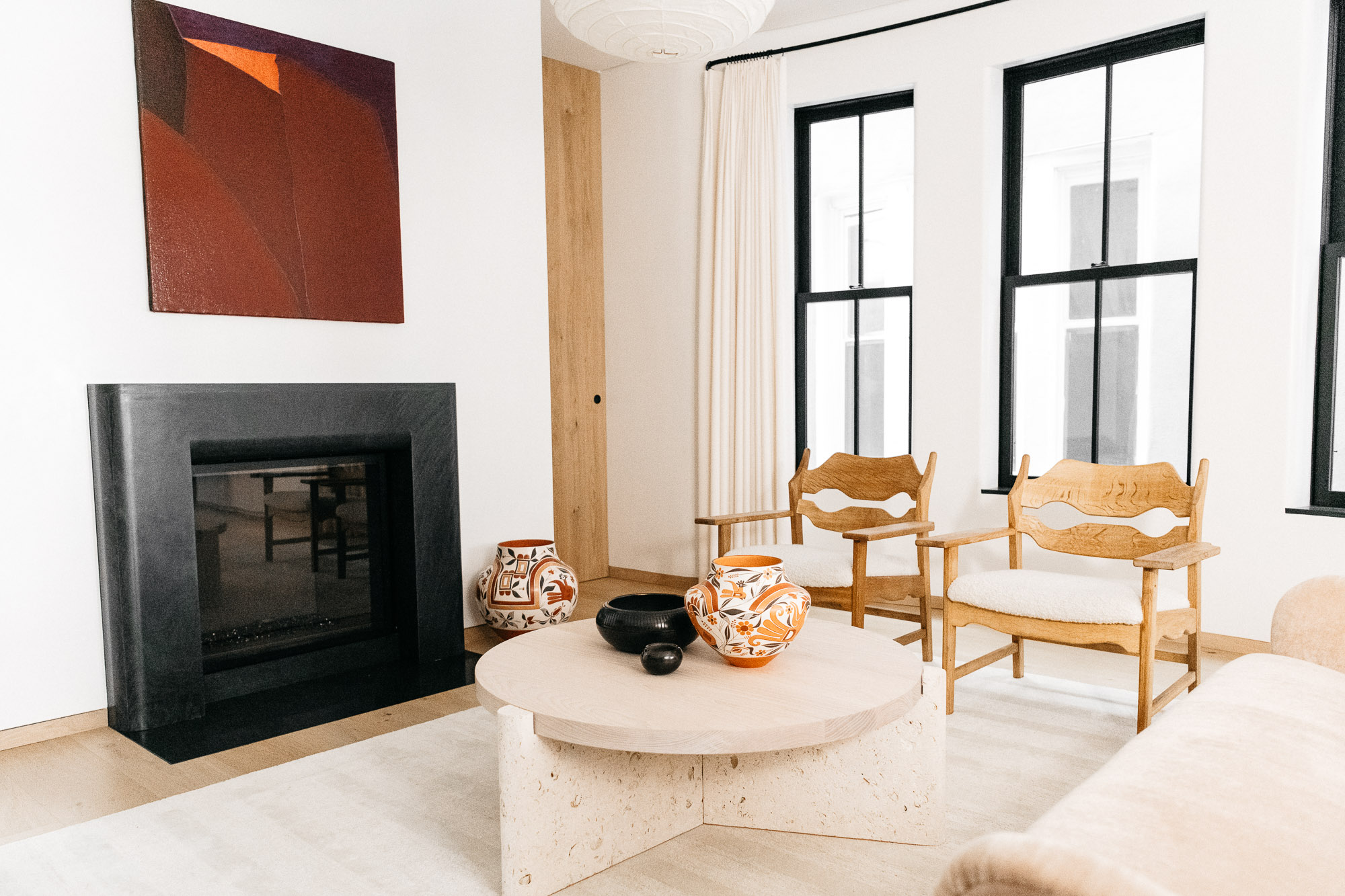 On her favorite getting-ready soundtrack…
In the AM, it's usually The Daily podcast. Any other time I like to select an artist and play similar music shuffled. An artist I have been listening to lately is Kokoroko.
On her morning workout…
Since I run a small business and wear a lot of hats I can't dedicate too much time to working out in the morning but I do a light workout of 30 minutes most days. On the weekends I like to work out in the afternoon instead of the morning and train for about an hour or more.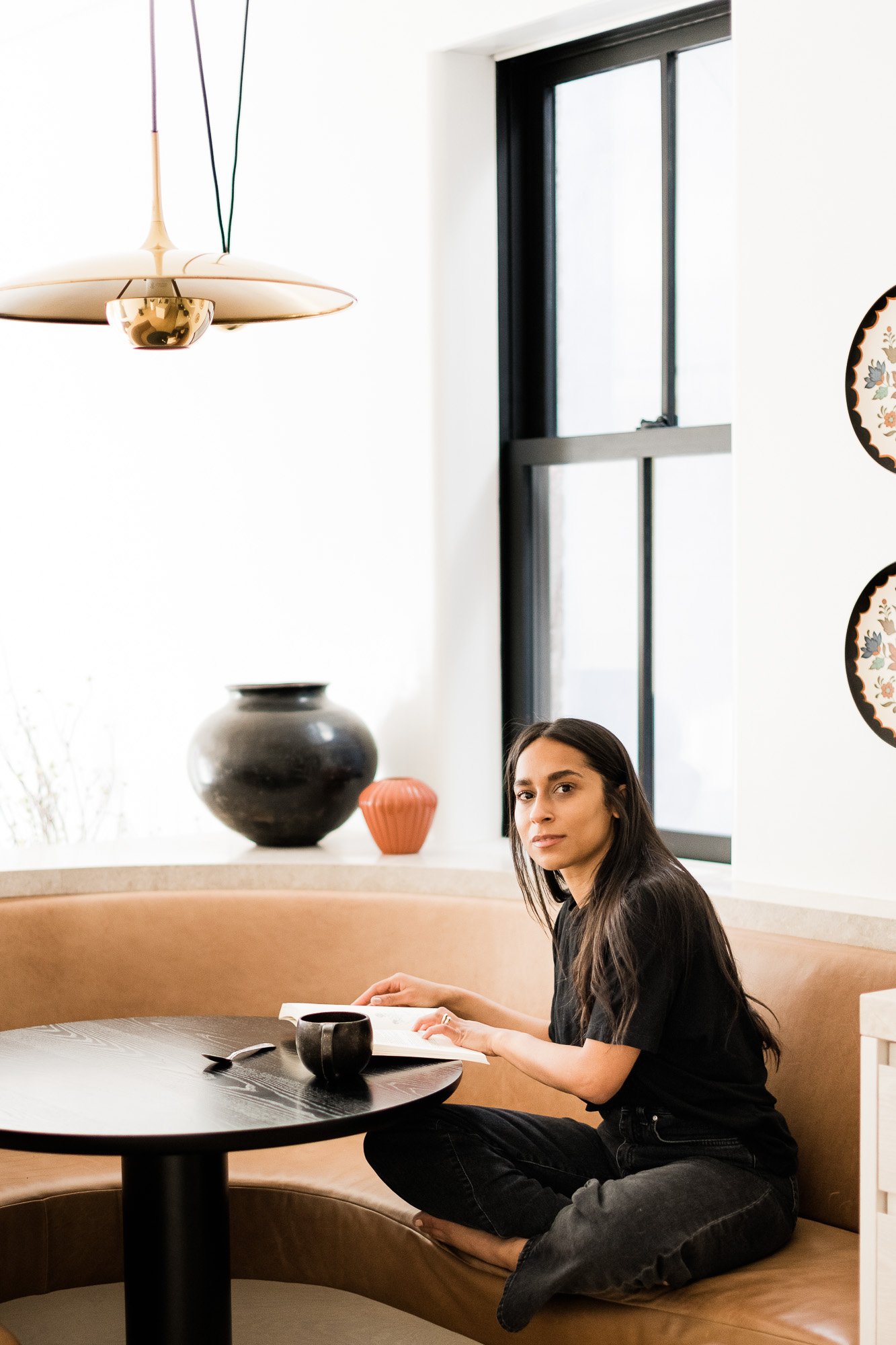 On her daily uniform…
I like to keep things simple—a bit of jewelry, Toteme jeans or VINCE jeans for those loose-fit days, and probably a black top. During lockdown, I just preferred loose-fitting jeans but kept everything else the same. 
If she had one extra hour every morning…
I would spend more time working out or talking to my twin sister on the phone.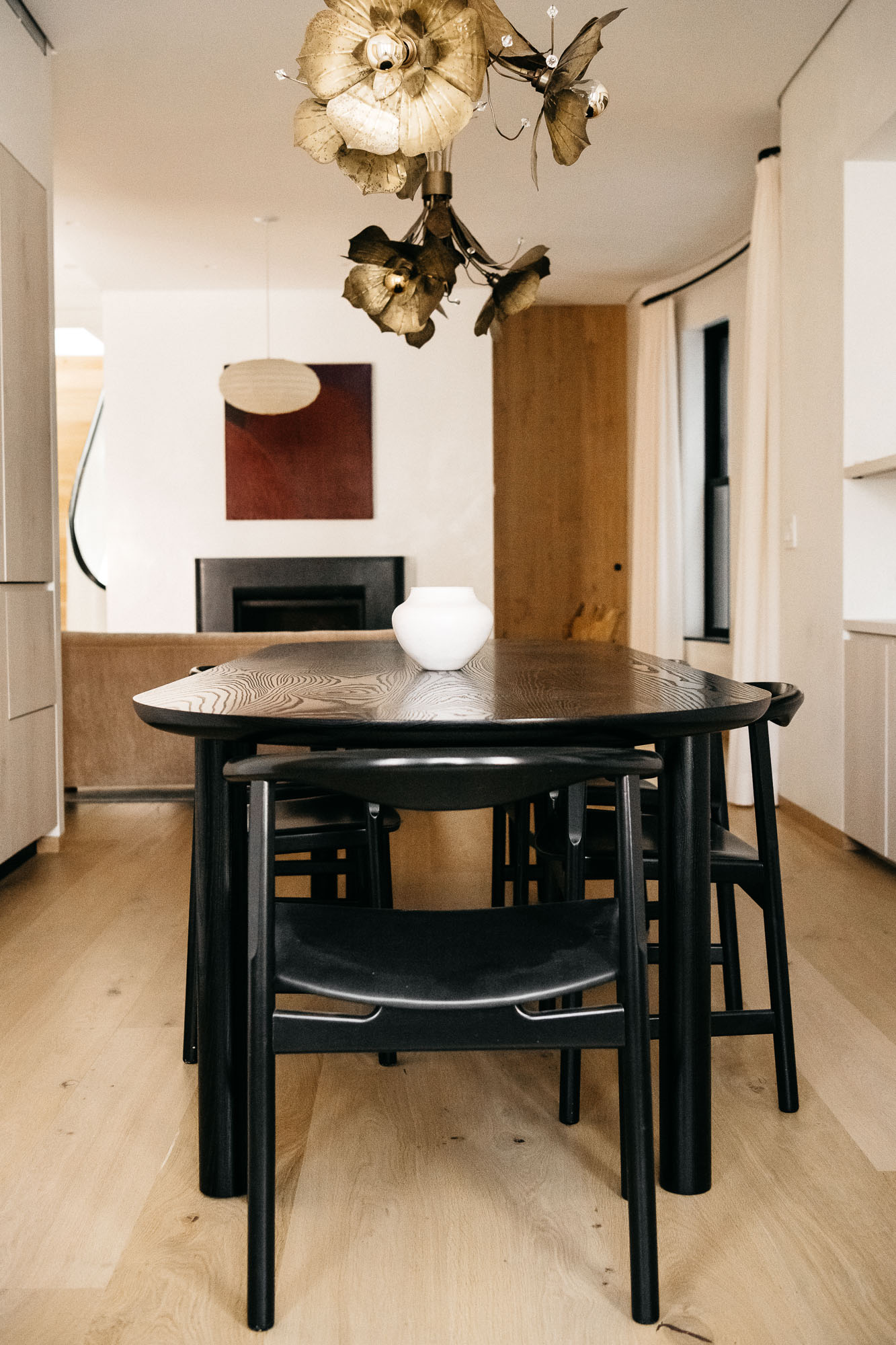 On what she does to live a more present, mindful, and joyful life…
Taking a moment to spend time outside and speaking with loved ones. The outdoors is the best way for me to clear my thoughts and speaking with my family and friends always makes me feel better and happy. 
On her secret to success…
I don't think I have had that moment, things have progressed based on present choices and perseverance—nothing has felt like an "ah-ha" moment and I have had to work hard for what I have.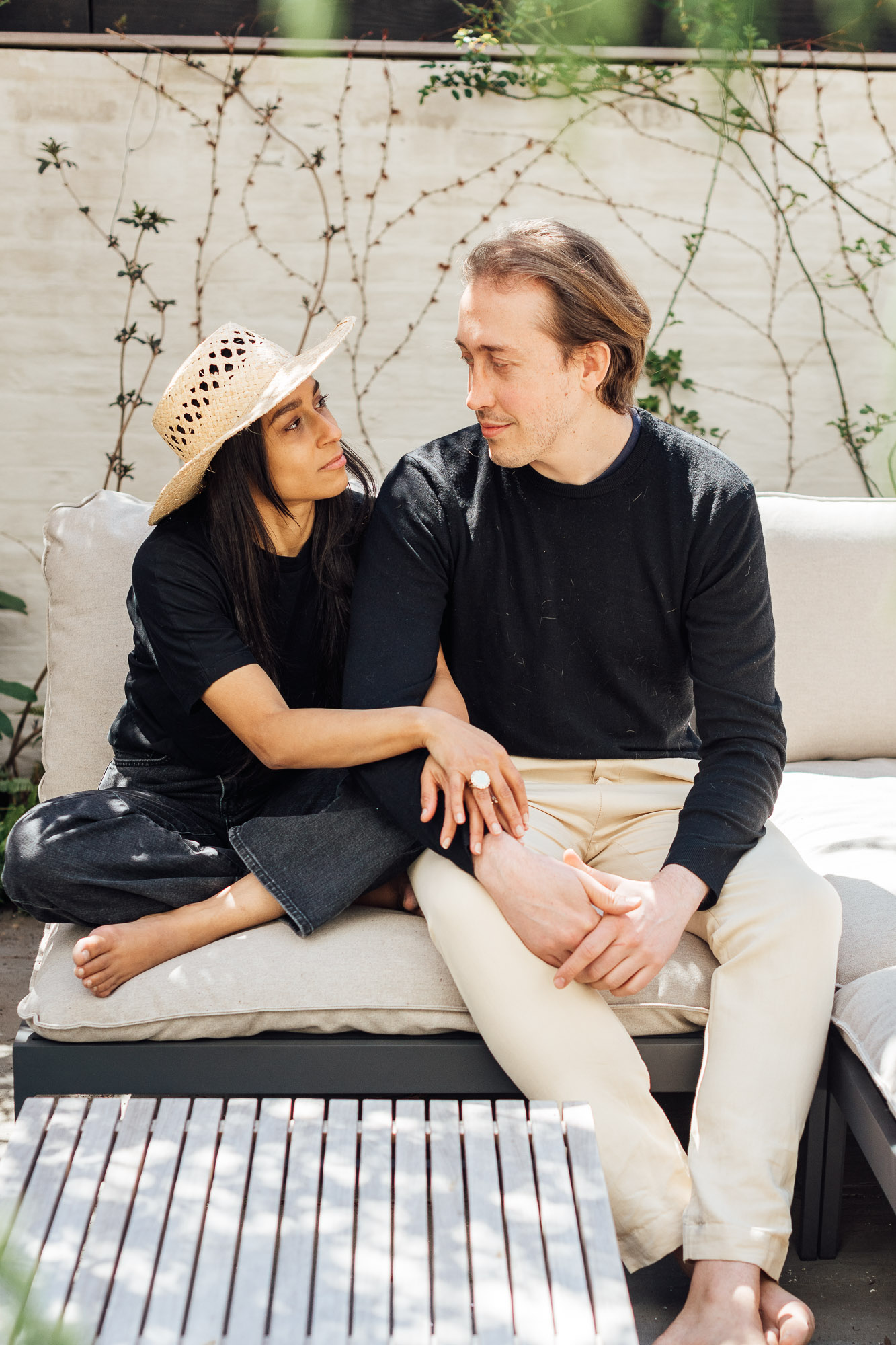 Sentence Finishers:
I never leave the house without… keys and my phone.
If there were more hours in the day, I would... travel more.
Healthiest morning habit… skincare and water!
Worst morning habit… Some would say Intermittent fasting, but I like my morning routine.
The one thing I fear the most is… missed opportunity.
When I feel that fear, I… think about doing what I can with what I have.
The book I always recommend is… The Fire Next Time by James Baldwin.
The 3 traits you need to succeed in life are… letting go, resilience, and perseverance.
Bath or shower? And what's your favorite shower/bath product? Shower and Rahua Shampoo + Conditioner
When I'm creatively blocked, I… go for a run or walk with my dog. 
My hidden talent is… quickly picking up a language.
The best advice I've ever received is… do what you can with what you have.
The biggest sacrifice I've made for my career is… changing paths from fashion to skincare.