If you're a fellow skincare enthusiast, then it's likely you've seen products featuring azelaic acid for skin starting to pop up among some of our favorite brands. Despite the fact that I consider myself a seasoned beauty buff, I realized I still have a lot of questions about the uses for azelaic acid, why it's a better option than some other acids out there, and who should be using it. So I reached out to a pair of experts to set the record straight on azelaic acid once and for all.
When it comes to finding the perfect skincare routine, no two ever look alike. However, there are always new things to learn and new products to try that can be used for a plethora of issues, and you never know when the next game-changing ingredient is going to make an appearance. These days, azelaic acid is making the rounds as one of the buzziest skincare ingredients around.
I tapped dermatological nurse and celeb aesthetician Natalie Aguilar and dermatologist Dr. Elizabeth Geddes-Bruce from Westlake Dermatology in Austin for their insights. They both raved about the many uses of azelaic acid and made it clear that it's a wonderfully effective active ingredient that is gentle enough for most people to use on their skin.
What is azelaic acid?
Dr. Geddes and Aguilar explained that azelaic acid is a naturally occurring acid found in whole-grain cereals like barley, rye, or wheat. It has inherent antibacterial properties that can provide multiple benefits when applied to the skin. It is used in many over-the-counter skincare products but can also be written as a higher-strength prescription. Both our experts noted that besides being antibacterial, azelaic acid is also a gentle exfoliator that decreases inflammation, unclogs pores, diminishes dark spots and pigmentation, improves skin tone, and prevents acne.
Who should use azelaic acid for skin?
According to our experts, all skin types can benefit from using azelaic acid. Dr. Geddes remarked that it is generally well-tolerated by even the most sensitive skin types. It works magic in oily, acne-prone skin. It's a great addition for people prone to dark spots, acne scarring, melasma, and other skin injuries. Aguilar also mentioned that azelaic acid is most commonly used to treat skin types that struggle with rosacea and inflammatory hyperpigmentation.
Is azelaic acid safe for all skin types?
Both Dr. Geddes and Aguilar emphasized that azelaic acid is extremely gentle and one of the safest ingredients in skincare. Dr. Geddes pointed out that it's one of her main go-to treatments for acne in pregnancy and nursing. That said, she recommends bringing it into your skincare regimen slowly, especially if you are already trying to incorporate a new retinoid, AHA, or BHA. If skin is feeling dry, chafed, or is sunburned, Aguilar advises clients to avoid azelaic acid until skin feels normal again.
Azelaic acid vs. salicylic acid
If you've ever done a skincare deep dive, especially when it comes to trying to control redness, oiliness, and acne, then you have probably heard of salicylic acid. Our experts noted that there are definitely similarities between the two—both are exfoliators that work well on acne, scars, and brighten the skin.
But Aguilar points that they work differently. Azelaic acid is gentler and requires consistency and time for the desired effect. Unlike salicylic acid, azelaic acid is so soothing that it works to heal rosacea, aids in improving the appearance of visible blood vessels, and reduces melanin production.
Dr. Geddes explains that salicylic acid is a BHA that is chemically related to aspirin, so it's a stronger skin peeling agent that works faster at penetrating pores and cleaning them out to treat acne. That also means that it's more irritating. If you're looking for the gentlest active ingredient to treat your skin, then azelaic acid is the way to go.
Keep scrolling for some of the best products with azelaic acid for skin
This multifunctional cream is a cult-fave among beauty aficionados, and with good reason. It's great for all skin types, helps to revitalize dull, uneven skin, heals acne scarring, dark spots, and treats blemishes.
Azelaic acid, licorice extract, and salicylic acid work together to clarify skin and soothe irritation. This highly effective serum works to reduce brown spots, acne marks, and more. Use it alone or add a couple of drops to your moisturizer.
Deep clean your skin with this refreshing overnight mask. Natural exfoliants help to slough off dead skin cells, reset its natural balance, and keep skin calm and clear. This mask is able to absorb excess oil while also providing intense hydration.
This active-rich serum is 97% naturally derived and works to mattify oily skin, reduce excess sebum, prevent open pores and blackheads, and fights acne-causing bacteria.
This multi-use cleanser is one of Aguilar's favorite products with azelaic acid. It also serves as a mask and helps to gently control and improve hyperpigmentation, brightens the skin, and evens out skin tone all while reducing redness and any yellowing of the skin. It's truly magical!
Made with glycolic acid and azelaic acid, this rich cream visibly improves the appearance of unwanted dark spots for a more even, radiant skin tone that leaves skin soft and hydrated.
Dr. Geddes is a fan of these clinical strength pads that instantly reveal radiant, smooth skin. They gently exfoliate dead surface skin cells to soften fine lines and wrinkles while also fading the look of pores and blemishes.
Looking to kick it up a notch? Dr. Geddes recommends talking to your dermatologist about getting a prescription for Finacea Foam, which has a higher concentration of azelaic acid than over-the-counter options.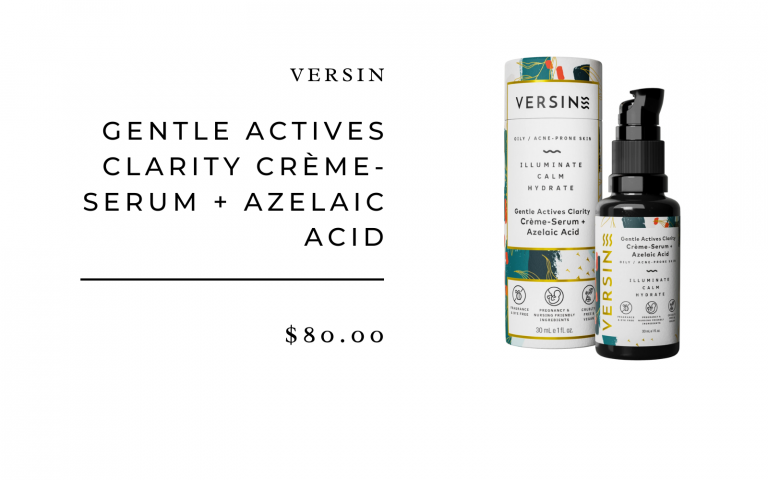 Aguilar also loves this powerful serum to help brighten and hydrate the skin. It safely treats acne, inflamed skin, and excessive oiliness. It's also safe for pregnancy and breastfeeding!