When it comes to the best beauty products, ultimately, it comes down to the individual—what works best for you and your skin is all that matters. But there are some holy grail items out there that seem to work for everyone and have thousands of five-star reviews to prove it—Paula's Choice 2% BHA Liquid Exfoliant we're looking at you! And while we will always do our online research before investing in any new product, there's nothing quite like a personal recommendation from someone you trust.
Enter: the Camille Styles editorial team. We know it's an overwhelming sea of products out there promising "game-changing" results with cutting-edge ingredients so we want to help you cut through the noise and endless online chatter by sharing the products that really work and are actually worth the money. We have personally tried and tested all of the products in this story and stand behind their inky list and efficacy.
So, keep reading for 29 of the best beauty products our editors are loving this month and don't forget to share yours in the comments below!
FENTY BEAUTY by Rihanna Cheeks Out Freestyle Cream Bronzer
Recommended by Riley Reed, Wellness Editor
"Ok, listen up: I live on the spectrum of no makeup to little makeup so this is groundbreaking. My friend came over one day with a bag filled with makeup from Sephora to play. (Nothing like an adult sleepover.) I'd never personally tried contouring (beyond modeling gigs) but Fenty makes this product user-friendly and the packaging is so alluring. Does Rihanna do anything wrong?! It's creamy, like the name, light, effortless, and can be used as either a light contour or a bronzer. It melts into the skin and I just love it so much… it's officially made its way into my hassle-free routine. I'm technically 04 Hunnie Glaze but I didn't feel like exchanging so I kept the Chocolate 06 and I actually love it. I need just a tiny bit and it's really fun to blend with other things."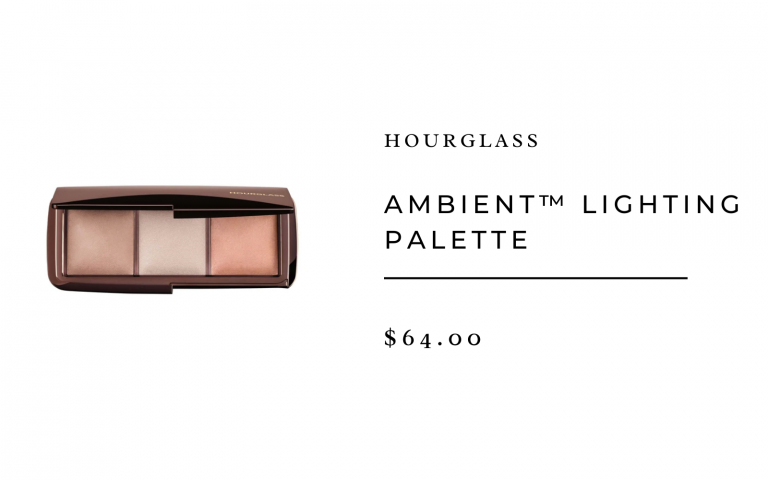 Hourglass Ambient Lighting Palette
Recommended by Kelly Krause, Wellness Editor
"I've been using this since I first tried Hourglass years ago in the basement of Barney's (RIP). It's perfect as both a highlighter on the cheeks and nose and also as an eyeshadow. I'm on my 5th trio, and I think it's the most-replenished product in my makeup bag."
Recommended by Anne Campbell, Contributing Editor
"Up until this year, never ever did I ever expect that by my 40th trip around the sun I'd be a tried-and-true, card-carrying foundation wearer… and yet here we are. One trial vial of Exa's High Fidelity Foundation later, and I'm a foundation convert. It's buildable for as little or as much coverage as I need day-to-day and features a base of botanicals like soothing aloe vera and peach. Offered in an array of 43 shades, this vegan foundation is inclusive for all women—and that's something worth supporting."
Recommended by Sacha Strebe, Deputy Editor
"I have always been a stickler for sunscreen—growing up in Australia will do that to you—and while I am very consistent with sunscreen on my face, there is one area I have largely forgotten: my hands! I actually had Fraxel on my hands and arms a few years ago to minimize the damage (actually my dermatologist, Dr. Samolitis of Facile tells me the treatment even helps to prevent skin cancer) but I definitely have slacked a little on my prevention since then. Enter Supergoop's Hand Screen. I keep it in the car so I can apply it before I start driving. I am hyper-aware of how much sun my hands get sitting on the wheel. It has a lovely but minimal scent (no, it doesn't smell like traditional sunscreen) and is very nourishing thanks to a lot of plant-based oils. The best part is it doesn't feel super greasy afterward which is always my pet peeve with hand creams in general."
Recommended by Lourdes Avila Uribe, Contributing Editor
"This lactic acid treatment is worth every penny. The combination of the high percentage of lactic acid and deeply nourishing and hydrating ingredients like prickly pear extract makes it insanely effective. I've never used any other product that gives such visible, immediate results. A few years back there was some controversy when it was discovered that the brand had been faking positive reviews on its website, and it confused beauty insiders to no end since this product actually works and is a cult favorite for good reason. Paired with the Luna Sleeping Oil it gets the chef's kiss of perfection. Treat yourself and your skin to this perfect serum.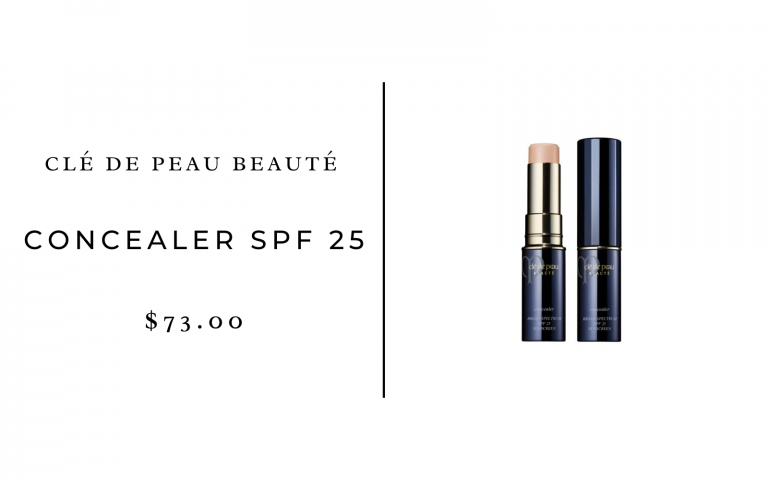 Clé de Peau Beauté Concealer SPF 25 
Recommended by Kelly Krause, Wellness Editor
"Now, hear me out. I know this product has a hefty price tag, but I've never found another concealer that has such great buildable coverage and truly covers under-eye dark spots, conceals blemishes, and softens any redness. Another pick from a well-known makeup artist, but I swear this product will last you well over six months (use sparingly) and is worth the investment."
Chanel Les Beiges Healthy Glow Sheer Colour Stick
Recommended by Bridget Chambers, Editorial & Social Media Intern
"This blush stick is the star of my super simple summer makeup routine. I swipe it on top of my cheekbones instead of the ball of my cheek (it makes your cheekbones look higher this way) and on the bridge of my nose for the perfect sunkissed and glowy look. It blends out so well and stays in place much longer than traditional powder blushes. Nars Orgasm Blush lovers, I use shade No. 24 Coral and it has a super similar coral shade with the same gorgeous hints of sparkle.
Glow Recipe Avocado Melt Retinol Eye Sleeping Mask
Recommended by Suruchi Avasthi, Food Editor
"I've actually never used an eye cream as a part of my skincare routine before—I just never really thought I needed it since under-eye darkness hasn't been one of my skincare concerns. After using this though, I'm totally converted! Even though I thought I didn't need this, I saw a difference right away in the brightness and hydration of my skin within a day of using this eye mask. Now it's my favorite nighttime addition to my routine which is already full of the Glow Recipe line. I love that it feels super light and moisturizing and makes such a difference!"
Recommended by Sacha Strebe, Deputy Editor
"When I first came across this product I thought it would be just another CC cream—wrong! This is a really beautiful product. The beauty of this is how much it feels like skincare, not makeup thanks to its gel-like texture with Centella Asiatica (a medicinal plant with potent antioxidant properties) and hyaluronic acid. But the magic happens when you glide it onto the skin and the encapsulated pigments adjust to your skin tone. My skin was so glowy, dewy, hydrated—all the adjectives associated with illuminated skin! This is a very light CC cream so it gives nice coverage to cover inconsistencies in the skin but you can still see skin which is my jam."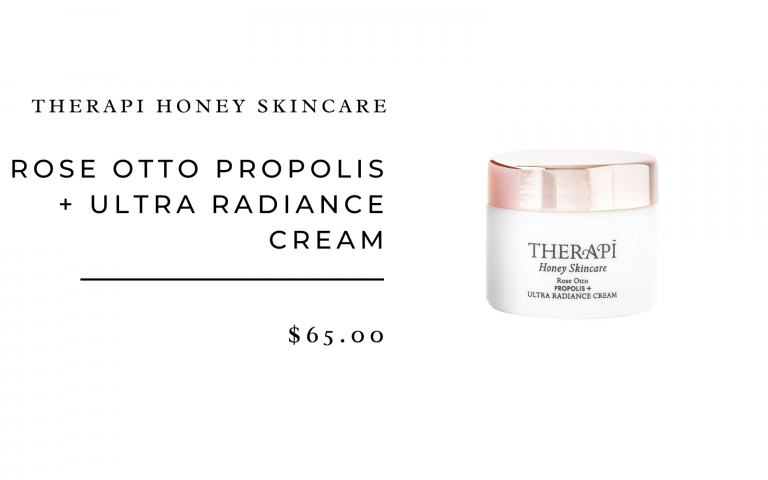 Therapi Honey SkinCare, Rose Otto Propolis + Ultra
Recommended by Brandy Joy Smith, Motherhood Contributor
"When I was pregnant with my daughter, my skin turned from combination-oily to dry—and I mean super dry. My friend turned me on to this face cream, and I'm still using it to this day. It gives you the ultimate glow, and your skin is incredibly supple after you use it. It's thick going on but somehow leaves a light and fresh feeling after it absorbs."
Neocutis Lumiere Illuminating Eye Cream
Recommended by Camille Styles, Editor-in-Chief
"As I've shared here before, the main focus of my antiaging skincare efforts goes to my undereye area which is showing fine lines before the rest of my face. A recent convo with my dermatologist brought one major "aha" moment: those fine lines are actually the result of dehydration—"You've got to get yourself the right eye cream!" she told me. And I'm so glad that I immediately ordered her top recommendation: this Neocutis Lumiere Illuminating Eye Cream uses growth factors to target the delicate eye area and reduce the appearance of fine lines and wrinkles, crow's feet, puffiness, and under-eye darkness. And just as important? It wears completely smooth and invisibly under eye makeup: no flaking or pilling in sight!
Naturium Fermented Rice Enzyme Cleanser
Recommended by Sacha Strebe, Deputy Editor
"This is the second cleanser I've tried from the Naturium line and I am just as obsessed. In fact, they play well together. First, I use the Fermented Camellia Creamy Cleansing Oil (which is actually more like a cleansing balm as it's thick in texture but melts away on contact with your skin!), then I go in with this enzyme cleanser. If you're worried about the exfoliating element of this face wash, don't! It's incredibly gentle thanks to the fruit enzymes and biodegradable micro-powders that cleanse, polish, and brighten the skin. I love it so much and it's under $20. Also, fun fact: the tube is made with sustainable bio-resin derived from sugarcane. 
Kosas Air Brow Clear Lifting Treatment Gel, Clear
Recommended by Hannah Zahner, Beauty and Wellness Editor
"I've finally found a clean, clear brow gel I love. Kosas' gel perfectly lifts, fluffs, and sets your brows without leaving any stickiness or crispiness. Bonus points: the formula is boosted with hair care actives to boost brow hair growth over time."
BeautyCounter Dew Skin Tinted Moisturizer
Recommended by Michelle Nash, Senior Producer  
"I ran out of this product a few weeks ago and took the opportunity to try out some other highly rated tinted moisturizers. Well, you know what they say: if it isn't broken, don't fix it. After giving some others a chance, nothing worked quite as well as this OG-tinted moisturizer. It blends perfectly into my skin, has a deliciously silky texture, and I love the dewy, natural finish."
Jillian Dempsey Lid Tint in Dew
Recommended by Sacha Strebe, Deputy Editor
"I have admired Jillian's work for a while and I finally decided to try out her famous lid tint. I am all for the glowy, dewy look and since I am slowly phasing out of my quarantine no-makeup look, I decided that her buttery, creamy "dew" color would suit me just fine. It gives you that sheer wash of color without feeling too overdone and blends easily into the skin like it's your own natural oils thanks to its organic, naturally-derived ingredients. I love that you can dab this on top of eye shadow to create the glossy lid look. I'm hooked!"
Tammy Fender Restorative Radiance Mask
Recommended by Sacha Strebe, Deputy Editor
"I am obsessed with masking. I do it multiple times a week and typically on a Sunday morning, I'll wake up and put on several masks to restore and replenish my skin after a long week. I also love to take a bath and multi-mask—a good habit I picked up in quarantine! This restorative radiance mask is really rich and thick, plus, it's pink! It smells divine but it also hydrates the skin thanks to extracts of lotus and baobab and the floral waters of jasmine and rose. Be sure to apply a thick layer and let it all soak in—your skin will thank you for it."
SkinCeuticals Phloretin CF Gel
Recommended by Caitlin Clark, Contributing Editor
"All eyes (and big beauty awards) typically land on SkinCeuticals CE Ferulic, but the popular vitamin C serum always made me break out. Sure my skin was bright and glowy, but the risk never felt worth it. Finally, an esthetician suggested I try SkinCeuticals Phloretin CF Gel, which might work better for my oilier, combination skin. Like the brand's sought-after serum, the gel uses L-ascorbic acid (the purest form of vitamin C) and ferulic acid, but it doesn't go quite so hard on the moisture. I've been using it every morning for months and my skin looks the best it has in years. Also, I feel like I'm finally a part of the SkinCeuticals vitamin C club. The price of admission is a little steep, but it's worth it."
Recommended by Edie Horstman, Wellness Contributor
"If you're looking for a new summer cleanser, stop right here. This soap-free, oil-free, and pH-balancing foaming face cleanser is it! It cleans pores without over-stripping and my skin doesn't feel dry or tight after using it—just soft and clean. With summer right around the corner, this nighttime cleanser has a permanent spot on my bathroom counter. I love this cleanser's fresh, light scent (and that a little goes a long way). Best of all, it's economically priced and is free of parabens, synthetic fragrances, and other potentially toxic ingredients."
Recommended by Sacha Strebe, Deputy Editor
"None of us have been immune to the skin-damaging effects of masks. They even coined a term of it: maskne. And now we're all looking for ways to prevent it and restore our skin. Thankfully our friends at Hero (creators of the original zit-busting Mighty Patch) have come up with a solution. Their new reset mist acts as a gentle sanitizer, purifying and protecting the skin's microbiome and keeping acne-prone bacteria at bay, while the serum stick refuels the skin and re-injects moisture back to keep it from drying out under your mask. Use them together to fortify and balance the skin, while also cleansing it of everyday impurities."
Recommended by Hannah Zahner, Beauty and Wellness Editor
"When a beauty tool lands a spot in my everyday rotation, I know its good. This expertly crafted stone has the perfect angles and ridges to make a gua sha session a breeze. I notice a visible difference after each use! Since the warmer months have hit, I love popping it in the fridge or freezer for a few minutes before using it for some extra cooling and de-puffing benefits."
Merit Brow 1980 Volumizing Pomade in Blonde
Recommended by Sacha Strebe, Deputy Editor
"I used to work for Katherine Power (founder of Merit) when I was editorial director at MyDomaine (former sister site to Power's media company, Who What Wear). She is a stickler for quality and attention to detail is always at the forefront of everything she does so it's no surprise that her Merit beauty line lives up to the hype. I am seriously impressed with everything in this collection. What I love is how simple and minimal everything is—perfectly timed with the post-pandemic sentiment to streamline our lives. But the Brow 1980 is my favorite of all. I heard in an interview that Power purposefully made the wand longer than the product end so it was easier to hold and maneuver. But more than that, it's the consistency of the product—the wand completely coats every hair with color but it isn't sticky or too thick yet somehow manages to keep every hair in place. Oh, and it doesn't dry down crunchy either—it's very soft and pliable. I have very thick unruly brows and often find brow mascaras to be too heavy for me, but this is a gamechanger. If I want more of a laminated look, then I add a little bit of Anastasia's Brow Freeze to the ends with a spooly—but not too much because I still love that slightly unruly, bushy look. 
Glow Recipe Watermelon Glow Niacinamide Dew Drops
Recommended by Suruchi Avasthi, Food Editor
"Clearly, I love all things Glow Recipe, and this serum is amazing. One of my skincare concerns is dark spots and hyperpigmentation, and this brightening and hydrating serum has already made such a difference in my skin after a few weeks of use. I love that it adds a subtle glow that leaves me feeling like I don't need any makeup—especially during these warmer summer months—without using any mica or glitter to get a natural everyday glow. I love that all the Glow Recipe products feel incredibly light and hydrating on my skin and this serum is no different!"
Recommended by Sacha Strebe, Deputy Editor
"I am all for an easy beauty look and as we welcome the summer months, I have been slicking my hair back into a sleek high pony or a low-maintenance bun. It doesn't require any heat styling tools and gets done in less than five minutes. Because let's be real, I am very out of practice after spending a year and a half indoors. I have tried so many pomades, waxes, and oils but Ouai is the newest addition to my slicked-back arsenal and I am truly a big fan. It is really creamy, blends in easily, pins down flyaways in a single swipe, but is still pliable enough to be restyled later. Oh, and it smells like a dream. I also really love Jillian Dempsey's Roomie pomade with argan kernel oil and synthetic beeswax and a light sandalwood fragrance!"
Charlotte Tilbury Hollywood Contour Wand
Recommended by Bridget Chambers, Editorial & Social Media Intern
"While I don't use this Contour Wand for its correct use, I've figured out that it is the perfect stay-all-day cream bronzer. I love the easy application felt tip and I literally just dot it onto my face and rub it in with my fingers. I've learned that putting bronzer higher up on your cheekbones instead of under them also works to lift your face like the blush trick I mentioned earlier. I have fair skin, so the fair/medium shade is the perfect bronzy color for me."
True Botanicals Pure Radiance Oil
Recommended by Lourdes Avila Uribe, Contributing Editor
"If you've ever scrolled through January Jones' Instagram stories and wondered why she looks so good, this oil has a lot to do with it. Not to take anything away from Mother Nature, but this oil is a game-changer when it comes to high-end skincare products. It's an ultra-hydrating oil that leaves my skin feeling soft, smooth, and baby fresh. Full of active ingredients, it's gentle enough to use on sensitive skin. I'm prone to acne during the hot and humid months of the year, and this is the only oil that doesn't break out my skin. It's an absolute wonder."
Vacation by Poolside FM SPF 30 Classic Lotion
Recommended by Sacha Strebe, Deputy Editor
"There is so much buzz around this new sunscreen launch and with good reason. 1. It has the best 1980s nostalgic branding I've seen for a while. (Also helps that I was born in 1980). 2. It has a beautiful consistency that feels more like a moisturizer than a sunscreen. And 3. It has the most incredible scent—they claim it's the world's best-smelling sunscreen and they're not wrong. In fact, they are so confident you will love it too, that they even created a perfume out of it. But in all seriousness, this is a really cool product that makes sunscreen fun which is always important to ensure the message spreads about the importance of "slip, slop, and slap." I also love that the brand's founding partners hired Dr. Elizabeth Hale, Board Certified Dermatologist and a VP of The Skin Cancer Foundation to create the product so you know it's more than just good hype—it works!"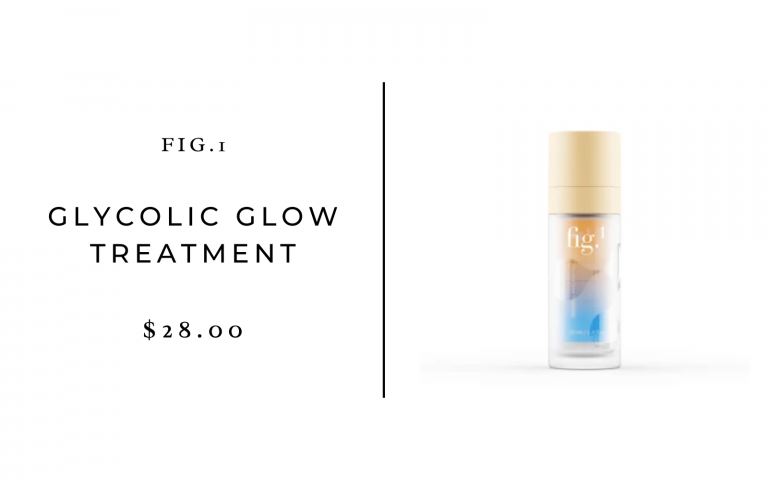 Fig. 1 Glycolic Glow Treatment
Recommended by Sacha Strebe, Deputy Editor
"This is a new brand I've been testing out and I'm really impressed with the glycolic glow treatment. I am already a huge fan of chemical exfoliators and this one features 4% glycolic acid and PHAs so it's a strong but gentle exfoliating emulsion that removes dead skin cells. Oh, and it also comes in an airless refillable glass bottle."
Recommended by Hannah Zahner, Beauty and Wellness Editor
"I've been using this tinted serum since last summer and I won't be quitting it anytime soon. It provides evenness and coverage that's pretty easily buildable, while still staying quite light! With a natural, dewy and fresh finish, I love that you can build your coverage. The formula is quite glowy, which I love, but some might feel best with a light dust of setting powder on the t-zone. Major pro: this line offers versatile and varied color matches, with 18 shades to choose from. (Color matching note—the formula does oxidize a bit, so I would recommend going a shade lighter!)." 
Origins Plantscription Powerful Lifting Overnight Mask, 2.5 Oz
Recommended by Sacha Strebe, Deputy Editor
"As I mentioned earlier, I am really into masking right now but this Origins sleeping mask is a gamechanger. I used to buy a lot of Origins products in my 20s because it was "clean" (yes before it was a marketing buzzword!) and always smelled really good. This mask came across my desk recently and I was instantly hooked by its smooth, gel-like texture that felt soothing and hydrating upon application. I often put this on after my skincare routine about 20 minutes before I hop into bed so it has time to settle into my skin. Every time I (remember) to use it, I wake up with really soft skin which isn't always the case when you live in LA's dry climate (and I often have a fan going in our room too!)."
What beauty product are you loving this month? Share it with us below!