We're in the DIY-era. I'm not talking DIY home decor—though I think we've all dabbled in a few projects over the past few years, finished or not—but in beauty and wellness. The industry is angling toward accessibility. Treatments that were once spa-exclusive are popping up at all your favorite beauty retailers. From facial sculpting gadgets to hair removal tools, you can do pretty much anything at home. And with actual results. But it's not all lasers and microcurrents. Simple, effective beauty treatments are also back in vogue. And today, we have expert insights on the best teeth whitening pen for a bright, healthy smile.
While you might have tried whitening strips or trays, pens are the latest and greatest for portable and flexible whitening. The precision of a pen applicator allows for more even whitening. You can also pop a pen in your travel bag, so it's a no-stress addition to your nighttime routine. (Unlike my NuFace, which is a nightmare to bring through TSA.)
But are they too good to be true? I tapped Dr. Ambika Amini, a general dentist and co-founder of My Private Dentist, for whitening tips and tricks and to get the scoop on the best teeth whitening pen on the market.
Featured image from our interview with Shanika Hillocks by Michelle Nash.
Everything to Know About Teeth Whitening Pens
According to Dr. Amini, there are two main ingredients used in all the best teeth whitening pens: hydrogen peroxide or carbamide peroxide. They both have similar results, but their main difference is how long they take to break down.
While hydrogen peroxide releases most of its whitening power within 30–60 minutes, carbamide peroxide releases about 50% of its whitening power in the first two hours and can remain active for up to six additional hours. Depending on the formula, the balance of these and other ingredients affect the time to result and the shade changes in your teeth.
According to Dr. Amini, another factor to consider is how these ingredients act on sensitive teeth. While both hydrogen peroxide and carbamide peroxide are safe on sensitive teeth, some pens are formulated specifically to protect your oral health.
Below, Dr. Amini shares everything to know about teeth whitening pens, including how they work, insights on results, side effects, and more. Dive in.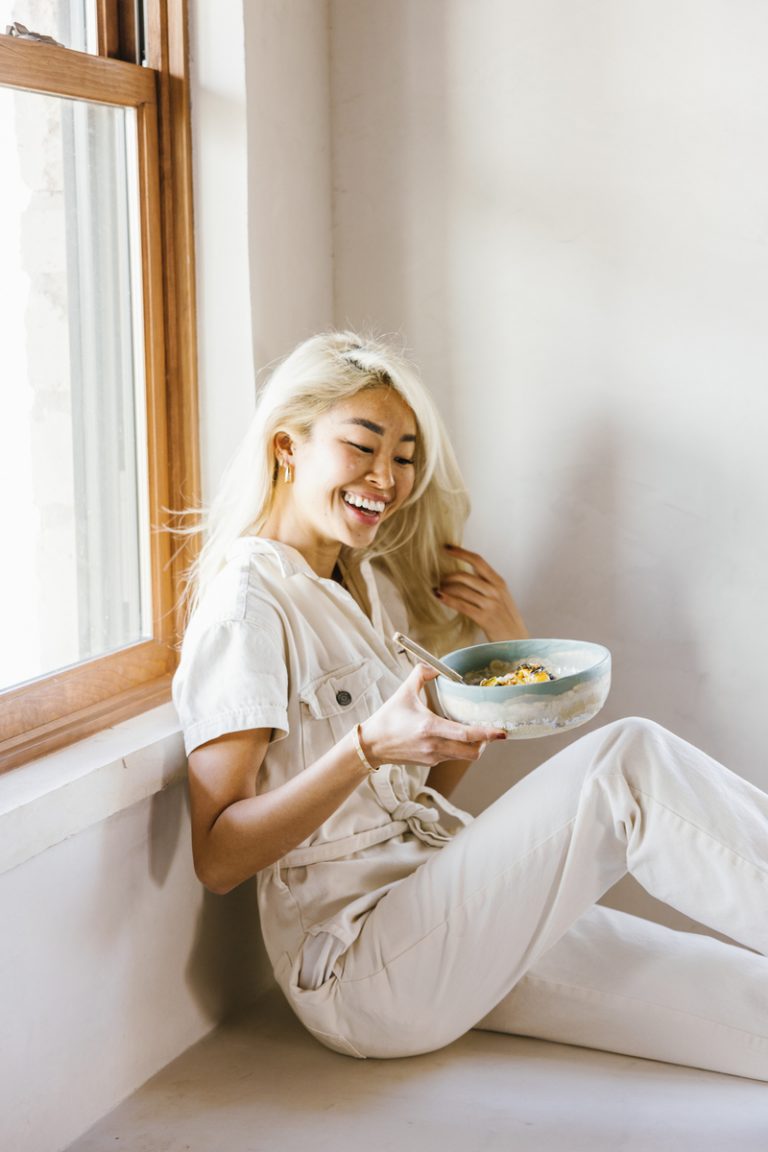 How Teeth Whitening Pens Work
Teeth whitening pens contain a solution that is applied with a brush or pen to the surface of your teeth. The solution is usually in liquid or gel form. It contains a bleaching agent such as hydrogen peroxide or carbamide peroxide, which works to break down stains (caused by tea, coffee, red wine, and smoking) on the enamel of your teeth. As the stains are broken down, your teeth will appear brighter and whiter.
Are teeth whitening pens effective?
Teeth whitening pens can work well to remove surface layer extrinsic staining, caused by darkly stained food and drinks and tobacco products. Bear in mind, though, that they do have their limitations.
Firstly, the levels of the bleaching agent used in teeth whitening pens are much lower than the whitening gels in professional teeth whitening. This means that although teeth may appear lighter, teeth whitening pens are unlikely to produce significant shade changes.
Although teeth may appear lighter, teeth whitening pens are unlikely to produce significant shade changes.
How effective teeth whitening pens are, and in fact, all whitening products, will depend on your individual habits. If you drink lots of coffee or tea, the staining is likely to reappear. Drinking darkly colored liquids through a straw and avoiding smoking can help to make whitening results last longer.
Additionally, they won't whiten crowns, veneers, or fillings, so take this into consideration before using any whitening product.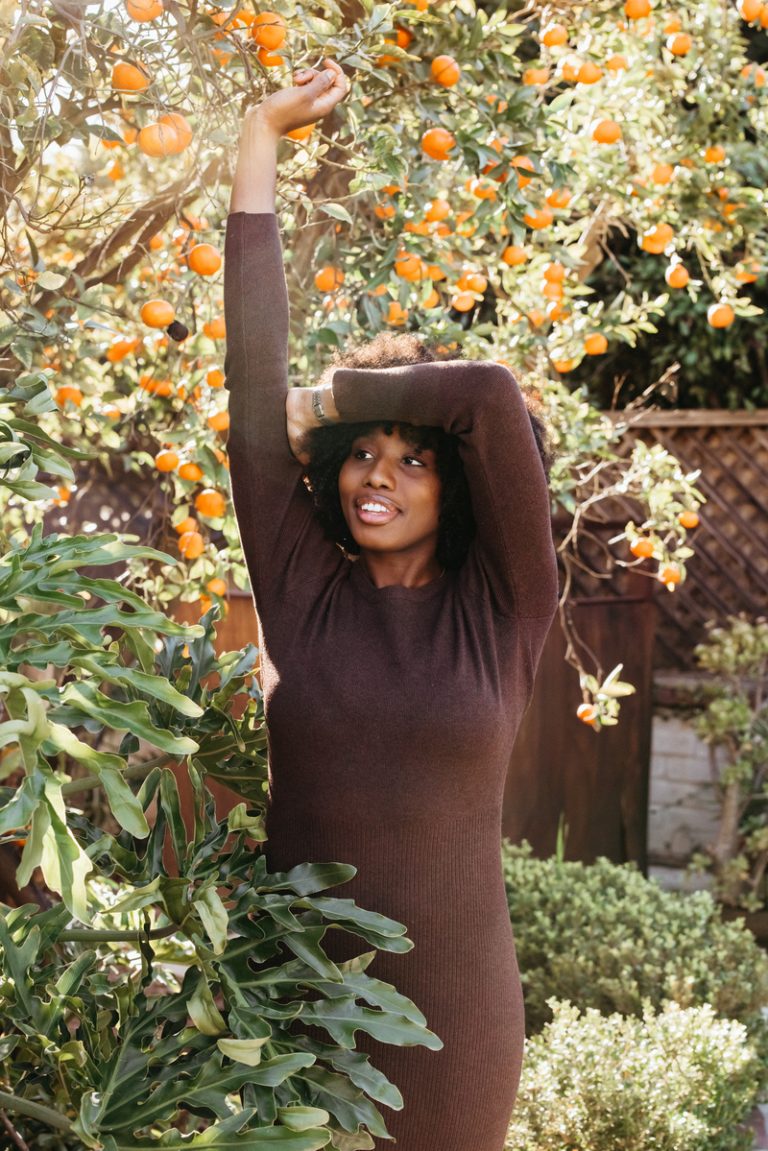 How long does it take to get results?
This varies from product to product. In general, it is a gradual improvement, and you should expect to apply the whitening pen to your teeth for a few minutes a day (or up to one hour), each day for 1-2 weeks.
You should take a break of at least two weeks before carrying out another cycle of whitening with a teeth-whitening pen. Whitening pens often have 30-40 uses.
Can teeth whitening pens be used on sensitive teeth?
If you experience teeth sensitivity, be cautious when using teeth whitening pens as they may worsen your symptoms and cause discomfort. Some teeth whitening pens are specially formulated with those that have sensitive teeth in mind. They have desensitizing ingredients to help prevent discomfort.
Using toothpaste for sensitive teeth can help with symptoms while using whitening pens. Also, avoid using the pens for longer than directed to avoid teeth sensitivity.
Are there any side effects?
The most common side effect of teeth whitening pens is experiencing teeth sensitivity either during or after treatment. This is more likely if it is applied for longer than suggested. Sensitivity is usually transient but can be quite uncomfortable.
Be mindful when using the teeth whitening pens to keep the gel on the surface of the teeth. If the solution comes into contact with your gums, they can become irritated and sore.
Overuse of teeth whitening pens could cause some erosive wear, and increase the chance of sensitivity.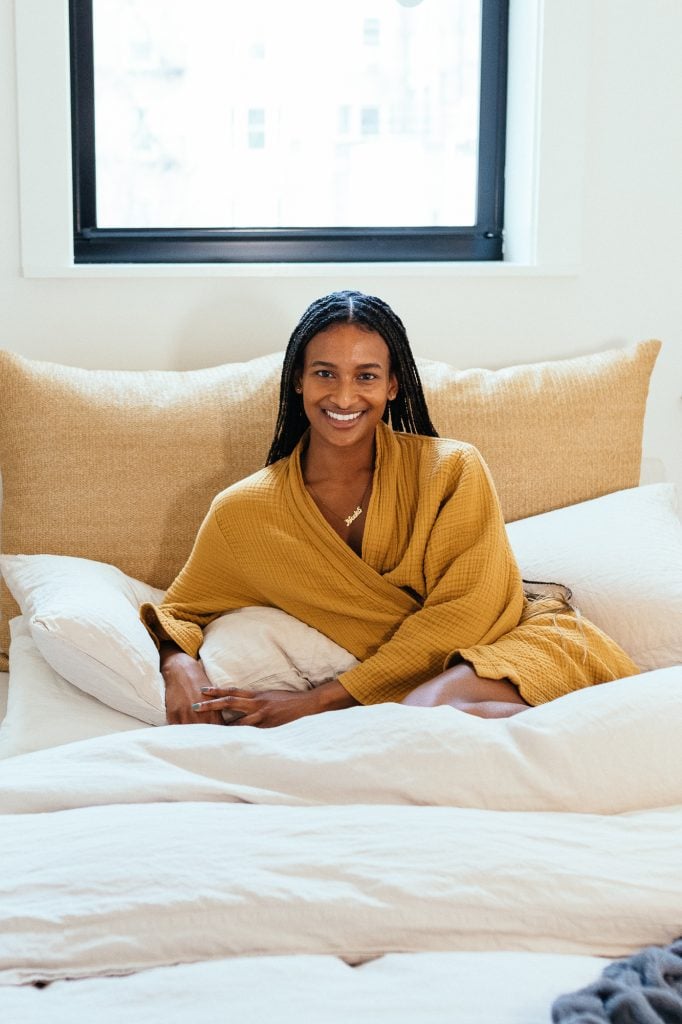 The Best Teeth Whitening Pens
Every product is curated with care by our editors and we'll always give an honest opinion, whether gifted or purchased ourselves. If you buy something through our links, we may earn a small commission at no cost to you.
According to Dr. Amini, this is a great pick because "it has a precision tip applicator to enable safe placement on your teeth, preventing the risk of gum irritation. It is simple to use and effective at removing surface level staining."
Active ingredient: Hydrogen Peroxide
Sensitivity-safe? Yes
Time to result: Two shades whiter in one week
If you're looking for an option to be used on more of an as-needed basis, this is your pick. Think: for occasional wine nights or if you're someone who only drinks coffee a few times a week. Low-key, but still totally effective.
Active ingredient: Carbamide peroxide
Sensitivity-safe? Yes
Time to result: Up to 10 shades in seven days
As the copy so cleverly states, "Just GLO and go!" In all seriousness, this is the ideal whitening pen for those of us who don't have the time for an all-out application. Apply a thin layer on your teeth and let dry for 30 seconds, waiting a half-hour before eating or drinking. Easy.
Active ingredient: Hydrogen peroxide
Sensitivity-safe? Yes
Time to result: Immediate
Best Applicator Whitening Pen
u003cpu003eDeveloped by dentists, this teeth whitening pen uses a sensitivity-free hydrogen peroxide gel to deliver rapid results. See results after just one use, with noticeable changes on display after a week. Plant-based antimicrobials and antioxidants enhance the formula while the hygienic silicone applicator tip provides a more hygienic, mess-free application.u003c/pu003e
---
GLO To Go Teeth Whitening Pen, $25
This barely-there gel uses actives suspended in a water-resistant base to coat teeth easily and comfortably, with no sensitivity. Apply up to four times a day to whiten teeth noticeably in just 14 treatments.
Active ingredient: Hydrogen Peroxide
Sensitivity-safe? Yes
Time to result: 14 treatments in four days
This convenient, on-the-go serum is ideal for portable whitening. The solution dissolves after application for instantly whiter-looking teeth.
Active ingredient: Hydrogen Peroxide
Sensitivity-safe? Yes
Time to result: Two shades whiter after just one application
Best Portable Whitening Pen
u003cpu003eAs a five-star rating shares: u0022Couldn't believe the instant results!u0022 While this reviewer was hesitant to purchase such an inexpensive pen, they confirmed that it's worth every affordable penny—don't doubt a solid buy!u003c/pu003e
---
Go Smile On the Go Teeth Whitening Pen, $19
Using the same ingredients as professional-grade treatments, this whitening pen uses active peroxide droplets that absorb fast and stay on your teeth to whiten on the go.
Active ingredient: Hydrogen peroxide
Sensitivity-safe? Yes
Time to result: Two shades whiter in 10 days
Most Convenient Whitening Pen
u003cpu003eNot only is this pen perfect for on-the-go use, but its minty flavor leaves you feeling truly refreshed. It's the perfect option if you need a quick touch-up at work, on a date, or anytime you're out and about.u003c/pu003e
---
ARC On-The-Go Teeth Whitening Pen, $21.99
This hybrid pen and LED system combines the best in teeth whitening technology. Apply the peroxide-based serum pen then use the LED tray for 10 minutes to boost its whitening power.
Active ingredient: Hydrogen peroxide
Sensitivity-safe? Yes
Time to result: 10 minutes a day for one week
Best LED Whitening Kit
u003cpu003eThis kit is perfect if you're ready to go all-in with at-home whitening. While it's more expensive than other options, several five-star reviews noted that they saw whiter teeth after just a few uses—and that the results even rival what you could expect from professional whitening.u003c/pu003e
---
Colgate SuperNova Rechargeable At-Home Teeth Whitening Kit, $109
Get professional-level results in seven days with a gel pen that starts working after just one use. This user-favorite employs the same enamel-safe whitening ingredients used by dentists to whiten in just 10 minutes, giving you up to 12 shades of improvement after one week.
Active ingredient: Hydrogen peroxide
Sensitivity-safe? Yes
Time to result: 12 shades in one week
Best Pro-Grade Whitening Gel Pen
u003cpu003eCombining easy application with the brand's sensitivity-free Bright Boost formula and professional-grade results, this pick is an easy yes for anyone wanting an effective and effortless whitening routine.u003c/pu003e
---
SmileDirectClub Pro Teeth Whitening Gel Pen, $25
This two-step carbamide peroxide-based formula is simple to use at home and provides professional-grade results in as few as five days. The pen starts working immediately, then the strips lock in the whitening agents and deliver a second dose of actives.
Active ingredient: Carbamide Peroxide
Sensitivity-safe? Yes
Time to result: 90 minutes a day for five days
Best Splurge Whitening Pen
u003cpu003eThis whitening duo includes the White Pen and the White Films to double down on your teeth to give you a bright and healthy smile. While the White Pen provides immediate results, the White Films go in for added assurance, giving your teeth an additional round of whitening.u003c/pu003e
---
APA Beauty APA White Duo, $100
Protect your teeth against damage while whitening with this natural formula. This two-in-one system can be used as a stain-prevention gel—just apply it before drinking coffee or wine and leave it on for 30 minutes.
Active ingredient: Coconut oil and lemon peel
Sensitivity-safe? Yes
Time to result: Immediate for prevention
Best Natural Whitening Pen
u003cpu003eIf you know a thing or two about the u003ca href=u0022https://camillestyles.com/wellness/everything-you-should-know-about-your-oral-microbiome-and-how-to-clean-it-up/u0022u003eoral microbiomeu003c/au003e, then you know how important it is to prioritize products that work with your body to protect good bacteria and detoxify the bad. Thanks to this pen's non-toxic formula, you can trust it's keeping your microbiome safe.u003c/pu003e
---
Lumineux Oral Essentials Ultra-Bright Pen, $20.98