Just like a good night equals a good morning, a happy Sunday brings a happy week. In this series, we explore the end-of-week rituals of people we admire to discover how they prioritize respite and calm to reclaim their rest before the Monday madness hits. Next up, the founder and creative director, LUMIRA, Almira Armstrong shares her Sunday night routine.
Just as a morning routine is the key to a successful day, so is the art of winding down. It's not always easy to release the tension—stress can really raise those cortisol levels—but it's important to find the tools that help to dial it down. For Aussie perfumer and founder of LUMIRA, Almira Armstrong that ritual involves creating an environment that sets the mood and signals to our brain and body to relax and recoup. It can be as simple as lighting a candle, burning incense, spraying the room with a calming scent, anything that relays a message to your senses that the time has come to let go and be still.
Feeling inspired to create your own Sunday nighttime routine too? Keep reading to learn more about how Armstrong creates a moment of escapism for herself at week end and prioritizes self-care. So, kick back and unwind with us.
What time does your Sunday nighttime routine begin and why?
At 8 pm. This is usually after dinner and when the kids are in bed. It is the only time I truly get to myself.
What is the first thing you do to help you wind down on a Sunday night?
Take a warm shower to soothe any body tension. Prior to jumping in, I spray the LUMIRA Paradiso del Sole Room Spray to scent the bathroom and provide a moment of escapism. I love using the L'Ocittane Almond Delicious Paste in the shower, which doubles as a wash and makes my skin so smooth, boosts circulation, and smells divine. I dry myself off with Resorè's body towels which are antibacterial, hypoallergenic, and made with eco-friendly fibers. I've noticed a definite improvement in my skin since I've started using them.
Please take us through your Sunday nighttime routine from start to finish.
After I get out of the shower, I always light a candle. Smells have a stronger link to memory and emotion than any other senses, and I like to be transported to another time and place in order to unwind from the week. My current favorite is LUMIRA Paradiso del Sole, as it takes me back to the Amalfi coast and the summers spent with family and friends.
I have a skin ritual which I love doing on Sunday evenings. It begins with the La Mer Cleansing Oil, which is gentle and soothes my skin. I then add an Elemis Superfood Facial Oil before derma rolling with Skin Gym's Glowie Micro-Derma 192 Roller. I only use the derma roller for five minutes to make my skin feel alive and prepare it for the next hydrating step. I moisturize with U Beauty's The Super Hydrator and apply my La Mer's The Eye Concentrate which I have been using for years. I have tried many other eye creams but always go back to this because it never fails to make my eye area smoother and brighter.
Do you get the Sunday Scaries? What does it feel like to you?
Sunday is my day of rest, so usually, I am feeling quite positive. It sounds like such a cliché, but since founding my company LUMIRA in 2012, I look forward to working on Monday because I love what I do.
How do you deal with the Sunday Scaries?
On the odd occasion where I may feel anxious, I love to take a hot relaxing bath. I light my LUMIRA candle and dim the lights, which makes for a calming atmosphere. I think self-care is so important, especially in times like this where everything is slightly more chaotic and uncertain. During the day, I also try to walk whenever I get the chance. Here in Australia, the climate is beautiful, and so are the landscapes, so I try and aim to always get in as many steps as possible. Being in nature always helps clear my head and bring me into the present moment—it's a great way to de-stress and relax.
Do you work on Sunday nights?
I like to keep this night free of work to be with the family before the week begins. It is nice to focus on the kids and give them the attention they need and carve out some self-care time.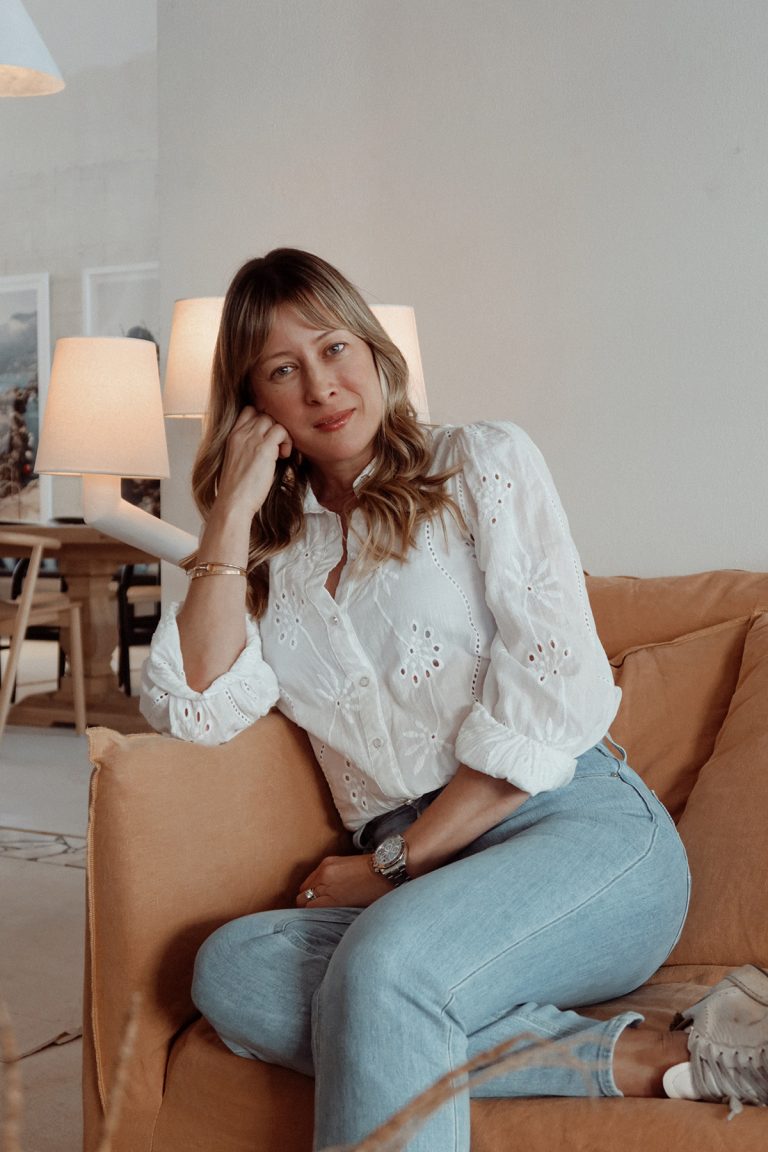 What things should you never do on a Sunday night?
Sunday, for me, is a day of rest. I like to do little things around the house and get organized for the week ahead. We usually take the kids to the park and get outdoors for a walk and some exercise. Some things I don't do include laundry because I like to get this out of the way on Friday or Saturday. I also avoid making any plans as I prefer not to have any commitments on Sundays.
What is on your nightstand?
I always carry a glass or bottle of water around with me. I love Soma's BPA-free water bottles. It feels good to nourish the body, and I find I'm far more alert and productive when I'm hydrated. In the morning, I find journaling helps to get all my thoughts and ideas down on paper first thing before my day gets busy. We have just launched LUMIRA'S first scented journal set which I'm loving. The Cuban Tobacco has rousing notes of cardamom, and clove bud with a tang of tangerine underscored with earthy patchouli and musk, which reminds me of my time in Havana. I love this plant-based Clarins Lip Comfort Oil that hydrates my lips while I sleep. It may come as no surprise that I love having a scent by my bedside and the LUMIRA Persian Rose Perfume Oil also nourishes my skin while I sleep.
Do you do any meal prep for the week ahead?
I don't do any meal prep for myself or my husband, but I do prep the kid's lunches for Monday so that I can be ready for the inevitable rush in the morning.
Do you watch TV / movies on Sunday evening? What are you currently watching?
I have been re-watching some old favorites, including The Big Blue, Great Expectations, and The Talented Mr. Ripley. Getting lost in a great story clears my mind for a busy week ahead.
Do you have a favorite bedding you swear by for a more restful sleep?
I currently have Australian brand Cultiver Linen on our bed which is so soft and cozy. I also love Crane & Canopy for that hotel feel; your body just melts into the sheets and makes you feel like you're in holiday mode.
What books are you reading right now, and recommend reading on a Sunday night to prep for the week ahead?
I have just started reading The Other Black Girl by Zakiya Dalila Harris, and just finished Good to Great by Jim Collins—a beautiful and inspiring book to read to start the week.