Just like a good night equals a good morning, a happy Sunday brings a happy week. In this series, we explore the end-of-week rituals of people we admire to discover how they prioritize respite and calm to reclaim their rest before the Monday madness hits. Next up, the co-founders of Shaz + Kiks share their Sunday night routine.
No one will argue that Sunday should be all about restoration and hitting pause on our "always-on" culture. But if you've ever experienced end-of-week anxiety (also known as the Sunday Scaries) then you'll also know that the common remedy for this is to open up your laptop and address anything urgent before the Monday madness begins. Well, we ask you all to resist that urge and reclaim your time, nurture your mental wellbeing, replenish your energy, and practice the art of doing nothing because no one can operate at their full potential if their glass is half full.
That's why we launched this series to spotlight the routines and self-care rituals that help other women wind down from the work week to prepare for the one ahead. This week we're putting the spotlight on the Shaz + Kiks co-founders and sisters, Shaz Rajashekar and Kiku Chaudhuri. Ever since they started their own business together, Sunday Scaries became a thing of the past—they're the boss now!
Drawing inspiration from their experiences with traditional Indian Ayurvedic practices, each product is created with nourishment in mind. But above all, their hair care line was built on the celebration of connection. The sisters champion taking care of one another and this self-care ethos extends into every facet of the brand from the ingredients and formulation to the marketing. They hope to pass on this tradition of collective care and emphasize why it's so important to invest in yourself, your health, and your happiness.
Read on to learn all about their Sunday night routine along with tips and tricks to start your own wind down ritual.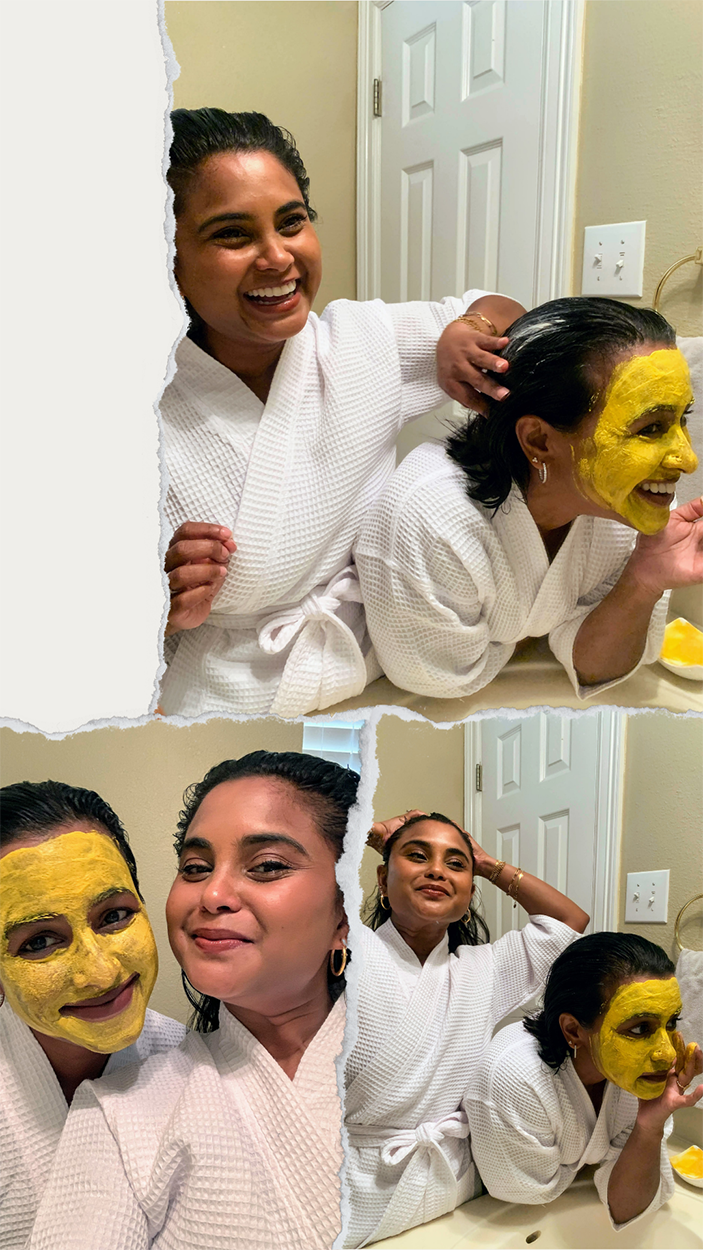 What time does your Sunday nighttime routine begin and why? 
SHAZ: For us, the most important part of Sunday night is our family dinner that we have almost every week. And that means like 15-20 people! Kiku and her family, our parents, our cousins, aunts, and uncles, close friends. I'm the cook in the family, besides our Mom, and I usually make a big Indian dinner and everyone comes over to relax, gab with each other, and enjoy the end of the week. It's early around 5 PM, so everyone can wrap up and head home by 7 PM.
KIKU: We had the same kind of dinners when we were growing up, so I love ending the week with that same family time! Besides the delicious food, this is definitely a part of how Shaz and I take care of ourselves. Doesn't matter what kind of stress is going on, Sunday night dinners are a time to pause and be grateful for one another. Shaz is definitely doing all the cooking and I'm usually the one making cocktails and joking around (not helping!). These days, the whole fam loves drinking Haus. Delicious aperitifs that are low in alcohol level. 
What is the first thing you do to help you wind down on a Sunday night? 
After our family dinners, we wind down:
SHAZ: My family cleans up after dinner while I start my wind down. I start by taking a nice hot shower (I don't wash my hair Sunday night, and use Shhhowercap to keep my hair dry). I'll double cleanse my face with Farmcacy's Green Clean melting balm and then Tatcha Rice Wash. These are my two favorite cleansers and I'm super loyal to them. I believe in double cleansing and making sure I take off all my makeup with Farmacy and then a deeper cleanse with Tatcha. And then it's "mask-and-massage" time. First, I massage our Scalp+Hair Prewash (I use the thin, fine to normal hair formula) into my scalp and hair—remember I didn't wash it so massage it into dry scalp/hair. And then I will put on a face mask—I love masks that clean and nourish at the same time. My favorite is Aavrani's Glow Activating Exfoliator mask.
If I don't happen to have that mask, I will make my own, an Indian go-to favorite: yogurt, turmeric, chickpea flour. The yogurt has lactic acid, turmeric is anti-inflammatory and chickpea flour draws out impurities. This is a very age-old Indian mask that we've been doing since we were little kids. I'll let the mask sit on my face for about 20 minutes while I massage my body with oil, right now I'm loving Esker Beauty's Restorative Body Oil. I'll then wash off my turmeric mask and then start my facial oil and massage ritual. I like using Soma Ayurvedic Facial Oil and spend about five minutes using Ayurvedic massage techniques to massage it into my face. This is the best way to keep your skin firm, increase blood circulation and increase elasticity. We learned these techniques from our grandma, who was a big practitioner of Ayurveda, especially Ayurvedic massages. I want to point out that our Scalp+Hair Prewash mask is still in my hair and I will leave it on overnight—I love sleeping in it. The longer you allow all those nutrients to soak in, the better.
After my post-shower rituals, my favorite part comes which is reading. I'm a bookworm and can go through a couple of books in a week. Other than cooking, reading is my favorite way to relax. I usually like to sit outside in our patio area if the weather is nice and enjoy the quiet sunset. Last thing on Sundays, hugs, and snuggles all around with my kids and dog and then lights out by 9 PM. Our families are early sleepers and early risers. My husband and I both have become addicted to a sleeping machine, this one is our favorite. It really helps us fall into a deep and restful sleep. Monday morning, I wake up and shower and wash out the Scalp+Hair Prewash and my hair is ready for the week.
KIKU: After family dinners, I really enjoy quiet and alone time the rest of Sunday night. I think it's really important to enjoy being with yourself and creating time for that. I'm a bath gal and really look forward to one every Sunday night. I first put on jazz music on my bathroom speakers—this instantly helps me relax and get in the mood. I fill up my tub with 90% hot water and then turn it cold for the last few minutes. My favorite bath products are Dr. Teal's Foaming Bath with Lavender, Milk + Honey Bath Soak, and Palermo Replenishing Salt Soak Himalaya Pink Salt. I add one scoop of each and then while I wait for the tub to fill up, I massage the Scalp+Hair Prewash in (I use the dry, frizzy to curly hair formula), and then use our Handmade Neem Wood Comb to comb through my scalp and distribute it evenly through my strands. Using the prewash with the comb is amazing because it's full of nutrients that your hair needs to be healthy and strong. The comb increases blood circulation which really helps your follicles and scalp absorb all those nutrients.
Then I put my hair up in a bun and light my favorite candle, DS & Durga's Rama Won't You Please Come Home (reminds me of my grandma in India picking jasmine flowers from her garden). Once the tub is filled, I get in and spend the next hour reading cover to cover one of my favorite magazines—NY Magazine, New York Times Magazine, Architectural Digest. Yes, I still subscribe to print magazines! I love getting inspiration from wonderful artists, designers, writers, and creators from around the world. (All this while I'm still hair masking with our prewash).
After my bath, I jump into the shower and wash my hair. My favorite shampoo and conditioner are ours. I alternate my face wash between this India-based Ayurvedic skincare line, Forest Essentials Facial Cleanser with Sandalwood and Orange Peel, and Eminence's Charcoal Exfoliating Gel Cleanser. After my shower, I use a very thin microfiber towel to dry my hair (I have one from India that's from the local bazaar and I'm obsessed), and then I actually never dry off my body. I let it air dry and then as it's drying, I massage in my body oil. Oil is a sealant on your skin so it's best to use when your skin is wet, so it traps in that moisture. My favorite body oil right now is Liha Beauty Idan Oil. My nighttime skincare is using facial oil, I use Moringa What's 100% Cold-Pressed Moringa Oil, and use a Kansa wand (Ranavat's Kansa Wand) to massage my entire face and scalp. The metal/Kansa part of the wand helps aid lymphatic drainage, brings oxygen to your skin and scalp, and reduces any puffiness or inflammation. I'll actually sit on my bed, watch TV, and massage with the Kansa wand. I will do it for about 15-20 minutes. My husband, dog, and I always get into bed together and watch funny sitcoms on Sunday nights so we can fall asleep laughing! Our go-to is The Office, of course!!
A little bit about Kansa: Kansa came about in the bronze age in India over 5000 years ago, and is a metal alloy of copper and aluminum. The metal used in Kansa wands is called the "bell metal" because bells—and Tibetan gongs—are made out of this same material. Kansa has the ability to balance pH. Back in the day, people ate their meals on a Kansa plate to help make digestion easier and reduce the acid content in food. They drank their water from Kansa cups because it was almost like a water filtration system—it would remove the acid content from the water.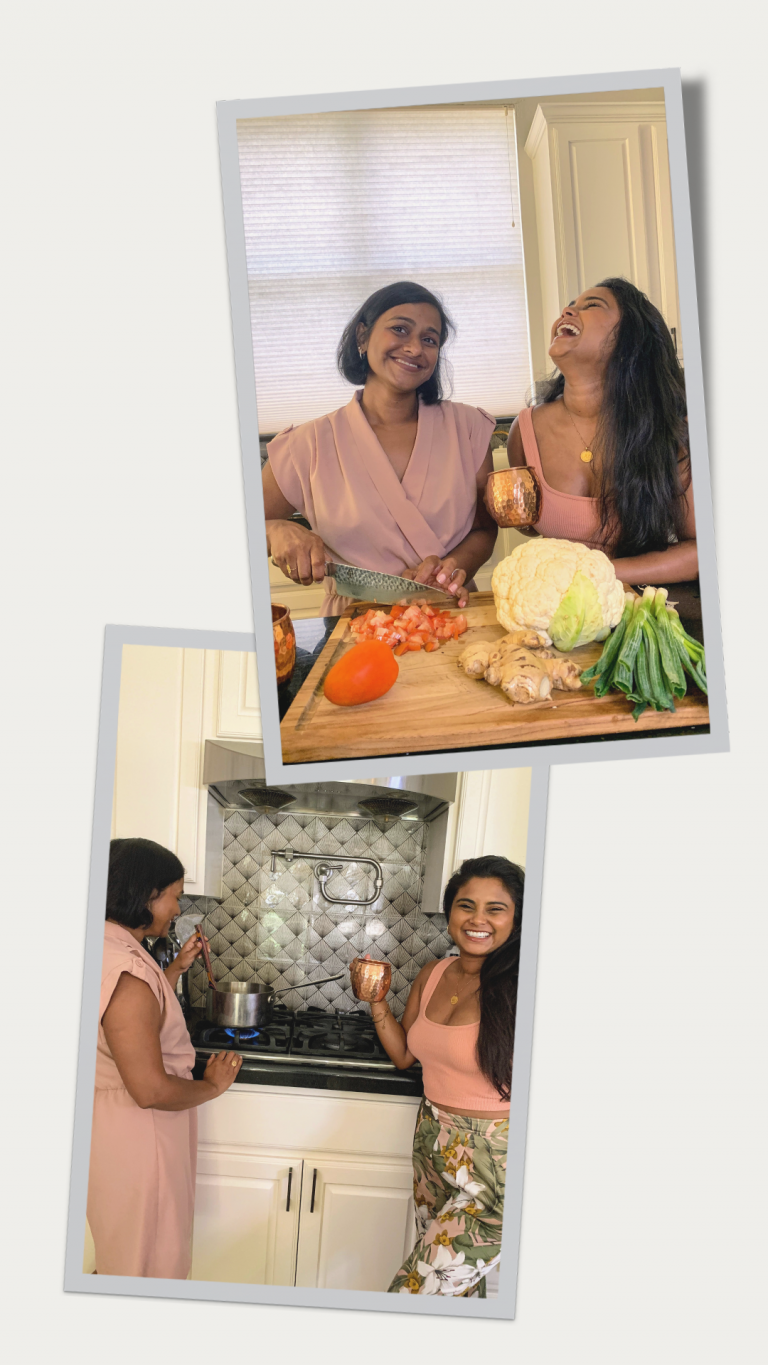 Do you get the Sunday Scaries? What does it feel like to you? 
SHAZ: After years of having Sunday Scaries when I was younger, all the rituals I purposefully do on Sunday night have really helped me overcome that anxiety. The biggest part of Sunday Scaries, for me, was not feeling prepped for my Monday workday. I used to constantly think about all the things I need to do once I get to work on Monday. Besides my Sunday calming rituals, I also make sure I spend time on Friday writing out a detailed to-do list for Monday and that helps. 
KIKU: To be honest, I used to get Sunday Scaries all the time before we launched our own business. But now, I look forward to getting back to work on Monday because I'm my own boss! Before SHAZ & KIKS though, I used to have really long work commutes and that's what I dreaded the most or a scary boss. I would get this wave of sadness on Sunday nights, feeling like the fun weekend is over. 
How do you deal with the Sunday Scaries?
SHAZ: I've identified that cooking for my family and reading are the primary activities that really help me keep anxiety at bay, so I make sure I do those activities on Sundays. It's really about identifying and then being strategic in keeping your mind calm and in a good place. It is proactive work and I have to be conscious about it. 
KIKU: To make sure I'm not getting anxious on Sunday night, I do things throughout the day that make me feel healthy (good night's sleep, workout, homemade food, little/no alcohol) and get both home and work organized for the upcoming week. Things from my nighttime rituals all help me stay calm and scheduling that bath time alone every Sunday night is something I really look forward to all week and weekend. 
Do you work on Sunday nights? Why? 
We don't work on Sunday nights, but we both do spend one to two hours earlier in the day getting ready for work on Monday. Quickly going through emails, marking ones that need to be replied to first thing on Monday, writing out our to-do lists, and doing anything else that helps us feel prepped. We've seen when we do spend a little time on Sunday getting ready for the workweek, it really helps lower Sunday Scaries or Monday Scaries!
What things should you never do on a Sunday night? 
SHAZ: I don't ever drink alcohol on Sunday nights. It disrupts my sleep and can make me feel anxious—two things I never want to experience on Sunday night. I have been enjoying all sorts of the better-for-you seltzer water and right now I'm loving Sanzo. 
KIKU: I really try to stay off my phone and social media. Getting on social media inevitably makes me feel anxious and feel like I waste too much time on it, so I stay off. While I take my bath, I keep it in the other room so I don't even have an option.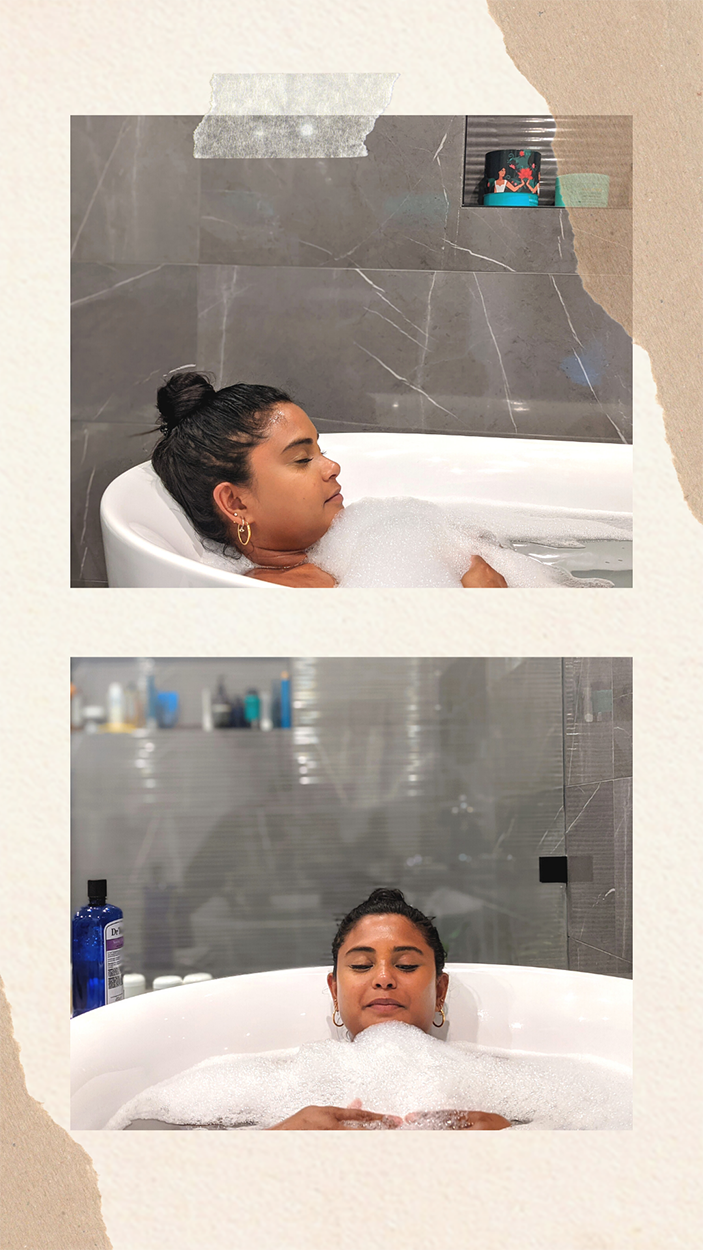 What is on your nightstand? 
SHAZ: My sound machine, a stack of favorite books, and this journal that I got from World Market. It's a list journal that asks you to write out three things on certain topics each day. E.g. "List Your 3 Favorite Travel Destinations". I like this kind of journaling because it doesn't feel like a task or daunting. There is a prompt, only three lines, and it makes me think of something positive. 
KIKU: I actually try not to keep that much on my nightstand—clutter stresses me and I like to keep my bedroom as minimal as possible. At the moment, it has a book I'm currently reading, 54 Thrones African Butter (I use it as hand cream), and Aquaphor (I always slather it on my lips).  
Do you watch TV/movies on Sunday evening? What are you currently watching?
SHAZ: I actually don't watch TV/movies that much Sunday night. Reading is my happy place, and I make sure that's what I do right before I go to bed. 
KIKU: Yes, I love to watch something happy, funny, positive with my husband and dog Sunday nights. We are either watching The Office or a travel show (we love traveling). My latest favorite was Stanley Tucci: Searching for Italy. I can't wait for the next season.
Do you do any meal prep for the week ahead? If so, walk us through it.
SHAZ: Usually for our Sunday family dinner, I make a big pot of daal or kitchari (lentil soup with rice). We have a kitchari recipe on our website that's so easy to make and is super nutritious—it also keeps well so you can continue eating the leftovers through the week. Lentils/daal and grains are my staple pantry items—they're integral to meal prepping. 
KIKU: My meal prep on Sundays is more about going to the grocery store and stocking up my fridge for the week. I usually make my weekday dinners each day and it consists of a vegetable, protein (chicken/fish), and some grains. I plan out exactly what we will be eating each night and then buy accordingly at the groceries. This way I'm not thinking the day-of 'what am I gonna make?' I hate that feeling! I like making my meals fresh and in small batches each day right before we eat. 
Do you have a favorite bedding you swear by for a more restful sleep? 
KIKU: I love Brooklinen's Luxe Sateen sheets. I'm a hot sleeper and these sheets keep me cool throughout the night. 
What books do you recommend reading on a Sunday night to prep for the week ahead?
SHAZ: I read a wide variety of books and read multiple at a time. I do love female-focused fiction, one of my favorites is The No. 1 Ladies Detective Agency series. I'm transported to another world and reading about smart, strong females makes me fall asleep happy.
KIKU: I like reading more motivational books on Sunday nights, usually written by other entrepreneurs who share their journey in building their company. I find comfort and solace hearing about honest stories, the ups and downs. Right now, I'm reading Supermaker by Jamie Schmidt.