"I haven't always known what I wanted to do with my voice—I just knew I had to do something."
And so, she did. Three years ago, Riley Reed challenged the status quo and what it means to be an artist with the launch of her creative studio, Woke Beauty. Reading the insightful prose that accompanies the stories of the subject she captures is akin to witnessing magic. Whether it's helping us to reframe life and purpose through poetry with Arielle Estoria or showing us how to live with joy and liberation like Keon Saghari, Reed's pen and paper is her microphone, and we are all ears. "What I've come to find most of all is that the birth of Woke Beauty awakened something within me," she writes. "No amount of words could possibly express my gratitude." The feeling is mutual.
It's safe to say, we are emotionally and spiritually moved by the socially conscious storyteller and photographer, and we wanted to know more about Reed's life beyond the page. So, today we're putting the spotlight on our wellness editor by sharing more about her Sunday nighttime routine, how her end-of-week rituals set her up for success, and why it's so critical to foster respite and calm to reduce overwhelm and manage those cortisol levels. Because just like a good night equals a good morning, a happy Sunday brings a happy week.
Read on to learn more about Riley Reed's Sunday nighttime routine…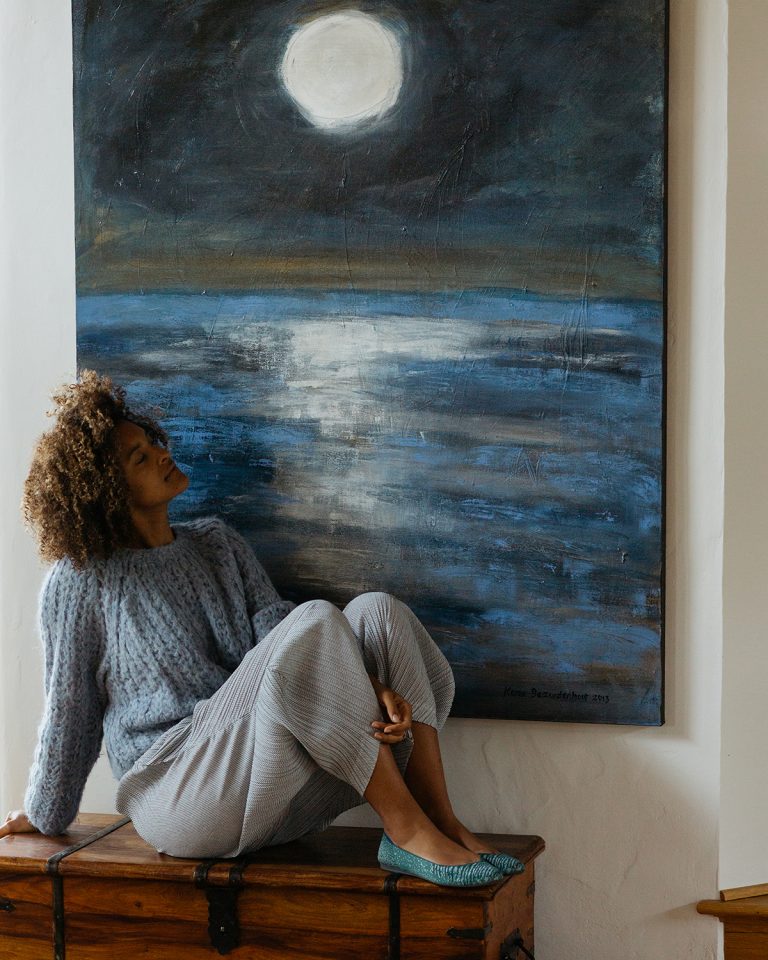 Prioritize rest.
I do my best to block out Sundays for rest but if I'm being honest, it doesn't always happen that way (working on work boundaries). No matter what, I leave the second half of the day open to flow freely so that I can start my Sunday nighttime routine in the early afternoon. A lot of my week is a mad rush. I have a tendency to underestimate how long things take. Time, in essence, is elusive. With an elongated Sunday afternoon/evening routine, I don't have to worry about packing things in. I can finally chill and let things happen as they may.
Take it outside.
Oftentimes, my Sundays are spent with my husband, Jack. If it's sunny, we love spending the day outside. We'll go on a hike or take a dip at Barton Springs. It's so nice to be in nature together, even if it's just a walk through the neighborhood with our dogs. The sun sets in front of our house just beyond the oak trees and I love catching it right before it splashes through our front door's stained glass.
Walking phone-free feels rhythmic and meditative. It allows my mind to think freely with each stride.
Sometimes I'll go with my husband, Jack, so we can share our thoughts with each other. There's something so bonding about walking in step with someone you love. The movement either incites dynamic conversation or comforting silence. It's a great way to sync mind and body. Starting and ending the day with a walk feels cyclical and grounding. It also chills out our youthful, energetic Pitbulls. 
2 of 4
Photo by Whit McGuire.
But first… clean up!
I start Sunday evenings with a walk before scanning the home to make sure it's clean and tidy. My days are so busy and with a good chunk of my work happening in the home, things undeniably pile up. While maintenance is ideal it's just not always attainable. Something's gotta give.
I like using Sundays as a reset, a clean slate. The sound of the dishwasher and laundry is soothing and calming. It feels like I'm literally washing any grime from the week away.
I wash my hair once a week (at most). It's a major process and usually involves a hair mask that needs time to work its magic. Admittedly, Jack and I tend to eat dinner Eurostyle (pretty late). I'll start cooking around 7 pm (while my hair mask does its thing) and love to make a batch of nut muffins for the week while things are simmering. I have a tendency to skip breakfast and personally it doesn't set me up for high energy or productivity. Nut muffins are easy to grab and are a great source of nutrition. After dinner, I'll wash out my hair mask and go through my skincare routine.
Jack and I are major film buffs. We love nerding out on movies and shows. Right now we're really into Mare of Easttown. Before bed, I do a big brain dump, write down my wins and lessons from the week before and scan my schedule for the week ahead to make sure I've got everything in order. Sometimes I'll meditate for a few minutes, other times I'll read a few pages from an easygoing book, always with a candle burning. We usually turn the lights out around 11 pm.
Favorite cleaning product: Branch Basics
Favorite candle: Diptique Baies
Favorite hair mask: Curls Blueberry Bliss Reparative Hair Mask
Favorite face mask: Cosmedix
Start your nighttime routine in the A.M. 
As a solopreneur and artist, every day is a Wednesday. My "scaries" aren't specific to Sundays but I do get evening/nighttime anxiety. Actually, I had a panel done recently where I learned that my cortisol spikes between 7-9 pm. When I feel anxious, my energy elevates and my brain has a tendency to spiral. I get concerned that I haven't done enough or that I'll miss something in the day ahead. I conjure up falsehoods and worry about anything that comes up in my cyclical thoughts.
To combat the spike in stress and shame, I actually do my best to have an efficient morning. Steven Pressfield talks about the little wins that lead to productive work and a mind at ease. I work out early and follow a regular supplement routine. I don't have coffee past 10 am and keep it to one cup. This way, my body can maintain equilibrium and steadily settle in as the day progresses. In the evening, I like to outline my wins and lessons from the day and my intentions and priorities for the next day.
Mantra I love: Fortitude and Fluidity.
Write it down.
If I work on Sunday night, it's only to write. It is the day to clean, to reset. No matter what I'm writing I feel like I'm doing that. I think a lot… almost all the time… and oftentimes about serious or esoteric things. Writing allows me to empty my mind so that there's more space to chill out, have fun and dedicate quality time to my relationships.
Turn your phone off.
I'm really careful not to watch anything triggering or to check any accounts (email, bank, Instagram, etc). There are too many outside forces that could potentially affect my mindset and I can't afford that on a day of rest. I also do my best to save Sunday nights for myself and Jack which means no socializing outside the home. So much of my work is dedicated to people. Setting that boundary is really important.
Make space.
In the past, I'd have a lamp, a candle, a dream journal, moisturizing oil, and the current book I'm reading. But we recently got rid of our nightstands as we're redecorating our bedroom. I've loved having a clear space next to the bed. I've heard the bedroom should be dedicated to sleep, intimacy, and nothing else. There's something so beautiful, simple, and sacred about that intentionality.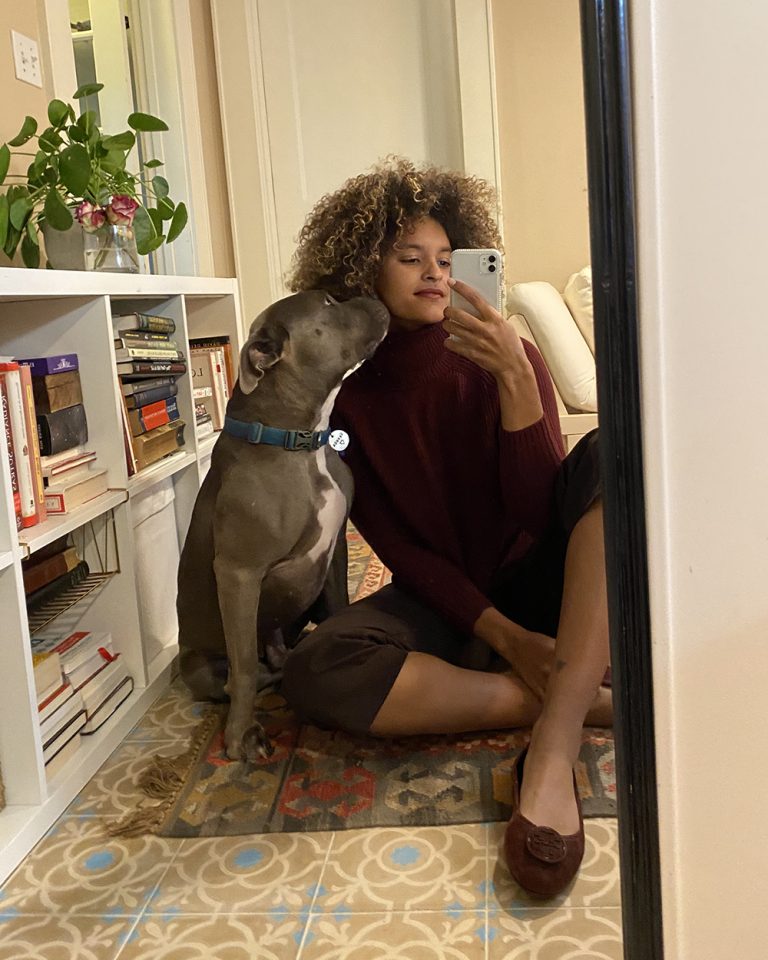 Prep ahead.
I keep it simple with a batch of nut muffins for mornings on the go. I prefer cooking as I go through the week.
Make it cozy.
Dazed but Amazed! Loveee their linens. We have this curated tonal set. (Please note, the brand is currently in "hibernation" for one month and will return in mid-July.)
Read!
I recently read Klara and the Sun and finally got through Atomic Habits. Currently reading Lustre.