Up next, food and beverage multi-hyphenate, Shanika Hillocks' morning routine.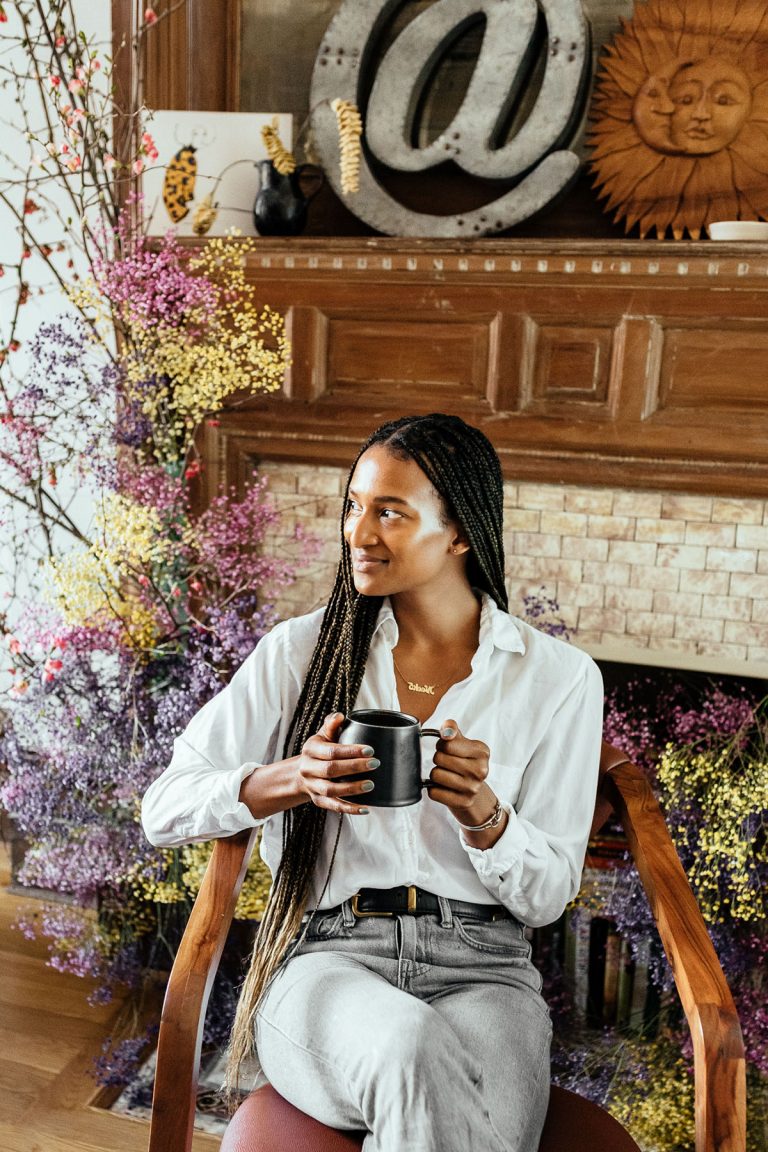 It's easy to treat your job as just that—a job. And for many of us, it can become a means to an end. That end being the fortnightly paycheck that helps to feed, house, and clothe us and/or our family. But what if you approached your "job" with an objective? What if you created a plan around an end goal? What if you did every task with a purpose? Instead of just clocking in and clocking out, each day would become another step closer toward your goal, you'd find meaning in your work, and you'd go home with a sense of fulfillment and pride in what you've achieved.
Seeking value and substance is at the heart of everything Shanika Hillocks does. It's why she's become known as the driving force behind the intentional influencer marketing movement. And no, this isn't just another marketing buzzword. Hillock's Instagram post titled "Are you on social media or are you using social media?" really sums up the essence of her work and the social movement that's followed as a result. She writes: "My question doesn't just apply to the use of in-app features or best practices for sales conversion. It's about taking care of the people behind the screen. The honoring of your community, your self—the Higher Self—while existing in this world." This approach doesn't just apply to her own use of social media either, it informs the intentionality behind everything she does. It reminds me of the interlude from Solange's album When I Get Home: "Do nothing without intention. Do nothing without intention."
By day, Hillocks' leads influencer marketing strategy at the largest winery in the country, E. & J. Gallo Winery where she is inadvertently disrupting the digital space and redefining what it means to be a luminary in the space. She's also a prolific scribe and her words can be found on major platforms from Domino to Condé Nast Traveler, Healthyish, and Wine Enthusiast. Most recently, Shanika took her love of storytelling into the podcast space as the host of Pineapple Radio for season 2.
So, of course, we were thrilled when Hillocks invited us into her New York home to share more about her intentional life, career, and the morning routine that sets her up for success.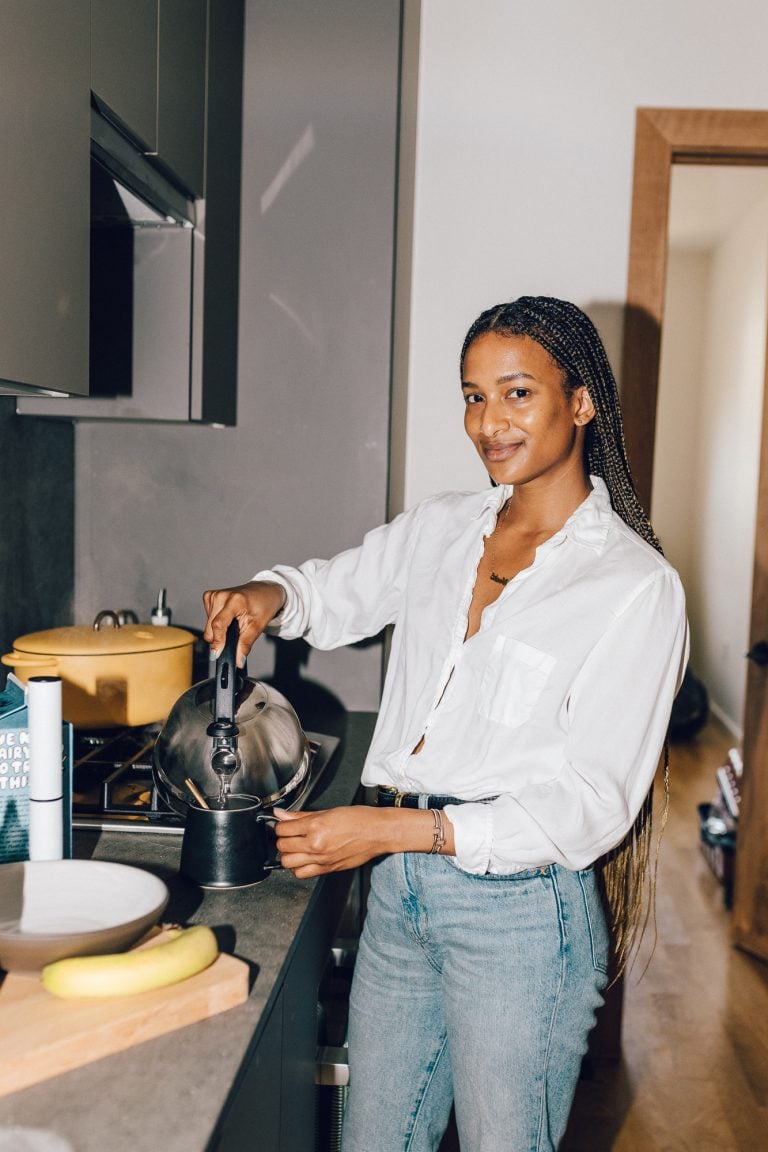 Tell us about your role as the lead of influencer marketing at E. & J. Gallo Winery? 
I made the transition from agency to in-house at a time when I was craving strategy, creative thinking, and cultural relevance within my work. At E. & J. Gallo, I counsel some of the largest wine brands and our external agency partners that execute influencer marketing. No one day is the same, but overall, I offer my strategic point of view and highlight potential areas of opportunity based on industry and cultural happenings. I also have the pleasure of collaborating with our internal cross-functional partners who I learn from and who challenge me every day.
What drew you to New York from Florida and how has it changed your life/career and shifted your perspective? 
I was born in Long Island so I've always had a connection to New York; visits to the city as I got older to see family heightened my infatuation with the city's energy and culture. One of the biggest perspective shifts for me occurred as I moved throughout uptown, residing first in the Bronx, the Upper West Side, then finally, settling in Harlem. It was the first time in my life where Black and Brown people were the majority, owning businesses, playing, and simply being, unapologetically.
Observing the subtleties of Blackness in Harlem was a healing balm and the affirmation I didn't know I needed as someone who was often "the only one" growing up.
I'd thought I'd come here for a career, but this, too, was the most significant awareness. In terms of lessons, I've held onto two major keys: (1) if you're in the room, you're meant to be there, and (2) this city is definitely what you make it. There are so many nooks and crannies to discover: take a different route, make eye contact, say "yes" to the invitation; the possibilities are endless.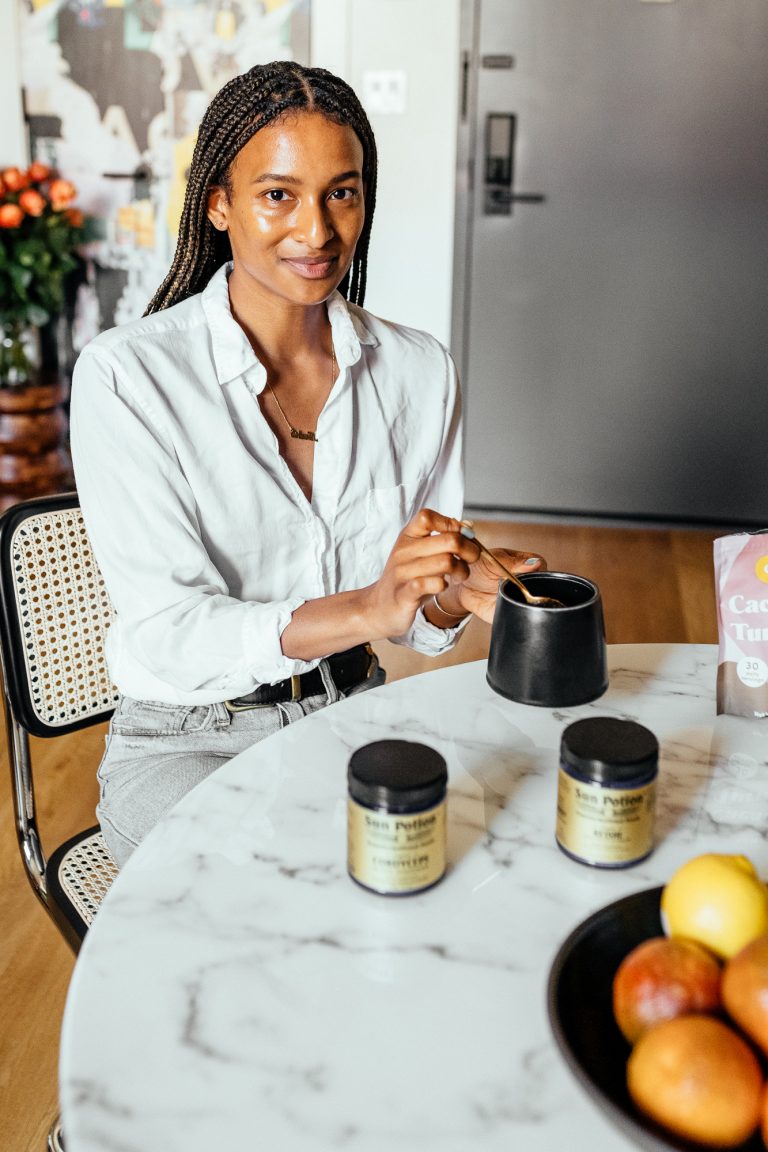 You also work as a consultant and lead digital strategy for brands to ensure their marketing campaigns are inclusive, equitable, connect and convert. Are you seeing a shift in brands towards real inclusion across all levels of their organization? 
I challenge every client to observe their performative optics and understand how they have participated. The work isn't simply done by enlisting a consultant, writing a statement, or posting a black box. It's a life-long commitment personally, not just to check a professional box. It starts with radical honesty in how a person, team, or brand has contributed to the rhetoric, how they are going to pivot, and the action items that will be taken to ensure accountability.
My recommendation is to stop marketing to people and start humanizing them. I hope that marginalized groups no longer need to trauma bond, nor be the ones solely sought after to create the solutions.
Now, let's get into your morning routine. What does a typical day look like for you? 
Since quarantine, I've leaned heavily into a morning routine. I'm most energetic and alert at this time of day, so I take full advantage of that energy. Upon rising, I drink a full glass of water, tongue scrape with copper, then take my vitamins. Following this, I like to sit in my favorite rocking chair and take a few focused deep breaths or start a brief guided meditation. After that, it's back to the room to make my bed while listening to The Daily, one of my favorite podcasts. Taking the time to do this sets the tone for the rest of my day.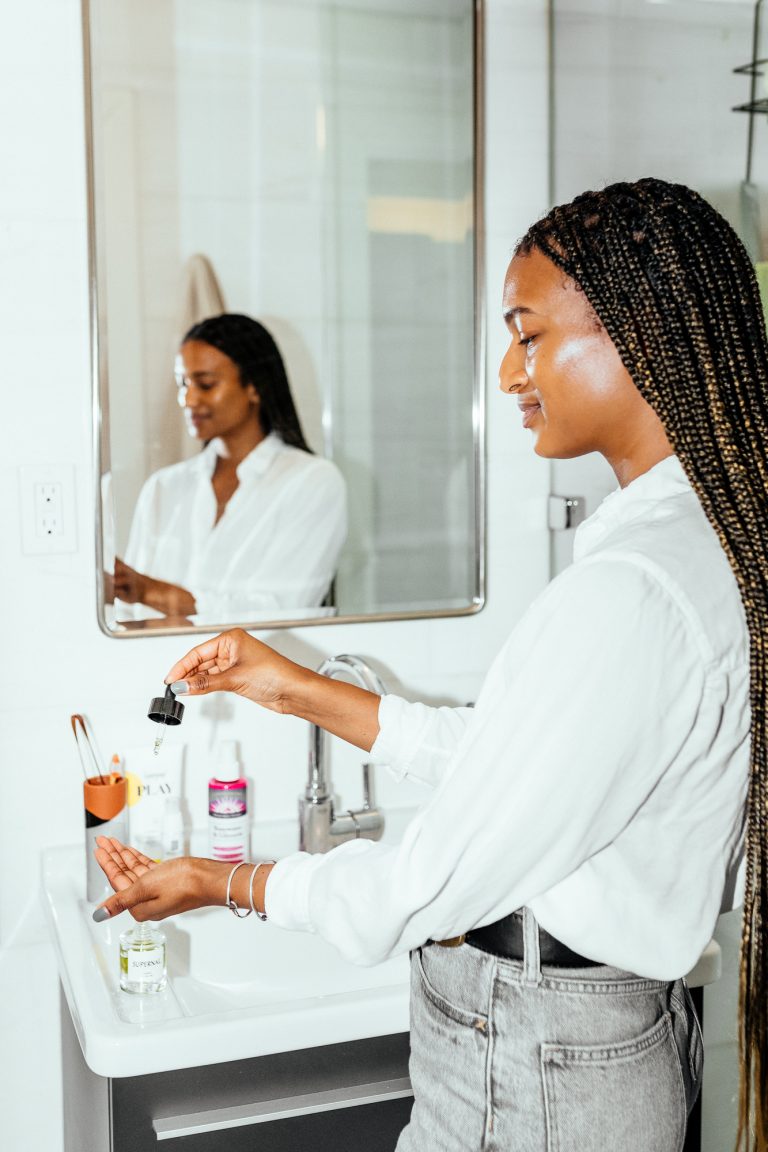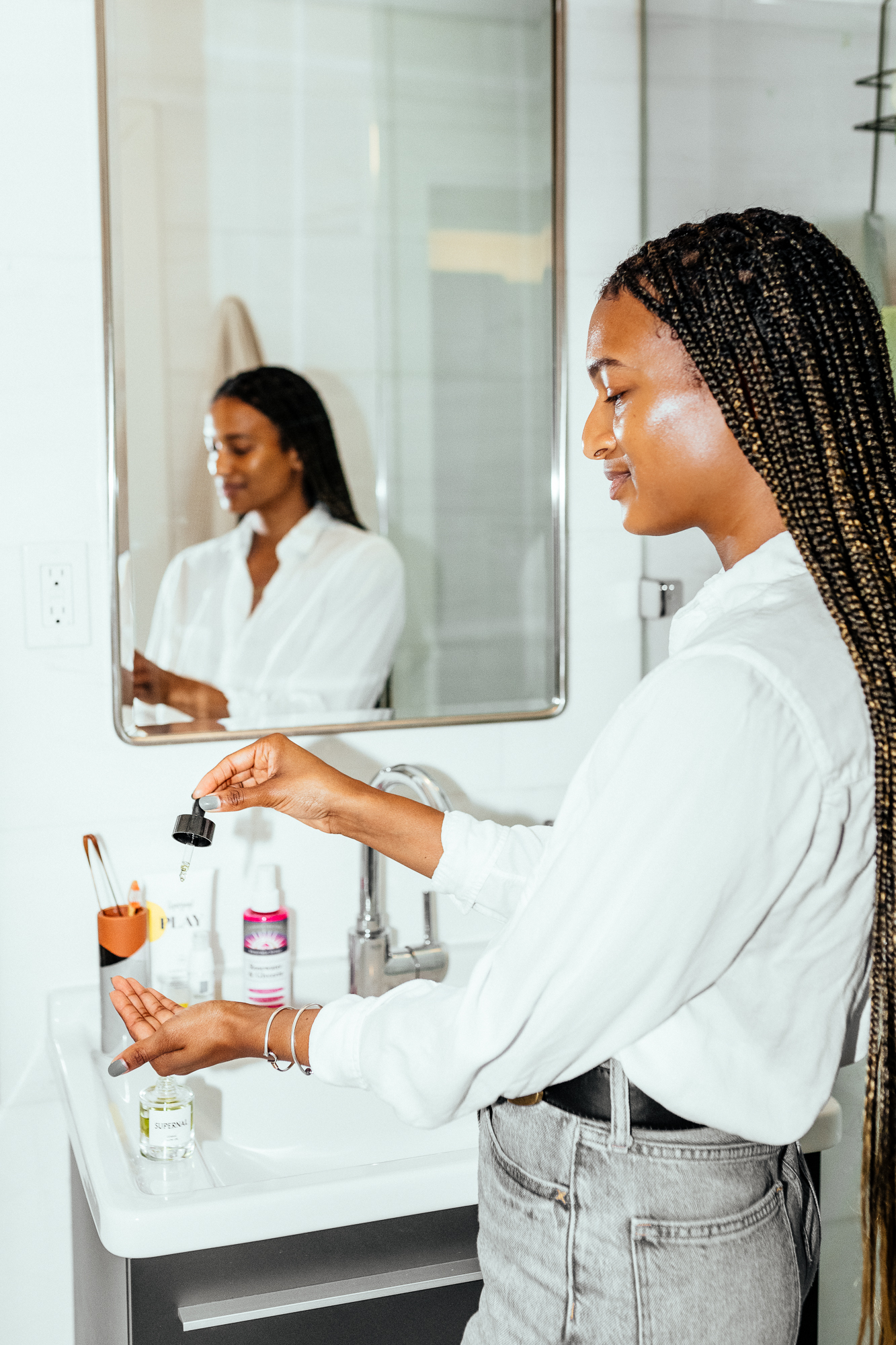 What time is your wake-up call? 
I wake up between 6:30 to 7:00 AM to optimize my morning and savor my routine. I'm a die-hard eight-hour-plus sleeper.
Sleep is the most accessible form of wellness and it keeps me looking, feeling, and performing at my best.
What's the first thing you do when you wake up?
Breathe deep, hydrate, express gratitude.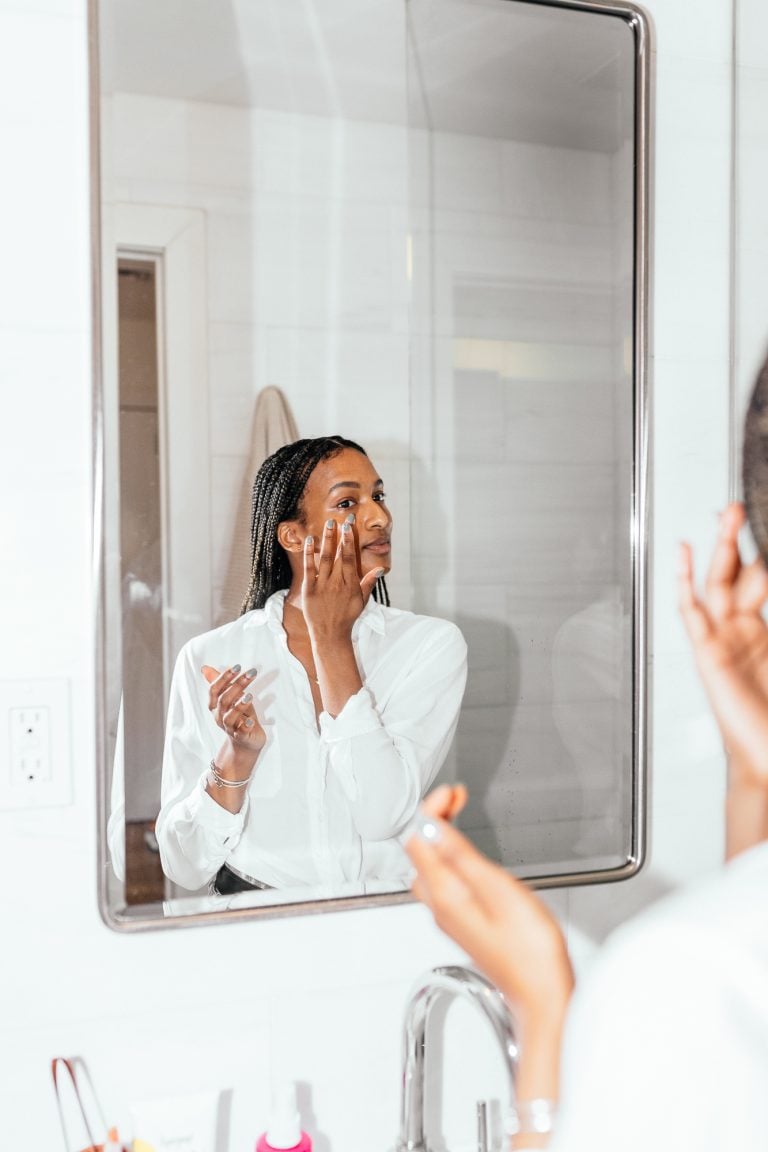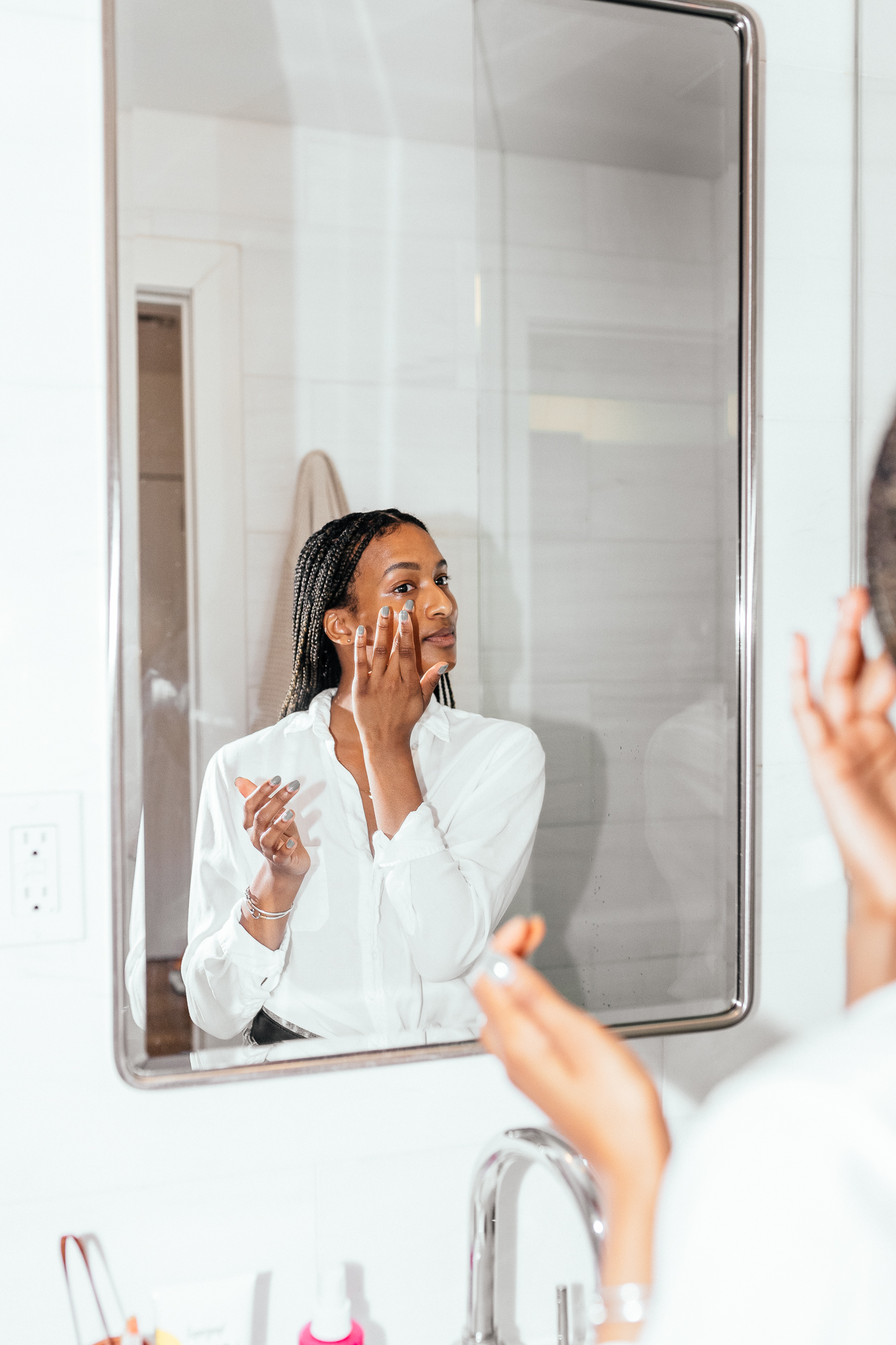 What does your morning, pre-work routine look like? What rituals set you up for success?
After breakfast, I flip into work mode, and light palo santo or incense to cue the transition. The evening ahead of a workout, I like to pick out my outfit, bring down my mat from the closet.
How has your morning routine changed during quarantine and why?
The awareness of myself and my surroundings in the morning has changed significantly. As city dwellers, we're trained to create space adjacent to others around us, taking up small spaces of a subway platform or train car. Without the daily commute, I've been able to work out three to four times a week, spend time outdoors, daily, and make myself a balanced breakfast at home.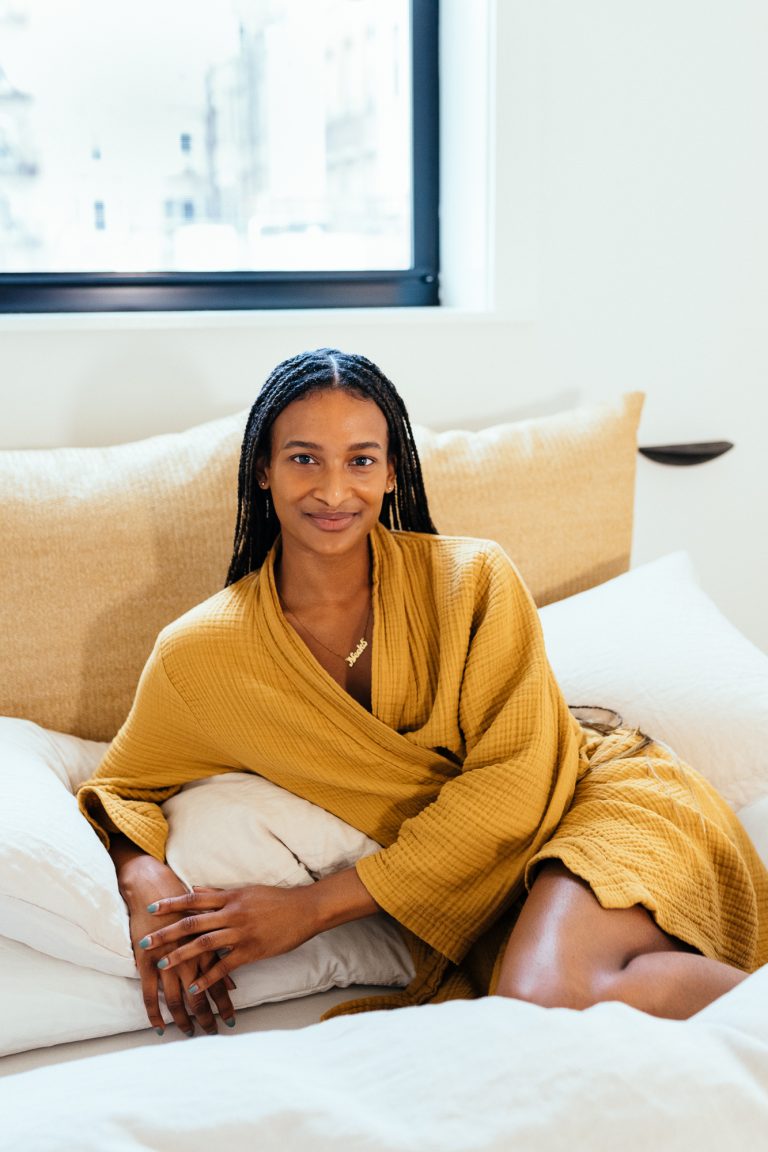 Describe your morning beauty routine from start to finish.
I follow my dermatologist's instructions to a tee; they include a gentle hydrating cleanser, vitamin C, moisturizer, and sunscreen. I also luxuriate in Supernal Cosmic Glow Oil, my favorite face oil, and do maxillofacial massage with my hands to circulate blood flow. The oil is a bit of a splurge, but my skin loves it and the aroma is divine. I also like to add chlorophyll or The Light Ray to the second glass of water I have in the morning. 
What do you eat for breakfast?
Oat bowls are a nutrient-dense favorite. I enjoy making them with chia and/or flax seeds, dates, sunflower butter, banana, and a splash of oat milk.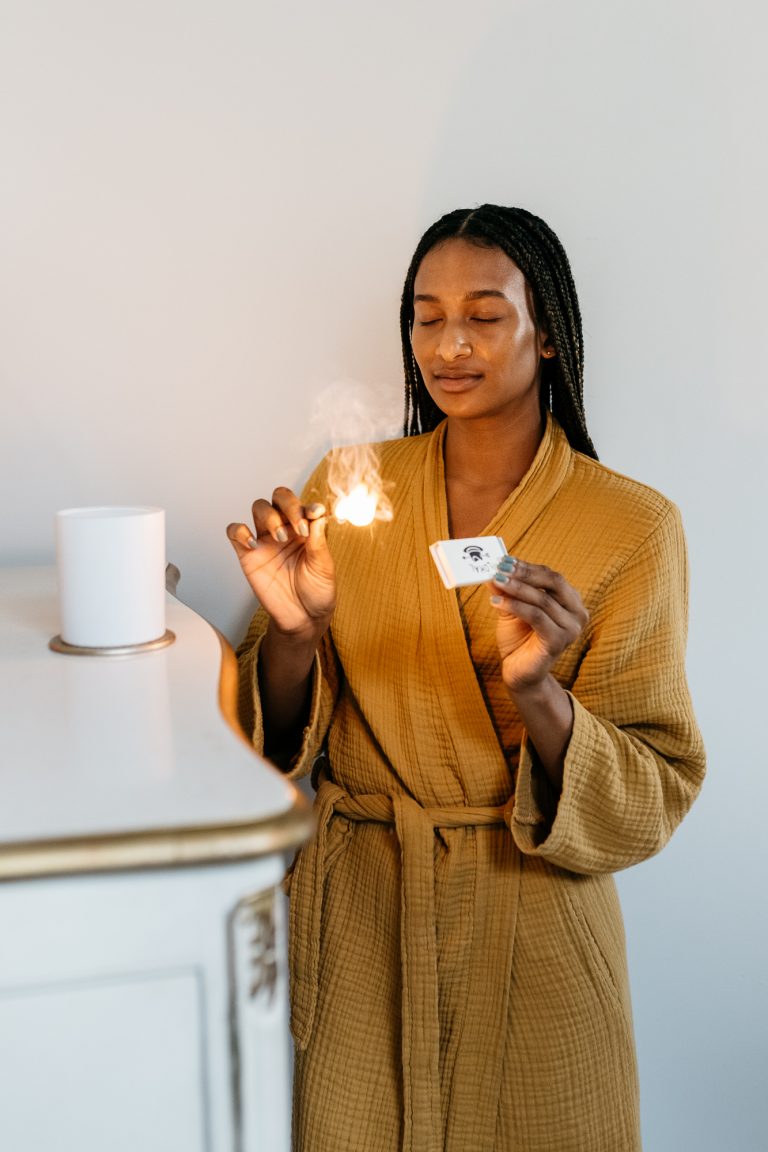 What are your morning media rituals? 
I consume a digital cocktail of several outlets to keep me on the pulse of cultural and industry happenings. Some of these include NPR and The Daily podcast, Alicia Kennedy's weekly newsletter, a read of Mark Brown's newsletter, an article from The New Yorker, a few scrolls on Instagram, and a Google search for the latest influencer marketing news.
What are your favorite books?
All About Love by bell hooks and The Bluest Eye from Toni Morrison.
What do you always have on your nightstand to ensure a smooth, successful morning?
I've downsized from a nightstand to floating shelves to align with my minimalist bedroom design. That said, I have enough space to keep a glass of water nearby. I utilize my windowsill and keep a journal at hand to take notes on any dreams or musings I might have from the night before.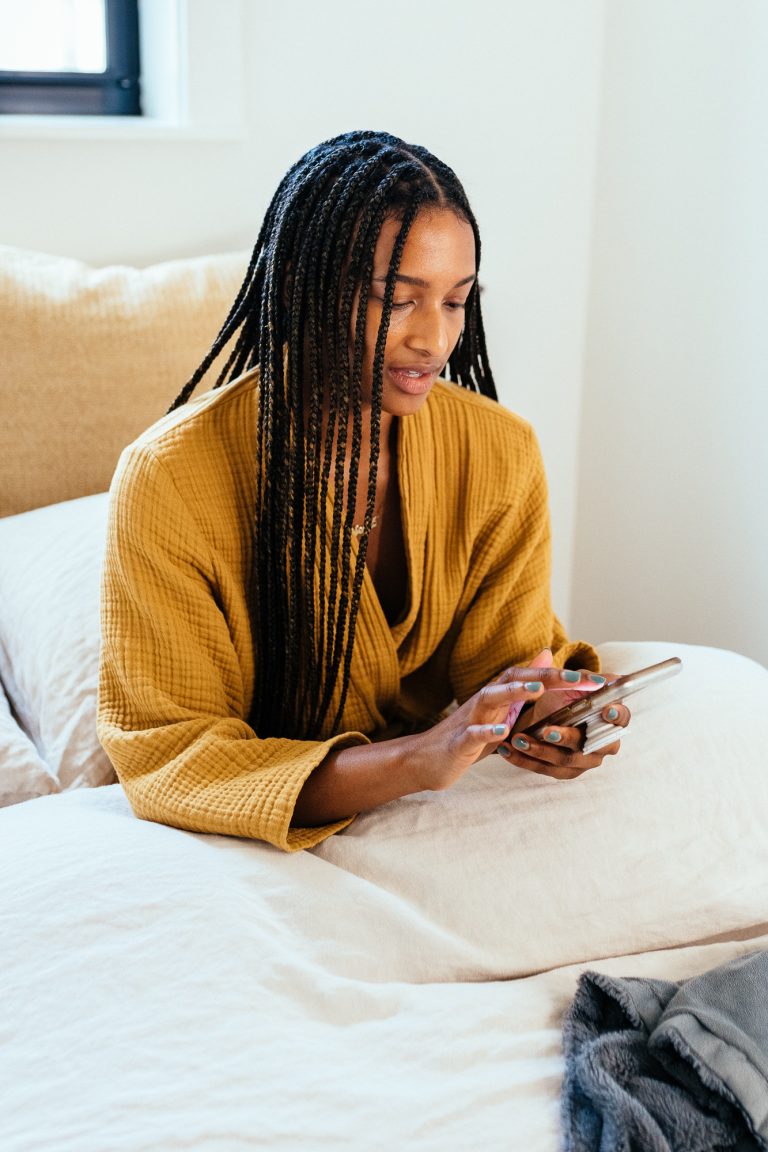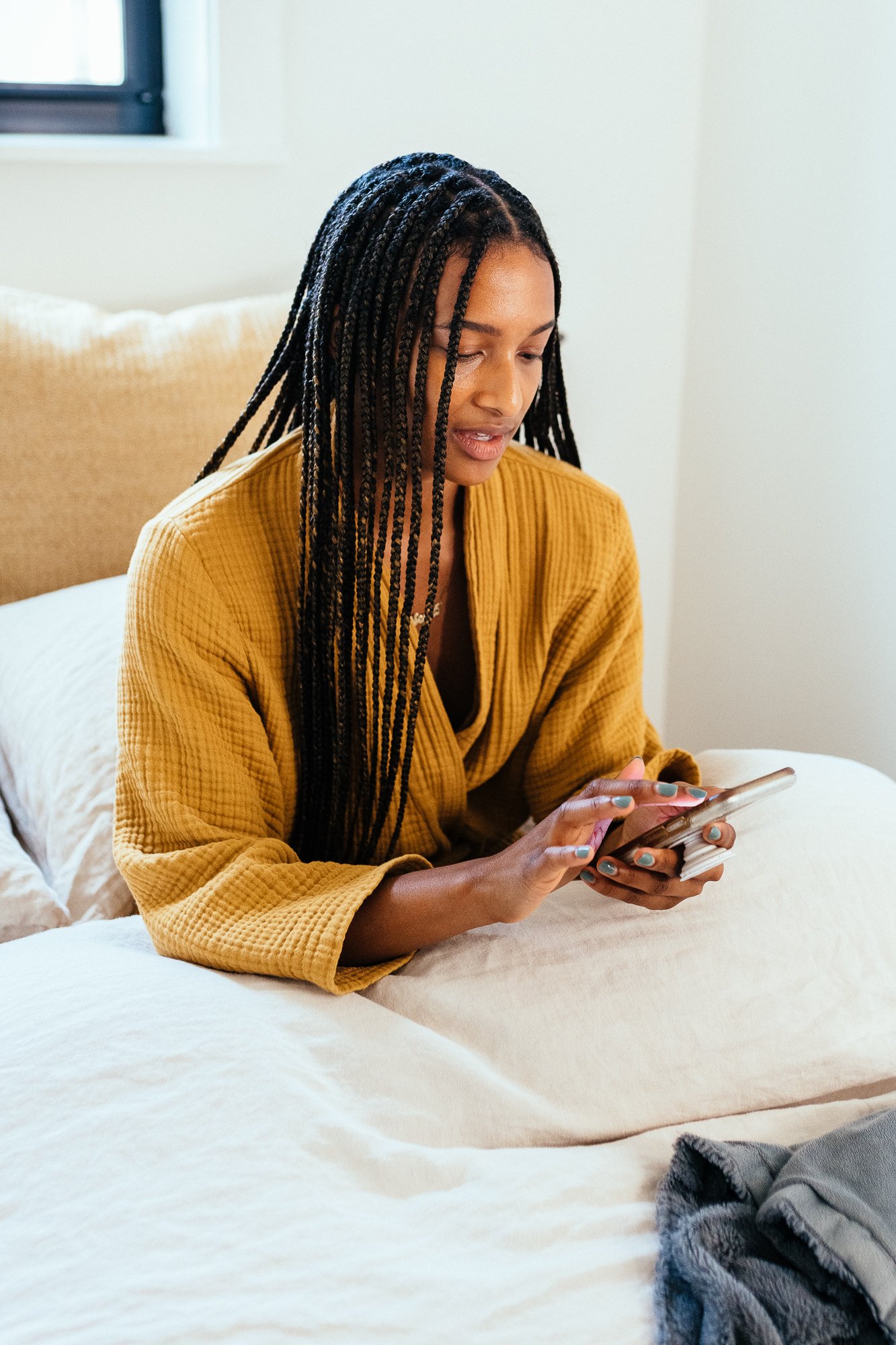 What's your favorite getting-ready soundtrack?
A mix of old-school R&B, reggae, and new-school vocals. Lately, "Leave the Door Open," by Silk Sonic has been on repeat.
Do you work out in the morning? If so, what do you do, and for how long?
I alternate between Session's HIIT virtual workout, Alo Moves yoga online, or East River Pilates, and will workout from anywhere from 15 to 45 minutes depending on the offering.
What's your daily uniform? How has that changed during quarantine?
I've been guilty of the work-day mullet; I've kept sweatpants from Uniqlo in rotation and pair them with a button-up from Grayson or Madewell, and my fur-lined crocs. With the season change, I've started to incorporate blazers, statement pants, and dresses.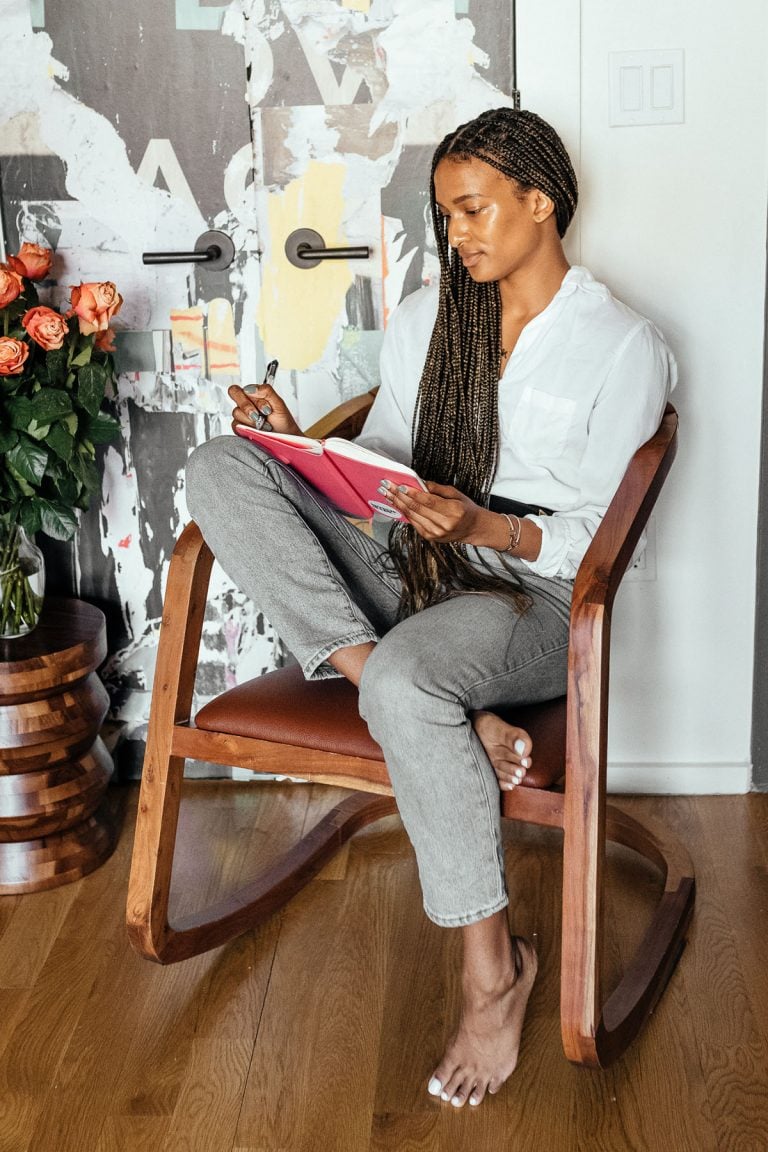 If you had one extra hour every morning, how would you use it?
Make a more decadent breakfast, ideally with a friend.
What are one or two things you do every day to live a more present/mindful/joyful life?
With Zoom fatigue and social distancing still in effect, I send voice notes to people I appreciate throughout the week.
If you could pin your success down to one thing or one moment, what would that be?
Advocating for the people you believe in, including yourself.
My greatest success has been the ability to connect someone to an opportunity, both personally and professionally. I am where I am because someone advocated for me, and am encouraged to pay it forward.
11 of 12


Sentence Finishers:
I never leave the house without… my mask.
If there were more hours in the day, I would… read.
Healthiest morning habit: movement.
Worst morning habit: Instagram scrolling.
One thing I want to be known for is… my humanity.
The one thing I fear the most… is the construct of time.
When I feel that fear, I… take three deep breaths.
The book I always recommend is… All About Love by Bell Hooks.
The three traits you need to succeed in life are… to release your ego.
Bath or shower? And what's your favorite shower/bath product? Bath. Fresh eucalyptus, roses, Dr. Singh's Mustard Bath, and Molton Brown bathing oils. 
Love this story? Pin it?