You may know Athena Calderone from her lifestyle site EyeSwoon, or perhaps the Brooklyn-based entertaining expert's bestselling books, Live Beautiful and Cook Beautiful, the latter of which won a prestigious James Beard Award for photography. Design lovers might be most familiar with her Instagram page, where over 750,000 followers (including Jennifer Aniston and Rachel Cargle) flock to her serene, texture-filled style. But regardless of your introduction, it's clear that Calderone has great taste, a fact that's evidenced in the multidisciplinary creative's latest medium: a collaboration with the textile masters at Beni Rugs.
The resulting fall collection, "Broken Symmetry," features 12 high-pile rugs handwoven by Moroccan artisans and custom-dyed with sun-faded hues inspired by Calderone's travels to Marrakech—a 2005 trip that continues to influence the designer's style. Equally meaningful is the work of Mexican architect, Luis Barragán, which inspired the geometric shapes of Calderone's collaboration with Robert Wright and Tiberio Lobo-Navia, co-founders of Beni Rugs. Given the handmade nature of each piece, no pattern is truly perfect, but that's the beauty of Moroccan rug making and a boon to those searching the internet for unique home treasures.
We spoke with Calderone and the Beni Rugs team to learn more about "Broken Symmetry," what the collaboration process was like, and what makes them most proud.
*photography by Simon Watson.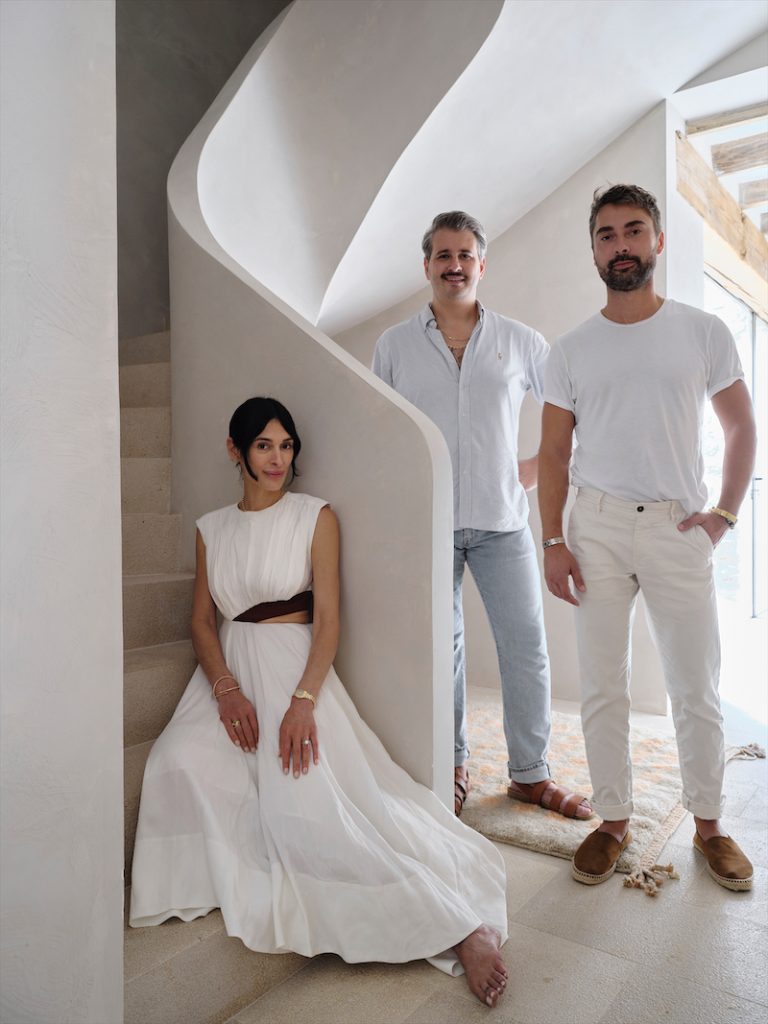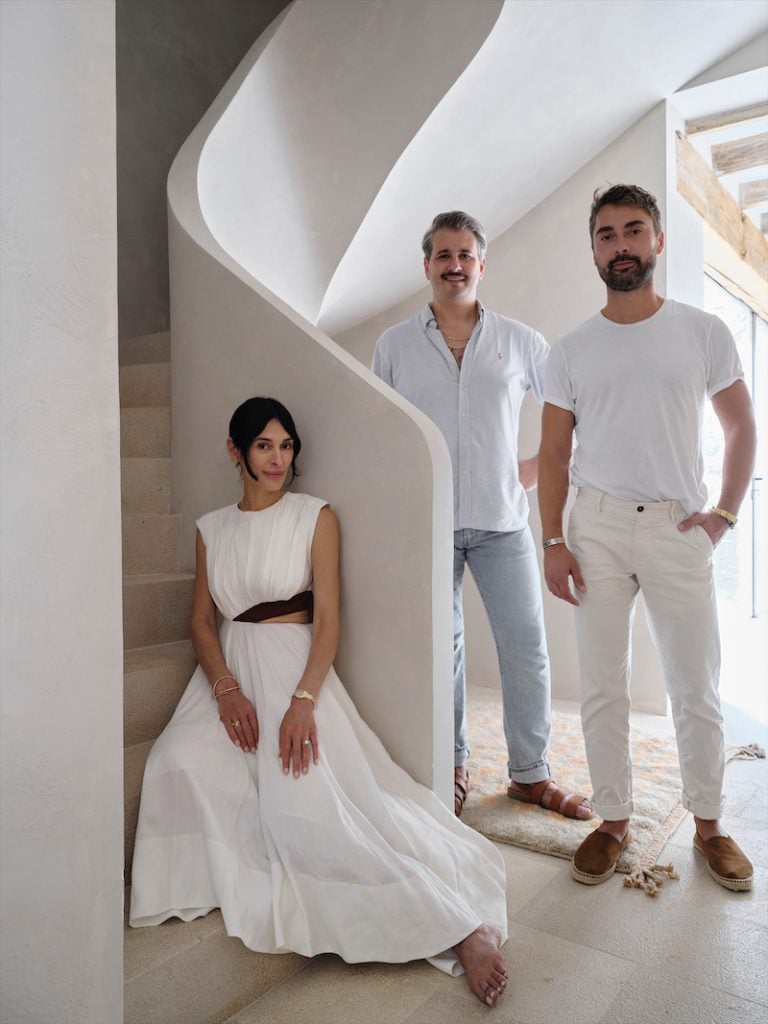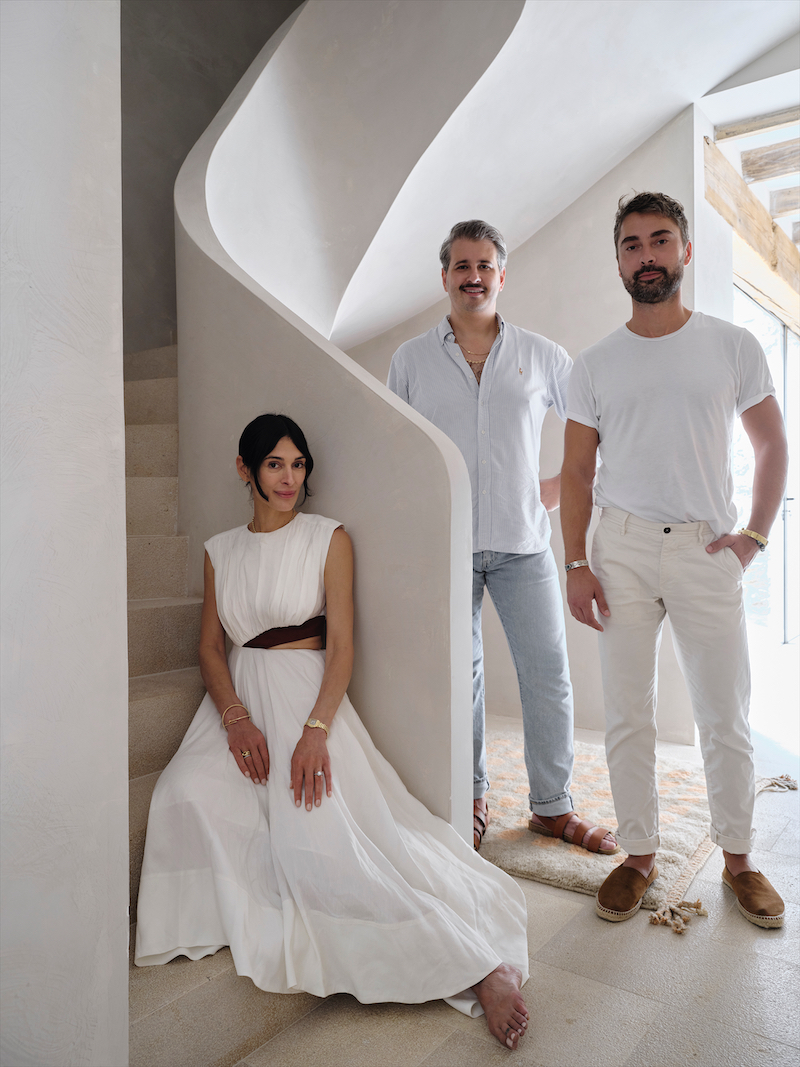 This is your first major foray into product design—what has been the highlight of this experience? And the major learning curve?
Calderone: The highlight was definitely the process—where I started was never where I ended up. I would distill, refine, take away, add. Oftentimes, I would go in circles only to end up where I began while at others, I'd come to a completely new place I never imagined to land. While frustrating at times, I learned to revel in the rumination, and like Alice, allowed myself to go down the rabbit hole where suddenly, roadblocks turned into resolutions. I also loved the opportunity to witness "the charm of the hand" and discover the magic art of Moroccan rug making. I have always been intrigued by the behind-the-scenes in my design work so this collaboration felt like a natural extension of that.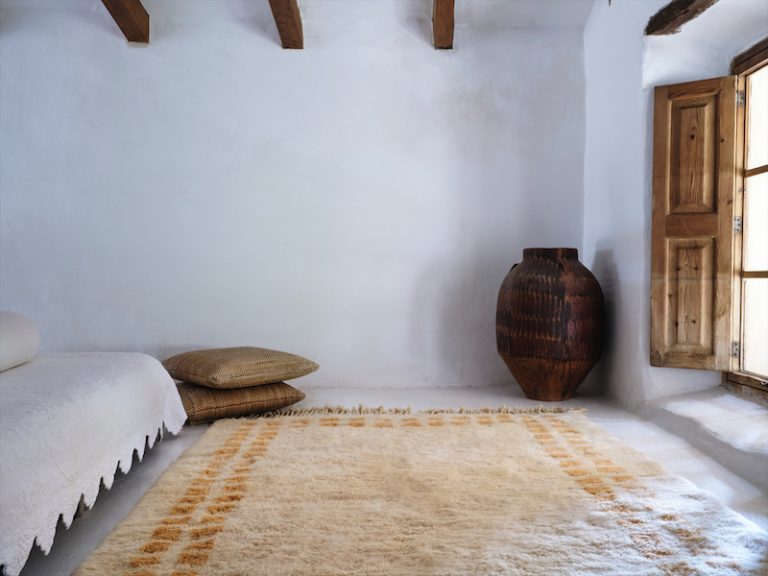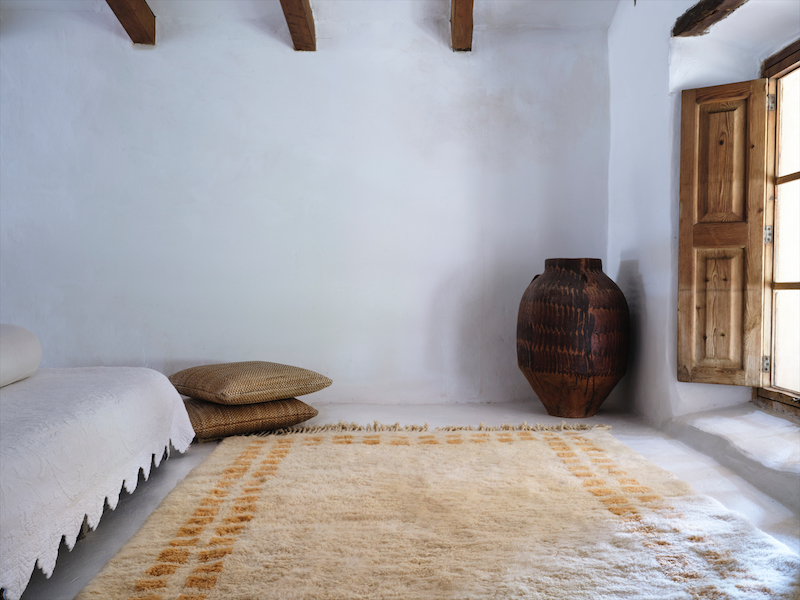 What was the collaboration process like?
Beni Rugs: The collaboration process was effortless, enlightening, and fun! We traded reference images, chatted on the phone for months, and sent samples of dyed yarn back and forth between Marrakech and NYC. It culminated in an unforgettable trip to Mallorca to photograph the collection. This was the first time that we had seen the rugs as a collective—we were like kids on Christmas morning tearing open the FedEx packages.
Calderone: The Beni team and I share a love of the craft, the unknowns, the juxtapositions, and the imperfections Moroccan rug making celebrates. This was the common thread woven into each and every piece. I am truly grateful for such an enlightening and joyful experience.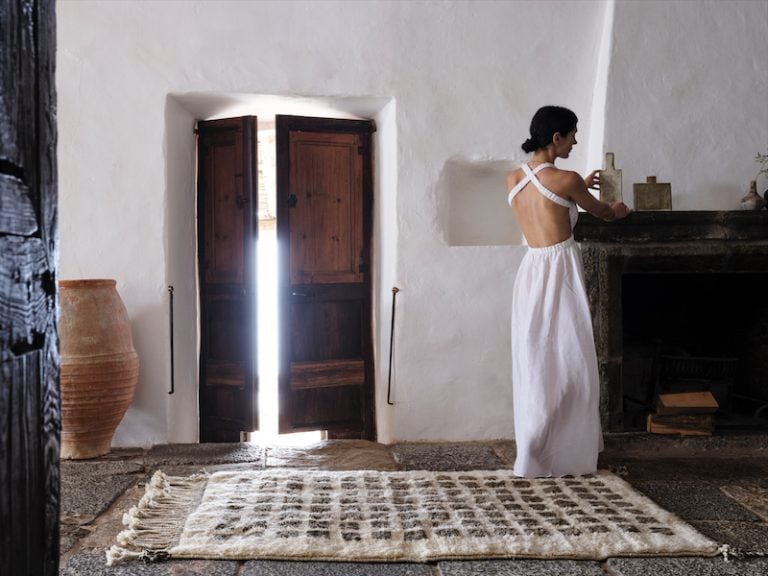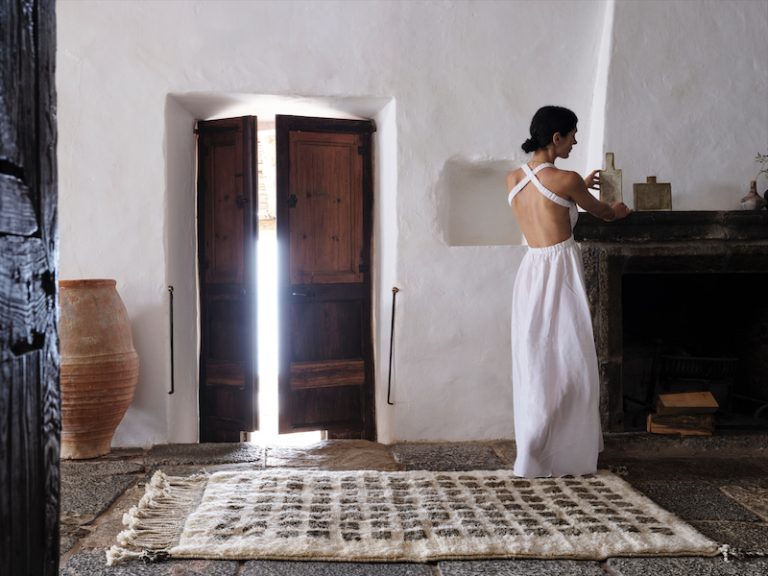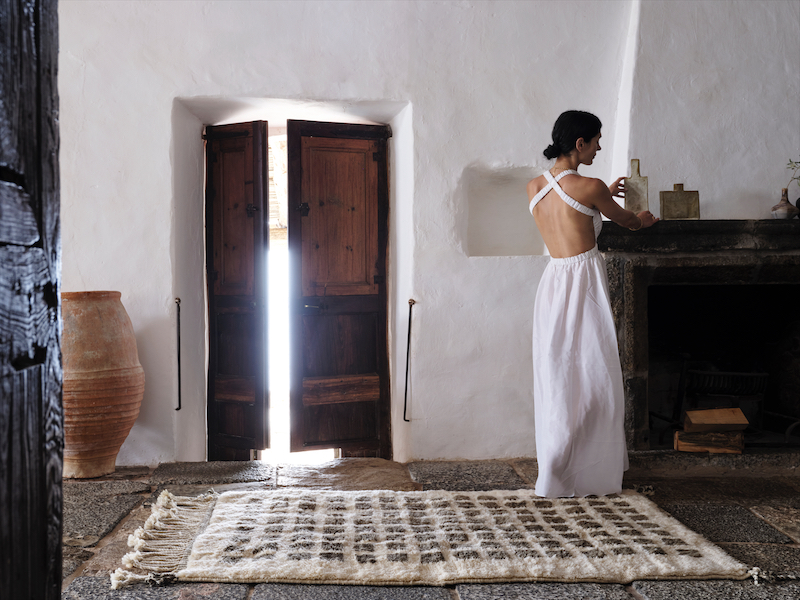 I'd love to know how you landed on the colors you chose.
Calderone: During my first trip to Marrakech many years ago, I trawled the souks for rugs and learned to appreciate texture and patina through the new textiles, muted sun-washed hues, and rudimentary materials I found. That experience left an indelible mark on my design point of view and how I see the world. It also allowed me to see juxtaposition, symmetry, and imperfection through a new lens. I drew inspiration from that trip along with the shapes, tones, and textures I experienced and infused it into this debut rug collection. These sun-muted shades also feel timeless, pairing the rustic with the modern.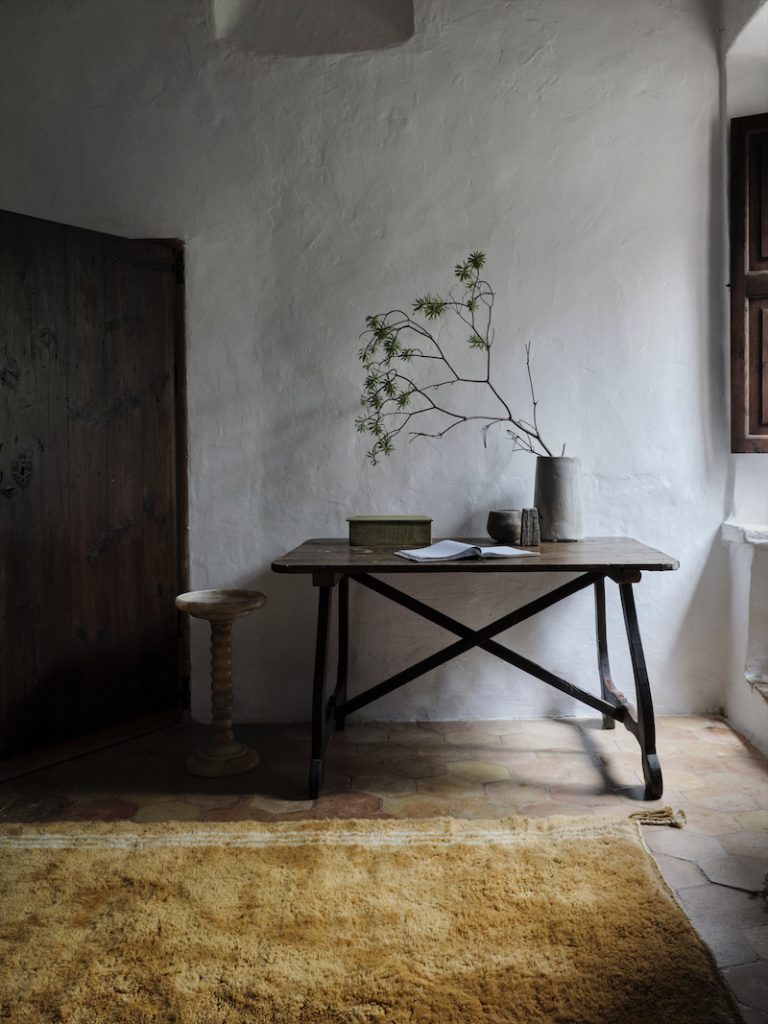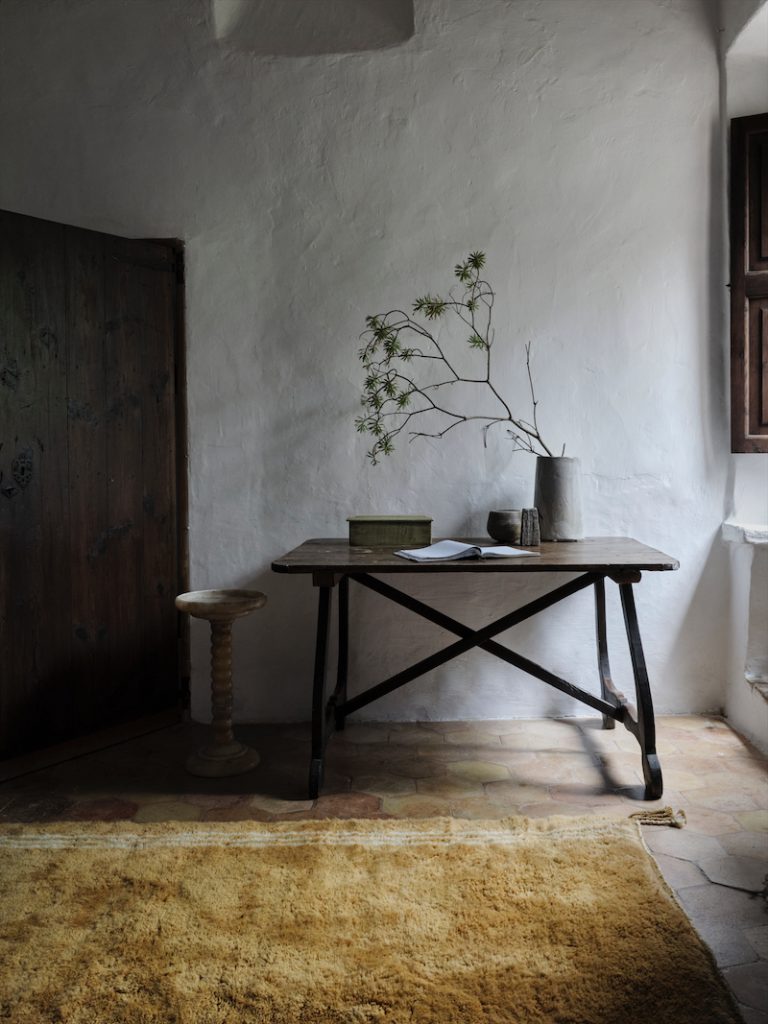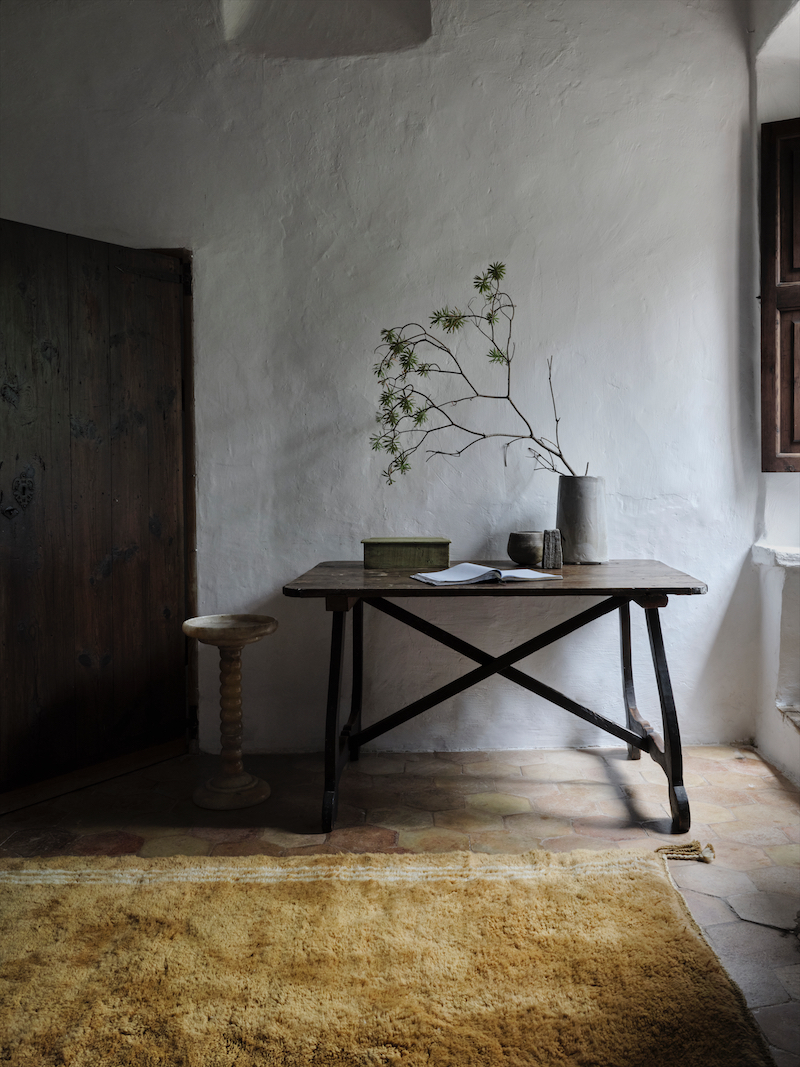 What drew you into the world of rugs? What do you love about them?
Calderone: I've always been drawn to the texture and perfectly imperfect shapes of Moroccan rugs. Their touchable texture and hand-woven rusticity are perfectly at home in any interior, from modern to traditional. I also love that they're not precious. The more you walk on them, live with them, the better they get, making them a great option for families and pet owners.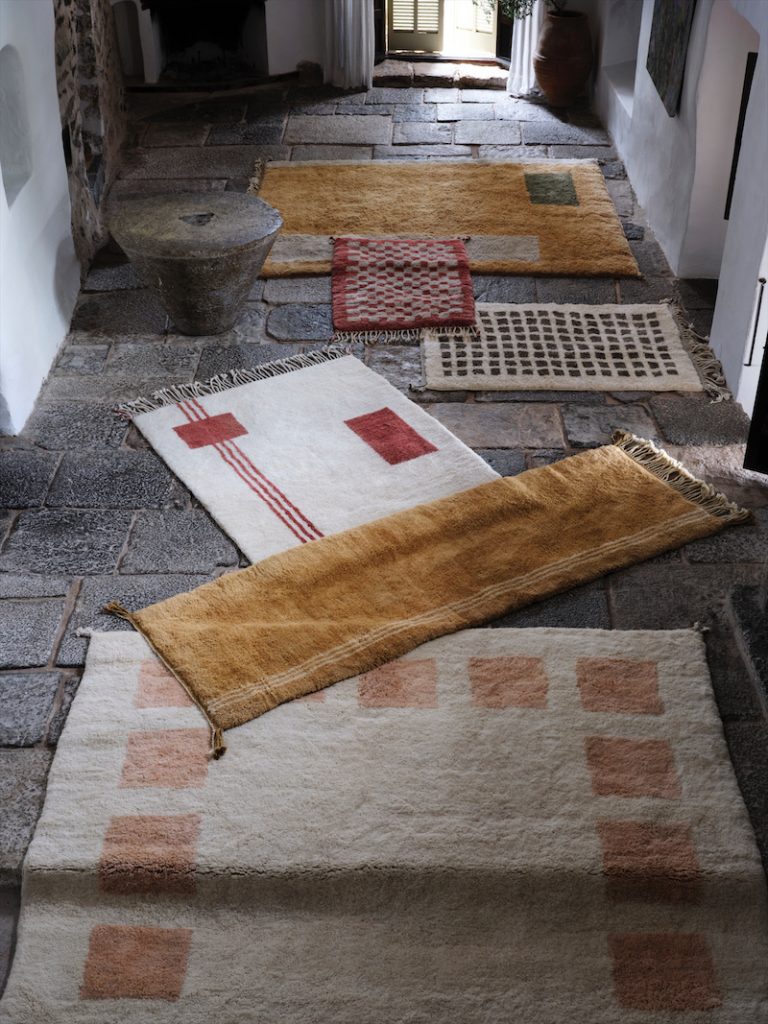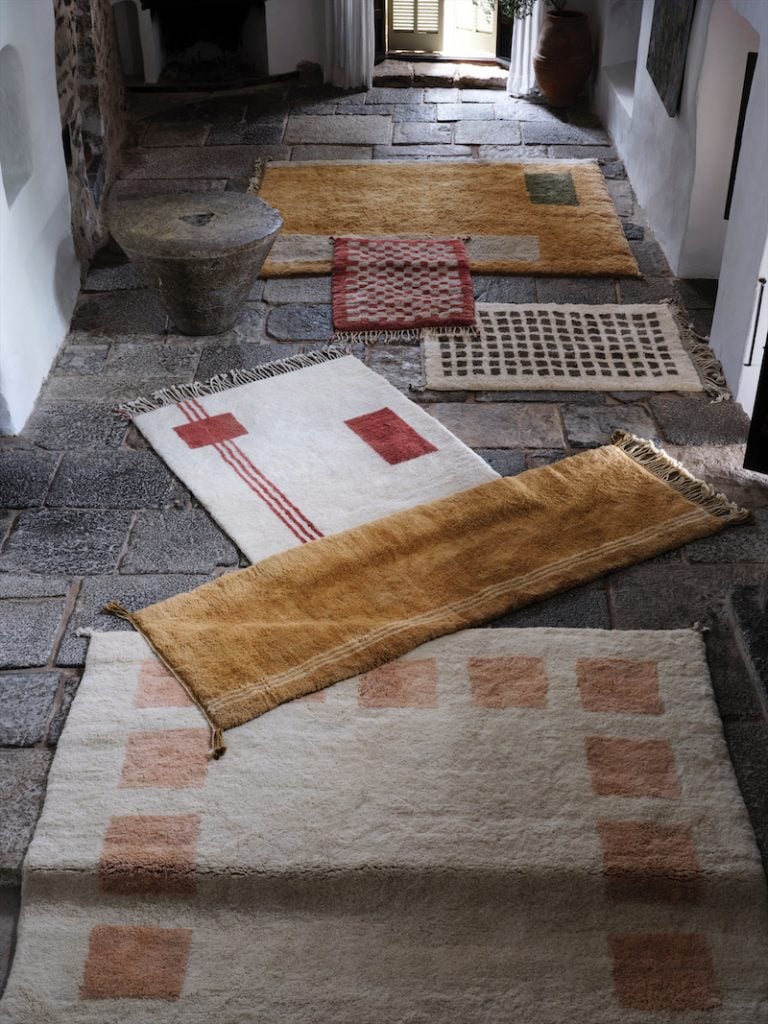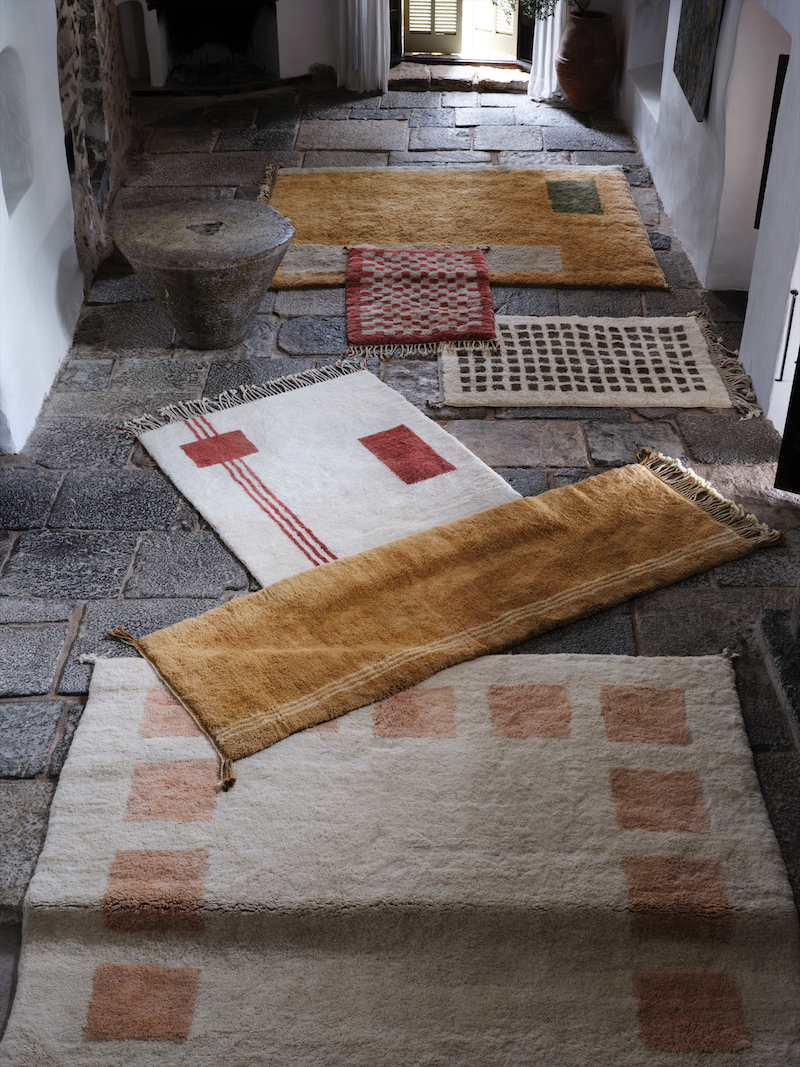 This collection is all about honoring the "charm of the hand." Can you elaborate on this sentiment? How does this impact the process and final design?
Beni Rugs: The charm of the hand really lies at the core of Moroccan rug making. The techniques that we use to create our rugs haven't changed in thousands of years. Each and every rug is made entirely by hand. This means that no two are ever the same. No line will ever be exactly straight; no two squares will ever be precisely the same size. In a world of increasing mass production, we cherish this element. There's also something to be said for waiting for a product to be mad—it reflects the honest, authentic practice that goes into something made just for you.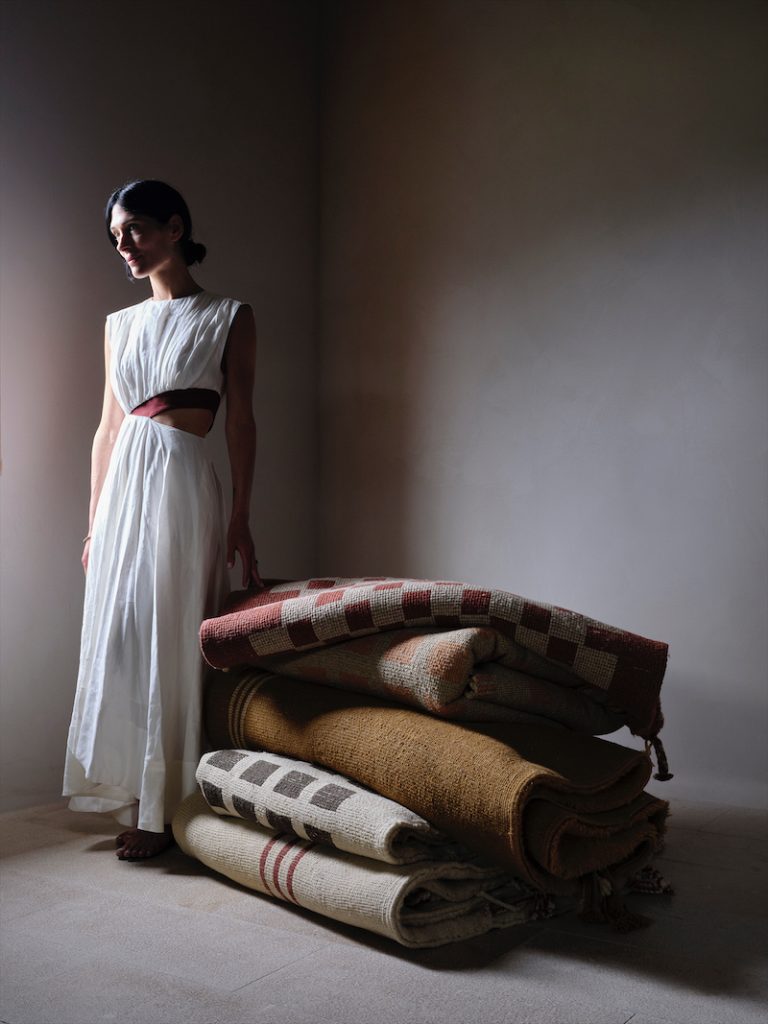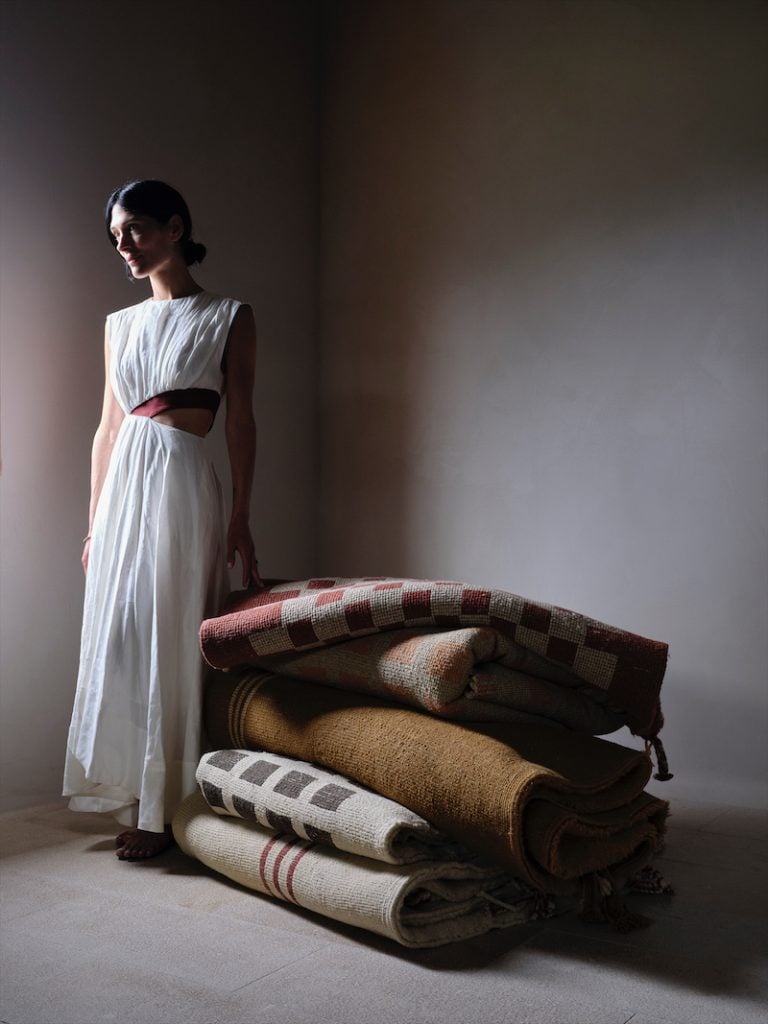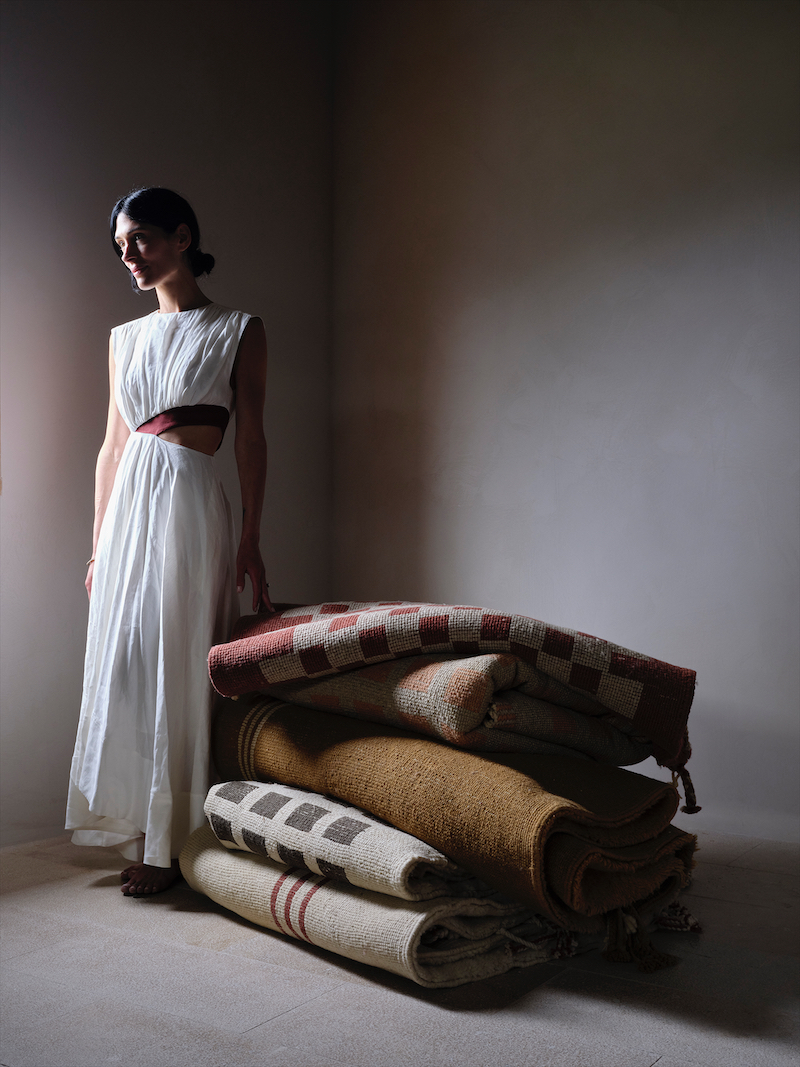 What are you most proud of about this collection? What makes it a standout?
Beni Rugs: We're really proud to collaborate with a creative and a friend whose aesthetic aligns so well with ours. The evolution of the color palette with these beautiful, sun-washed hues is a real step forward for our goal of melding contemporary, global design influences with ancient craftsmanship and heritage quality. 
Calderone: Seeing my designs come to life has been such an honor. I'm so grateful to have worked so closely with a team that truly aligns with the same values as me—authenticity, quality, and craftsmanship. I think the broken symmetry of the patterns and colors is what makes this rug collection a standout. It feels timeless and yet fresh all at once. 
Shop the Athena Calderone x Beni Rugs collection, Broken Symmetry at BeniRugs.com