As I sit down to write about the best fall candles, I find myself in a predicament highly specific to the end-of-summer/start-of-autumn transition. See, I'm someone who can't get enough of the cozy season. While others are lamenting the close of another elusive hot girl summer, I'm breaking out all my fuzzy throws, making all my favorite fall recipes on repeat, and commencing my Gilmore Girls marathon-ing (it's tradition). In other words, this is the best time of the year.
So, of course, all the fun and comfy-cozy bliss needs a bit of ambiance, right? Right. And while it may seem odd to embrace the dark days of fall and winter with open, sweater-clad arms, there are a few easy strategies you can set in place to make that dream a reality. We all know about hygge by now (the Danish term we love to adopt and translate as cultivating a cozy lifestyle, one that feels armed and ready to give you a metaphorical hug.
Hygge is about embracing the indoor activities that warm your heart with joy, helping you lean into and learn the very real satisfaction of carving out a comfy space for yourself to burrow into and nest throughout these colder fall months.
For all of us who love to fill our shopping carts with fall-themed goodness, thankfully, hygge can be curated in the things we fill our homes with as well—and the best fall candles play a big role in making that happen. So without further ado, let's get to the good-smellin' stuff. These are the best fall candles according to our editorial team—and trust me, they have good taste… er, smell?
Featured image by Michelle Nash.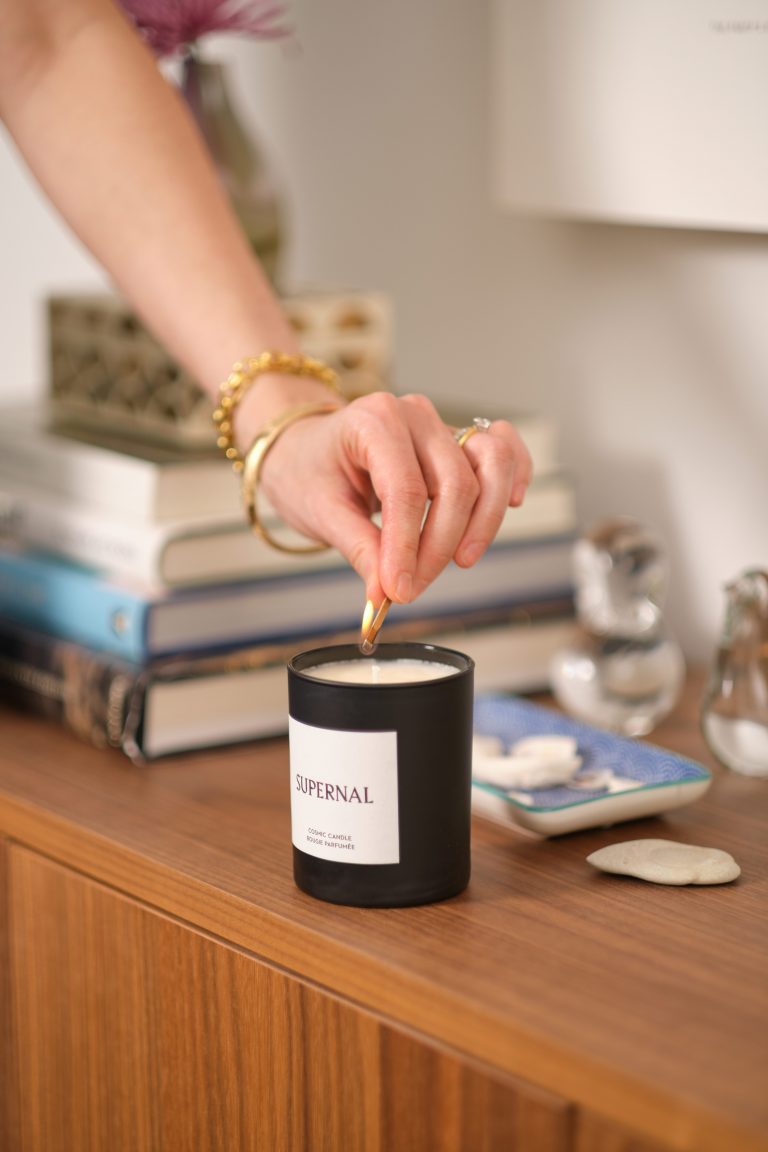 21 Best Fall Candles for the Comfy and Cozy Season to Come
Here at Camille Styles, we go hard for fall candles—and pumpkin spice is my ultimate fave. Of course, in selecting the ubiquitous variety, you have a lot of… artificial scents to select from. But I've been purchasing this Capri Blue candle from Anthropologie ever since they came out with it, and truly: my love of the warming blend knows no bounds. It's creamy and buttery without being overpowering, and has just the tiniest hint of spice to balance everything out. And the sustainability-inclined part of my brain loves knowing that I can use the cute canister for plenty of future DIY candles.
— Recommended by Isabelle, Managing Editor
When I was an undergraduate student in Boston, I worked at the first Diptyque store in the US. (The only other locations at the time were in Paris.) The boutique's owners introduced me to the luxury French collection's many unparalleled scents—lilac, tuberose, fig. But it was the Feu de Bois that took me away. I had never smelled anything in a jar so intoxicating. I still have yet to find a candle that rivals this scent. Woody, heady, and rich, Feu de Bois conjures up a feeling akin to sipping a big glass of Barolo while wrapped in cashmere by the fire. (Rumor has it that Elton John has these burning in every room…)
— Recommended by Stacey, Design Editor
The woodsy, earthy blend of cinnamon, clove, and sandalwood are scents that have the power to immediately transport you to the coziest fall day. This candle is wonderfully warming and creates the same impact as a roaring fire in any space—plus the super-luxe canister is a delight itself to behold.
— Recommended by Camille, Editor-in-Chief
This is the latest find in my forever search for new and interesting scents, and I couldn't be happier with the discovery. Their free trial/sample business model lets you pick your scents, try 'em out, and commit (because there's no doubt in my mind that you'll love their clean, high-quality fragrances). Cedar and sandalwood are some of my favorite fall scents, with the earthy, woodsy notes gaining top billing in my book.
— Recommended by Isabelle, Managing Editor
Simultaneously sweet and spicy, this candle is both synthetic- and fragrance-free. Each ingredient is derived from a natural source which is really rare in the candle industry. Light and not overpowering, it supplies all the fall vibes.
— Recommended by Brandy, Contributing Editor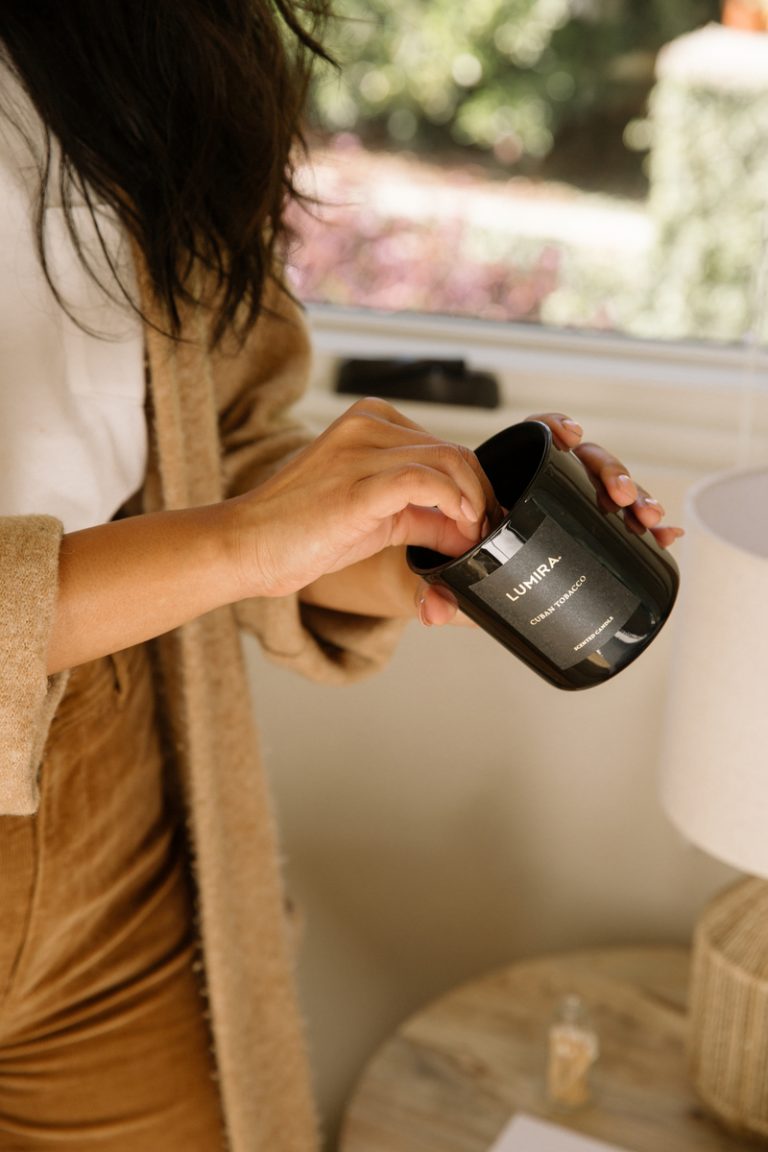 Sandalwood steals the show—and my candle-lovin' heart—once again. While my autumnal candle choices admittedly skew sweet, this stronger, earthier scent is pure warmth and spice. The fact that this candle is hand-poured into a reusable glass jar simply seals the deal.
— Recommended by Isabelle, Managing Editor
Anthropologie is known for its candles (rumor has it that some stores dedicate generous square footage dedicated to their latest fall scents), but even with all the choices, this is a forever favorite, ride-or-die. And while it comes in three scents, including Fig Tree and Cedarmoss, the Whiskey & Birch is a beautiful blend of rye whiskey, spiced vanilla, and white birch. Can it get more fall than that?
— Recommended by Camille, Editor-in-Chief
The ideal candle for transitioning from summer to fall—and fall to the busy holiday season to come. With a spicy-sweet mix of cinnamon, orange, and clove, basically, this candle will serve you well on any night all throughout the cold, cozy season.
— Recommended by Edie, Wellness Editor
While the name might evoke more surfer than pumpkin-spiced latte vibes, this candle is downright dreamy. It's akin to a cold, wet day at the beach, spent bundled up and taking in the view. Believe it: this candle supplies all the warm, fall fuzzies.
— Recommended by Anne, Contributing Editor
For me, there's little that's more transformative or nostalgic than the sense of scent. Homesick knows this truth well, and they've packaged our most treasured memories into perfectly-sized, giftable packages. They're absolutely spot-on when they say that this scent is reminiscent of crisp fall evenings, fresh hay, and, if you're a born New Englander like myself, the abundance of maple syrup that flows freely this time of year.
— Recommended by Isabelle, Managing Editor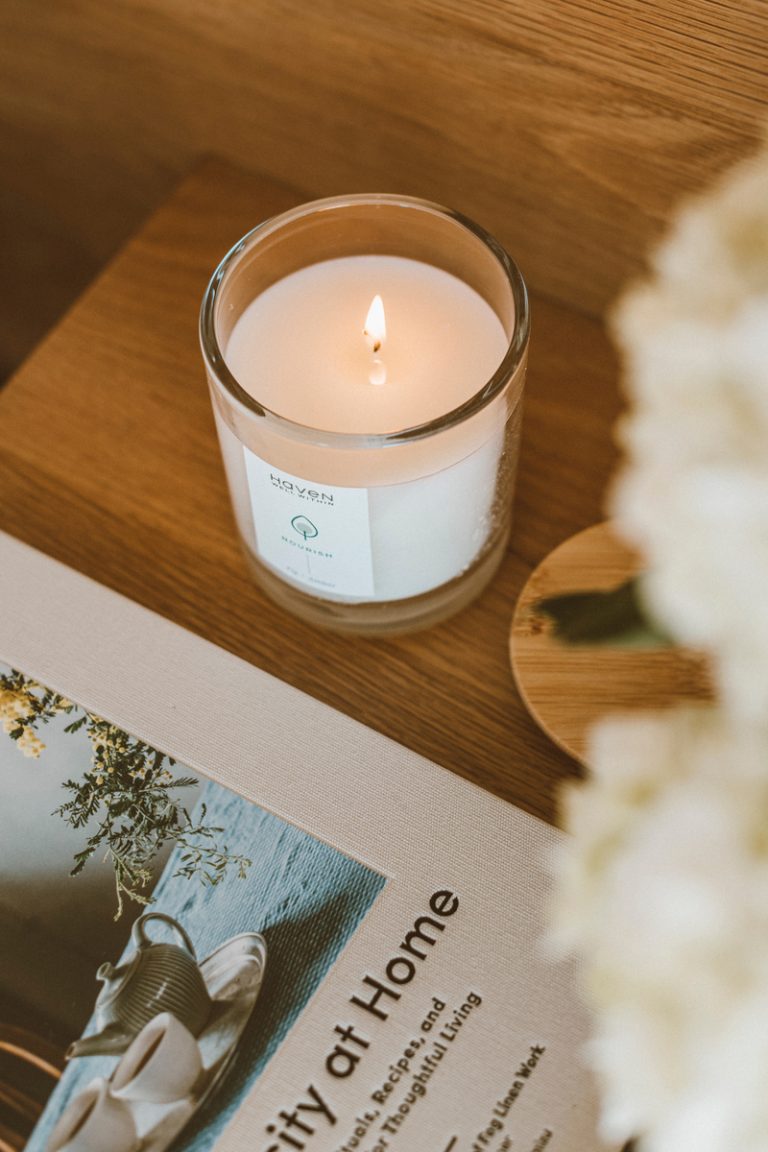 Have you ever stepped inside a Target and managed to leave without a candle between the months of September and December? I didn't think so. While my favorites change throughout the season, the start of September is the perfect time for a whiskey-spiked scent (as evidenced by my Anthro pick above). Plus, I love the way the flame flickers against the amber jar and the wood wick makes it sound just like a crackling fire.
— Recommended by Camille, Editor-in-Chief
Maybe we're alone in this (doubtful), but there's something rustic and charming about the immediately recognizable scent of leather. It's nostalgic, warm, and inviting—and it calls to mind simpler, slower times.
— Recommended by Anne, Contributing Editor
There's something about the understated, modern beauty of concrete that's so unexpectedly elegant. And because of its minimalist design, this candle fits perfectly anywhere, in any home. The vessel itself is truly a work of art, while the wild citrus, palo santo, and cedarwood blend grounds the space and is perfect for fall while feeling completely timeless.
— Recommended by Langa, Beauty Editor
Perhaps even more ubiquitous than the brand's frosted glass vessel is APOTHEKE's widespread acclaim for being one of the best clean candle makers in the biz. Santal manages to be musky and masculine while simultaneously giving off a feminine, soft vibe. It's one of those scents that you'll know when you smell it, but the effect is so special, its exact effect is hard to pin down.
— Recommended by Brittany, Content Marketing Director
Nothing evokes the essence of fall quite like a Thymes Fraisier Fir candle. If you haven't gotten your hands on one of these iconic candles in years past, 2022 is the time to make it happen. Be warned: you'll likely burn through this faster than you think (it's that addicting). The good news though, is that you can always buy more.
— Recommended by Michelle, Executive Editor
Vetiver, cashmere, and eucalyptus are a trifecta of scents, making this one of the best fall candles in the game. If you're unfamiliar, vetiver is a lovely, earthy scent that has an edge of citrus—it's the perfect match for the soft blend of cashmere and the sharpness of eucalyptus. It's an all-bases-covered kind of blend, without being overpowering in the slightest.
— Recommended by Langa, Beauty Editor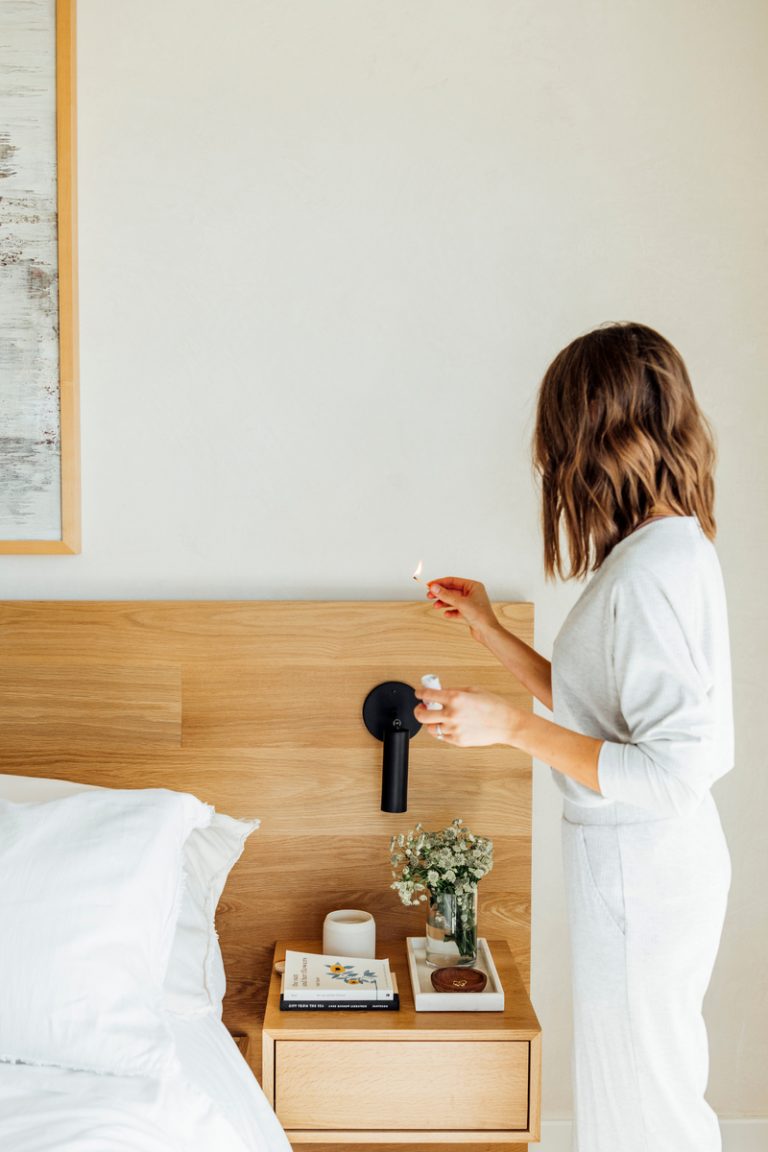 If we were judging the best fall candles solely upon how pretty their vessels were, well, this would easily come out on top. And of course, when you take the scent into account, we're all the more impressed. Incense, myrrh, and cedarwood provide a lovely, warming blend that'll help you embrace the cozy and lean into the many joys of fall.
— Recommended by Jackie, Partnerships Director
Ash is right, and while the name may not initially appeal (or it may cause you to be all the more intrigued, who's to say), this coconut and beeswax blended candle is a must for anyone who's ready to welcome fall with open arms. Little more needs to be said than the scent notes themselves: firewood, smoke, charcoal, palo santo, and hay. It's a delight.
— Recommended by Camille, Editor-in-Chief
While not for everyone, the smell of cannabis can bring to mind lazy, relaxing days spent with not a care on your to-do list (and all devices put away). The scent is intentional, spicy, and smoky—all the pleasure, none of the side effects.
— Recommended by Anne, Contributing Editor
This candle is musk, reimagined. Instead of being heady and heavy, top notes of bergamot and saffron create an earthy, almost floral scent that's just warm enough for fall.
— Recommended by Langa, Beauty Editor
The name says it all, doesn't it? Charcoal, citrus, and bergamot blend together for an effect that'll transport you immediately to an après-ski cocktail hour—without leaving the house.
— Recommended by Camille, Editor-in-Chief