There are few things as soul-soothing as lounging on a patio as the sun sets on a warm summer evening–cocktail and good book in hand. Whether you've got a large backyard, a freshly built deck, or (like some of us) an unfinished apartment building rooftop, some new outdoor furniture can really make a difference in comfort. Regardless of how much space you have, there are so many ways to transform an outdoor space and make it a really magical part of the home. That's why we've gone and found some of the best outdoor patio furniture we could find.
Give your outdoor area the makeover of your dreams with beautiful pieces at a variety of price points. No matter what your budget may be, your patio can get a proper glow-up. After a bit of research, it became clear that the best outdoor patio furniture has to be as comfy and cozy as it is aesthetically pleasing and weatherproof. That means sturdy materials and fabrics, a mix of classic and funky designs, and lots of functionality.
Gone are the days of dragging kitchen chairs out to the yard during gatherings, because these days outdoor patio furniture options abound. Whatever your personal home décor style may be, there is outdoor furniture for you. After the year we've all had, everyone understands the importance of having a comfortable outdoor setup for all occasions. So whether you're flying solo on your deck or want to jazz up the yard in time for your next bbq, take your pick from any of these gorgeous options.
Scroll on for the 17 best outdoor patio furniture options around!
This three-piece set is incredibly chic and looks much more expensive than it actually is. It's the perfect example of why we keep coming back to Target for high-quality pieces at accessible prices.
This cutie is a triple threat and a must-have for your next backyard gathering.
Add a bit of subtle pizzazz to your back patio with this terrazzo concrete stool from one of our favorite go-to shops.
This plush outdoor chair is incredibly unique and adds a bit of flair to an outdoor setup. Add it to a more neutral palette for a pop of color or go full kitsch.
This whimsical hanging chair has a gorgeous design cut into the back of the seat. Can't you just see yourself swinging in the breeze?
Adirondack chairs give backyards a classic New England feels no matter where you may live. Perfect for lounging with a glass of wine.
It doesn't get much cooler than this sectional set. The black and white pattern would look fabulous against a lush, green backdrop.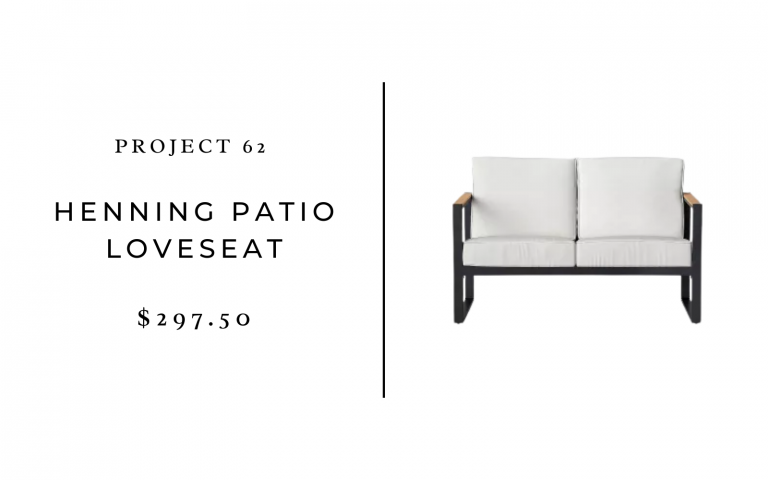 Cuddle up with your honey on a cozy, simple loveseat that won't break the bank.
Every outdoor setup needs a large umbrella for sun protection, and the auto-tilt function ensures you'll stay in the shade all day long.
This highly sculptural table is a bold statement investment piece. Gorgeously crafted and fanciful, it's a real show stopper.
Keep it simple with this lovely wooden coffee table. It can easily be popped into any design aesthetic and it's as functional as it is lovely.
Everyone will want to take a seat at this welcoming dining chair. It's sturdy, will hold up to inclement weather conditions, and last a lifetime.
Pile onto this sectional couch with the family and enjoy an outdoor movie night.
The simple yet architectural design of this lounge chair will tie together a laid-back outdoor style.
This vintage-style patio parasol is as lovely as can be. Sure, it's not as practical as a large tilting umbrella, but sometimes we just need something pretty.
This chic chaise lounge boasts a unique and unexpected design while also being cozy and comfy.
Can't you picture yourself lounging on this sweet sofa? It's a keeper.
Will you be updating your outdoor patio furniture this summer? Share your ideas and favorite pieces with us.