Let's talk about the perfect summer evening. You've checked off every to-do (ideal), friends dropped by for an easy, seasonal snack, and you're enjoying your beverage of choice on a sun-soaked patio. The vibes don't get any more immaculate, especially when you've set a gorgeous table. Sometimes, we love completing this picture-perfect gathering with a fizzy, functional sipper. In that case—kombucha cocktails are our go-to. Other times, it's our mocktail of the moment. But of course, when you want to complement the food perfectly, an easy-drinking wine is a must. And the best stemless wine glasses are essential.
The Camille Styles team knows a thing or two about selecting the best stemless wine glasses for any occasion or blend. We love those that sit at the intersection between beautiful and satisfying to handle. So whether you're looking for the perfect glass for a red or white, something unique, or a set that can handle your outdoor sipping excursions, we have them all. Keep reading for our top picks of the best stemless wine glasses—tested, loved, and reviewed.
Featured image by Michelle Nash.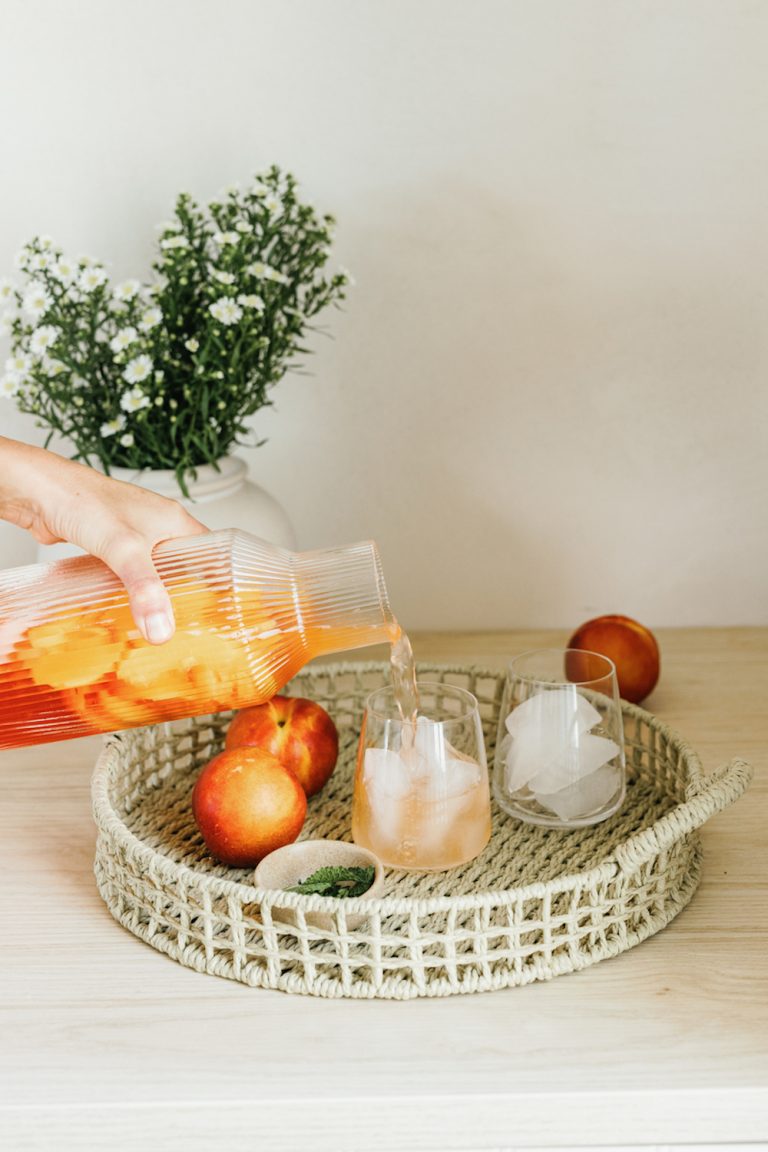 Designing and developing the best stemless wine glasses is a tall order, but Target delivered. These are made for portability and aesthetic Instagram stories alike. While other stemless wine glasses rival medieval goblets (e.g., they're huge), these retain an elegant shape while still holding a hefty pour. We love that the shape tapers inwards toward the top and that the glass is thin while still being durable. Sleek, dishwasher-safe, and affordable. Can your Riedel glass compare?
Size: 12 ounces
Dishwasher-safe: Yes
Threshold™ Simsbury Stemless Wine Glasses (Set of 4)
These affordable, elegant glasses are perfect for drinks on the patio or any summer gathering. Complete your collection with the brand's white and red wine glasses for the ideal Riedel dupe.
---
$30
These recycled glass tumblers are near and dear to our hearts. The entire Camille Styles team has our own sets at home and consider them the perfect gift for anyone who enjoys beautiful, hand-blown glassware. Their wabi-sabi quality means that each glass comes with its own unique character. And speaking from personal experience, it's this organic, artisan vibe that's dominated many a table conversation when these are brought out. Perfect for dinner parties or daily use, these are a must for every design enthusiast.
Size: 10 ounces
Dishwasher-safe: Yes
FAZEEK, the Australian homewares and lifestyle brand, knows everything about leveling up your life at home. From its tableware to home goods collections, everything speaks to the joy and vibrancy found by incorporating color into your space. And while most stemless wine glasses retain a clean and classic appeal, these wavy vessels are totally on-trend for 2023. It's true that FAZEEK has considered every detail, and because it uses borosilicate glass for its pieces, these glasses can handle both hot and cold temps.
Size: 380 ml
Dishwasher-safe: Yes
FAZEEK Wave Wine Glasses (Set of 2)
While we're *deeply* obsessed with everything FAZEEK produces (and are waiting with bated breath to see what the brand dreams up next), the Wave Wine Glasses are an easy fave. Drawing inspiration from contemporary architecture and the organic quality of the natural world around us, these hand-blown pieces boast their own distinct beauty. They epitomize the brand's ethos to perfection: Life is too short to be boring.
---
$70
While our pick for the overall best stemless wine glasses were affordable, these CB2 bodega-style vessels impressively blend budget with beauty. Each stemless glass comes in at under two dollars while still ensuring the signature CB2 quality you know and love. The feel is distinctly European, bringing an effortless elegance to any happy hour. We love how the smaller construction fits in the hand and the stackable function keeps them looking sleek if displayed in open shelving. And with an average 4.6-star rating from over 800 reviews, it's clear we're in good company.
Size: 8 ounces
Dishwasher-safe: Yes
CB2 Marta Tasting Glass
Small, sleek, and made for cocktail parties, these are an affordable pick we've been known to buy in bulk—and purchase again and again. If you have a large gathering on the horizon, add these to your cart. Because they're durable and dishwasher-safe, we consider them an entertaining essential.
---
$1.56 (reg. $1.95)
While I always pack light for a camping trip, I make room for the essentials: a good book, card games, and boxed wine. (I write that with zero shame.) Of course, I've long been on the hunt for the best wine tumbler that's chip-resistant and boasts unparalleled durability. But y'all, I was after the basics—so when I found these gorgeous tinted glasses, I scooped them up immediately. Designed from the brand's signature Tritan Copolyester—a shatterproof, durable, and dishwasher-safe material—these are perfect for backyard hangs and camping trips alike. It's just a little way I love elevating the everyday.
Size: 16 ounces
Dishwasher-safe: Yes
Tossware Reserve Stemless Wine Tritan Copolyester Glass (Set of 4)
With four muted hues to select from (alternatively, you can buy these in a mixed set), Tossware's stemless glasses are here to upgrade your time outdoors. And from the suggested pairings, it's clear these were constructed with intention. From your favorite rosé or lambrusco (my personal go-to) to the beloved Aperol spritz, these stemless glasses can do—and hold—it all.
---
$27.99
Growing up, my mom kept separate shelves for her favorite red and wine glasses. As a kid, of course, I thought this was a bit ridiculous and unnecessary. But now, as a discerning adult, I get it. Red wine glasses tend to be taller and boast a larger bowl. This allows for the aromas and flavors of bigger, bolder wines like Merlot or Malbec to fully emerge and develop, upping the experience all the more. But as a result, red wine glasses often take on the dreaded, aforementioned goblet-like shape. No thanks—we're still sipping with elegance in mind. That's why I love these glasses' tapered, edgy silhouette. Each glass still allows you to enjoy a red to its full potential, while keeping you from feeling like you're drinking wine from a basin.
Size: 17 ounces
Dishwasher-safe: Yes
Schott Zwiesel Tour Stemless Red Wine Glass
Made in Germany, this red wine glass is attractive and durable, lending a touch of elegance to your tasting. While some red wine glasses can be uncomfortable to hold due to the larger bowl, this pick tapers inwards, helping you hold it with ease while still allowing the wine's flavor to come through.
---
$12.95
These white wine glasses keep things simple but stylish. We prefer a thinner glass that still maintains its durability—and this set stacks up. As white wine glasses go, these have perfected the shape. They boast a narrower bowl, slight tulip shape, and a tall frame that helps retain the fruity flavors of your favorite white or rosé.
Size: 15 ounces
Dishwasher-safe: Yes
No roundup of the best stemless glassware is complete without a nod to bubbles—and even without the stem, these glasses are a beautiful evolution on the classic champagne flute. They're durable while still looking sleek in hand. Plus, if you're a champagne lover like myself, you'll enjoy that the long-tapered construction enhances the bubble-sipping experience.
Size: 10 ounces
Dishwasher-safe: Yes (place on the top rack only)