It's easy to know if someone is a book lover. And that's because readers love to talk about reading. (I should know.) No matter if your bibliophile friend gets reccos from #booktok, Amazon reviews, or an actual librarian, they are always going to appreciate a gift that fuels their bookworm passions. Lucky for you, I am a Real Life Reader so I've got preeeetty good insight to help you find the best gifts for readers.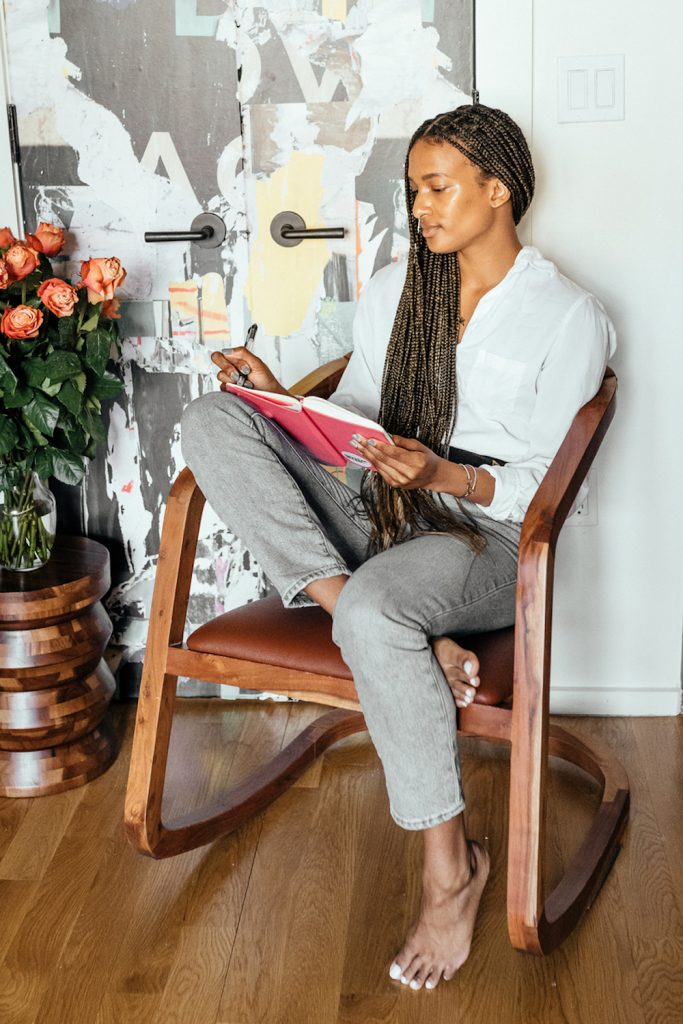 18 Gifts for Readers Your Most Bookish Friends Will Love
When shopping for the readers in your life, it's natural to think first: books. (Of course!) But… there comes the inevitable issue of knowing whether or not they'll enjoy it—or if they've already read it in the first place. To ensure you find a foolproof present, consult our roundup of creative and unique gifts for readers. These ideas are all the motivation they'll need to cozy up for hours on end.
Every product is curated with care by our editors and we'll always give an honest opinion, whether gifted or purchased ourselves. If you buy something through our links, we may earn a small commission at no cost to you.
Every zealous reader needs a good bookmark. Ensure they never lose their place with this sturdy brass marker. It's a sweet reminder that time spent reading is never wasted.
No true reading sesh is complete without a warm beverage. These unglazed, one-of-a-kind mugs beautifully house everything from hot cider to coffee to yes—a boozy hot cocoa. Whatever helps them cozy up best.
A soft sweater is every bibliophile's best friend. Give them the gift of stylish and flattering comfort with this elegant cardigan that pairs perfectly with everything—leggings, included.
I've long loved the Ideal Bookshelf series. Because when you're serious about your TBR, nothing delights more than a well-curated library. Enjoy the classics in all their glory with this vibrant canvas. (Bonus: no framing necessary.)
I've loved many a blanket over the years (my collection of comfort is ever-growing), but nothing delights more than this woven checked throw. The vibrant colors and patterns—with five options to choose from—offer the perfect pop of joy to any reading nook.
The winter sees my coffee habit dwindling in favor of fragrant, smooth-bodied teas. This blend's light touches of vanilla epitomize the season—and the tin makes a lovely pen holder once the leaves are used up.
Any book lover can appreciate the whit and artistry of a classic Austen novel. And for the true Pride & Prejudice die-hards, this cookbook is the perfect addition to their shelves. Brimming with sweet and savory pastries, comforting sweets, and new culinary discoveries like "whim-wham" (spoiler: it's delish), this book is a treasure trove of inspiration for the kitchen and beyond.
My reading uniform consists of a warm sweater, cozy leggings, and these soft and fuzzy slippers. The slide style is chic while still offering max comfort. Choose from four colors and expect to see these in all their Instagram stories from now until spring.
Candles are an essential complement to the ultimate reading experience. And while you're welcome to select from any scent, nothing beats a blend that captures the essence of our happy place: the library. Top notes of plum and cinnamon mix with a base of birch, patchouli, and vanilla for a scent that'll sweep you off to another world.
When a book is truly addicting, I won't be able to fall asleep until hours after my partner has gone to bed. I know it's a relatable issue, so to ensure a good night's rest for all, this flexible, easy-to-use light is the perfect stocking stuffer.
The best gifts for readers help your recipients set the perfect vibe for a relaxing reading hour. This white stoneware teapot is thoughtfully designed with a removable tea strainer, so there's nothing standing between them and the binge-read ahead.
The fastest way to become a better writer is to read more often. For those who write as many words as they consume, this book is sure to elevate the entire experience. From attics to studies to yes—even the bathtub, this book is proof that inspiration can be found anywhere.
If totes are their functional and aesthetic weakness, these are the ideal addition to their collection. Select from NYC, Chicago, Seattle, Philadelphia, or San Francisco. Each bag is a sweet representation of these literary hubs.
As a reading-obsessed gal, I'm tempted to buy two of everything on this list—one for my lucky recipient and the other for myself. And though holiday budgeting is keeping that temptation at bay, it's inevitable: this DIY storybook kit will be mine. These 3D wooden puzzles are so fun to put together. Once complete, they also double as an ambient light for the nocturnal readers among us.
They don't need this, but… they need it. If you're book-obsessed yourself, then you know: gifts for readers are both nice-to-haves and absolute essentials. While yes, they can prop their book on the armchair and store their coffee mug on the side table, why not make life all the easier? With this valet, anywhere can immediately become their dream reading nook.
Bibliophiles all know this truth: there's no limit to how long you can spend in a library. To help them curate the cozy vibes at home, gift this pepper, vanilla, and cedar wood candle that's an invitation to crack open their latest read.
Every reader needs a bookmark because NO they will NOT fold that page. Select this sweet and stylish pressed flower pick. It's proof you have their books' interests in mind.
When it comes to supporting future book lovers, start 'em early. This sweet collection of young reader classics is illustrated by Rifle Paper Co.'s principal artist, Anna Bond (no wonder you recognize the design). The set makes a lovely addition to any child's bookshelf.
This post was originally published on November 27, 2022, and has since