It's the most magical time of the year, and aside from making gingerbread man cookies and ticking things off our winter bucket list, we're most excited about getting up the Christmas tree and filling our homes with festive cheer. And while we love traditions, we also love to switch things up and infuse our own take on the season. So this year, we're following the lead of Anastasia Casey—founder of The Identitè Collective and IDCO Studio—with a modern holiday decorating approach that skips the sparkles for a neutral and natural theme.
Simple, neutral, and natural was the goal, so Casey infused her monochromatic aesthetic, layering in texture and pattern with holiday greenery to evoke a woodlands scene straight out of a modern fairytale. Having just finished a full renovation last year, she couldn't wait to decorate the new space for the holidays. "The holidays to me are about gratitude for the abundance we experience throughout the year, so I tend to keep things feeling very natural when I decorate," she shares. "I tried to focus on ideas that felt appropriate to the ongoing pandemic: sustainability, simplicity, ease of storage, and efficiency."
Our favorite detail? The beautiful fawn-colored velvet ribbons. In fact, Casey says this was the starting point for her modern holiday decorating and inspired the entire color palette throughout the rest of the home. To make them feel festive but not cliché, she opted for color blocking and varying texture. After sourcing local beeswax candles, Casey pulled inspiration from their golden buttery hue and played that up with the ribbon. "Even though it's minimal, the color-blocked approach creates a significant moment," she states. We couldn't agree more.
Take the tour to see Casey's modern holiday decorating approach, then shop the look:
Tell us more about the color palette.
Every holiday season, I pick a color palette and run with it throughout the whole house. I like to let the greenery be the focal point, so I usually select two or three monochromatic hues to complement it. I went with a muted copper hue and a faded marigold. They share a similar tone and complement each other while differentiating themselves enough to feel unique. Just three bolts of velvet ribbon were enough to decorate my entire house.
The greenery is gorgeous. Tell us about it. Any tips for maintenance?
All the gorgeous greenery came from Lulu & Georgia. Because I was going natural on all our wreaths and garland, I immediately soaked them in a bathtub overnight. This gives your live greens one good final drink after their travels and prepares them for an extra week or two on your walls. Once the greenery has been hung, I mist them with a squirt of water once or twice a week. We've had a particularly warm fall season so far here in Austin, so I've been spraying water my greens every other day.
What's the trick to pulling off a look that doesn't feature a typical Christmas color scheme?
I always steer toward slightly "off" colors. Faded mustards, dusty heathers, deep cobalt—the trick to making it feel holiday is using satin or velvet ribbons and skipping the sparkles.
Setting the candles on top of greenery is a nice touch. Any tips for this?
Safety is always my top priority when decorating for the holidays, so making sure these candles were stable was imperative. Instead of using a traditional garland, I just clipped individual olive branches and tucked them in around the candles so they could sit flat on the mantle.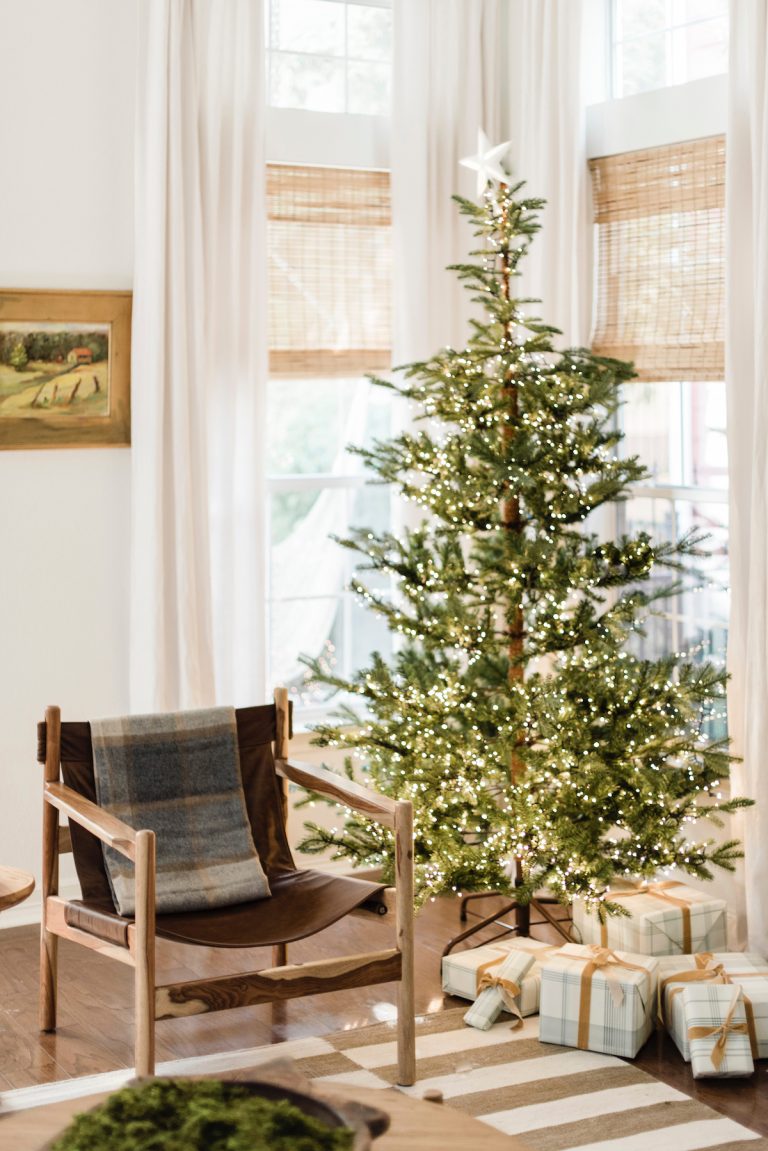 What's the best approach for recreating this mantel look? Any tricks people can steal?
Get as many varied sizes of candles as you can, and then buy 20% more. The best way to recreate this look is to group the candles together very closely leaving little room between them. It makes for a more editorial effect and feels less kitschy. When it comes to stocking styling, less is more! A few simple velvet ribbons tied loosely in monochromatic colors elevate the entire look.
What type of greenery works best for this mantle look and were you inspired by the artwork when choosing it?
This look works universally with whatever greenery you can find. Throughout the season, I actually clip new branches from my yard and replace them every two weeks to keep the mantle fresh and green. These particular branches are olive branches, a traditional symbol of peace, which I sourced locally from a hill country olive orchard. Once I had my color palette selected, I used my Samsung Frame TV to find complimentary art to feature. This one is a Rembrandt from the Samsung Art Store. I love this TV because I have access to archives of artwork from top museums around the world, which makes switching it up for the season so simple.
We really love the other natural elements you used in the décor, can you expand on that?
This year, I specifically decided to focus on natural wreaths and garland for my holiday décor and I love the way it makes the house smell, especially when you use unexpected greenery like bay leaves, olive branches, or eucalyptus garland. In the kitchen, I love to decorate with the season's harvest: bowls of persimmons, pomegranates tucked into open shelves and mini rosemary trees on the counter that I cook with all winter long.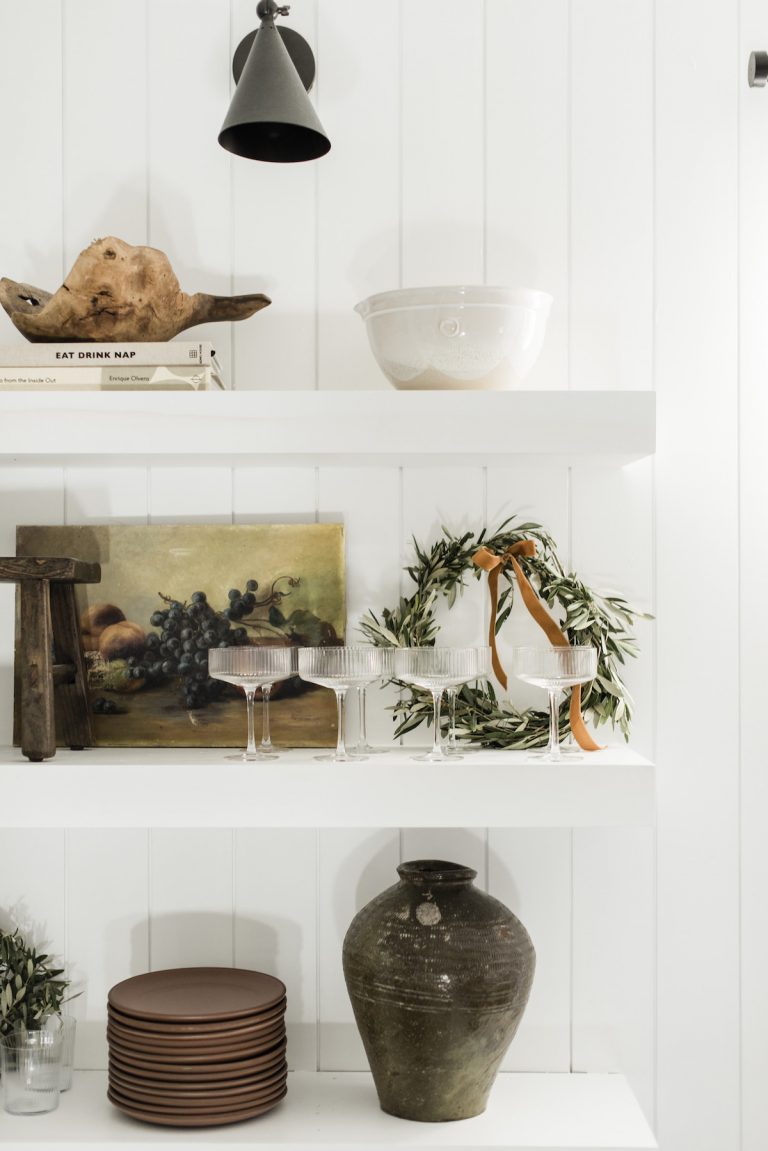 Any tips for folks that don't have a big budget for decorating?
Yes, use what you have! Utilize the items you already have around your house, in a new way. The holidays are all about sparkle, so group your brass or chrome decor accents spread throughout your home into more strategic placements. Metallic lamps, sculptural objects, or glimmering storage boxes make for the perfect amount of sparkle when sprinkled in a room.
We love how you incorporate art into your space. Tell us about mixing it up for the holiday.
From thrifted vintage landscapes to budget-friendly downloadable prints, switching out your artwork to something more seasonal is a designer trick that just makes things feel special. I have a large snowy landscape my great-grandmother painted that I hung in our living room which instantly sets the tone for the entire space. Tucking small printables in metallic frames throughout your bookshelves is a timeless trick that sparks mini-moments of joy.
We love how simple the holiday décor is, and how it complements the space. Was that intentional?
If there is one thing I've learned over the past 18-months or so, it's that simplicity is a luxury. Every moment in your day has an opportunity to be special, and sometimes it requires stripping back the excess in order to find it. I recommend decorating in phases if decking out your home feels too intimidating for a weekend. A small wreath hung bedside is all a bedroom may need to feel festive. Crystal clear twinkle lights may be all your tree needs for now, and you can add ornaments as a family in a few weeks. Enjoy each moment as it comes and appreciates the beauty in simplicity.
Now, Shop the Look to Achieve Modern Holiday Decorating at Home…
DECORATIONS
ENTRY
LIVING ROOM
DINING ROOM
KITCHEN
BEDROOM
BATHROOM