If you've ever had the opportunity to travel throughout California, hopefully, you've taken some time to visit the mystical town of Ojai. Or if you haven't, then you'll want to add it to your bucket list after stepping inside the stunning home and property of Brooke and Steve Giannetti. The famous design duo behind Giannetti Home first discovered the mountainous region while designing a home there for a client. This inspired them to look for their own slice of Ojai where they could build their dream home and create a slower-paced life that was connected to nature. "Ojai is a unique, rural town that is home to so many creative people who are also drawn to its natural beauty and special energy," explains Brooke.
And build a dream home they did. Built in 2013, Patina Farm—which they share with four Shih Tzus, four rescue cats, four pygmy goats, three babydoll sheep, three potbelly pigs, four miniature donkeys, two ducks, an assortment of chickens, a couple of turtles, and Hector the house bunny—is a three-bedroom home complete with guest house and ethereal rose garden. It's a fusion of everything they love: classic design, modernism, and timeless details. After designing homes together for over 30 years, it's safe to say the creative couple know how to create spaces that are not only beautiful but feel intentional and personal, too. In fact, life on Patina Farm deepened their connection to nature, inspiring them to lead a more peaceful and present life which unsurprisingly, also influenced their design philosophy across interiors, home décor, clothing, and books—they've co-authored several best-selling titles including Patina Style, Patina Farm, Patina Living, and Patina Homes. 
"Hopefully our home reflects our belief that beauty doesn't have to be fancy or complicated," says Brooke. "I hope our home conveys our life values: the importance of family and a connection to nature." 
Keep reading to step inside the stunning Patina Farm property and discover more about their design process, goals, and inspiration.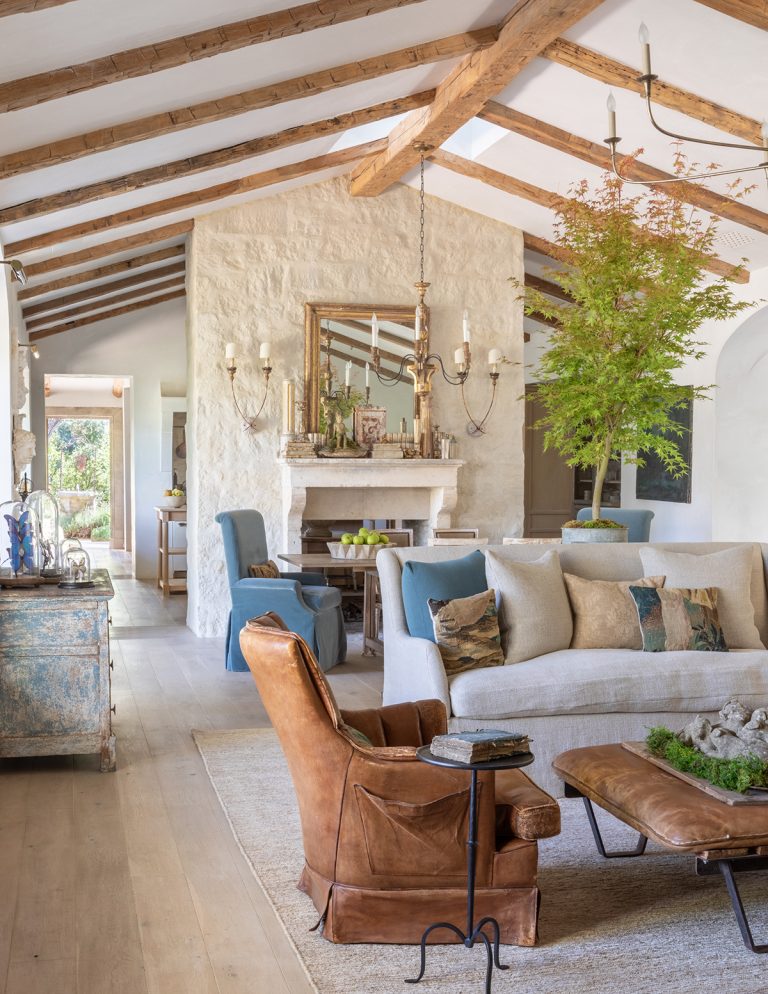 What is it about this region that initially appealed to you? 
The property we purchased is located close to the center of town. We were drawn to the location as well as the beautiful mature oak trees on the property. We loved the idea of designing our home to connect to the trees and the rest of the natural beauty that surrounds our property. One of the 250 year old oaks shades the back of our home and is the focal point of the view from our living room and kitchen. We also wanted our home to feel connected to the history of Ojai. 
The architecture of Patina Farm was inspired by the mediterranean architecture found in many of the beautiful original homes in Ojai that were built in the 1920's, as well as the more rural farm structures found in our area. 
What was your personal goal or directive for Patina Farm?
Our goal was to design a property that would allow us to feel connected with nature and provide a calm space that would promote creativity. We designed our home with an indoor/outdoor flow, blurring the lines between the interior of our home and our garden. We built veggie houses so we could grow our own produce and rose and flower gardens for us to enjoy both inside our home and outdoors. 
Our animals are also a big part of our daily life. We created paddocks, barns, coops and pastures for them to enjoy that would also be beautiful for us to see from our home. We built the goat and sheep barn (our original chicken coop) near my office, so I can take small breaks during my work day to spend time with our animals.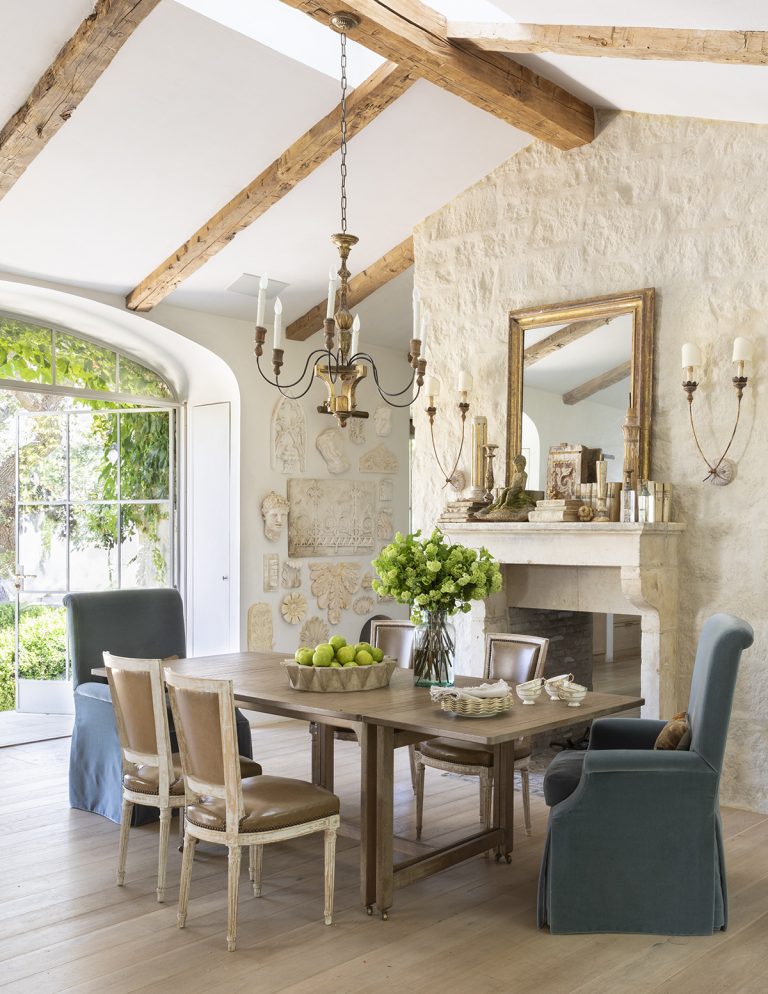 How did this goal influence the design process?
We wanted our home to feel like it had been here forever, but we also wanted to create an open floor plan that was more conducive to the way we live. To achieve this, we used many antique building materials, like our antique barn beams, antique French roof tiles, wood interior doors, and limestone mantels to balance the more modern flow of space. 
How did you decide on the color scheme? 
Our color palette is inspired by the colors of nature (neutrals and various shades of blue and green) that surround our home. We keep our interiors neutral, and allow the views of the outside to add natural color to our home as well as the flowers and plants we bring inside.
Our home is almost always filled with fresh flowers from our gardens. Depending on the season, I'll bring in David Austin roses in vibrant hues of pink, purple and yellows as well as French lavender and a mix of flowers from our new cutting garden. 
What were your greatest finds when designing this home?
Before we built our home, we traveled to Belgium and France and found some amazing building materials, including a pair of limestone quatrefoils that are now focal points in our kitchen and living room.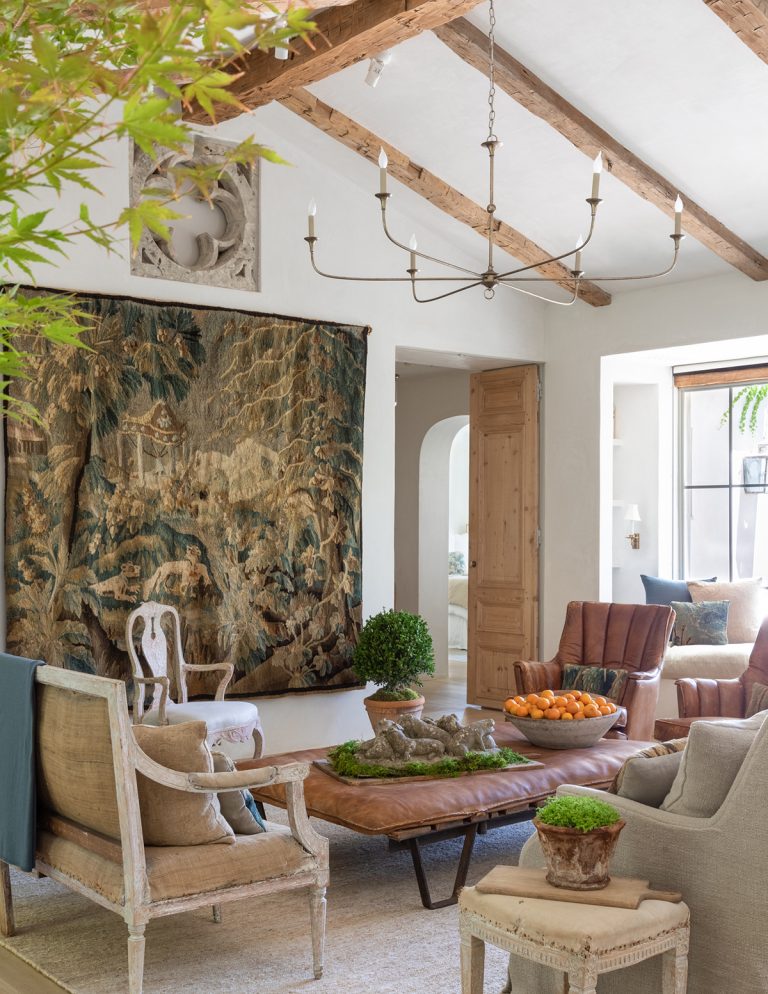 How would you describe your style and approach to design/decorating?
Over 10 years ago Steve and I wrote our first book, called Patina Style, that describes our design aesthetic. We love using natural materials in our designs because they age beautifully over time. 
We also believe in designing with intention. We don't just create pretty rooms. We design spaces that reflect our lifestyle and how we dream of living. 
Where do you look for decorating inspiration? 
Our dreams for the way we want to live is the inspiration for how we decorate our home.
When we start a design, we are always thinking about the emotion we want to create.
Is it an intimate space for a couple of people or a space where our family and friends can gather? Is it formal or informal? Does it need to be both? 
What's your favorite thing about the space? 
The connection to the gardens through the large glass windows and doors in every room of our home.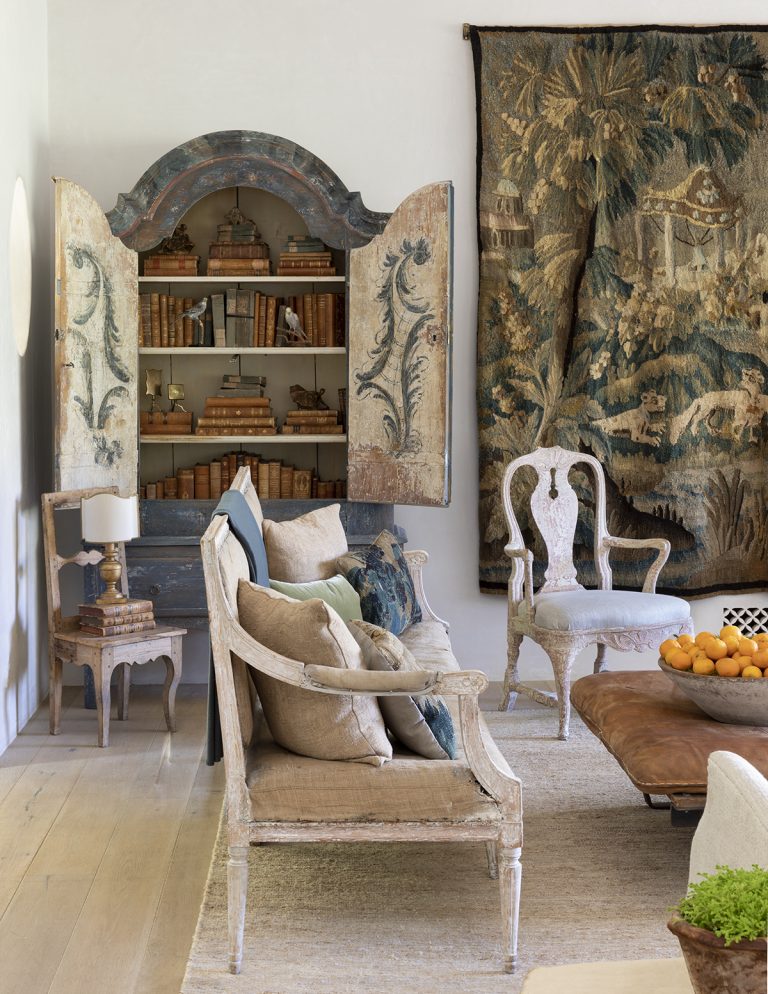 Do you have a favorite design feature or room?
I love all of our steel doors and windows. We painted them a pale gray rather than the usual dark bronze or  black. The light color allows the the steel  to frame the view rather than obscuring it. 
Do you have a favorite piece of furniture?
It's hard to pick one. My favorite pieces of furniture tend to be antiques because they add their unique story to our home. If I had to choose one piece, I think it would be the French cabinet in our kitchen. We used an antique instead of building cabinetry. I use this antique cabinet to store all of our dishware. I love creating different vignettes with all of our dishes.
We love the nuanced, neutral approach throughout. How do you keep your designs so balanced and timeless?
Thank you. We try not to follow trends. We use natural materials that don't go out of style and antiques that have withstood the test of time.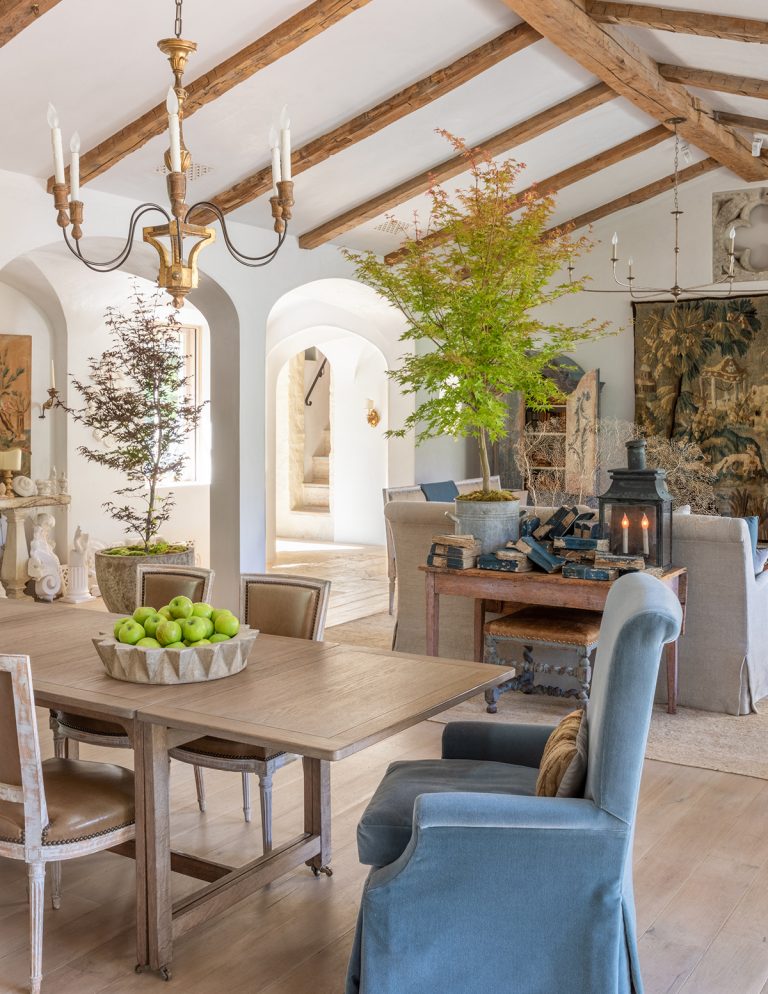 Do you have any words of wisdom to share with would-be decorators about to embark on a home design project? 
Before you start designing your home (or your client's home), take some time to imagine your future life: how will you spend your days? Your years? How will your home need to change during the time that you live there to suit the changes in your family life? 
Don't spend too much time looking at other designers' work. It can get confusing.
It's helpful to write down your design process and why you do what you do, so you can understand the reasoning behind your decisions. 
How regularly do you edit your home? 
We are always using furniture pieces from our home in the designs we create for our clients, so our home is constantly changing. It definitely keeps our spaces feeling fresh.
Any advice for creating a space that's minimal yet still warm and inviting?
Natural materials always warm up a more modern space. In a minimal space, it's also nice to include a few antiques that can be appreciated in a sparse room.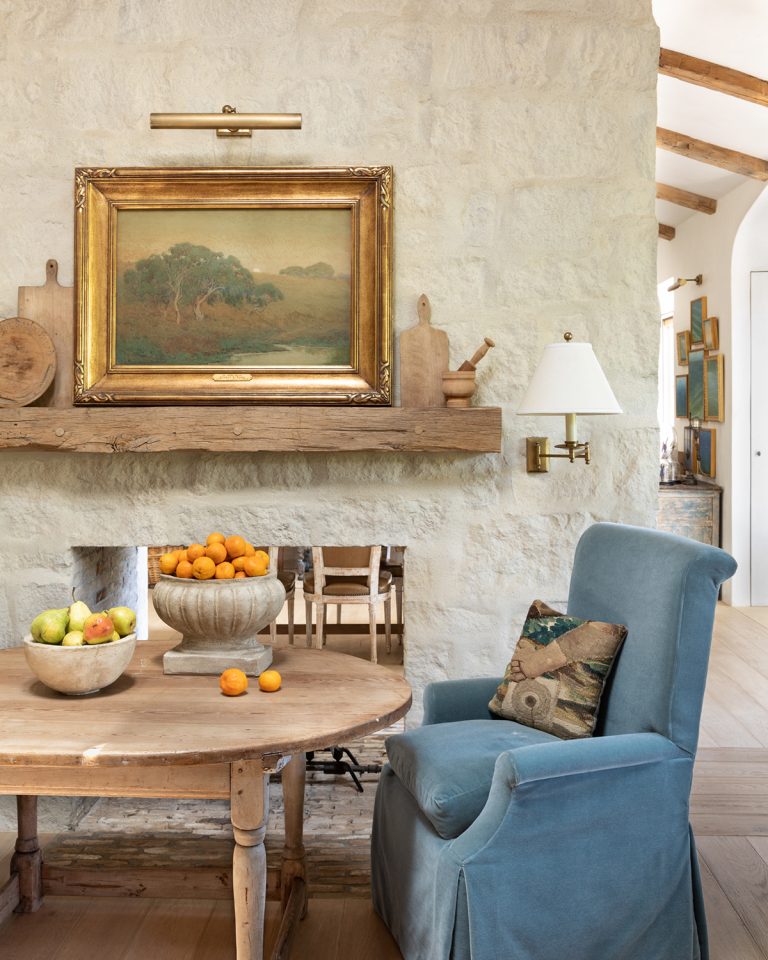 List your primary design influences, specifically, what design principles do you borrow and implement within your own practice?
Our clients' stories and dreams are our biggest design influences. The stories they tell us about their past, present, and future are always in our mind when we are designing their homes.
Any design tips or tricks you can share? 
Limiting the number of different types of materials has a very soothing effect on a home's aesthetic. We only have one type of wall and floor stone, wood flooring throughout our home as well as one wall color. This allows the spaces to flow together beautifully. 
Describe a typical work-from-home day…
Our work days are a wonderful balance of creativity and rest. We have site meetings in Los Angeles on Thursdays, but the rest of the week we work from home. We wake up before dawn to get ready to feed all of our animals. It takes us about an hour to feed everyone. People always say that it looks like so much work, but it is actually the best part of our day. After breakfast, we start work. Steve likes to draw in the morning. We usually have design meetings in the afternoon, after lunch and an animal visit break. We have a layout table in Steve's office, where we review fabrics, materials and plans. If we have client meetings, we move everything to our dining table in our main living area. The day winds down around 5:30 pm with a dog walk around the neighborhood and a visit to the barn, coops, and paddocks to make sure everyone is safe from predators before sundown. 
What's the best piece of decorating wisdom you've ever heard?
Your heart knows more about design than anyone can teach you in a decorating class.