There's a reason why renovation shows have a cult following on TV. Our voyeuristic nature is drawn to that behind-the-scenes process where a run-down space is magically transformed into a modern abode. Who doesn't love a good before and after! We will never tire of witnessing that creative metamorphosis. So naturally, when a story comes our way that outlines one of these design evolutions, we're all ears. One such project is Matt Titone's design collaboration between his wife and brother whereby they transformed their "dingy garage" into a modern beach cabin and haven, aka the surf shack of our dreams. Of course, we wanted to know everything about it.
Keep reading to learn more from Titone on the design/build process, interior inspiration, and challenges in an exclusive excerpt from his book, Surf Shacks, Volume 2.
All images by Mark Seelen unless otherwise noted.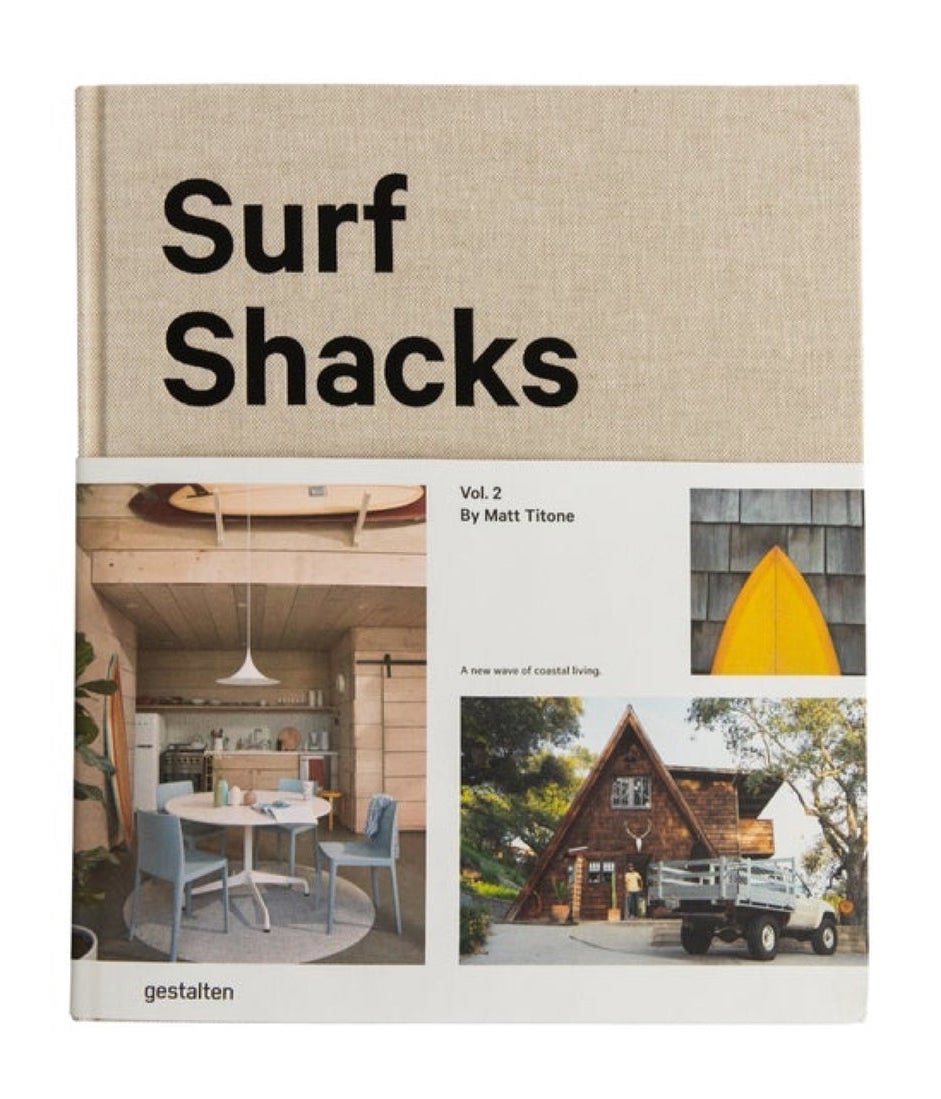 Surfing is a way of life, one that defines not only where we live, but how we live. Surf Shacks Volume 2 picks up where the first volume left off, exploring homes of surfers, which range from improvised cabins by the beach to penthouse apartments in big coastal cities.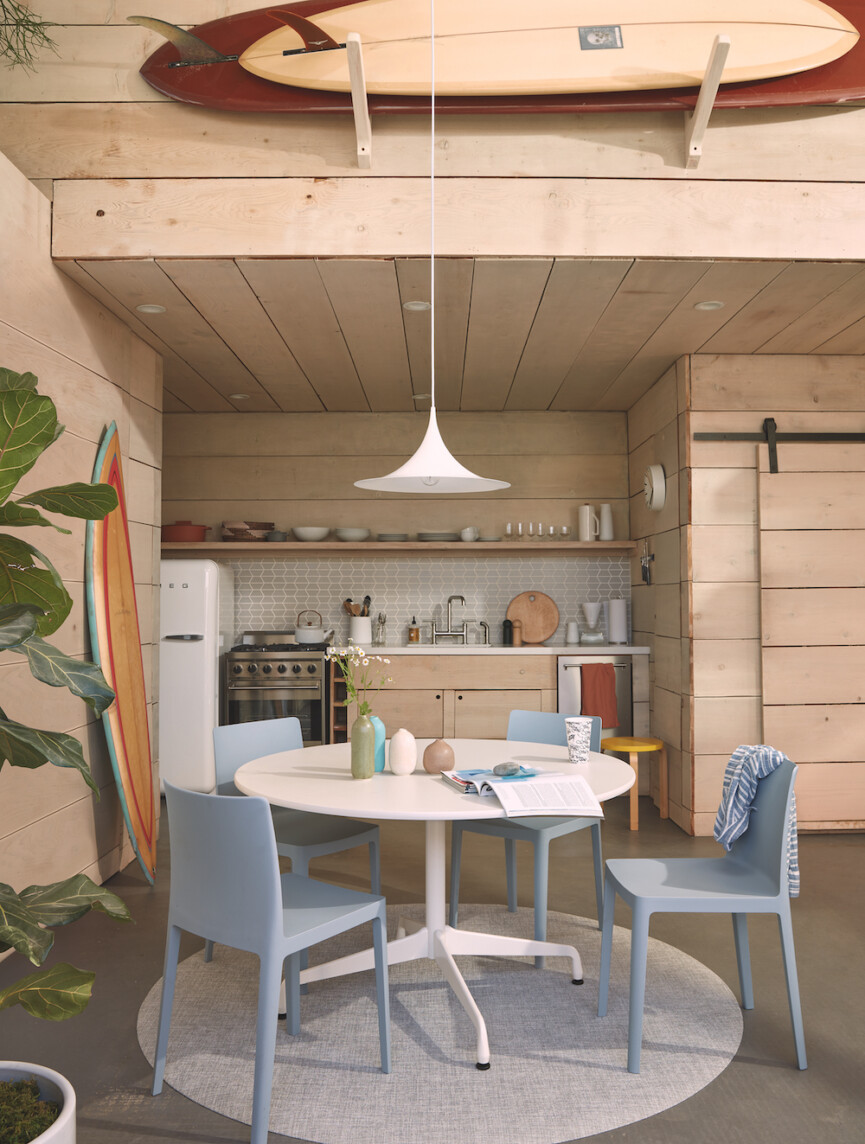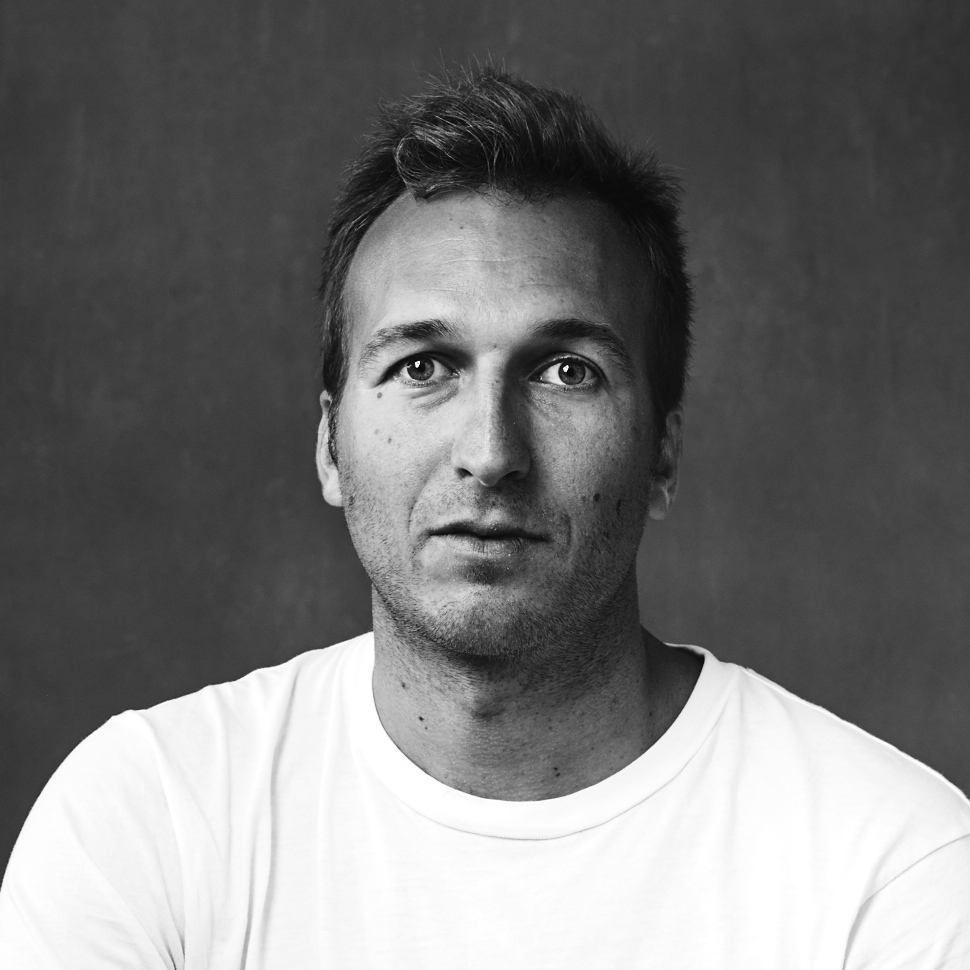 Matt Titone
A goofy-footed graphic designer who hails from the first state, Delaware. After attending Flagler College in St. Augustine, FL then graduating from SCAD in Savannah, GA with a BFA in Graphic Design and Illustration, Matt moved to NYC and found work as a freelance designer and art director. In 2006 he moved west to Venice, CA where he co-founded ITAL/C Studio and now resides a bit further north in Oxnard.
Matt Titone, on the garage renovation project
I bought my first home in the Venice-adjacent Mar Vista neighborhood of Los Angeles in 2008. The house was a bank-owned dilapidated wreck that was home to a slew of squatters and junkies before I moved in. It was a tear-down property any way you sliced it, but I poured all of my savings into the down payment and could not afford to make any drastic changes. So, with a lot of help from friends over the years, I took on one household renovation project at a time.
In 2015, my brother, Sam, wife, Courtney, and I decided to transform our old garage (built in 1947) into a separate backhouse. Sam had just graduated with his master's in architecture from Savannah College of Art and Design (SCAD), my own alma mater. Courtney wanted an opportunity to flex her interior design skills—and to have a place we could host our families while in town since we had our first son on the way. And I was feeling pretty "architecturally inspired" after being a few years deep into the first Surf Shacks book. So we took out a loan and the three of us embarked on a challenging but creatively satisfying project that ultimately strengthened our relationship. Courtney and I have since moved north to Oxnard and Sam lives in Nantucket, but the "Zanja House" (as we like to call it) holds a very special place in all of our hearts. The following pages document the story of our old home in Mar Vista, California.
Matt interviews Sam Titone, on the design/build process
How did you first discover your passion for architecture?
I'm not sure when things clicked for me that the built environment around us—no matter what scale or setting—was "architecture," and the people who conceptualized and created these environments were architects. Growing up, I was always building forts, models, skate ramps, and anything I could build with my dad's tools. We also had a lot of artists on both sides of my family and we always had the freedom and setting to express ourselves with art and design. When it was time for me to decide what profession I wanted to pursue in college, I really just tried to reflect on my interests and all the subjects I excelled at in school. I was either an A or D student, and it was clear my passions and strong suits lay in art, math, and physics. I had no idea that these were the ingredients for architecture. I really took a shot in the dark when I decided to go to SCAD and study architecture when I was 19. I'm still happy with that teenage decision and love how it will be a part of my life until the day I die.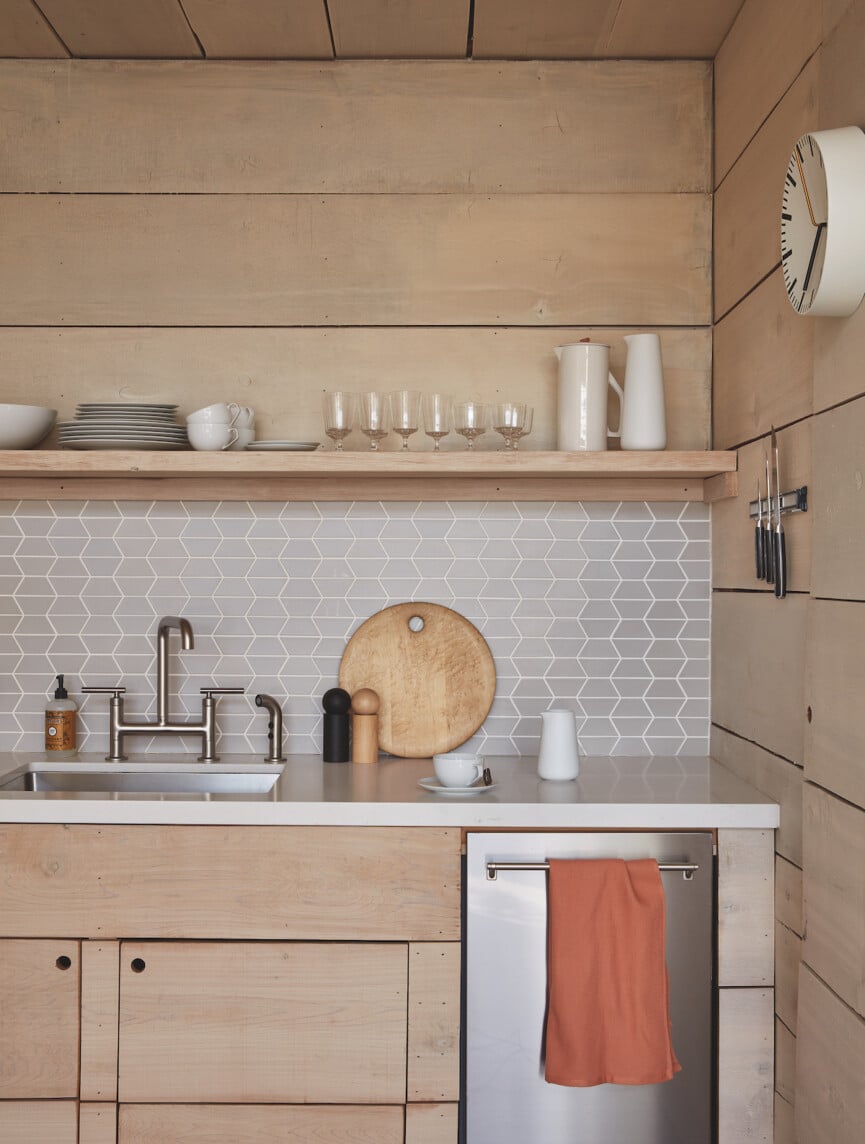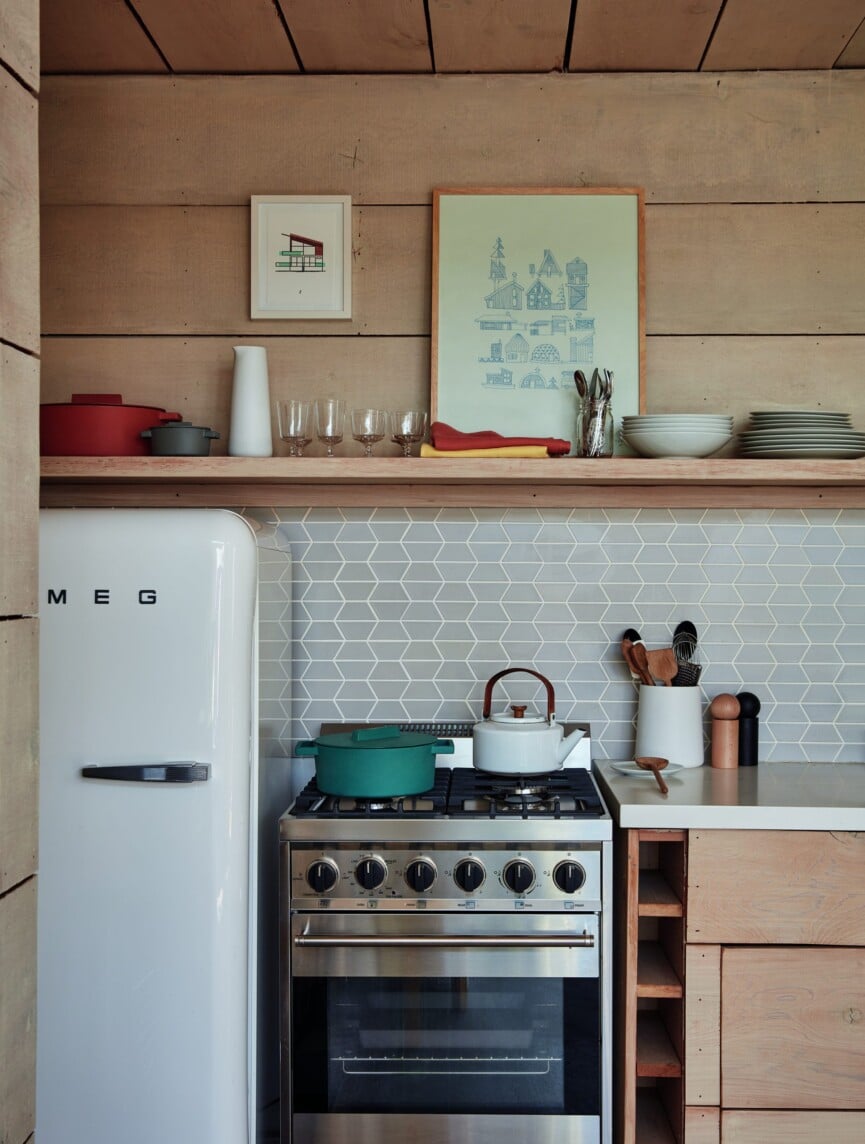 What is it about the design/build process that you love so much?
I love all phases of architecture. Conceptualizing, putting the idea on paper, and ultimately executing the concept in a holistic build. The design/build process is a type of architecture that really puts all phases in one person's hands and eliminates a lot of potential design sacrifices you might have to make with more cooks in the kitchen, so to speak. These projects are usually smaller in scale and allow for more freedom in a design.
When it came to the backhouse, where did you draw inspiration from? What were your goals for the space?
During my time at SCAD, there were always long breaks in between terms, and during that time, I spent a lot of time staying with you at your house in LA. When I wasn't trying to squeeze a building project or internship in during those times, there was a good amount of free time when you were working. I had time to surf and ride my bike around your eclectic neighborhood in Venice. I loved seeing the playground of architecture and how most people had backhouses that really stood out as architectural gems. I wanted one—and I really just wanted one for myself while I was out there! The design and inspiration for the project selfishly revolved around designing for myself. You and Courtney were my "clients," but I was lucky enough that you guys just let me play. We were on the same page with the aesthetic from the get-go, so that allowed me to really go nuts incorporating into the design, and I essentially created a dream space for myself. I wanted an independent, self-sufficient back studio space for me to work, sleep, cook, relax, and enjoy nature. It's a puzzle that organizes these spaces to allow for openness, privacy, and connection with nature at every step.
Describe the design/build process with the backhouse. What memories in particular stand out in your mind?
Man, it was a wild ride. As with any design/build project, it started with a solid concept and space layout in order for us to get proper permits and functionally accomplish the goals of the project. Then the design really took shape when we had to make all the decisions and design every nook and cranny, mostly on the fly. This was the first project I took through the building department by myself, and that was a learning process in itself. Then essentially being the GC [general contractor] for a bulk of the project was a whole other beast to tackle. I have so many stories that stick out in my mind, but if I were to pick one, it would be just sitting on the roof with a beer pretty much every night when all the work was done for the day. Every day was a crash course in whatever we were doing that week and every day was rewarding.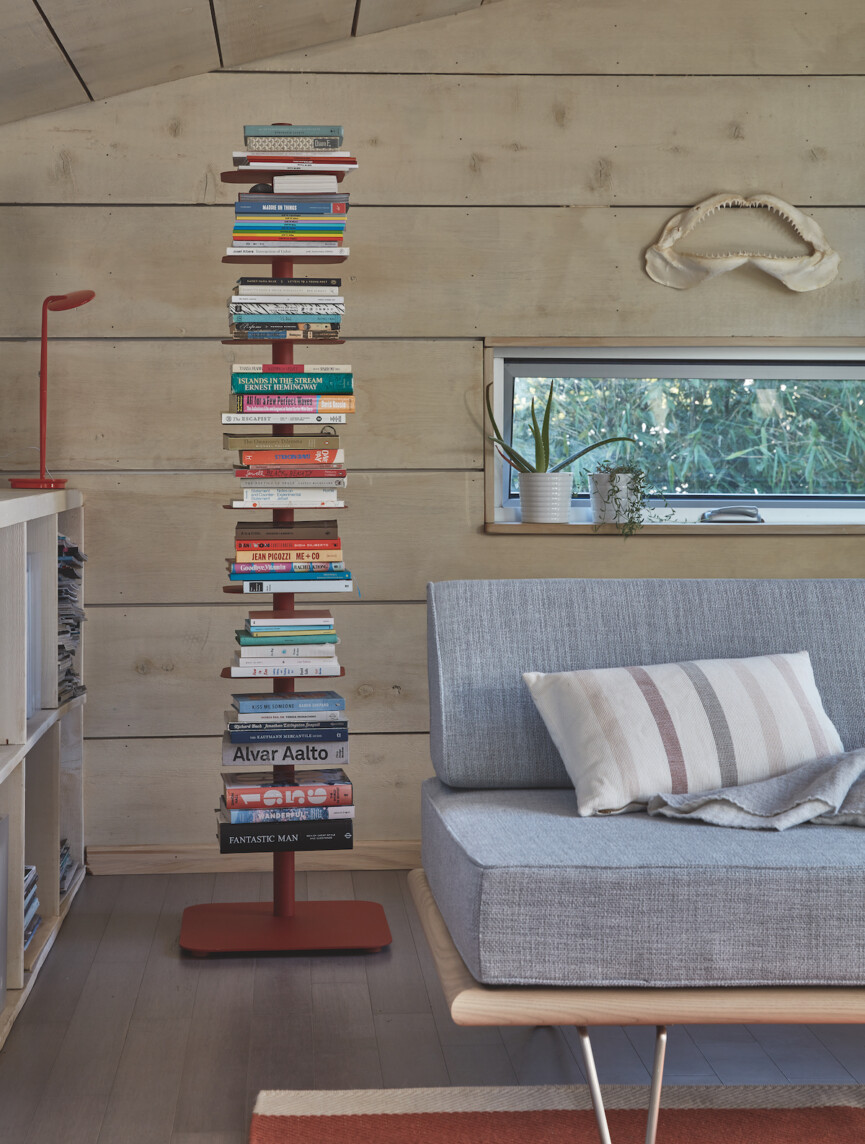 What were the biggest challenges you were faced with?
Tackling the permitting process for the first time and getting the hot tub in the ground and hooked up. It was by far the diciest part of the process and so exciting when it turned on for the first time. We were so proud of ourselves that we used the hot tub through the rest of the construction, even when there were mounds of dirt and building supplies surrounding the tub.
On the flip side, what about the project are you most proud of?
I would say working on the interior finishes, specifically the white-washed cedar that is everywhere in the interior, and the steelwork with the floating stairs. You and I, along with our jack-of-all-trades friend, Tyler, who did a lot of work on this project, installed all the paneling and made all the built-in millwork with the cedar. It was so rewarding seeing the panels slowly take over the space. I decided to take on all the steelwork on the project as well. I had taken a metal-working class at SCAD and had helped on some builds, but this was a big undertaking for me. I got a welder out of the deal and you got cheap custom steel features. It was amazing proving to myself my designs worked and functioned really well.
What was it like working with your brother—me—and your sister-in-law?
This was a roller coaster, but just like roller coasters, it was fast, exciting, scary, and left you wanting to do it again. I felt a lot of guilt every time you had to write another check and deal with work that had to be redone because of a mistake. You were so gracious to let me take on this project after years of convincing. You wanted to do it, but if it wasn't for my enthusiasm, you might have been a lot more apprehensive about the undertaking. It wasn't a straightforward permitting process and a lot of people don't fully understand the relationship a designer has with their client. It's an intimate process where you really dive into couples' relationships and see how they live their lives, what they care about, and what they don't care about. Ultimately, we had the same goals, had the same aesthetic vision, and it really worked out.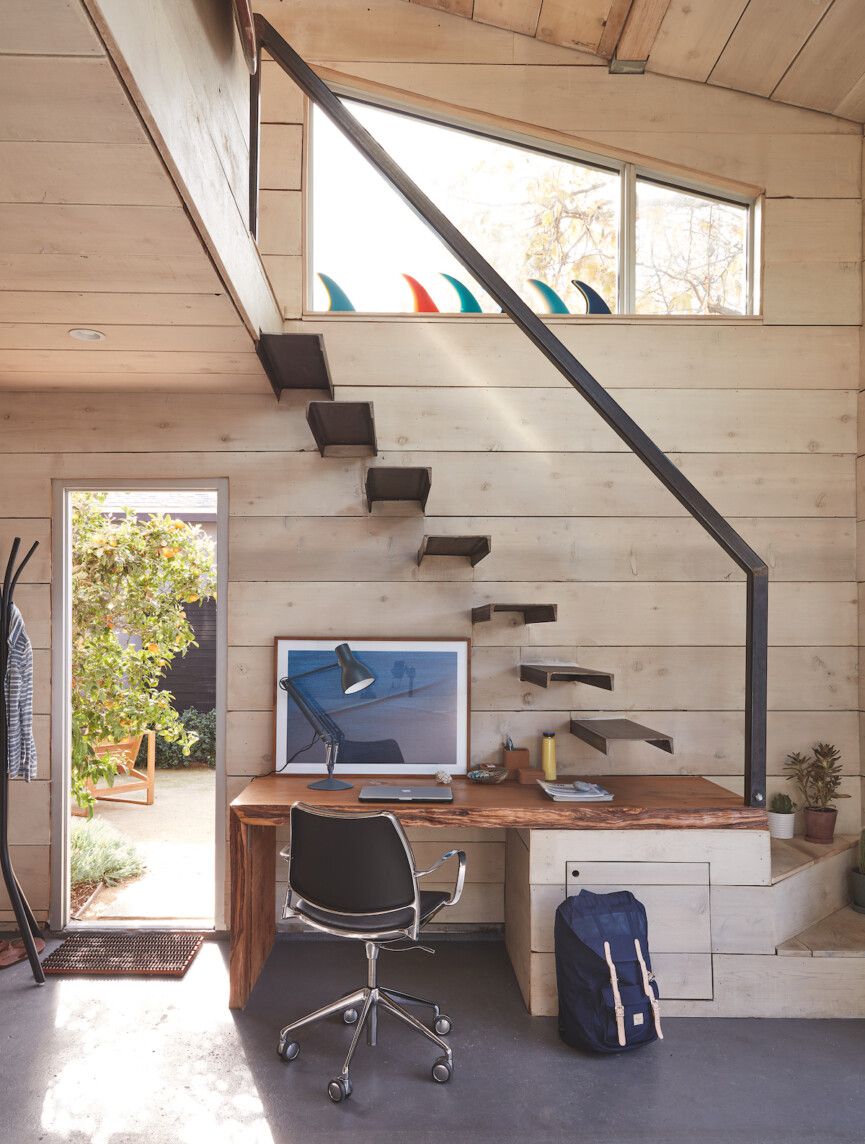 What are your favorite parts of the completed space?
I love the loft. It's a small library, bedroom, garden space, studio space, and above all just a space to relax with no distractions. It's where I spend 90 percent of my time while I'm there and is a space I will cherish forever.
What were your biggest learnings from the experience?
Every day was a learning experience and excelled my experience in my field professionally tenfold. I hadn't worked through a project from start to finish in my career yet. I started this project one year out of school and had just worked on builds for portions of previous projects. I have been working professionally now for seven years and am about a year away from seeing a project built after working on it from day one. Some people in my field don't get this chance in their whole careers. I am now comfortable working on any project because of this experience.
As I have learned from this book project, passion projects have a way of steering what you do professionally. What has this project led to for you since completion? What do you hope it leads to down the road?
I always knew my passions lie with design/build and this was a chance to really give it a go on my own. This led to a couple of other backhouse projects, and I hope to work on more. I work on high-end residential projects for my day job, and as much as I like working on those, these types of projects are refreshing and allow me the freedom to flex my creative muscles and get my hands dirty with a build. It definitely scratches the itch and I hope to keep working on passion projects like this throughout my career.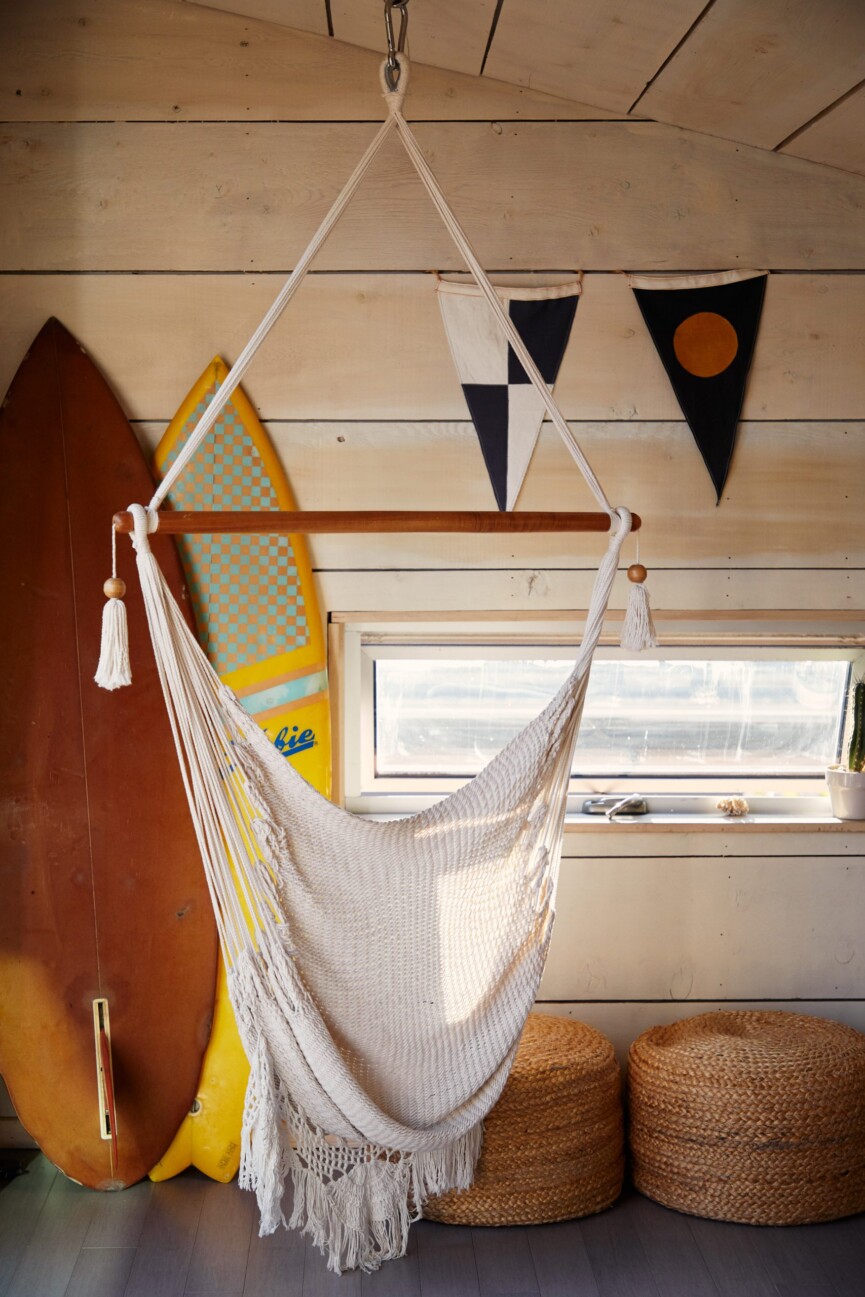 Photo by Read McKendree.
Courtney Husk on the interior design process
What do you remember about when we first moved into this house?
You had put an offer on this house before I had a chance to see it in person. The first time I saw the house, I started crying. Not in a good way. The house was in really bad shape. Pretty much everything needed to be replaced or updated. It was a ton of work and we had no idea what we were doing. Not to mention, we had no money. So we flew friends in from the East Coast to demo the house, help install the wood floors and the bathroom tiles, and paint the walls. We were living in the house, along with our friends, as it was being renovated. That first month living in the house was basically like camping with a roof over our heads. I remember the first few nights sleeping on a mattress in the living room while the flooring was being installed in the bedrooms. We cooked meals in a microwave in our dining room while the kitchen was being renovated, and we peed in the backyard and showered at friends' houses while the bathroom was being remodeled.
When did you first take an interest in interior design?
When I was a kid. Luckily I have amazing parents who embraced my love of interior design and let me choose furniture for our house, new upholstery for the living-room couches, new wallpaper for the kitchen and bathroom, and paint color, bedding, and furniture for my bedroom. My parents built a new house when I was in high school and that was my first experience reviewing architectural plans and watching the plans come to life as the house was being built. It was an incredible experience.
How would you describe your style?
Beachy modern is probably the most succinct description. My style is sophisticated yet playful. I like using fun combinations of pattern, texture, and color.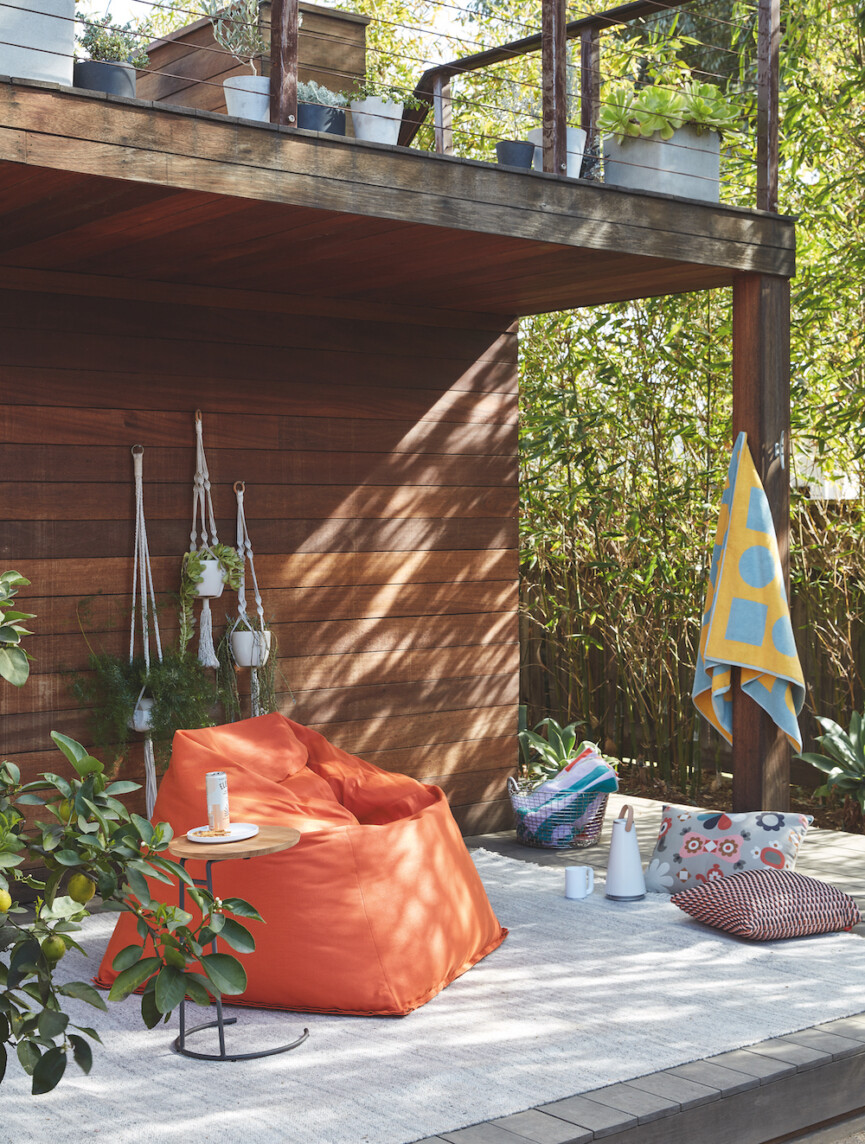 When it comes to our home, is it hard for you to balance your taste and what you typically gravitate toward with my personal aesthetic?
It took me a while to figure out how to mesh our styles, as your style is more "rustic" than mine. But now I wouldn't be able to pull our styles apart; they work so well together.
What was your goal with the garage renovation?
My primary goal was to have an inspiring space filled with light and beautiful design that friends and family would enjoy. My secondary goal was to finish the house before our first child, Milo, arrived!
What are your favorite parts of the completed space?
The black-and-white cement floor tiles in the bathroom, the Heath Ceramics backsplash in the kitchen, the floating stairs and raw cedar desk, the white-washed cedar plank walls, the Kohler Purist faucets, the skylight, the folding-door systems, and the hot tub.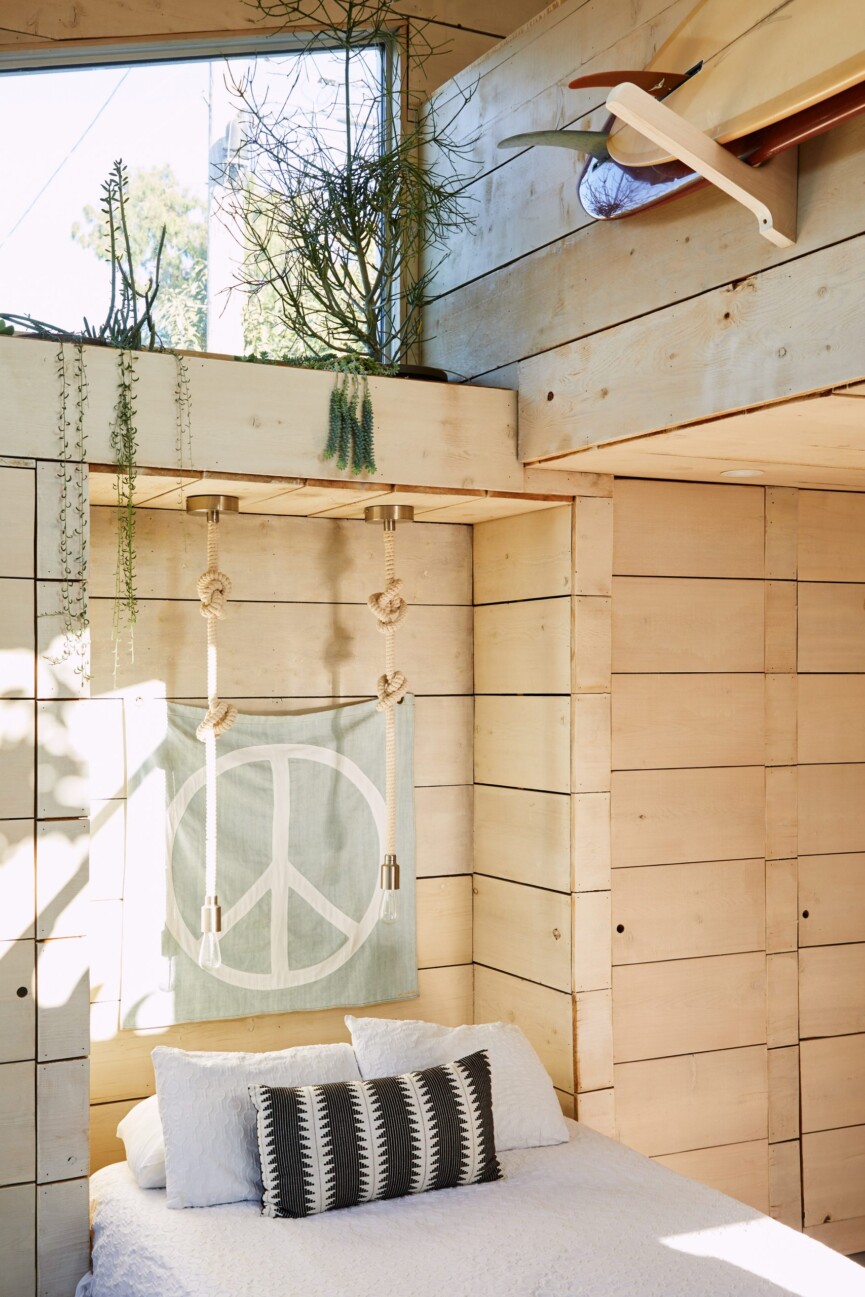 Photo by Read McKendree.
What were your biggest learnings from the backhouse experience? And renovating our home in general over the last 12 years?
Go with your instincts, measure everything twice, don't be afraid to ask the construction crew to correct something that doesn't match your design vision or meet your quality standards, and always, always test paint colors first!
As I have learned from this book project, passion projects have a way of steering what you do professionally. What has this project led to for you since completion? What do you hope it leads to down the road?
Since this garage renovation project, I've since remodeled our bathroom in the front house and designed several bathrooms, as well as created lighting packages and textile packages for friends and family. One day in the future I hope I'm able to work as an interior designer full time, as it brings me so much joy.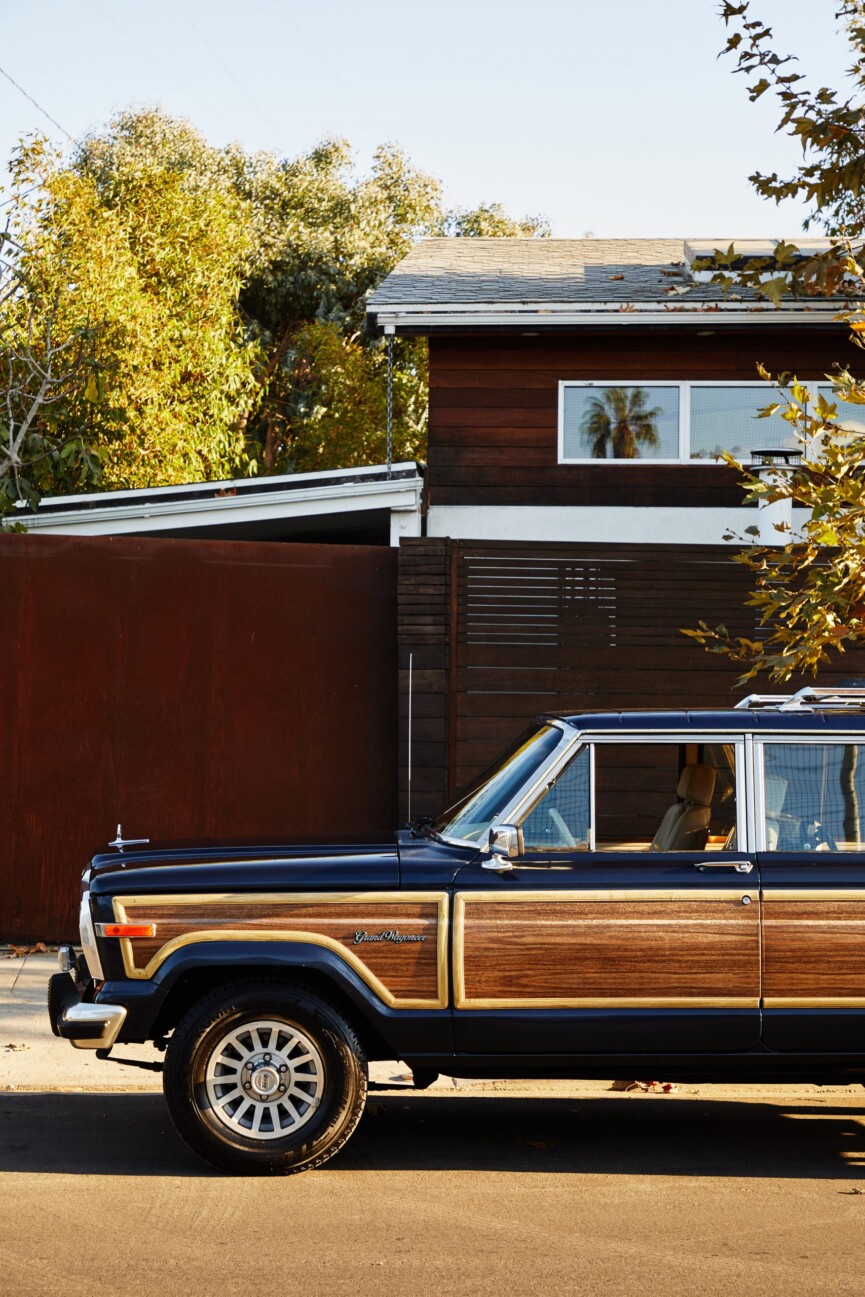 Photo by Read McKendree.