As the weather turns cool and the scents of pumpkin spice fill the air, many of us are looking for ways to carve out more time to reconnect with family and friends, even as the season's busyness ramps up. My strategy this fall for gathering friends at home in a way that doesn't feel overwhelming? Keep it SIMPLE with a backyard game night. This gathering has nothing to do with "impressing my guests,"–no elaborate tablescapes or expensive decor here—it's a party that keeps the focus on kicking back and having fun.
Here's the plan: stock up on a few outdoor games, set up some yummy snacks on an outdoor buffet, and (bonus points!) build a bonfire where everyone can gather to stay warm and roast marshmallows.
It's a simple formula that's all you need for a fall get-together that will give everyone major warm fuzzies for the season. Well, that plus plenty of warm blankets and cozy pillows for people to curl up in as the evening turns chilly. It's all about filling my home—indoors and out!—with the scents, sights, and feels of the season thanks to Target's fall home collection.
Scroll on to see how my backyard game night came together…
Welcome to Fall!
Create fall vibes from the start by decking out your front door with all the signs that fall has arrived: a harvest wreath, piles of woven pumpkins, and a seasonal doormat are all you need to spark warm fuzzies, stat. The day before our backyard game night, Phoebe and I spent the afternoon with my mom in her kitchen to make her signature fall pies to share with friends. While we were there, we decked out my mom's front porch for the season—she just painted it this gorgeous teal color, so I thought it would be fun to help her transition it to fall with a few key pieces.
Here's what we used:
Large Light Woven Pumpkin (Abundance)
Large Dark Woven Pumpkin (Abundance)
Women's Crewneck Textured Pullover Sweater – Universal Thread™ Blush
This TH Hello Fall Doormat is a must-have for welcoming guests into your home–and post-Thanksgiving, you can swap it out for a holiday version.
Add Layers of Cozy
Isn't there something so magical about this time of year? The cooler temperatures are a welcome relief from the humid summer here in Austin, and who doesn't love to throw on a turtleneck or a scarf with a wool blanket by the fire? The latter is key when planning a backyard party for friends—you'll want everyone to feel comfortable and warm. Make it feel extra special by tossing chunky knitted blankets, throws, and comfortable pillows on every seat. No matter the temperature outside, layering textiles will help you stay cozy all night long. I took this comfy approach for our backyard gathering. The key? Texture. Bring in all of those touchable fabrics into the space to dial up the snug factor. I even filled a woven basket with extra blankets for when the temperature drops after sunset. Be sure to invest in some oversized floor pillows too (I chose a faux fur option) for any "surprise" guests who swing by unexpectedly.
Let Mother Nature Be Your Guide
When I'm designing a tablescape for a special gathering, I always turn to Mother Nature for inspiration. The location where I'm hosting often informs the palette, patterns, and composition of the design, menu, and even the cocktail. The textural, outdoor vibe from our backyard scene also translates to the tablescape. I combined natural linens with earthenware and ceramic plates, vintage vessels filled with clippings from the garden, and materials that mimicked the outdoor surroundings.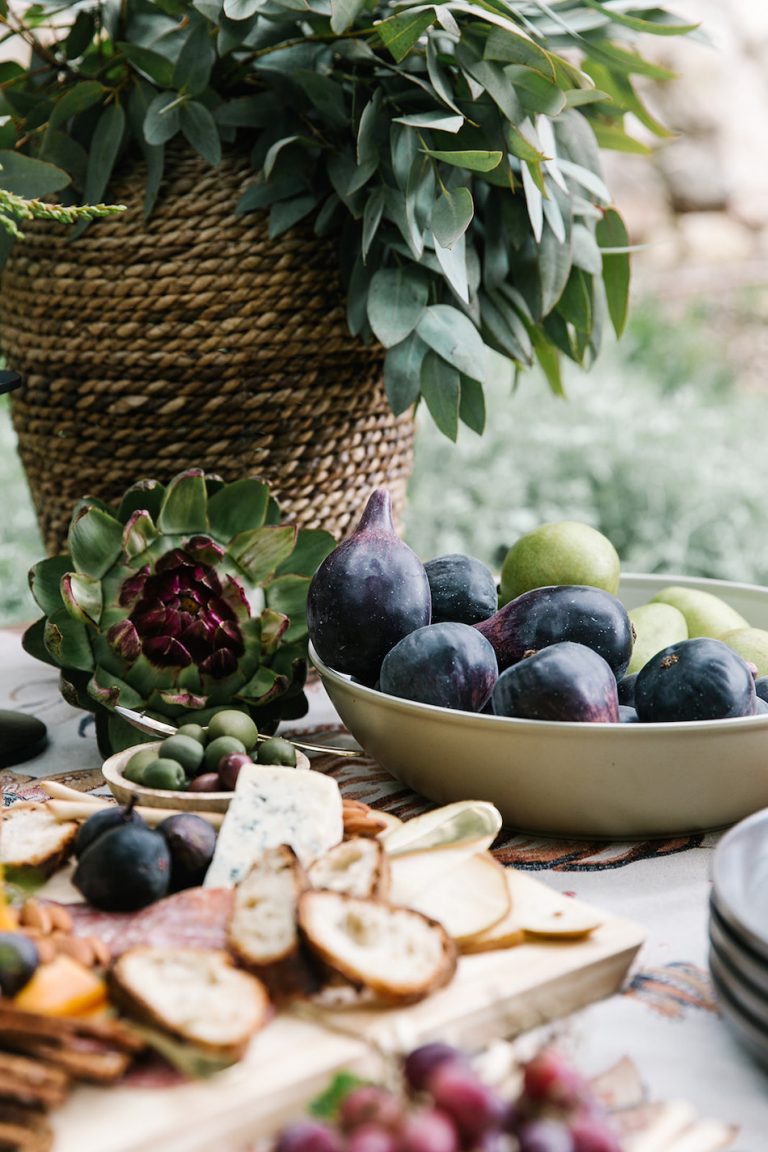 shop the look: Fig Filler, Tilley Bronze 16 pc Set, Woven Harvest Tall Vase, Threshold Bronze Spoon, Made by Design Acacia Wood Cutting Board Set of 2
Create a Fireside Gathering Spot
There's something about an open fire that encourages great conversation and a sense of connection—everyone wants to be close to the fire so it acts much like the kitchen counter. So, knowing that this will inevitably become the heart of the night, I love to surround the fire pit in the backyard with chairs, blankets, and pillows to create a cozy gathering place. I have a feeling everyone will want to stay until the stars (and marshmallows) come out.
8 of 24

How to Set Up a Fire Pit
Don't be intimidated by the thought of setting up a fire pit area in your backyard. It's actually very simple when you know what to do and when you have Target's portable fire pit bowl (Bangor Woodburning Firepit – Black – Project 62).
The first step is to invest in some dry firewood (the drier the better). You'll need:
tinder (pine needles, birch or cedar bark shavings, anything that lights up quickly)
kindling (small sticks, twigs, and wood splinters)
firewood (seasoned logs or slab wood)
Then, you'll want to get your fire started. Here's a quick step-by-step:
Set up the fire with your tinder. You'll want a generous amount.
Place the kindling on top of the tinder in a pyramid shape. Be sure to leave enough room to light the tinder underneath.
Light the dry brush with a long match or a butane lighter.
Continue to add more kindling (start adding larger pieces) until the fire turns into a healthy blaze. Then you can start adding your logs and/or slabs.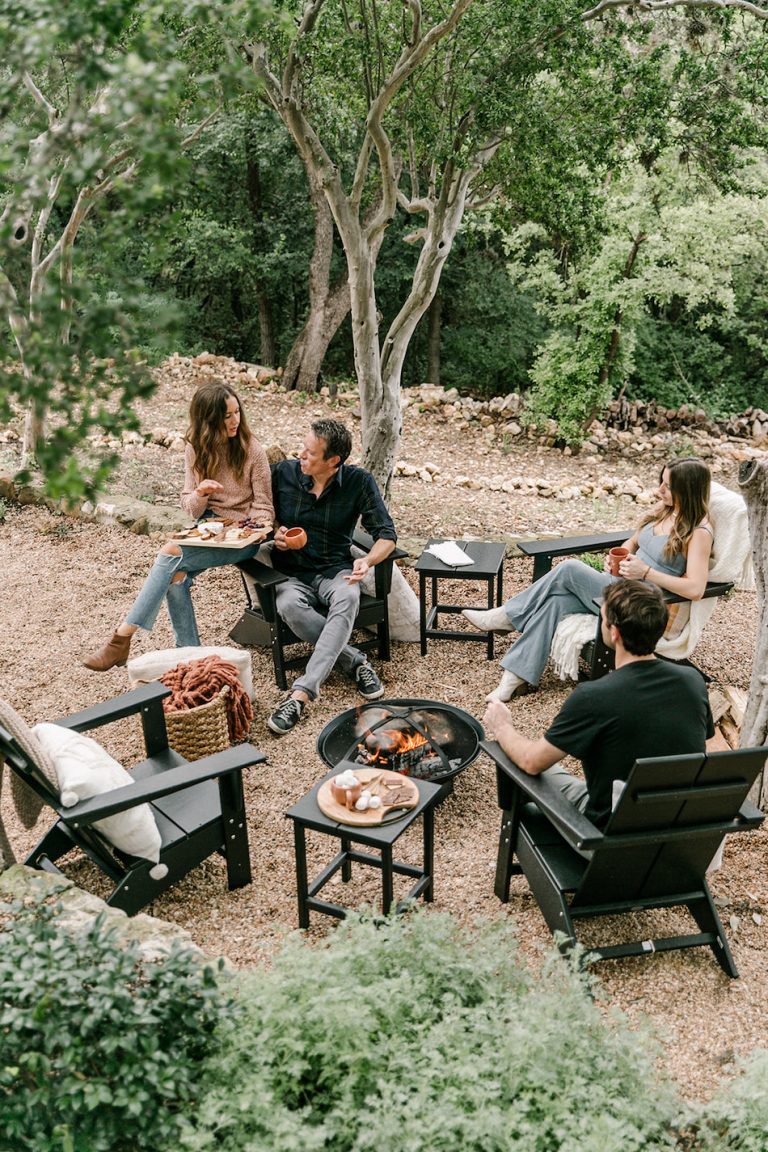 shop the look: Bangor Woodburning Firepit – Black – Project 62, P62 Moore Adirondack Chair, P62 Moore Side Table, Women's Crewneck Textured Pullover Sweater – Universal Thread™ Blush, Threshold Chunky Woven Throw Blanket Brown, Threshold Chunky Woven Throw Blanket Cream, Threshold Braided Round Large Basket, Threshold Faux Rabbit Fur Dec Pillow Euro Cream, Threshold Figural Pumpkin Mug, Made by Design Acacia Wood Cutting Board Set of 2, 13″ Mango Wood Serving Board – Threshold™
s'mores supplies: 13″ Mango Wood Serving Board – Threshold™, Threshold Figural Pumpkin Mug, Threshold Faux Rabbit Fur Dec Pillow Euro Cream, Hershey S'mores Tool Box
A "Help Yourself" Menu for our Fall Game Night
I set up a sangria and snacks table for grazing on cheese, charcuterie, and autumn veggies. And for dessert? It's a pie potluck. Making sure your self-serve setup has a simple grazing-style menu will allow guests to help themselves as they please throughout the night. Think seasonal veggies and comfort foods that tap into the sentiment of fall. Stick to bite-sized, grab-as-you-go foods and easy sides that you can make in advance (and will last outdoors for a few hours) so you're able to enjoy yourself without running to and from the kitchen all night.
Mix Up an Autumn Sangria
Many hosts share this party secret: prepare a big pitcher of sangria before guests arrive, then set it out, and let everyone help themselves. The flavors get better as they sit, and as mentioned, I love any menu item that frees me up to have fun right along with my guests (instead of playing bartender all night.) Here's what I added to mine:
2 medium apples, thinly sliced
1 medium pear, thinly sliced
1 medium orange, thinly sliced
2 cups apple cider
1/2 cup triple sec or Grand Marnier
1/2 cup brandy
1 (750 ml) bottle prosecco
garnish: rosemary
Mix up everything except your prosecco in a pitcher or beverage dispenser (I used this one from Threshold), and allow to sit in the fridge for at least 6 hours (preferably overnight.) When ready to serve, add the prosecco, and garnish each glass with rosemary.
For a nonalcoholic option that still feels festive, offer warm mugs of apple cider garnished with a cinnamon stick or sprig of rosemary.
Easy Snacks for the Win
I love shopping Good & Gather's ready-to-go snacks when I'm putting together a grazing-style menu like this one: there are dips, cheeses, and charcuterie that I can easily transfer into a pretty bowl for a look that's elevated for a party. For this board, I used:
Good & Gather Red Pepper Hummus
A variety of fall veggies
Good & Gather Mixed Olives
Wedges of good cheddar and blue cheese
Good & Gather baguette
Prosciutto and salami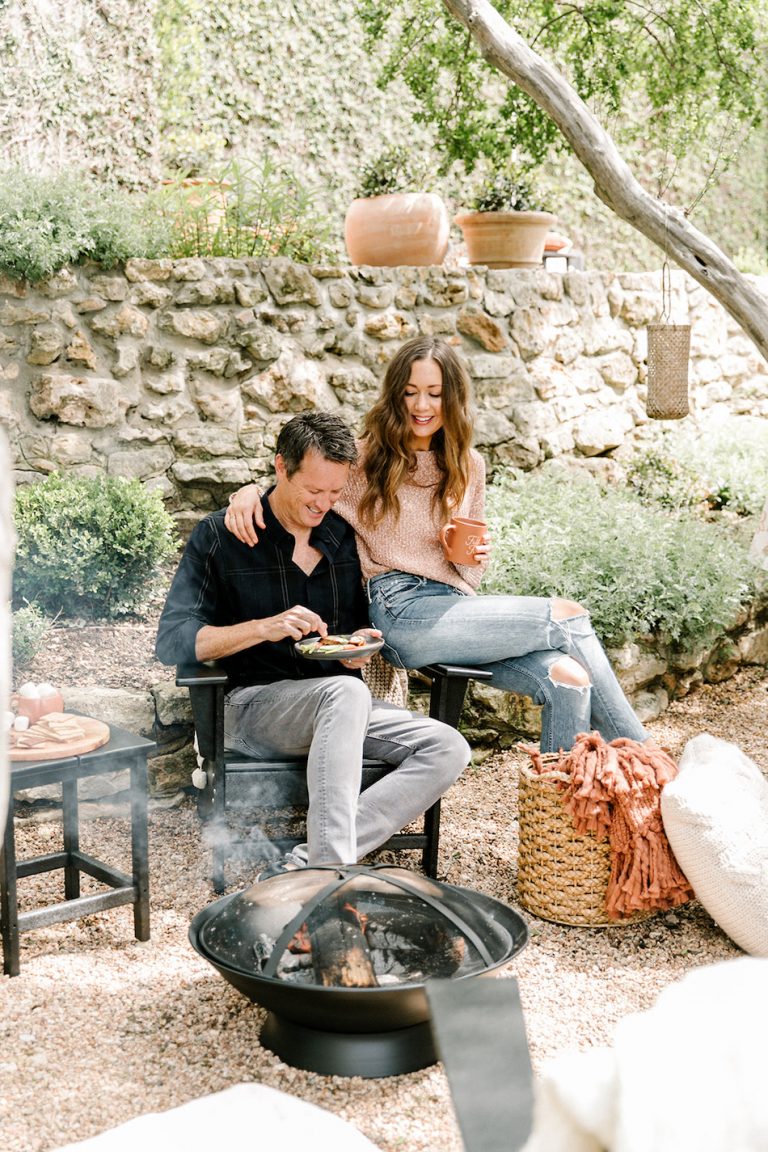 shop the look: Bangor Woodburning Firepit – Black – Project 62, P62 Moore Adirondack Chair, P62 Moore Side Table, Women's Crewneck Textured Pullover Sweater – Universal Thread™ Blush, Threshold Solid Chenille Knit Throw Blanket Orange, Threshold Braided Round Large Basket, Threshold Fall Feels Mug, Tilley Bronze 16 pc Set
We got a jump start on Thanksgiving pies by inviting everyone to bring their favorite recipe (or one picked up from the store!) to share with friends. I think we can all agree that extending "pie season" just a bit longer is always a good idea.
Cue the Competition
One surefire way to keep guests of all ages entertained is with a few classic outdoor games—nothing sparks major joy like some old-school fun. And there's no need to ugly up the yard! Target has classic games like bean bag toss, yard dice lawn bowling, giant connect four, and everyone's favorite, tumbling blocks. These will integrate seamlessly into any backyard setup and will provide endless fun for years to come.
More iconic outdoor games to add to the mix?
Bocce Ball Lawn Game Set
Steel Horseshoes Set
Croquet Lawn Game Set
Wooden Lawn Bowling
Double Ladder Toss
And of course, don't forget to organize a stargazing setup for some after-dark fun—and you don't need a telescope to stargaze. With the help of a stargazing app, you can identify stars, constellations, satellites. and more on a clear night as long as you are far away from city lights! Or you could take your stargazing to the next level by investing in a few handy tools: a beginner's portable telescope, and a constellations guidebook. Just be sure to keep the warm blankets nearby!
shop the look: Tilley Bronze 16 pc Set, Threshold Faux Fur Ombre Dec Pillow Euro Brown, outdoor side table, 12oz 6pk Glass Rioja Double Old Fashioned Glasses – Made By Design™, Medium Clear Glass Vase – Hearth & Hand with Magnolia
Create an Elevated Fall Cheese Board
Food served outdoors needs to be simple to eat, served family-style, and taste just as good at room temperature. Thankfully, the classic cheeseboard ticks all three of these boxes. And in the cooler temperatures in fall, you don't need to worry about the cheeses melting (although, the brie doesn't mind at all!). For this charcuterie, I wanted to make it feel seasonal and celebratory so I tapped into Good & Gather's impressive selection to create an elevated (and affordable) spread with a range of delectable cheeses, dips, and in-season ingredients. When it comes to styling your cheese platter, don't be intimidated. The key is to serve as much as possible that's seasonal and organic as possible, and let the abundance of the season take center stage. You want it to appear full and abundant, so layer your cheeses in among juicy grapes, figs, roasted veggies, and meats.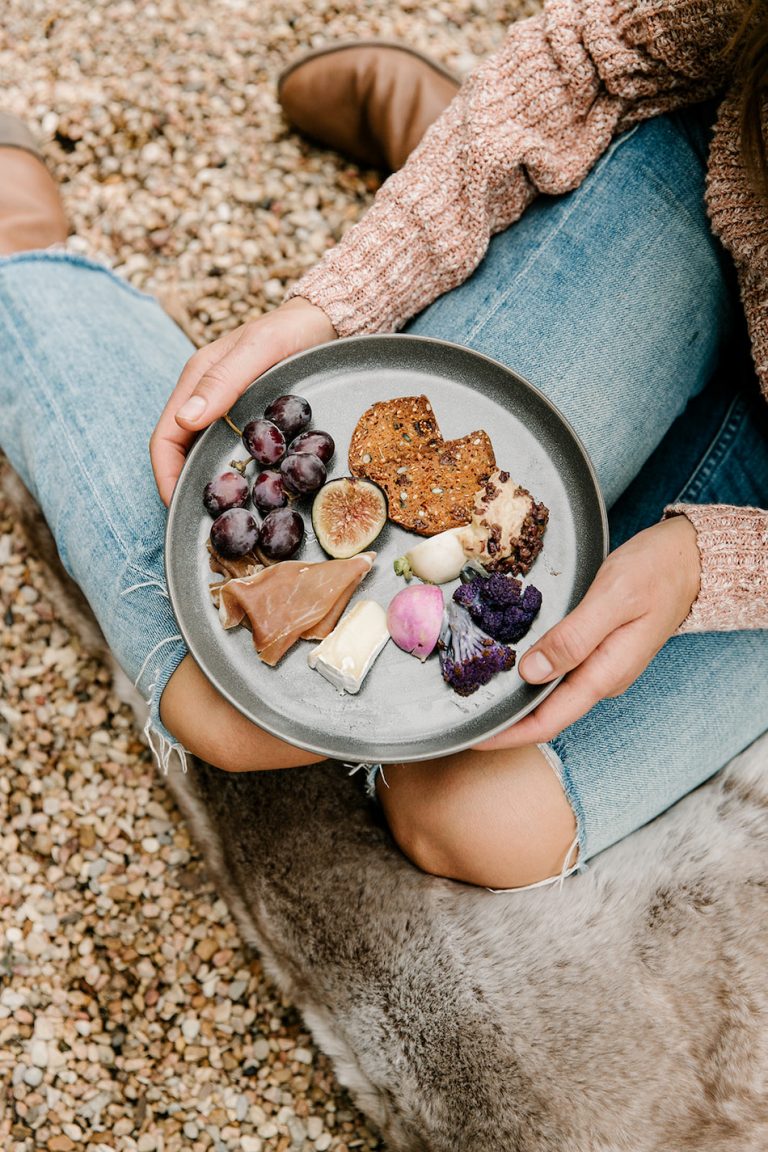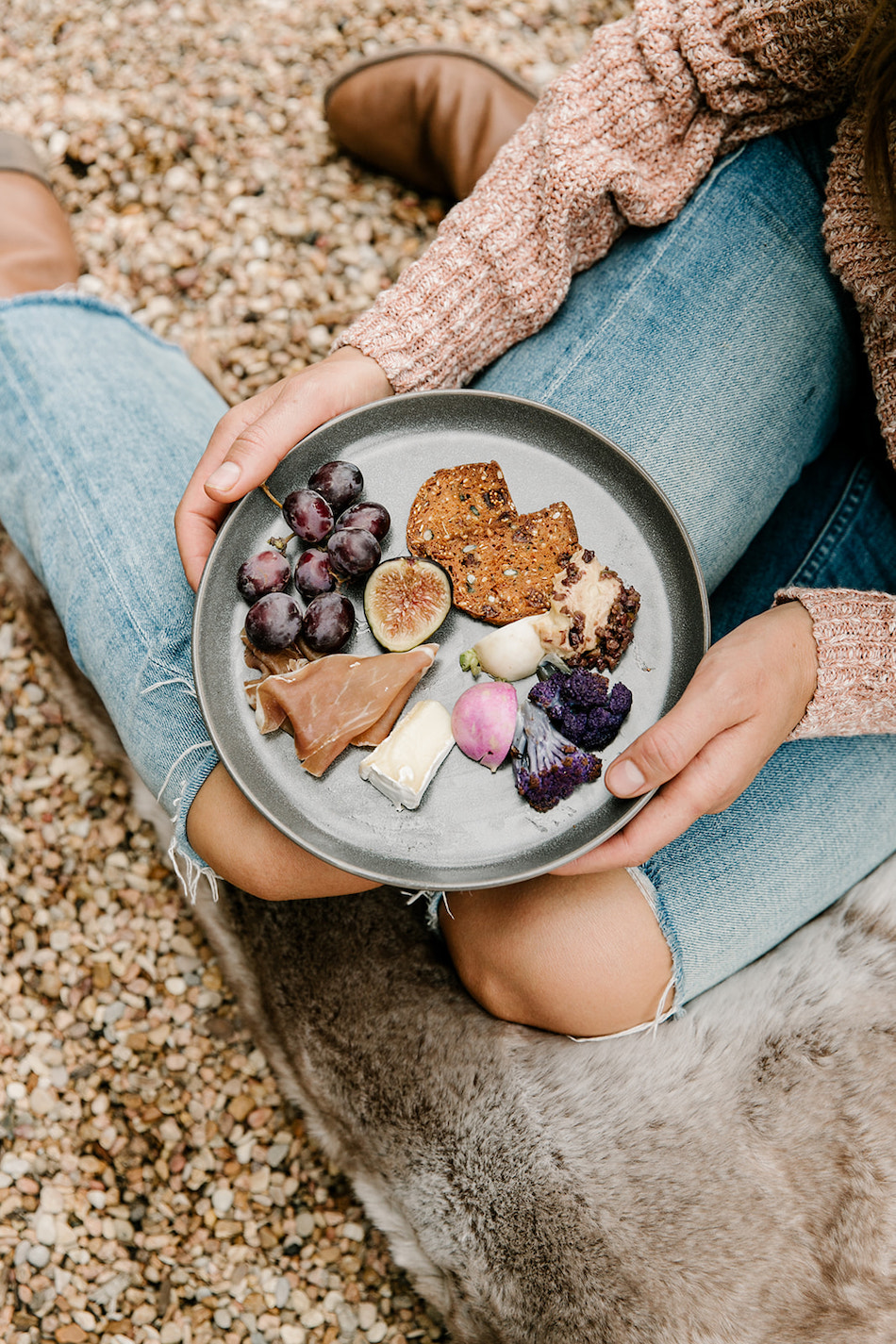 Also, consider mixing different types of cheeses: a hard, sharper cheese (cheddar, parmesan, or gruyere), a stinky soft cheese (gotta have a blue), and creamy cheese (like brie or goat.) It's also fun to incorporate at least a couple of different kinds of milk (cow, goat, sheep, or nut milk) to keep things interesting and make you look like a pro. Then present them in varying shapes and sizes. Serve parmesan in a long skinny wedge; cut a cheddar into long thin slices that can be stacked up or fanned out; position brie in a whole wheel and surround it with fig slices or grapes, nuts, and drizzle the top with honey—yum!
The real secret to styling a knockout cheese board is the garnishes. Think sliced mini toasts, scattered toasted walnuts, apple slices, a little bowl of olives, or salami nestled into any empty spots on the board. Opt for a variety of textures and colors to keep things visually interesting. Keep serving plates nearby—Target has the prettiest outdoor plates—I love this melamine and bamboo blend plate and small bowl in earthy tones to match the outdoor setting. They're also incredibly affordable and will stand up to the weather and multiple gatherings.
Make Dessert a Potluck
Guests love an opportunity to contribute—it makes everyone feel part of a gathering. Since everyone is starting to crave fall flavors (and thinking about Thanksgiving), now is the perfect time to invite guests to bring a pie to share, ie. a "pie potluck!" Since pie is not my strong suit, Phoebe and I went to my mom's house the day before this party to bake a few fall pies. It was really special to have my mom teach us her pie baking secrets.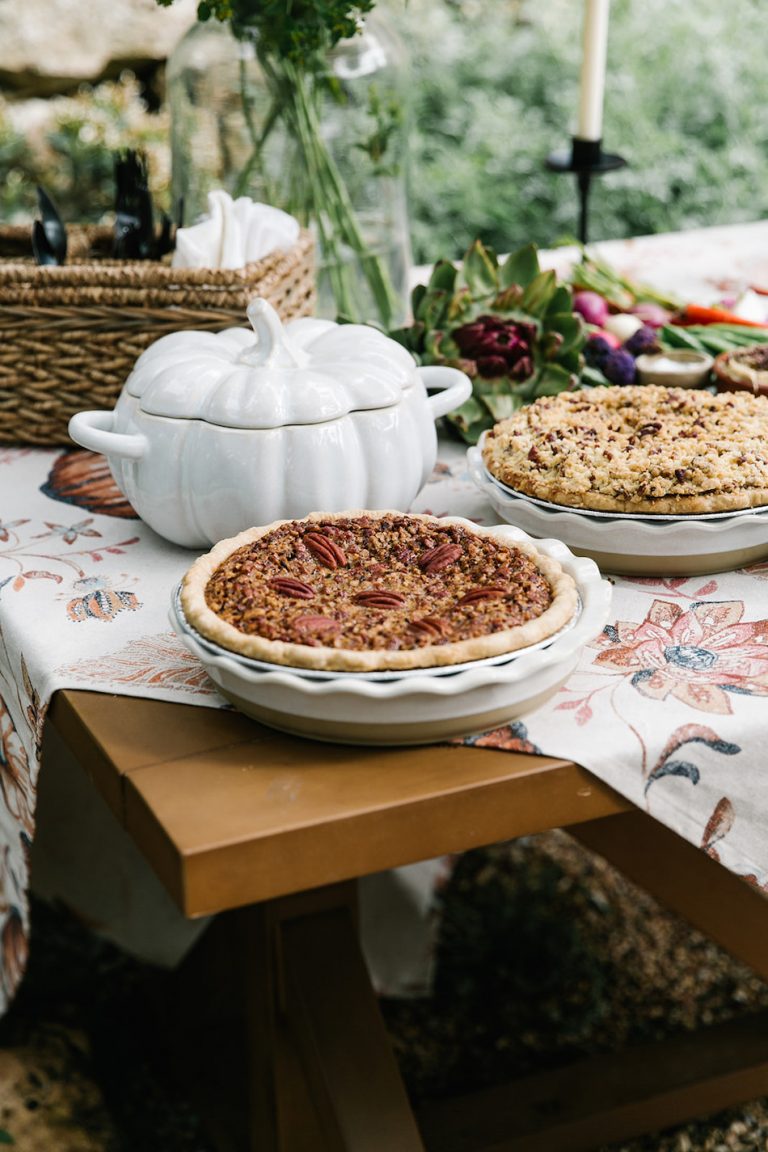 shop the look: Threshold Pumpkin Baking Vessel – Large White, Threshold Pie Pan – Organic White, Threshold Tablecloth 60×84 – Pumpkin & Flowers, Woven Utensil Caddy, Staggered Candle Stick Holders – 3 pc Set, Large Glass Vase, 5pc Stainless Steel Kayden Silverware Set Matte Black – Threshold™
I'd say it's the recipe for a pretty epic start to the season, wouldn't you?