When I first met Lizzy Mathis years ago at an event, she embraced me like an old friend. Her warm, extremely charismatic smile and bubbly personality won me over in minutes. But it didn't stop there. Every time we'd see each other at various events after that, or gatherings of mutual friends, she would make the effort to cross the room to say hi, and she always remembered my name. Nate Berkus is the only other celebrity encounter I've had who made me feel like family. What can I say, it's rare. Plus, I can only imagine how many people they meet on a daily basis so for me, it's a sign of good character. Mathis is the real deal. She walks the talk. What you see is what you actually get—and yes, she's genuinely a nice person.
This joy is also the secret sauce behind her success both as an actor (she featured in Unstoppable, Enchanted, and TRON: Legacy), a cook, and founder of The Cool Mom Co.—an all-inclusive, diversity driven hangout destination for moms. Her passion for food though (this chopped salad is mouthwatering!) is what inspired us to track her down and discover what inspired her career switch from the big screen to cooking. So, we were thrilled when she invited us into her kitchen to learn. more about her culinary artistry, what she always has on hand in the pantry, and so much more! Plus, don't miss her exclusive Chicken & Cheese Quiche!
Where does your love of cooking stem from?
My love of cooking comes from my grandmother and mom. I was raised by two strong women who expressed their love through the food they prepared and nourished our bodies with. So many of our traditions included the kitchen. It wasn't until I became a mother that I truly began to realize the joy I felt from creating dishes for my family to enjoy and grow.
How did you learn your culinary artistry?
Honestly, I've been watching amazing chefs my whole life. They weren't considered chefs or culinary experts, they were older family members who knew what spices mixed well with what, exactly how much flour was needed for this or that, and weren't afraid to mix flavors or make mistakes.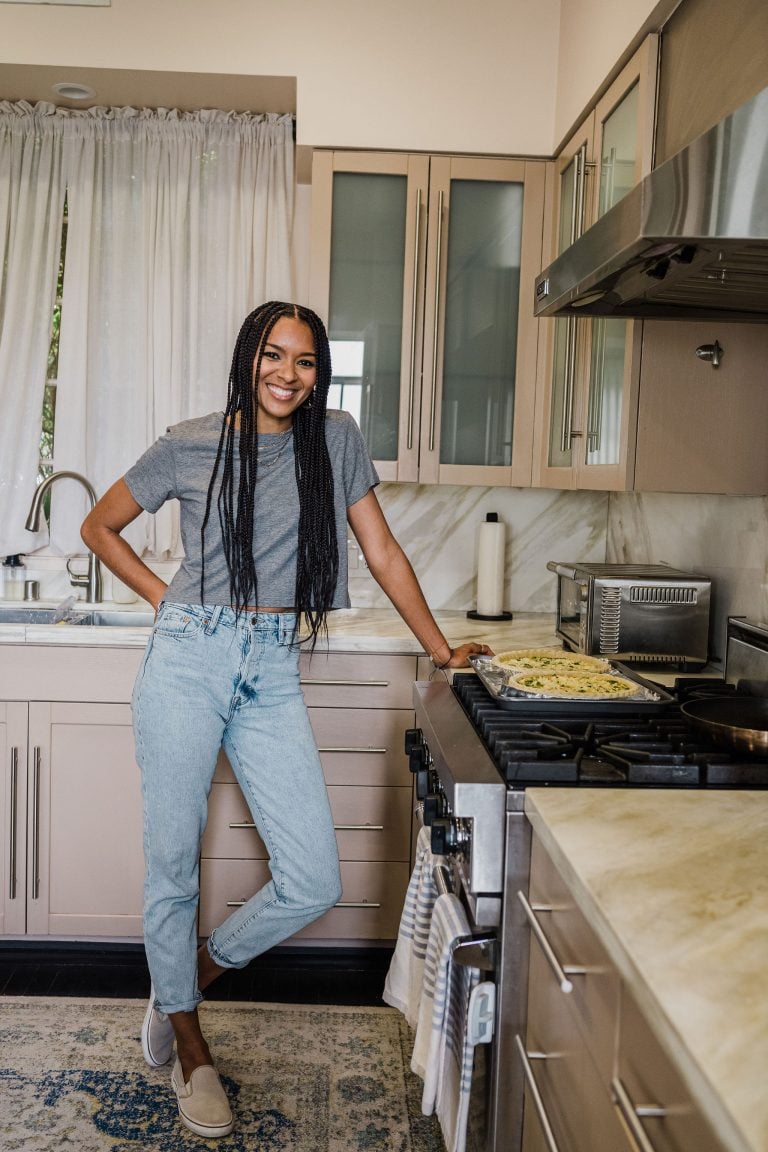 How would you describe your cooking/culinary style?
As my husband would say, I am an elevated home chef. I enjoy the process of learning and applying new techniques, flavors, and spices with the hometown dishes I grew up on. I lean into using farmers' market fresh fruits and veggies as a staple in most of my recipes.
Describe a typical day for you.
I don't think any day in the past year has been typical! With a pandemic, virtual school, zoom calls, working from home—every day is far from normal. I try very hard to schedule my day into blocks so I am able to focus on one main task at a time. I try to complete my day around 5 pm and focus fully on dinner, homework, and hanging with the kids. After dinner, the evening routine is usually reading with the kids, getting them to bed and spend some time recapping the day with my hubby.
What do you drink when you wake? And what's for breakfast?
I start every day with water and lemon. Then I will usually have a green shake or egg scramble with veggies and spinach.
How are you staying healthy during the pandemic?
My husband has been great at encouraging the family to take daily walks and to spend an hour working on the computer in the backyard (for vitamin D). We also made a rule that Friday nights are our fun night—order food, eat treats and watch movies. The other days, we try to encourage healthy snacks (fruit and veggie plates), three balanced meals and a ton of water (preferably with lemon or cucumber!)
What are your must-have cooking tools and why?
I love GreenPan pots and Our Place pans. They make the clean up process so much easier and the one pot dishes simpler. My Vitamix blender is crucial for my morning smoothies and dinner soups. And sharp knives in the kitchen make me sooooo happy! I know it sounds crazy but they allow me to chop and dice so much quicker than dull knives.
What's the cooking tool you always give beginners and why?
A cast-iron skillet. I love my cast irons! When well seasoned, they are great to learn on and move from stove to oven seamlessly.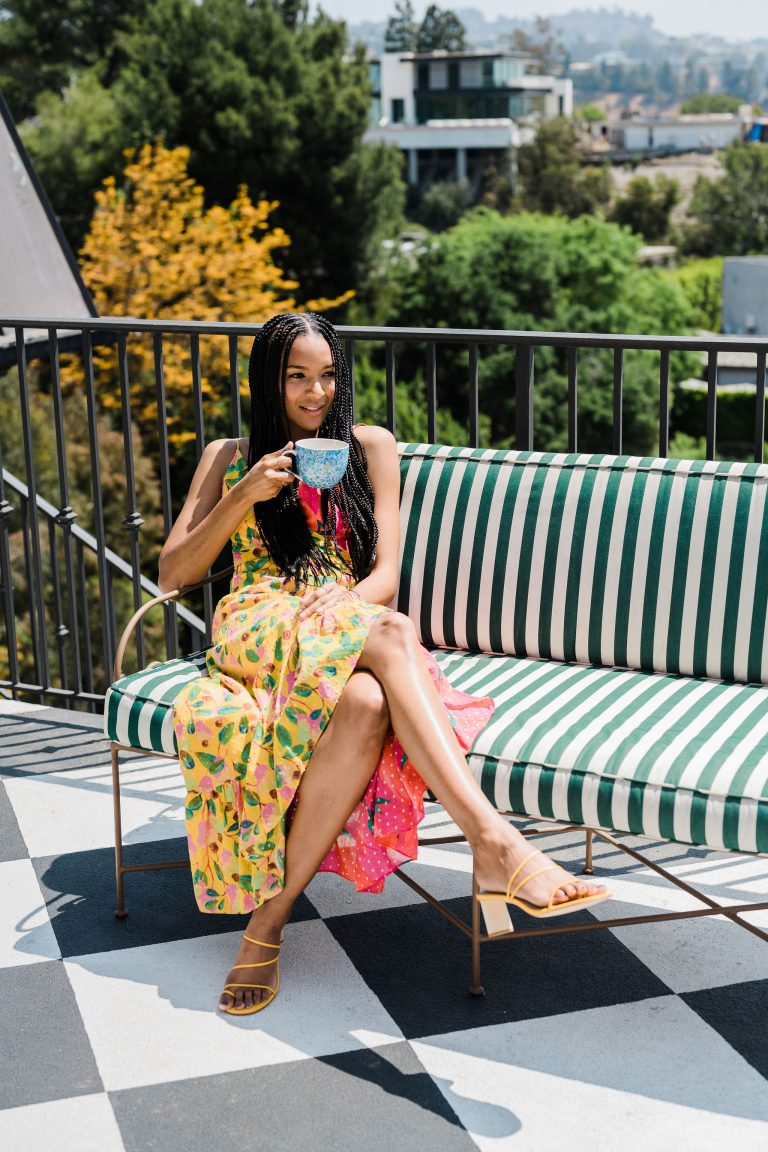 What are your favorite cookbooks and why?
A while ago, my mom started documenting her recipes from her and my grandmother. It is my most treasured cookbook ever.
Tell us a few things we'll always find in your refrigerator?
Fresh fruit, herbs, eggs, spinach, cheese, and oat milk.
And what about your pantry? What do you always have on hand?
A quality EVOO (extra virgin olive oil), organic coconut oil, a range of spices, almonds, and dried fruit.
What scares you about cooking and why?
I don't fry a lot. It doesn't necessarily scare me but I saw a couple of kitchen fires when I was younger and it freaked me out.
Your signature dish for parties?
For brunch parties, it's quiche every time. Super easy to make a few different varieties for your guests. For dinner parties, it's one-pot meals like curry or stews are perfect. I love our chicken chickpea curry stew for guests.
The one meal you always make at home and why?
Pan-roasted salmon, roasted veggies, and roasted sweet potato cubes. It's a dish my family loves. When frozen, salmon thaws pretty quickly; roasted veggies tossed in olive oil and sea salt take less than 15 minutes; sweet potatoes add a sweet hint to the dish.
Dinner party pet peeve?
Not enough for seconds. I love to eat seconds—lol!
The perfect dinner party playlist includes:
A mix of jazz, deep house, and afro beats.

Go-to centerpiece solution:
Flowers are always my go-to. I also love plants as an alternate.

Dream dinner guests?
Martha Stewart and B. Smith (who passed last year).

Fill in the blank:
A perfect meal should always… feel welcoming and never alienating.
It's not a dinner party… without good wine and good conversation.
Keep scrolling to make Elizabeth Matis' delicious Chicken & Cheese Quiche!
---
Ingredients
1 homemade or store-bought single-crust pie dough

1 tablespoon unsalted butter

1/2 cup medium diced yellow onion

1/2 teaspoon salt 

1/2 teaspoon ground pepper

1/2 teaspoon granulated garlic

6 large eggs

3/4 cup milk

1 handful of spinach chopped

1/2 cup diced cooked chicken

1/2 cup diced red bell pepper

1 cup shredded cheddar cheese (4 ounces)
---
Instructions
Preheat oven to 375 degrees.

Meanwhile, in a large skillet, melt butter over medium-high.

Add onion, season with salt, pepper and garlic. cook until light golden.
In a medium bowl, whisk together eggs and milk.
Add onion, chicken, red bell pepper and cheese to bowl. Mix to combine.
Pour mixture into crust and bake until center of quiche is just set, about 40 to 45 minutes. Serve warm or at room temperature.