We've all heard of and likely celebrated Friendsgiving, and Galentine's Day is a fun shift away from February 14th's focus on romantic love. But Friendsmas? I'll be honest and say that I hadn't heard of the holiday until this year. Maybe that makes sense: Before the pandemic kept us from gathering and welcoming large groups into our homes, many of us traveled far and wide to be with our families. But just as COVID-19 has impacted nearly every aspect of our lives over the past two years, it's also changed how we view the holiday season, too. While I'm thankful to be spending this time with loved ones, I'm also more aware of how grateful I am to have close friends I consider to be family as well.
That, dear readers, is something to be celebrated, and there's no better way to do that than by throwing a Friendsmas party. To get down to the very important business of throwing the best Friendsmas party you've ever had, I've rounded up all the ideas you need to make it happen. Here's the truth: Every day can be a party when you surround yourself with your favorite people. It's important to know that you don't have to wait until the holidays to love on your friends. I'm all for making special, cherished moments a part of my everyday.
Sharing little bits of gratitude with friends throughout the year can help us all build consistently strong relationships. As much as I hate to admit it though, life gets busy. Between work, family, and personal matters, making and maintaining friendships as an adult is a challenge. That's why I'm all for throwing a Friendsmas party this year. There's nothing better than bringing your friends together for a gathering that's focused on just a few things: eating, laughing, and letting them each know how much they're loved.
feature image by michelle nash
Without further ado my friends, it's time to party.
Read through for all the Friendsmas party ideas that'll make you want to celebrate the holiday for years to come.
6 Tips for Hosting a Fun Friendsmas Party
Be intentional about your guest list.
While many of us are vaccinated and feel comfortable attending larger gatherings, it's important to remember that isn't the case for everyone. When you're sitting down to make your guest list, identify a few of your closest friends who you want to make sure are in attendance. Have an honest conversation with each of them separately about what they feel comfortable with. If even one of your friends would rather keep it small, respect their feelings. If all of your dearest friends (and you!) are okay making the party a little bigger, you can begin extending a few more invites.
Pick a time frame that works with your schedule.
The holiday season is full of plenty of fun and festivities, but all those holiday parties can quickly add up. Are your weeknights booked, but weekend days wide open? Host an early gathering on Saturday or Sunday to accommodate everyone's even-busier-than-usual schedules.
Make the food easy, but festive.
This tip is absolutely key. While we love spending hours in the kitchen whipping up impressive party-worthy creations, many of us just don't have the time. Make things easier on yourself by selecting a few recipes that are simple or can be made in advance. You can even work in a few assembly-only platters and plates that require just a trip to the store. Whatever route you take, know that while the food is an exciting part of any gathering, everyone's there to spend quality time together. In other words, do what you can to make your party as stress-free as possible.
Reminder! You can host somewhere that isn't your house.
Just because you're the host, doesn't mean the venue has to be your home. You can rent out an Airbnb for a change of scenery or book a table at one of your favorite local restaurants.
Serve something non-alcoholic.
In the spirit of making all your guests comfortable, serve a few no-booze options alongside your party's signature cocktail. This can be as simple as putting out an array of sparkling waters or bottles of kombucha. If you want to take it to the next level, mix one of our favorite mocktails for a little fizzy fun.
Have a few games on hand or center your party around an activity.
If you want to go the activity route, try a few of these foolproof ideas. Depending on where you live, you can all bundle up and go for a snowy walk in the woods. When you get back, warm up with hot chocolate or the bourbon cocktail below. Another option is inviting a local florist over to lead you and your friends through a wreath-making class. When planning and picking a festive activity, be sure it's something that all of your guests will enjoy. Want to host a party with games instead? See below for inspiration.
It's Game Time
Give a Little
Everyone loves receiving a little something special during the holidays. Set a spending limit (I'd recommend between $20 and $25) and have a little fun with the classic White Elephant game. You and your friends can pick numbers from a bowl that'll determine the order for selecting presents. Limit one to two steals per person. As an alternative, you can let guests show off their skills and ask that all presents be homemade. This can range from DIY artwork to homemade baked goodies to even a small collection of poetry. Who doesn't love a gift from the heart?
Break Out the Board or Card Games
While we want to keep things festive and not veer into game night territory, I'm all for keeping a few of my favorite games at the ready. Just be sure that the games you select involve the whole group. Bonus points if you play a game that helps everyone get to know each other a little better. Try Hot Seat, The Hygge Game, or Nine Shapes if you're into learning everyone's enneagram.
"Sip if…"
Put together a bowl of cards with holiday-themed statements like, "You hate fruitcake," "You start listening to Christmas music mid-October," and "You still haven't bought your partner's present." (Get more inspo here). Start with a full glass (non-alcoholic beverages welcome) and have guests pick a card. If the statement is true for you, take a sip. I guarantee you'll be rolling over laughing even just a couple questions in.
The Recipes Your Friendsmas Party Needs
The Drink: Bourbon Champagne Cocktail from Fed + Fit
Why We Love It: Unless the temps are below 40 degrees and it's appropriate for me to wear my favorite winter sweater (ideally with a sprinkling of snow on the ground), you won't catch me drinking bourbon. Well, December has hit and I'm looking forward to all the ways I can warm up—whiskey spirits included. This drink is spicy, sweet, and above all, special. Perfectly fit for a festive Friendsmas party.
Hero Ingredient: It's not a party without the prosecco. If you want to switch things up, swap in champagne or another sparkling wine instead.
The Appetizer: Tarte Soleil
Why We Love It: Who doesn't love a good cheese board? Try this upgraded version that'll truly wow your guests. Puff pastry makes the pièce de résistance of this appetizer deceptively simple. Prep your pastry, make a few strategic cuts that'll create the sun-like design, place your wheel of brie in the center, and bake away. Surround your Tarte Soleil with any nibbles you'd like, and be sure to get in on this quickly—trust me when I say it's going to go fast.
Hero Ingredient: Spreading apricot preserves on top of your brie before baking adds a little welcome sweetness to this otherwise savory masterpiece.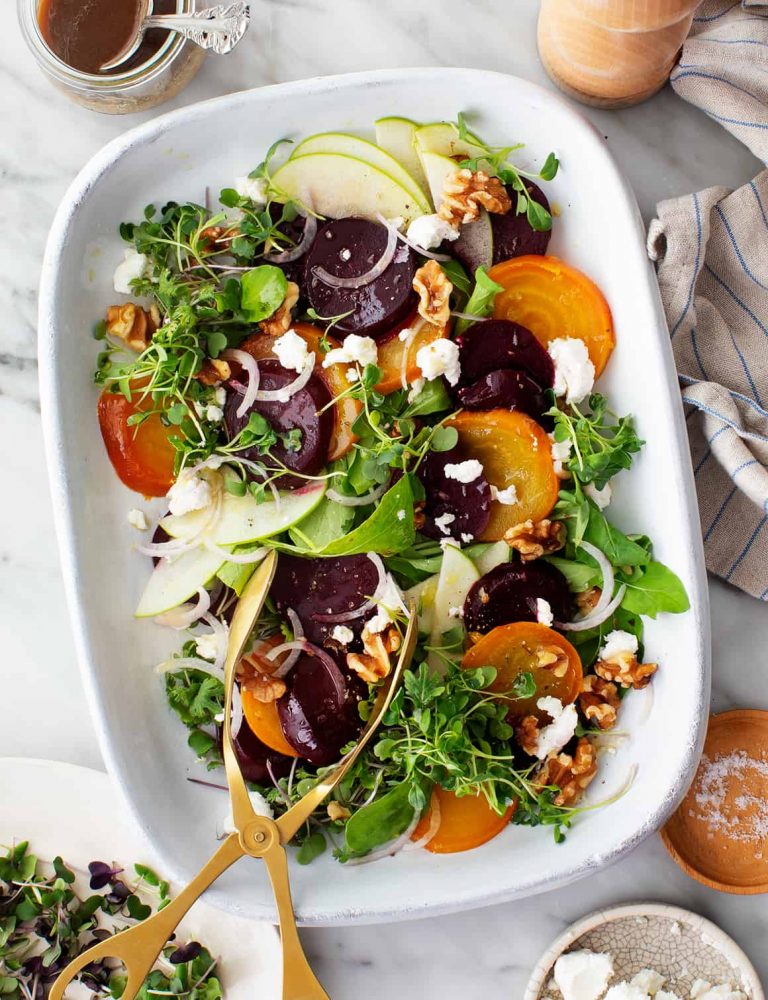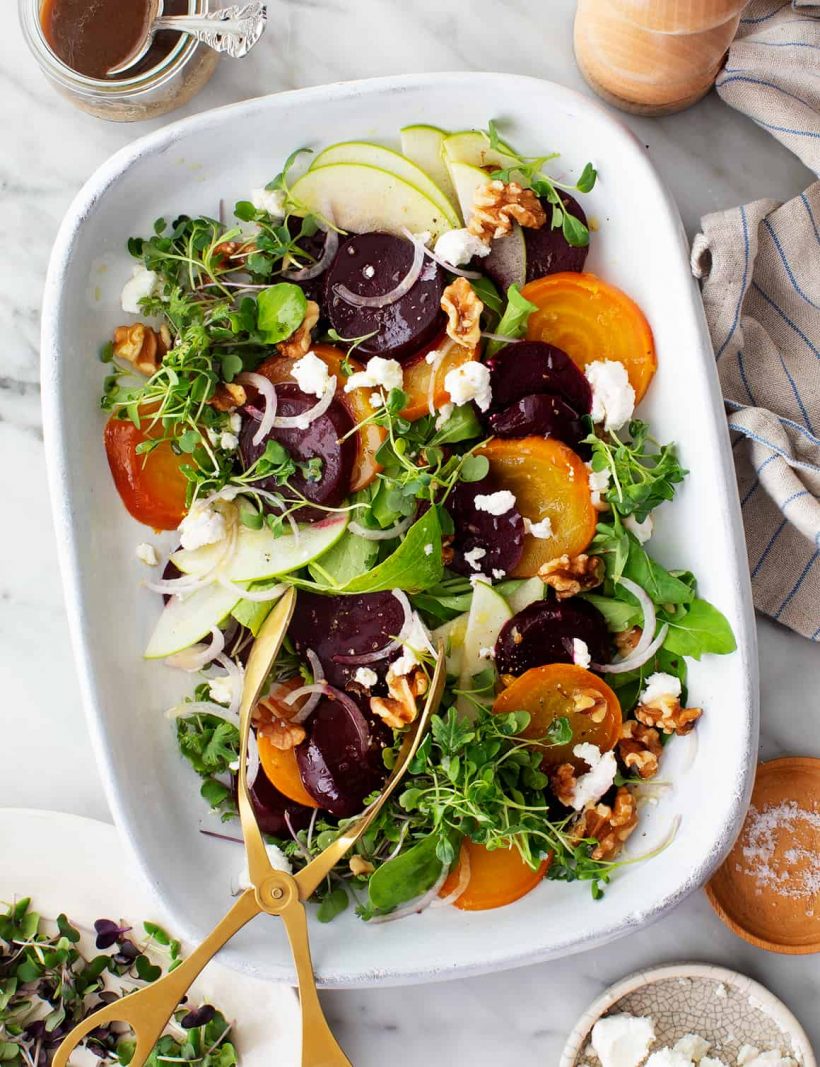 The Side: Beet Salad with Goat Cheese and Balsamic
Why We Love It: This is a classic combo of flavors that doesn't get old and never disappoints. The mix of beets, shallots, and apples brings a little color to a time of year that can feel a little too monochromatic. Plus, you can cook the beets and make the dressing up to two days ahead, so you don't have to worry about throwing this salad together at the last minute.
Hero Ingredient: It's hard for me not to call goat cheese the standout ingredient of every recipe it works its way into. But its creamy bite and tangy flavor just can't be beat.
The Main: Pumpkin Cauliflower Mac and Cheese from Spicy Ice Cream
Why We Love It: This mac and cheese has so much going for it. It's make-ahead, vegan, full of veggies, and will satisfy any crowd. The pumpkin béchamel makes it decidedly cold weather-appropriate and the melty cheese (cheddar and gruyère) means it still retains the indulgence of your favorite old-fashioned recipes. It's also easy to double, so if you have a lot of guests and want to make an extra dish, you're all set.
Hero Ingredient: My life changed the minute I started adding mustard to my béchamel. It's the secret ingredient that'll give any white sauce just the right amount of kick. This recipe calls for hot English mustard, but you can swap in Dijon for a similar, though less spicy, flavor.
The Dessert: Peppermint Hot Chocolate Cake
Why We Love It: When I'm gathering friends for the holidays, there's nothing I love more than ending the evening with a gorgeous and festive cake. This recipe will give you exactly that. Arranged atop a minimalist cake platter (Camille and I have the same one from Target!) your cake will win the hearts of all of your guests. Nothing says "I love you. I'm grateful for you. Please be my friend forever." than serving up slices of this stunner.
Hero Ingredient: I'm all about garnishing dishes and desserts with a little of what diners can expect to taste. Topping off the whipped cream with a sprinkle of crushed peppermints does the trick.