This year, I just couldn't hold out until December to make my flourless peppermint chocolate cake. Here we are just having wrapped up Thanksgiving and my Christmas tree is up, there's a wreath on the front door, and I've already got my fir and firewood candle blazing. Did I use our holiday photo shoot as an excuse to decorate my house obscenely early? Of course, and let's face it: it was an excuse I was all too happy to jump on.
I know what you're wondering: what does this have to do with cake? Promise, I'm getting there. It's always around this time of year that I start craving peppermint hot chocolate as a mid-afternoon treat that gives me all the magical holiday feels. Maybe it's basic, but I just want to be holding that Starbucks Christmas cup while driving around blasting Norah Jones' holiday album.
So, when it came time to dream up a dessert perfect for all the upcoming holiday parties, I knew just what I wanted to make: a flourless peppermint chocolate cake that infused one of my all-time favorite sweets with those classic holiday flavors.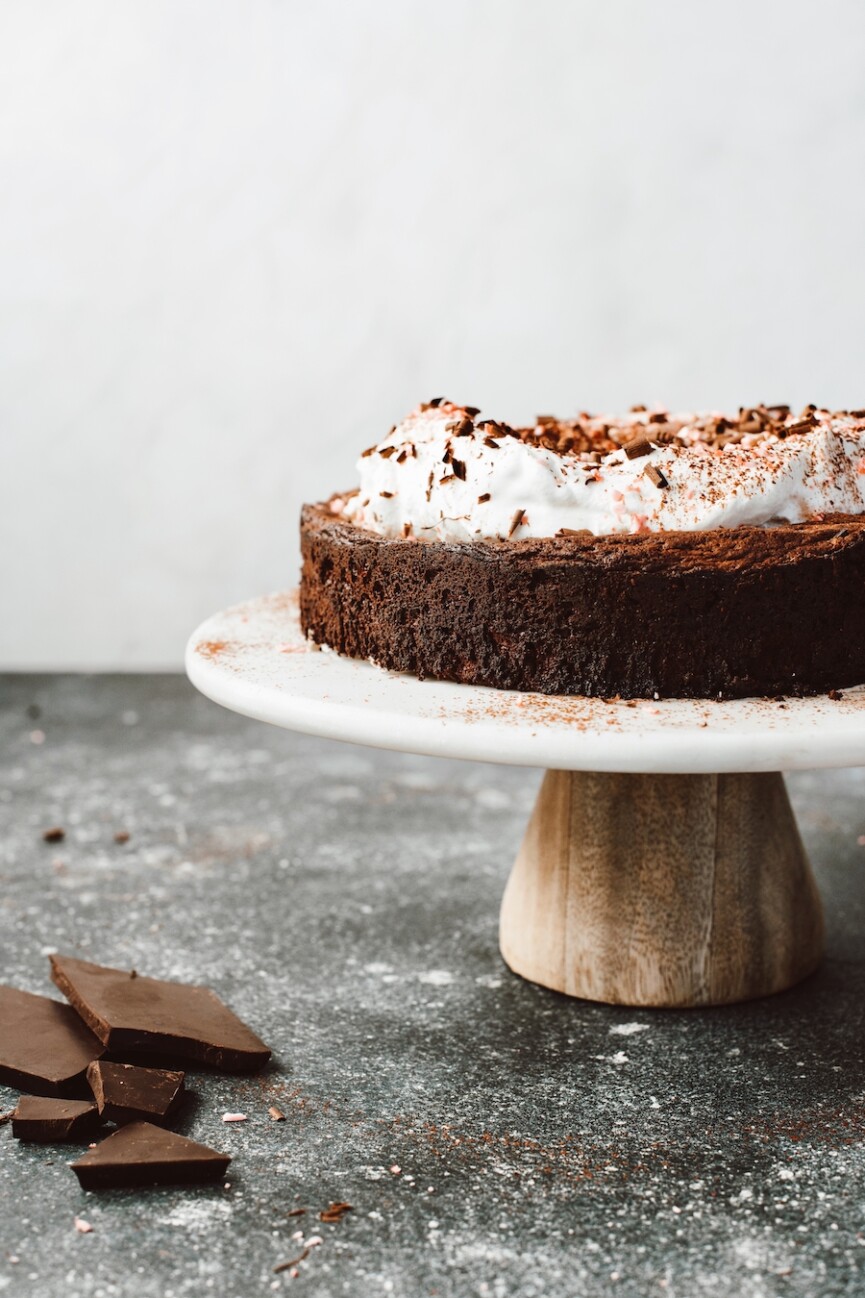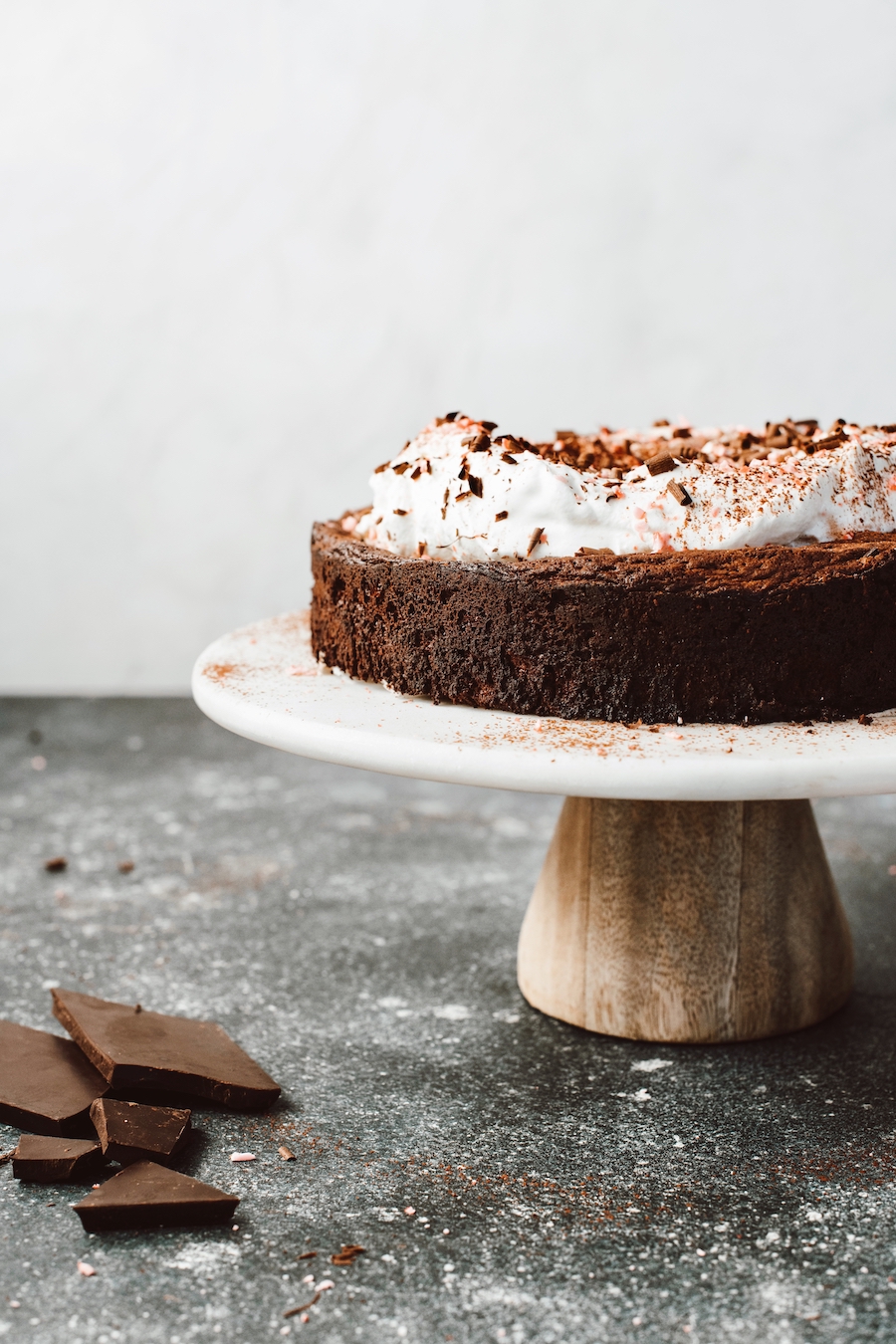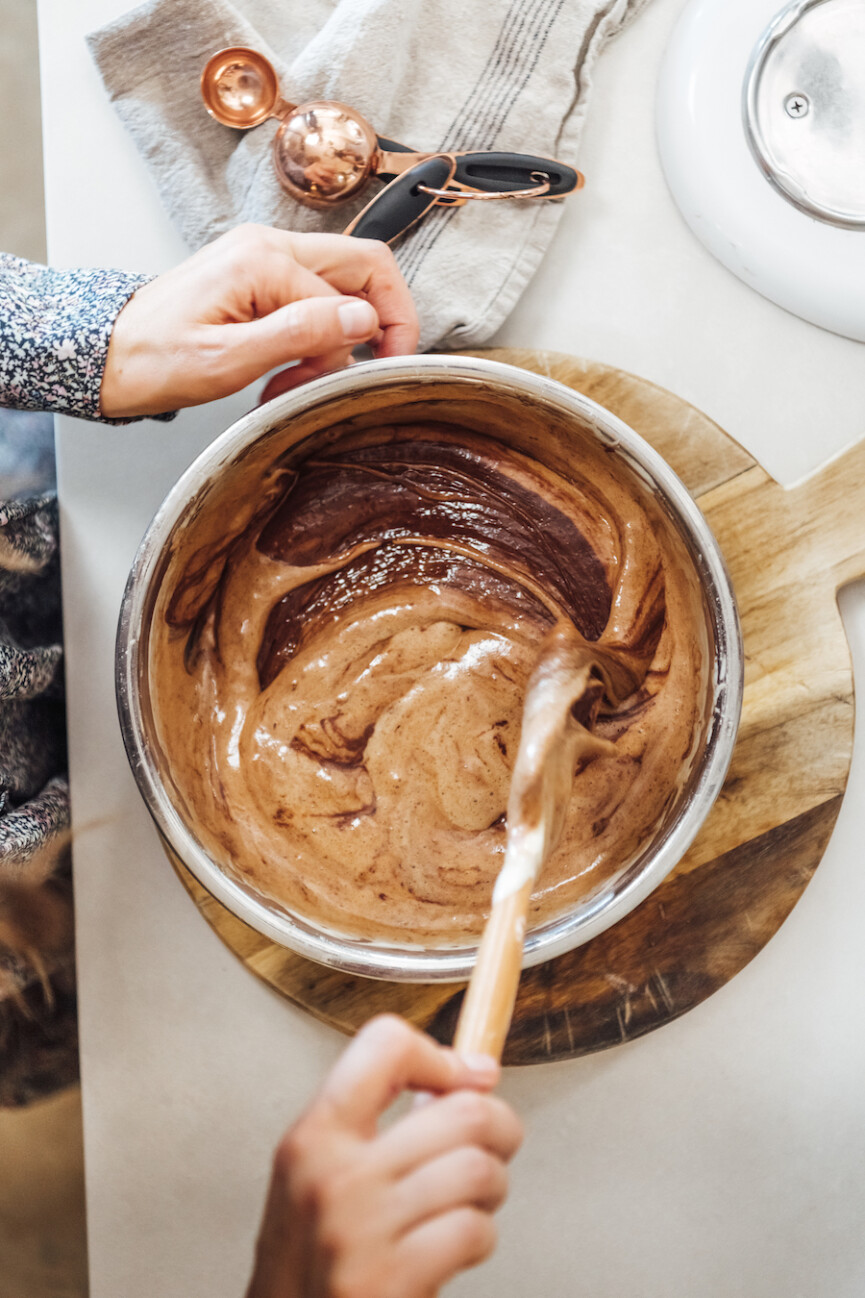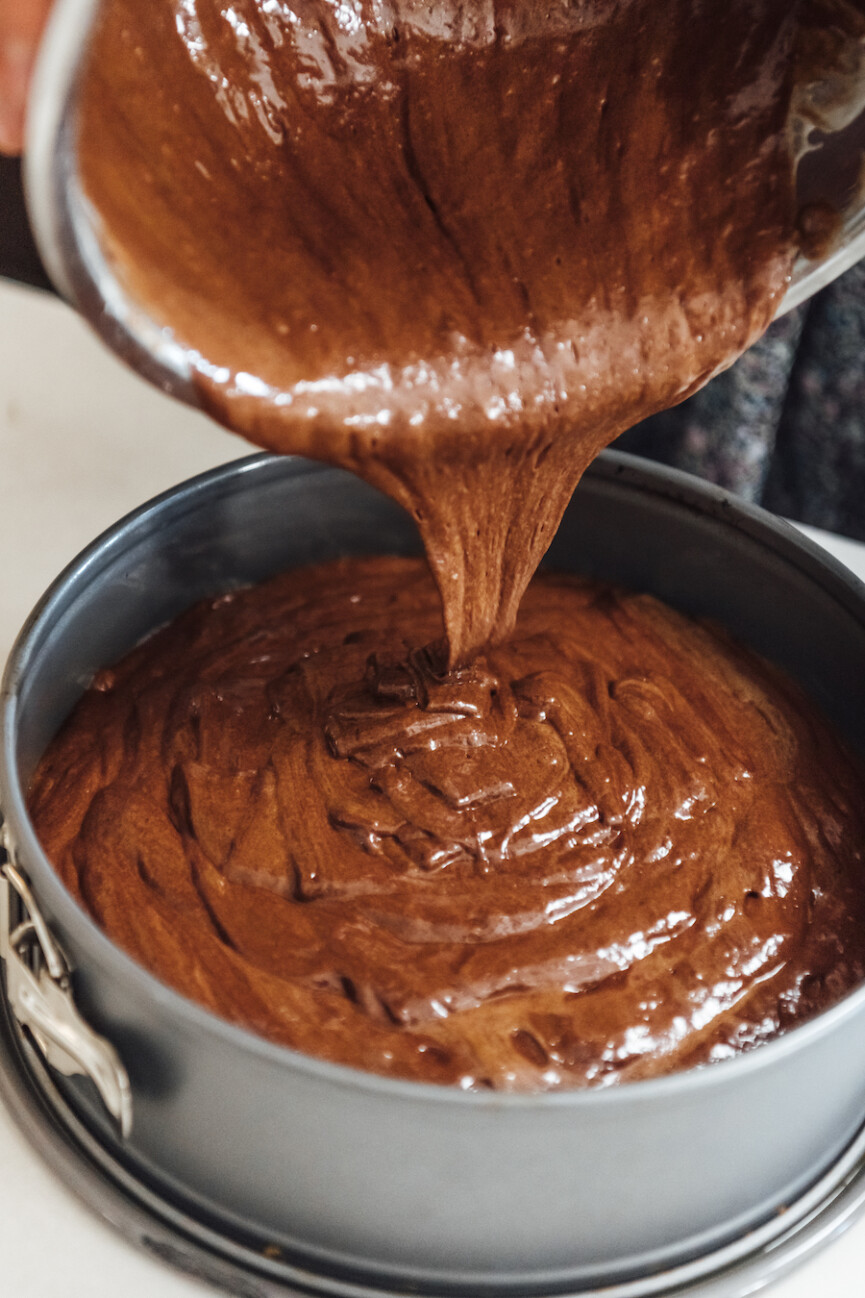 Why I Love This Flourless Peppermint Chocolate Cake Recipe
Let's start by singing the praises of the flourless chocolate cake. This classic dessert has a lot going for it. For one, it uses only a handful of ingredients that I always have in my pantry. For those reasons and more, it's a great recipe to keep tucked in my back pocket for last-minute baking whims.
It's also one of those rare desserts that are undeniably decadent but with a lightness allowing you to indulge without that feeling of heaviness that often comes with denser cakes. And bonus: it's naturally gluten-free, so even your #gf friends can enjoy it!
This is a recipe that, by nature, doesn't contain any flour, and I add a bit of gluten-free baking powder to give it extra height and airiness.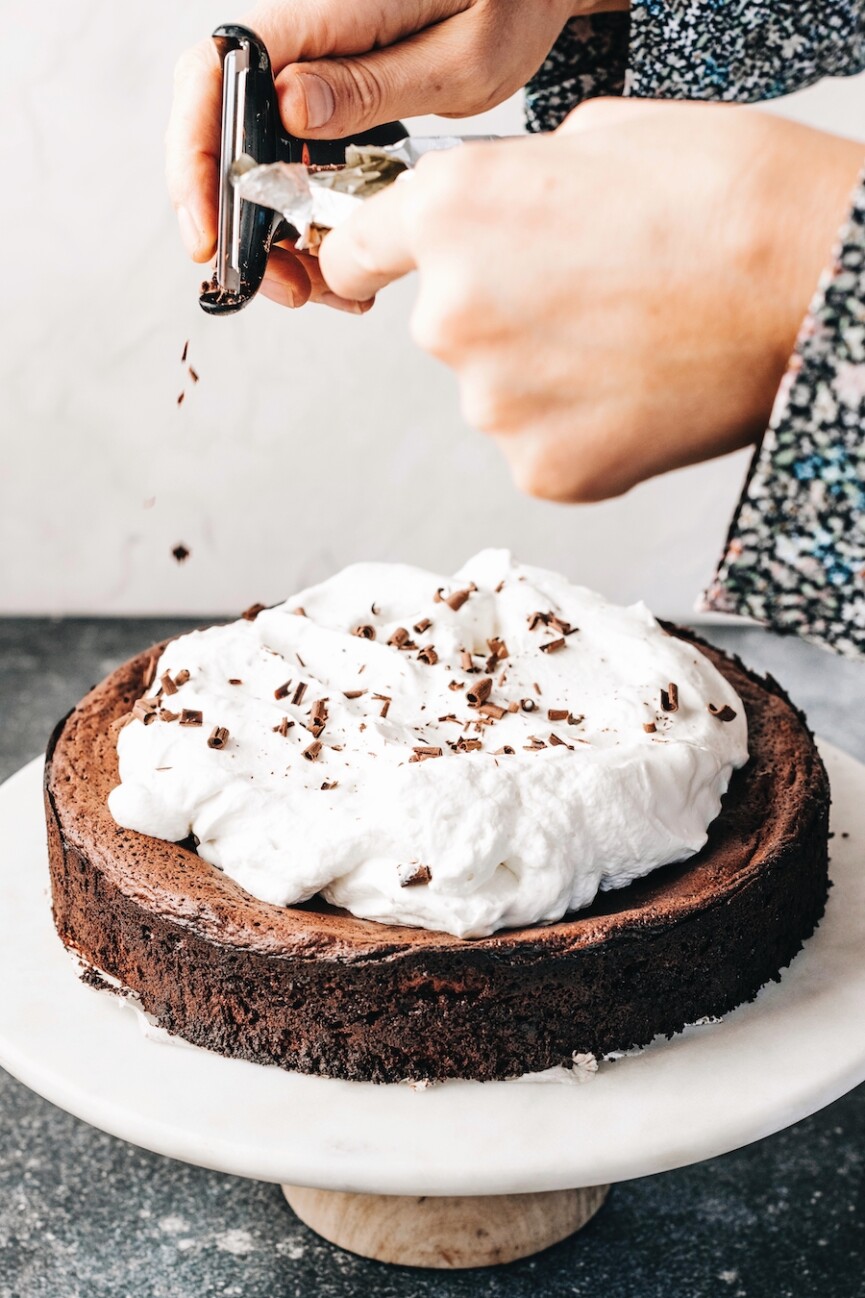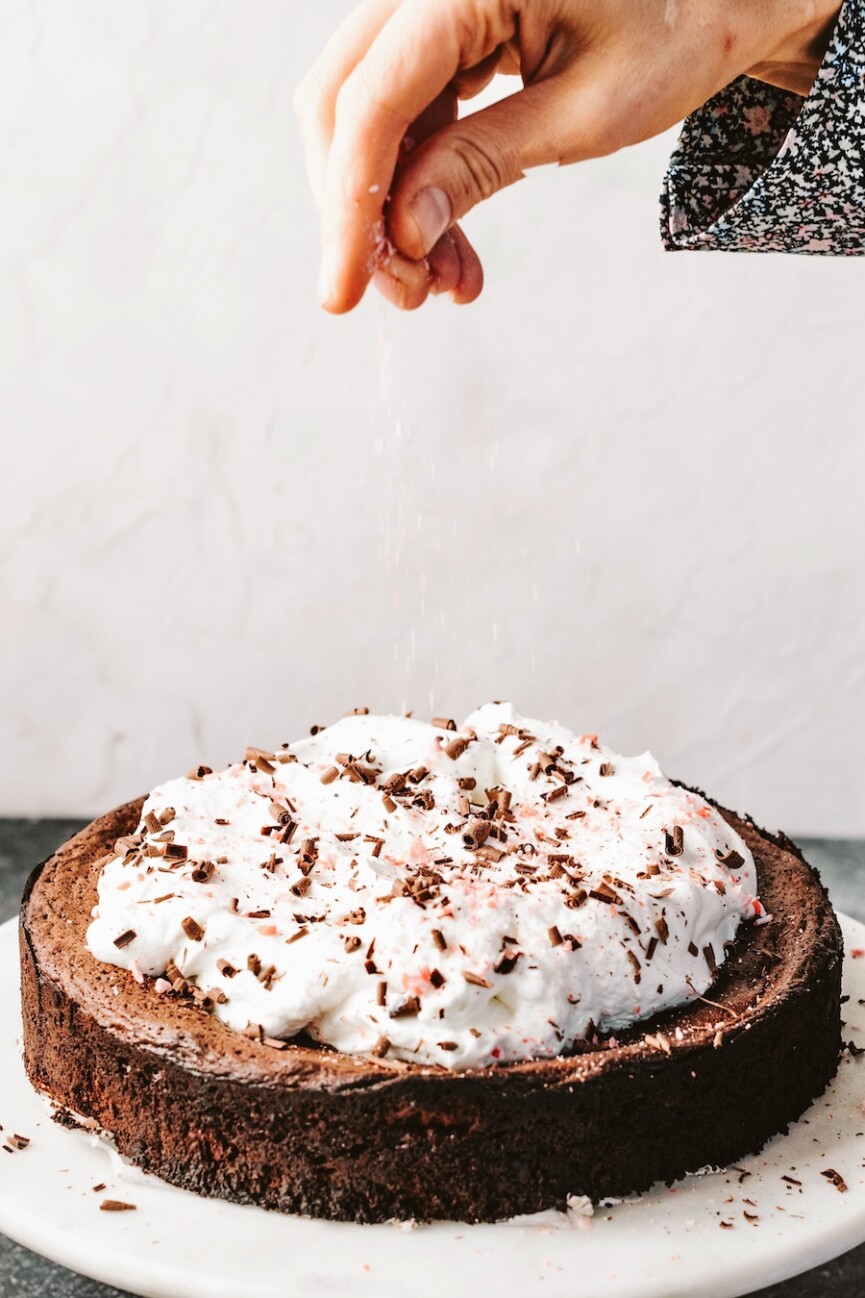 The Best Chocolate For Flourless Peppermint Chocolate Cake
Holiday baking brings up the age-old question: what kind of chocolate do I use for this recipe? Every treat uses a different type of chocolate and honestly, it can get confusing. For this cake though, you can choose your own chocolate based on the final outcome you're going for.
Semisweet chocolate chips: The go-to for a classic chocolate chip cookie, semisweet chocolate chips are not super sweet, but they are less bitter than some dark chocolates. Since they have both sweetness and chocolate flavor, they're ideal for giving recipes a balanced flavor. If you're looking for a chocolate flavor that's not too intense, semisweet chocolate chips are your friend.
Dark chocolate chips: Dark chocolate, on the other hand, is definitely more chocolate-intensive. It's a darker chocolate (obviously) that carries more bitter cocoa notes than it does semisweet. Because of that, it brings a stronger chocolate flavor to your dessert. Since this cake is all about decadence, dark chocolate definitely fares well here.
Depending on your preferences, you can go with either chip. For a more cocoa-forward cake, go with dark chocolate. But for a more sweet/chocolatey balance, you'll want semisweet. But in truth, you really can't go wrong here. It's chocolate after all!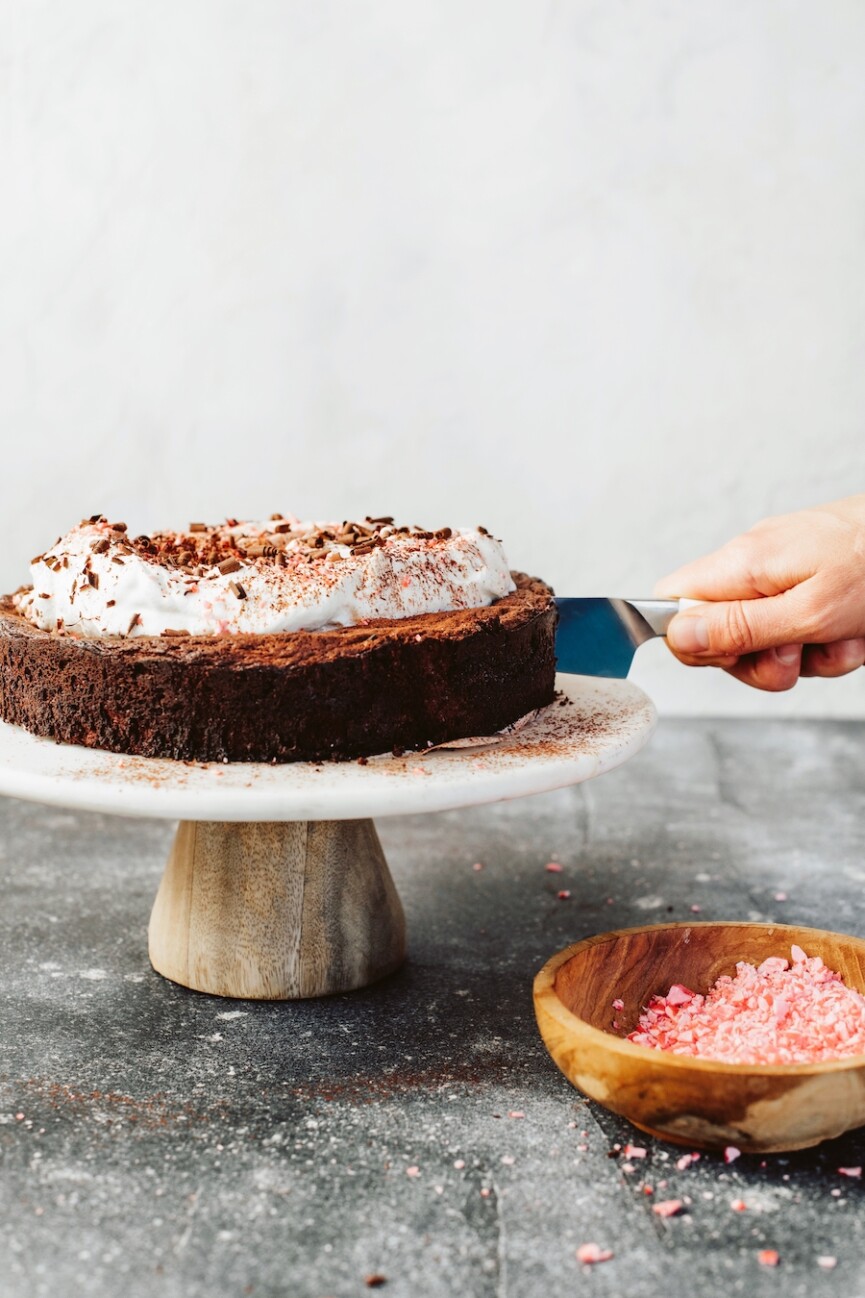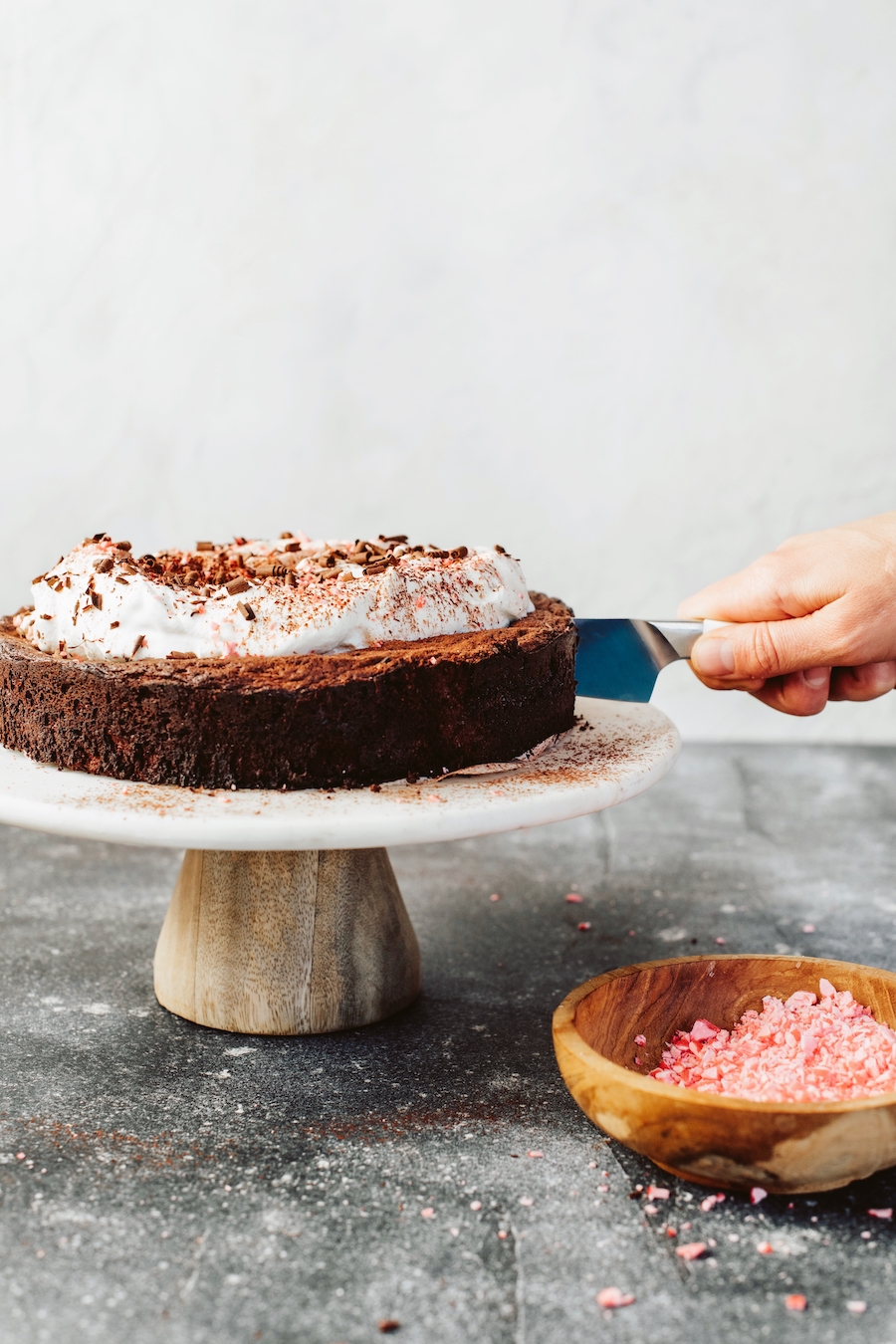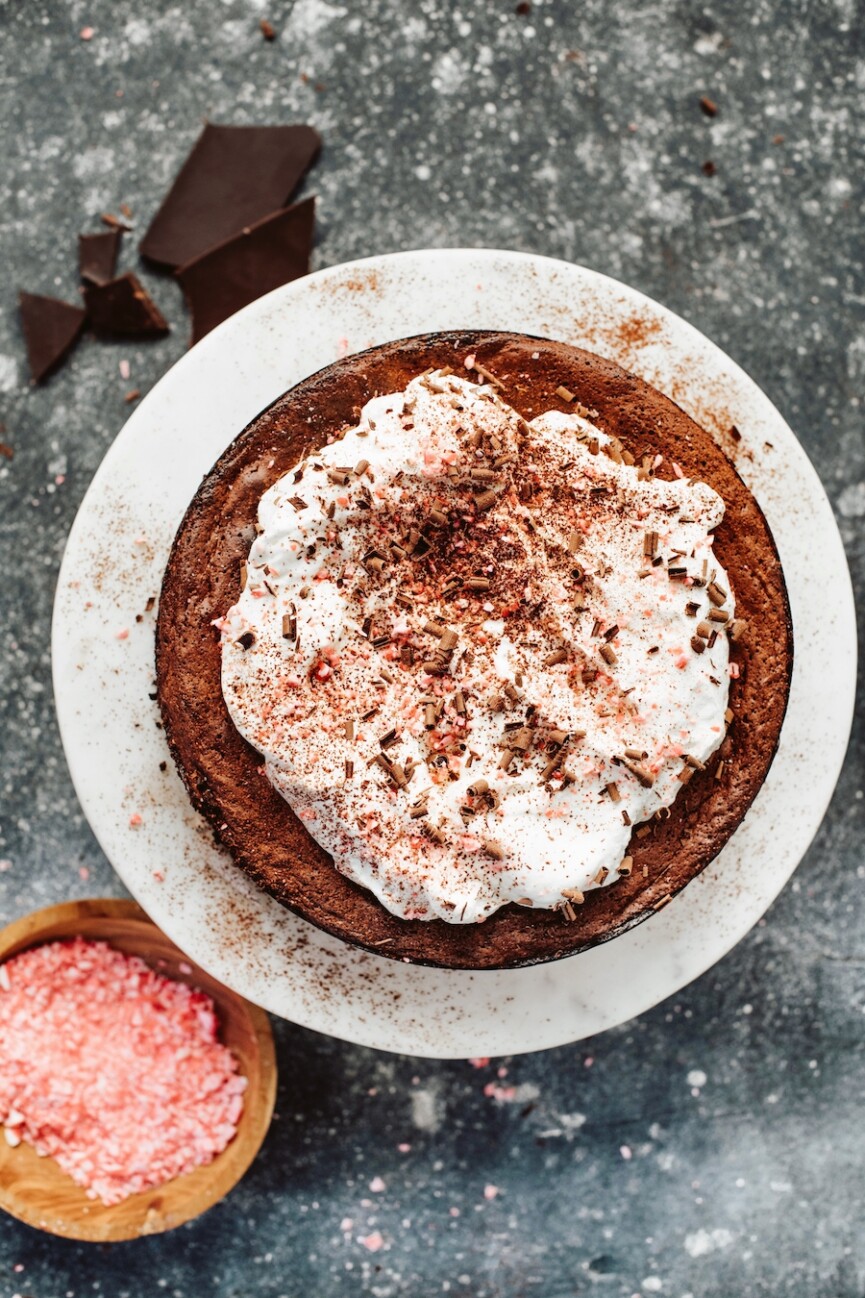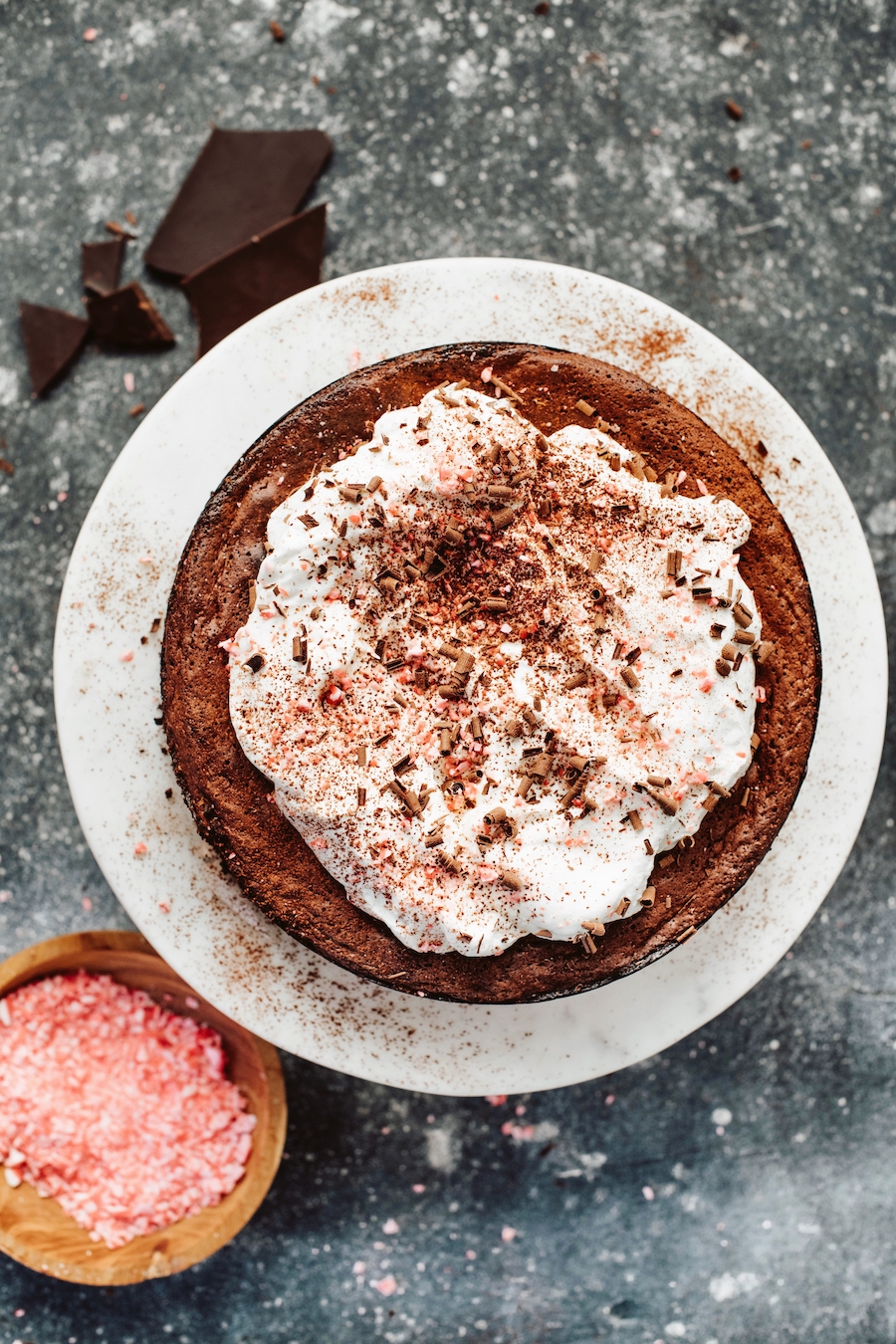 How To Make the Perfect Holiday Cake
So, what makes this a flourless peppermint chocolate cake that's fit for the holidays? Well, peppermint shows up in two places here. There's a half teaspoon of peppermint extract in the cake batter itself, which doesn't sound like a lot, but trust me: a little peppermint extract goes a long way.
And second: after the cake has cooled, I pile up clouds of airy whipped cream in the center of the cake, then scatter crushed peppermint, chocolate shavings, and cocoa powder over top. Not only does it add more minty flavor, but the crushed peppermint gives a wonderful subtle crunch that's such a great contrast with the cream.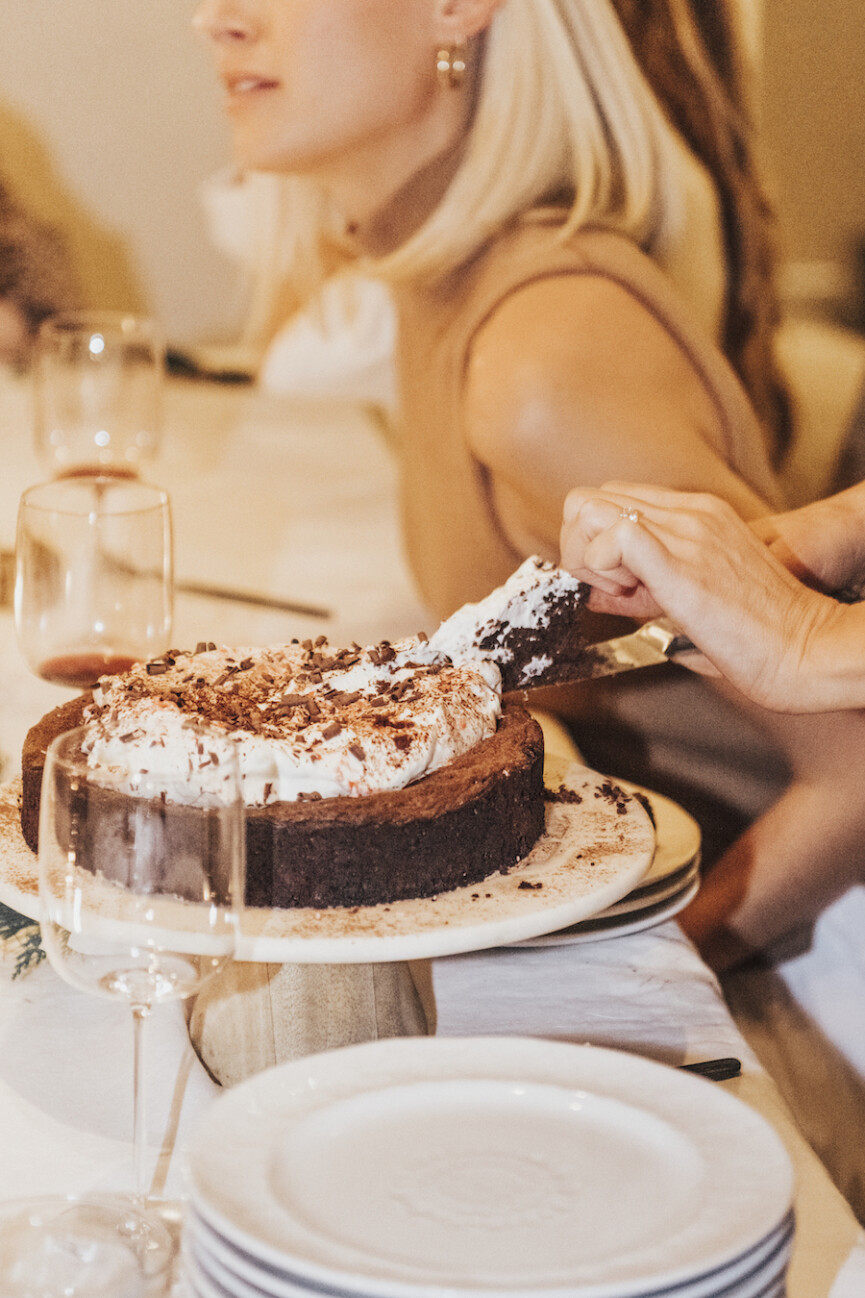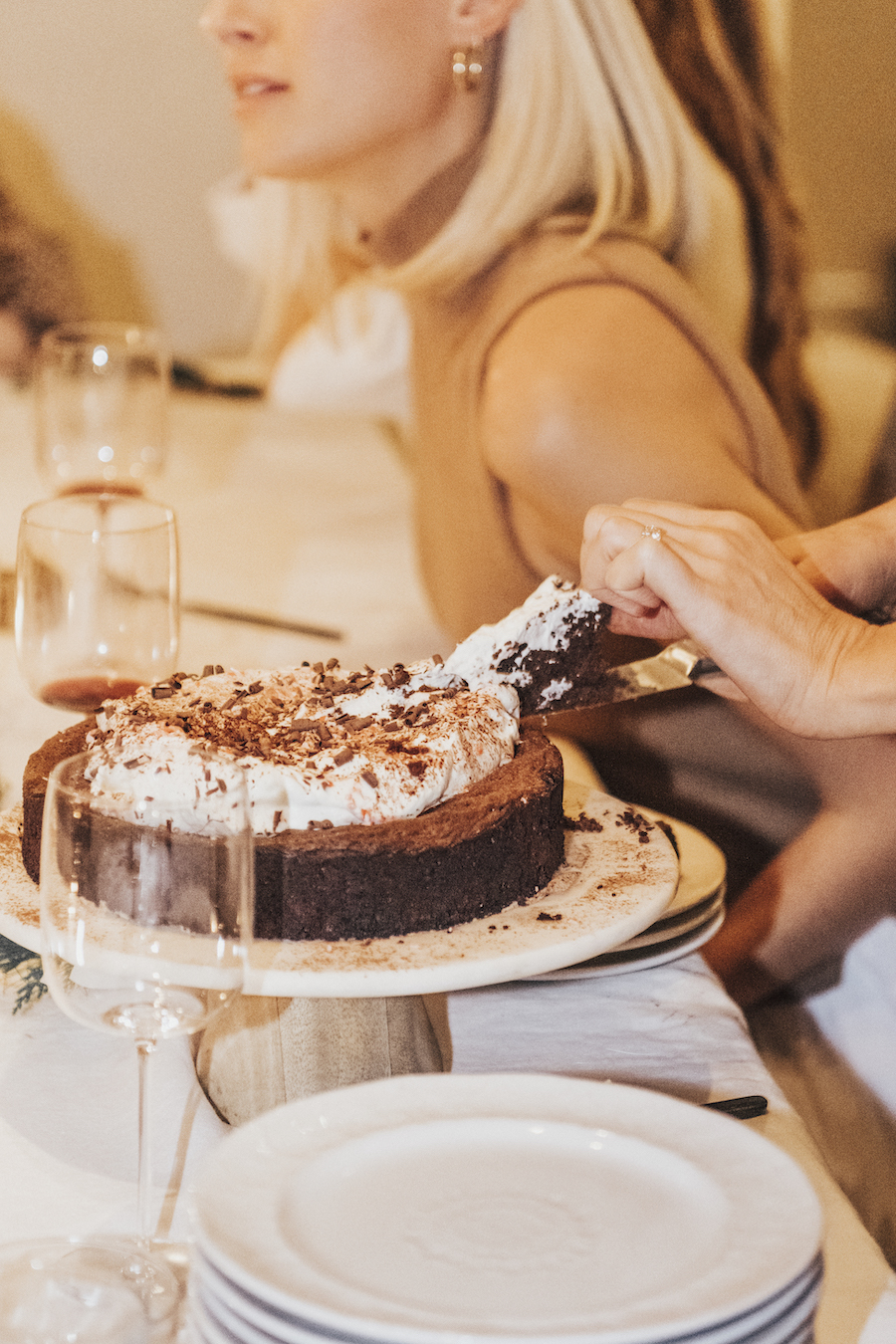 Tips for Serving
Isn't she gorgeous? I usually slice this one pretty thin for a dinner party, so a 9-inch cake will easily feed up to 16. It also keeps great in the fridge. You could certainly make it a day before you were planning to serve and keep chilled in the fridge, then top with whipped cream just before serving. Eat it chilled or warm it up, this flourless peppermint chocolate cake is incredibly delicious at any temperature, making it a truly perfect, gathering-friendly dessert.
Scroll on for the recipe, and tag me on Instagram @camillestyles if you give it a try!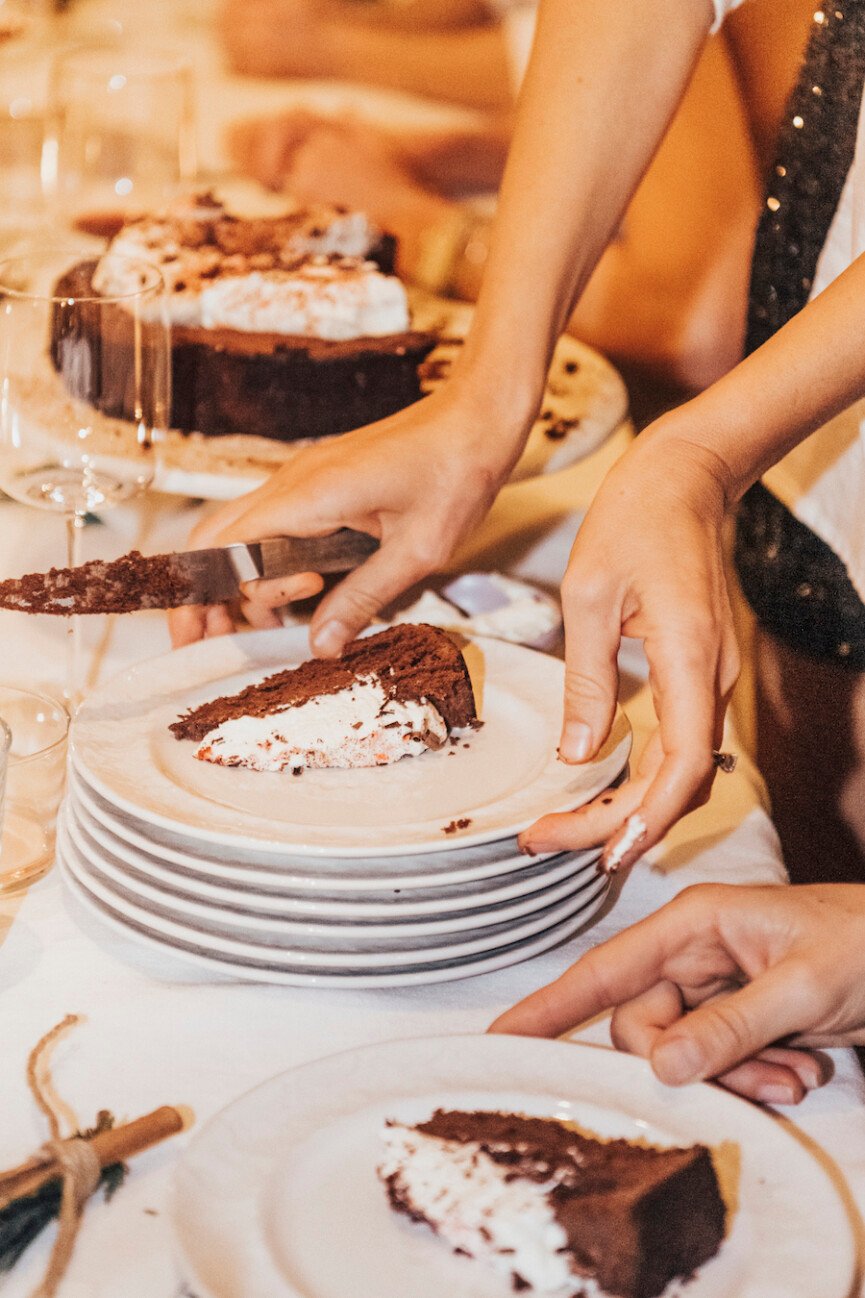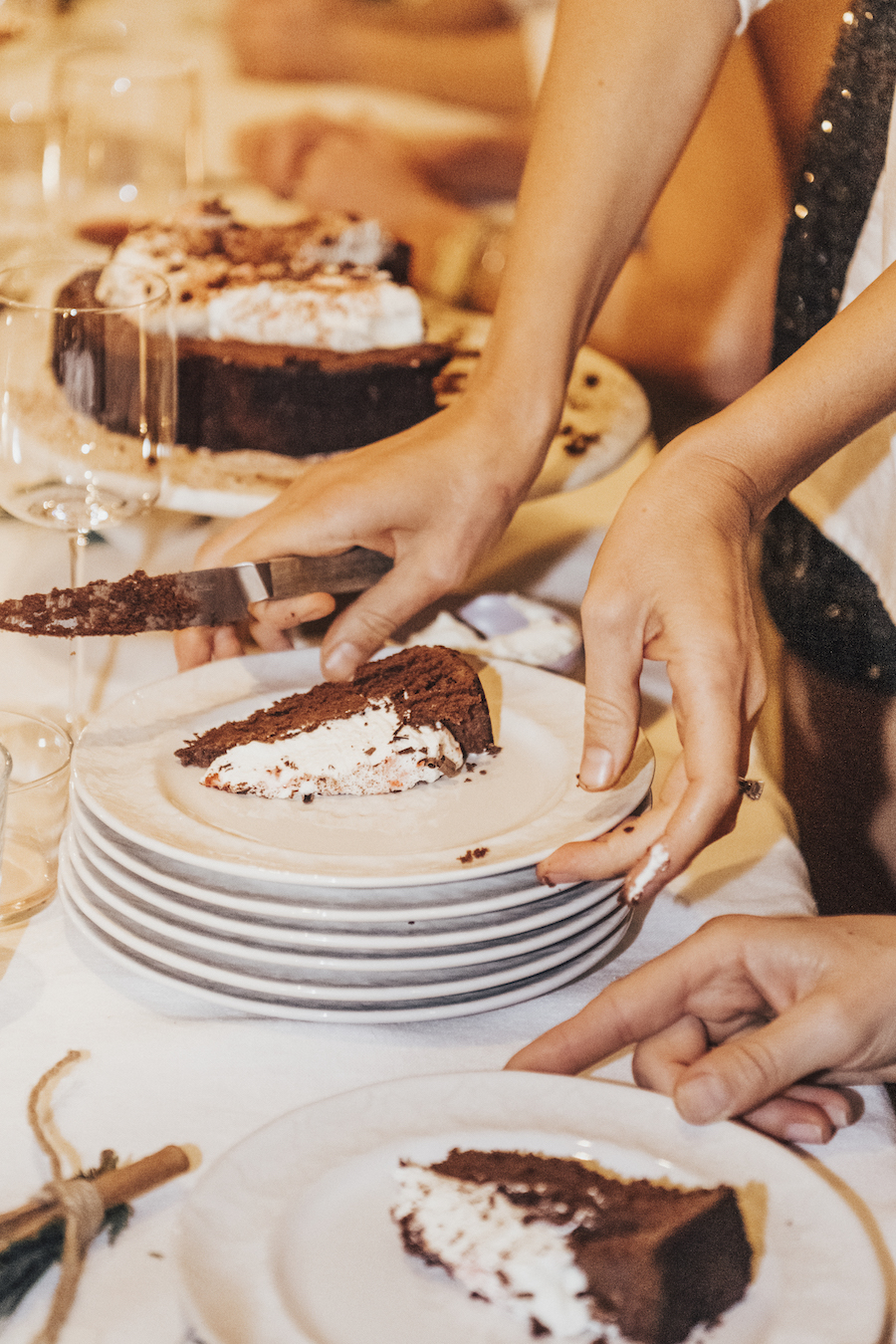 This post was originally published on November 20, 2021, and has since been updated.
Flourless Peppermint Hot Chocolate Cake
Serves 16
This flourless peppermint chocolate cake is inspired by my favorite holiday drink. It's an easy and delicious gluten-free holiday dessert.
---
Ingredients
nonstick spray for pan
1 stick unsalted butter
12 ounces dark or semisweet chocolate chips
5 eggs, room temperature
1/2 cup sugar
1 teaspoon vanilla paste or extract
1/2 tsp peppermint extract
1/2 teaspoon salt
1 teaspoon baking powder (gluten-free, if that's important to you)
for serving: whipped cream, crushed peppermints, chocolate shavings, and cocoa powder
---
Instructions
In a large metal bowl set over a pot of lightly simmering water, melt butter and chocolate, stirring frequently. Let cool to room temperature.
Preheat oven to 375. Line the bottom of a 9-inch springform pan with parchment, then spray bottom and sides with nonstick spray. Set aside.
In the bowl of a stand mixer with the whisk attachment, beat eggs on medium high until they're foamy, about 3 minutes. Slowly pour in sugar, then continue beating for about 5 minutes, until almost white and very foamy. Add both extracts, salt, and baking powder, and lightly whisk to combine.
Pour egg mixture into bowl with chocolate, and use a spatula to fold in just until combined. Transfer to prepared cake pan, and bake for 30 minutes until the edges start to pull away from the pan. The center will still look just a little jiggly.
Let cool for 10 minutes in pan, then release and let cool completely.
Serve piled high with whipped cream, crushed peppermints, chocolate shavings, and cocoa powder. Slice and eat!
*Cake keeps well covered with foil and in the refrigerator for up to 3 days. Top with whipped cream just before serving.