For me, one of the most special parts of the holiday season is delivering gifts to all 15 of my best friends. I wrap each package with red ribbon, pile them into my sleigh (aka my Volvo), and make my rounds, surprising my besties with a little holiday cheer. This time of year, people tend to be more excited about sweets and less strict about their healthy eating habits. Since my love language is baking, obviously I'll be delivering treats to the people I love. A solid bonus with baked gifts is that I only need to devote one day to prep since most of my go-to recipes are simple to double or triple for larger quantities. If you're looking for easy baked goods that make for perfect Christmas gifts, I've got you covered.
From traditional holiday treats (anyone else miss those tins of fudge from back in the day?) to the most adorable mini bundt cakes, these baked gifts are sure to bring a smile to the faces of anyone who receives them. Scroll on, pick your favorite, and let us know what you're baking up this year!
feature image by suruchi avasthi
Peppermint Fudge from Sweet Phi
Why We Love It: As a major peppermint fan, I'd likely cry happy tears of gratitude if someone gifted me a bag of this fudge. While you expect it to be dense, a lot of fudge recipes can definitely be too rich even after a bite or two. Thanks to a handful of crushed candy canes sprinkled on top, the light and fresh flavor of peppermint balances the sweetness.
Hero Ingredient: Sweetened condensed milk gives this fudge the chewy texture that makes it oh so addicting.
Chocolate Dipped Honeycomb from My Kitchen Love
Why We Love It: Before making this recipe, it had sadly been years since I'd munched on honeycomb. It's light and airy while still giving a satisfying crunch, and this honeycomb is made extra special with a little dip in chocolate ganache.
Hero Ingredient: Baking soda gives the honeycomb its famous sponge-like air pockets. A fun and relevant fact that I learned from this recipe: an alternative name for honeycomb is British Sponge Toffee. They know how to call it like it is across the pond, don't they?
Sugared Cranberries from Wild Wild Whisk
Why We Love It: I'm going to say it: Drop. Dead. Gorgeous. Because they only show up in the store for a month or two, fresh cranberries are a treasure to behold. These little sparkly jewels put the fruit's momentary deliciousness front and center. The good news too is that the recipe can be doubled or tripled, so you can give away as many bags as you'd like (while still having some to hold onto for yourself).
Hero Ingredient: With only three ingredients (depending on whether or not you opt to infuse your simple syrup), this recipe is all about the cranberries. Make sure you're getting yours as fresh as possible, because the quality of your cranberries will be on display.
Turtle Fudge from The Beach House Kitchen
Why We Love It: This Turtle Fudge is the epitome of deliciousness. Bold words, I know, but this recipe lives up to the hype. Layers of caramel, chocolate, and pecans make for a gooey bite that gives just enough crunch. 20 minutes of prep plus a little time to set (that can admittedly feel like hours when you're craving a square) is all the recipe asks of you.
Hero Ingredient: The caramel is undoubtedly good, but the pecans bring an irresistibly nutty flavor that I can't get enough of.
Christmas Snack Mix from Chelsea's Messy Apron
Why We Love It: There's nothing better than a good old snack mix. It's got everything I've ever wanted to receive in an edible present. Crunchy, light-as-air cereal, crispy and salty pretzels, plus Christmas-colored M&M's for good measure. Wrap all that up in some melted white chocolate, and I'd have a hard time knowing when to stop munching.
Hero Ingredient: It's the M&M's for me. The festive color and the classic chocolate flavor make them the real MVP ingredient.
Peanut Brittle from House of Nash Eats
Why We Love It: This is not the peanut brittle of your childhood that was capable of breaking a tooth. While it retains the old-fashioned version's crisp and crunchy texture, you're in no danger of having to pay the dentist a visit. Oh, and if you enjoy smashing things as much as I do, get ready for the best part of making this brittle to be breaking it to bits.
Hero Ingredient: No contest: It's the peanuts. I mean, they're in the name, aren't they?
Peppermint Hot Chocolate Shortbread Cookies
Why We Love It: These cookies are as Christmas-y as it gets. Chocolate shortbread plus chocolate ganache plus a peppermint candy coating. Not only are these cookies super simple to bake on the fly, but you can make things even easier for a future version of yourself by preparing the dough ahead of time, storing it in the freezer, and slicing and popping your cookies in the oven whenever you please.
Hero Ingredient: Peppermint extract in the dough and ganache sends the candy cane vibe home.
Skillet Cheddar and Jalapeño Cornbread from Foodie Crush
Why We Love It: While your first inclination might be to bake up sweet holiday treats for friends and family, nothing's stopping you from surprising them with a savory delight. This cornbread has a crisp exterior while being ever-so-slightly moist on the inside. What's more, the combo of creamy cheddar and jalapeños kicks up the flavor on this cornbread by about a factor of a thousand.
Hero Ingredient: Again, no contest. The jalapeños cut the otherwise almost-too-rich overload of cream, corn, and cheese.
Cranberry White Chocolate Mini Bundt Cakes from Tutti Dolci
Why We Love It: Bundt cakes are great, but mini bundt cakes? That's a whole 'nother story. They're similar to cupcakes—you get the dessert you want, all to yourself. While sharing is great (and something to encourage!), there's no way I'm giving anyone a bite of my mini bundt cake. I imagine the recipient of this gift will feel exactly the same.
Hero Ingredient: Buttermilk adds a little tang to this sweet treat while also creating a softer texture and giving your bundt more body.
Holiday Fruit & Nut Brittle from The Kitchn
Why We Love It: While some brittles are wonderfully specific with their ingredients (see the recipe for Peanut Brittle above), others lean into the fact that you can mix just about any fruit or nut into your sugar syrup and get a result that'll be devoured in minutes. This recipe is an example of the latter case, and though it suggests using cranberries, pine nuts, pumpkin seeds, cashews, and almonds, you can bet anything you have on hand will be just as delicious.
Hero Ingredient: Don't omit the sprinkling of dried rosemary! It offers a little savory bite that plays well with this sweet and salty brittle.
Peppermint Marshmallows from The Flavor Bender
Why We Love It: Peppermint's at it again, and this time, it's in the softest, fluffiest marshmallow you've ever swirled into your hot chocolate (or snacked on just because). These pink pillows of peppermint look beautiful wrapped up in a clear bag with a ribbon to tie it all together.
Hero Ingredient: You won't catch me writing this anywhere else: A couple of drops of red food dye let you know you're about to enjoy a pepperminty delight.
Candied Spiced Nuts from Minimalist Baker
Why We Love It: While I do love any and all kinds of nuts, it's really not until the holiday season when I start to consume them with reckless abandon. And don't get me wrong, their natural flavor is great, but I could never turn down a handful of pecans and walnuts that have been coated with maple syrup and a mix of my favorite spices.
Hero Ingredient: I said it above and I'll say it again here—when maple syrup is involved, nothing can compare.
Mini Angel Food Cake from Dessert for Two
Why We Love It: Don't believe what you've heard—angel food cake is the best. While the common qualm seems to be that it's lacking in flavor, I'd argue that a good angel food cake is nothing short of heavenly. Light, fluffy, and small-batch to boot, this cake should be one of your go-to's when it comes to holiday gifting.
Hero Ingredient: While separating eggs might seem tedious, the task is well worth it here. The seven egg whites this recipe calls for gives the cake its towering, impressive height.
Chai Chocolate Dipped Christmas Cookies
Why We Love It: While everyone loves to receive a tin of shortbread cookies, your giftees will be even more grateful to receive a box of these chai-spiced biscuits. These veer a little off course (in the best way possible) and opt for a quick dip in chocolate ganache. You can save the drizzling of white royal icing for another batch of sugar cookies—everything about this recipe is Christmas cookie gold.
Hero Ingredient: The Chai leaves bring a strong and warming flavor to the sweet and spicy cookie dough.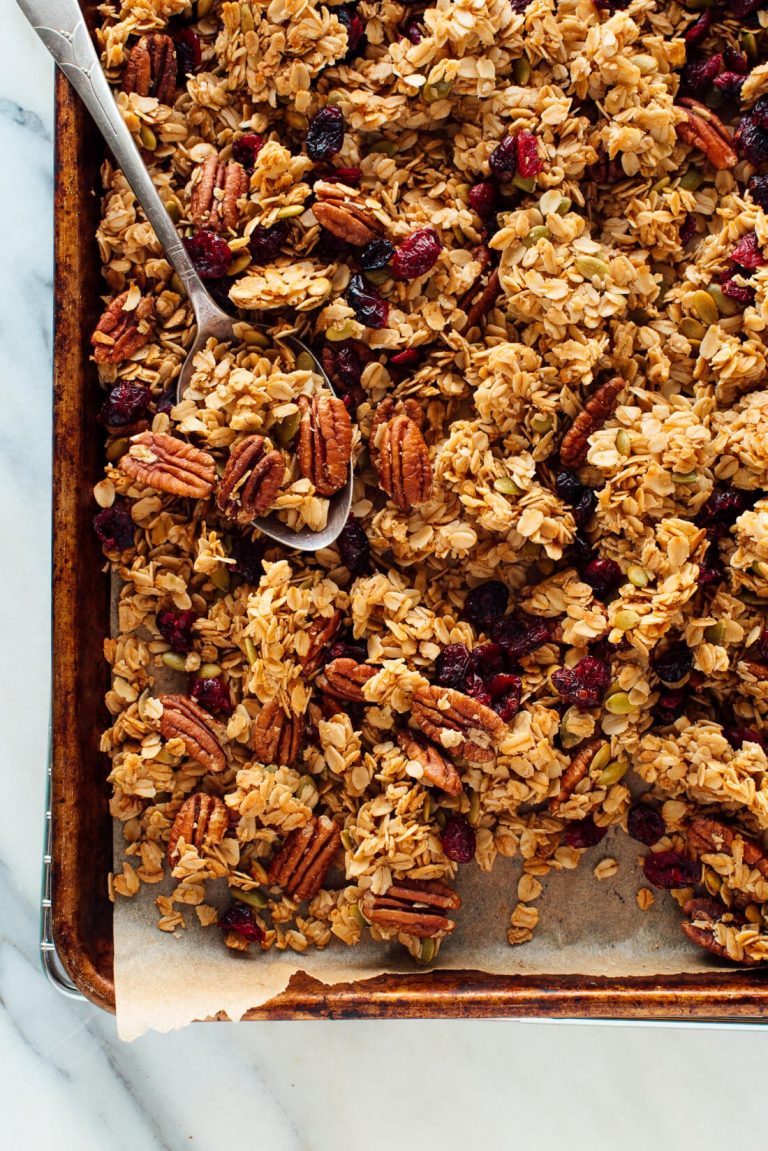 Healthy Granola from Cookie + Kate
Why We Love It: By now we probably all realize that granola shouldn't default to being awarded a badge of health. Certain recipes can be loaded with so much sugar that you'll crash mid-morning if you're a granola-for-breakfast kind of a person. If you're looking to give something that's a bit more wholesome, give this granola a shot. It uses coconut oil for a binder and maple syrup or honey to add a touch of sweetness.
Hero Ingredient: The sea salt counteracts the sweet factor here, balancing out the flavor beautifully.
Rosemary Goat Cheese Biscuits from Baker by Nature
Why We Love It: Bag up a few biscuits and tie on a little baker's twine—these are the homemade holiday gifts that'll have recipients begging you for the recipe. They're soft. They're flaky. They're full of herby, cheesy flavor. You can't really ask for much more, can you? Take a tip from recipe creator, Ashley Manila, and pair these with a pint of strawberry jam (when the season permits, of course). The fruit is a perfect match for the biscuits' tangy goat cheese.
Hero Ingredient: Fresh rosemary is really the only ingredient capable of improving upon these biscuits' buttery bite.
Dutch Stroopwafels from Wanderzest
Why We Love It: If you haven't hopped on the stroopwafel train, now's the time. Sandwich cookies are at the top of my treat hierarchy, and when you have one that consists of a sweet caramel syrup squished between two cinnamon waffle cookies, nothing else can compete.
Hero Ingredient: Swapping out the typical white sugar for brown in the filling sends the caramel flavor home.
Baked Cinnamon Sugar Mini Doughnuts from Cooking Classy
Why We Love It: Less is nearly always more in my book, and that's always the case if I'm choosing between mini and regular-sized treats. They're undeniably cute, and you can't feel bad about popping two or three at a time. The fact that these are no-fry too means you don't have to worry about making a (hazardous) hot oil mess.
Hero Ingredient: Nutmeg gives these doughnuts their old-fashioned flavor.
Homemade BBQ Sauce from Miss Wish
Why We Love It: This homemade bottled barbecue sauce will make a bbq lover out of anyone. The ingredients in this recipe deliver a punch of complex flavor. You have sweet, you have salty, you have savory, and you have sour. You'll be tempted to put this sauce on just about everything.
Hero Ingredient: I like my bbq sauce with a bit of zip, and the apple cider vinegar gives the sharp bite that I crave.
Homemade Reese's Cups from The Recipe Critic
Why We Love It: Honestly, before my first batch of homemade Reese's cups, I was intimidated to make them myself. I've since seen the light and understand how incredibly easy it is to whip up these never-not-delicious treats in your own kitchen. Alternating layers of melted chocolate and a mixture of PB, graham crackers crumbs, and powdered sugar is all the skill these take to make. Well, that and knowing how to open and close your refrigerator.
Hero Ingredient: I'm always open to riffs on a classic recipe, and the addition of crushed graham crackers in the peanut butter mixture creates an interplay of textures and flavors that can't be beat.
This post was originally published on December 4, 2019 and has since been updated.