One of the best ways to lean into autumn vibes is by savoring the many delicious seasonal ingredients available at the farmer's market. Apples, pumpkin, squash, pomegranates—you name it, I want it. Today we're dishing up recipes that feature one of the tastiest (and cutest) fall vegetables: acorn squash. If you haven't already, it's high time you added this delectable ingredient to your grocery list so you can enjoy one of these amazing baked acorn squash recipes before season's end.
These beauties are incredibly nutrient-rich with a ton of vitamin C, potassium, fiber, and magnesium. Not only is acorn squash a healthy, yummy dinner, it's also pretty easy to make on a busy weeknight. Whether you roast it, stuff it, or turn it into soup, it's an elegant ingredient that will elevate any meal—it always looks impressive. If you're an acorn squash newbie, click here to learn the easiest way to cook it. I happen to be partial to roasted or baked acorn squash, as it turns this lovely veggie into the perfect vessel for just about anything.
I've rounded up some seriously tantalizing recipes, from the indulgent to the ultra-healthy. There's a little something for everyone. Make sure to bookmark your faves so you can pick up all the necessary ingredients on your next grocery run. You won't regret it.
Scroll on for 11 beautiful baked acorn squash recipes to enjoy this season…
Quinoa Stuffed Acorn Squash
Why we love it: This is a colorful and hearty meal that doesn't compromise on flavor. It's also the easiest thing you could make when you want to impress guests at a dinner party. They'll be the hero of your menu.
Hero ingredient: Kick things up a notch with crunchy, toasted pumpkin seeds.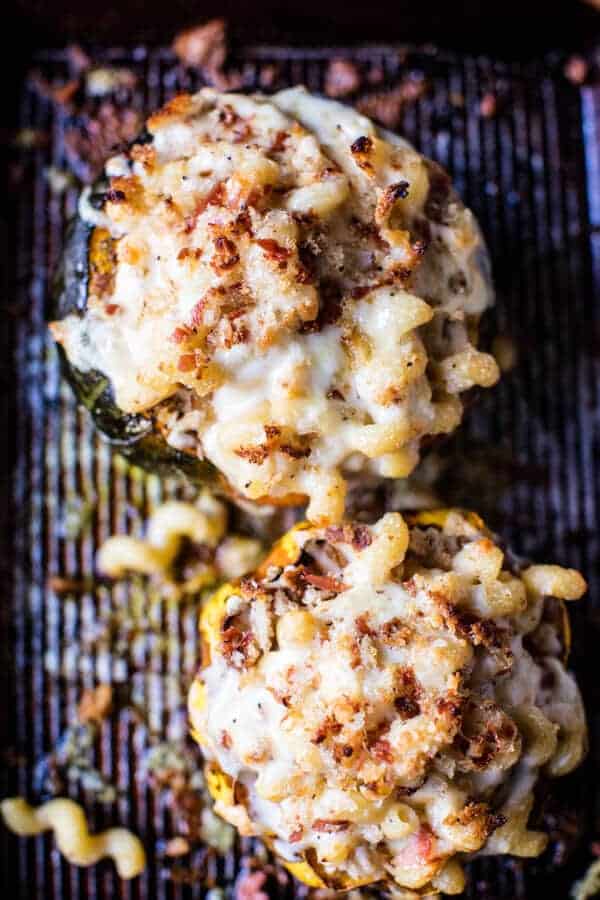 Baked Squash Mac and Cheese from Half Baked Harvest
Why we love it: How cute are these baked squash mac and cheese? It's also deceptively simple. Stuffing the pasta inside the squash keeps it from drying out and keeps the pasta hot and melty, like a little thermos. Don't forget to top it off with crispy prosciutto and breadcrumbs!
Hero ingredient: The mix of cheddar, gruyere, and provolone is as divine as it sounds.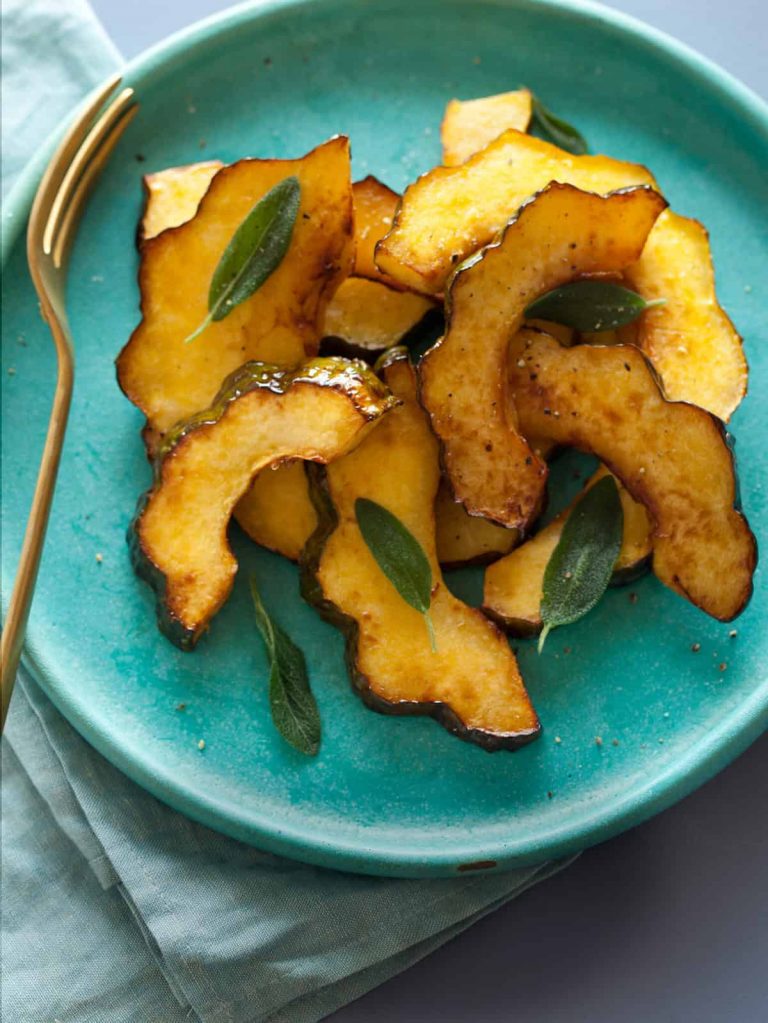 Maple Glazed Acorn Squash from Spoon Fork Bacon
Why we love it: It's easy, filling, and can be eaten as a snack or turned into a meal by dicing it up and adding it to some quinoa, couscous, or protein. It's the perfect combination of sweet and savory, with a big flavor that doesn't overpower the senses. Make it on Sunday then eat it all week for lunch on top of your salad!
Hero ingredient: Maple syrup, of course!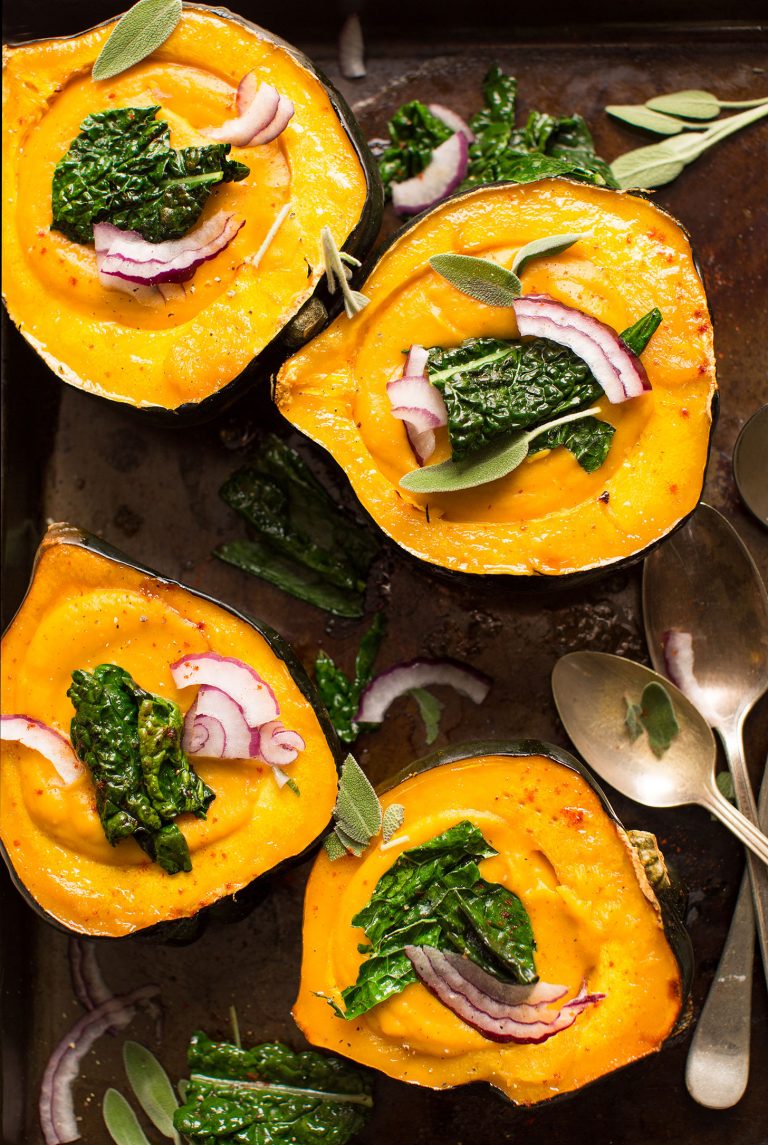 Creamy Fall Soup in Acorn Squash Bowls from Minimalist Baker
Why we love it: You won't want to wait until Thanksgiving to try these gorgeous acorn squash soup bowls. It's festive, colorful, creamy, and ultra-comforting. Not to mention healthy! It's basically autumn in a bowl.
Hero ingredient: Fresh sage and a bay leaf to infuse the soup with classic fall flavors.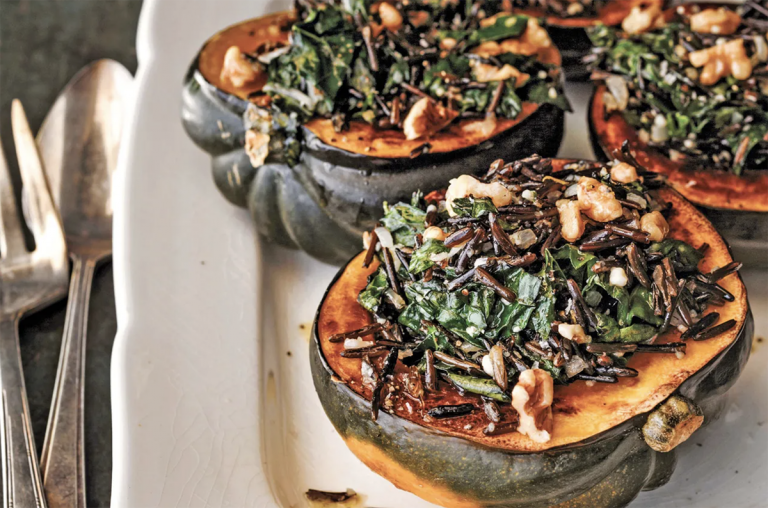 Kale and Wild Rice–Stuffed Acorn Squash
Why we love it: Between the kale, rice, and squash it's full of fiber, antioxidants, and minerals. And did I mention it's rich and delicious as well? It's a hearty side dish but can easily become a main if you add a protein like shredded chicken to the stuffing.
Hero ingredient: Nutty, salty Pecorino Romano cheese is an absolute standout.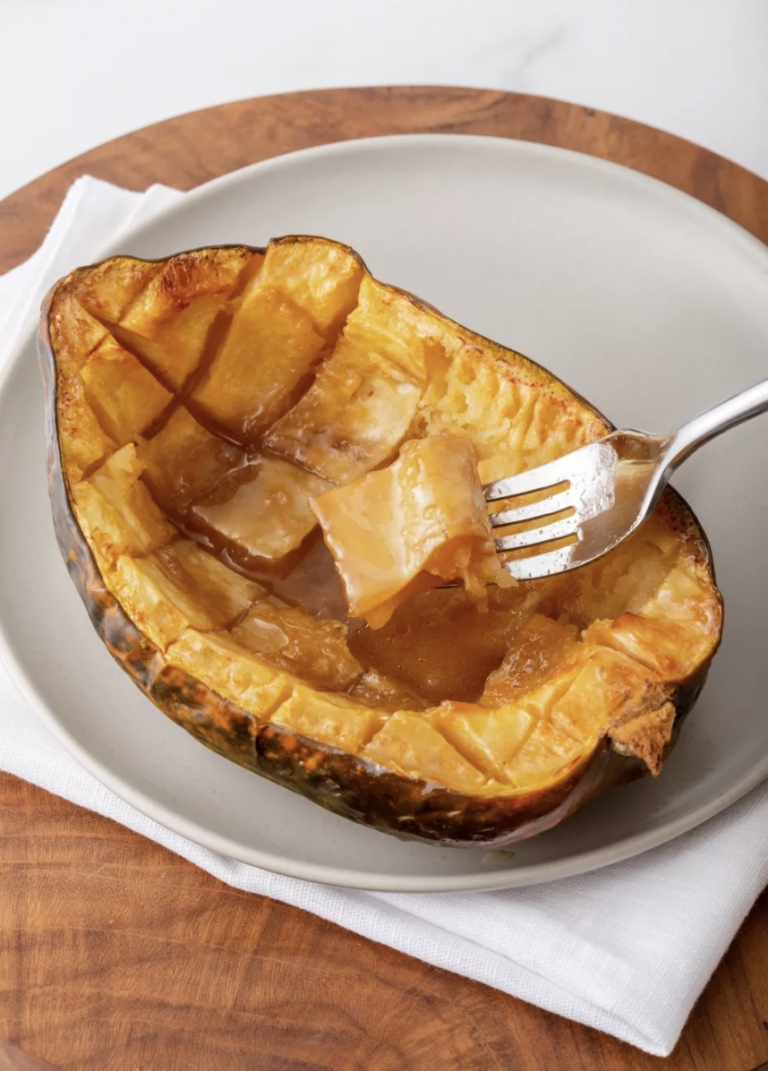 Baked Acorn Squash With Butter and Brown Sugar from Simply Recipes
Why we love it: It doesn't get much easier than this autumnal dish. Just cut the squash in half, scoop out the guts, and bake with a bit of butter, brown sugar, and maple syrup. How glorious!
Hero ingredient: Brown sugar makes this dish practically dessert-like.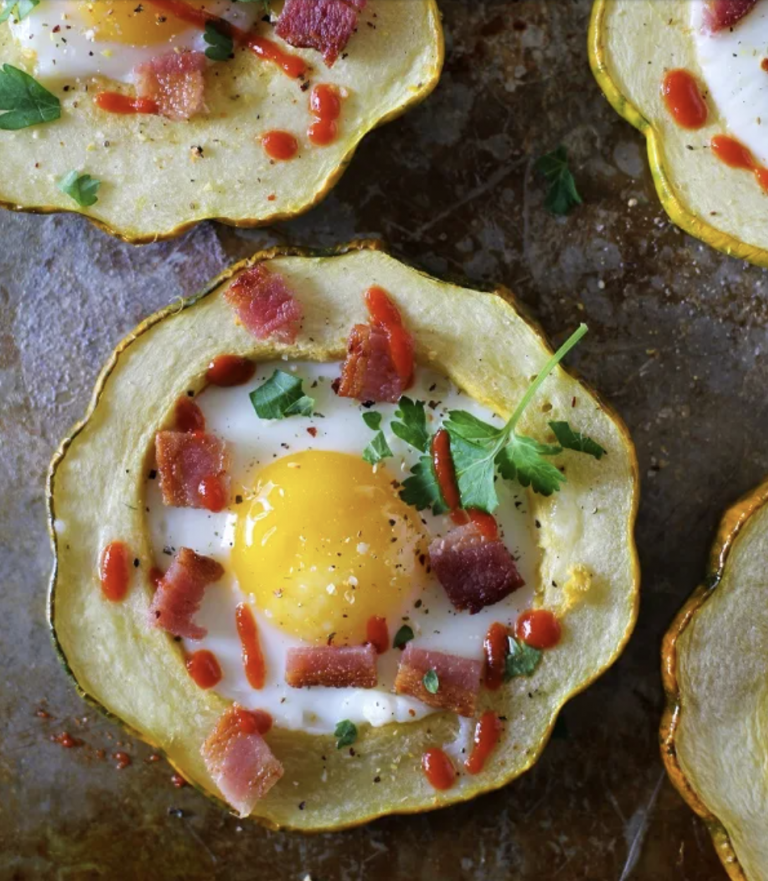 Acorn Squash Egg in the Hole from The Roasted Root
Why we love it: If you're an egg lover then you have to try this twist on the classic egg in a hole recipe. It's less carby but still makes for a hearty, satisfying meal.
Hero ingredient: Don't skip out on the crumbled bacon, it adds the perfect subtle salty punch.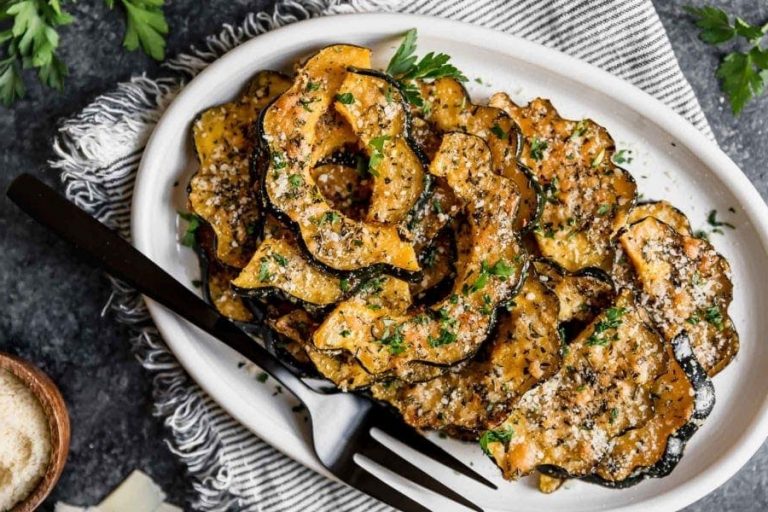 Parmesan-Crusted Acorn Squash from Real Food Dieticians
Why we love it: All you need is five ingredients for this tasty and healthy acorn squash recipe. It's a savory delight that won't let you down. This is the perfect side dish for a warming protein or even pasta. It's so good that you may never opt for butter and brown sugar on your squash again.
Hero ingredient: The parmesan gives this recipe an earthy, salty, nutty flavor and lovely texture.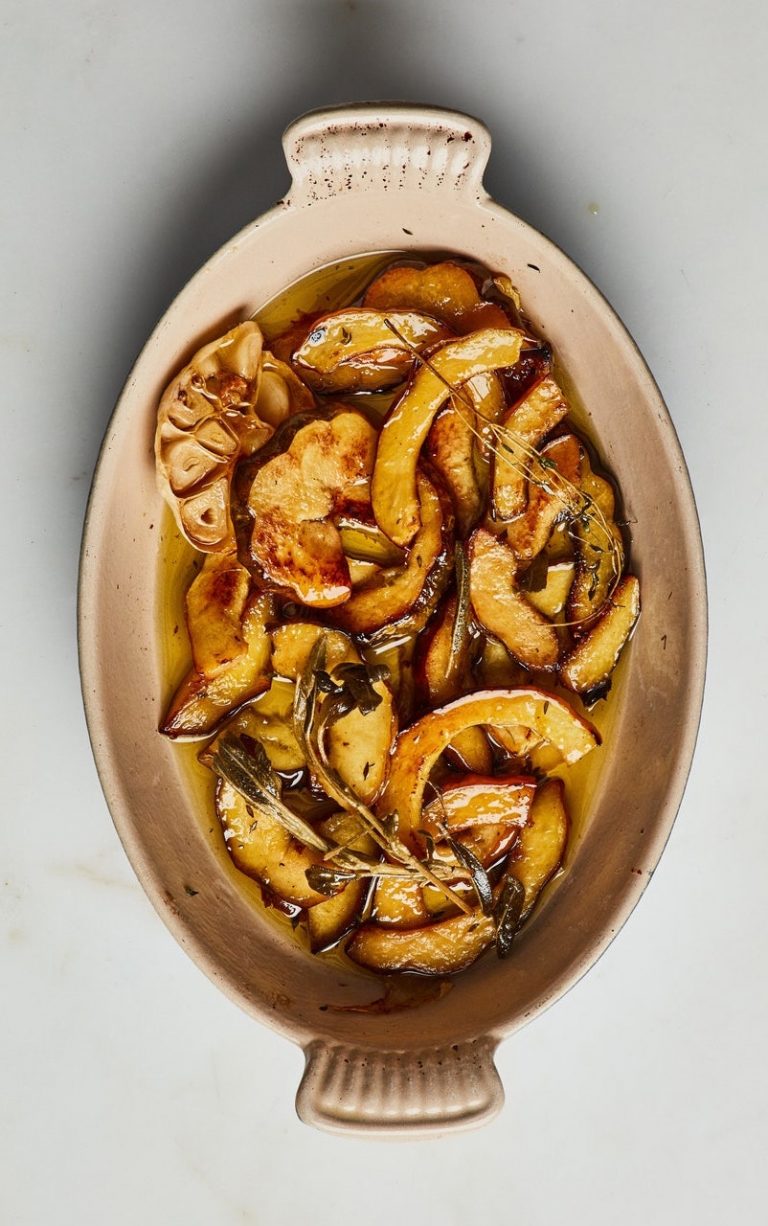 Slow-Cooked Winter Squash With Sage and Thyme from Epicurious
Why we love it: All you have to do is drown this squash in oil and herbs and let it do its glorious thing. It doesn't get much easier than that. Have you ever seen anything more beautiful? It is positively mouth-watering.
Hero ingredient: Don't be afraid of the head of garlic.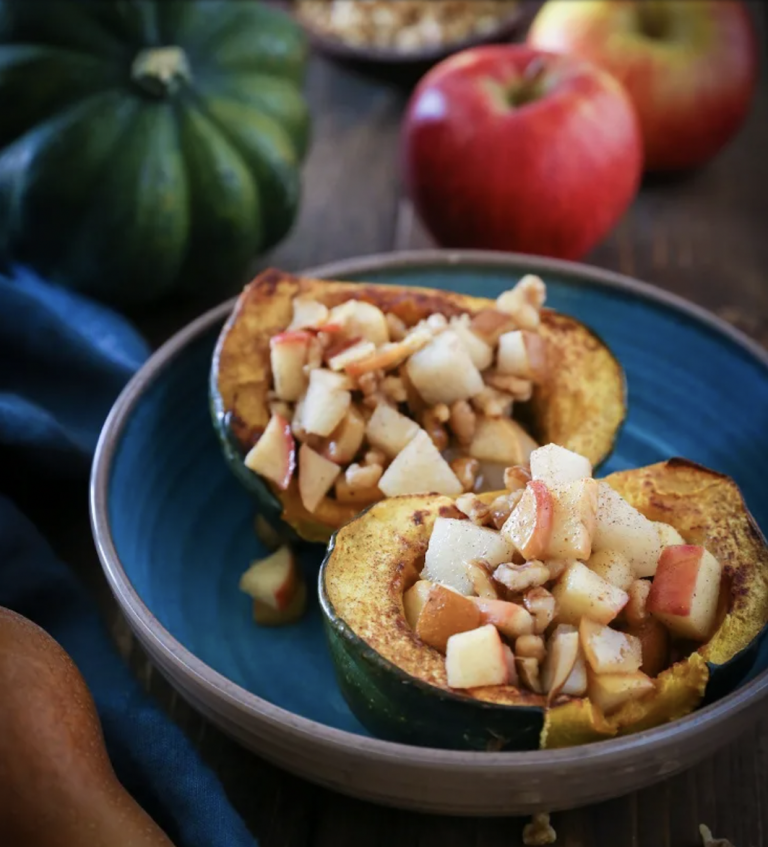 Pear Apple Walnut Stuffed Acorn Squash from The Roasted Root
Why we love it: This healthy dish is special enough to make for the holidays but worth enjoying any day this season. It's rich and flavorful without feeling heavy.
Hero ingredient: Stewed pears are an unexpected delight.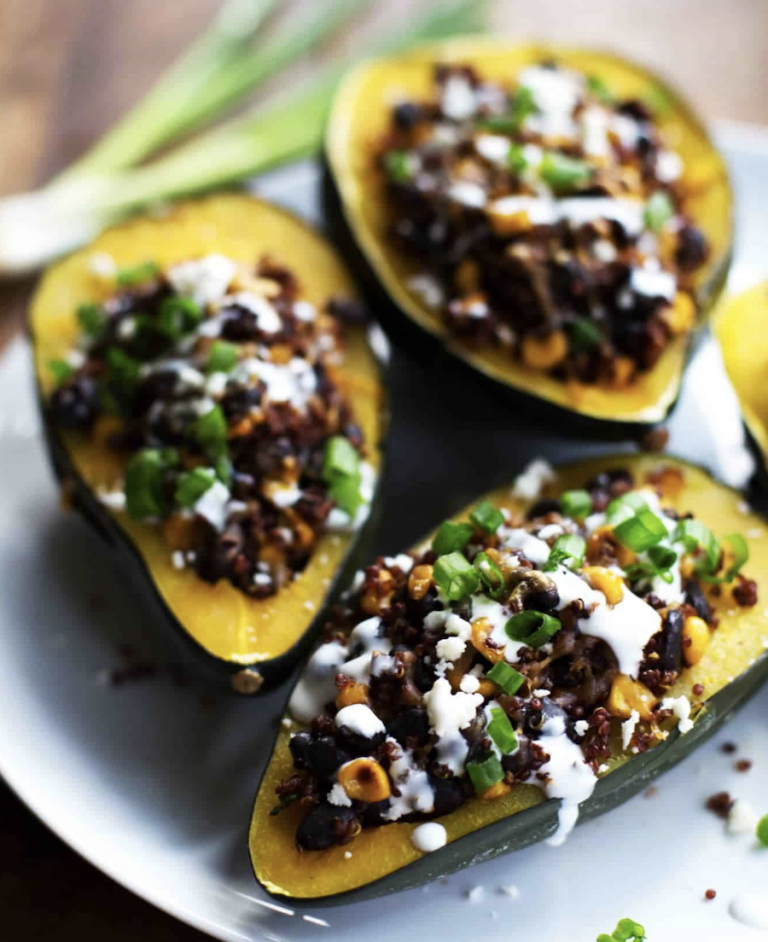 Mexican Roasted Corn and Quinoa Stuffed Squash from Pinch of Yum
Why we love it: The bright Mexican flavors and the smooth, creamy taste and consistency of the acorn squash work together beautifully. Even the most avowed squash skeptics will be coming back for seconds.
Hero ingredient: It's topped with crema and queso fresco for a creamy finish.