Even the most avowed coffee lover knows that every once in a while, few things are as nourishing and delicious as a steaming cup of tea. The unique flavors, warming sensation, and comforting rituals are such a treat on a chilly day. And if you can get a little burst of energy from your drink, even better! I adore a calming bedtime or stress relief tea, but sometimes I want a little jolt without downing a cup of coffee. Luckily, there are quite a few tasty and effective options. But since not all teas are made alike, we decided to ask a dietician for some insight on the best teas for energy.
While green tea reigns supreme when it comes to energy, there are other varieties that offer numerous health benefits in addition to caffeine. We tapped dietician Carolyn Leonard, RD, CDN to give us a more comprehensive look at the best teas for energy, and to help us understand the many health benefits of green tea in particular. It's pretty clear that it's an incredibly healthy alternative to coffee and worth adding to your beverage rotation.
Rise up tea lovers, because this is your moment. Each one of these teas is more flavorful than the next. Read on for everything you need to know before you hit the tea shop.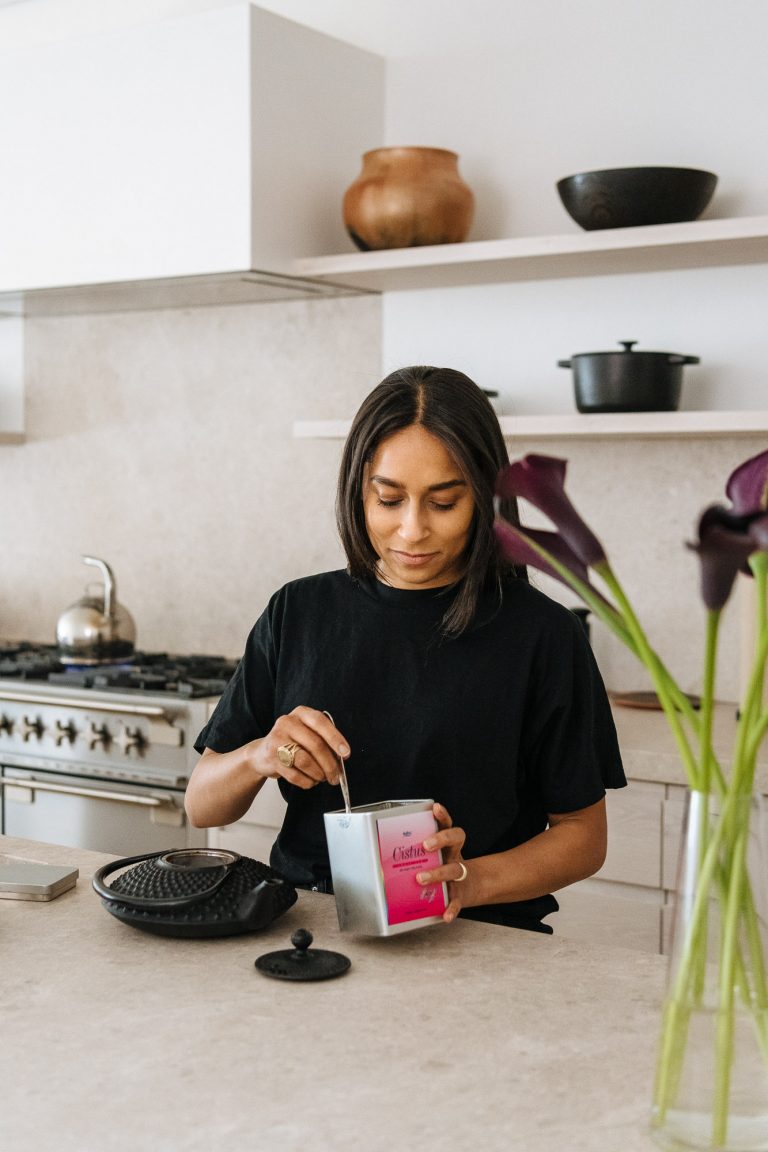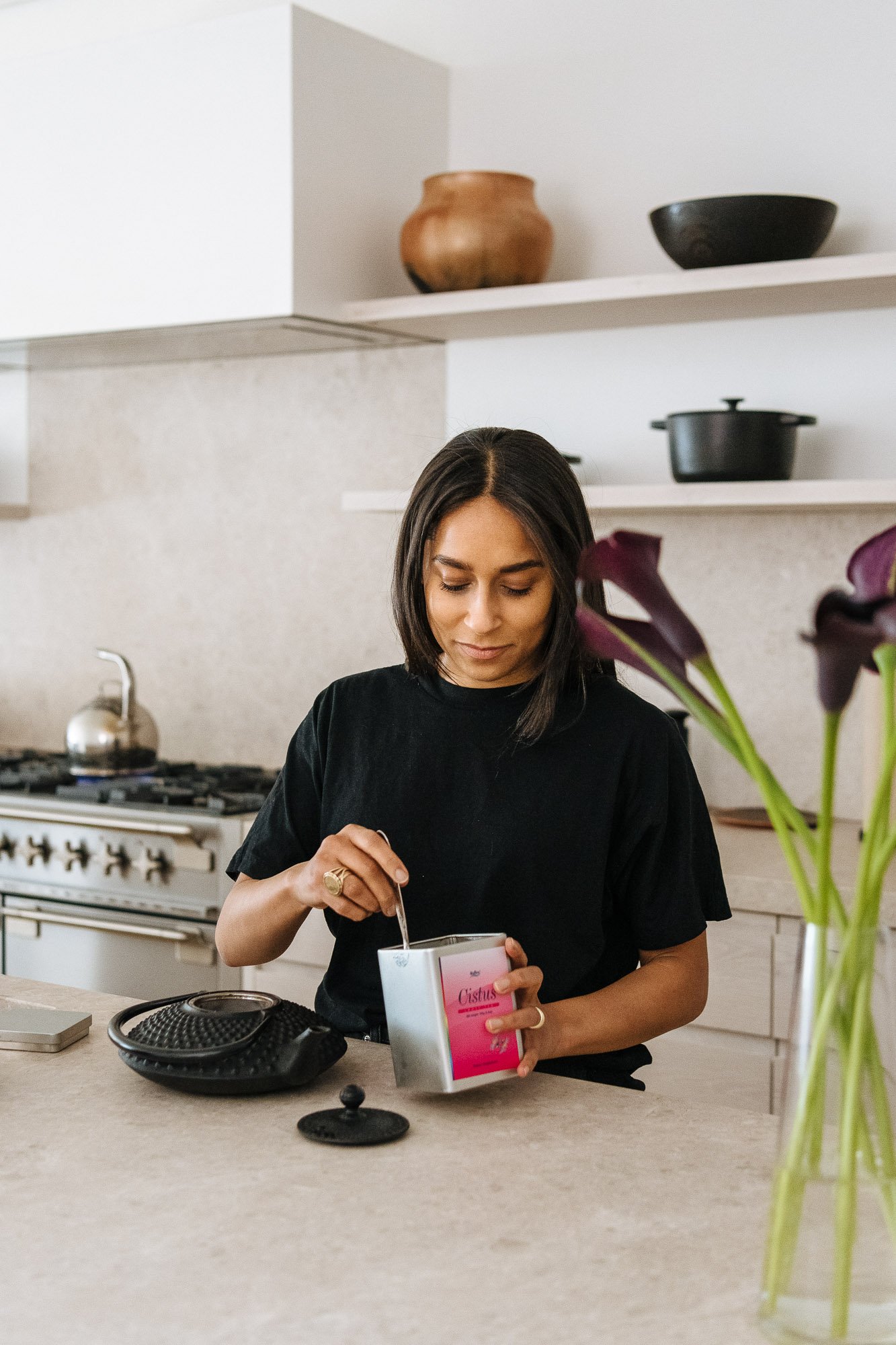 The best teas for energy include, but are not limited to:
green tea
white tea
black tea
chai
yerba mate
All of these teas contain caffeine to give us energy. When you're shopping for tea, Leonard urges everyone to look for organic, loose-leaf teas since they provide the highest amount of natural antioxidants—the less processed, the better. The best way to find these is to go to a tea shop and ask a professional for help.
While Yerba Mate—an herbal tea from South America—is used in many energy drinks on the market Leonard doesn't endorse them. Yerba Mate can provide its own unique energy boost due to a compound called theobromine, a known stimulant.
Green tea vs. coffee
Leonard is partial to green tea not just for the flavor, but for the numerous health benefits as well. While there is evidence-based research on the health benefits of coffee, we also know that too much caffeine can be detrimental to our physical and mental health—caffeine-induced anxiety disorder is real. Depending on the way coffee is brewed, an 8oz serving can provide twice as much caffeine as green tea. That being said, if you enjoy coffee, you don't have to make the full switch to green tea, but you may want to consider cutting down on coffee consumption and increasing your tea intake—or look into some coffee alternatives. Like anything else, balance is important.
While the energy from both beverages comes from caffeine, Leonard assures us there's less in green tea. Additionally, green tea also has a naturally occurring amino acid called L-theanine that acts as a natural calming agent and when combined with caffeine gives you a boost without the crash. This amino acid has been shown to improve mental focus, sleep, relaxation, cognitive performance, weight loss, and immunity. Even the calming act of sipping tea can improve mood and decrease stress.
Health benefits of green tea
Green tea is filled with amazing compounds that have been shown to thwart disease and even improve health, Leonard explains. Unlike black or oolong tea, green tea leaves have not gone through any oxidative process, leaving "the good stuff" packed within. These include antioxidants, catechins, and polyphenols. These specific compounds in green tea have been researched significantly over the last several years and have been shown to be beneficial in many ways including:
decreasing cholesterol levels
improving cognition and memory
decreasing the risk of heart disease
supports weight management
lowering the risk of cancer
decreasing the risk of diabetes
Keep scrolling to check out the best teas for energy, according to an expert!
Green Tea
This high-quality green tea is organic, non-GMO, and packaged in tea bags made of Abacá hemp fiber that is free of dyes, adhesives, staples, and strings. It doesn't get much cleaner than that.
Full of fresh flavor and a delicious earthy green taste, this tea is a favorite of green tea connoisseurs the world over.
Get back to basics with this popular simple green tea. It has delicious, lightly sweet notes, a smooth flavor, and that warming, comforting scent of fine green tea.
The Republic of Tea searches the world for the best tea leaves, supporting local farmers, and delivering high-quality, delicious tea.
Matcha Tea
Regardless of whether you are a longtime matcha devotee or a beginner, you're going to need to try this bright green, fresh, and invigorating matcha blend from Rishi.
Treat yourself to this rich and vibrant flavor. Made with 100% pure, shade-grown green tea leaves from Japan, this matcha is perfect for lattes, smoothies, and more.
Black Tea
This classic morning time tea is absolutely irresistible. It's a blend of two stunning organic black teas: flavorsome Ceylon and punchy Assam. It's a must!
Large leaves are dried over smoky pine fires to create this ancient and much-loved Chinese tea. It has a distinctively smoky flavor with notes of pine, smoke, fruit, and spice. Yum!
Art of Tea Earl Grey Crème Tea
Our deputy editor Sacha Strebe is a huge fan of this full-bodied, citrusy tea. It's an organic, loose-leaf blend with ultra fragrant notes of bergamot and French vanilla with a creamy, rich finish.
Chai
Black tea is blended with cardamom, pink peppercorn, cinnamon, ginger, and orange zest for a delicious, warming, comforting taste.
Chai lovers need to try this sweet and spicy variation on chai.
Yerba Mate
If you are looking for serious energy, then check out this popular yerba mate brand. It's as strong as coffee with all the health benefits of tea and the euphoria of chocolate. What's not to love?
White Tea
You can't beat the full-bodied, smoky chestnut notes and mellow nutty flavor in this white tea.
This utterly gorgeous tea is made of little hand-rolled tea pearls that are gentle infused with floral essences from jasmine flowers.