For years, I was a loud and proud morning person. 6 a.m. workouts? No problem. Starting my Monday with an 8 a.m. meeting? My favorite way to follow up the weekend. I was that admittedly insufferable person who had lived an entire day before most people had opened their eyes. Even on Saturdays and Sundays, I couldn't keep myself in bed past 7. But now in the latter half of my twenties, my energy is slowing down… way down. I have no problem admitting that with age and time comes change—my desire to be up before the sun included. Nowadays, I love a leisurely start to my day. And I'm sure most of you would agree that there's nothing better than staying under the covers as long as you please. As for feeling sluggish and tired throughout the day? No, thanks. But as we know, food has the power to transform how we feel. And that's why I rounded up the 11 best breakfast recipes for all-day energy.
Keep reading to know more about the importance of balancing your blood sugar first thing, the ingredients that'll power your day, and a roundup of the top 11 breakfast recipes for (major) energy—all day long.
Feature image by Michelle Nash.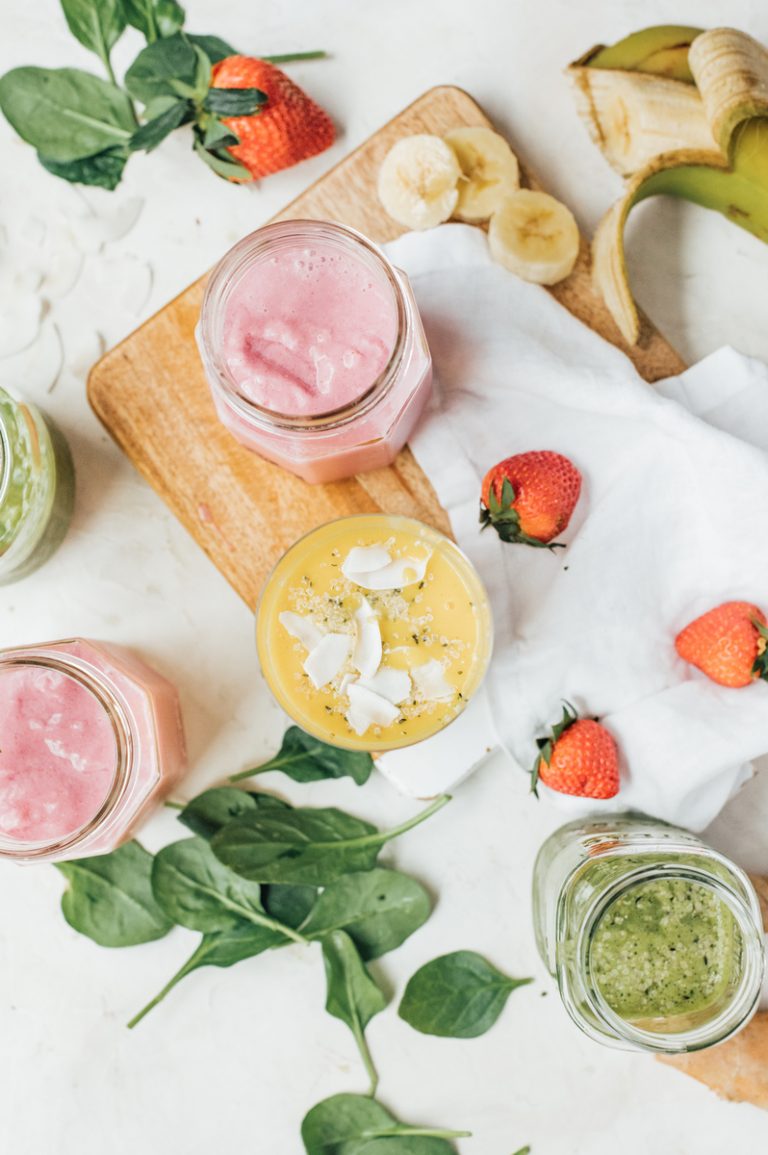 What are the best ingredients for increasing energy in the morning?
Before we get to the recipes, let's break down what's in them. Certain foods are deemed "super" because of all the amazing things they can do for your body. Food can boost your mood, send you off to dreamland, and yes, fill you with enviable energy. Our resident nutrition writer and expert in all things functional foods, Edie Horstman, dropped the deets on all things energy-boosting breakfast foods. Edie's hot take? "Yes, a stack of pancakes will energize you, but only temporarily," she says. For ingredients to keep an eye on, Edie recommends looking out for berries, oatmeal (with chia + flax), beets (great in a smoothie!), avocado, eggs, plain Greek yogurt, coconut, papaya, sourdough bread, sweet potatoes, and almond butter. 
What about these foods make them the ultimate energy boosters?
Edie rounded up 11 of her favorite energizing ingredients that can work their way seamlessly (and deliciously) into all of your morning meals. There's so much to love about this list. The foods are accessible, affordable, and best of all, bring color, beauty, and plenty of flavor to your breakfast—making it all the more enjoyable to eat.
Berries
All berries are a delicious energy-boosting food (especially when you're craving something sweet). Dark berries tend to be higher in natural antioxidants than lighter-colored ones, which may reduce inflammation and fatigue in the body.
Oatmeal
Oats are a great source of complex-carbs, meaning they will keep you energized and satiated longer than simple carbs. Research shows that oats give your brain tryptophan, which can increase happiness. I mentioned adding chia and flax to boost antioxidant nutrients and more fiber/omega-3 fatty acids.
Beets
Beets contain carbs, fiber, and natural sugar for stable energy. They also contain natural nitrates, helping to improve blood flow (which may increase energy levels).
Avocado
Avocados are currently in season! And they're loaded with fiber and healthy fats. They also promote optimal blood glucose levels. Plus, their B vitamins give us energy.
Eggs
Eggs have vitamin B2, otherwise known as riboflavin. Riboflavin helps the body convert food into fuel, which is used to produce energy. Eggs are also super satisfying, due to their ratio of healthy fats to protein.
Greek Yogurt
Greek yogurt is rich in simple sugars, lactose, and galactose. When broken down, these sugars provide immediate energy. Greek yogurt is also packed with protein, helping slow the digestion of those sugars, thereby providing a steady release of energy.
Coconut
Coconuts are high in healthy fats, helping stabilize blood sugar. They help slow digestion.
Papaya
The natural sugars provide energy and they're loaded with antioxidants. Papaya also aids in digestion.
Sourdough
Sourdough's fermentation process unlocks B vitamins in the bread and helps with energy metabolism.
Almond Butter
Almond butter is high in magnesium. And you can't produce energy without magnesium. 
Sweet Potatoes
Sweet potatoes are high in fiber and complex carbs, helping you feel fuller, longer. With their natural sugars, sweet potatoes boost energy and aid in alertness. They're also rich in vitamin C, beta carotene, and other essential energy nutrients.
What role does blood sugar play in keeping us energized in the morning and beyond?
When it comes to mood swings, restless nights, and sluggish mornings, many factors can be at play. Stress, hormonal shifts, and packed schedules can all factor in. But a silent epidemic that's the likely cause? Edie chalks it up to dysglycemia. In other words, blood sugar instability.
Those aforementioned pancakes? Unless you're whipping up a batch of Camille's protein-packed stackers (complete with chia seeds, Greek yogurt, and blueberries), they're the likely cause of your morning crash-and-nap situation. And while I can totally get down with that on a Saturday (lazy mornings are the best mornings, after all), that's not the case when I'm wanting a productive Tuesday. Managing your glucose levels and doing what you can to stay metabolically fit keeps you from riding the blood sugar roller coaster and helps you avoid the dreaded energy dip.
Let's get to eating! These are the best breakfast recipes for high-vibin' energy.
Sweet Potato Toast
Why We Love It: If you're gluten-free, cutting back on carbs, or are simply looking for a genius hack to upgrade your avocado toast, consider this your answer. Who knew slices of sweet potato could toast up so beautifully? I certainly didn't until I discovered this recipe. Go savory or sweet with your toppings—I'm also not opposed to a slice of each. Proof that variety's the spice of life.
Hero Ingredient: I love an ingredient that can be used a million and one ways. Case in point, the not-so-humble sweet potato. While you can't ever get me to give up my bread, I'll happily sub in the tasty, fiber-rich tuber every morning.
Get the recipe for Sweet Potato Toast.
Sarah Copeland's Millet and Amaranth Porridge With Figs and Papaya
Why We Love It: If you've written porridge off as being boring or old-fashioned, it's time to rethink and revisit the breakfast staple. This recipe is oatmeal, reimagined. The unexpected pairing of grains (amaranth and millet) creates a creamy mix of protein-packed goodness. What's more, if it's oatmeal's homogenous consistency that turns you off, know that this recipe is a treasure trove of textural warmth.
Hero Ingredient: This recipe achieves a pudding-like consistency with a spoonful of yogurt stirred in at the end.
Get the recipe for Sarah Copeland's Millet and Amaranth Porridge With Figs and Papaya.
Basic Blueberry Smoothie from Cookie + Kate
Why We Love It: While this smoothie includes "basic" in the title, it's anything but. The frozen blueberries fill your glass with tons of free radical-fighting antioxidants, but the goodness doesn't stop there. Each serving offers up nearly 10 grams of protein and fiber. Also important: can we talk about that color?
Hero Ingredient: You can thank the frozen banana for that milkshake-like consistency. I'm always a fan of a little natural sweetness, too.
Get the recipe for Basic Blueberry Smoothie.
Beet Hash Browns from The Roasted Root
Why We Love It: If there's one thing I'm passionate about, it's diners. If there's another thing I can't get enough of, it's beets. Despite turning many eaters off, I find that beets offer a lovely earthy sweetness. And if there's any substitute for potatoes that's capable of doing a hash justice, it's the beautiful beet.
Hero Ingredient: Heating a tablespoon of butter alongside the oil in your skillet offers a little fat that coats your beets with a delicious richness.
Get the recipe for Beet Hash Browns.
Sunday Night Avocado Toast
Why We Love It: When the hunger cues come on and my cravings take over, there's nothing I want more than a couple slices of avocado toast. Camille agrees, and it's her love of the ubiquitous fruit that inspired this recipe. Take the title as a suggestion—this toast can be enjoyed first thing, too.
Hero Ingredient: No avocado toast is complete without a soft-boiled egg on top.
Get the recipe for Sunday Night Avocado Toast.
Shakshuka from Downshiftology
Why We Love It: While the presentation is impressive, it can't get simpler than shakshuka. The traditional North African and Middle Eastern dish knows the deliciousness that is a well-seasoned tomato sauce combined with softly poached eggs. It'll fill you up with flavor and warm you all the way through.
Hero Ingredient: A teaspoon of cumin stirred into your sauce gives a nice nutty pepperiness to your entire dish.
Get the recipe for Shakshuka.
Greek Yogurt Smoothie from Well Plated By Erin
Why We Love It: While smoothies' popularity peaked alongside the golden days of Instagram (2018?), my love of the simple, streamlined breakfast staple knows no bounds. The health-supporting ingredient combos are truly endless. Plus, this recipe makes the most of lusciously thick Greek yogurt, giving you energy for days.
Hero Ingredient: Two energy-boosting ingredients in one recipe? I'll consider that a win. Adding oats to your blender not only keep you full for hours, but the fiber-rich grain makes your smoothie extra creamy.
Get the recipe for Greek Yogurt Smoothie.
Tropical Coconut Oatmeal from Emilie Eats
Why We Love It: If you've relegated oatmeal to brisk winter days only, this recipe will convince you to make it a summertime staple. Tropical flavors are found in every bite (I love when a recipe puts pineapple to good use). Plus, coconut's complex sweetness comes to you in the form of coconut milk, sugar, and a garnish of toasted flakes. I'll be eating this all the way through August and beyond.
Hero Ingredient: Chia seeds ensure your oatmeal is THICK.
Get the recipe for Tropical Coconut Oatmeal.
Tropical Papaya Boats from Free Your Fork
Why We Love It: I have a soft spot for recipes that come with an edible bowl or plate. Simply scrape out the papaya seeds, fill with yogurt, and sprinkle on any combination of toppings you want. No clean-up required.
Hero Ingredient: You're welcome to pick and choose from the list of toppings as you please. IMO? Don't leave out the passion fruit.
Get the recipe for Tropical Papaya Boats.
Tofu Scramble With Shredded Cabbage & Chili Sambal on Sourdough Toast from Bill Granger
Why We Love It: While you can top your sourdough toast with just about anything, you're missing out if you don't hop on this recipe ASAP. Trust us: Aussies know breakfast. While this take on toast is a bit more involved, it's great if you're looking for a way to switch up your weekend breakfasts or brunch. Or, you can treat your weekday self to an elaborate morning meal. You deserve it. (We all do.)
Hero Ingredient: Sneaky tofu is the perfect plant-based, protein-packed substitute for eggs. You'll never know the difference.
Get the recipe for Tofu Scramble With Shredded Cabbage & Chili Sambal on Sourdough Toast.
Almond Butter Green Smoothie
Why We Love It: This ain't your ol' run-of-the-mill green smoothie. Recipes for the ultimate wellness beverage-meal hybrid abound, but there's none we love more than this one right here. It checks off the trifecta of feel-good recipe components: protein, healthy fats, and fiber. And it tastes like dessert? Dreams do come true.
Hero Ingredient: Call me Popeye—I love the deep green hue the cup of spinach gives this smoothie.
Get the recipe for Almond Butter Green Smoothie.