It's the end of September and I'm still transitioning out of summer mode. Does anyone else feel like they can't catch a break from their morning alarms to bedtime? I'm doing my best to balance school, work, and social, but that doesn't always leave enough time for the things my body's craving, like healthy meals. However, if there's one thing I've learned this month, it's that a healthy dinner doesn't have to be time-consuming. Of course, I'm dying to carve out an hour or two to make homemade pumpkin pasta, but simple chicken sheet pan recipes have been more my style lately. Luckily, they don't skimp on flavor.
Sheet pan recipes are honestly just the best. They make it easy to cook healthy meals for one or the whole family. I personally have never been good at deciding how much food to cook, so these chicken sheet pan recipes are amazing when I'm preparing dinner for all of my roommates. My favorite part about a sheet pan recipe? You do all the prep, and once it's in the oven, you're basically done. I have the freedom to work, relax, or catch up with friends while the oven is doing all the work. Once the timer goes off, dinner is on the table in five minutes.
Save this post for the next time you're craving a simple and healthy dinner, but have no time to cook. You can thank us later.
15 Easy, Healthy Chicken Sheet Pan Recipes
1. Five-Ingredient Sheet Pan Chicken Fajitas
Why We Love It: Camille reminds us that the key to making a recipe (with only a few ingredients) taste more complex is all in how you season it. This meal relies on boneless skinless chicken breast, bell peppers, and onions, but the pre-made taco seasoning mix is the secret ingredient that brings it all together and makes these fajitas anything but bland. This spice pack is full of all the same herbs and spices I'd mix up myself but so much quicker.
Hero Ingredient: Taco seasoning. I'm die-hard Tex Mex, people.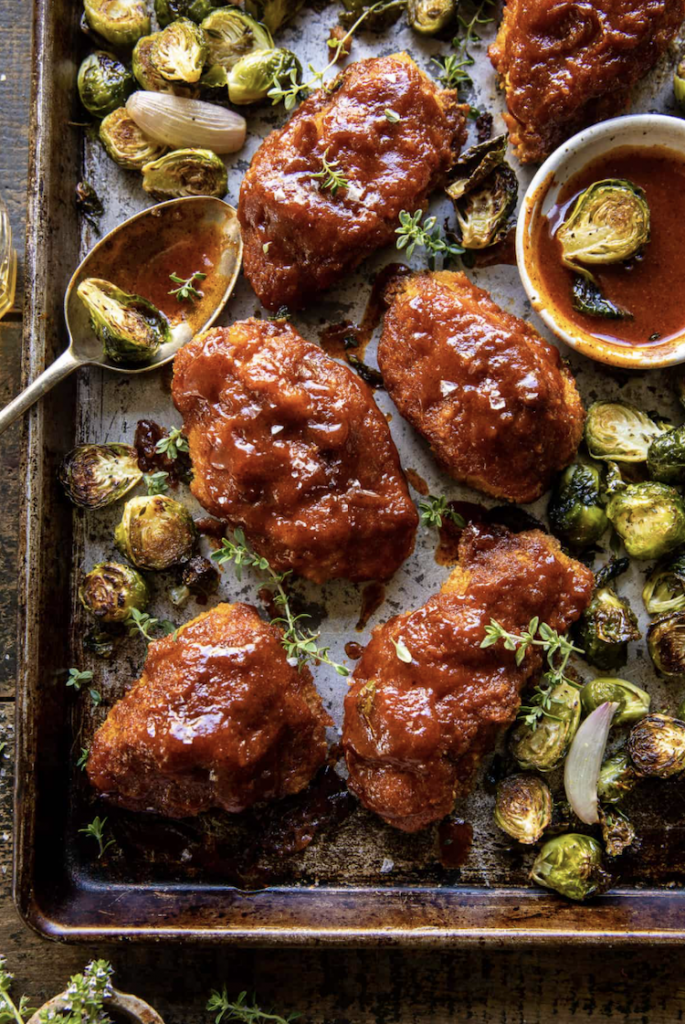 2. Sheet Pan Hot Honey Mustard Chicken and Crispy Brussels Sprouts from Half Baked Harvest
Why We Love It: While this meal might have a little more prep to it (you have to make the breading and the hot honey mustard), it's a guaranteed crowd-pleaser. This is one of those dinners that make it look like you spent all day making it when it really comes together in just 40 minutes. The flavors are southern, rich, and hands-down delicious.
Hero Ingredient: Crispy brussels sprouts make my list of top 10 favorite foods, for sure.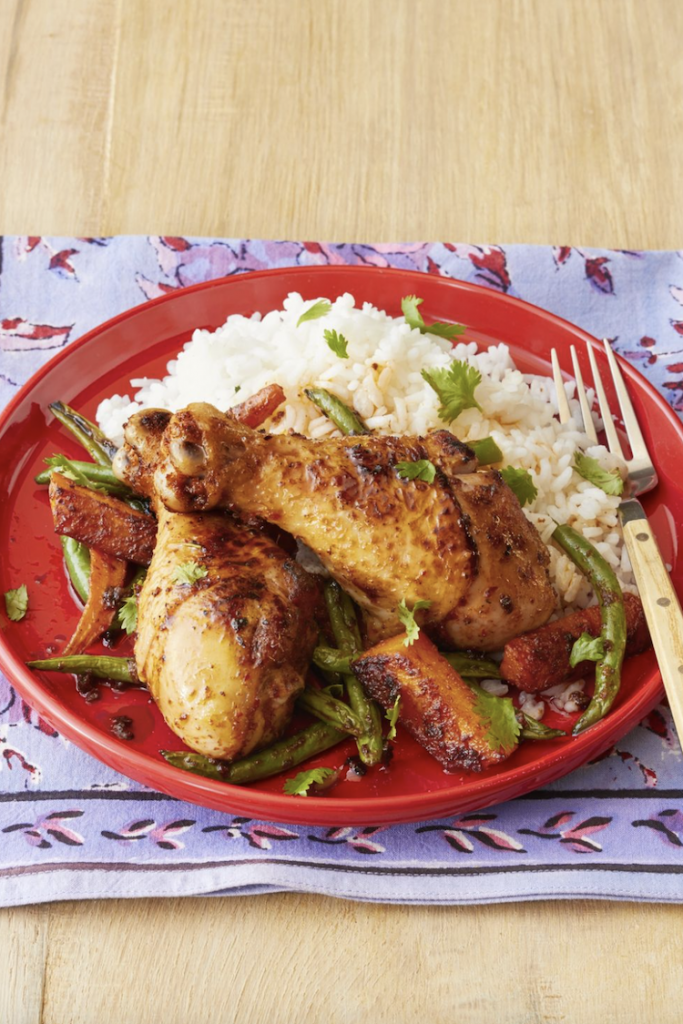 3. Sheet-Pan Curried Chicken from The Pioneer Woman
Why We Love It: Curry lovers, this is one of my favorite ways to curb my cravings without ordering or eating out. Both the chicken and the green beans get perfectly crispy and taste delicious together. I never knew achieving flavors like this could be so simple. To make this recipe even easier, I use a bag of frozen brown rice instead of cooking white rice, since I don't have a rice cooker. This one takes about 40-45 minutes to cook, which in my mind means 40-45 minutes to finish wrapping up my day.
Hero Ingredient: The curry flavor can't be beaten.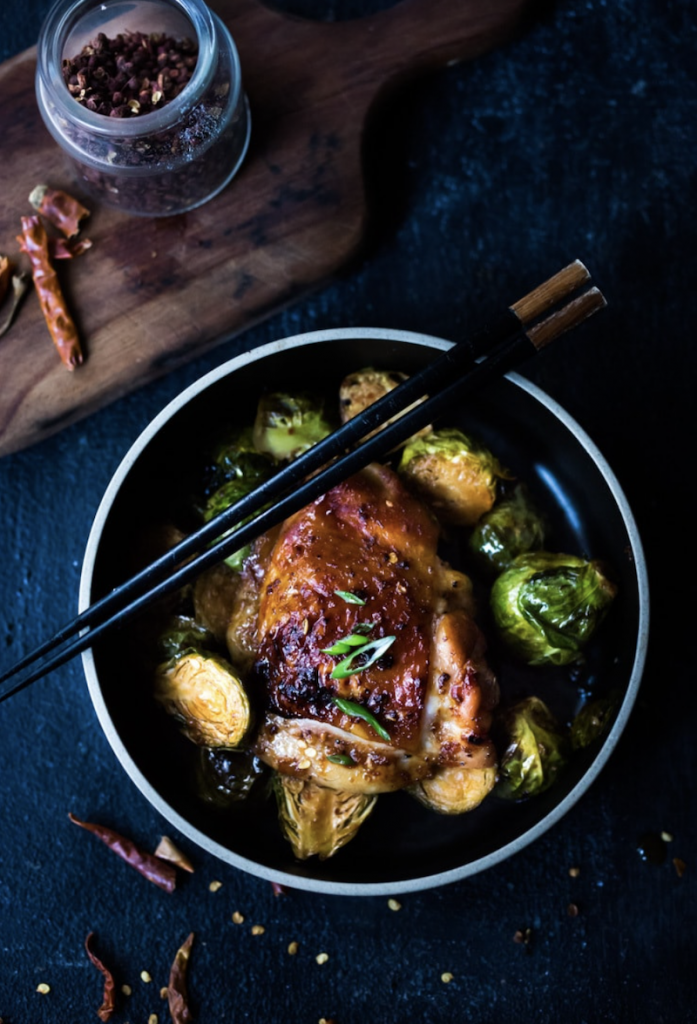 4. Sheet-Pan Szechuan Chicken and Brussel Sprouts from Feasting at Home
Why We Love It: I think that I could eat this every night. Making a Szechuan sauce from scratch seems intimidating at first, but I would consider my pantry and spice rack pretty amateur, and even I had all of the ingredients on hand. This recipe is also great for meal prepping because it's best when the chicken is marinated overnight (although it still tastes great after just a few minutes). I like chopping the Brussels and marinating the chicken Sunday night, then popping it in after an especially Monday-like Monday.
Hero Ingredient: The homemade sauce is a game-changer.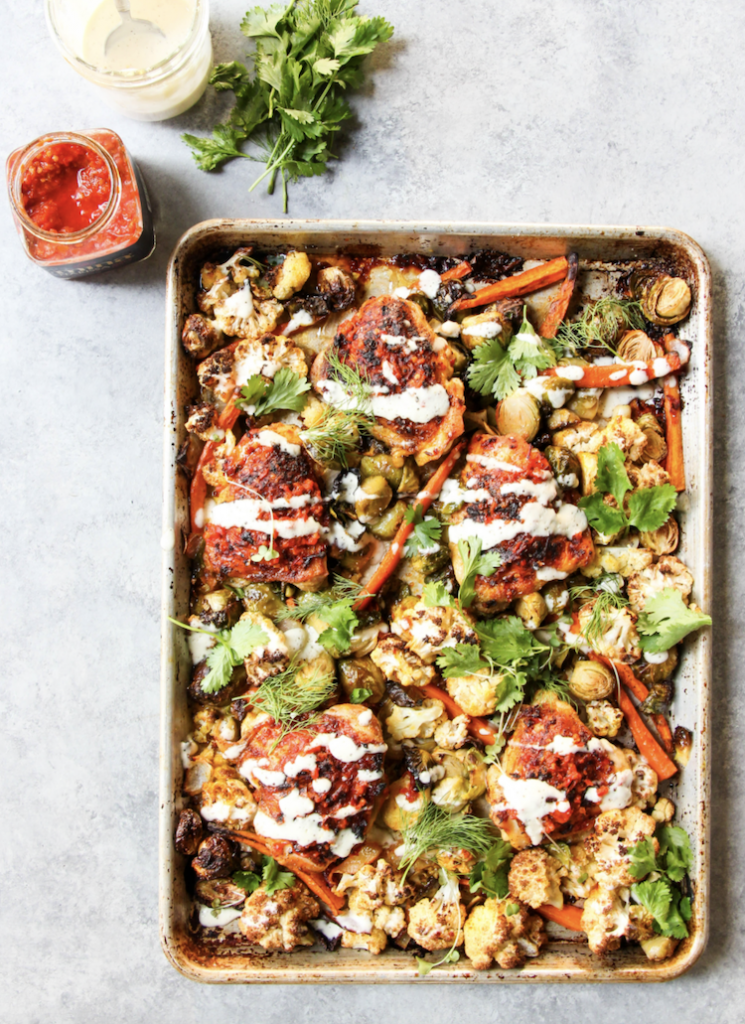 5. Sheet Pan Harissa Chicken + Veggies With Lemon Aioli from The Defined Dish
Why We Love It: I love all of The Defined Dish's recipes because no matter how difficult they look, they are almost always foolproof. This recipe is no exception, even though it looks straight out of a five-star restaurant. It has carrots, cauliflower, onions, and brussels sprouts, giving you alllll the veggies, but my personal favorite part is the drizzle of lemon aioli on top… I could swim in this sauce.
Hero Ingredient: Lemon Aioli, because anything with the word aioli in it automatically sounds good to me.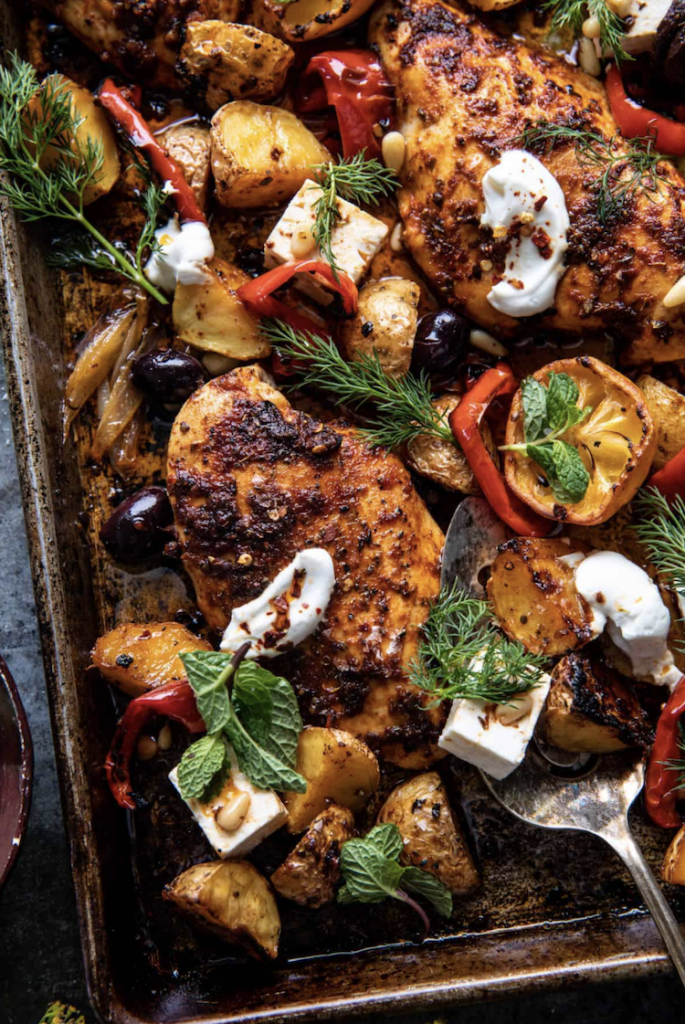 6. Easy Greek Sheet Pan Chicken Souvlaki and Potatoes from Half Baked Harvest
Why We Love It: I love a good Greek moment. I will never forget my first trip to Greece when I ordered a Greek salad and had my world rocked. They serve it with no lettuce, just all the yummy ingredients chopped and tossed, which kind of reminds me of this recipe. It has all the elements of a delicious Greek salad, which you can also customize to your liking, but has the warmth of comfort food. What more could you want?
Hero Ingredient: The lemon-y, garlic-y, herb-y, balsamic-y chicken. *drool*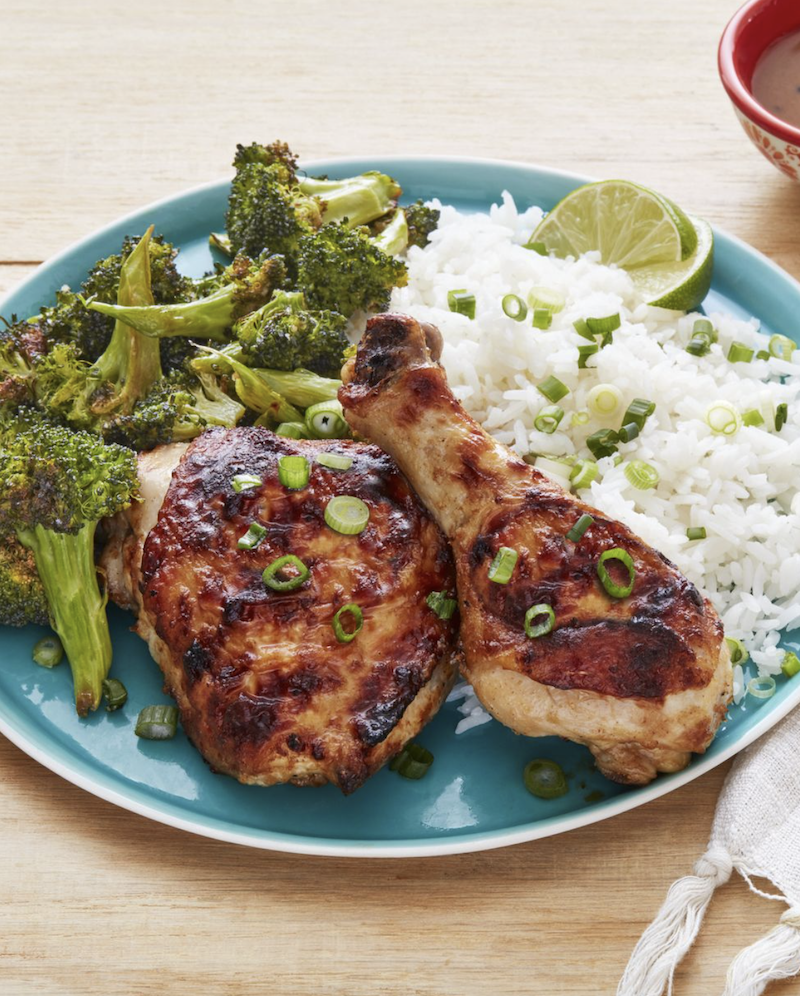 7. Sheet-Pan Spicy Peanut Chicken and Broccoli from The Pioneer Woman
Why We Love It: I'm a firm believer that anything with peanut butter in it is bound to be delicious, so this recipe is really speaking my love language. It also makes my favorite kind of broccoli: simply seasoned, and a little bit charred. When I need a break from basic dinners, this is always a go-to.
Hero Ingredient: Peanut butter, or specifically the peanut sauce.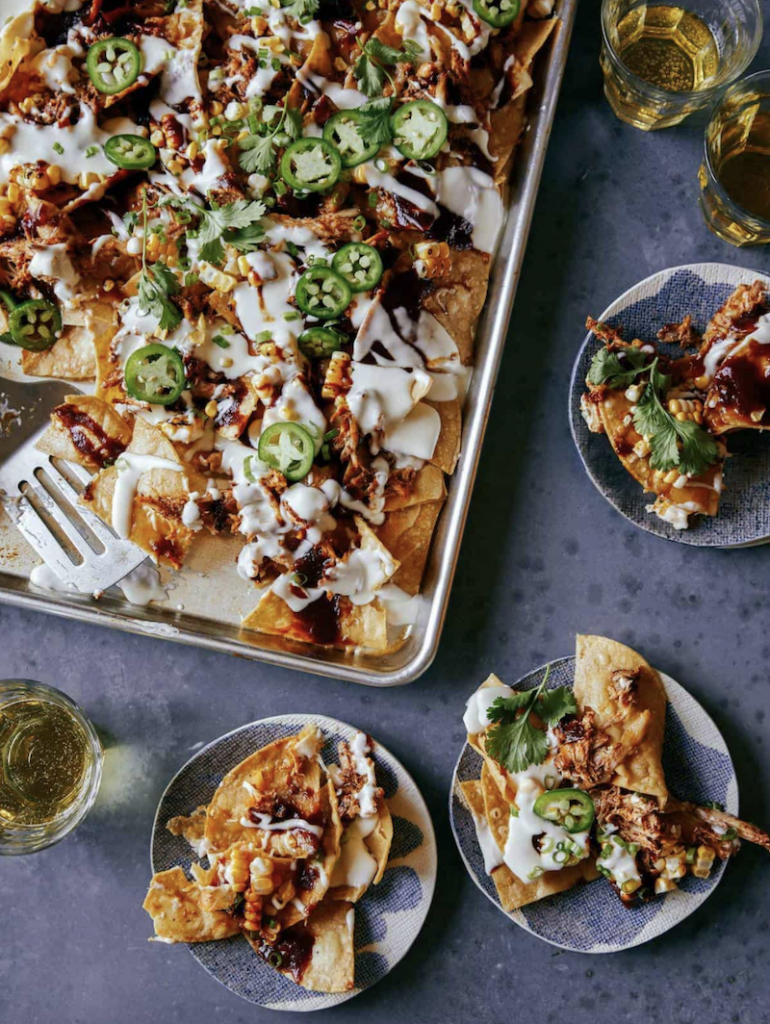 8. Sheet Pan Chipotle Chicken Nachos from Spoon Fork Bacon
Why We Love It: Fair warning, this recipe requires you to make the chipotle chicken on the skillet before throwing everything together on the sheet pan. However, you can easily simplify this meal by buying premade chicken or prepping the chicken at the beginning of the week and using a store-bought queso. I've never made anything that tastes better than jarred queso anyways. (P.S. Have you tried Siete's Dairy-Free Queso? I'm obsessed).
Hero Ingredient: Okay, so, it's queso.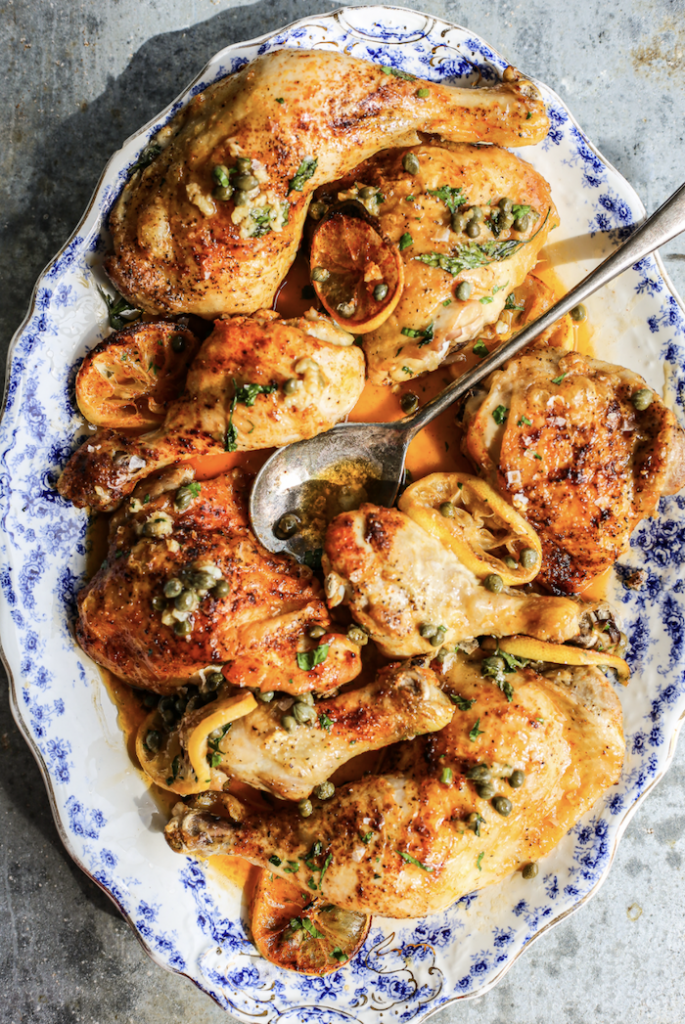 9. Sheet Pan Chicken Piccata from The Defined Dish
Why We Love It: Perfect for entertaining, this sheet pan chicken piccata is a must-try. It's arguably one of the easiest recipes on this list, but also one of the ones I get the most praise for. My only complaint is that it's not a full meal, but all it needs is a little extra prep to make a simple Italian salad and a veggie.
Hero Ingredient: The white vinegar and chicken broth add so much flavor and moisture. *chef's kiss*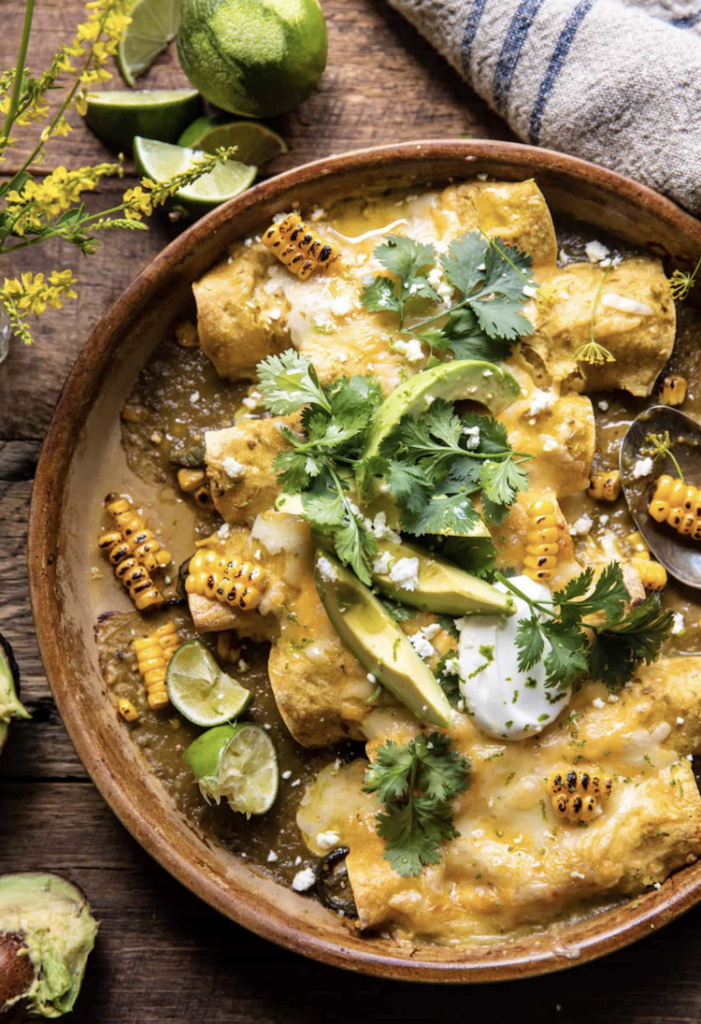 10. Sheet Pan Chipotle Cheddar Corn Chicken Enchiladas from Half Baked Harvest
Why We Love It: Can you tell Mexican Night happens more than once a week in my house? I love these easy sheet pan enchiladas because the way the ingredients are prepared makes the flavors so seamless. I judge a good enchilada on having a good overall taste, rather than different individual components. This post also has a great video tutorial linked to it.
Hero Ingredient: I have a salsa verde addiction.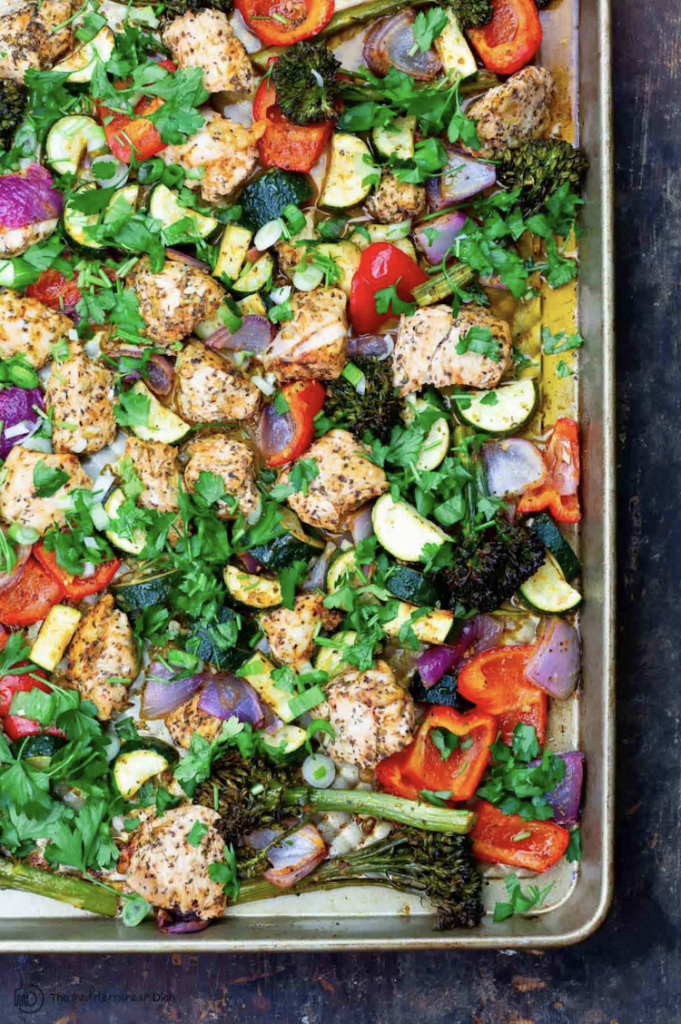 11. Italian-Style Sheet Pan Chicken with Vegetables from The Mediterranean Dish
Why We Love It: This recipe is described as a "clean-the-fridge-out" dinner, which is my favorite kind of meal. You can basically use whatever veggies you have on hand and toss them with chicken and this Italian seasoning for a delicious and healthy meal. It's also delicious when mixed with pasta, as the author suggests.
Hero Ingredient: The garlic-herb seasoning can make any ingredient a hero.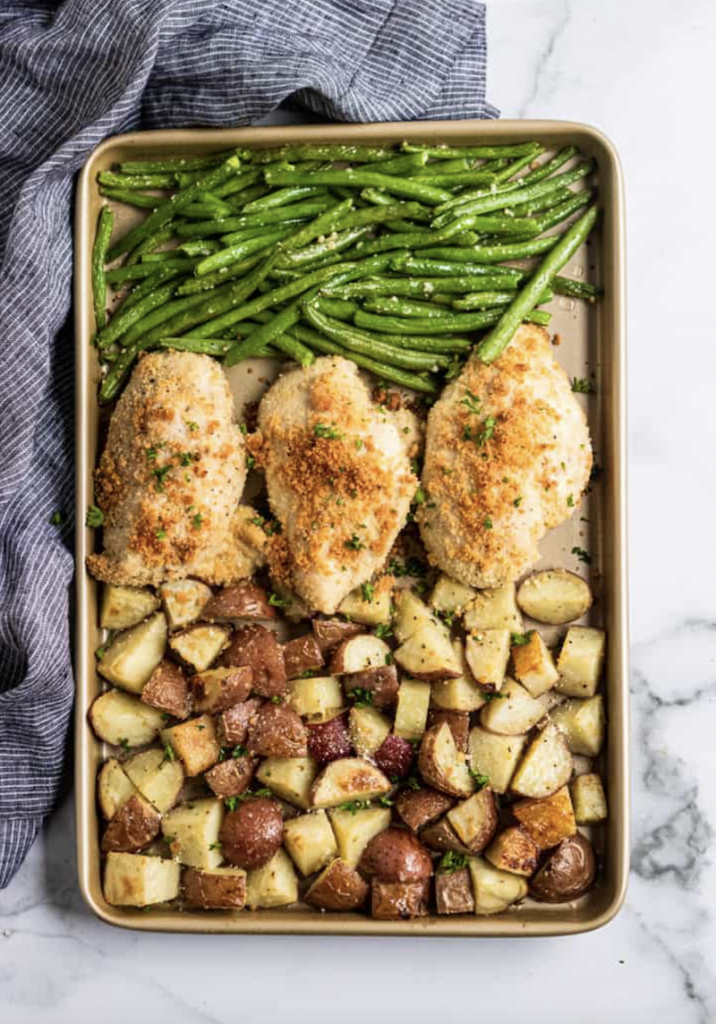 12. Parmesan Crusted Chicken Sheet Pan Dinner from Lemons + Zest
Why We Love It: This is a perfect example of a sheet pan dinner seasoning that is delicious on every ingredient. You literally use one bowl to toss and one pan to bake. It's a winner in my book because that also means… less dishes to do! With one of the shortest ingredient lists, this is one of my favorite easy dinners.
Hero Ingredient: Parmesan, for being the cheese that goes with everything.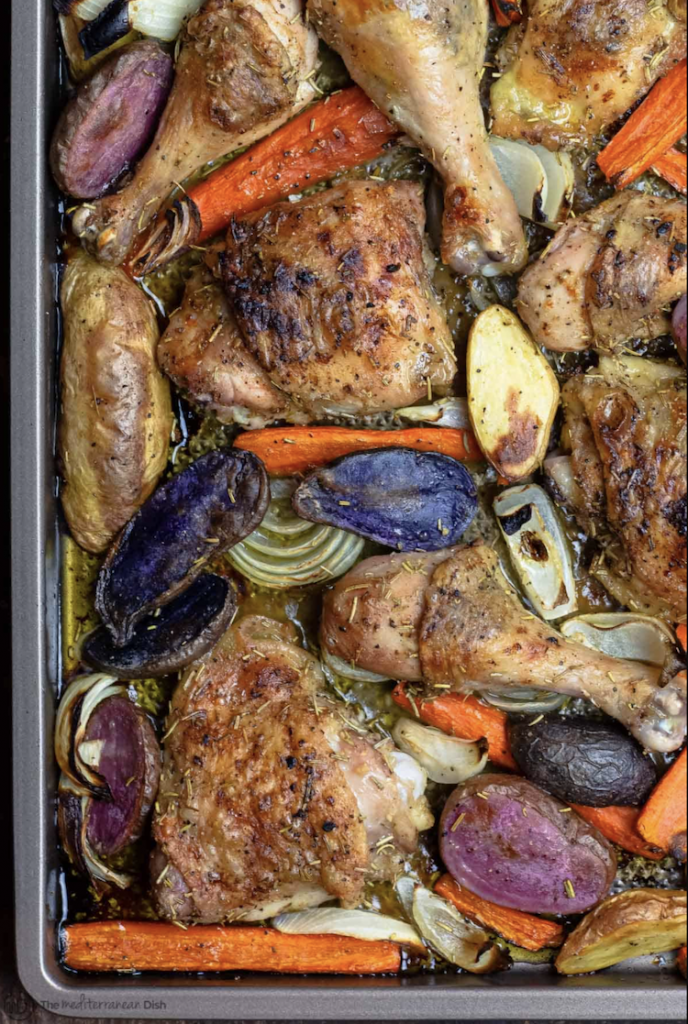 13. Sheet-Pan Rosemary Chicken Recipe with Vegetables from The Mediterranean Dish
Why We Love It: Before you even dive into this meal, the smell of the rosemary that wafts from the oven is to die for. It gives you all the bright Mediterranean tastes without being requiring too many spices. I personally like to add some sweet potatoes to the mix when I have them on hand, but anything goes.
Hero Ingredient: Rosemary, for the smell and the taste.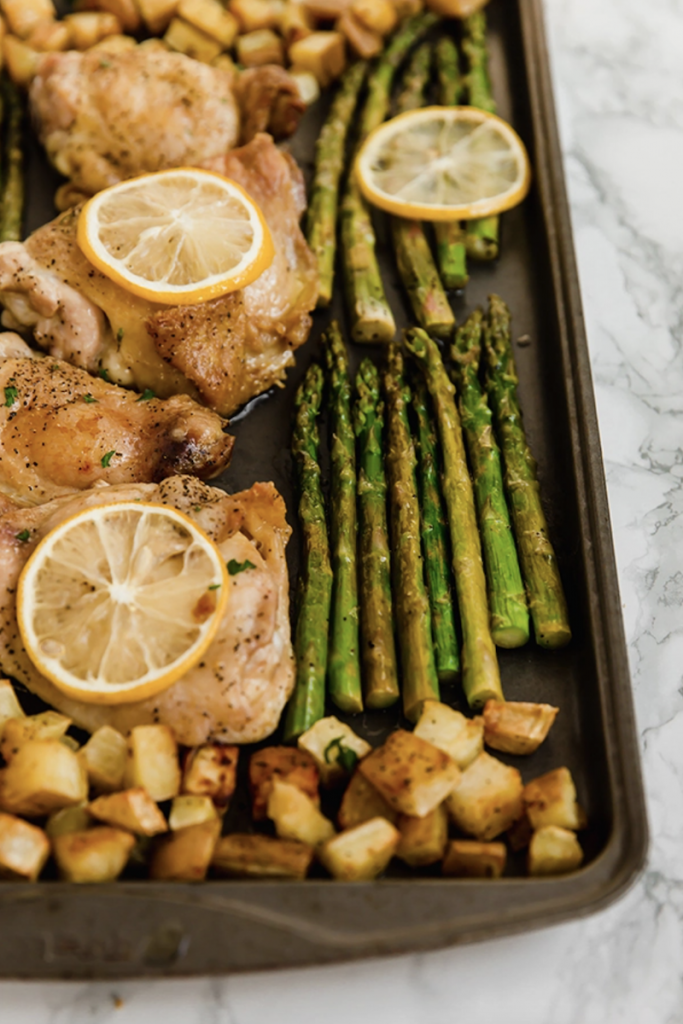 14. Sheet Pan Lemon Chicken and Asparagus from Unbound Wellness
Why We Love It: Lemon and chicken and asparagus are a match made in heaven. They come together to make a light dinner that is both fresh and filling. I sometimes even skip the potatoes on this one and opt for a big side salad to make it even lighter. Plus, this recipe barely has any hands-on time at all.
Hero Ingredient: Love the lemon.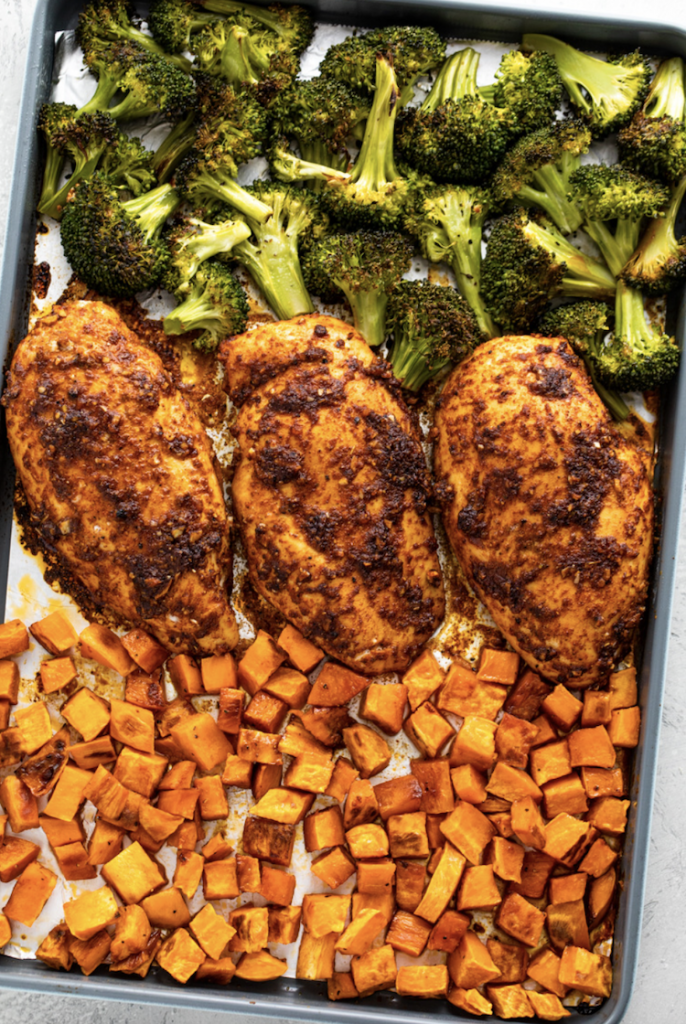 15. Sheet Pan Roasted Chicken, Sweet Potatoes, & Broccoli from Gimme Delicious
Why We Love It: This recipe is both a dinner and a meal prep, depending on your needs. First, you can use whatever seasonings you prefer on the chicken, which usually comes down to what I have in the kitchen. Second, this meal gives you protein, vegetables, fibers, and more. Third, it's easy to package up for lunch, or delicious right out of the oven for dinner. Totally flexible, customizable, and delicious.
Hero Ingredient: The sweet potatoes… can't get enough.