We can all list the things that define fall. Apple picking, hot cider, pumpkin spice lattes of course, and a general sense of comfort to be found in it all. But more recently, butternut squash has taken center stage, and easy butternut squash recipes for everything from pizza to pasta dominate the season. Because there's little that doesn't pair perfectly with the star ingredients (goat cheese, arugula, ginger, and sage immediately come to mind), the options abound for enjoying the beloved oblong fruit in abundance.
To celebrate the many comforting meals we can all look forward to, I rounded up easy butternut squash recipes to help us navigate these chilly months. Whether they're roasted, puréed, grilled, or stuffed—there's a butternut squash recipe for everyone. It's an easy way to have an incredibly satisfying and comforting meal that doesn't feel overly indulgent. Get ready for all the warming, nostalgic scents and flavors you know and love.
15 Deliciously Easy Butternut Squash Recipes
It's time to give the humble fruit the attention it so deeply deserves. Ahead, discover the absolute tastiest butternut squash creations we could find. And be sure to bookmark this list so you're ready to go when the next craving hits! (Because it's bound to soon.)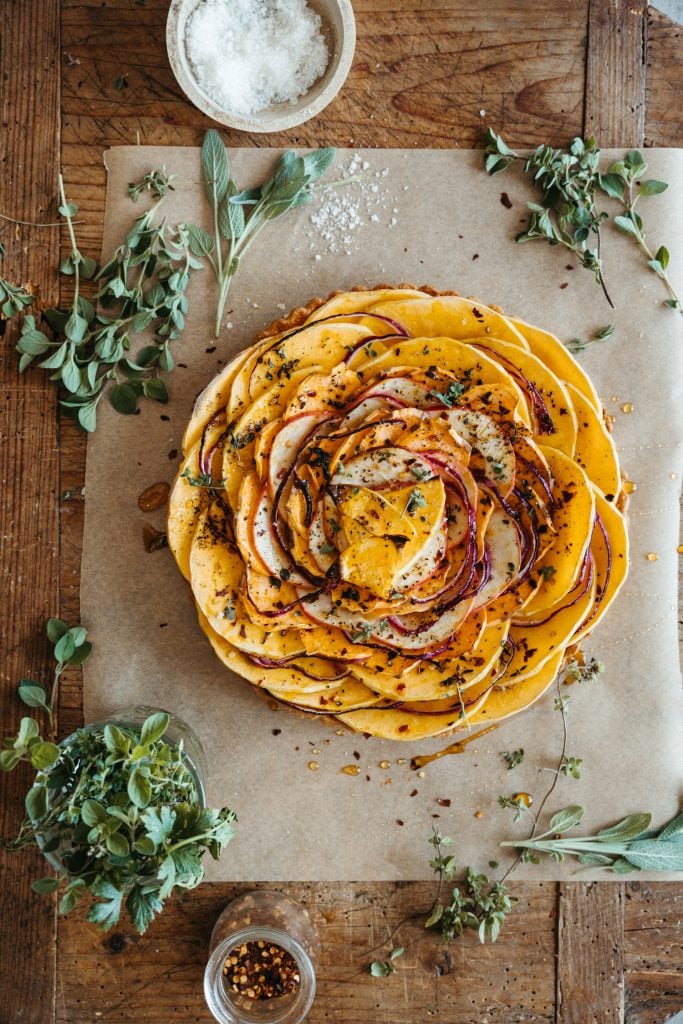 Why We Love It: Try finding a prettier butternut squash recipe than this. Camille made this tart for Thanksgiving last year, and suffice it to say, the final result was a hit. The creamy ricotta base serves as an airy, but rich foundation atop which layers of sliced butternut squash, apples, and sweet potato swirl around. It's mesmerizing to look at, and all the better to eat.
Hero Ingredient: Just a little honey is the perfect sweet complement to the fruity veg.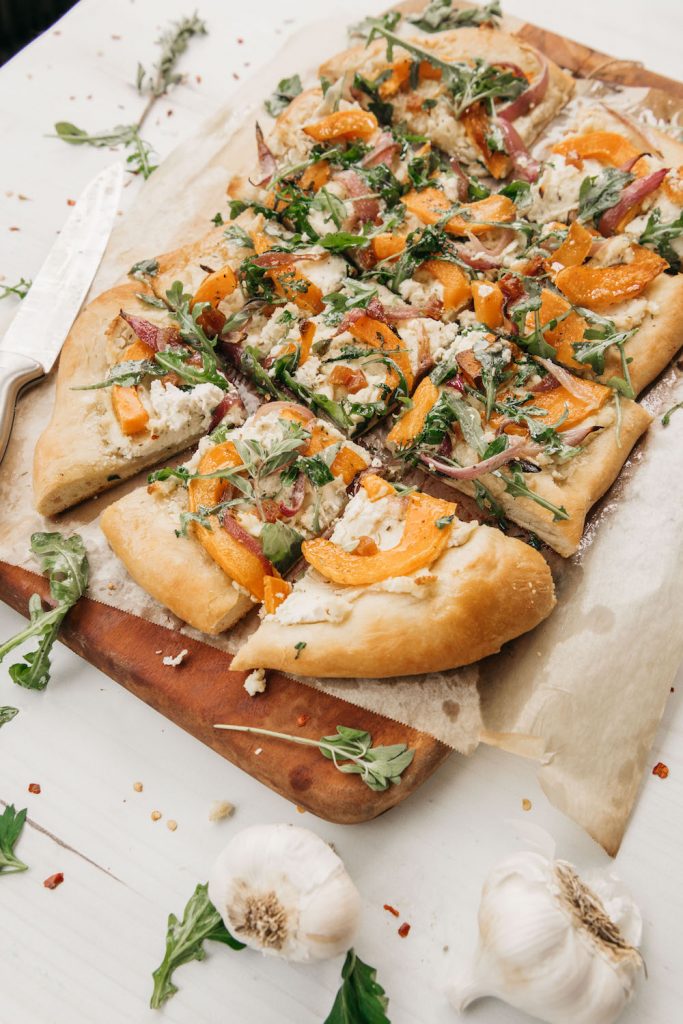 Why we love it: There's something about a good pizza that bonds people together. It's the perfect party food whether you're feeding a crowd or it's a party of one. And did we mention that this recipe has bacon bits? What bliss. It's a delicious flavor combination that will keep you coming back for more.
Hero ingredient: The homemade almond ricotta is a deliciously plant-based alternative to the dairy-laden fave. It's creamy and tangy, and way easier to make than it sounds.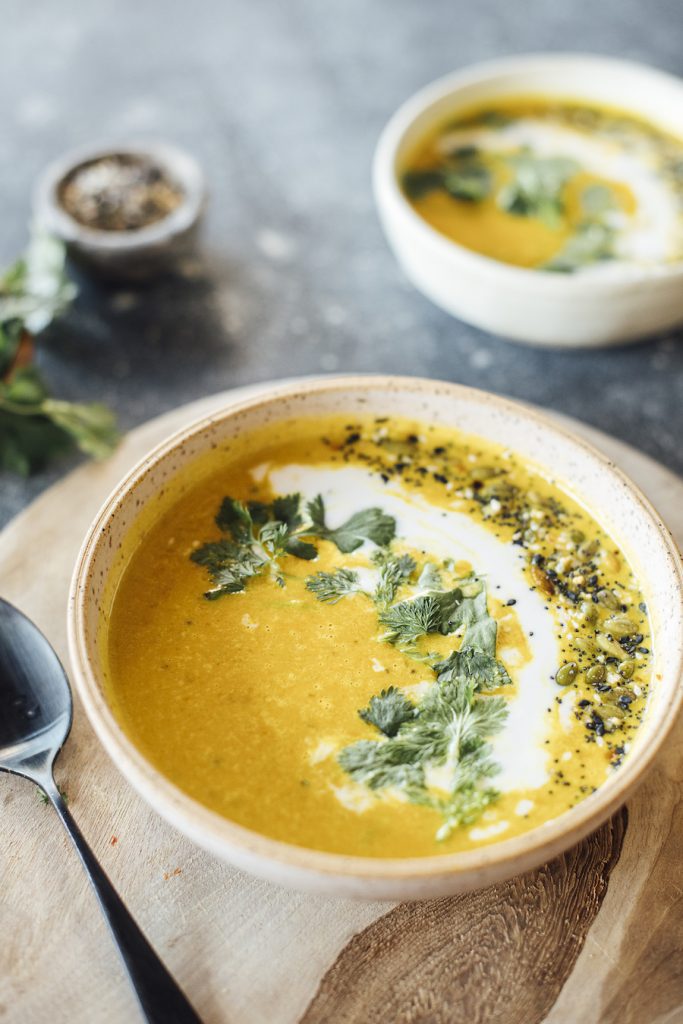 Why We Love It: This is the ultimate reset soup. During a season when so much of what we eat is an indulgence, it's nice to get a break with a recipe that's totally delish, but also light. This silky soup gets its (dairy-free) creaminess from a can of full-fat coconut milk. It's just the thing to serve a group when dietary restrictions are a concern.
Hero Ingredient: Two teaspoons not only make this soup an anti-inflammatory powerhouse, but also a warming, spicy delight.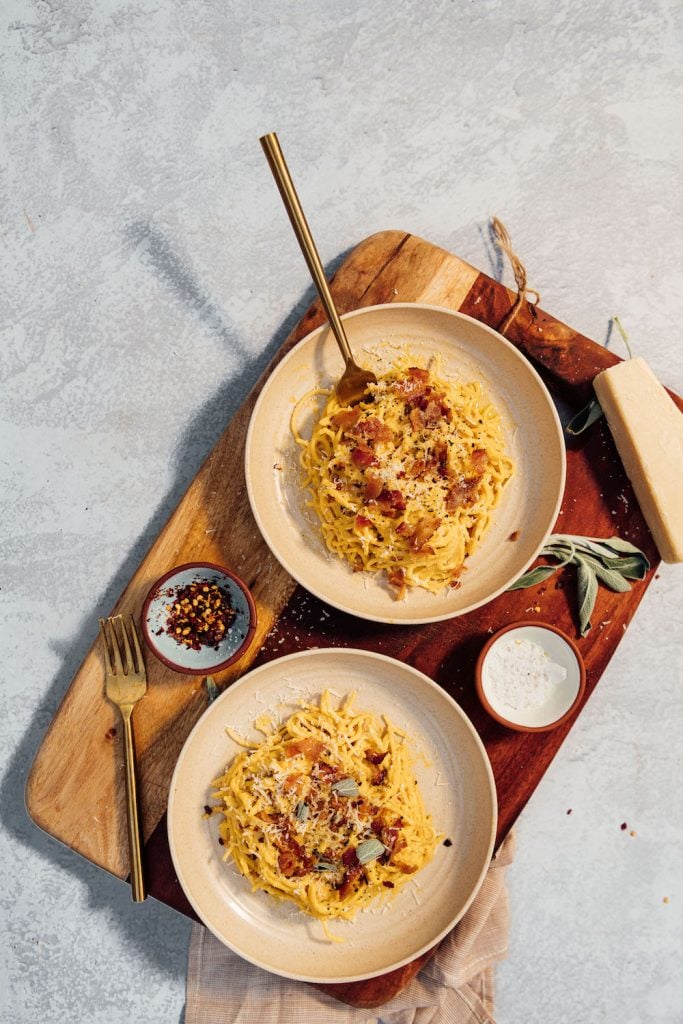 Why we love it: Have you ever seen anything more decadently delicious? This dish is an absolute showstopper and the perfect dairy-free pasta for cozy, chilly nights. Just be sure to use lots of squash to get that dreamy color and rich flavor.
Hero ingredient: Top your bowl with lots of crispy bacon before digging in.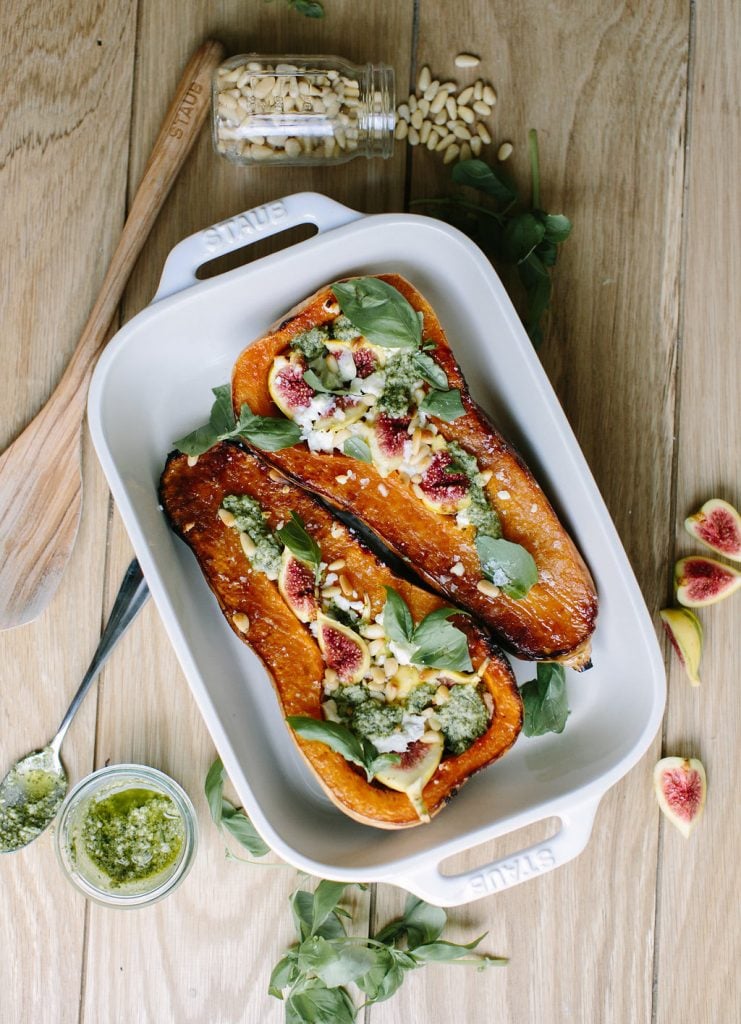 Why we love it: The one downside of butternut squash? It's a pain to peel. Thankfully, this easy butternut squash recipe takes the grunt work out of the equation, asking you only to cut the fruit in half and de-seed. These roasted squash halves make a delicious, simple side dish. Delight in the drizzle of olive oil, a sprinkle of fresh herbs, and seasonings of your choice. Or, follow Camille's lead and stuff with your favorite ingredients to your heart's content.
Hero ingredient: It doesn't get much better than figs, does it?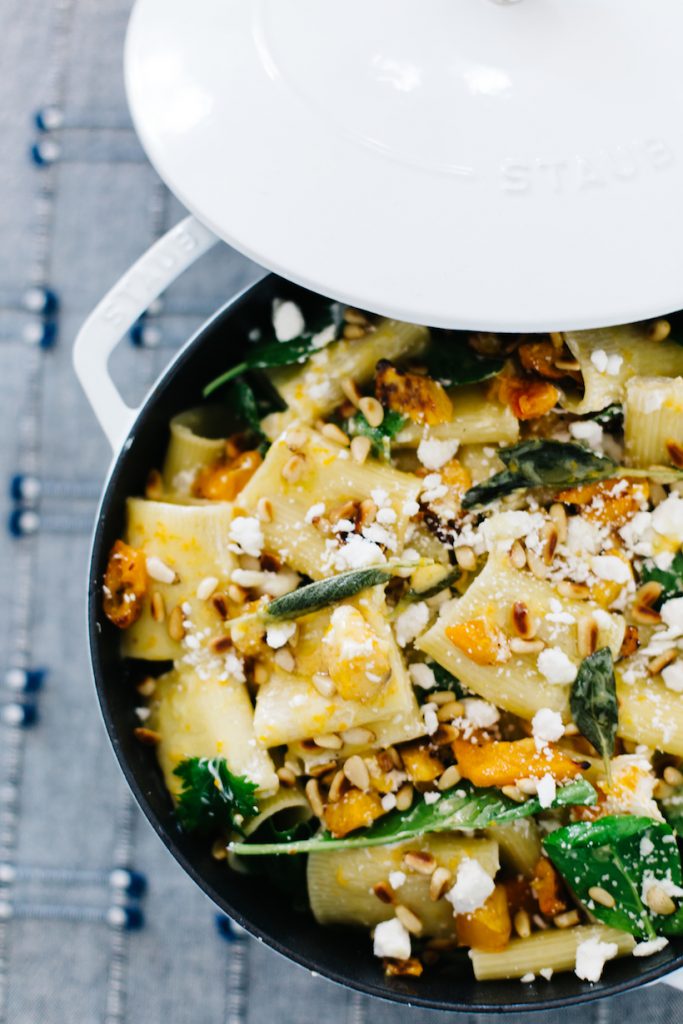 Why we love it: It's a one-pot wonder with pasta, greens, and healthy roasted veg. This dish makes a beautiful and hearty meal in and of itself. Which means less time spent washing pots and pans, more time spent around the table with friends.
Hero ingredient: Don't skip the drool-worthy brown butter sauce.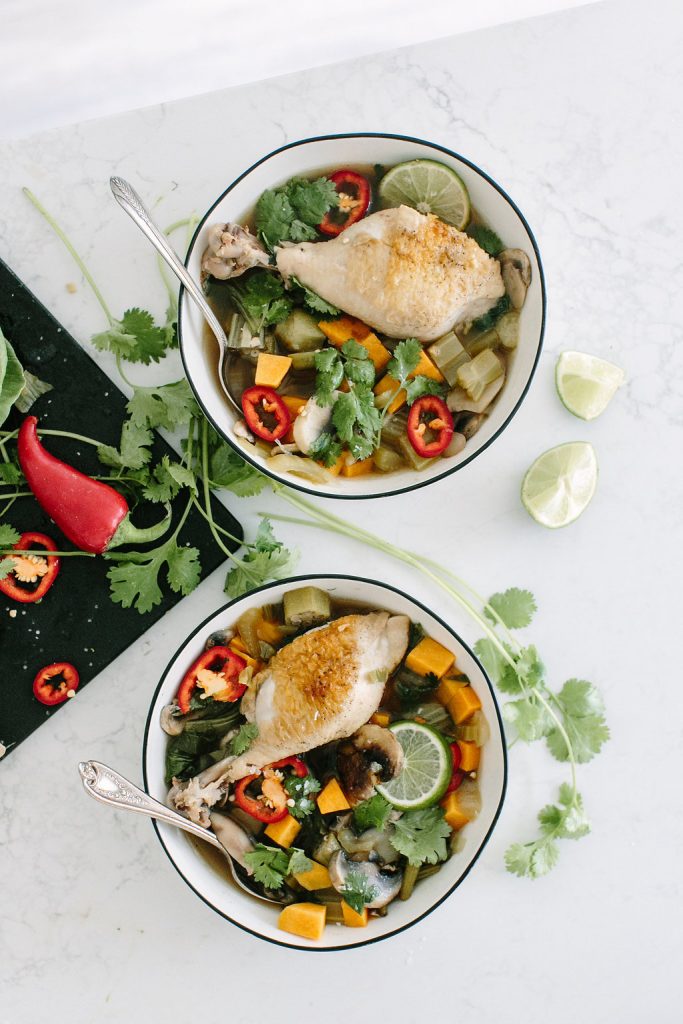 Why We Love It: I make this Thai chicken soup anytime I need a little warm-up throughout the season. It's hearty while boasting a light and veggie-packed broth, helping you feel just satisfied enough. The Thai flavors come forth thanks to the fish sauce, soy sauce, ginger, and red chili peppers. Trust, it will always cure whatever ails you.
Hero Ingredient: The chicken cooks on the bone in the soup, infusing the broth with rich, beautiful flavor.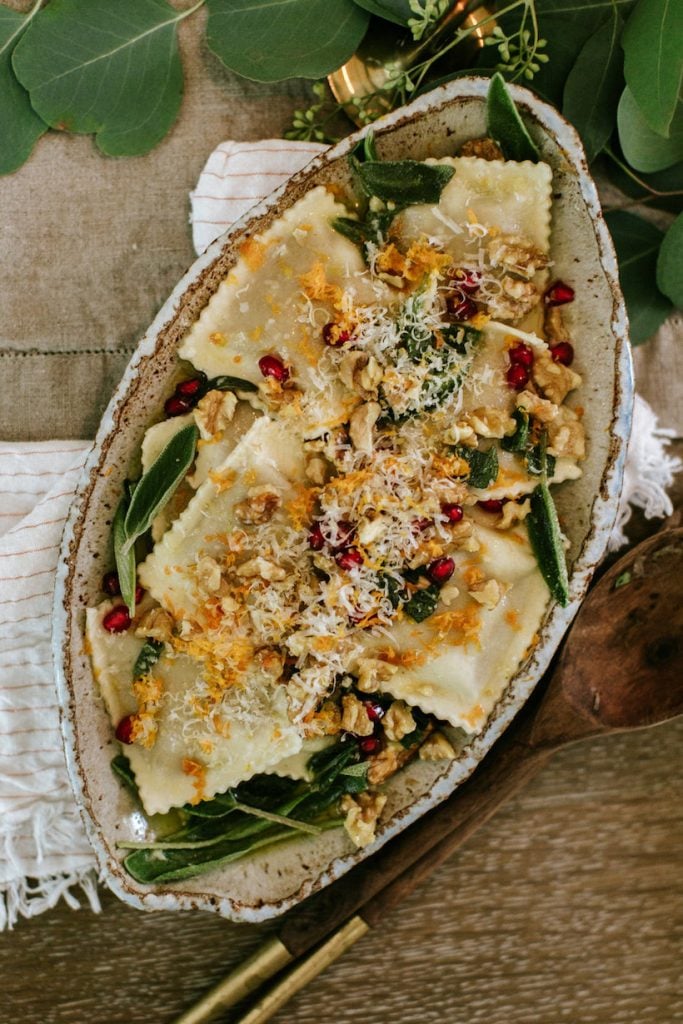 Why We Love It: Fall pasta recipes may be a dime a dozen this time of year, but because these months are our favorite for loading up on carbs, you can bet Camille took her time ensuring this was the perfect butternut squash pasta recipe. The orange-infused brown butter is a sweet and savory dream and walnuts add an incredible nutty crunch that makes this dish impossible to resist.
Hero Ingredient: Scatter on the fresh sage leaves with a heavy hand.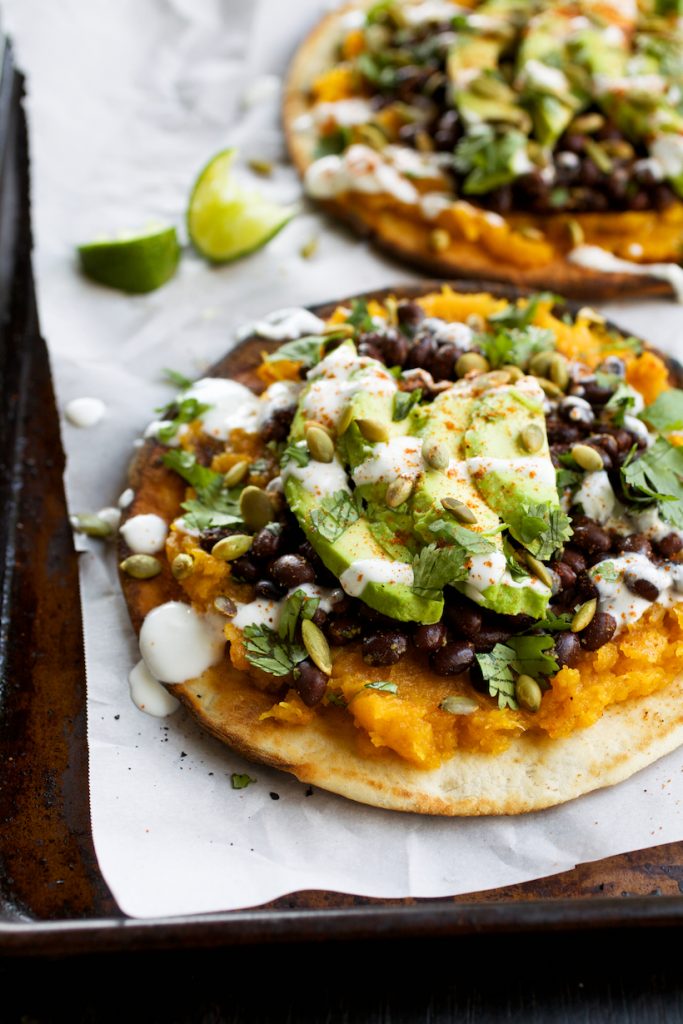 Why we love it: It's ultra-healthy and bursting with gorgeous Tex-Mex flavors. The pita is an unexpectedly delightful vessel for some of our absolute favorite ingredients. Doesn't get much better than this.
Hero ingredient: The golden-brown crust of the pita is a perfect canvas for all kinds of toppings.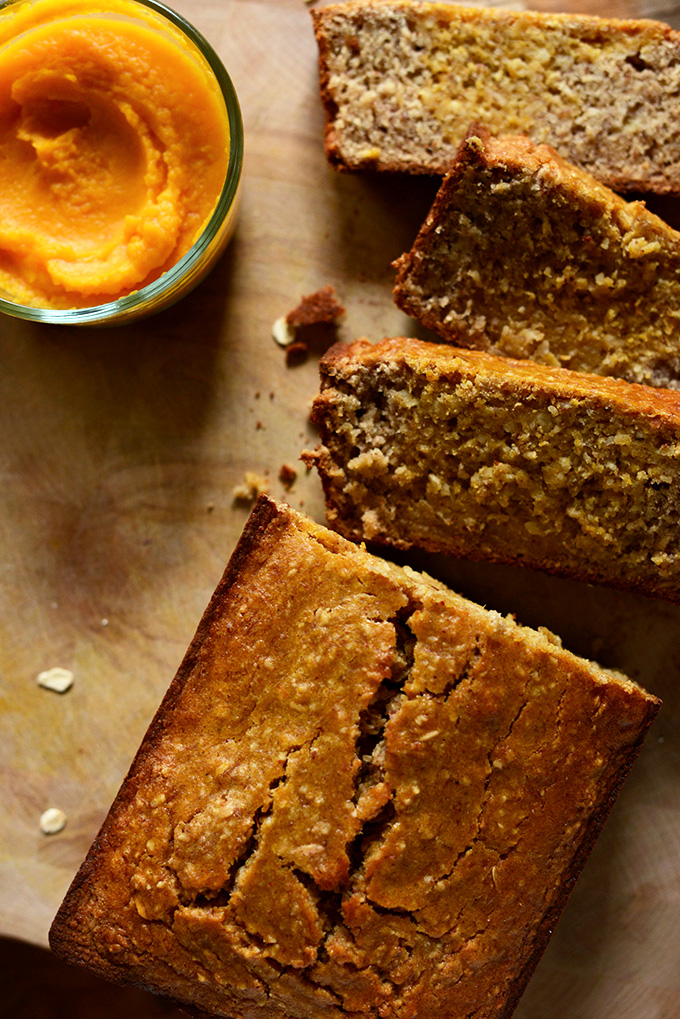 Why we love it: Can't you smell this bread through the screen? It's a gorgeously moist, tender, and hearty loaf full of sweet banana flavor with a hint of buttery winter squash. Yum!
Hero ingredient: Almonds and oats give it a nutty and wholesome vibe.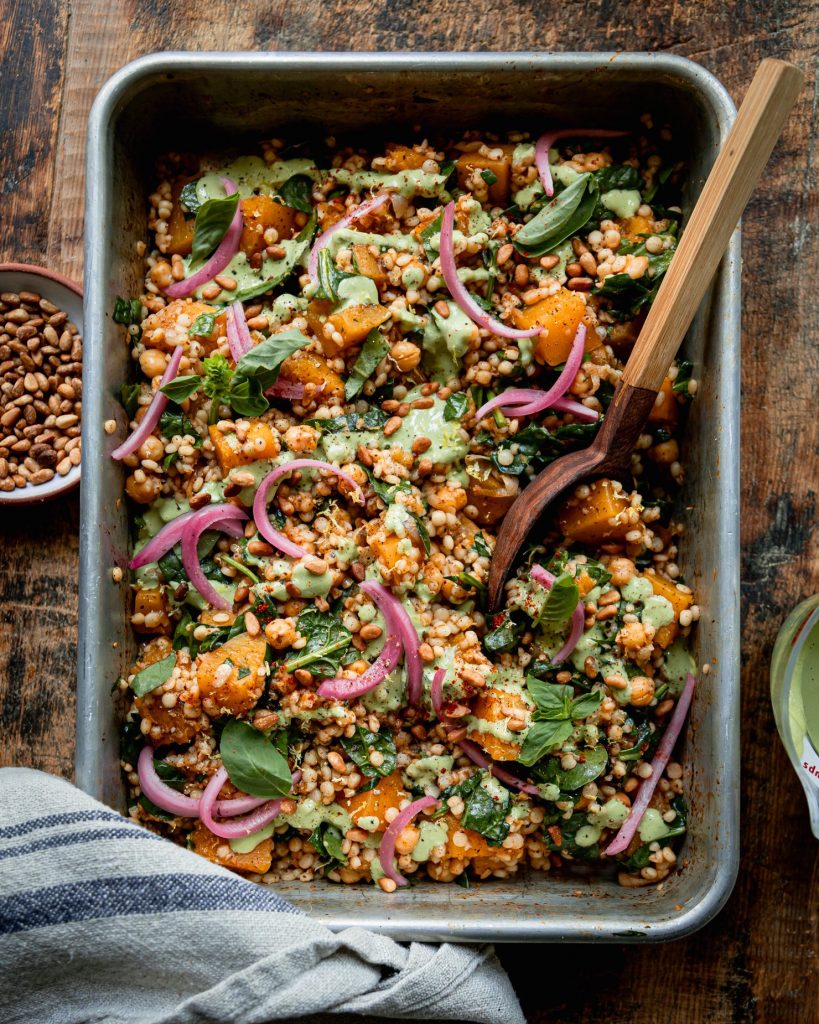 Why We Love It: Can we take a moment to appreciate the rustic beauty of this dish? The pink pops of pickled red onions tucked in with butternut squash and basil leaves are each a true aesthetic achievement. I'll be eating this every time my craving for something plant-based and downright soul-soothing comes up. (It happens more often than you'd think.)
Hero Ingredient: That basil tahini is something to celebrate.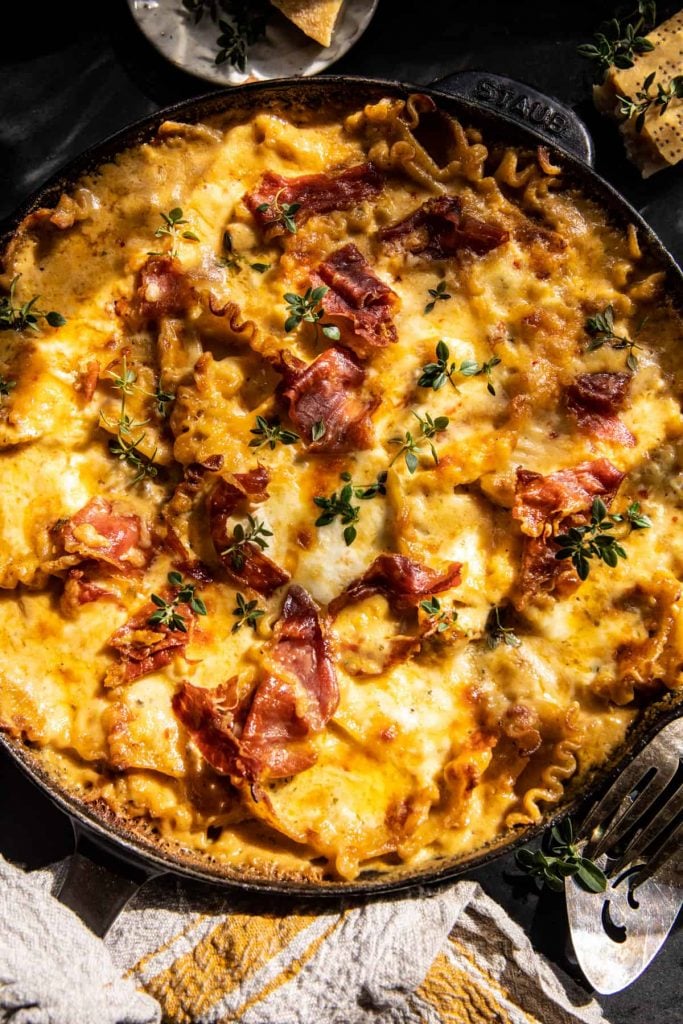 Why we love it: It's the best way to satisfy an Italian craving when you also want to get in on those cozy fall flavors. A vibrant, delicious dish that is perfect for any night of the week. It's an absolutely mouthwatering recipe.
Hero ingredient: Crispy, spicy rosemary bacon is the perfect topper for this autumn meal.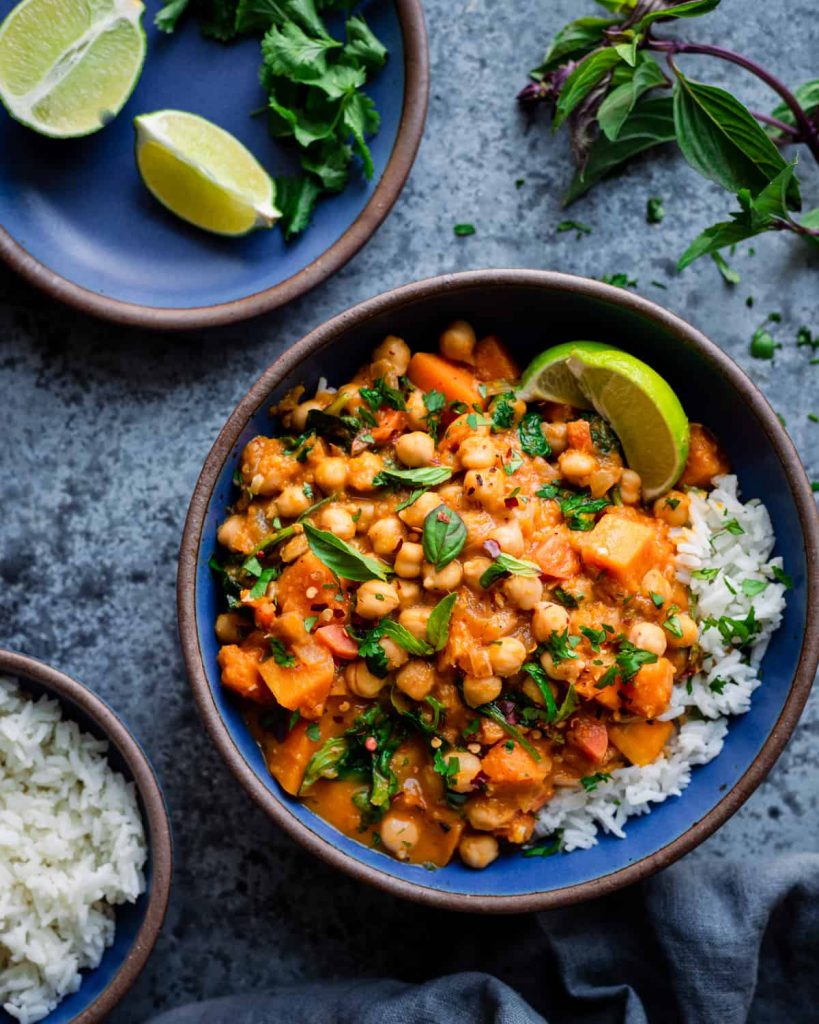 Why We Love It: The aromatic Thai flavors packed into this curry will wow anyone lucky enough to tuck into the dish at your table. With chickpeas, carrots, lemongrass, spinach, and more, it's packed with nutrient-dense goodness to keep you satisfied and nourished. Honestly, it's my favorite thing to do with chickpeas right now. (Sorry, hummus.)
Hero Ingredient: I love the floral, slightly sweet, and tangy flavors lemongrass brings forth. It's so unique and adds a special je ne sais quoi to your dish.
Why we love it: All you need are 10 ingredients and you're good to go. It's savory-sweet, hearty, easy to make, customizable, and works beautifully as either a main or side dish. Even better, it reheats gorgeously for leftovers.
Hero ingredient: Don't skip the balsamic reduction and delish crispy shallot to add a savory crunch to the top.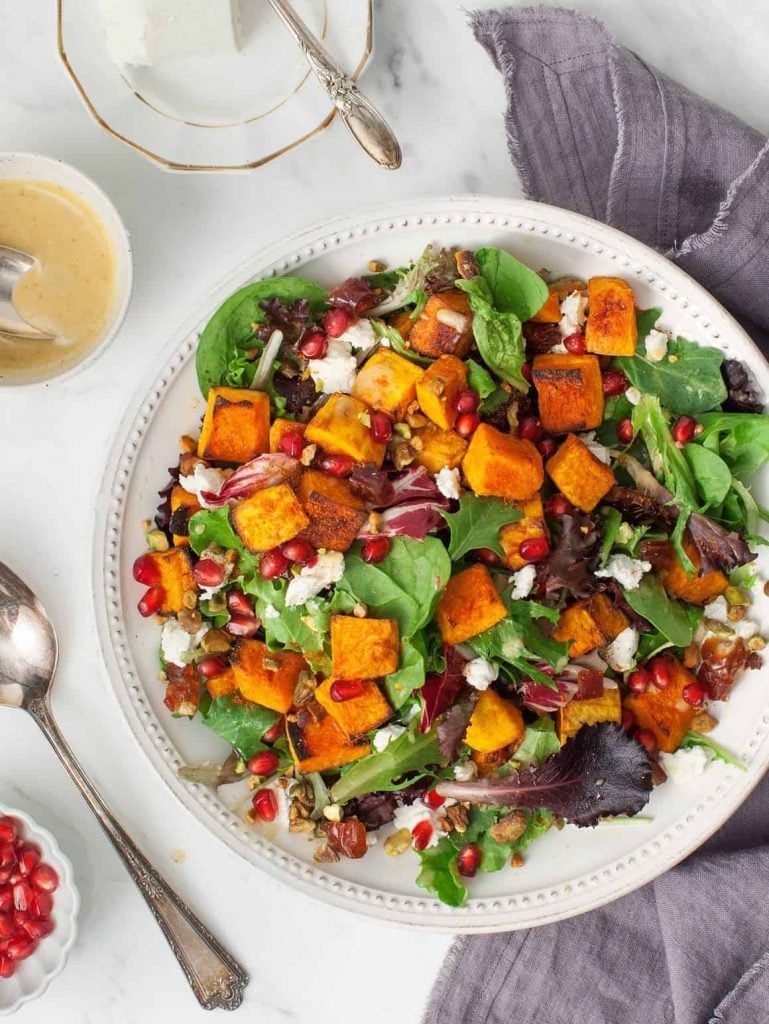 Why we love it: Use up your seasonal produce in this beautiful and healthy salad, because it's about to become your fall go-to meal. It's a simple, easy, and nutritious dish that is perfect for those crisp autumn days and evenings. You'll keep coming back for more.
Hero ingredient: Salty toasted pistachios.
This post was originally published on September 30, 2021, and has since been updated.