Few ingredients say fall quite like the delightful butternut squash. This veggie is not only a hearty and delicious seasonal ingredient, it's an affordable way to get important nutrients into the body. But my favorite thing about butternut squash is that it often serves as a vessel for other tasty ingredients. There are few things it doesn't go well with! So I've rounded up easy butternut squash recipes to get us through the chilly season.
Whether they're roasted, puréed, grilled, or stuffed—there's a butternut squash recipe for everyone. It's an easy way to have an incredibly satisfying and comforting meal that doesn't feel overly indulgent. Butternut squash also pairs perfectly with other flavors of the season, like apples, nutmeg, and more. Basically, all the warming, nostalgic scents and flavors you know and love.
It's time to celebrate this humble veggie and give it the attention it so deeply deserves. Keep reading for the absolute tastiest butternut squash creations we could find. And be sure to bookmark this list so you're ready to go when the next craving hits!
Scroll on for 13 deliciously easy butternut squash recipes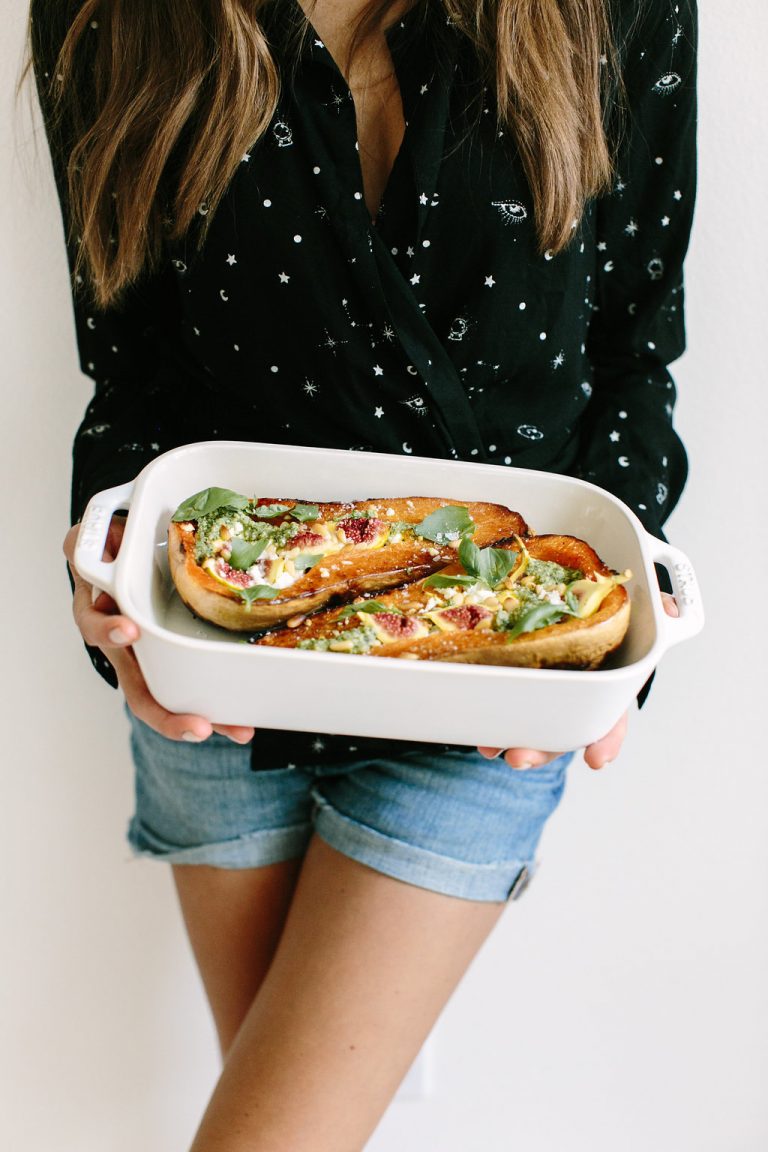 Roasted Butternut Squash Stuffed With Goat Cheese, Figs, and Pesto
Why we love it: These roasted squash halves are delicious as a simple side dish, served with a drizzle of olive oil and a sprinkle of fresh herbs and seasonings of your choice. OR you can stuff them with yummy ingredients: either vegetarian like Camille did, or you can get super hearty with an enchilada-inspired stuffing.
Hero ingredient: It doesn't get much better than figs, does it?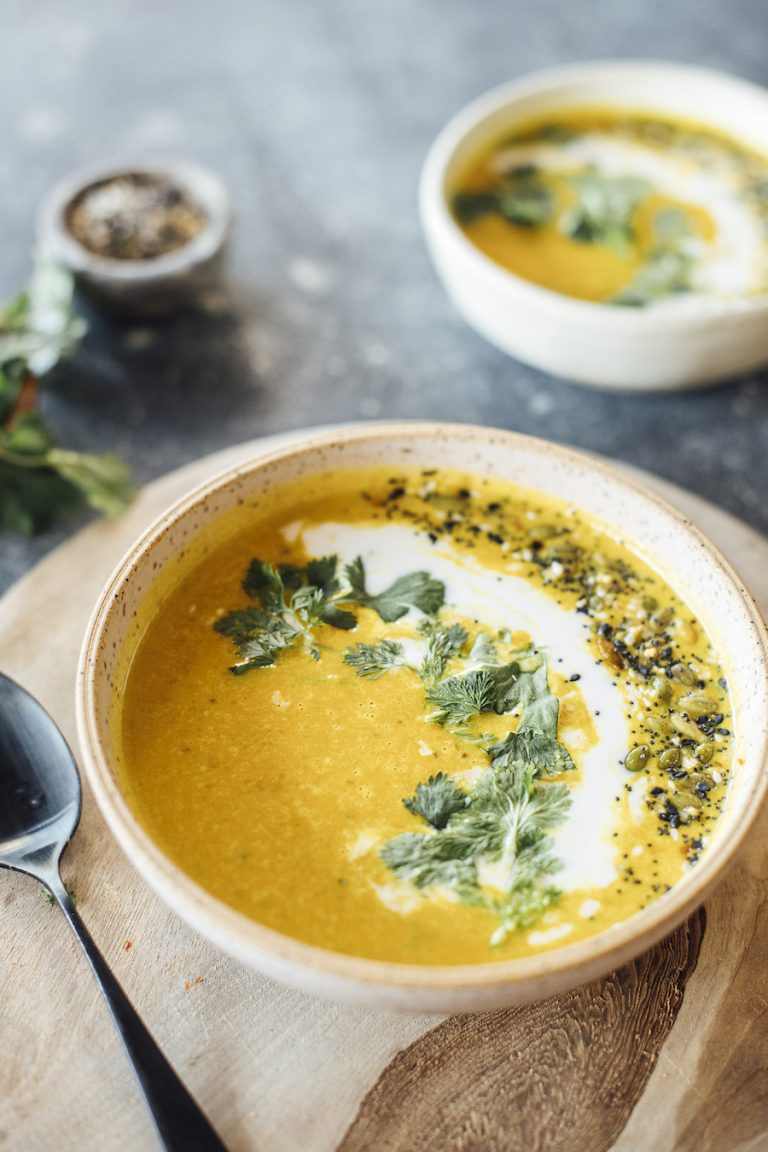 Vegan Butternut Squash Soup
Why we love it: This comforting puréed soup recipe is incredibly simple but never boring. A fragrant base of aromatics gives it tons of flavor. You won't want to miss this flavorful, satisfying soup.
Hero ingredient: Coconut milk for that satisfying richness and tons of warming spices.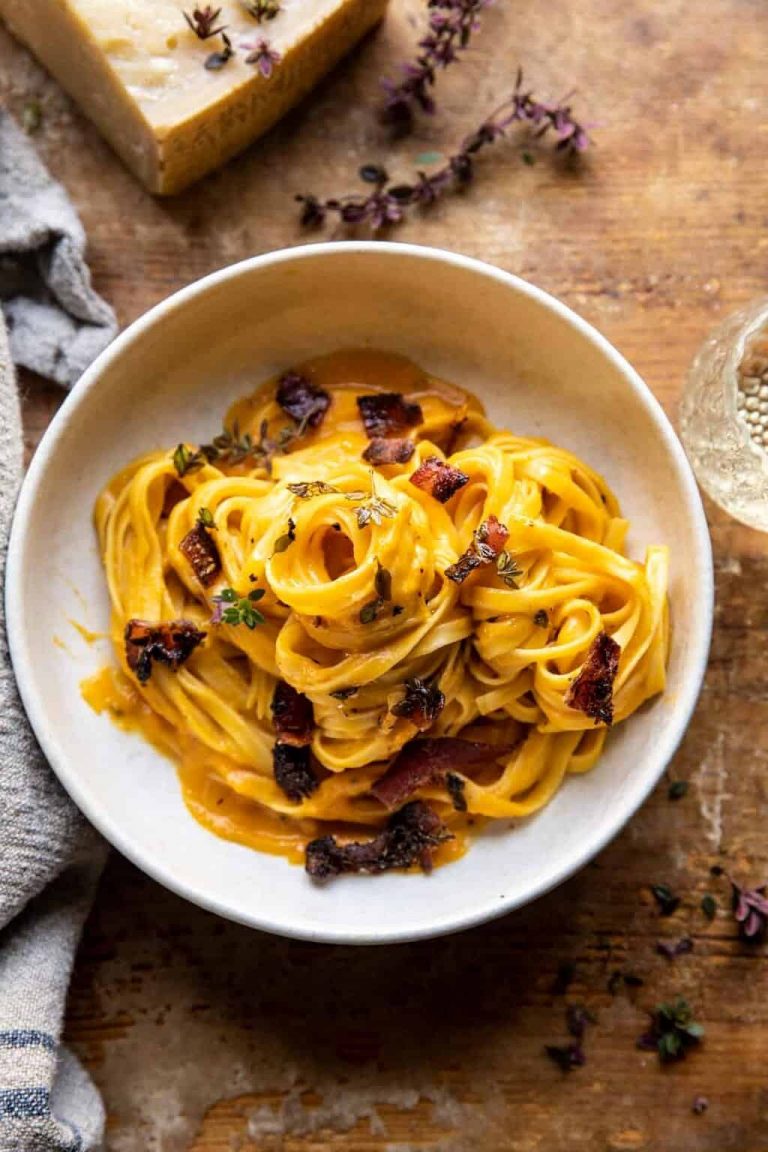 Butternut Squash Pasta Carbonara With Rosemary Bacon from Half Baked Harvest
Why we love it: It's the best way to satisfy an Italian craving when you also want to get in on those cozy fall flavors. A vibrant, delicious dish that is perfect for any night of the week. It's an absolutely mouthwatering recipe.
Hero ingredient: Crispy, spicy rosemary bacon is the perfect topper for this autumn meal.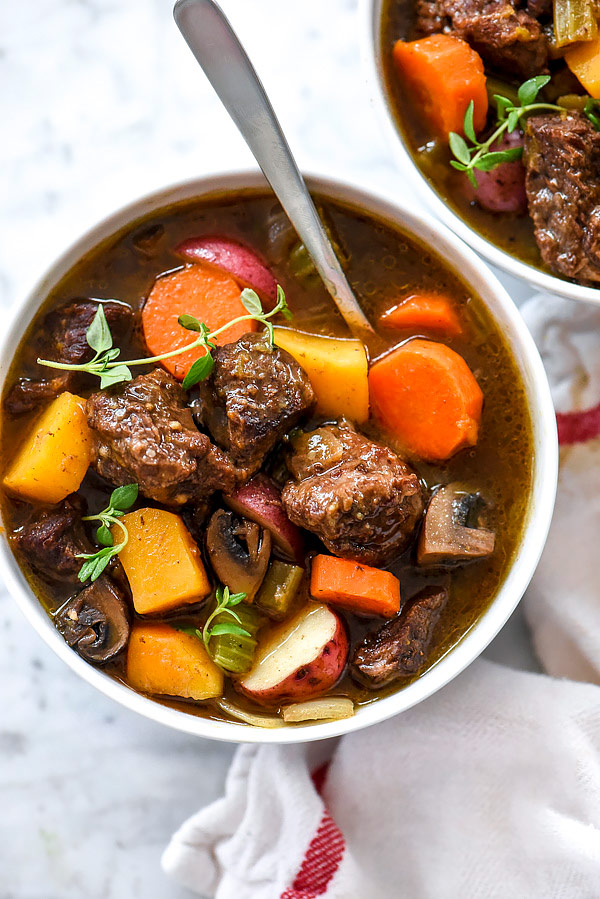 Beef Stew With Butternut Squash from Foodie Crush
Why we love it: This easy beef stew easily comes together in an Instant Pot, Crock Pot, or on the stove top. It has a slew of nutritious veggies like carrots, potatoes, and of course, butternut squash. It's a hearty, comforting, and nostalgic dish.
Hero ingredient: Beef and butternut squash together make magic.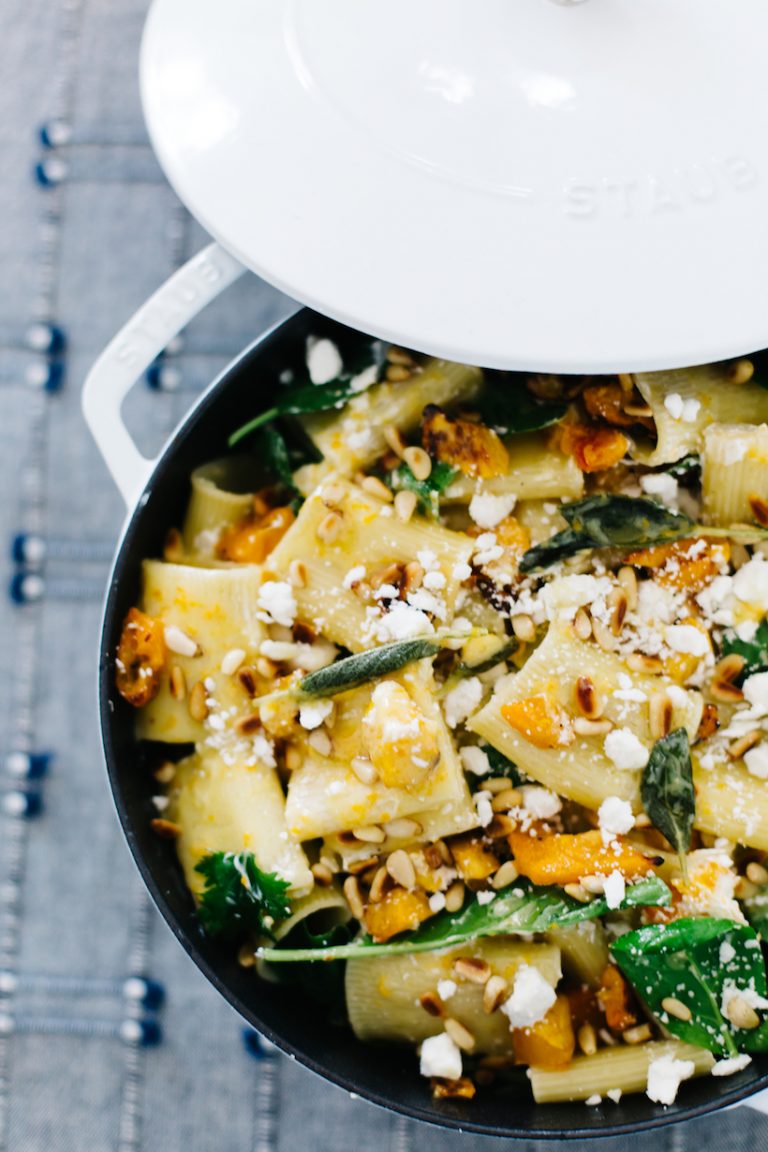 Butternut Squash, Spinach, & Goat Cheese Pasta
Why we love it: It's a one-pot wonder with pasta, greens, and healthy roasted veg. This dish makes a beautiful and hearty meal in and of itself. Which means less time spent washing pots and pans, more time spent around the table with friends.
Hero ingredient: Don't skip the drool-worthy brown butter sauce.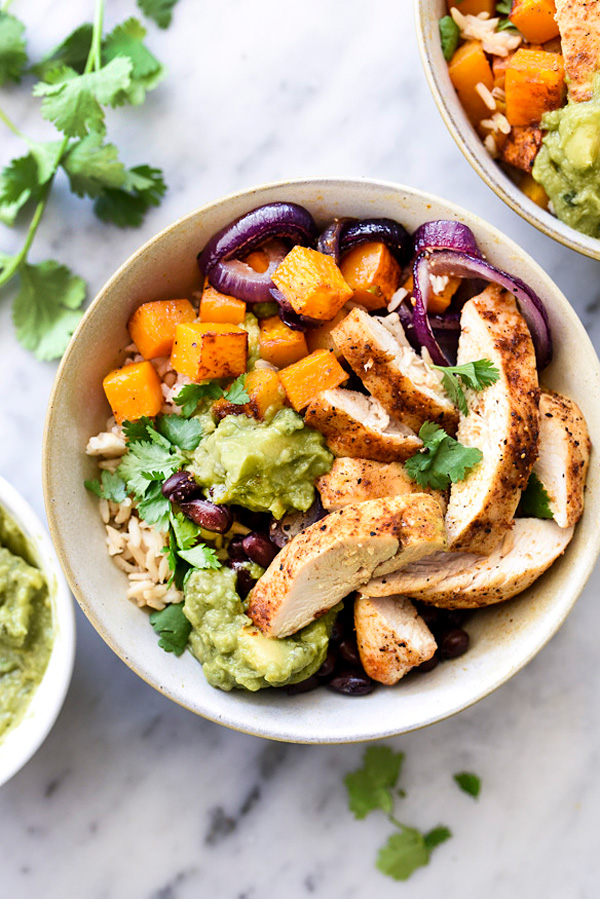 Roasted Chicken, Butternut Squash and Guacamole Rice Bowls from Foodie Crush
Why we love it: We will always love a bowl! It's healthy, super simple, and perfect for meal planning. Throw it together for an easy dinner or you can take it on the road for lunch at work or school. Either way, it's absolutely delectable, hearty, and satisfying.
Hero ingredient: Guacamole makes everything better.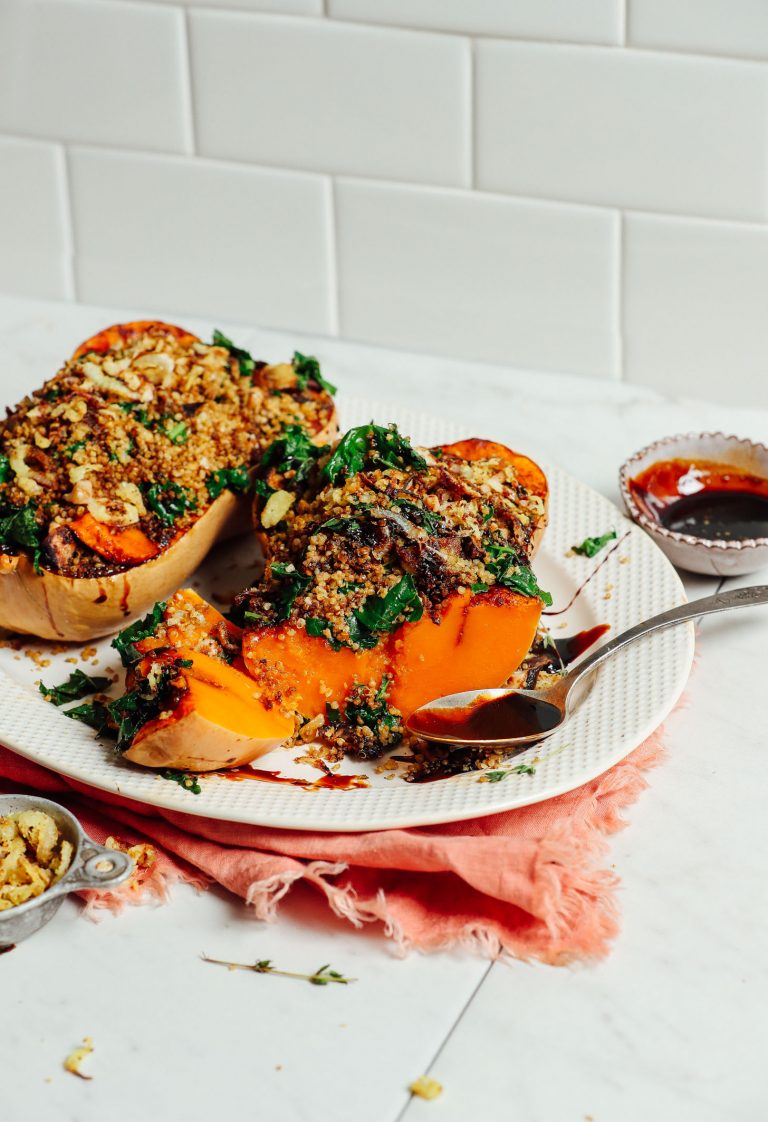 Roasted Stuffed Butternut Squash from Minimalist Baker
Why we love it: All you need are 10 ingredients and you're good to go. It's savory-sweet, hearty, easy to make, customizable, and works beautifully as either a main or side dish. Even better, it reheats gorgeously for leftovers.
Hero ingredient: Don't skip the balsamic reduction and delish crispy shallot to add a savory crunch to the top.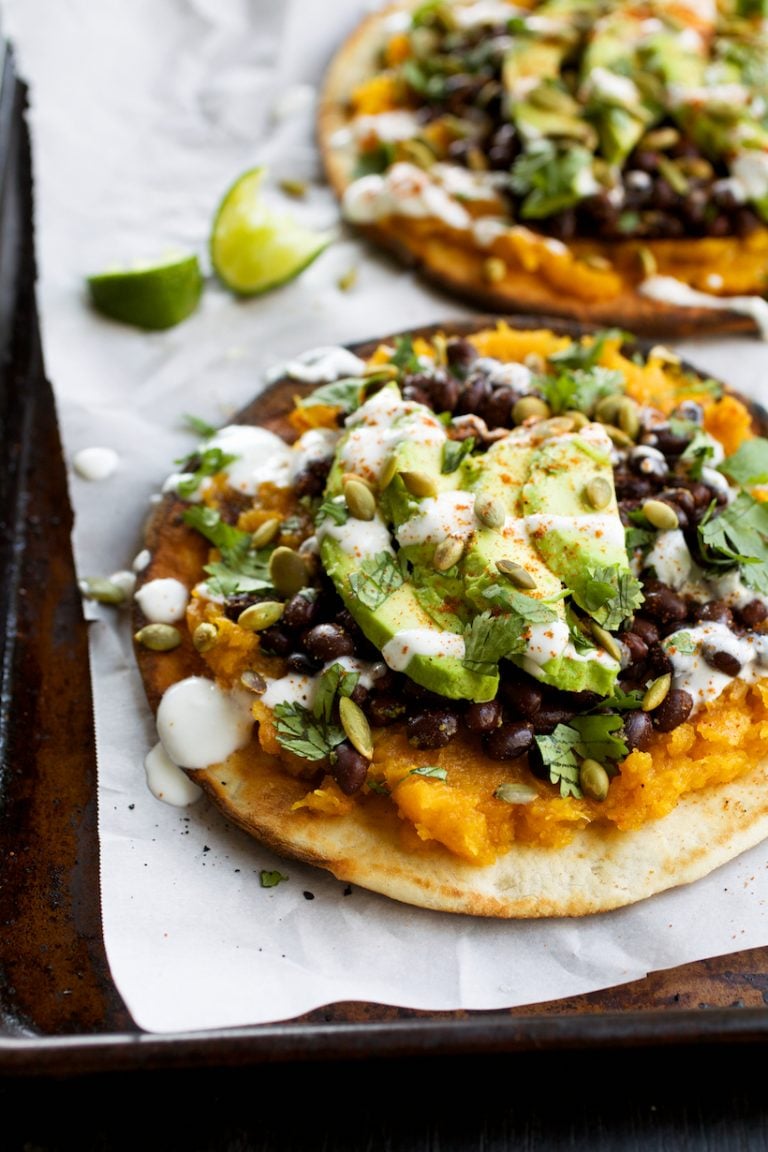 Pita Tostadas With Butternut Squash, Black Beans, & Avocado
Why we love it: It's ultra-healthy and bursting with gorgeous Tex-Mex flavors. The pita is an unexpectedly delightful vessel for some of our absolute favorite ingredients. Doesn't get much better than this.
Hero ingredient: The golden-brown crust of the pita is a perfect canvas for all kinds of toppings.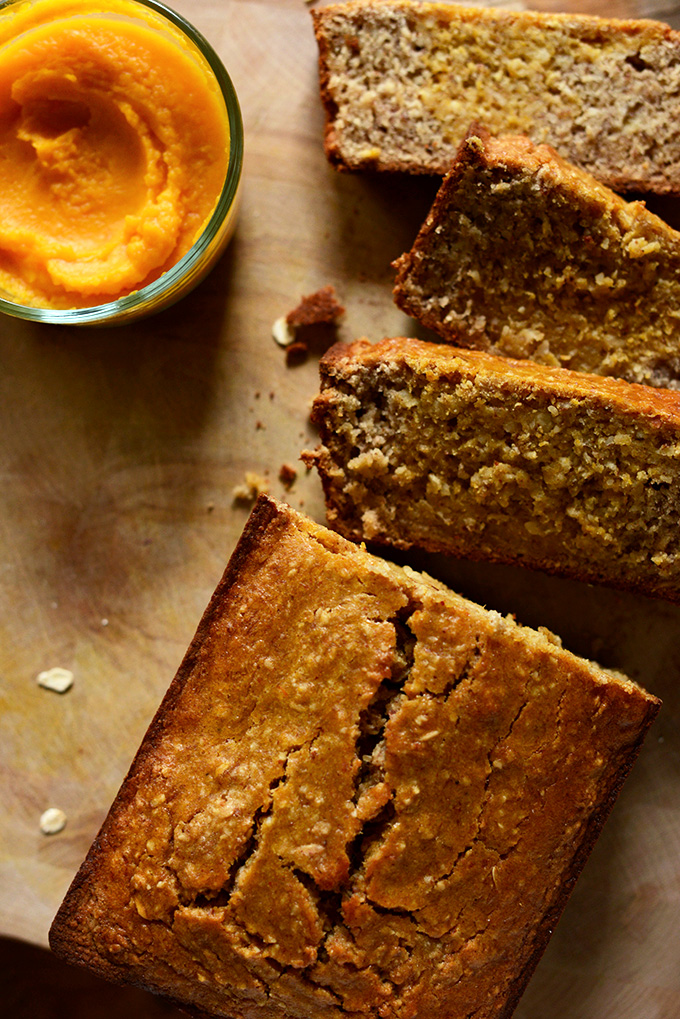 Gluten-Free Butternut Squash Banana Bread from Minimalist Baker
Why we love it: Can't you smell this bread through the screen? It's a gorgeously moist, tender, and hearty bread full of sweet banana flavor with a hint of buttery winter squash. Yum!
Hero ingredient: Almonds and oats give it a nutty and wholesome vibe.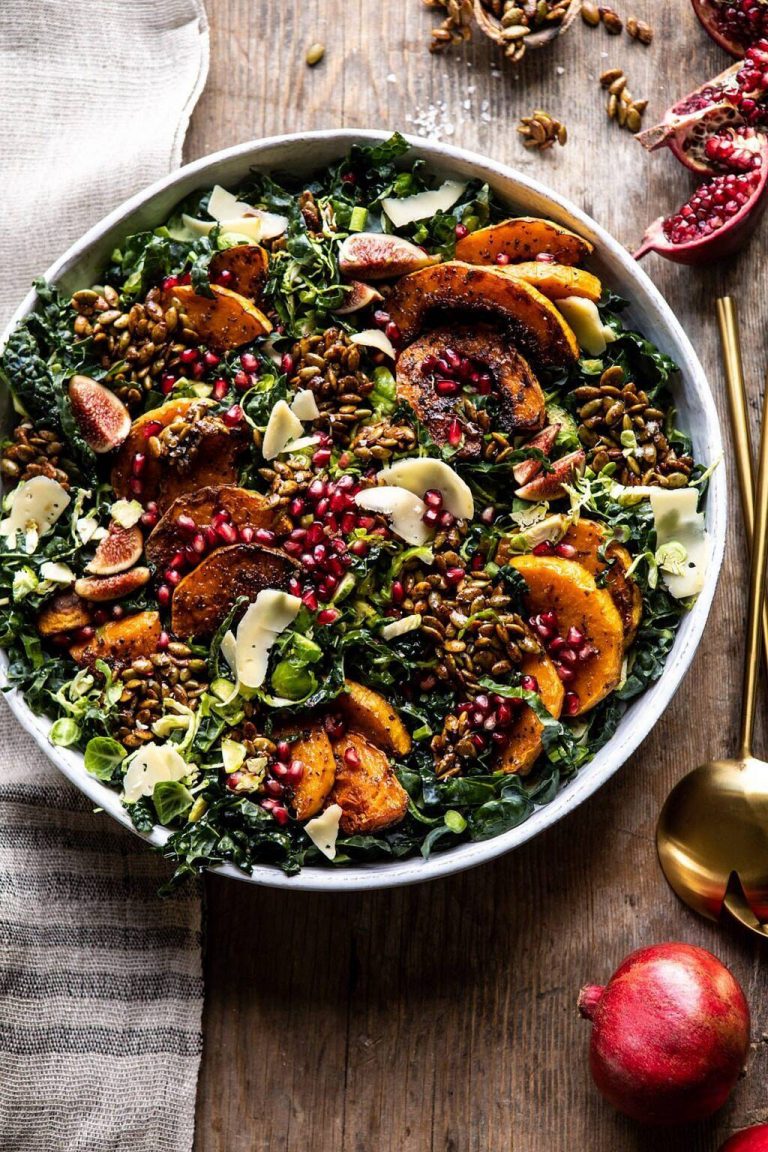 Fall Harvest Roasted Butternut Squash and Pomegranate Salad from Half Baked Harvest
Why we love it: Use up your seasonal produce in this beautiful and healthy salad, because it's about to become your fall go-to meal. It's a simple, easy, and nutritious dish that is perfect for those crisp autumn days and evenings. You'll keep coming back for more.
Hero ingredient: Salty roasted pumpkin seeds.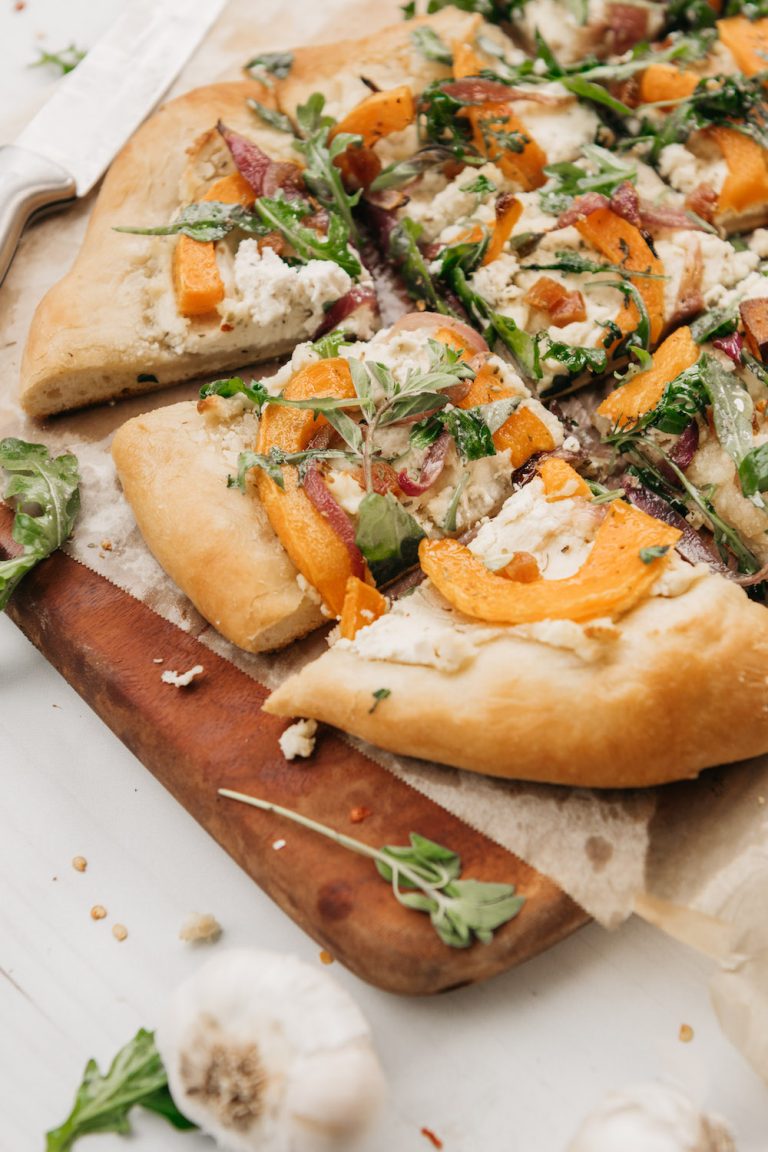 Butternut Squash Pizza With Arugula & Almond Ricotta
Why we love it: There's something about a good pizza that bonds people together. It's the perfect party food whether you're feeding a crowd or it's a party of one. And did we mention that this recipe has bacon bits? What bliss. It's a delicious flavor combination that will keep you coming back for more.
Hero ingredient: This homemade almond ricotta serves as the creamy, tangy base of this pizza, and was incredibly easy to make.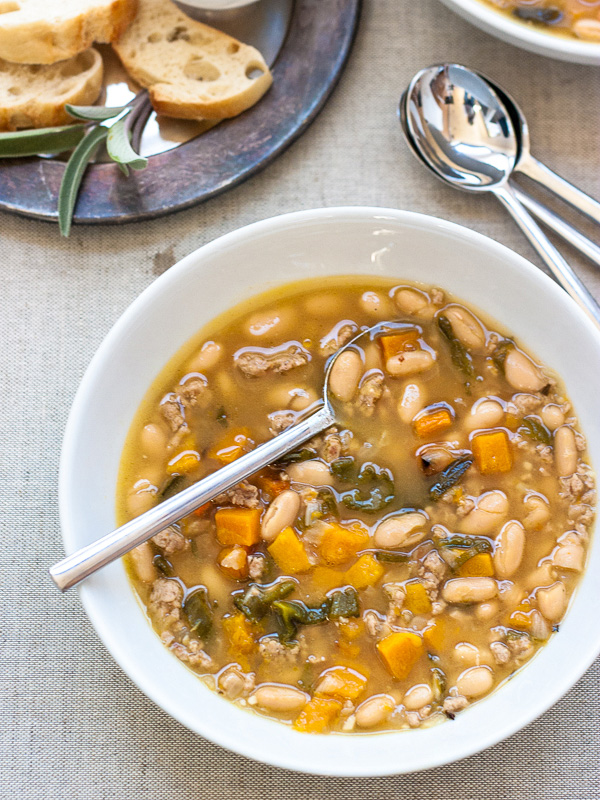 Roasted Butternut Squash and Turkey Chili from Foodie Crush
Why we love it: The recipe includes both yummy, buttery, and earthy roasted butternut squash and roasted pasilla peppers. It's deceptively simple and surprisingly rich and flavorful. Perfect for a weeknight meal.
Hero ingredient: Don't be intimidated by the roasted pasilla peppers.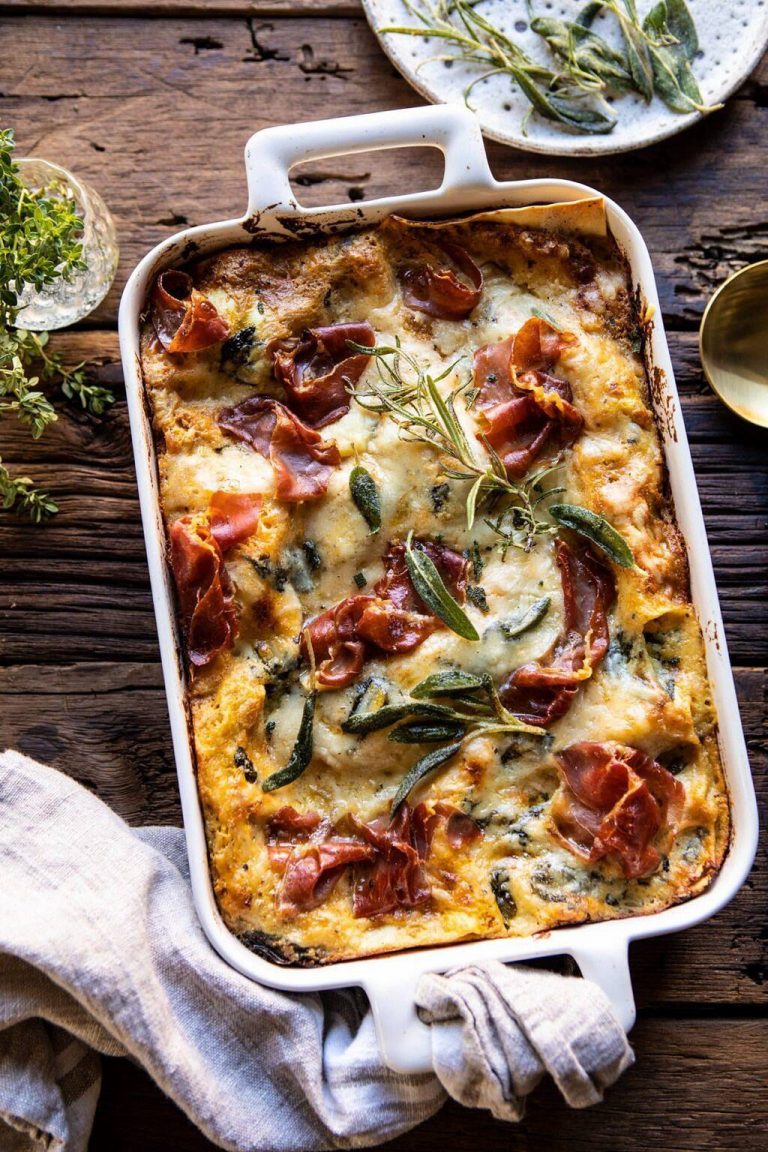 Roasted Butternut Squash and Spinach Lasagna from Half Baked Harvest
Why we love it: Have you ever seen anything more decadently delicious? This dish is an absolute showstopper and the perfect baked pasta for cozy, chilly nights. Just be sure to use lots of squash to get that dreamy color and rich flavor.
Hero ingredient: Top the lasagna with salty prosciutto before baking.