Sign me up for a delicious bowl of pasta any day. If it's an easy and healthy pasta recipe even better. I'm serious, it's something I crave often, especially after a long and tiring day of both working and working out. After one bite of creamy, hearty goodness, I feel all tension leave my body and I'm left renewed. Am I being dramatic? Well, maybe but you probably can't argue the fact that pasta is the ultimate comfort food. Many people think that a healthy pasta recipe doesn't exist but I beg to differ. When made with the right ingredients, pasta can be the best of both worlds: satiating and nourishing. 
In the age of the keto diet, pasta and carbohydrates as a whole often get a bad wrap. But fad diets aside, carbohydrates are the fuel to maintaining a healthy, active body and a key ingredient to building and keeping lean muscle.
Nutrition is more than just the "calories in and calories out" approach. As we learned from our resident nutritionist, Edie Horstman, blood sugar balance is important to consider for our overall health and well-being. Simple tricks like pairing pasta with lots of vegetables and protein or eating a salad first is a game-changer. Another important factor to consider is eating your pasta on a day you've moved your body significantly. This will help you rebuild your glycogen stores and support post-workout recovery and muscle growth. So, keep reading to find 15 easy and healthy pasta recipes and why they made the cut. 
Featured image is from Love and Lemons
Easy, Healthy Pasta Recipes That Are Vegetarian
Creamy Green Leek & Pea Pasta from Pick Up Limes
Why we love it: This pasta is full of a variety of vegetables. The peas, broccoli, and leeks create a creamy sauce that adds texture and flavor without heaping amounts of fat. With lots of herbs and a fresh squeeze of lemon, it's the perfect easy healthy pasta recipe.
Hero Ingredient: The Leek. With a gentle sweet onion flavor, it adds depth to the dish without taking away from the other ingredients.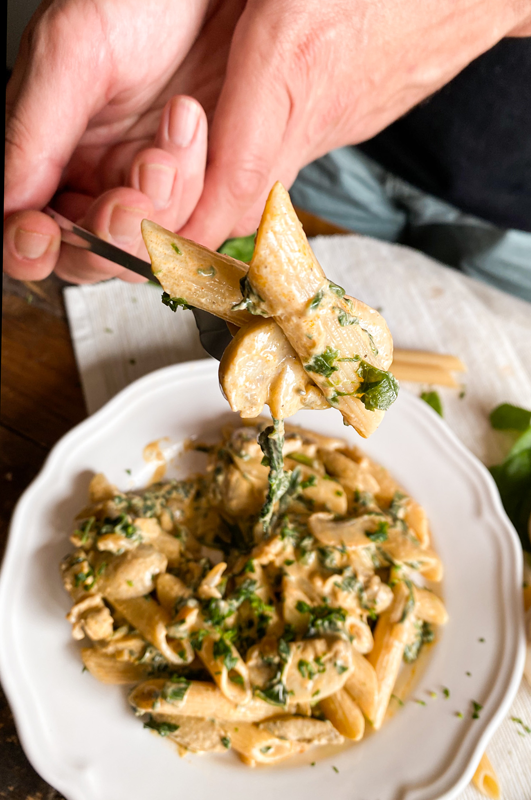 Creamy Spinach & Mushroom Pasta from Spain on a Fork
Why we love it: This easy pasta recipe is so creamy, yet low in fat and full of vegetables. Oh, and it's so simple it can be made in under 30 minutes.
Hero Ingredient: Greek Yogurt- it makes this recipe low in fat, but oh so creamy.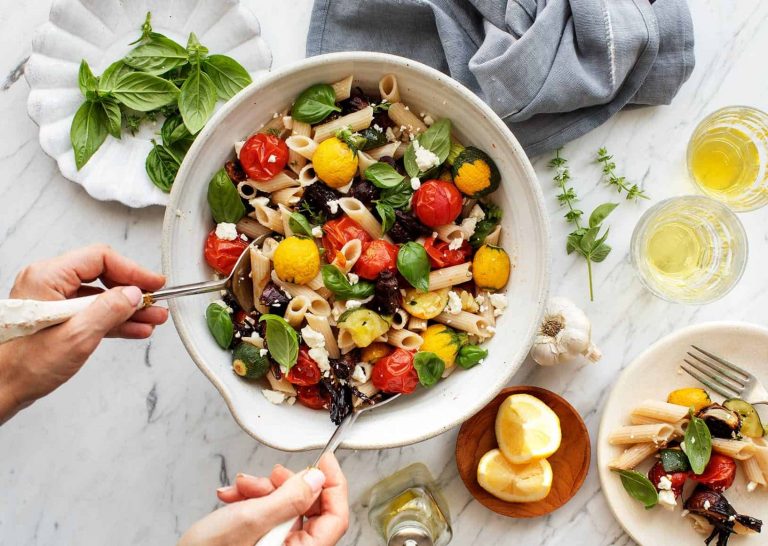 Roasted Vegetable Pasta from Love & Lemons
Why we love it: This dish is so flexible. If you don't have any zucchini or squash on hand, any other roasted vegetable will do the trick. And made in under 30 minutes, this bright and bold salad will make for a satisfying meal.
Hero Ingredient: Feta cheese.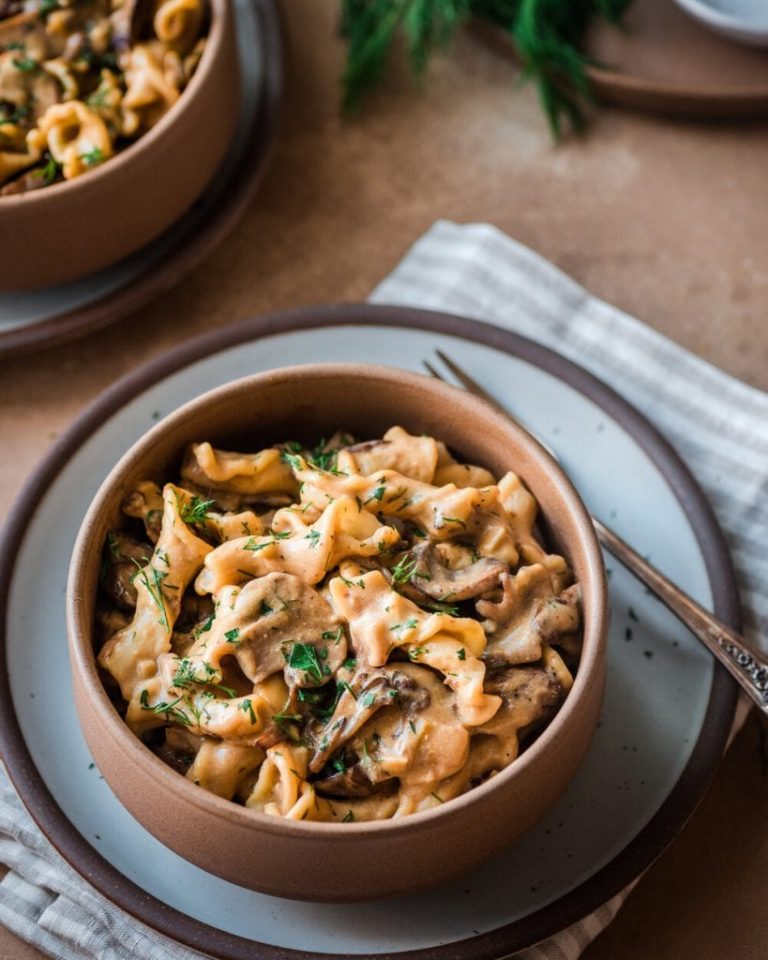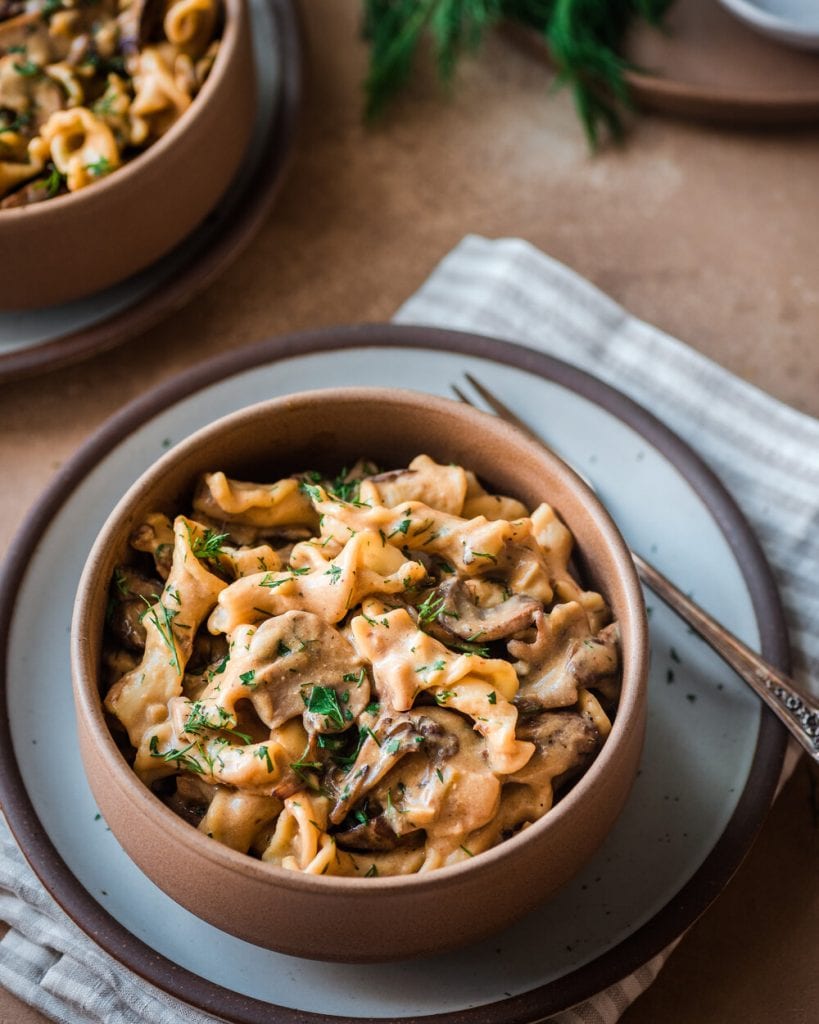 Creamy Vegan Mushroom Stroganoff from Rainbow Plant Life
Why we love it: This pasta recipe is for our vegan friends out there. It's made with tahini and nutritional yeast so it has rich umami flavors without any animal products.
Hero Ingredient: Four different kind of mushrooms- cremini, shiitake, oyster, and maitake mushrooms.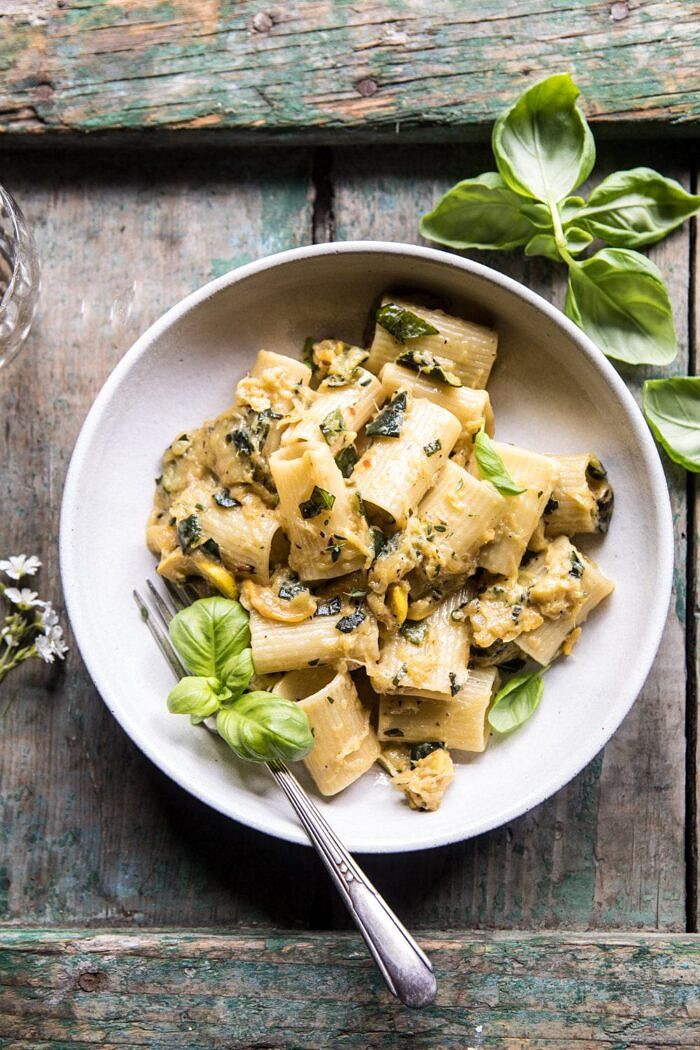 Zucchini Parmesan Pasta from Half Baked Harvest
Why we love it: This pasta recipe manages to be buttery and creamy without an ounce of heavy whipping cream. The secret? Mashing a delicious blend of caramelized zucchini and squash for a simple yet comforting meal.
Hero Ingredient: Zucchini.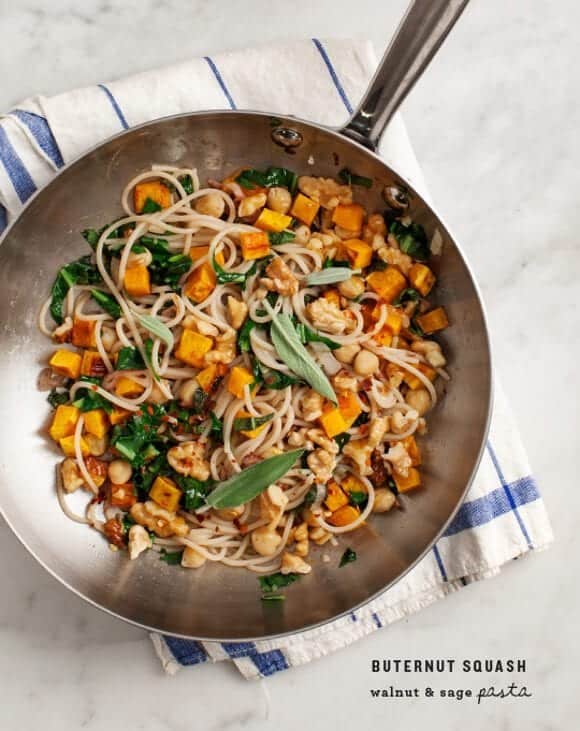 Butternut Squash Pasta with Walnuts and Sage from Love & Lemons
Why we love it: If a creamy butternut squash soup turned into pasta, it would be this one. Roasted squash that is tender and caramelized takes this dish to the next level.
Hero Ingredient: Butternut Squash is undoubtedly the star of the show.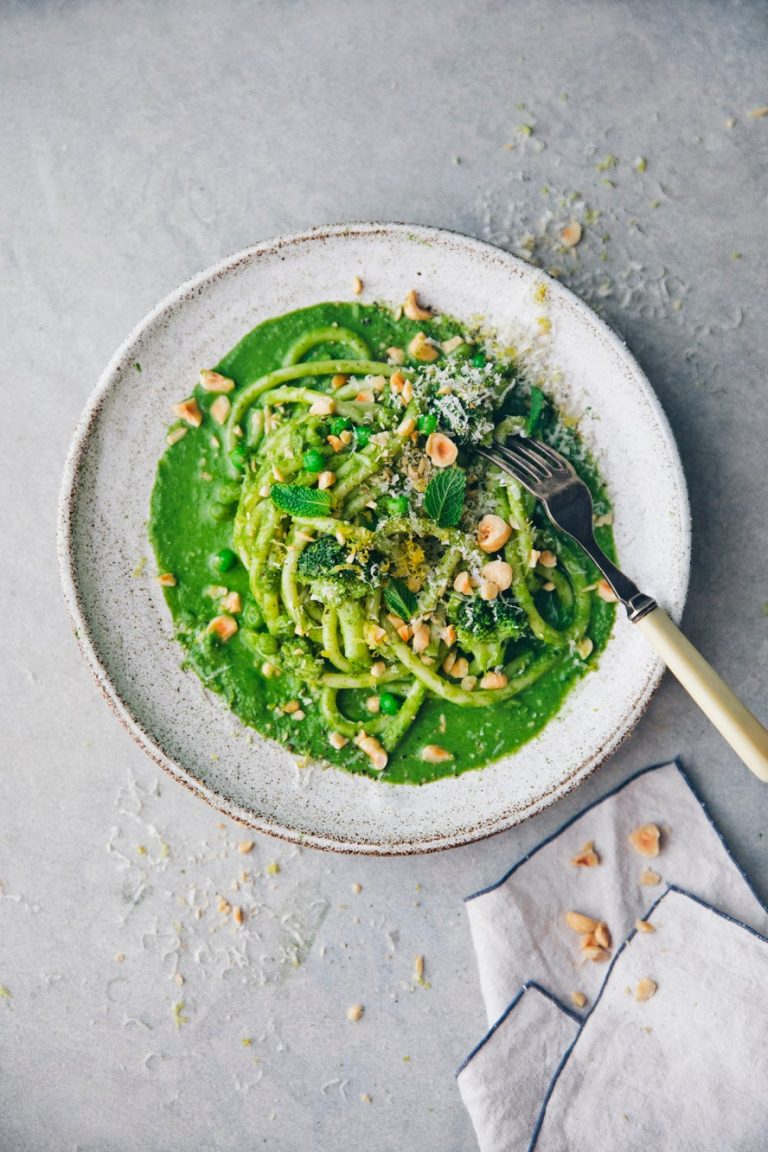 Creamiest and Greenest One-Pot Pasta from Green Kitchen Stories
Why we love it: This vibrant green pasta is full of vegetables yet so light and creamy.
Hero Ingredient: Bucatini pasta that is thick and hollow to soak up all the delicious sauce.
Easy, Healthy Pasta Recipes That Are Low-Carb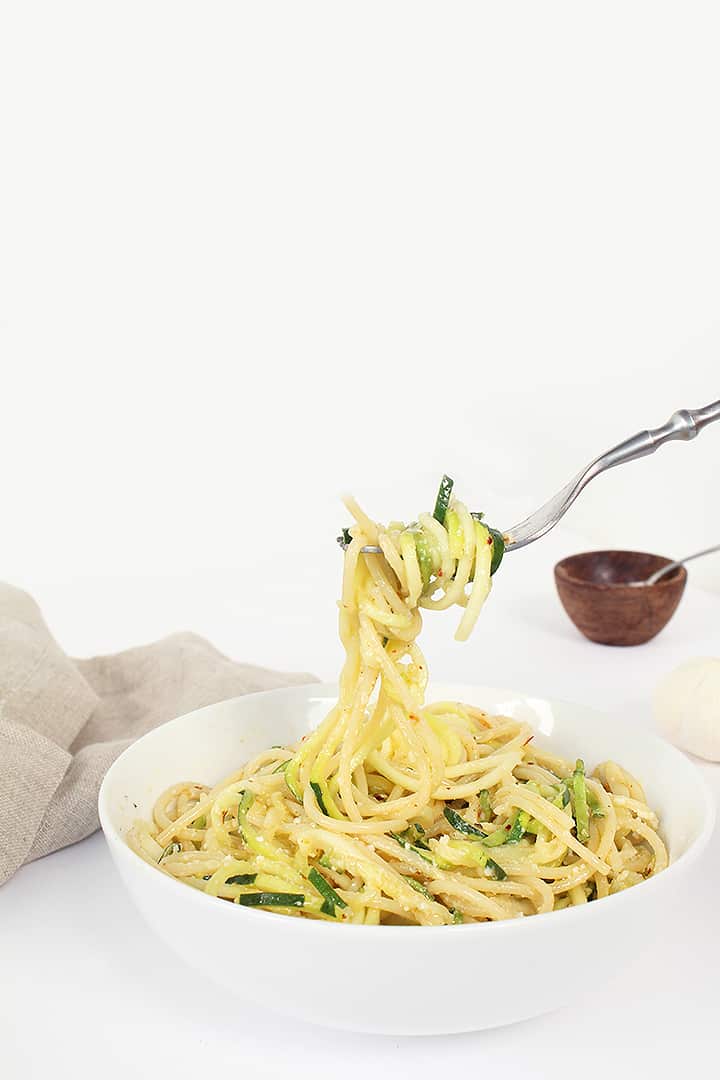 Garlic-Parmesan Zucchini Noodles and Spaghetti Pasta from Inspiralized
Why we love it: Sometimes zucchini noodles on their own don't cut it. This recipe mixes both spaghetti noodles and zucchini spirals for a beautiful balance of simple and complex carbs. If you're on the fence to try zucchini noodles- this one's for you.
Hero Ingredient: Parmesan.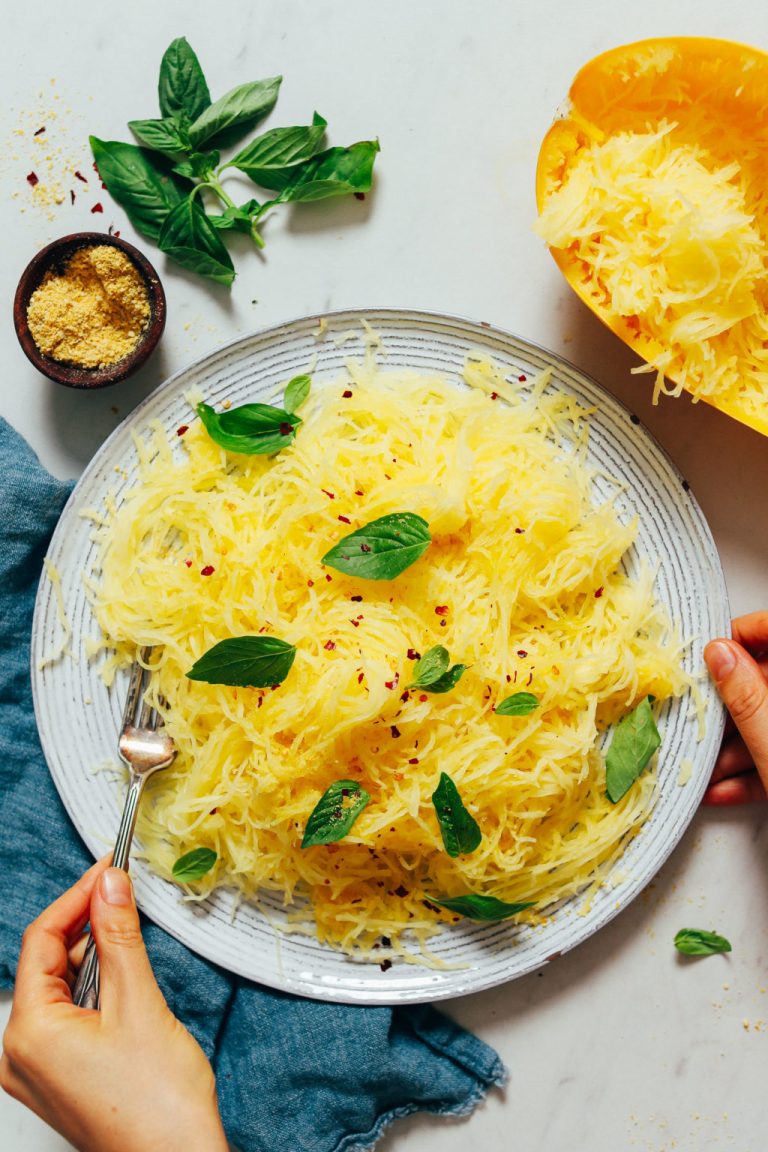 Instant Pot Spaghetti Squash from Minimalist Baker
Why we love it: Spaghetti squash is sometimes daunting to make. But with the help of an instant pot, this yummy "pasta" will be ready in just 20 minutes.
Hero Ingredient: Spaghetti Squash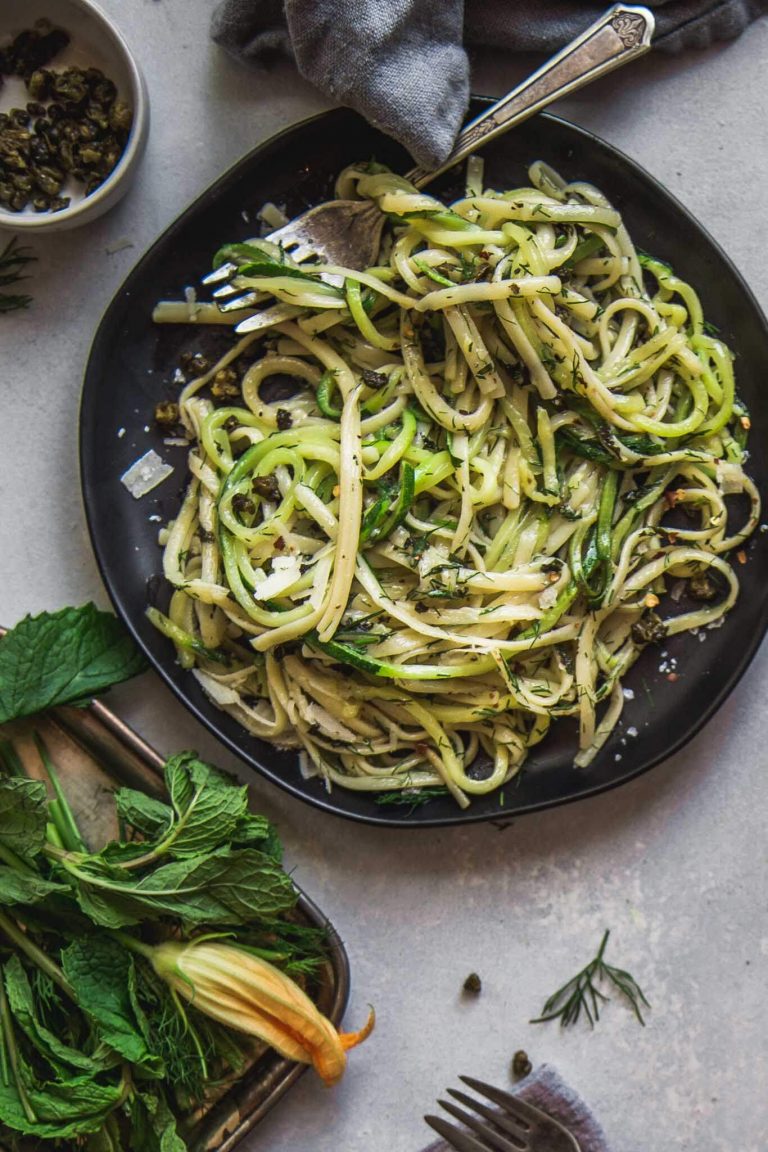 Zucchini Noodles With Fresh Herbs from Platings and Pairings
Why we love it: Another half-zucchini and half-linguini recipe to convert the zucchini noodle skeptics. This recipe is lower in carbs and full of fresh herbs like mint, dill, and parsley that feel so fresh but filling.
Hero Ingredient: Fried capers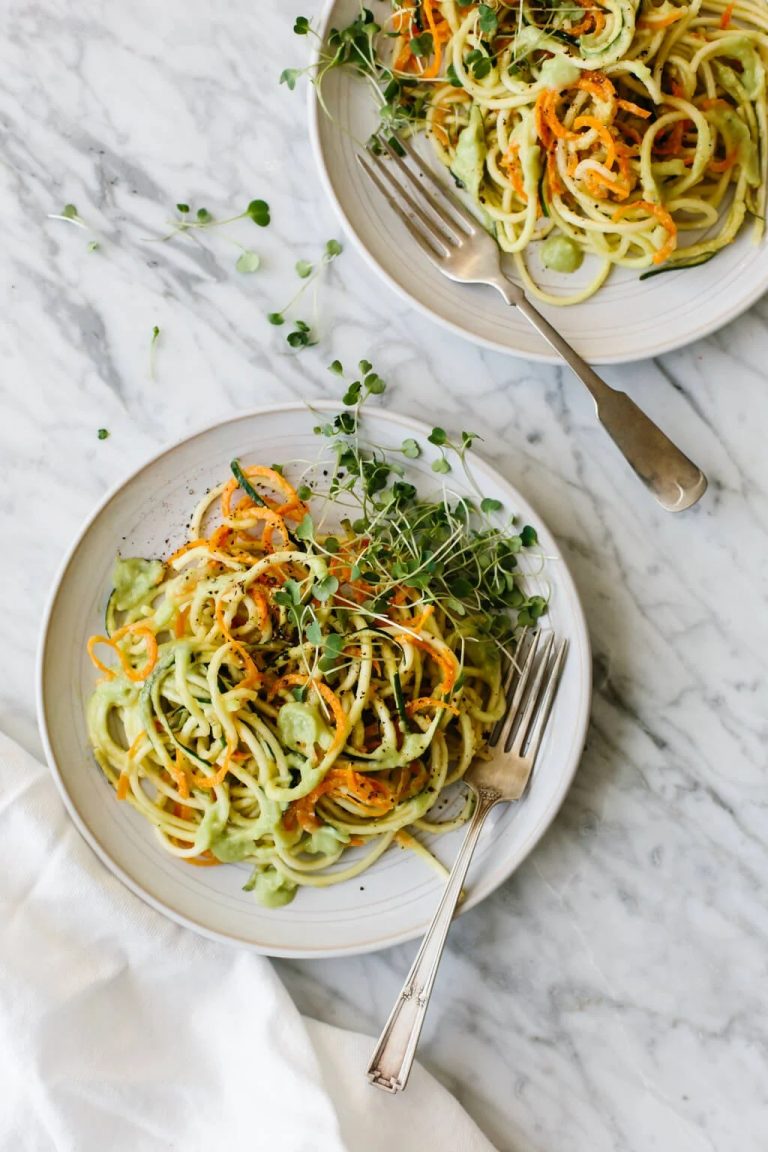 Carrot and Zucchini Pasta with Avocado Cucumber Sauce from Downshiftology
Why we love it: This pasta is for the zucchini noodle zealots that can't get enough. It's a veggie explosion that's low-carb, easy to make, and light on the stomach.
Hero Ingredient: Avocado-cucumber sauce is so fresh you'll want to add it to every meal.
Easy, Healthy Pasta Recipes with Chicken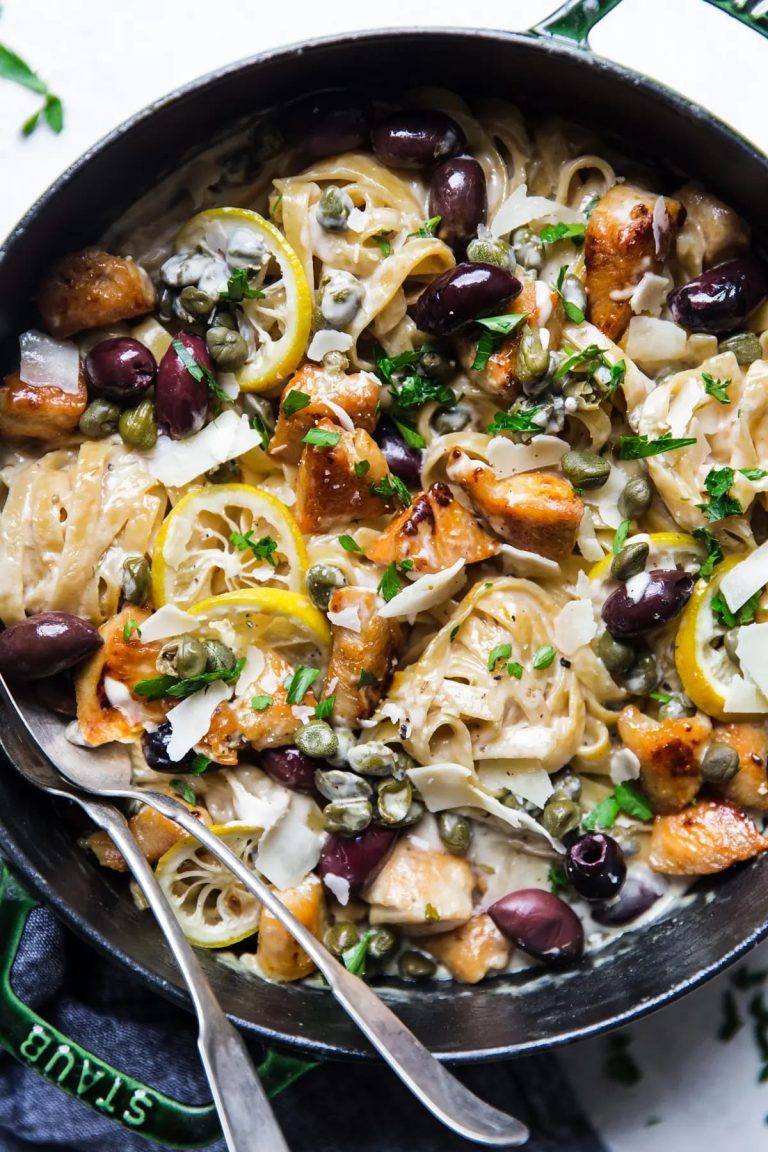 One Pot Creamy Mediterranean Chicken Pasta from The Modern Proper
Why we love it: This one-pot wonder will be ready from fridge to table in under 30 minutes flat. Made with heavy cream and butter, it's more decadent than the rest but still balanced with bright hints of lemon and olives.
Hero Ingredient: Olives.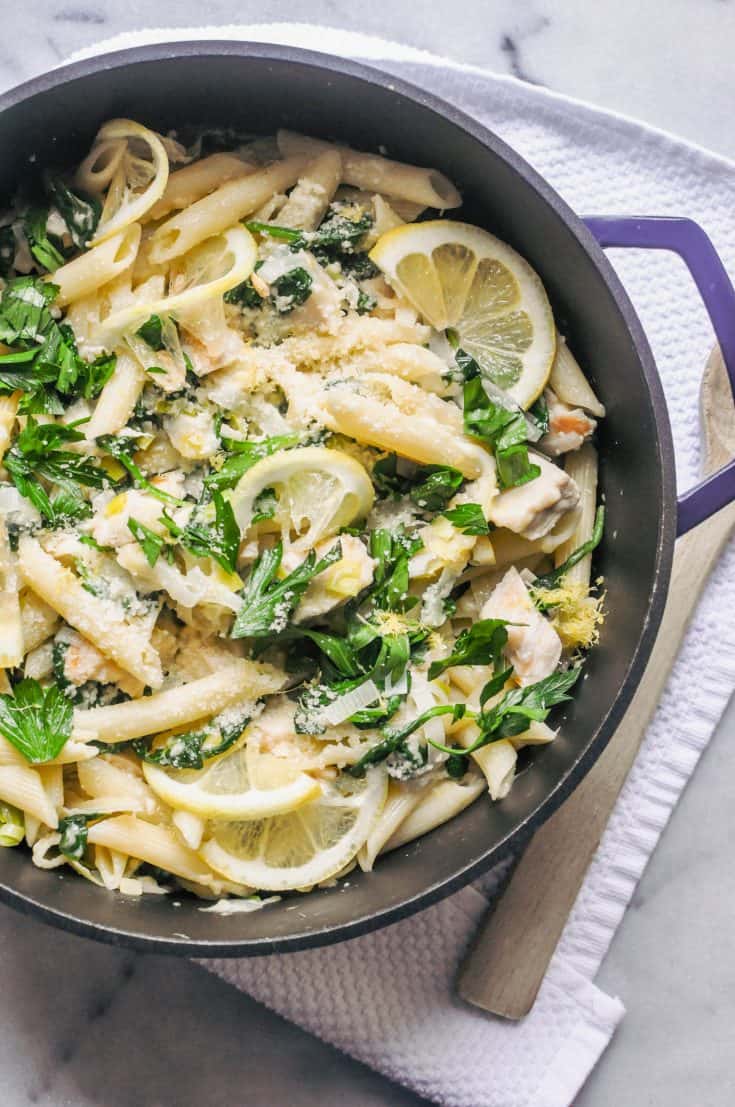 Lemon Chicken Pasta from This Healthy Table
Why we love it: This lemon chicken pasta is so simple to make and a guaranteed crowd-pleaser.
Hero Ingredient: Lemon. That acidity really cuts through for a zingy touch that's hard to resist.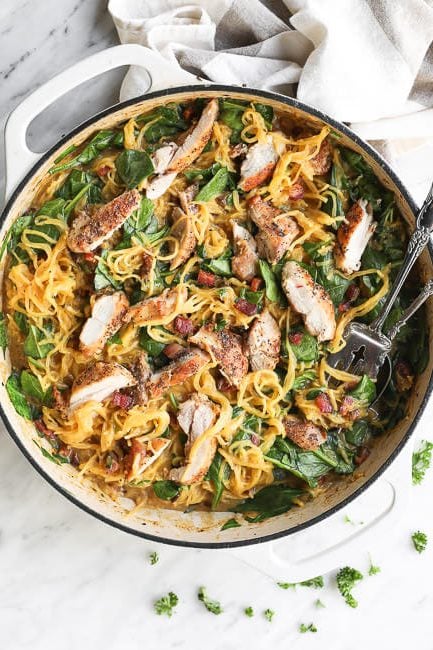 Spaghetti Squash Carbonara from Real Simple Good
Why we love it: This recipe takes a traditional carbonara pasta- and adds a paleo twist. This makes it a really balanced dish with protein, healthy fat and so much flavor.
Hero Ingredient: The bacon crumbles will make you savor every single bite.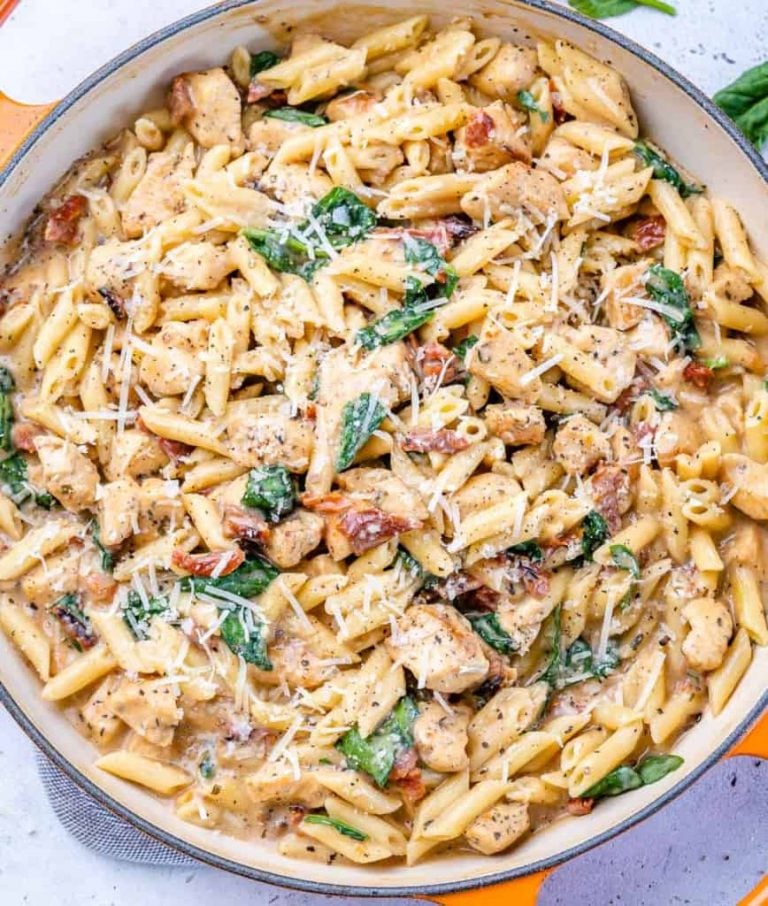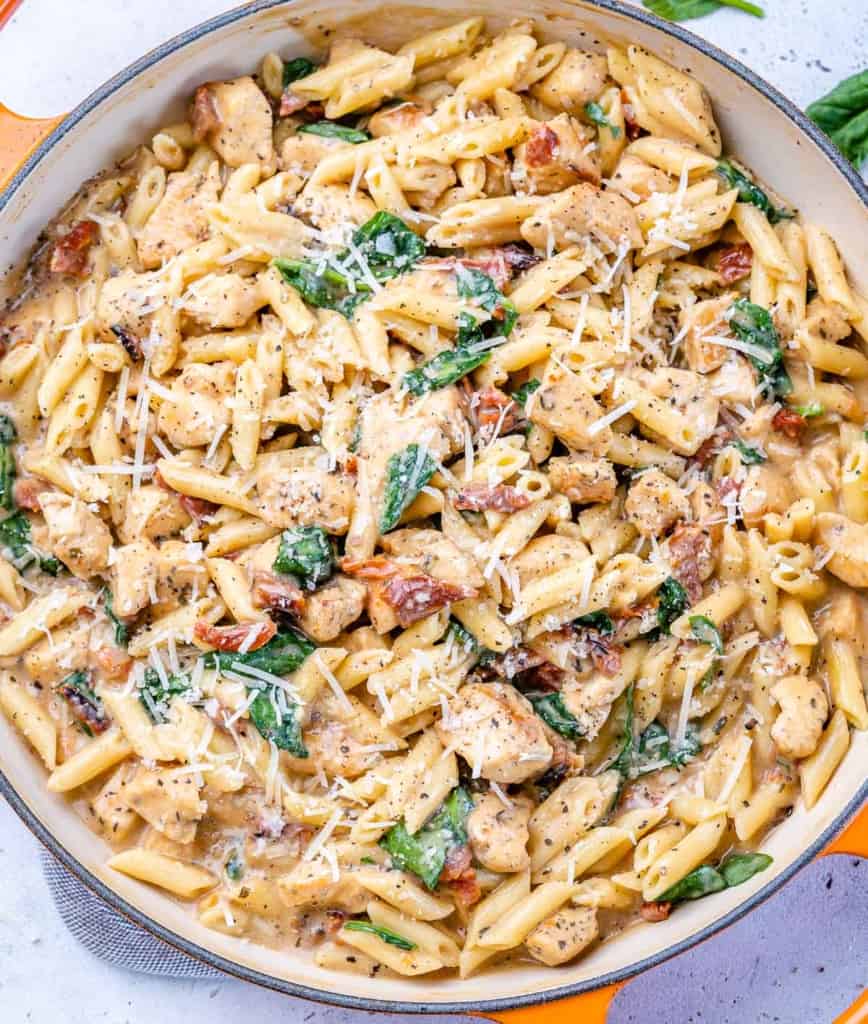 Tuscan Chicken Pasta from Healthy Fitness Meals
Why we love it: This quick and easy pasta is full of spinach, healthy protein, and is so creamy. With an added touch of sun-dried tomatoes and garlic, the flavors will delight your taste buds and satisfy your hunger.
Hero ingredient: Almond milk