As much as we love to see what our favorite foodies make when they want to "wow" their guests, you know what's even more interesting? Learning what dishes they whip up when they're at home on an average weeknight. These recipes are usually quicker with fewer ingredients and are the perfect inspo to answer the question, "What should I make for dinner?" whenever it strikes. To satisfy our curiosity, our series, My Go-To Meal, asks chefs and foodies we love to spill the easy recipes that are on constant rotation at their house. Next up, Tieghan Gerard of Half Baked Harvest shares the easy skillet recipe she makes every other week all summer.
When it comes to delicious, simple meals that look as good as they taste, there's one site we turn to again and again: Half Baked Harvest. I don't know about you, but both of Tieghan Gerard's cookbooks—The Half Baked Harvest Cookbook and Super Simple—are on high rotation in our house. My favorite recipes are dog-eared and you'll certainly find oily fingerprints smeared throughout—what can I say? I am a passionate home chef who likes to get carried away!
Gerard believes we eat with our eyes first, and her stunning food photography makes sure of that. So of course, when Camille launched our new My Go-To Meal series with her delicious pesto pasta primavera, we knew who we wanted to ask next—and Gerard did not disappoint.
This Garlic Butter Creamed Corn Chicken recipe is a deliciously easy skillet recipe Gerard makes at least once a week in summer. "This is such a go-to recipe for so many reasons," she tells me. "It's all made in one skillet with a very minimal ingredients list, requires very little chopping, comes together in less than 30 minutes and is always a huge crowd-pleaser. Even picky eaters love this dish. I make it every other week in the summertime when the corn is fresh."
Ahead, Gerard shares some of her tips for making this easy skillet recipe then keep reading to make the recipe at home!
Is there a kitchen tool you recommend we have to make this?
You'll want a really great skillet for this recipe, preferably cast iron, but any large skillet will work.
What are the stand-out ingredients that make this unique?
To me, the star of this recipe is really the creamed corn sauce. It's made with a trio of butter, garlic, and thyme. I like to let the corn slowly cook down in the garlicky butter until it's golden. It's delicious. Especially when you add a splash of wine and a touch of cream to make that creamy sauce for the chicken. It's the sauce that leaves everyone coming back for a second helping.
What are some ingredient swaps that can make this healthier/gluten-dairy-free? etc.
You can easily omit the parmesan cheese and use coconut milk to make this dairy-free. And to make it gluten-free, use your favorite gluten-free flour blend.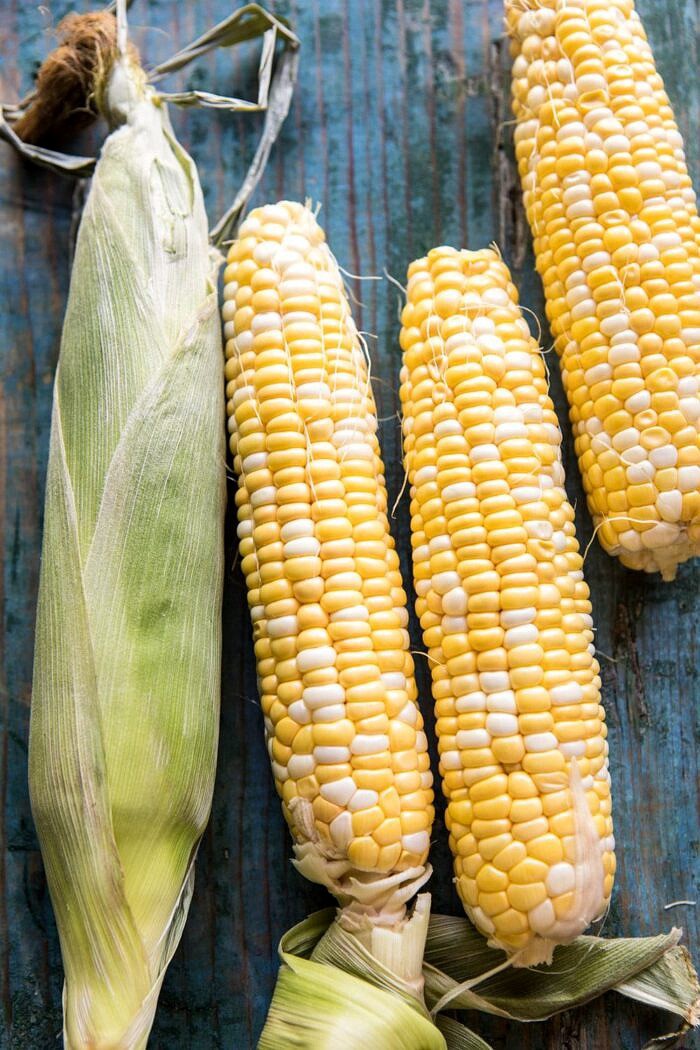 What is a cooking hack you use in this recipe that we should all know about?
To easily remove the corn kernels from the cob, simply lay the ears of corn flat on a cutting board. Then cut down the side of the cob to remove the kernels. Then rotate the cob and continue cutting and rotating the corn until all the kernels are removed.
What is the secret to making this meal taste delicious every time?
The secret is letting the butter brown around the corn. It adds such a delicious, rich flavor to the sauce.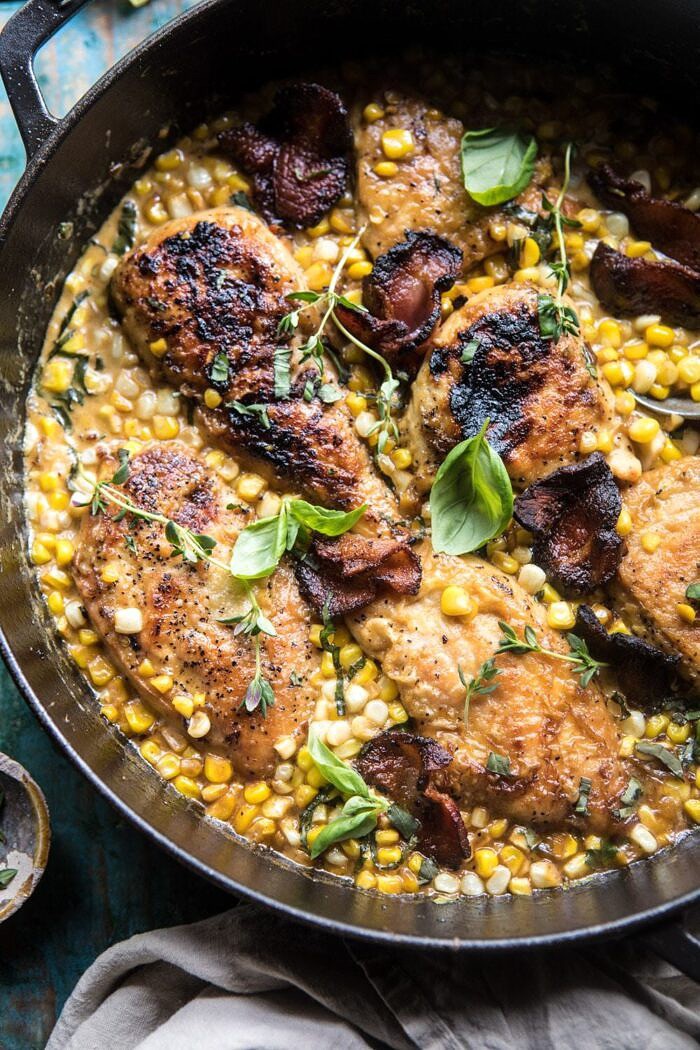 How often do you make it per week? Just once or more? Why?
Just once every other week I would say. Honestly, the only reason I don't make this weekly is that I am always testing new recipes for HBH.
What is your favorite thing about this recipe and why?
It's cozy, summer comfort food that comes together easily, quickly, and effortlessly. It might seem really simple, but it is so full of flavors that everyone really enjoys. And it's easy enough for any weeknight, but still fancy enough for a Saturday night dinner party.
Scroll down to make the recipe and be sure to let us know how it went for you!
Half Baked Harvest's Garlic Butter Creamed Corn Chicken
Serves 6
Garlic Butter!! Creamed Corn Chicken! Oh my gosh, is there anything better? This chicken is made in under an hour, uses just one skillet, and is beyond delicious. It's creamy, garlicky, packed with corn, and finished with fresh herbs and parmesan. Perfect cozy, summer dinner for any night of the week.
---
Ingredients
1 ½ pound boneless, skinless chicken breasts or thighs 

2 tablespoons extra virgin olive oil 

1 tablespoon fresh chopped thyme, plus more for serving 

Kosher salt and pepper 

¼ cup all-purpose flour 

4 slices thick-cut bacon, chopped 

1 small yellow onion, chopped 

2 tablespoons butter 

4 ears corn, kernels removed from the cob 

2 cloves garlic, minced or grated 

1 teaspoon crushed red pepper flakes 

¾ cups dry white wine, such as Pinot Grigio or Sauvignon Blanc 

½ cup heavy cream, canned full-fat coconut milk, or whole milk

½ cup grated parmesan or Asiago cheese 

Fresh basil
---
Instructions
Rub the chicken all over with 1 tablespoon olive oil, thyme, and season generously with salt and pepper. Sprinkle the flour evenly over the chicken and toss to coat, adding more flour if needed to cover the chicken.

Heat a large skillet over medium-high heat and cook the bacon until crisp. Remove the bacon from the pan and drain onto paper towels. 

Add the chicken to the pan and sear on both sides until golden, about 5 minutes per side. Remove the chicken from the pan. 

Add the remaining 1 tablespoon olive oil. When the oil shimmers, add the onion and cook until fragrant, about 5 minutes. Add the butter, corn, garlic, and red pepper flakes. Cook for another 5 minutes or until the corn is golden.

Reduce the heat to medium low and pour in the wine and ½ cup water. Add the chicken back to the skillet and bring to a simmer over medium heat. Simmer the chicken for 10-15 minutes until cooked through. Stir in the heavy cream and parmesan, cook another few minutes until warmed through. Remove from the heat and top with bacon. 

Serve the chicken topped with fresh thyme and basil. Enjoy!