No household gadget equates to a warm hug quite like the crockpot. And though the invention's origins are tied to a quintessentially Jewish beef stew called cholent, chicken and crockpots persist as a match made in comforting kitchen heaven. Case in point: a search for "healthy chicken crockpot recipes" brings up countless results, each more inviting than the next. In fact, it can be a bit overwhelming, so we decided to do the good work for you and narrow it down to 15 fantastic meals perfectly suited for the slow cooker.
For anyone who digs a low-effort, high-reward dinner (i.e., everyone), the following healthy chicken crockpot recipes are just what your slow cooker ordered.
But first, a few chicken and crockpot basics….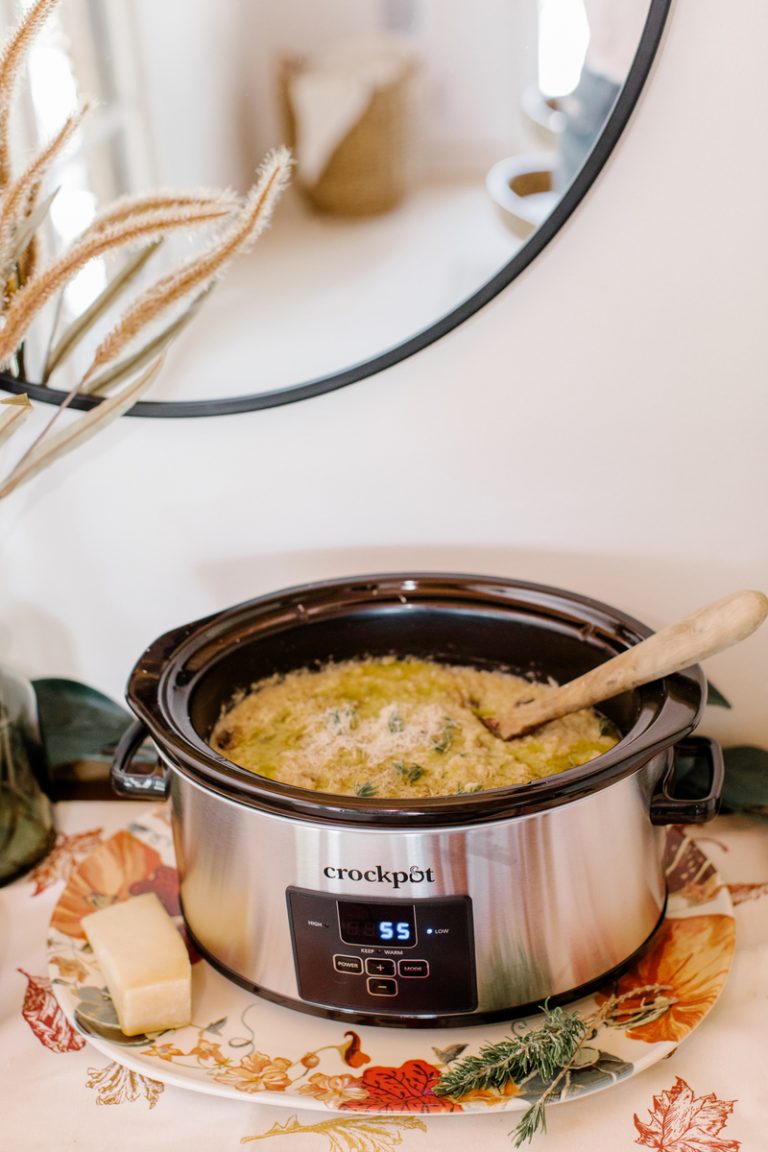 Can you put raw chicken into a crockpot?
Absolutely. It can feel a bit unnerving when you do it the first time, but that's the magic of the slow cooker. For certain recipes, sautéing the chicken first might up the flavor (especially if the skin is left on), but a boneless, skinless chicken breast will cook perfectly well in the crockpot.
How long should you cook chicken in a crockpot?
All crockpot models are a bit different, so your cooking time may vary (be sure to check your chicken periodically as you get to know your crockpot). But a good rule of thumb according to Well Plated is 1 1/2 to 2 1/2 hours per 8-ounce chicken breast.
And remember, always cook on LOW for the juiciest results.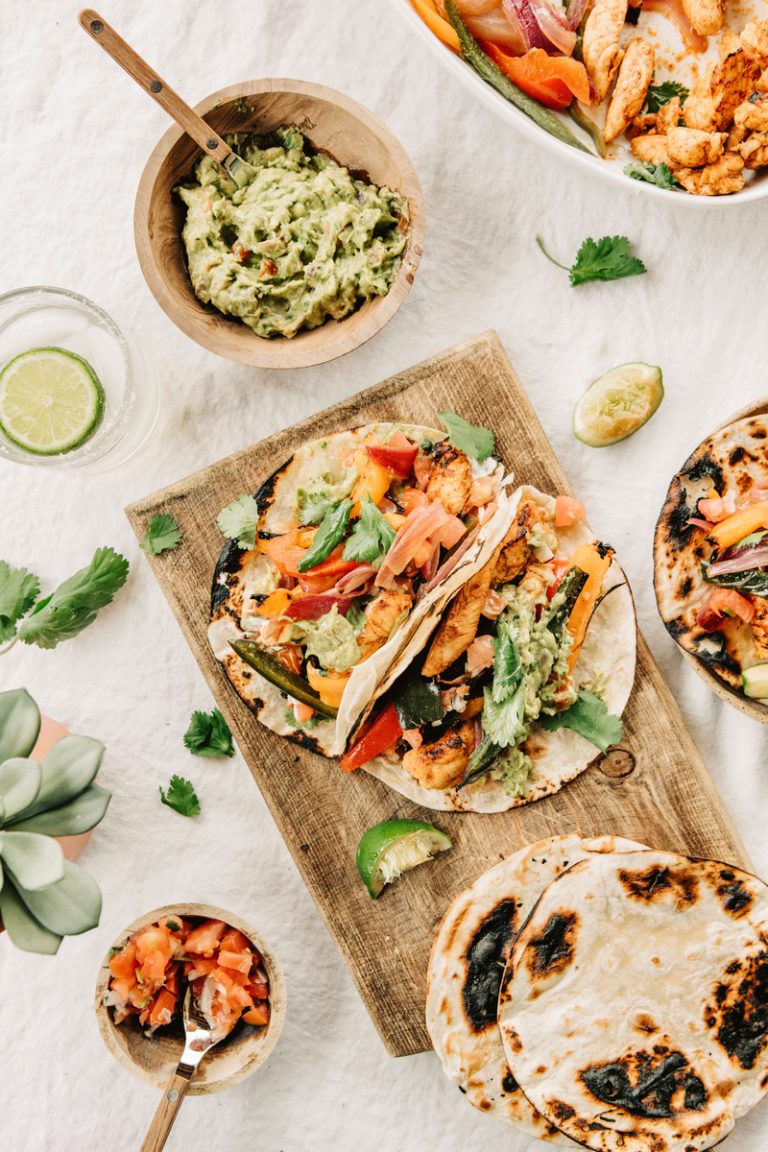 Can you put frozen chicken in a crockpot?
While it's tempting (and plenty of internet recipes call for it), USDA's Food Safety and Inspection Service cautions that it's always best to thaw meat or poultry before you put it in a slow cooker.
A 2017 blog from the USDA's Food Safety and Inspection Service adds, "If you place frozen meat or poultry in a slow cooker it can spend too much time thawing, allow bacteria to multiply, and make you sick. Using defrosted foods will also ensure your meal cooks evenly and all the way through."
And now, 15 Healthy Chicken Crockpot Recipes to Satisfy Your Slow Cooker Cravings…
Why We Love It: A savory, saucy dish that's so simple, you can easily make it on a busy weeknight. Better yet, you can throw everything on the straightforward ingredient list directly into the crockpot (no sautéing required).
Hero Ingredient: Fresh ginger, peeled and chopped, brings the perfect amount of spicy, sweet flavor.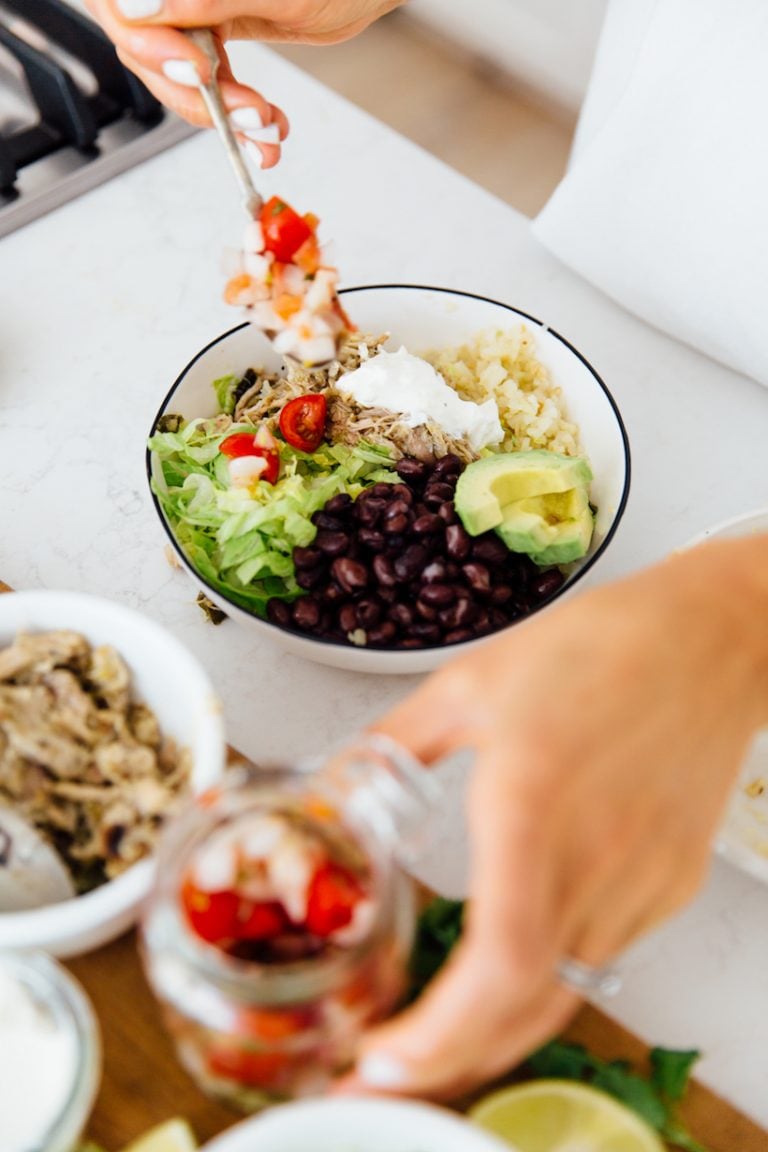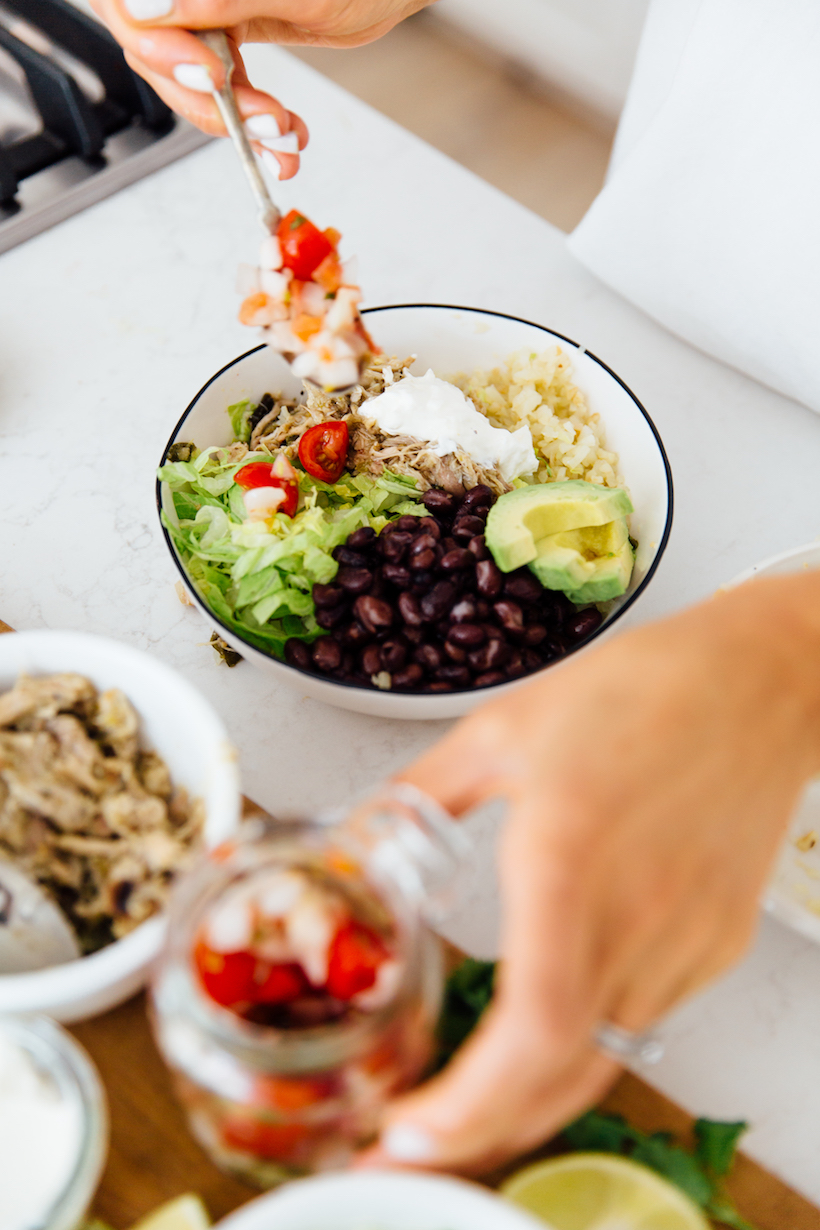 Why We Love It: Inspired by the Baja-style chicken burritos of Southern California, this protein-packed combo is fresh, filling, and oh so easy.
Hero Ingredient: Two cups of verde enchilada sauce give a nice, tangy bite to your bowls. (Camille loves this brand if you can find it at the grocery store.)
Why We Love It: Is this the perfect crockpot-friendly recipe for fall? It's certainly the easiest—just chop an onion and open a few cans.
Hero Ingredient: 1 28-oz can of fire-roasted crushed tomatoes is one of the key cans you can expect to open when making this recipe—it's way easier than chopping them fresh.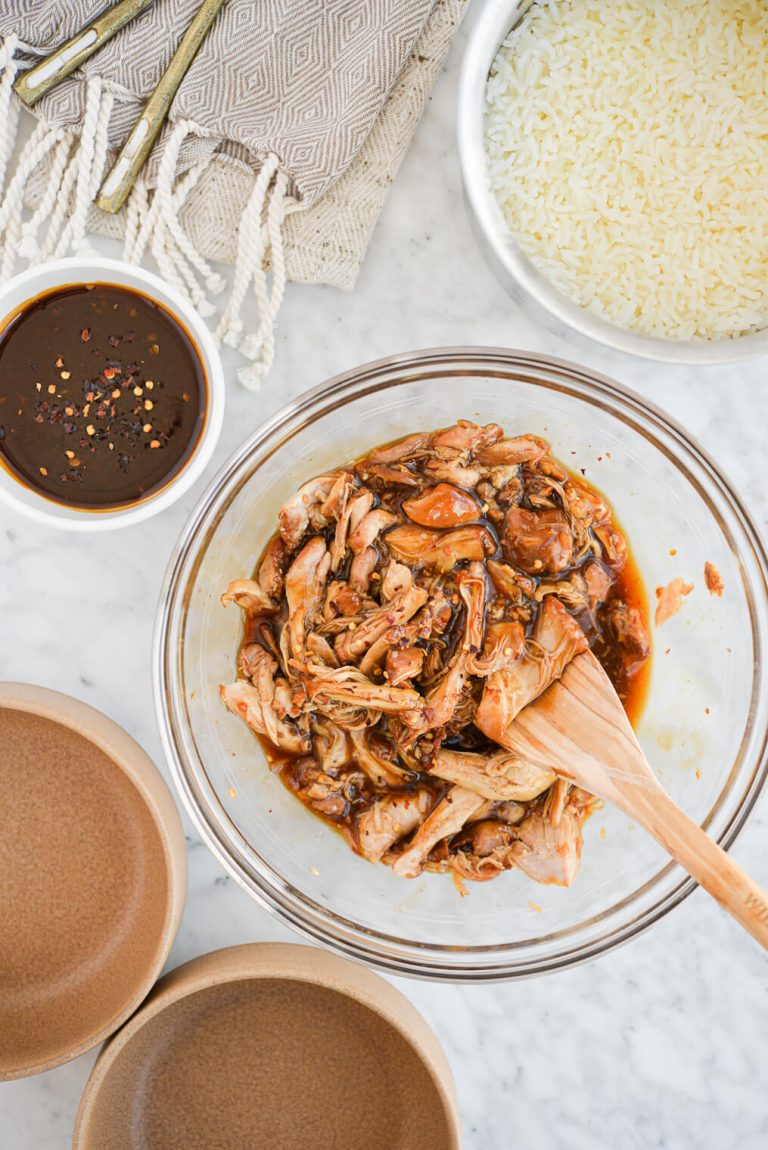 Why We Love It: The sticky, tangy, healthier take on an Asian takeout favorite can be whipped up in an instant pot or crockpot (it's just that easy).
Hero Ingredient: Bourbon delivers a depth of flavor that makes this dish seem far more complicated than it really is. And because you're just cooking with it, don't worry about grabbing anything fancy.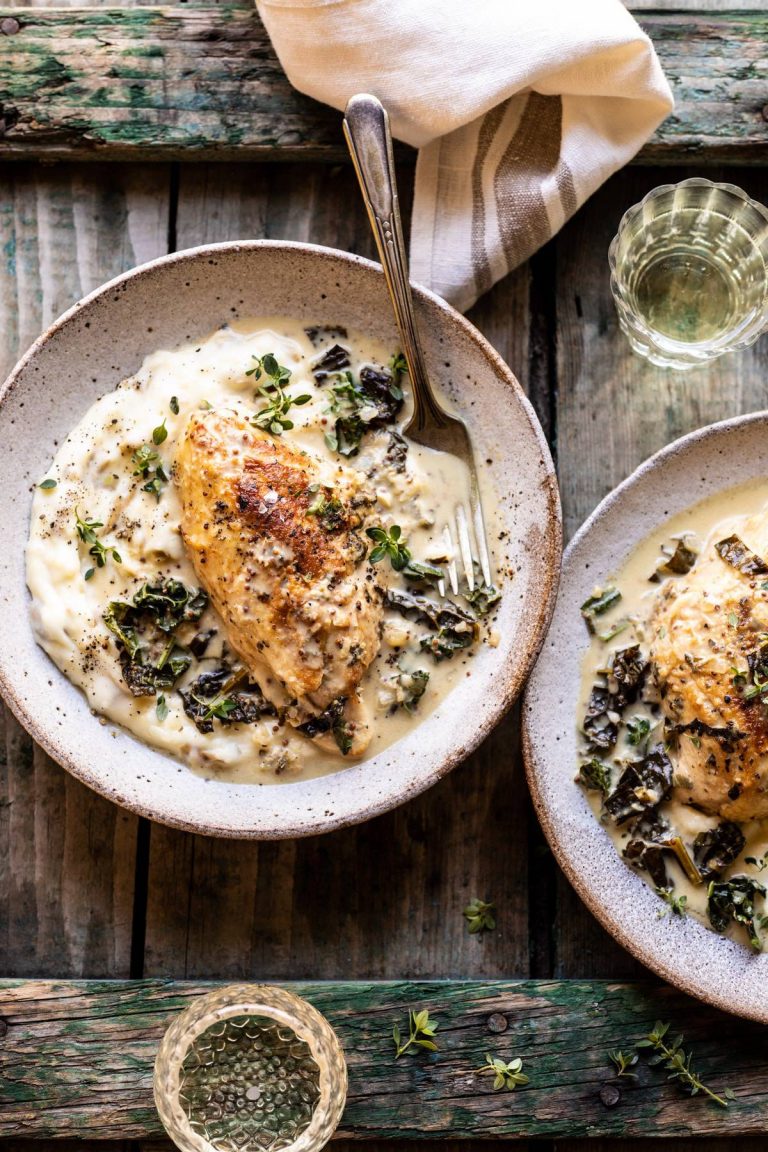 Why We Love It: The creamy, herby, elegant French classic translates beautifully to a crockpot with a touch of kale.
Hero Ingredient: A combo of Dijon mustard and grainy Dijon mustard. This is such a genius trick that brings texture and spice to your chicken.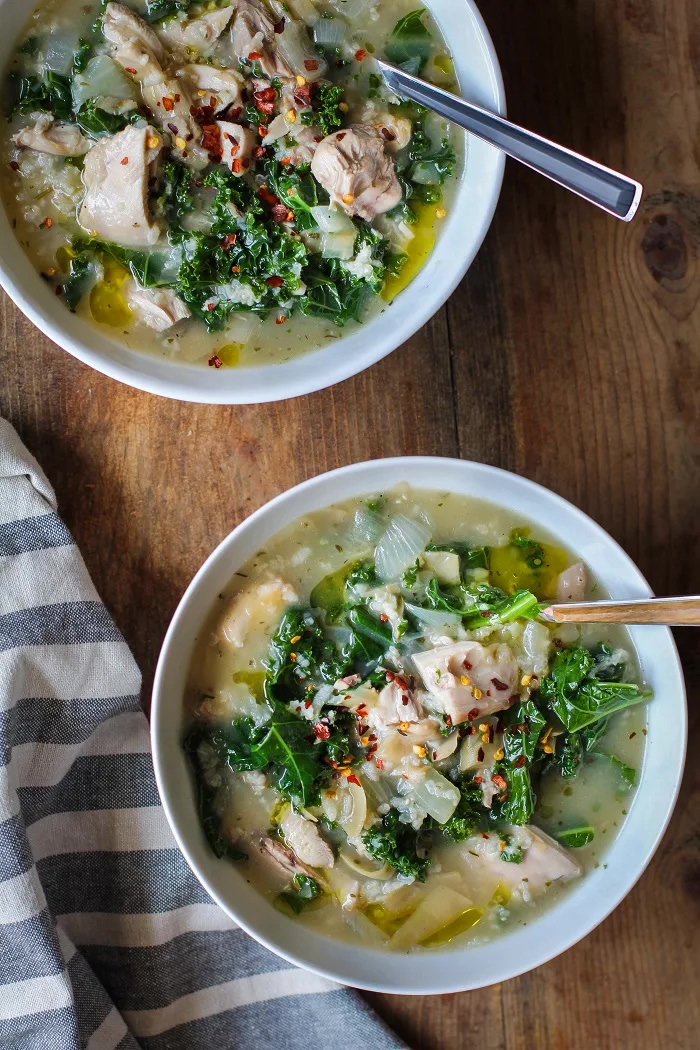 Why We Love It: Rice, kale, and pan-seared chicken combine for a hearty, healthy dish that warms you right up.
Hero Ingredient: Bone-in, skin-on chicken is the shortcut, show-stopper that yields a flavorful soup.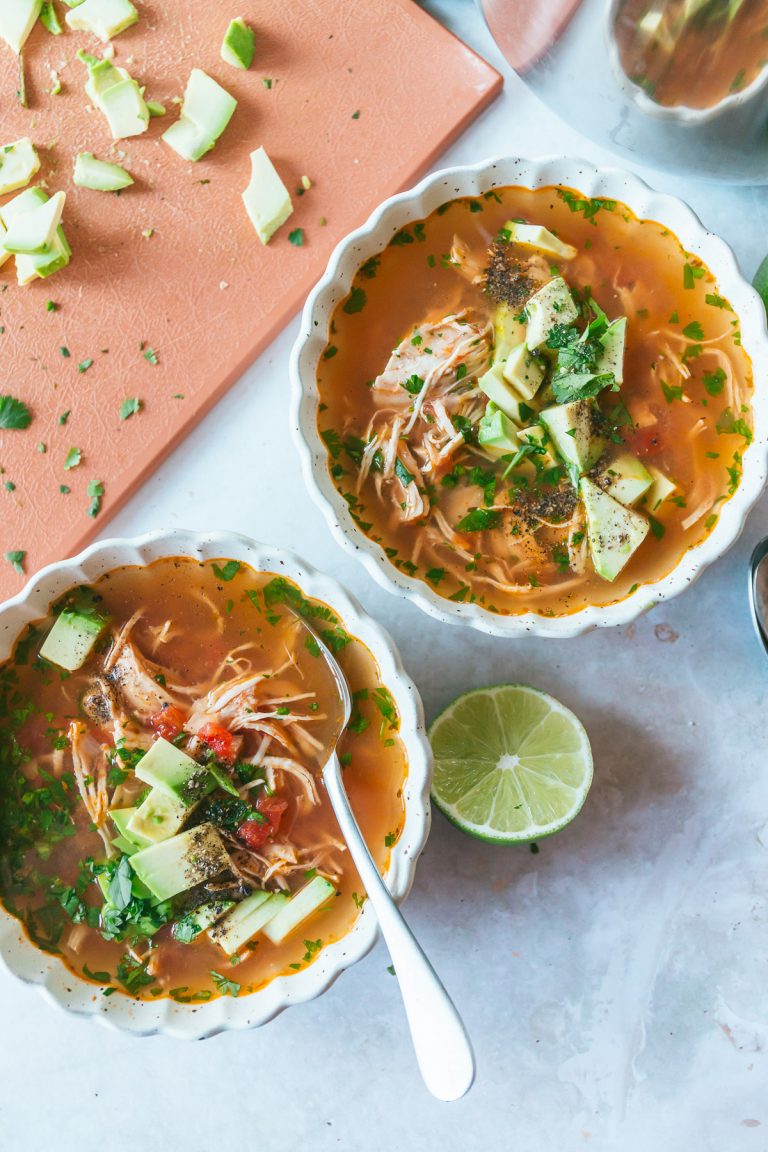 Why We Love It: Whole 30-approved and beautifully simple, this flavorful soup could be your new lunchtime staple.
Hero Ingredient: Chili powder adds an extra kick to your crockpot chicken marinade.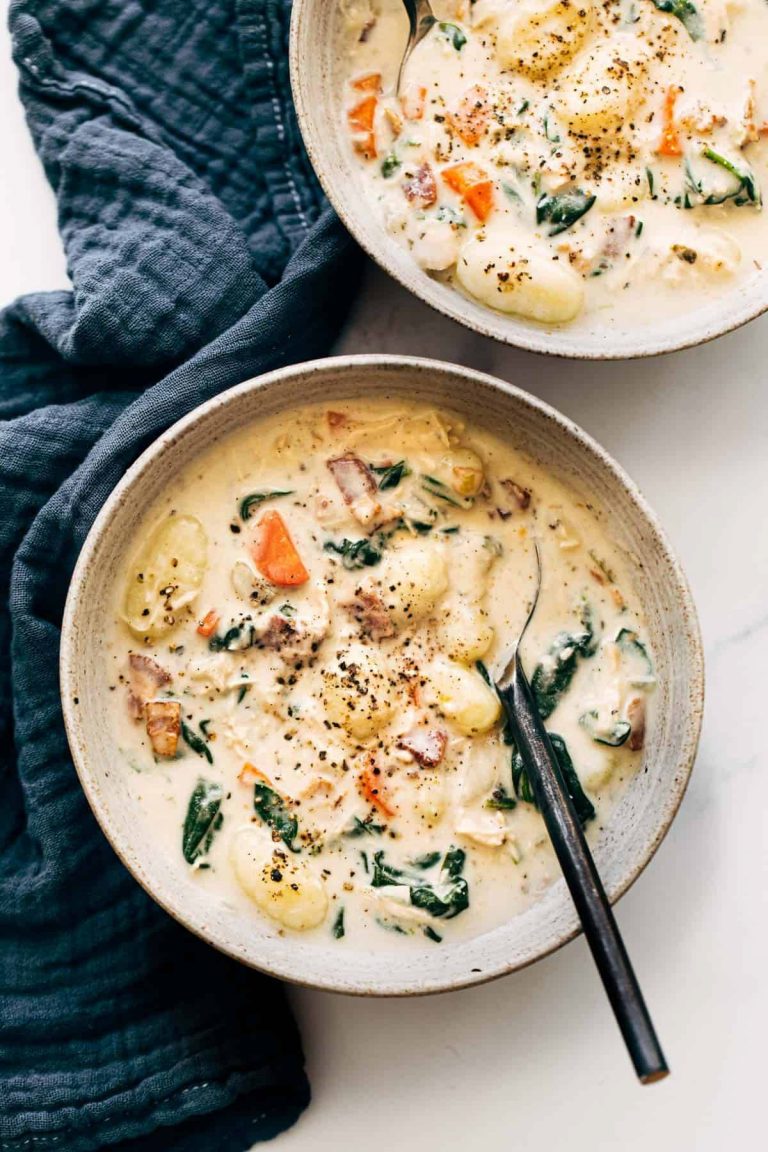 Why We Love It: When you're craving your veggies with a side of fluffy, airy gnocchi, we have just the recipe for you.
Hero Ingredient: Evaporated milk keeps things thick and creamy without butter, flour, or cream. Brilliant, no?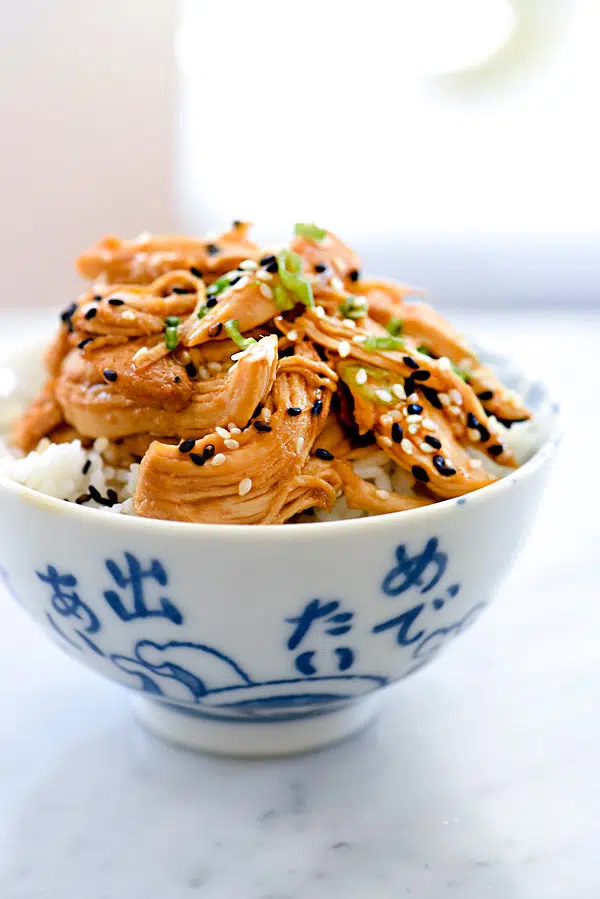 Why We Love It: Even those who keep a minimally stocked pantry should have all the necessary ingredients to pull off this flavorful classic. Plus, no browning or sautéing required.
Hero Ingredient: Soy sauce and apple cider vinegar give this classic chicken dish its signature salty-sour spice.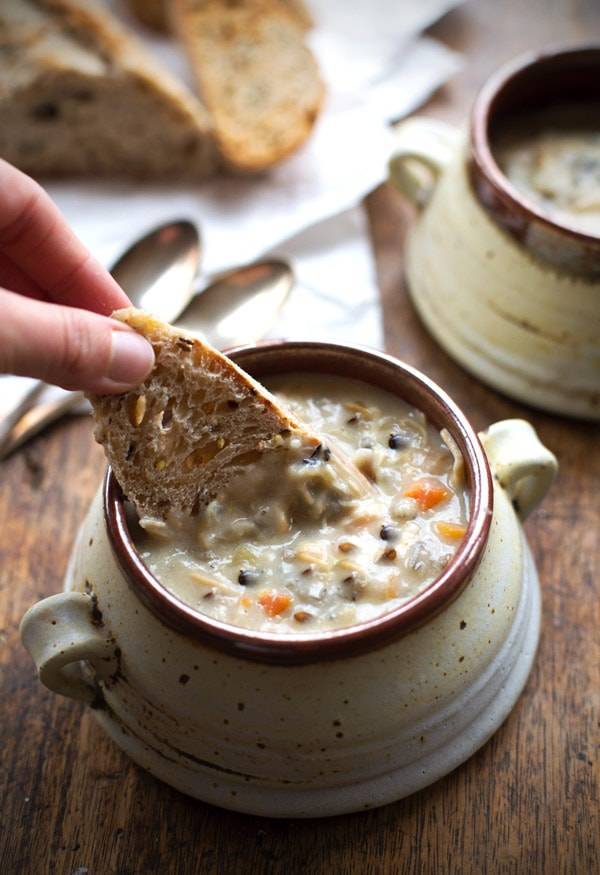 Why We Love It: Creamy, savory, and incredibly wholesome, this flavorful soup tastes just as good the next day (and the day after that).
Hero Ingredient: Authentic wild rice is so wonderfully nutty, that it'll be hard to go back to your white or brown rice standbys.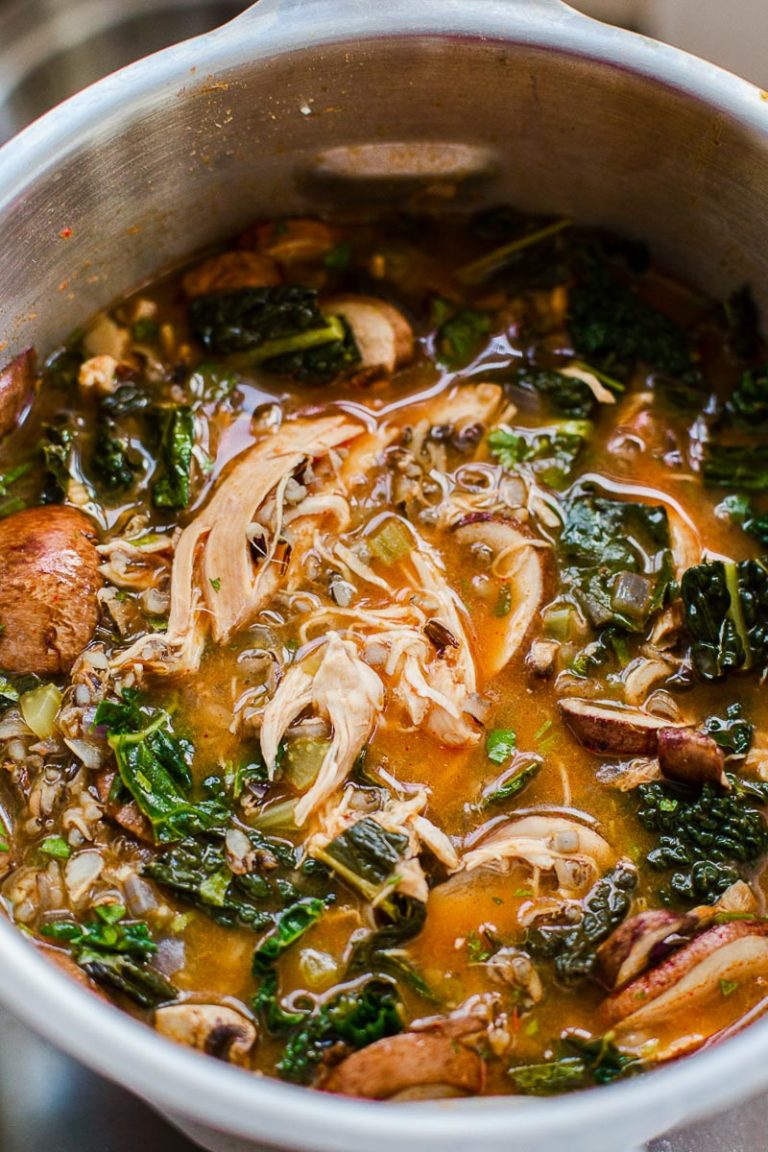 Why We Love It: When the weather (or your mood) calls for classic chicken soup that's anything but bland, this hearty dish delivers.
Hero Ingredient: I love Thai flavors—they're spicy, warming, and sometimes hot—exactly what I'm craving when the cold weather hits. The Thai red curry paste is what seals the deal on this soup.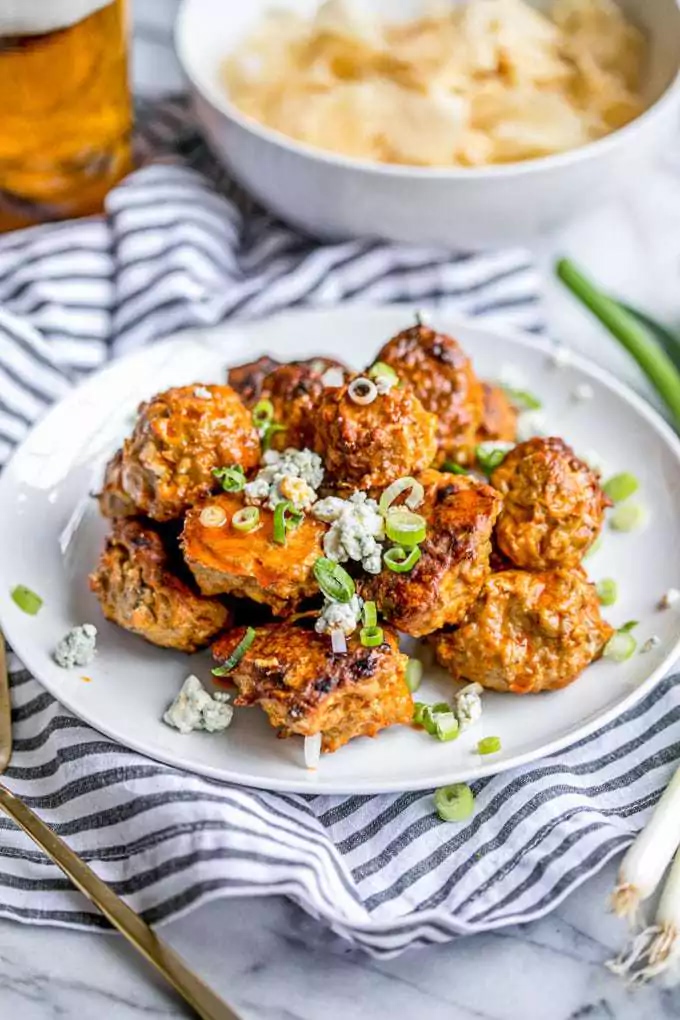 Why We Love It: This Paleo and Whole 30-approved recipe satisfies tailgate cravings with zero guilt.
Hero Ingredient: Tessemae's all-natural buffalo sauce. It's the best bottle in the game.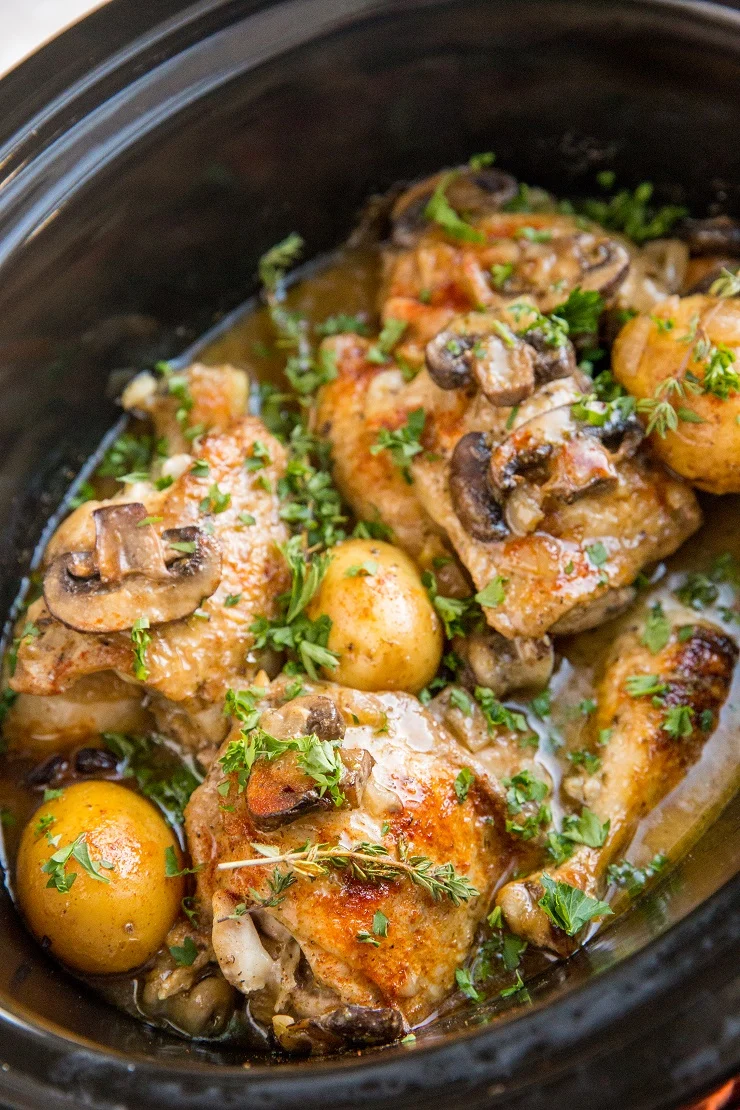 Why We Love It: This gluten- and dairy-free dish looks and tastes far fancier than it is.
Hero Ingredient: Tapioca flour for a gluten-free alternative to cornstarch—so everyone can indulge.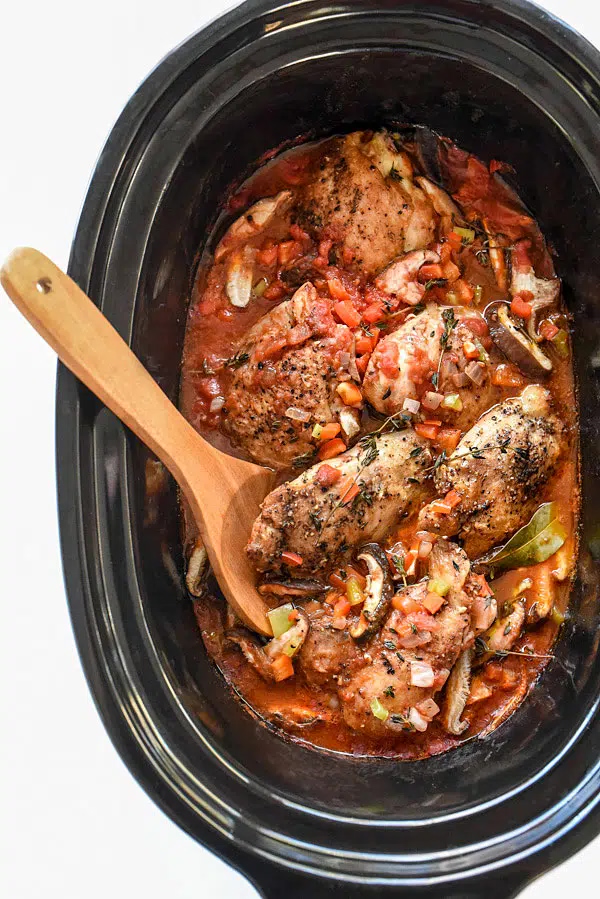 Why We Love It: This easy Italian dish is all about the sauce, but chicken that's fall-off-the-bone tender makes the rustic meal even better.
Hero Ingredient: A can of crushed tomatoes. As I wrote above, it's the best shortcut there is (well, next to the crockpot).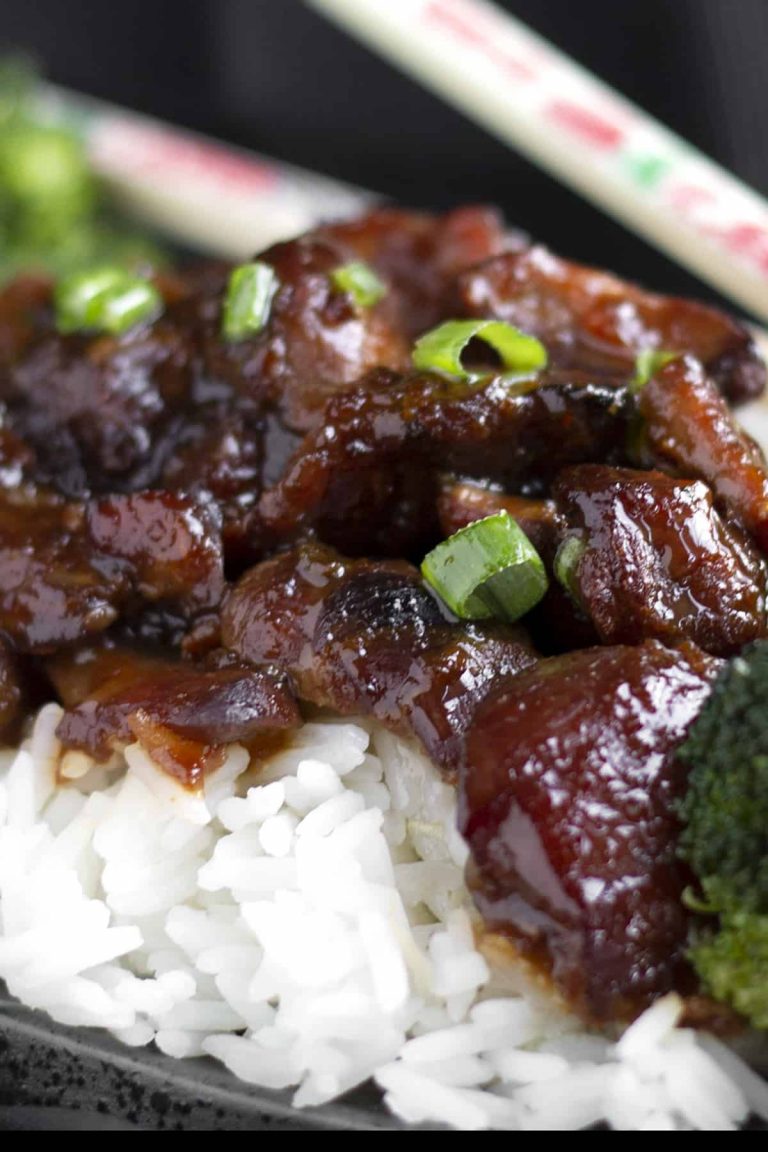 Why We Love It: The crockpot makes the chicken melt-in-your-mouth tender, while the combo of honey and soy sauce gives it the perfect sweet-and-sour kick.
Hero Ingredient: Three tablespoons of cornstarch for coating your chicken. It's what keeps each piece perfectly glazed.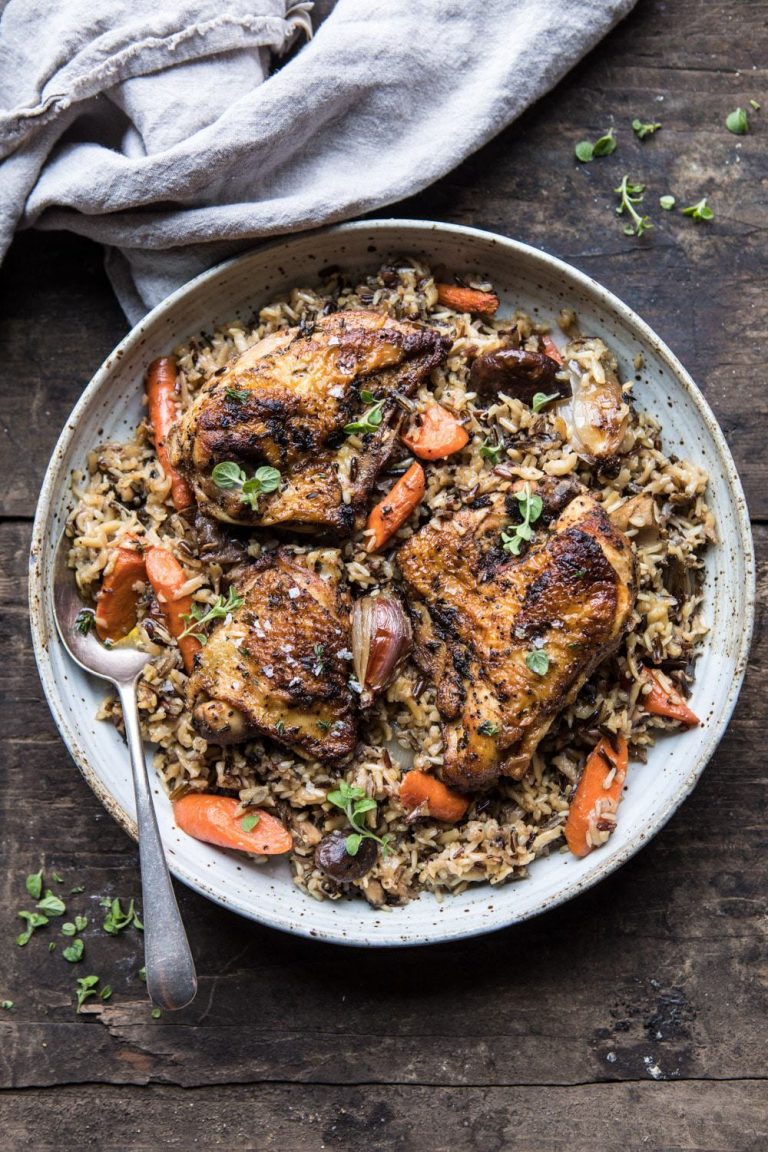 Why We Love It: Pair the ultimate comfort food (chicken and rice) with the ultimate comfort gadget (the crockpot) for a well-rounded meal that smells as good as it looks.
Hero Ingredient: Wild rice is a perfect earthy pairing for slow-roosted chicken.