When I wake up, the first thing I think of is a warm mug in my hands and the smell of cinnamon wafting through the air. If I don't get my morning coffee, well, maybe just avoid me until I do. It's not that I need the caffeine (okay, I probably do), it just makes me happy. I feel like coffee can get a bad rap, though, and I've noticed more and more people removing it from their diets or cutting out caffeine altogether. But, as long as you're not overdoing it, experimenting with healthy coffee recipes packed with good-for-you ingredients can actually be really beneficial to your health (phew!). Things like cinnamon, vanilla, and coconut milk have so many health benefits on top of just being tasty. 
On a mission to save money and cut sugar, I've made it a goal to make my coffee at home every morning, and surprisingly, it has brought me so much joy. I love tweaking my techniques and testing out different healthy coffee recipes each week. My current obsession—which my roommates have named "that coffee drink thing"—is mixing cinnamon with two drops of stevia, and cashew milk in my frother, then pouring it over my coffee. It's so good! 
As a self-ordained coffee enthusiast, I've compiled a list of my favorite java recipes that give me that caffeine hit but are also fun to drink. Read on for the 11 best healthy coffee recipes on the internet. 
View this post on Instagram
Why We Love It: You can't get more accurate than Camille's description of this smoothie as a "grown-up, healthified frappuccino." It's the perfect morning/afternoon drink and is so easy to make– you don't even have to brew the coffee, just use bottled cold brew. It's so good!
Hero Ingredient: Ice, which I get is a weird this to say, but I love the texture it adds.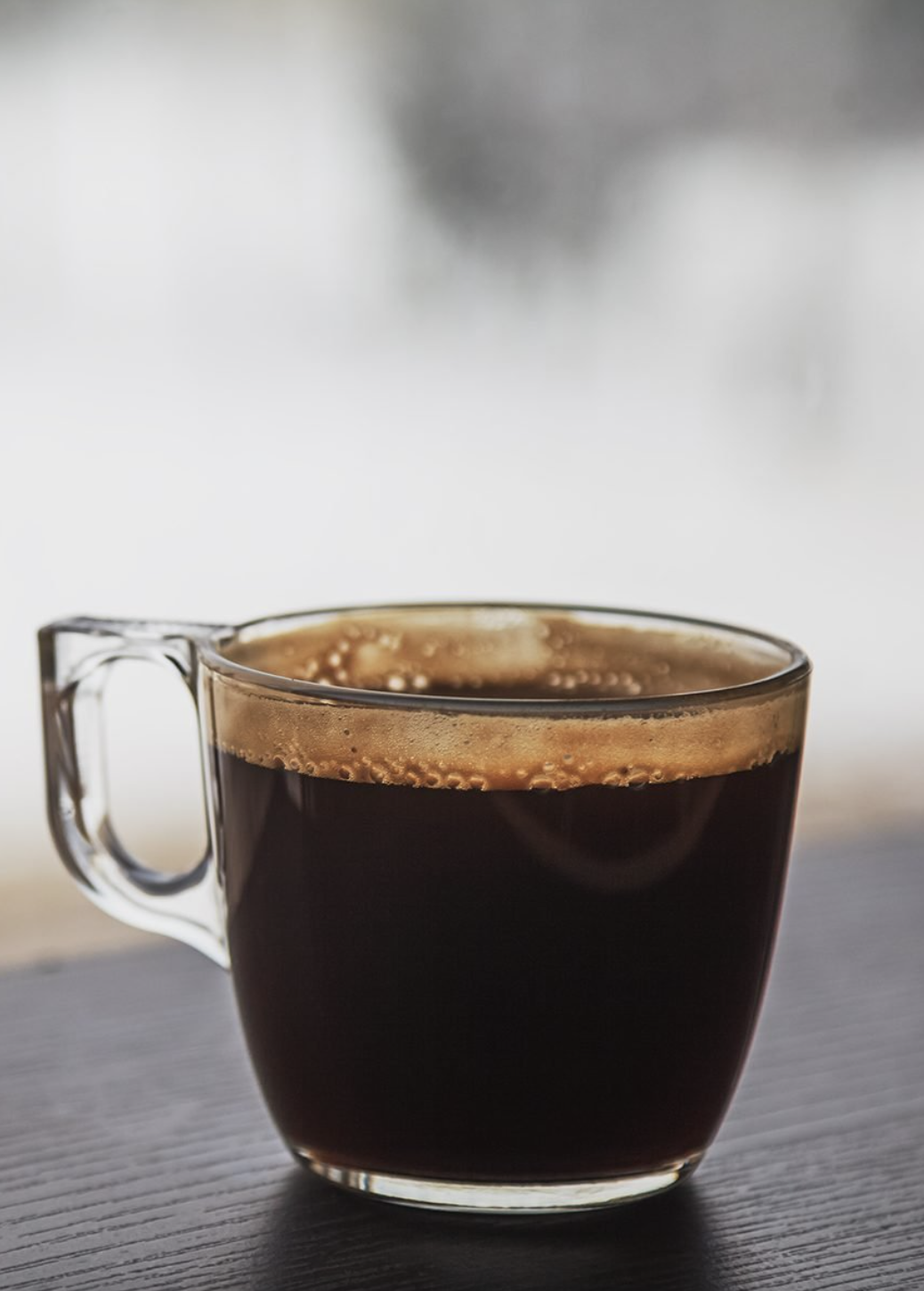 Why We Love It: Alright black-coffee lovers, this one's for you. It essentially just adds some almond and vanilla extract to black coffee to give it a bit more flavor, and that's it. The beauty being that it only has four calories.
Hero Ingredient: The vanilla extract for making it bearable for creamy coffee gals like me.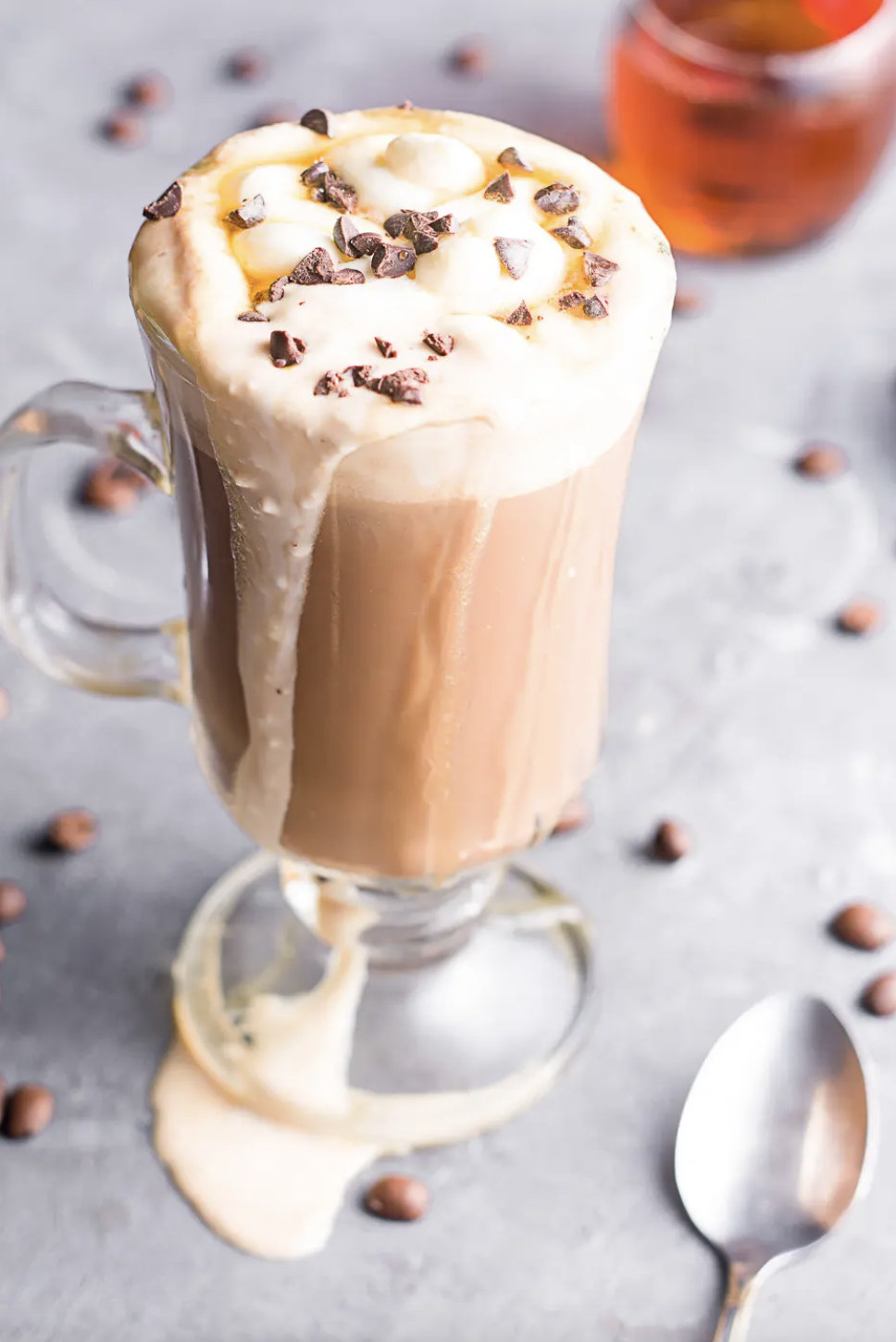 3.

Mocha Coffee
from Delicious Meets Healthy
Why We Love It: Any mocha fanatics out there? When I started drinking coffee, my first ever drink was a mocha from Starbucks. I loved it because it was basically half hot chocolate, half coffee, and this is the "adult" version of that. To make it dairy-free, all you have to do is use your favorite DF milk (and whipped cream if you want to add that on top). 
Hero Ingredient: Coocoo for that cocoa powder.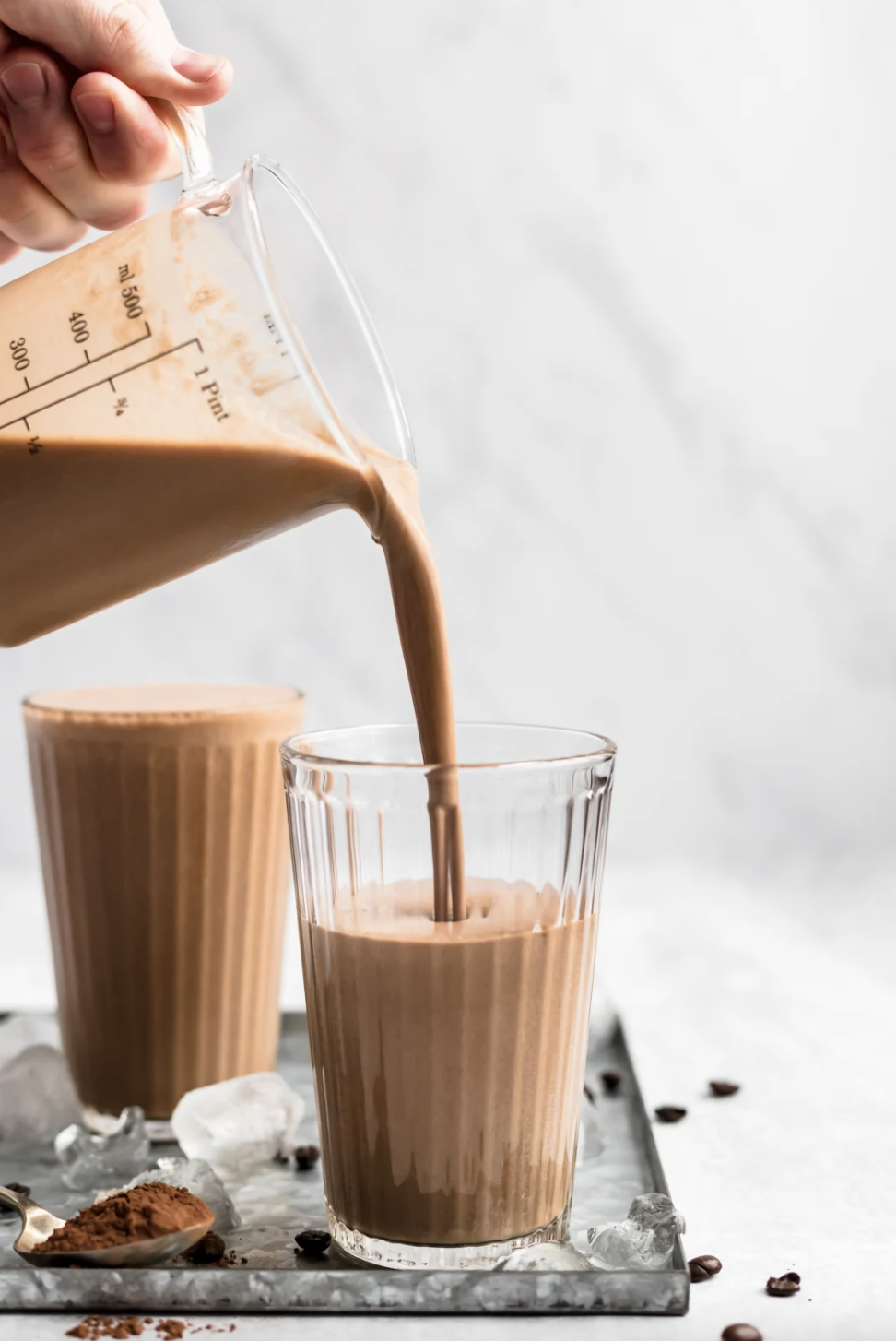 Why We Love It: I've finally found the ultimate coffee smoothie recipe. As a student, it's hard to make time for both my morning coffee and breakfast when I'm on the go, so this has been my savior. It has a banana, some peanut butter (which I sub for almond), collagen peptides and even cauliflower, making it a healthy and balanced meal. When I'm really looking for it to be a meal replacement, I add in some gluten-free oats to give it some heartiness. 
Hero Ingredient: I can't see a recipe with peanut/almond butter and not say it's the hero.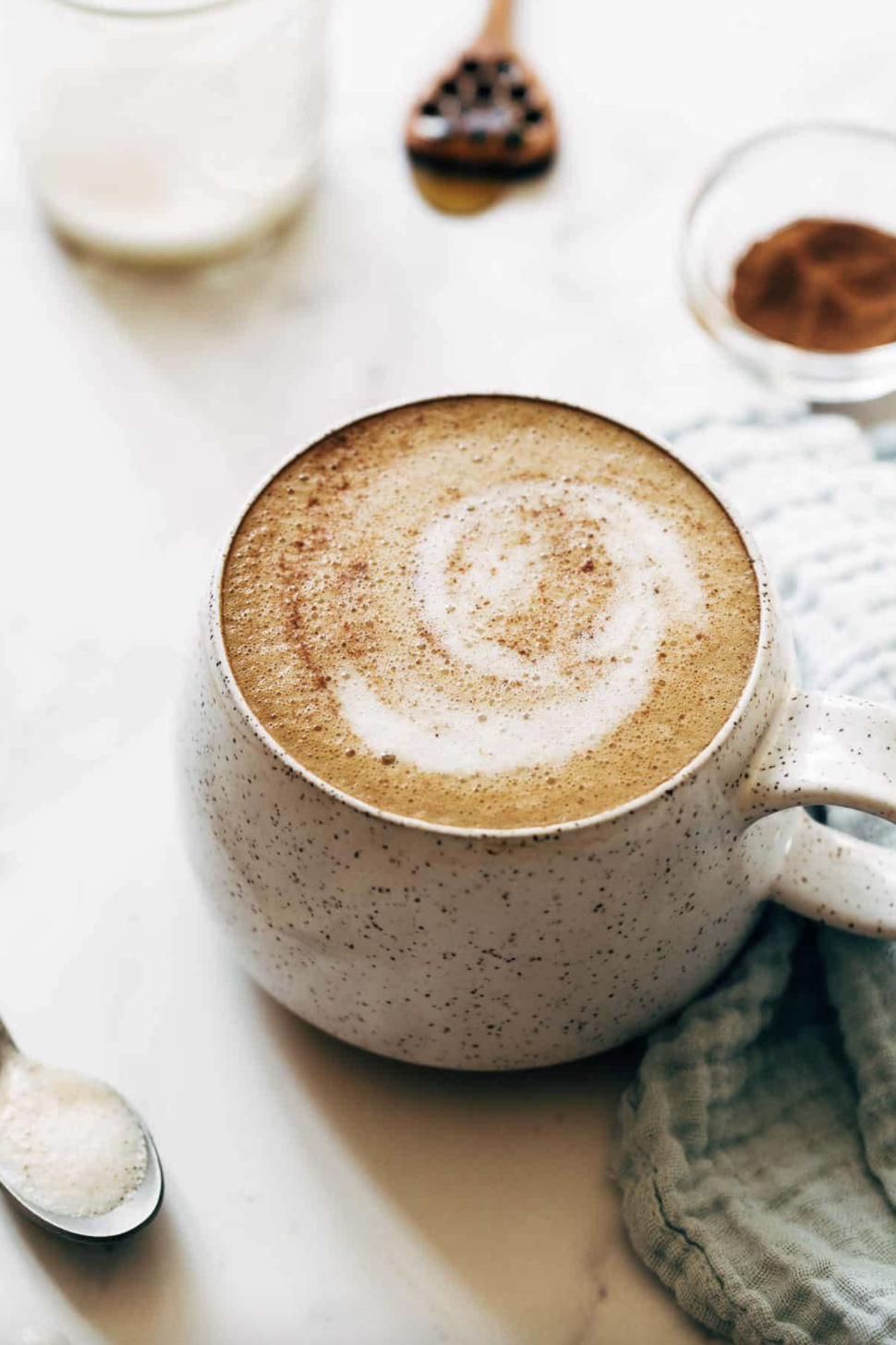 Why We Love It: This recipe will add no more than two minutes to your normal coffee routine, and I promise you that it is worth it. As someone who shies away from artificial sweeteners, I love that this coffee is naturally sweetened with honey. The cinnamon and salt come together to create the perfect cozy flavor, without being overbearing. 
Hero Ingredient: Honey, honey, how it thrills me (uh huh).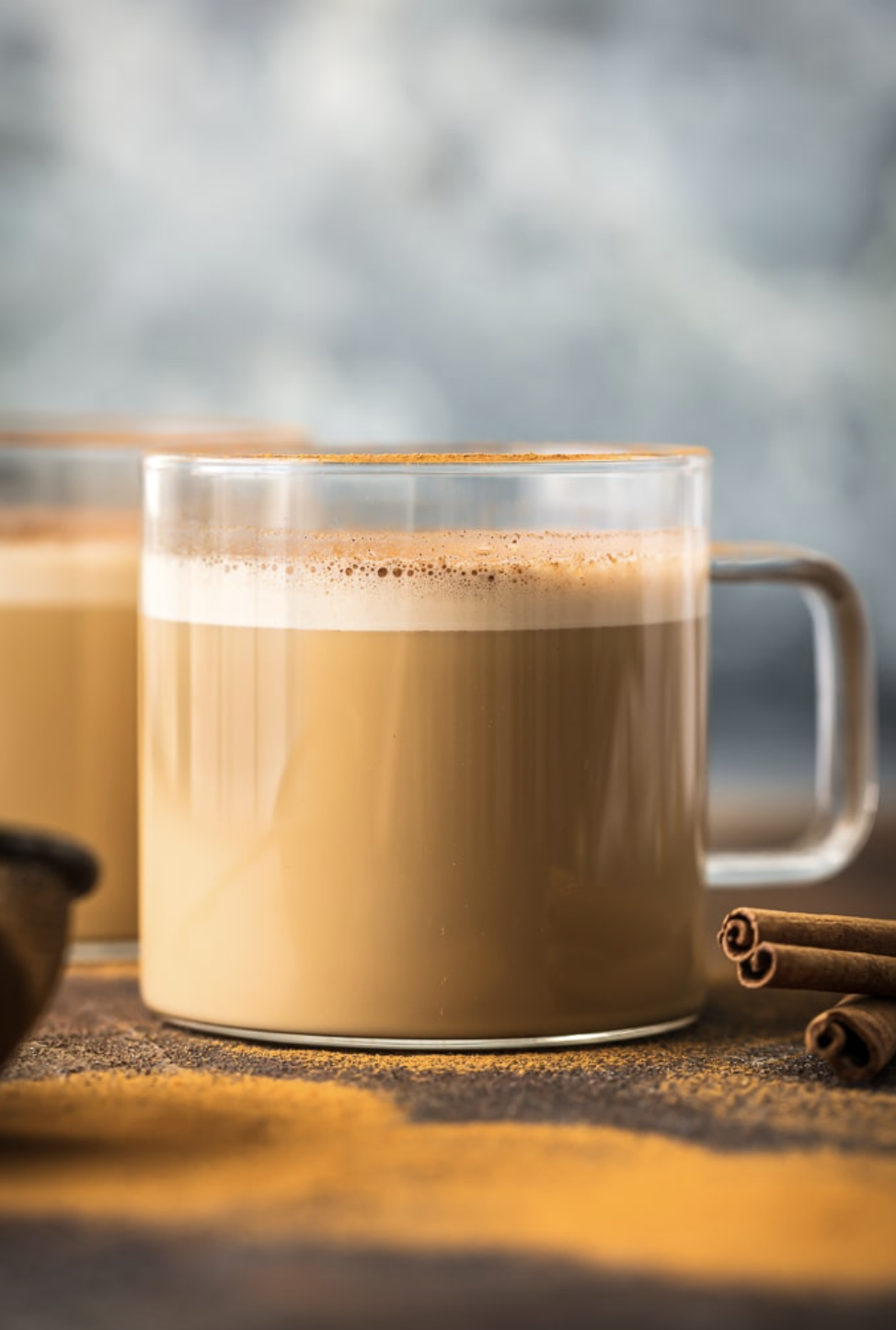 Why We Love It: If you've never heard of bulletproof coffee, you're about to think I'm crazy. The recipe uses butter and MCT oil to give your body healthy fats in hopes of providing longer energy boosts and weight loss benefits. It's also great for people on a keto diet. My sister loves bulletproof coffee and swears by it, but I personally find it makes me feel a little funny, so definitely try it out for yourself! Note: you don't have to use Bulletproof products to make this coffee. 
Hero Ingredient: Ghee butter for being such an amazing grass-fed alternative to butter.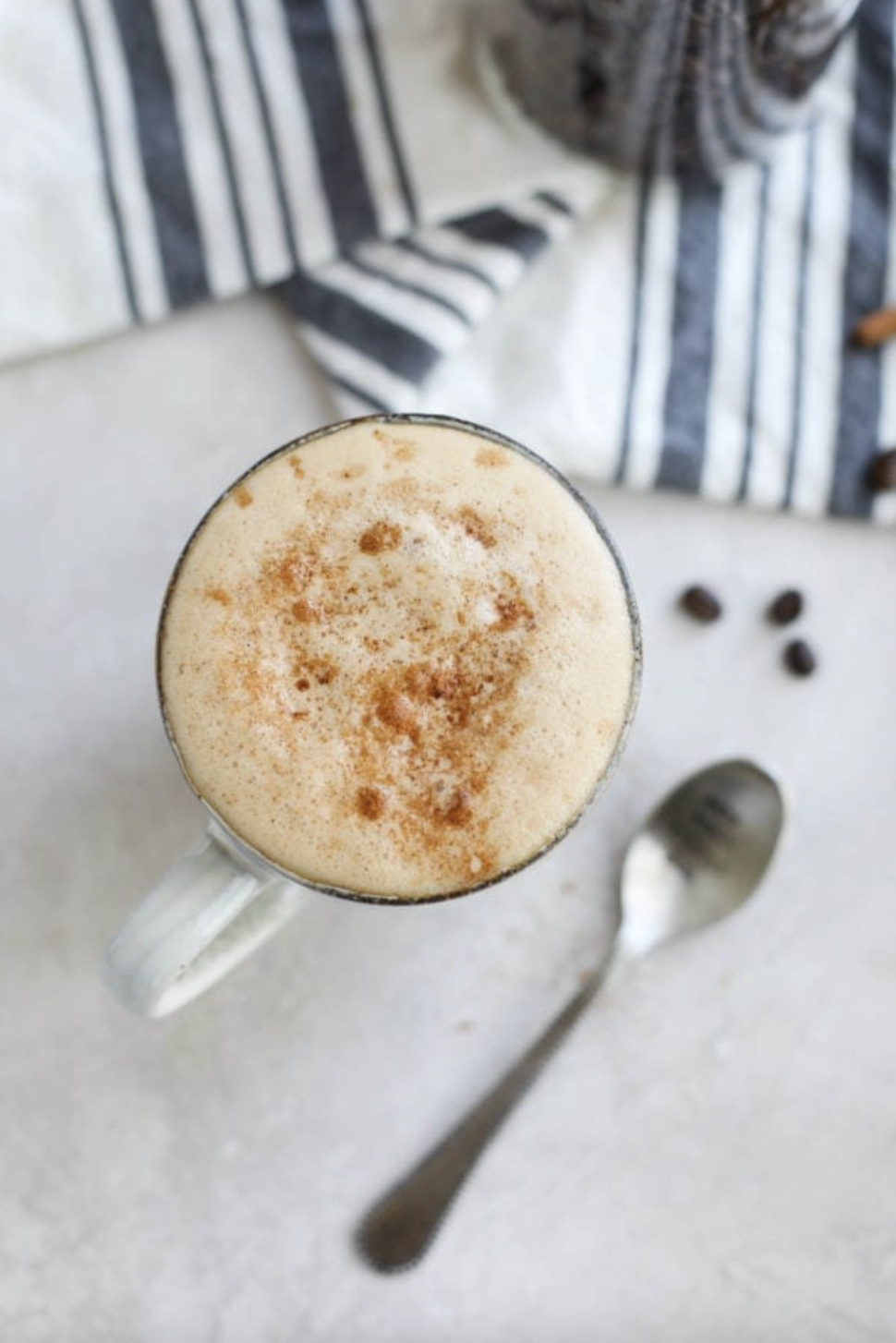 Why We Love It: Like the bulletproof coffee, this recipe utilizes a small amount of butter to add some healthy fats and vitamins to your morning coffee. It also has a small amount of coconut oil for both flavor and additional energy. One of my favorite things about this recipe is that it lists out the ingredient benefits. So good and a little more filling than just your regular cup of coffee. 
Hero Ingredient: The coconut oil is doing double time in this recipe: it adds to the flavor and the health benefits.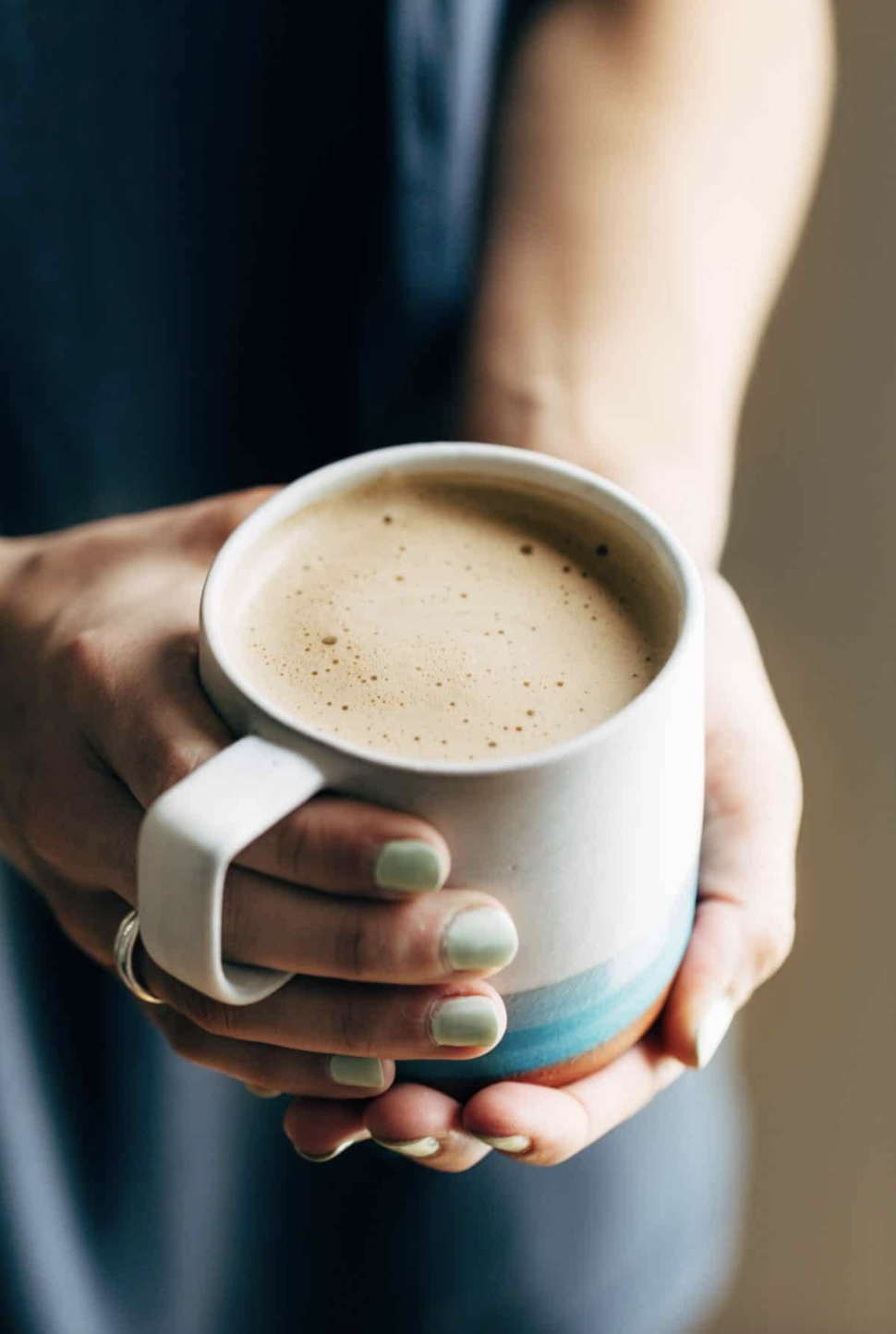 Why We Love It: Cashew milk is my nut milk of choice, so I love this recipe. Gums are a common ingredient in nut milks so if you're looking to avoid them, this recipe blends the cashews directly into the coffee, eliminating any nasties. Of course, this would be equally flavorful just using cashew milk, but there's something about doing it yourself that's so satisfying! Add a sprinkle of cinnamon on top and you have a delicious morning coffee in five minutes. 
Hero Ingredient: Cashews take the cake.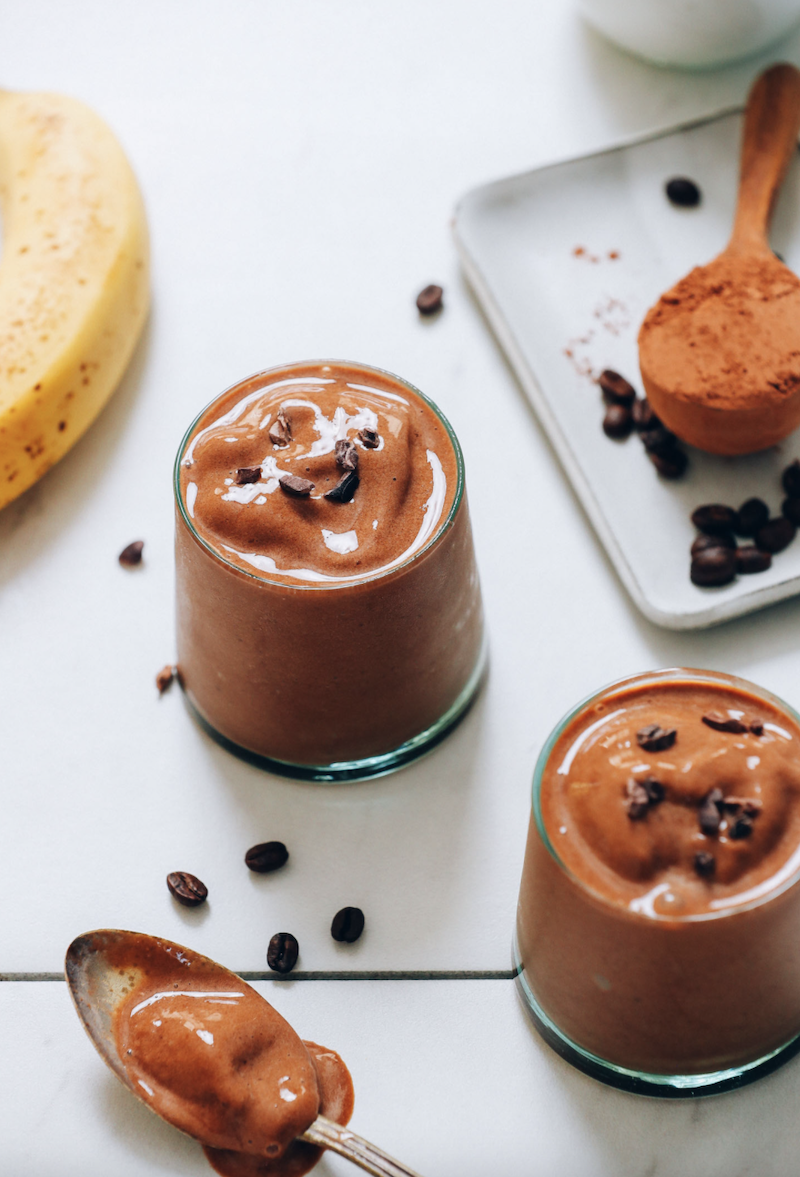 Why We Love It: This coffee smoothie is more than just a cup of coffee. It's creamy, chocolatey, naturally sweetened, and delicious. It has one frozen banana and a teaspoon of maple syrup to give the ideal creamy, smooth texture and flavor. It works great as an on-the-go breakfast, too, especially if you add protein powder. 
Hero Ingredient: Frozen bananas make every smoothie better.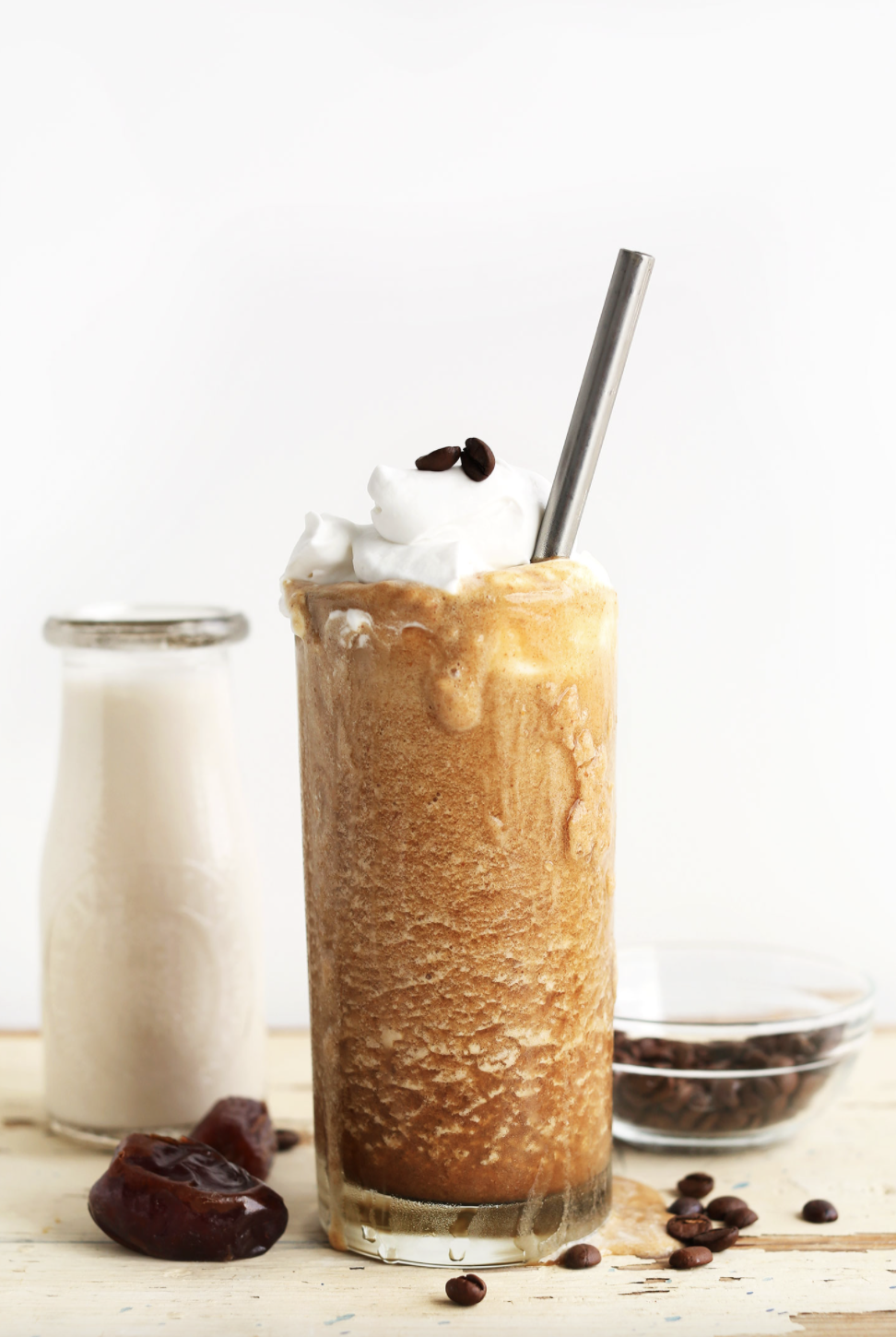 Why We Love It: If you're a Starbucks Frappuccino lover, this is the healthy coffee recipe for you, especially if you want to avoid the calories and sugar but still wanting an indulgent coffee drink. Although it takes a little more work, in that you have to prep almond milk ice cubes and date caramel, it's so worth it. I've skipped the almond milk ice cubes before, and other than it being a little more watered down, the drink was still delicious.
Hero Ingredient: Date caramel… who knew dates and water could be so good?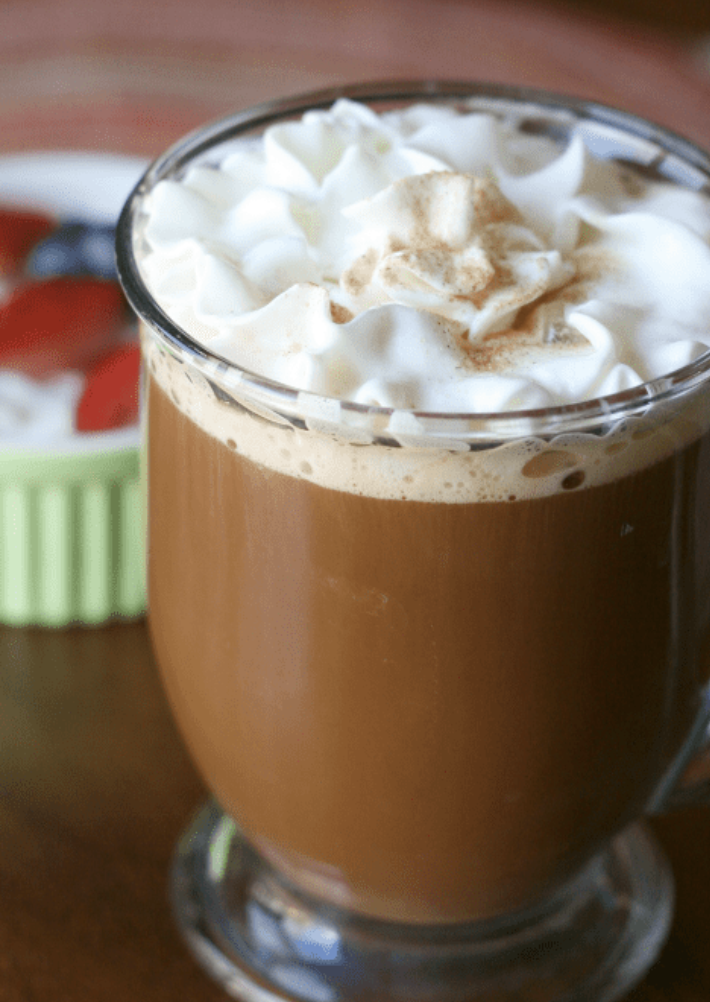 Why We Love It: On busy days when I don't have time to sit down for breakfast, I sneak in some protein with this healthy coffee recipe. This is almost a no recipe recipe because all you have to do is mix your protein powder of choice with either hot water or milk. I personally love mixing collagen peptides, cinnamon, and cashew milk in my frother, then pouring it over my coffee.  
Hero Ingredient: Protein powder! Your taste buds will barely notice it, but your body will. 
Which of these healthy coffee recipes will you try first? Drop your favorite in the comments below.