When it comes to healthy eating, most people are mindful of things like making sure they get enough vitamins and minerals, calorie intake, and not eating too much sugar. But did you know that fiber is one of the most neglected parts of our daily diet? According to the Institute of Medicine, only 5% of Americans are meeting their daily recommended target of fiber. That's why we've put together a list of high-fiber recipes to add to your meal rotation.
In fact, women should be consuming 25 grams of fiber while men should consume 38 grams of fiber on a daily basis. There is actually such a dire lack of fiber in Americans' diets that nutritionists call it the "fiber gap." The importance of eating more fiber simply cannot be understated. It improves gastrointestinal health, reduces the risk of heart attacks, strokes, high cholesterol, obesity, type 2 diabetes, and even some cancers.
We tapped Edie Horstman, a certified Integrative Nutrition Health Coach (and regular Camille Styles contributor), to help us understand a bit more about the importance of fiber and the high-fiber foods we should be adding to our diet. Then keep reading to discover 15 high-fiber recipes to start cooking with them tonight. Horstman had a lot to say on this important, yet often forgotten, part of our daily diet, so get your notepads ready!
image above from The Lush Life: Food and Drinks from the Garden.
Read on for Horstman's insights on the value of a high-fiber diet:
According to Horstman, dietary fiber is incredibly essential for many reasons. She mentioned that as fiber moves through our digestive system, it helps remove toxins in the body. It's involved in providing fuel for the cells of our gut lining and supporting the colon's immune system. It's also key for satiety.
"Out of all the major nutrients, fiber is often overlooked," she goes on to explain. "On average, American adults consume 10-15 grams of fiber per day. To put that into perspective, our ancestors were eating closer to 100 grams. With the emergence of processed food and sugar, along with an obsession with protein, we aren't consuming as much fiber."
So what should we be eating? Horstman says most people don't realize that fiber is actually a type of carbohydrate. However, it's not easily digested and cannot be absorbed by the body (unlike your average bowl of cereal.) "The most popular high-fiber foods are vegetables, legumes, seeds, and whole grains. My favorites are artichokes, black beans, avocado, chia seeds, and flaxseed," she notes.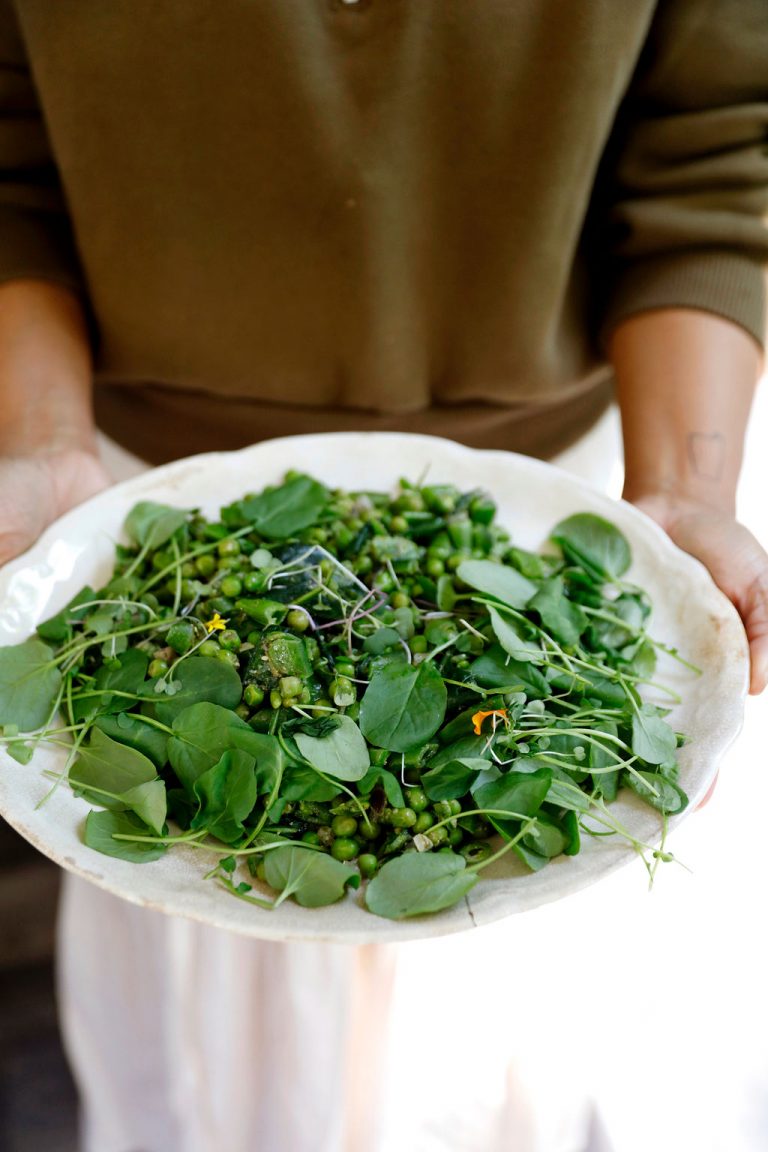 The many health benefits of fiber.
You may already know that fiber helps with digestion and prevents constipation, but Horstman reminds us that this powerful nutrient helps manage blood sugar. "Keeping blood sugar in check is important for both short-term and long-term health," she adds. "Choosing foods high in fiber keeps us fuller, longer, in turn, aiding in satiation and energy." And if that isn't enough to convince you, maybe this nugget of wisdom will motivate all of us to increase our fiber intake. Horstman explains "fiber is associated with a lower risk for disease and cancer, like heart disease, type 2 diabetes, and colon cancer. Fiber is small but mighty." Noted.
Top 10 high-fiber foods to add to your diet:
Avocados
Raspberries
Artichokes
Brussel sprouts
Lentils
Chickpeas
Oats
Popcorn
Chia seeds
Dark chocolate
Now that you know what fiber does and why it's crucial to our health, scroll on for 15 high-fiber recipes to start adding more to your diet, stat!:
Keep the avocado toast coming, because the star ingredient is jam-packed with fiber. This seemingly simple high-fiber recipe is a delicious, elevated version you can make in the comfort of your home.
Both artichokes and peas have a shocking amount of fiber in them, making this gorgeous pasta dish an excellent fiber-full choice.
Can't go wrong with cauliflower in all its many, glorious forms. Tasty, packed full of nutrients, and of course, fiber!
Get cozy with this delicious green curry. Chickpeas and sweet potatoes are great sources of fiber, so you're getting a lot of bang for your buck with this meal.
Carrots and avocados make this salad a healthy, bountiful meal or side dish, depending on what you're making!
Load up on Brussels sprouts with this gorgeous and insanely yummy salad. Beets and Brussels sprouts are the fiber stars here, and they're the perfect combo for this hearty salad.
Split peas have an almost shocking amount of fiber in them, so next time you want an old-timey, homey soup, set your sites on this classic from Erren's Kitchen.
Keep it simple and healthy with these absolutely sumptuous grilled artichokes.
These vegan dumplings are not only gorgeous, but they're also absolutely delicious, nutritious, and packed with fiber thanks to the black beans.
Quinoa and sweet potatoes deliver the fiber goods in this tasty, cozy dish.
Oats are packed with fiber, making this breakfast dish a must for easy, make-ahead meals.
Apples are also rich in fiber, and the combo of the delicious sweet fruit, maple brown butter, hazelnuts, and oats makes this a comforting, wholesome meal.
Better than Panera, packed with fiber, and easy to whip up on a chilly evening.
Lentils make this soup a hearty, healthy, and fiber-filled meal. We can practically smell it through the screen!
Mouthwateringly delicious, deceptively simple to make, and full of fiber! This baked pear dessert is a must-try.
Which of these high-fiber recipes will you be making tonight?