It wouldn't be an exaggeration to say: I'm a toast fanatic. For breakfast or a late-night snack, for me toast is the definition of comfort food, not to mention the ideal vehicle for all kinds of delicious toppings. And while it's hard to stray from the world's most perfect flavor combination, I've been mixing up my toast game lately with this delicious mushroom toast with arugula–and it's so worth it. This makes a perfect plant-based, protein-packed breakfast or lunch for any day of the week, especially since it includes nutrient-dense mushrooms to create a flavorful meal that comes together in no time.
This mushroom toast with arugula and lemon is a great way to easily include mushrooms' nutrients in your diet all while bringing flavor and ease to your weekly routine. It's one of those minimal effort, maximum yield recipes that I think we could all use more of. It takes just 10 minutes to sauté the veggies and you can build from there. Pro tip: if you're joining us for our Plant Based RE:SET, make two batches of the mushrooms when you make your mushroom and black bean tacos. It'll make for quick work of this toast, and then you can celebrate the fact that you're not only eating a nutrition-packed plant-based meal, but also one that's incredibly satisfying.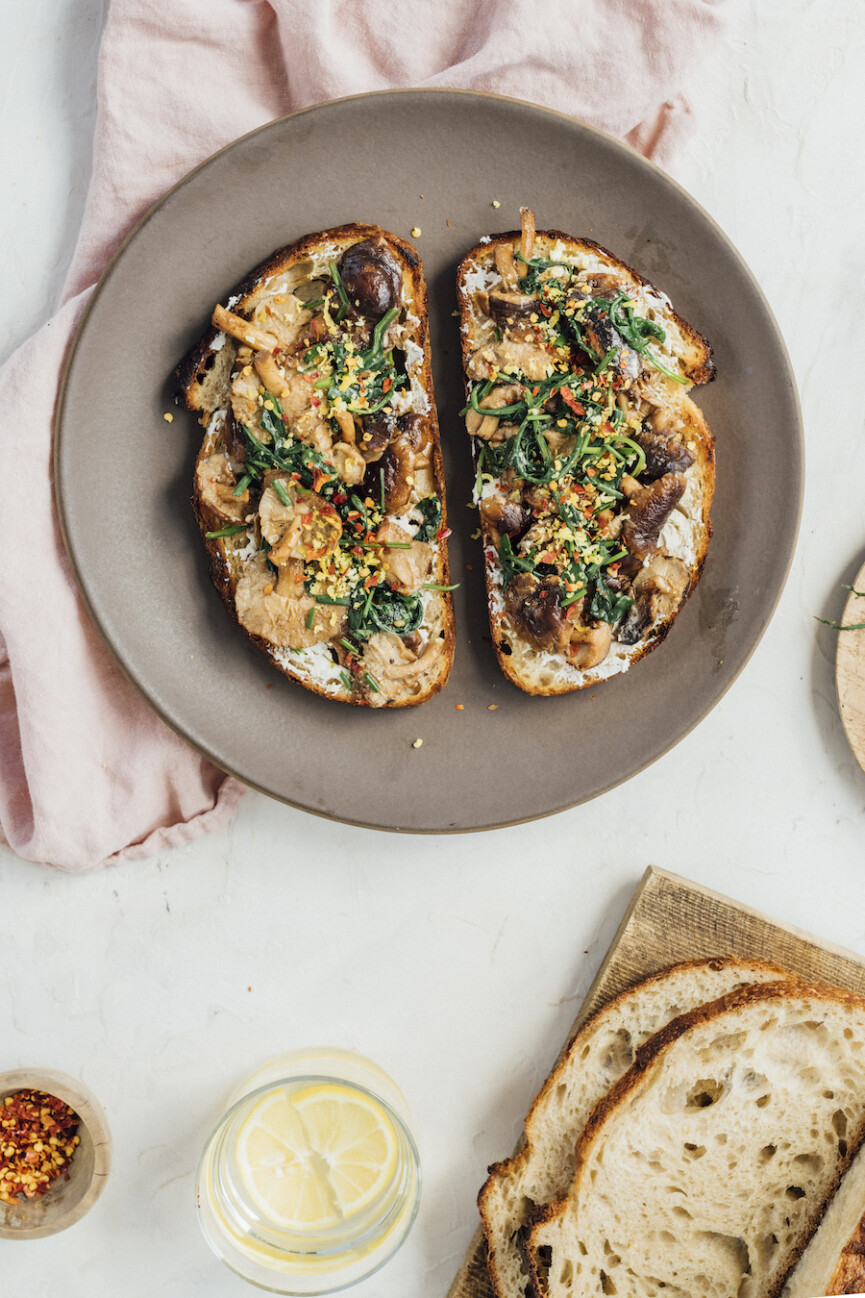 Health Benefits of Mushrooms
Whether they're elevating a slice of pizza, a pasta dish, or a plate of tacos, it seems like mushrooms are all that anyone's talking about right now. While these aren't of the hallucinogenic variety, they almost feel like "magic mushrooms" in their own right: mushrooms are the hosts of a variety of nutrients that nutritionists have linked to bone strength, brain function, and anti-aging. Various types have been touted for boosting immunity, fighting cancer, packing in major doses of vitamins and minerals, and containing high amounts of antioxidants.
According to Whole Foods trend forecast, functional mushrooms should be on your radar, with varieties like reishi, chaga, cordyceps, and lion's mane getting street cred as wellness ingredients in dietary supplements and coffee, tea, snack bars, and broth. Instructions for freezing, storage, and leftovers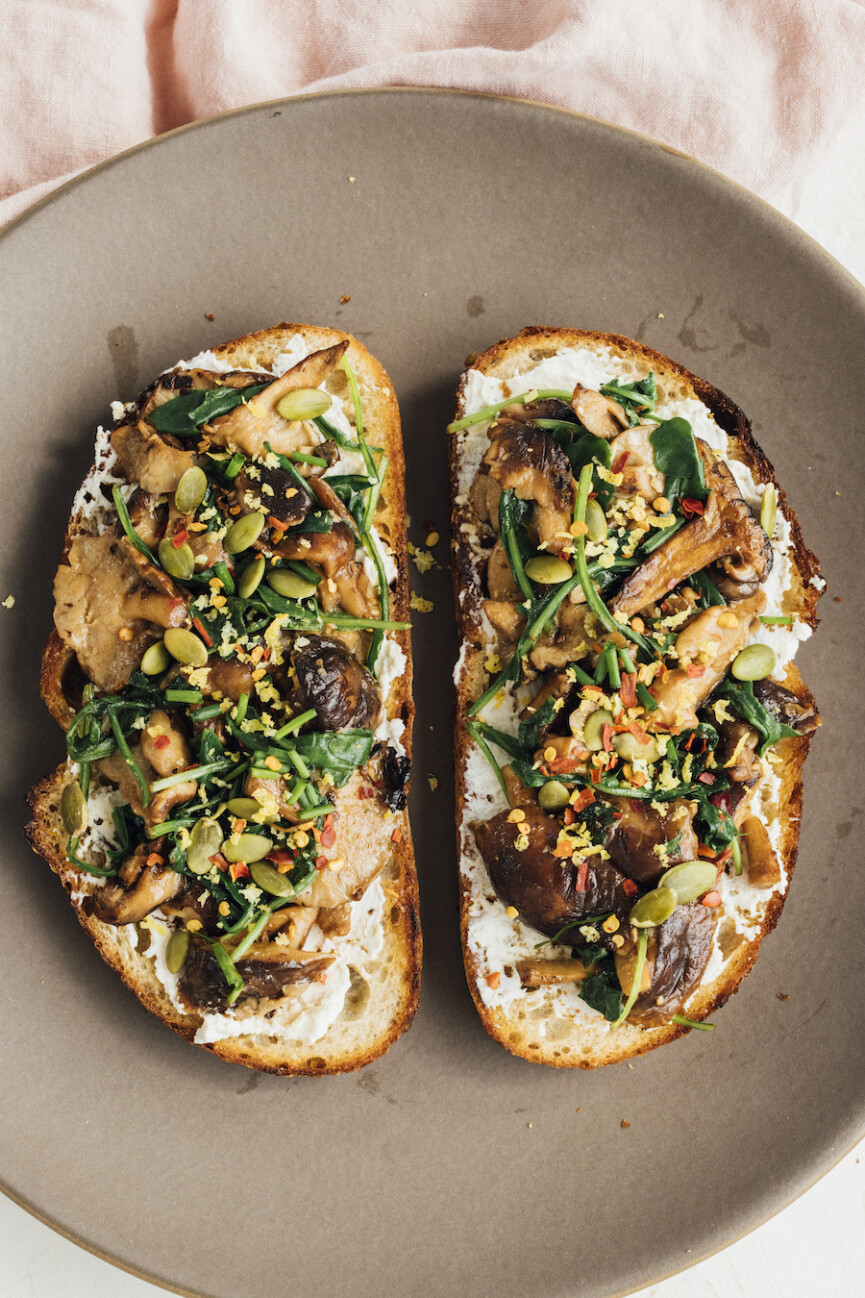 Healthy Swaps for This Mushroom and Arugula Toast
This mushroom and arugula toast is already super healthy, but I know that many of you guys are gluten-free. Thankfully you can easily nix the gluten in this recipe by simply swapping in your favorite gluten-free bread (we've got all our faves listed here.)
To make this recipe dairy-free, simply grab a carton of vegan ricotta next time you're at Whole Foods, or skip the ricotta altogether! Since the mushroom mixture is kind of saucy on it's own, you'll still end up with a great flavor combo that's not dry at all.
Twists On Toast, aka My Other Favorite Toast Combos
Toast is ripe for disruption, and one of my favorite things about it is that I can mix it up depending on my mood and what's in my fridge. Here are some of my other favorite healthy toast combos that are perfect for breakfast, lunch, or dinner (yes, sometimes I crave toast for dinner, too):
Sunday Night Avocado Toast with a Jammy Egg: it's quite simply my favorite meal when I'm running low on groceries.
Tuna Toast with Oven-Roasted Tomatoes: People got really riled up when I called this "niçoise," and I'll admit: that was probably a stretch. However don't let that deter you from making this incredibly delicious flavor combo on toast.
Sweet Potato Toast 3 Ways: Another way to nix the bread if you're going grain-free or just want to pack some extra veg in your diet. So good!
Sautéed Carrot & Hummus Toast: Never would I have guessed how addictive this flavor combo would be, but Suruchi really brought the toast inspo with this one.
Burrata Toast with Caramelized Walnuts and Mint-Pomegranate Pesto: Don't let the fancy name fool you: this one's easy enough to whip on up on a weeknight but jaw-dropping enough to be your go-to dinner party appetizer.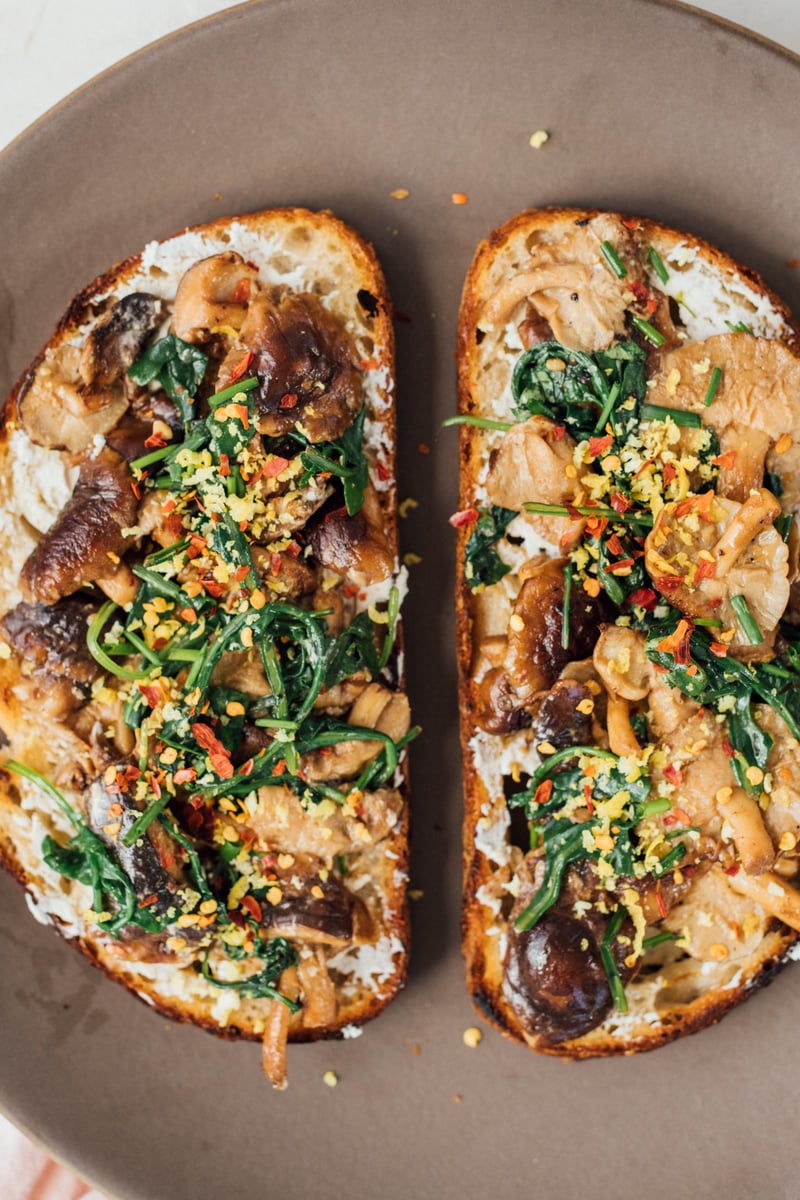 Tips for Doubling This Mushroom and Arugula Toast
Like most toast, this is an easy one: you can double the ingredients and throw them together super quick for a crowd. I even recommend making a double batch of mushrooms when you make our Mushroom & Black Bean Tacos during the Plant-Based RE:SET, since your mushroom mixture will be ready to rewarm and pop onto your ricotta toast even in the midst of a busy day.
My one pro pro tip is to sauté the mushrooms in two batches. When cooking mushrooms, it's important not to overcrowd the pan. You want each mushroom to come into direct contact with the pan and get that crispy sizzle, rather than crowding together and "steaming." So, I allocate a little more time for this step: after sautéing the first batch, I transfer to a plate while the second batch cooks, then I add them all back to the pan together to stay warm until it's time to serve.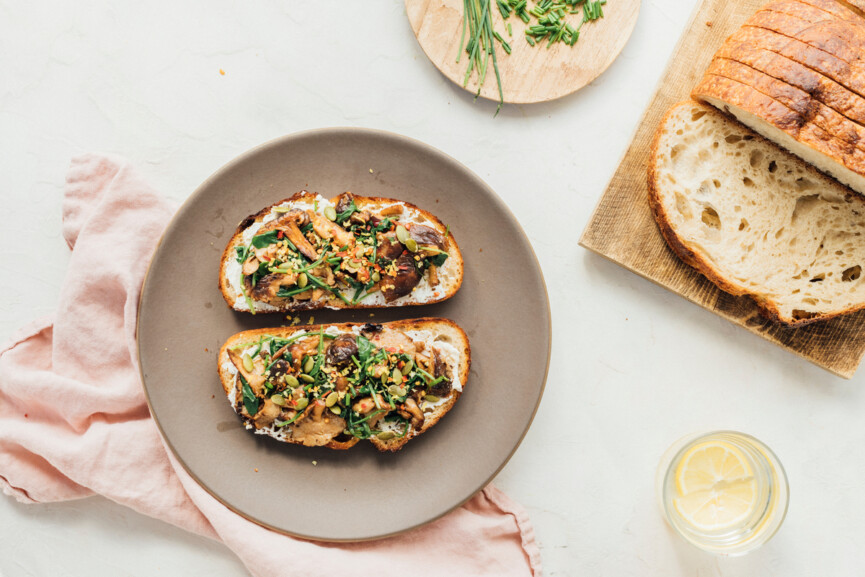 How to store leftovers
Mushroom Toast with Arugula makes a great leftover lunch, just store the mushroom mixture mixture in an airtight container in the fridge, then when you're ready to eat, toast your bread and pile the leftover sautéed mushrooms on sourdough toast slathered with creamy ricotta.
Scroll on for the recipe, which is part of our Plant-Based RE:SET, a new 5-day meal plan that launched today! Packed with delicious breakfast, lunch, and dinner recipes, this is a week's worth of meals that'll leave you feeling lighter, brighter, and energized. Sign up here!
Mushroom Toast with Arugula & Lemon
Serves 1
A protein-packed vegetarian breakfast you'll love.
---

Ingredients
1 tablespoon olive oil
1 clove minced garlic
1 cup shiitake mushrooms
Handful arugula
Kosher salt and freshly ground black pepper
1 large slice toasted sourdough
Whole milk ricotta or vegan ricotta (optional)
---
Instructions
Heat olive oil in a skillet, add minced garlic and sliced mushrooms, and cook for 10 min over medium heat. Season with salt and pepper, then turn off heat, add arugula and stir to warm through.
Top toast with ricotta (if using), mushroom mixture, lemon zest, and pinch of red pepper flakes. Add a drizzle of oil and a squeeze of lemon, eat!