As much as we love to see what our favorite foodies make when they want to "wow" their guests, you know what's even more interesting? Learning what dishes they whip up when they're at home on an average weeknight. These recipes are usually quicker with fewer ingredients and are the perfect inspo to answer the question, "What should I make for dinner?" whenever it strikes. To satisfy our curiosity, our series, My Go-To Meal, asks chefs and foodies we love to spill the easy recipes that are on constant rotation at their house. Next up, Brooklyn Delhi's Chitra Agrawal shares the easy curried roasted winter squash soup she makes on busy weeknights.
When you think about the condiments aisle at the grocery store, what do you think of? Ketchup? Mustard? Mayo? Fine, that's all true and has historically been the majority of the shelf, but over the last few years, an incredible group of creators and entrepreneurs have started inching their way into the aisle with offerings that make me absolutely giddy (they have me jumping up and down in front of the shelf—true story!).
The first time I saw Brooklyn Delhi on the shelf at Whole Foods I had to take a pause because I couldn't believe it. Achaar and Korma sauce in my grocery store? Since then, I've been a huge fan of the founder, Chitra Agrawal and the work she's doing in creating products that highlight Indian culture through food. The first line of Brooklyn Delhi products that launched in 2014 focused on an Indian pantry staple called achaar, sometimes referred to as Indian pickle. When I tell y'all that my Mom can't live without achaar, I'm not even joking. Achaar (pronounced ah-char; which translates to pickled in Hindi) is a flavor-packed condiment made from fruits and veggies and spices. My mom will add a little bit to whatever she's eating to give it a spicy, sour, sweet, savory bite, most specifically, she'll eat it with parathas or with whatever sabzi is on the menu for dinner. Achaar is eaten with rice, dal, curry or yogurt, but what I love about Brooklyn Delhi's approach is highlighting how achaar can also pair well with sandwiches, burgers, eggs, mixed into bowls, soups, noodles, with cheese and crackers, and so much more. That's the beauty of food right? Being able to use different dishes that traditionally fit into one cuisine, and discovering ways to incorporate them into others (only to find they fit just as well over there!).
I was so excited to chat with Chitra and feature one of her go-to recipes as we enter the autumn season. So, keep scrolling to grab the recipe for this delicious curried roasted squash soup. You're welcome!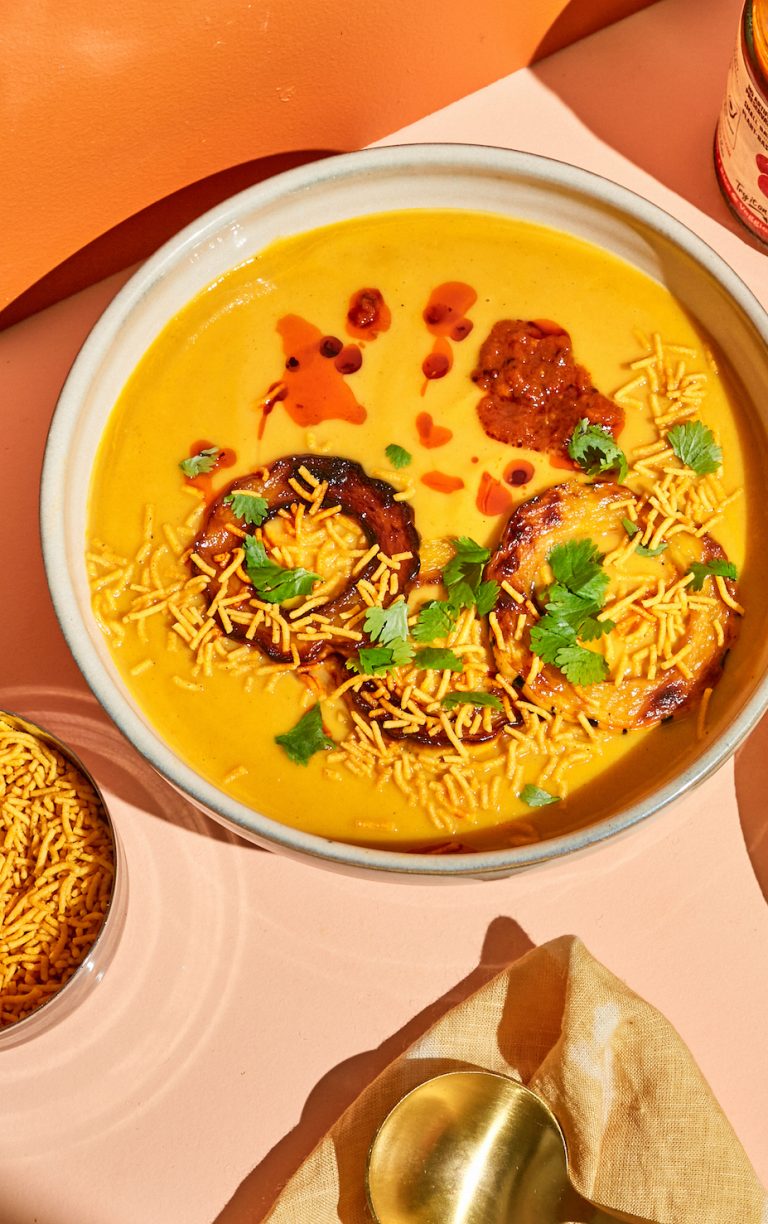 What is your go-to meal, Chitra?
Curried Roasted Winter Squash Soup, especially during fall and winter.
Yum! How often do you make this soup?
The amazing thing about this recipe is that I can make it weekly and not get sick of it because it's so versatile depending on the squash I have on hand (i.e. butternut, acorn, kabocha, delicata if it's still fall, etc.). I also flavor it in several different ways using my simmer sauces from Brooklyn Delhi. One week I will roast the squash and blend it up with coconut milk and my Cashew Butter Masala sauce and the next with my Coconut Cashew Korma sauce.
Sounds delicious, I love y'alls Cashew Butter Masala. What is your favorite thing about this recipe? Why is it your go-to?
I love this recipe for so many reasons. First of all it's delicious yet healthy without much effort. The majority of the recipe is inactive cooking time—like when you're roasting the squash in the oven—so I can multi-task easily and do this part of the recipe in advance, making it a super quick weekday recipe. Since I already have caramelized onions, garlic, ginger and spices in my simmer sauces there's no chopping, fumbling around with spice jars or waiting by the pot for the flavors to develop which is a win for a weeknight meal. And if you roast the squash ahead of time, you can pull the final recipe together in one pot.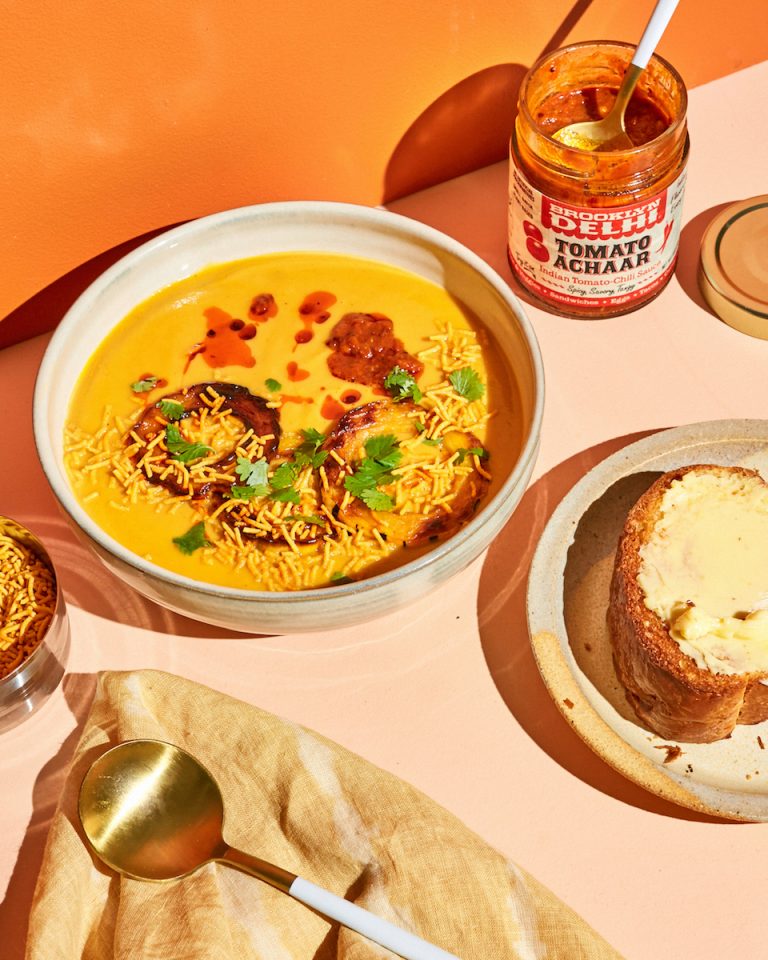 Any special tools we need to have on hand to make this recipe?
This recipe requires a sheet pan, a pot and an immersion blender, or blender.
What are the stand-out ingredients that make this unique?
Winter squash is already so flavorful when roasted (especially when in-season) but I think the addition of warming Indian spices make this soup truly unique and delicious.
What are some ingredient swaps that you either use if you don't have something on hand or for someone who might be dairy- gluten-free, etc.?
The recipe is naturally vegan and gluten-free. If I don't have squash, I have made this recipe with sweet potato and sometimes if I have some cooked red lentils, I'll add those in as well for more protein. I like to serve the soup with plain yogurt and it's also delicious with coconut yogurt or sliced avocado on top for a dairy free version.
What is a cooking hack you use in this recipe that we should all know about?
My simmer sauces are the main hack but I also just love this no fuss way of roasting winter squash—slice it down the middle lengthwise, spoon out the seeds and roast it skin side up. When the squash is cooked, you just scoop it out of the skin and if the skin is thin enough, I just use the whole squash. Roast the squash until you see some caramelization because that gives the soup more depth of flavor and sweetness. This method really beats the heck out of peeling and cutting the squash into cubes. A major time-saver is roasting the squash the day before.
What ingredients do you always have on hand in the kitchen for recipes like this and others?
A winter squash or sweet potatoes, Brooklyn Delhi simmer sauces, coconut milk, a crunchy topping like sev (crispy Indian chickpea flour strands), or roasted seeds (pepita or sunflower). I like to top the soup with a little plain yogurt and chopped cilantro too. I love dunking crusty sourdough bread in this soup.
Thanks for sharing this recipe, anything else you'd like to share?
The recipe is mild enough for my kids so I serve the soup as is for them—an easy meal that the kids love is always a win. To amp up the heat for myself, I add my Tomato or Roasted Garlic Achaar.
---
Ingredients
1 small winter squash (i.e. butternut squash, about 2 pounds)
2 tsp oil
1 can coconut milk (13.5oz)
water or broth as needed
salt to taste
lemon juice (optional)
for topping: Brooklyn Delhi Tomato Achaar (Available on Amazon or at the store), sev or toasted pumpkin or sunflower seeds (basically anything crunchy for topping), fresh herbs, chopped, buttered toast
---
Instructions
To roast squash, preheat oven to 400 degrees Fahrenheit. Cut winter squash in half and remove the seeds and stringy parts. Put 2 teaspoons of oil on a sheet pan and then place the squash pieces face down on the pan. Move them around on the pan so that they are all coated with oil evenly.
Cook the squash for about 45 minutes, or until you are easily able to pierce the skin with a fork.  When cooled, scoop out the inside of the squash and set aside.
In a blender, puree the roasted squash with coconut milk. (Alternatively, you can also skip to the next step and use an immersion blender after everything has been added to the saucepan)
In a medium saucepan, heat the simmer sauce. Add the pureed squash and coconut milk. Add additional water or broth if needed to get to your desired consistency. Simmer for 5 minutes until flavors meld. Add salt to taste and lemon juice if you like.
Serve with a garnish of chopped herbs, sev and a spoon of Tomato Achaar and a side of buttered crusty bread.